Can't decide between cookies, cake or cheesecake? Don't feel like baking? Need a delicious dessert that everyone will love, and is safe for those with nut allergies? This No Bake Icebox Cake is perfect for all of the above!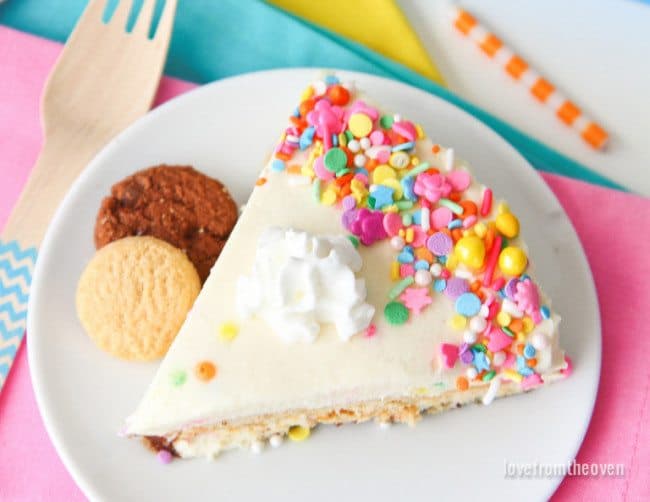 You are going to love how incredibly simple this no bake icebox cake is to make. It really has a little bit of everything in it when it comes to flavors, from birthday cake to cookies to cheesecake, it's all squeezed into this one. It's such a fun cake that I like to think of it as a no bake party cake even!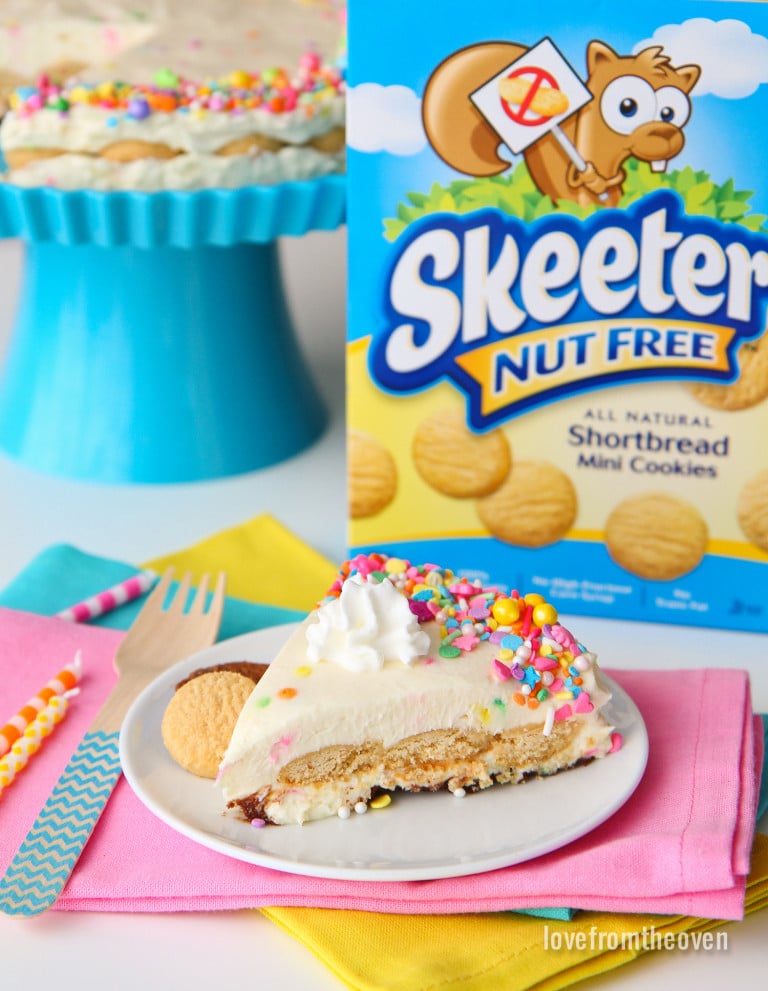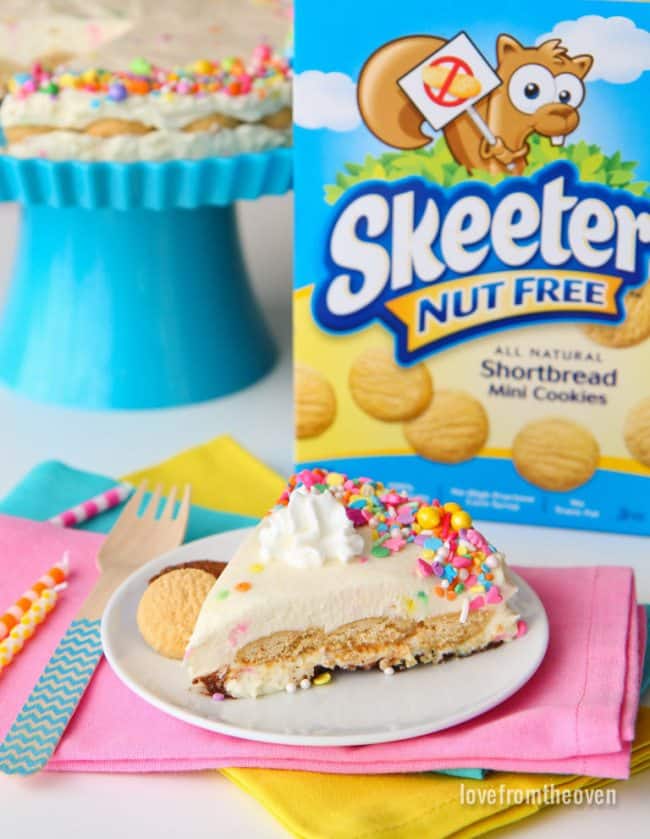 Recently the folks at Skeeter Nut Free reached out to me and asked if I would like to try their line of nut-free cookies. Given that my oldest daughter is allergic to peanuts and tree nuts, I couldn't say yes fast enough.
It can be a challenge to find delicious, ready made snacks that are safe for those with nut allergies. I am always looking for new options, because truth be told, they are far and few between. I was excited to try Skeeter Nut Free cookies, and share them with my family. Thank you to Skeeter Snacks for sponsoring this post.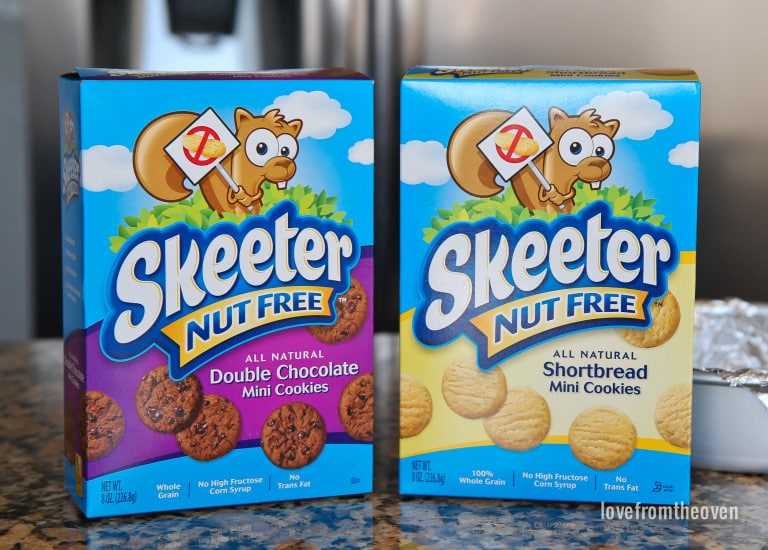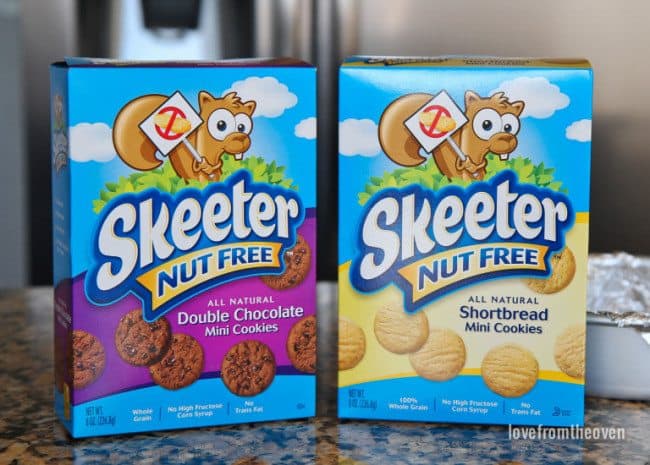 While I do lots of nut-free baking in my kitchen, that doesn't change the fact that we need safe snack options. Our school district only allows packaged foods in classes, meaning that every classroom snack or party can be a challenge (almost anything you'd get at the grocery store bakery is a no-go if you have nut allergies).
We also have friends and family that graciously want to have options in their home that they know are safe. And let's be honest, it's tough when you are a kid and can't have the snacks that other kids have.
As a mom, I'm always looking for great options that are safe and delicious. I'm looking for great treats I can keep on hand, in my purse, ones that I can leave with the teacher, or send along to that birthday party, so that my daughter can enjoy a treat even if the rest of her friends might be having something that is not safe for her. Skeeter Nut Free fits the bill perfectly.
Not only are these great cookies and snacks for those with nut allergies, they are great cookies and snacks, period. Everyone in the family can enjoy them.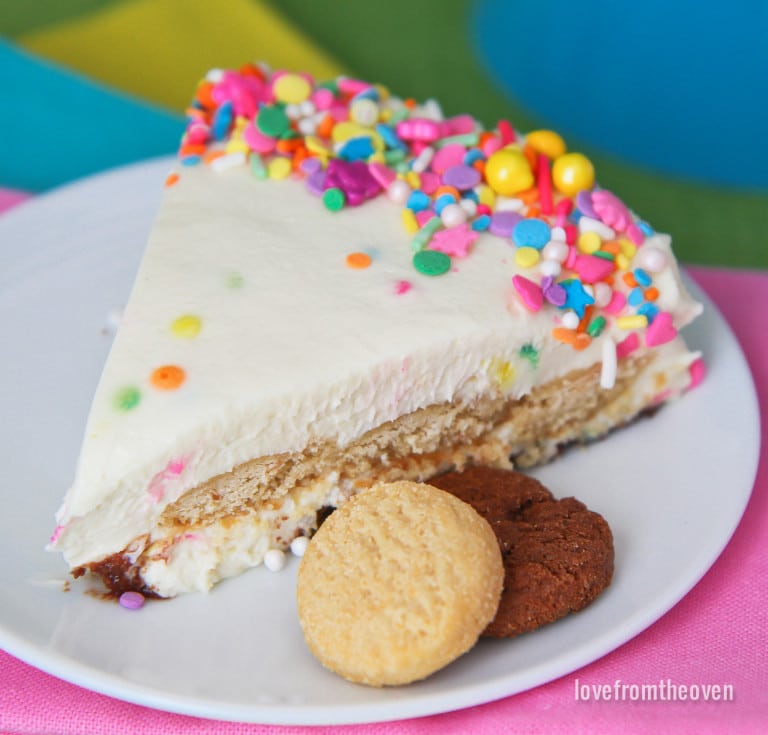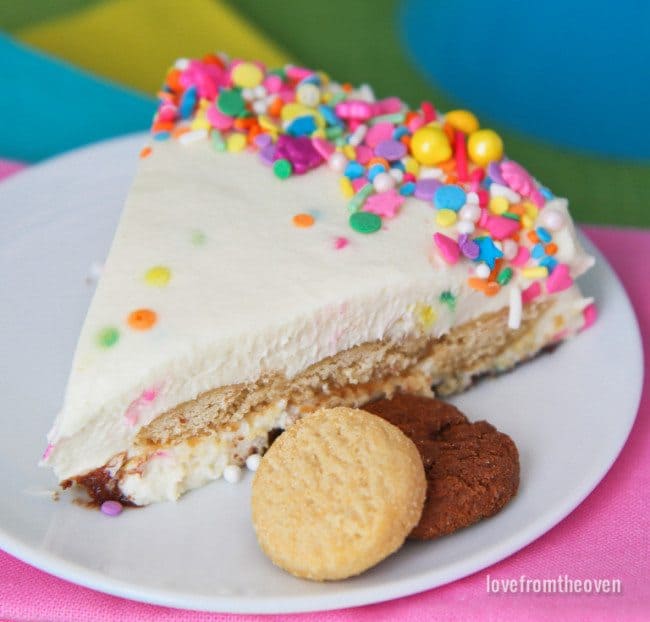 Skeeter Snacks was founded in 2012 by two dads who were frustrated with the lack of nut-free foods available for their kids who have nut allergies (I feel their pain!).
They were frustrated that what was safe was expensive and didn't appeal to their non-allergic kids and they were tired of reading labels and ingredient lists and of reminding other parents to do so. They saw an opportunity for snacks that were safe, and fun, and that anyone, irrespective of allergy, would love and launched their Skeeter Nut Free brand with a line of cookies and grahams.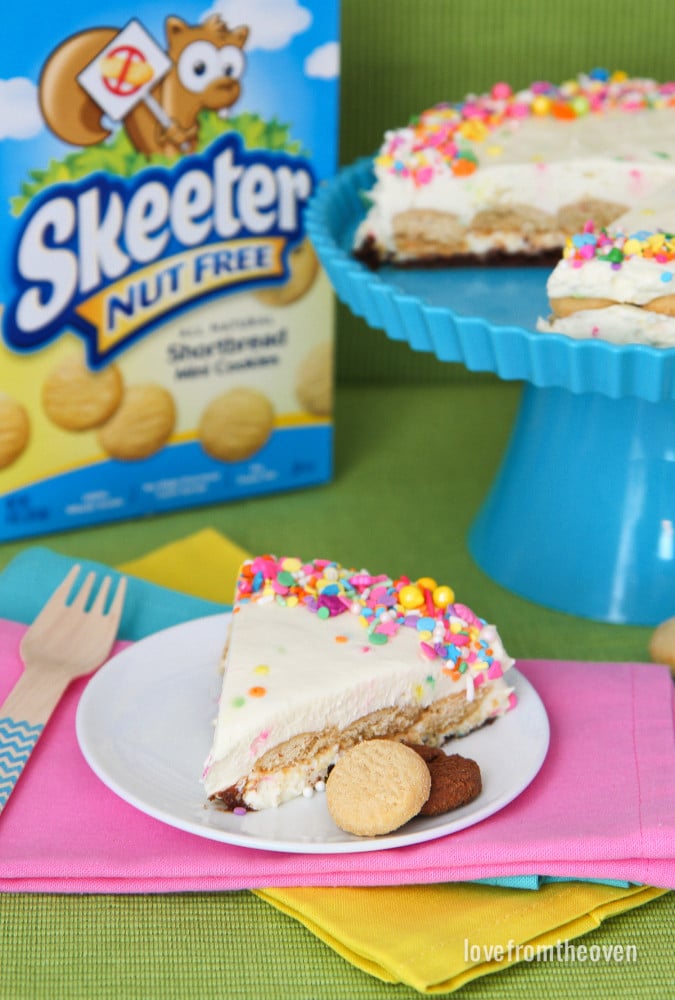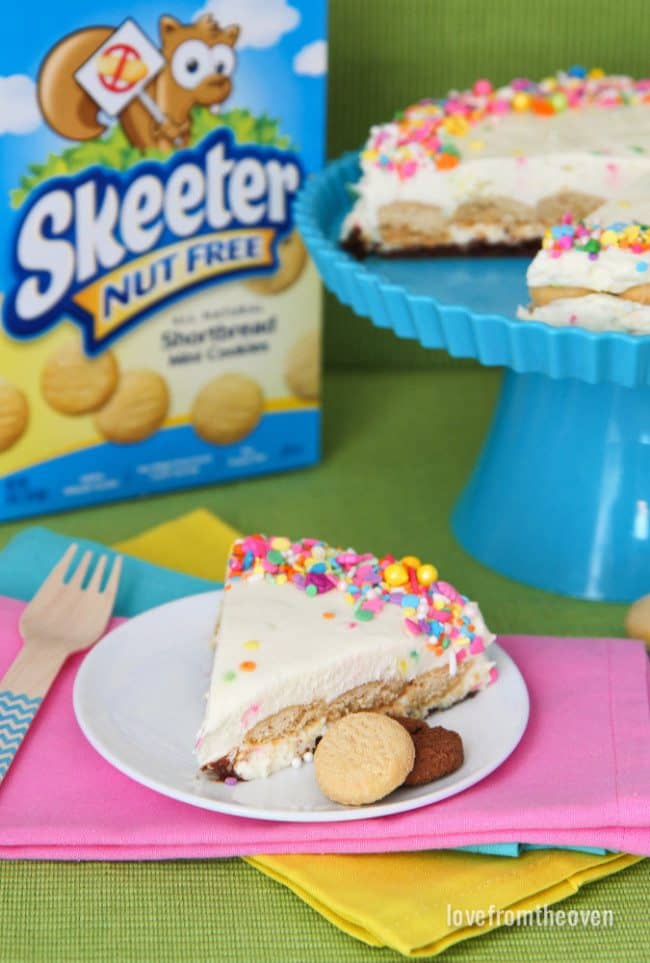 I'm always looking for FUN treats that are safe for my daughter, heck, it's part of the reason I created this blog!
When you have food allergies, it's so easy to feel excluded and singled out, especially as a kid. Every single party, event, or meal can bring risk. Every birthday party you attend, every time a classmate brings in birthday treats to class, every holiday, there is a good chance of disappointment, because when they blow out the candles and slice that birthday cake, or hand out those donuts/cookies/cupcakes, you wonder and worry if they are safe, and you most likely can't have any.
My daughter has always been a great sport at handling this, but there is no denying it's hard. While food allergies are a medical issue, there is no denying they have a huge emotional impact. This is what makes me really love Skeeter Snacks desire to create a line of treats that are inclusive and safe.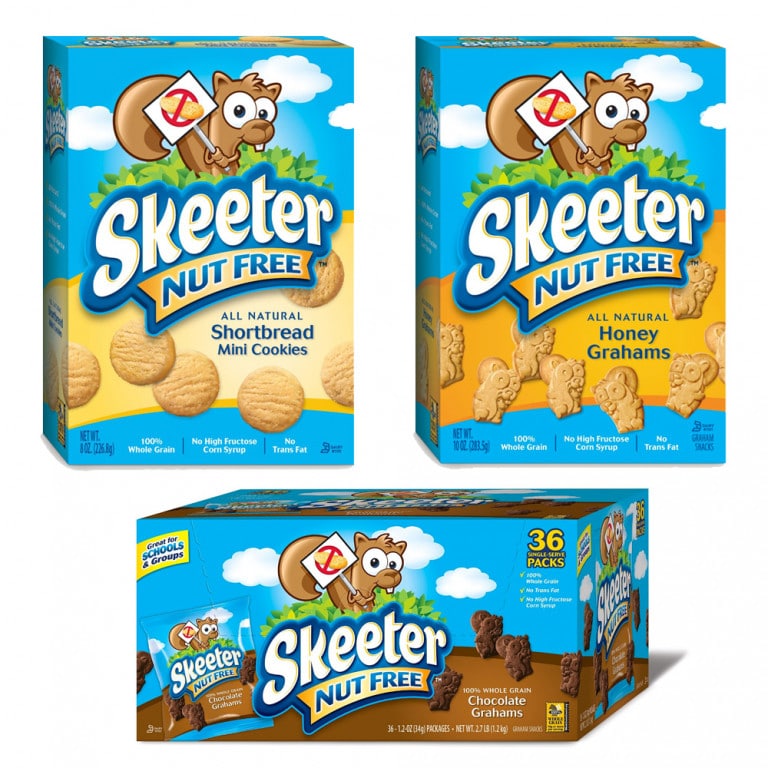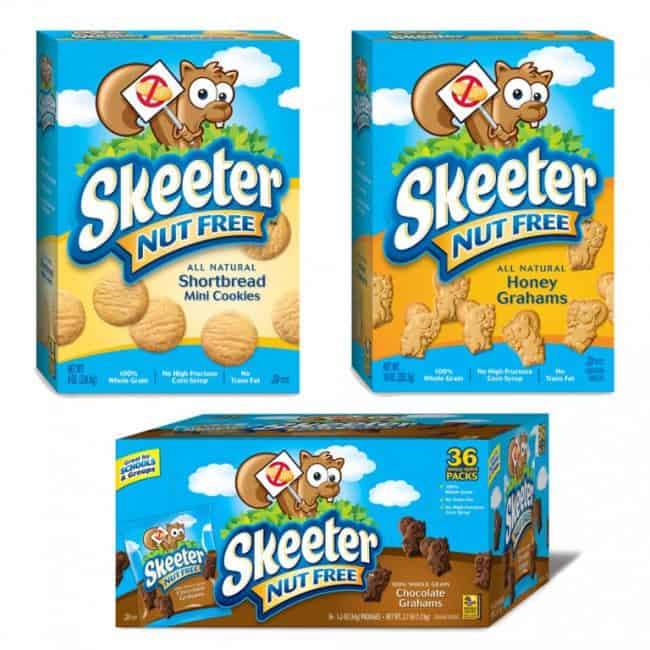 While some people may think, "my kid is fine, it doesn't impact me", the reality is that peanuts and tree nuts are the source of the most common and rapidly growing allergies; on average, there is now a nut-allergic child in every classroom in the United States.
It's terrifying how common food allergies are becoming. And these aren't allergies that cause you to sneeze. For many, like my daughter, it's life or death. She (and our family) have to worry about every item of food she eats, because the results can be tragic. And it's not just a matter of not serving a brownie with walnuts in it, there's a much more complex issue of cross contamination that food allergy families know all too well. The craziest things can include traces of nuts. It's hard to even buy a loaf of bread that's safe these days. Sandwich bread!
So even if you don't have food allergies in your family, if you have kids, you have a good chance that some kids with food allergies, especially nut allergies, will be in the same classroom as your children, and possibly even hanging out in your home. And that's why it's so great to have options for safe snacks that you can feel good about sharing.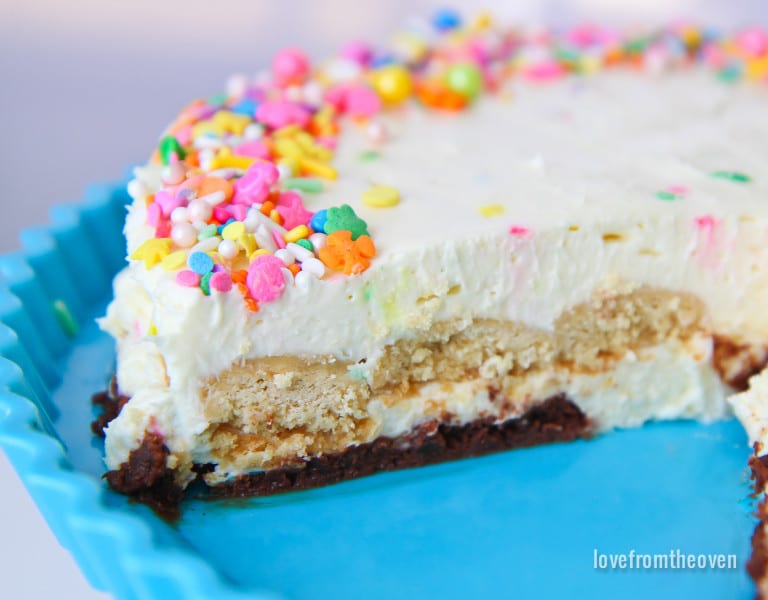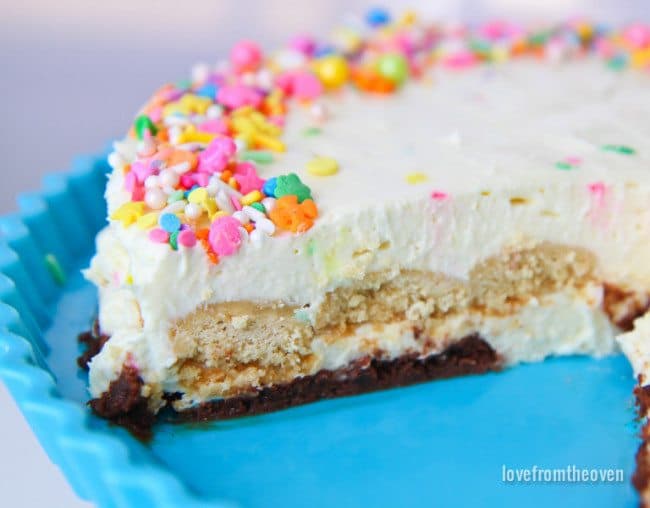 Now let's talk cake! While we enjoyed these cookies right out of the box (I'm partial to the Shortbread!), I thought it would be fun to make a no-bake icebox cake with them.
This cake recipe is super easy and the kids can get in the kitchen and help you out. This cake has two layers of Skeeter Nut Free Cookies and a delicious filling made from cream cheese, whipped cream and cake mix!
It's topped with some fun sprinkles, which you can use, skip or replace with other sprinkles or even some crushed cookie crumbs. It's a great option for the warmer weather ahead, and fabulous choice for a fantastic nut-free dessert.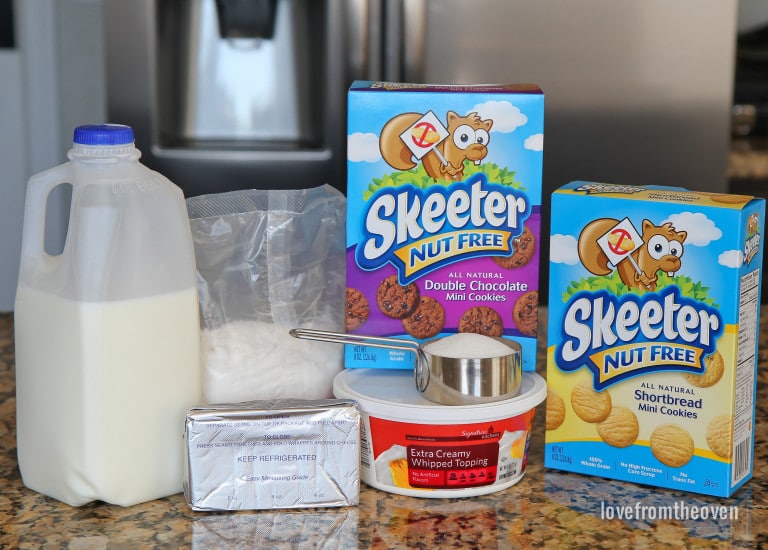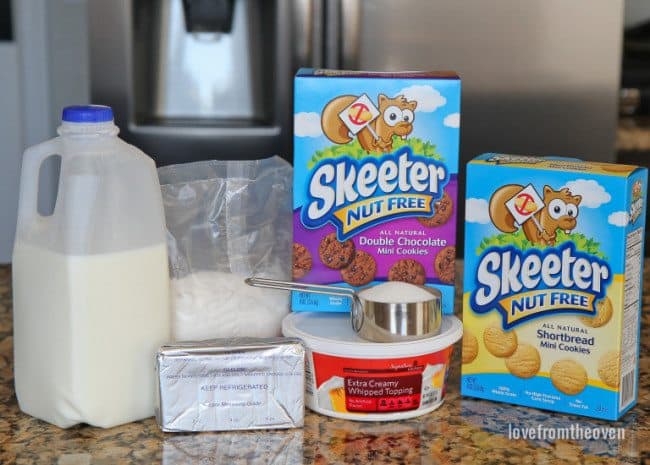 To make this cake, start with an 8″ or 9″ round cake pan (a square would work as well). I line my pan with heavy foil so that I can easily pull the cake out for slicing. Your Skeeter Nut Free Cookies are dipped in milk and placed into the pan. My little one loved helping dip the cookies into the milk!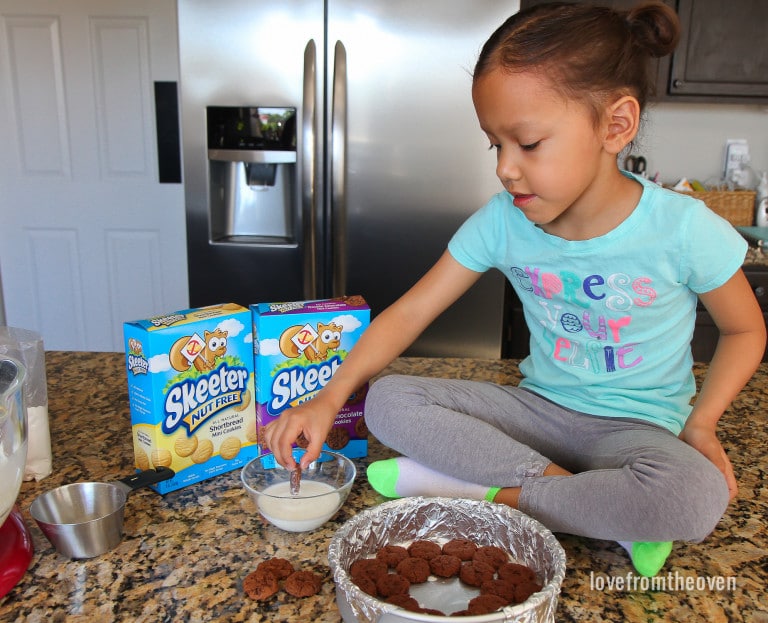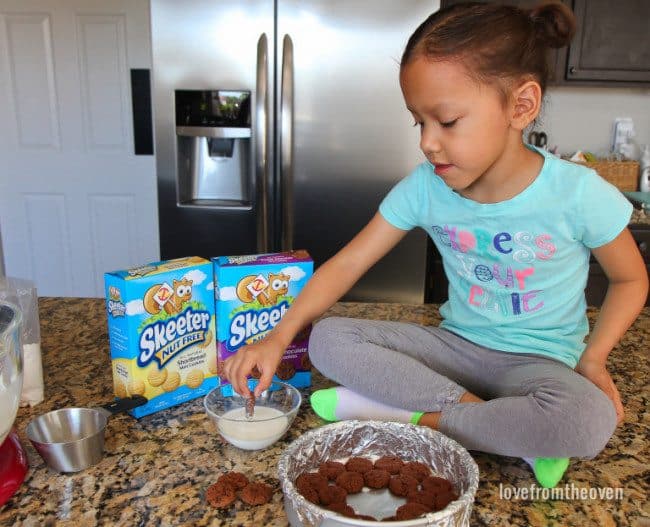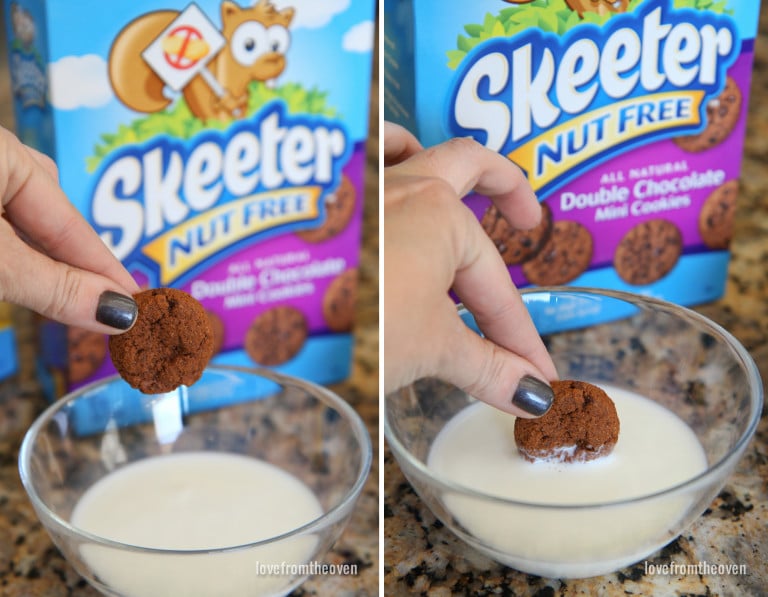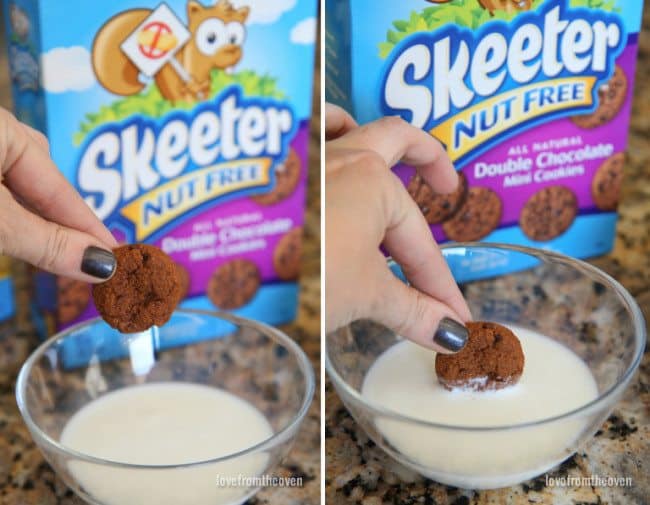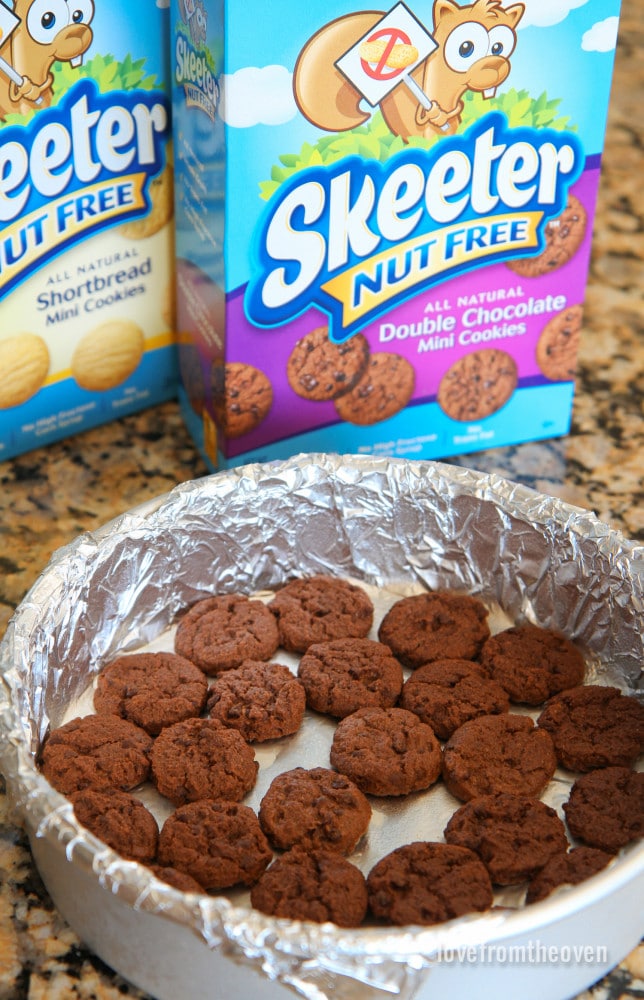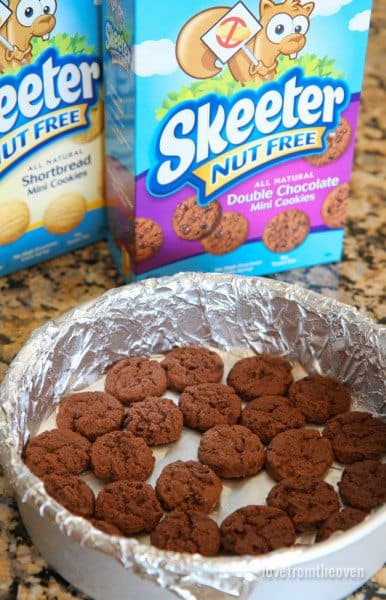 After your bottom layer of cookies is down, you spread in about half of your filling. I spooned mine over the cookies and used an offset spatula to spread the filling gently over the cookies.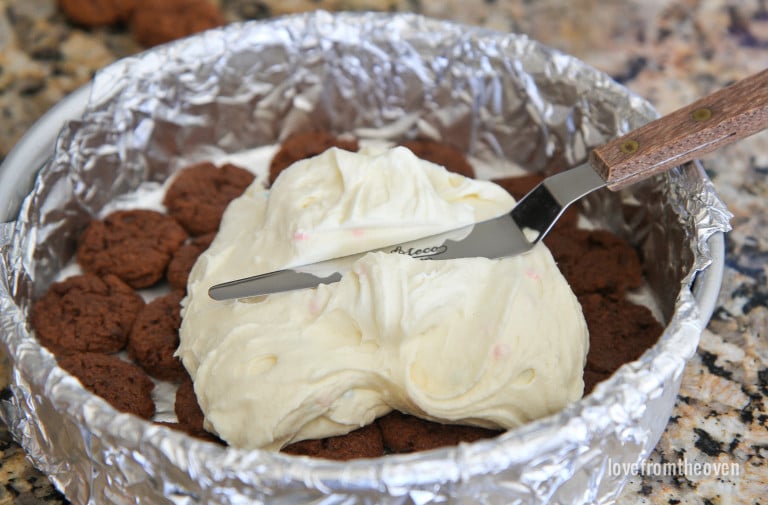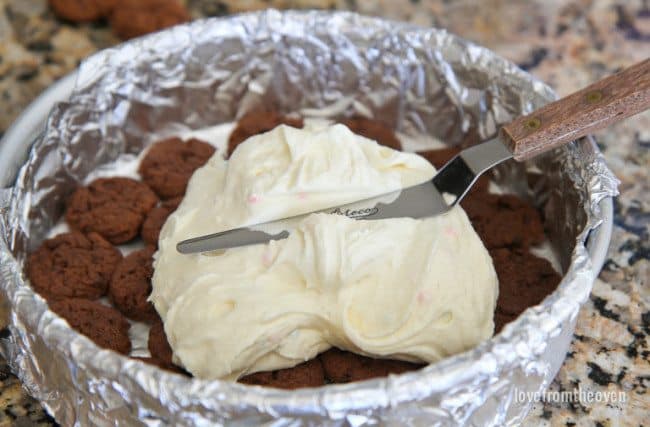 Then you repeat the process with another layer of cookies and the remainder of your filling.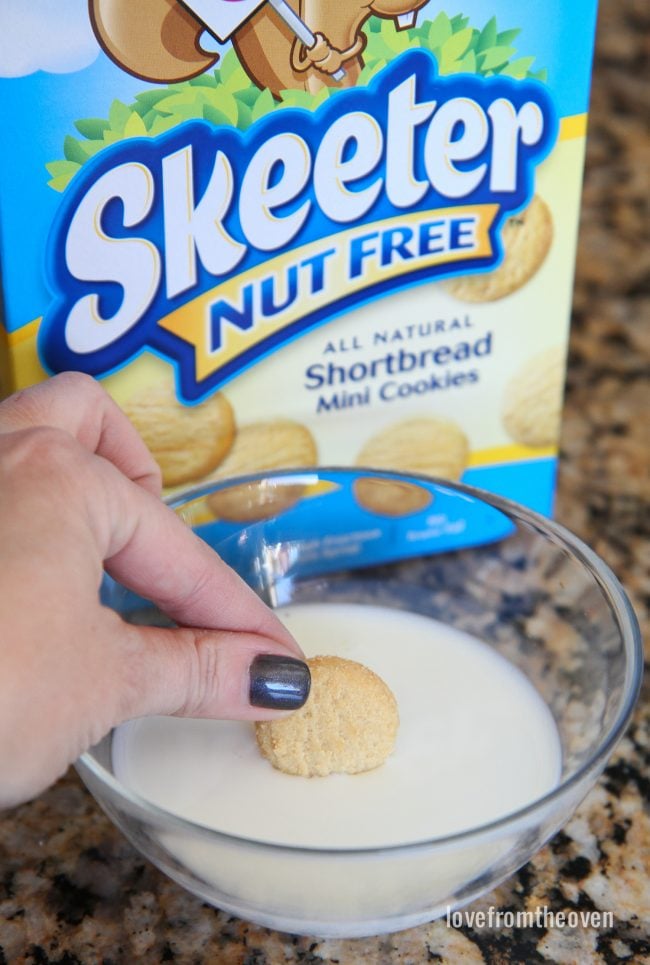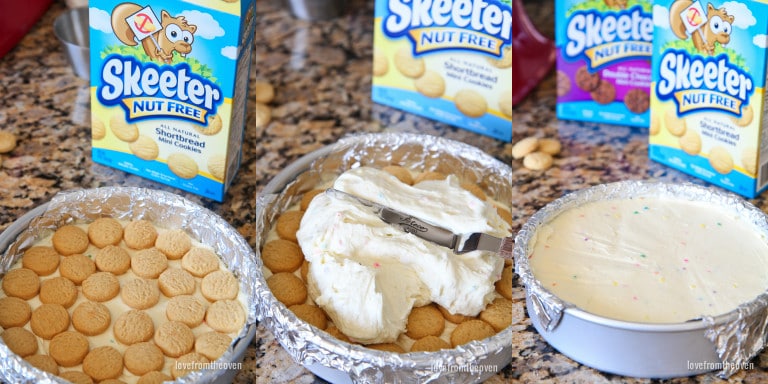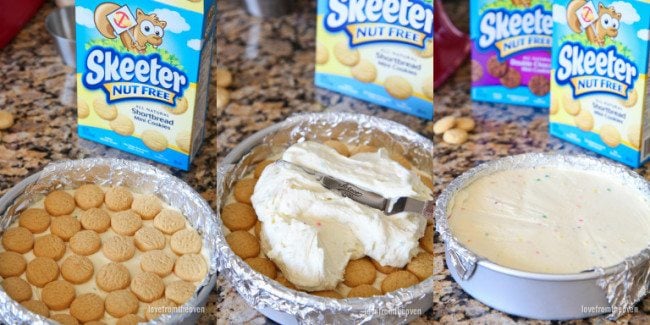 And then into the fridge your cake goes for at least four hours. I prefer to make this a day or two in advance, which is great when you are hosting a party or event and want to get some of the food ready in advance. After it's chilled, I remove it from the fridge, add some sprinkles to the edge (make sure that any sprinkles you use are nut-free!), slice and serve. So easy!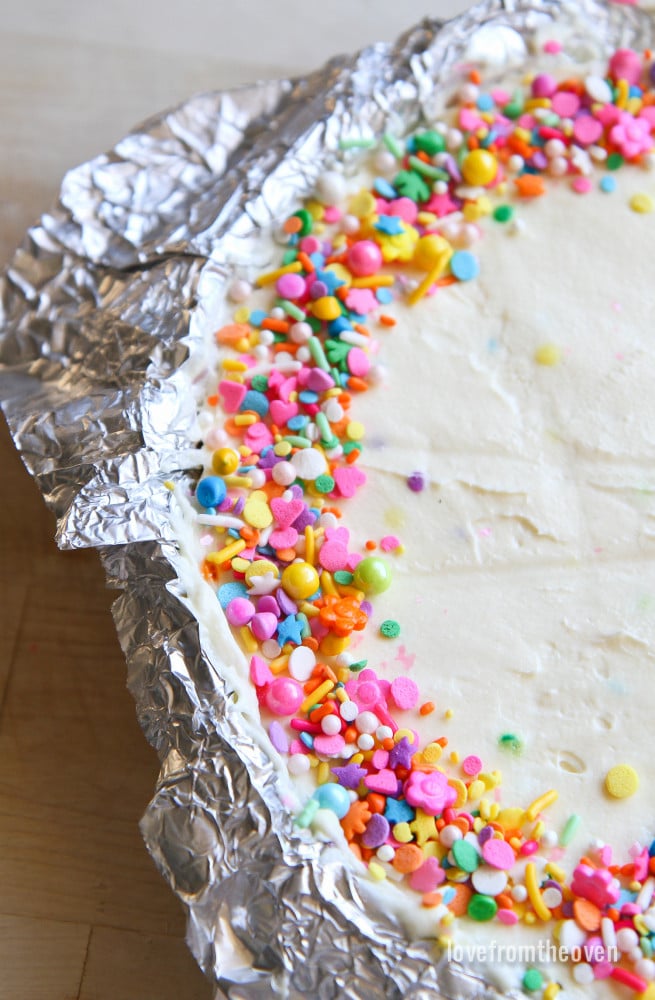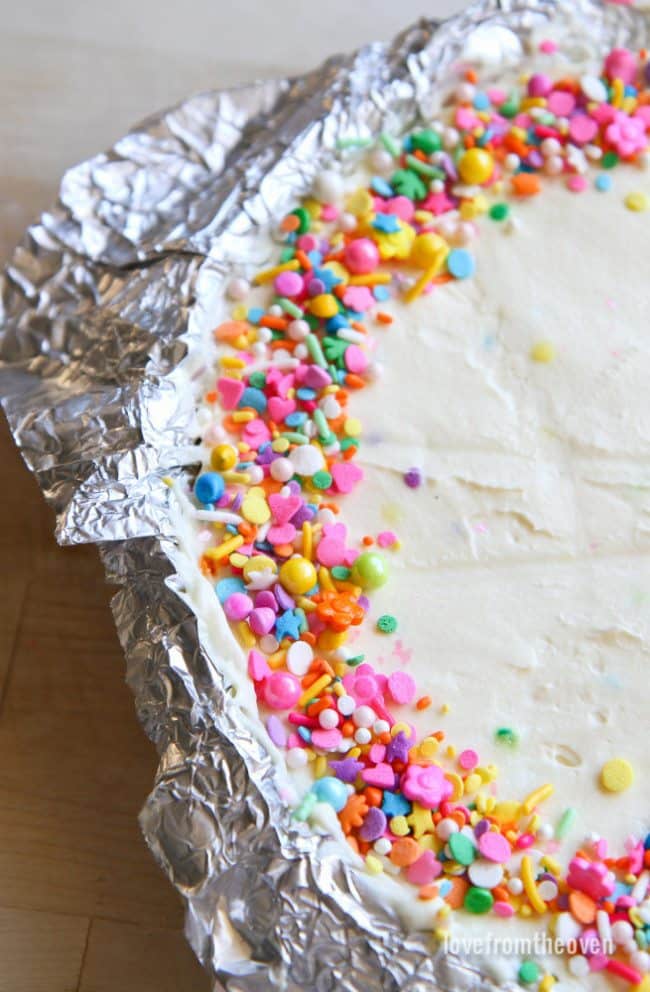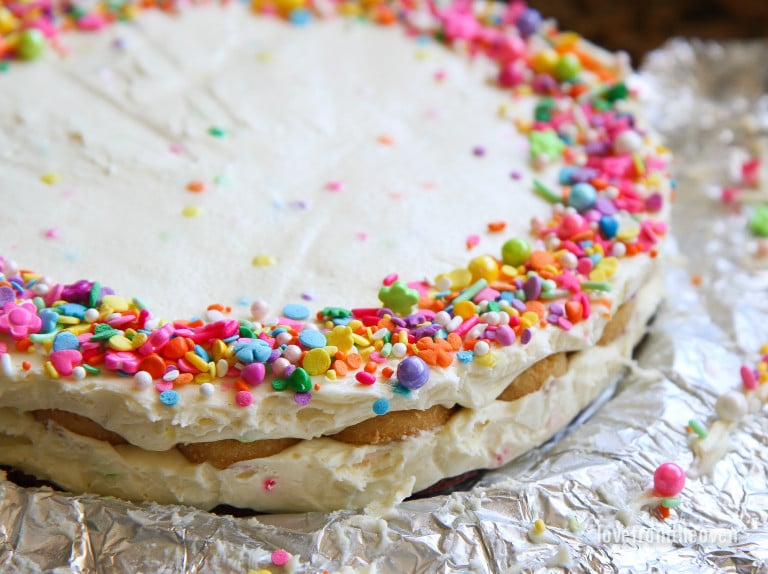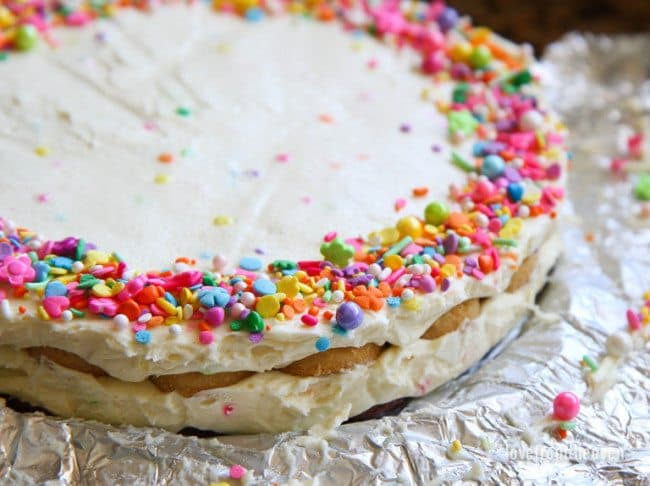 This cake is so much fun and absolutely delicious! The milk that you dip the cookies in, combined with the time chilling, softens up the cookies giving them a cake like consistency. Look at those layers of cookies right there! Yum!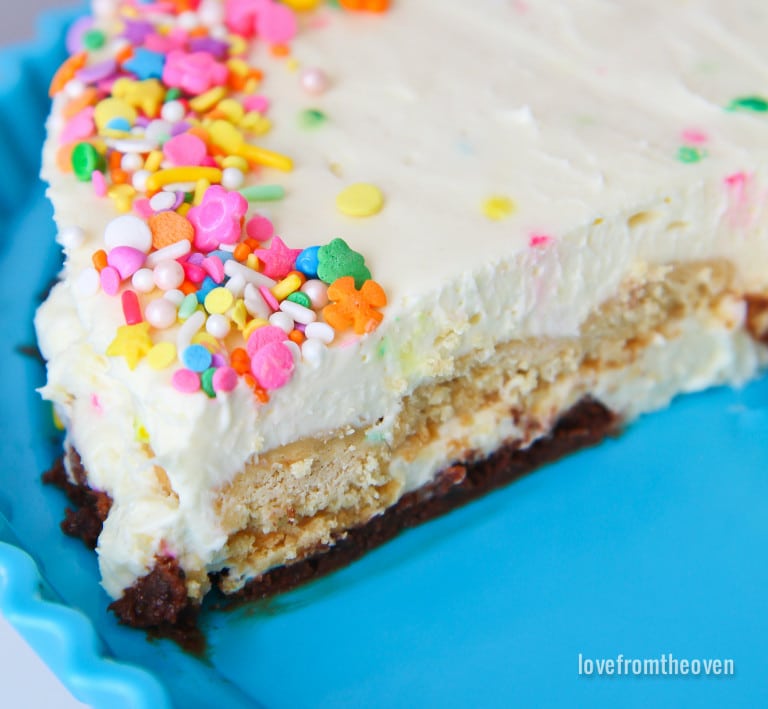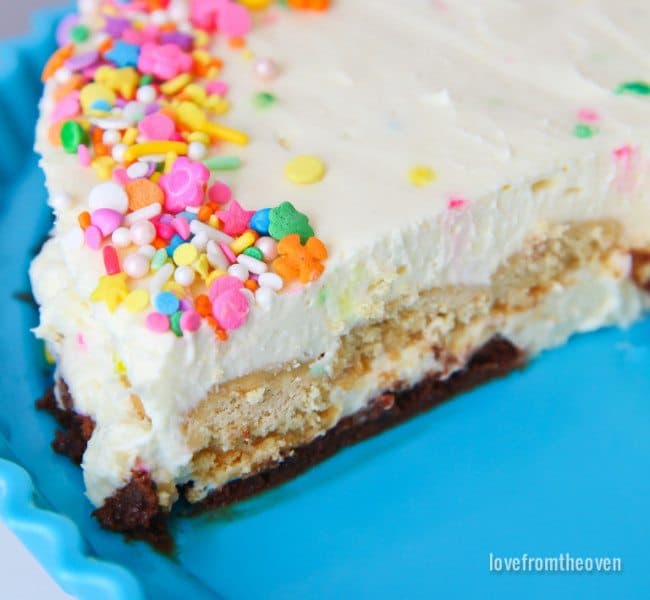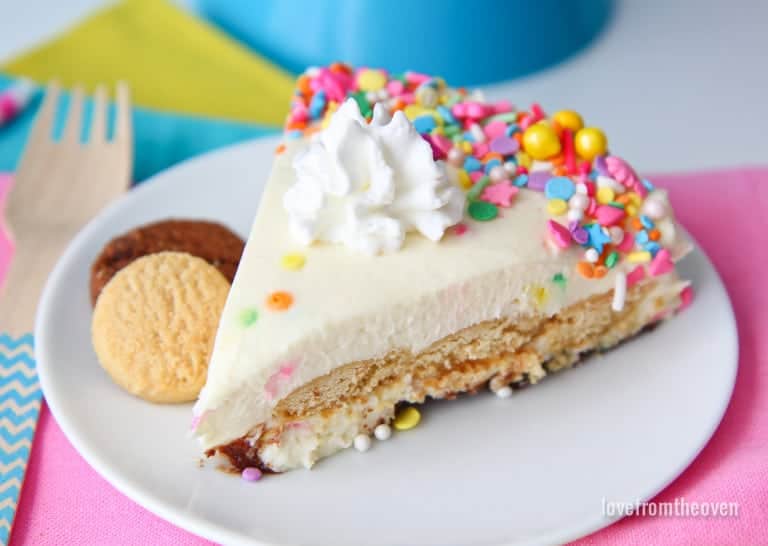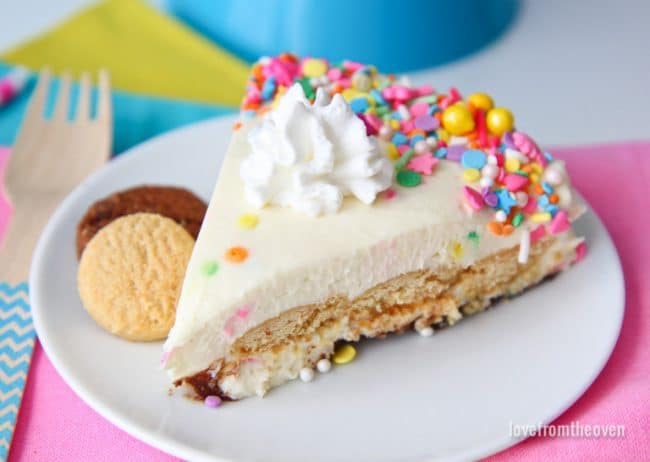 No Bake Icebox Cake Recipe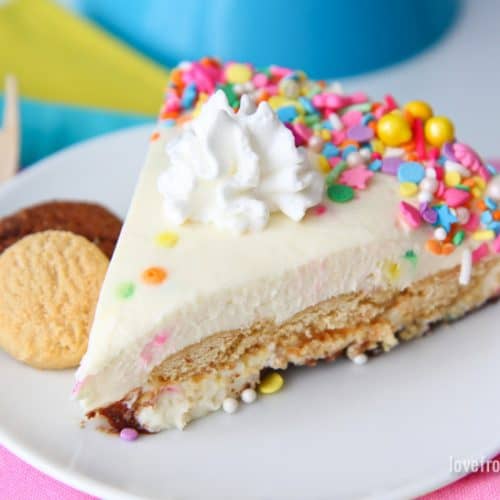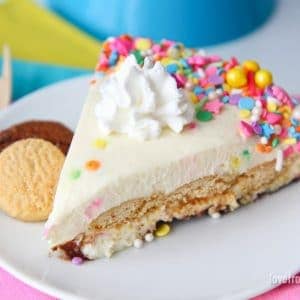 No Bake Icebox Cake
Ingredients
2

cups

whipped cream or whipped topping

12

oz

cream cheese

softened

1

cup

white or vanilla cake mix

make sure it's nut free - just the dry cake mix!

1/2

cup

sugar

Approximately 36 Skeeter Nut Free Shortbread Mini Cookies

Approximately 36 Skeeter Nut Free Double Chocolate Mini Cookies

1/2

cup

milk

Sprinkles if desired

nut free!
Instructions
Line an 8 or 9 inch round cake pan with foil, leaving enough foil to overhang the sides for easy removal from the pan. Spray lightly with non-stick cooking spray.

In a large bowl, combine softened cream cheese, dry cake mix, and sugar with a mixer until creamy and well blended. Gently mix in the whipped cream or whipped topping until smooth but do not over mix. If desired add 1/4 cup of sprinkles to the mix for a confetti look. Set aside.

Working one cookie at a time, dip Skeeter Nut Free Double Chocolate Mini Cookies into milk, then immediately place the cookie into the prepared cake pan. Continue until cookies cover most of the bottom of the cake pan (don't worry about having some gaps, that's okay!).

Spoon half of the cream cheese mixture onto the cookie layer in the pan, and gently spread to cover the cookies. Repeat the process with the shortbread cookies, dipping each in milk than placing on top off the cream cheese layer, followed by the remaining cream cheese mixture.

Chill in the refrigerator for at least four hours, preferably overnight. Garnish with sprinkles if desired and serve cold. Store in refrigerator.
I hope your family enjoys this no bake icebox cake as much as our family did. Thanks for reading, and for learning about Skeeter Nut Free Cookies. You can learn more about Skeeter Snack products on their website, as well as find out where you can buy them. You can also find them on my beloved Amazon. 🙂
Disclosure: This post was sponsored by Skeeter Snacks. All opinions however are mine and mine alone.