I have some delicious Oatmeal Breakfast Bars for you today. But I need to be honest. These were not made to be breakfast bars. They started out with dreams of becoming gluten free scones. And not just gluten free scones, but gluten free scones that had a cup of nonfat Greek yogurt in them instead of a cup of full fat sour cream. That's a pretty tall order.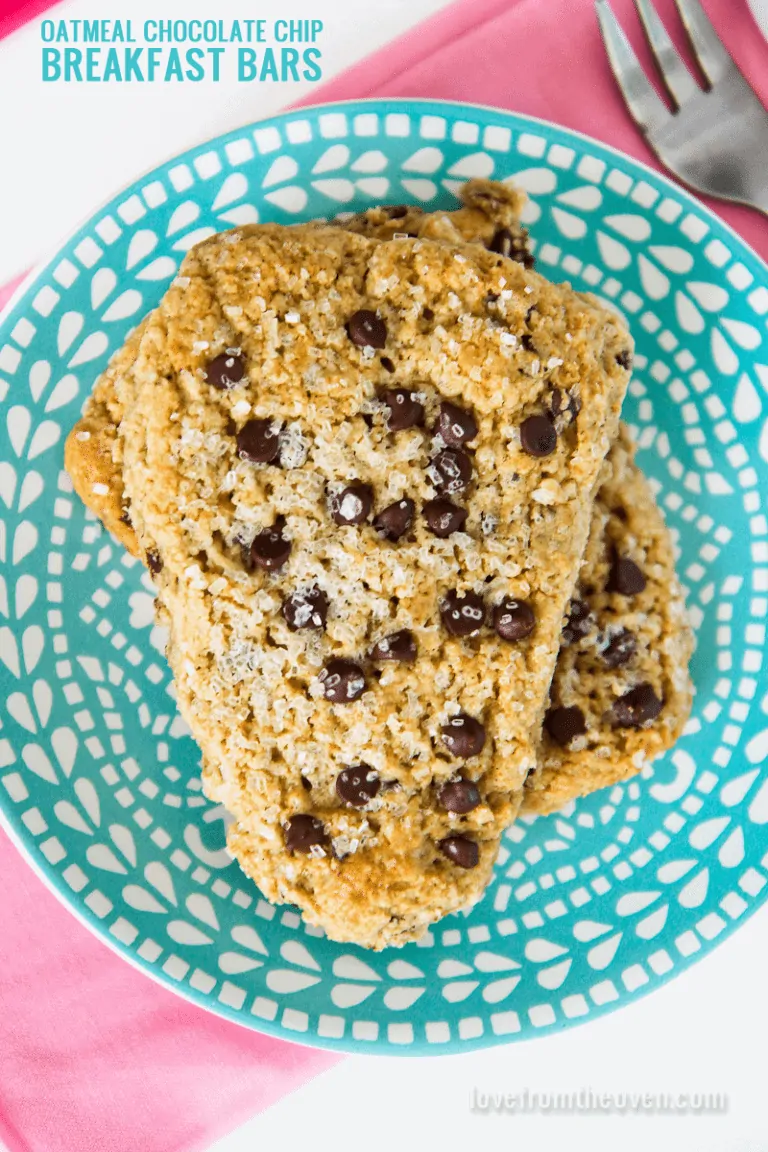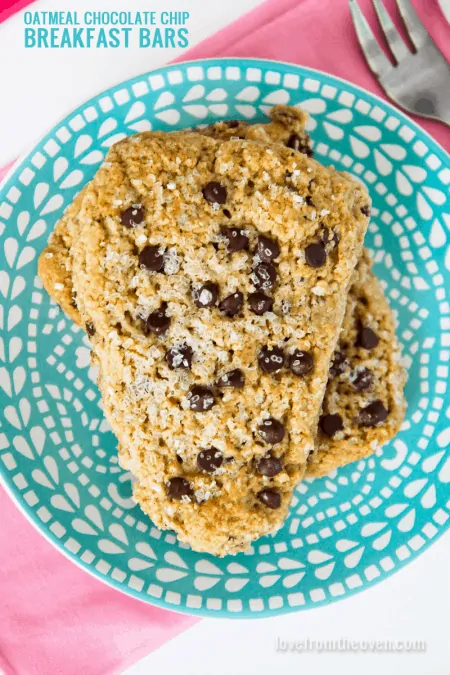 I knew that chances of scone success were slim, but I had to try. And when it comes to scones, the end result of these just was not a scone. At all. But they turned out to be VERY tasty. My daughters and I both loved them. Instead of just scrapping the recipe (and because I knew I'd make it again), I thought I would share it, because while they are a dismal excuse for a scone, they are a pretty delicious oatmeal breakfast bar, that is also gluten free. And kid friendly. And portable. And in my world, those are all very good things!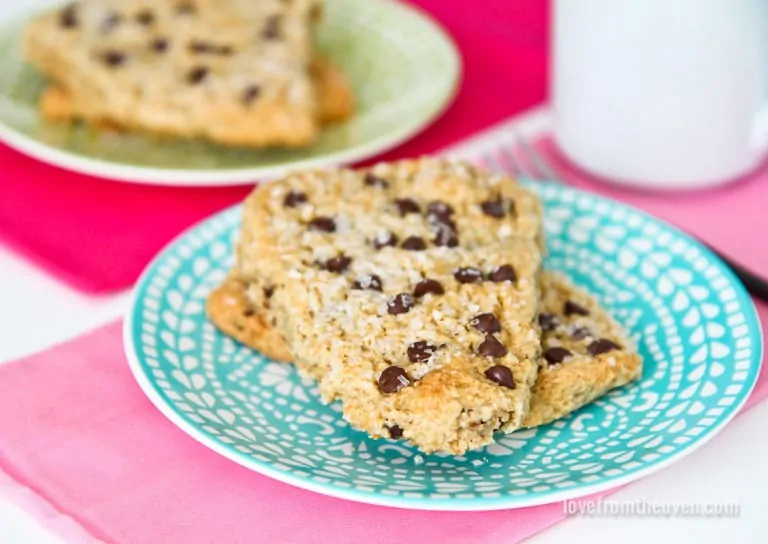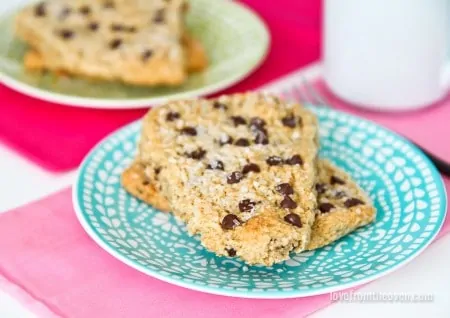 I have a feeling these could become more scone-like, or at least as scone like as you can be without actual flour, with more oat flour or gluten free flour, as this dough was quite sticky, and therefore a bit off a challenge to cut. I had a few nice wedges, but the other pieces just ended up being whatever I could transfer from my counter to my baking sheet.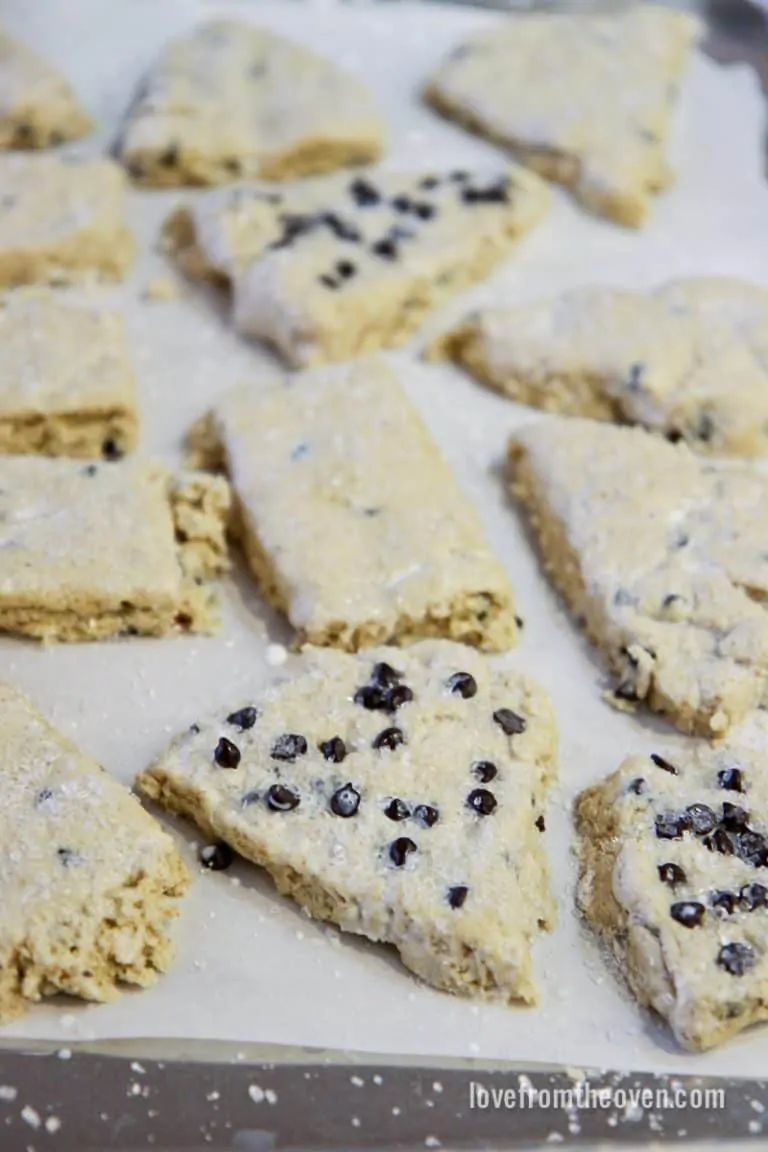 Alert – food blogger secrets being revealed! Only a few of my breakfast items like this get the heavy dose of chocolate chips. We call those the "picture pieces". Sorry kiddos, no 1/2 cup of chocolate chips on your breakfast bars! Just call me mean mom. Oh, no, wait, you do still get some chocolate chips, so you probably should rethink that mean mom thing.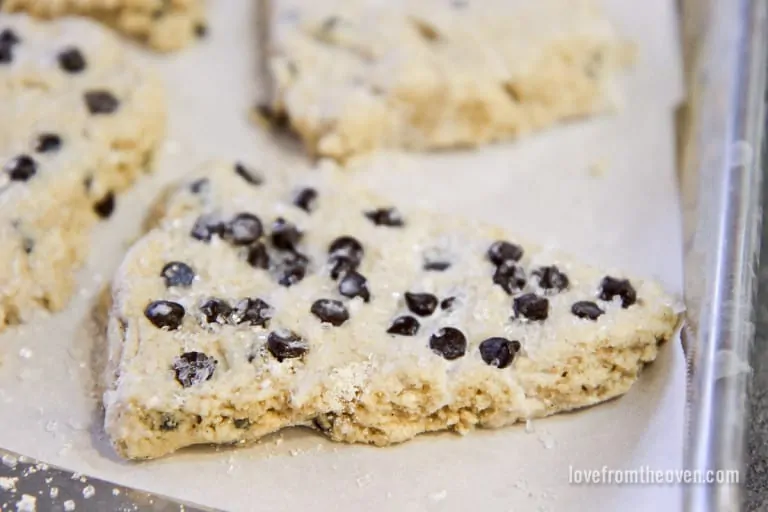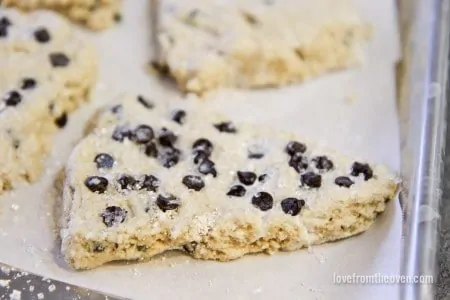 I have a hard time coming up with something to compare these to once baked. Not a scone, not that hard or dense. Not really a cookie. Not so much a muffin, but maybe kind of a little like a muffin. Not a granola bar. I know, I'm not helping you here much, am I? But they are so yummy, gluten free, full of Greek yogurt and oats, a great start to the day. I had these last week with eggs on the side. I'm trying to up my protein in the mornings in hopes of upping my energy for the day, but I have never been able to do all protein for breakfast, this girl needs some grains.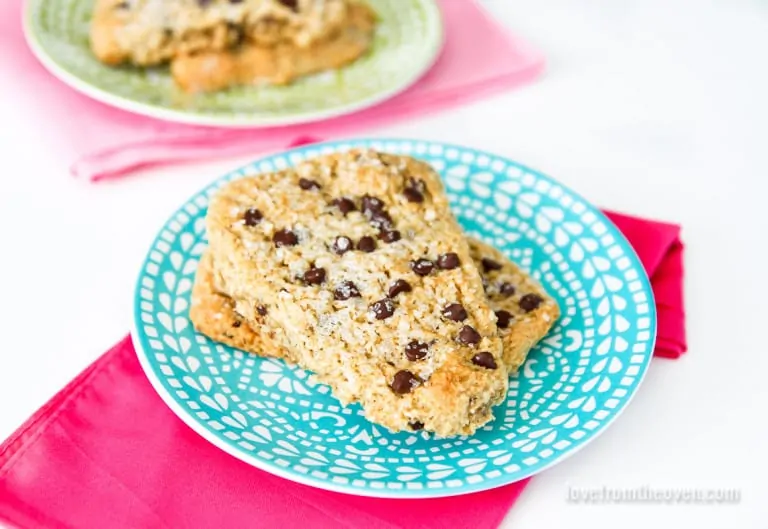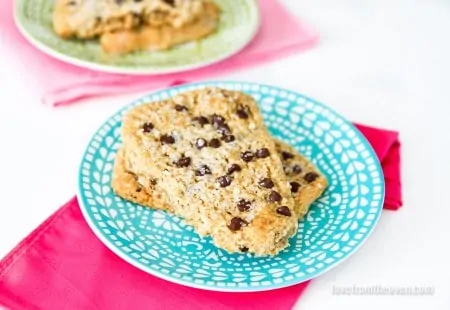 These also pack nicely. My daughter had an overnight field trip, and I packed these for her. They are a bit more sturdy than a muffin, so they travel and hold up to a lunch box or ice chest well.
Oatmeal Breakfast Bars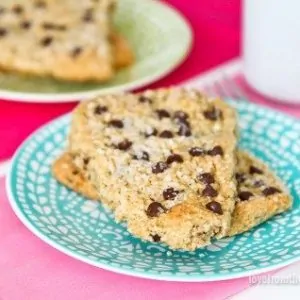 Oatmeal Breakfast Bars
Ingredients
1 3/4

cups

oat flour

1

cup

gluten free flour

I use Cup4Cup - if you don't need GF, use all purpose flour instead

4

tablespoons

sugar

2

tsp

baking powder

1

tsp

baking soda

1/2

tsp

salt

5

tablespoons

cold butter

cubed

1

cup

vanilla Greek yogurt

1

egg yolk

2

tsp

vanilla bean paste

or vanilla extract

1

cup

chocolate chips

mini size works well

1/2

cup

half and half

optional

1/4

cup

coarse sugar

optional
Instructions
Preheat oven to 350 degree F.

In a large bowl, combine oat flour, gluten free (or all purpose) flour, sugar, baking soda, baking powder and salt. Mix well.

If you have a food processor, pour dry ingredients into a

food processor

, and add in the cold cubed butter and pulse a few times until ingredients start to clump together. Pulse in the vanilla, yogurt, egg yolk and chocolate chips until just combined. Do NOT over mix. Dough will be VERY sticky and doesn't hold together very well. If you do not have a food processor, you can mix the ingredients by hand using a

pastry blender

.

Transfer dough to a surface dusted with gluten free or all purpose flour. Knead very gently until dough starts to form a ball (more GF or all purpose flour will likely be needed for your hands). Gently pat the dough down to 3/4" thick. Cut dough into 12-16 equal size pieces. If the dough is sticky, some cooking oil rubbed onto your knife can help. Carefully move the pieces to a baking sheet lined with parchment paper (a spatula works well to do this, the dough does not hold together well like a biscuit would). Dough will expand when baking, so leave at least 1-2" between each piece of dough on your baking sheet. Brush each bar with a bit of half and half, and sprinkle with coarse sugar if desired.

Bake for approximately 16-20 minutes or until bars are lightly browning and spring back when touched. Remove from oven and let cool completely. Store tightly covered, best if served within three days.
Disclaimer
Nutrition information is estimated as a courtesy. If using for medical purposes, please verify information using your own nutritional calculator. Percent Daily Values are based on a 2000 calorie diet.
If you like starting your day with oats, you might enjoy these recipes as well!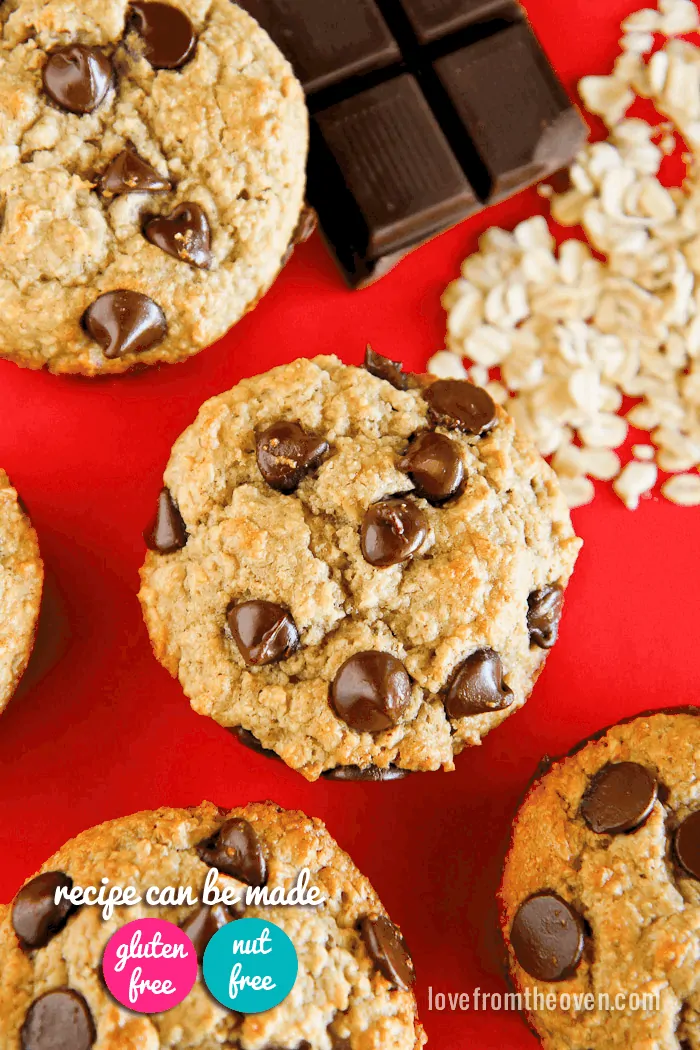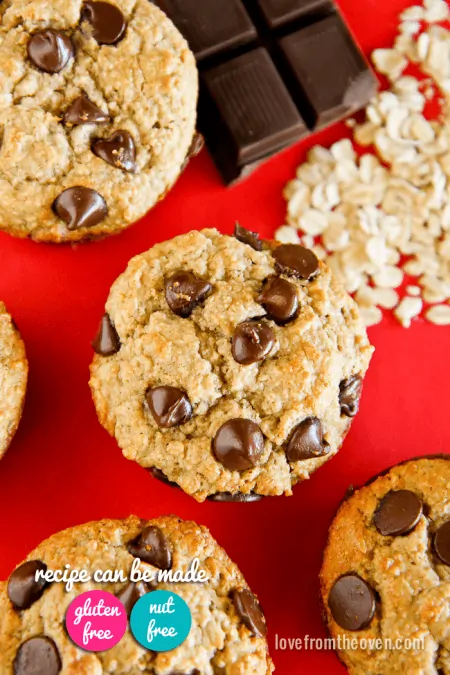 Butterscotch Banana Muffins