I've always been pretty honest that I don't really love to cook, but I'm really trying to get a more creative lately when it comes to cooking. I thought I would share some of my dinner successes with you, as I know many readers have also shared that they don't love to cook or don't feel like they are very good cooks. I've been intrigued by all the one pot meals and one pan meals I've been seeing bloggers sharing. One pot meals – I mean, I can do one pot, right?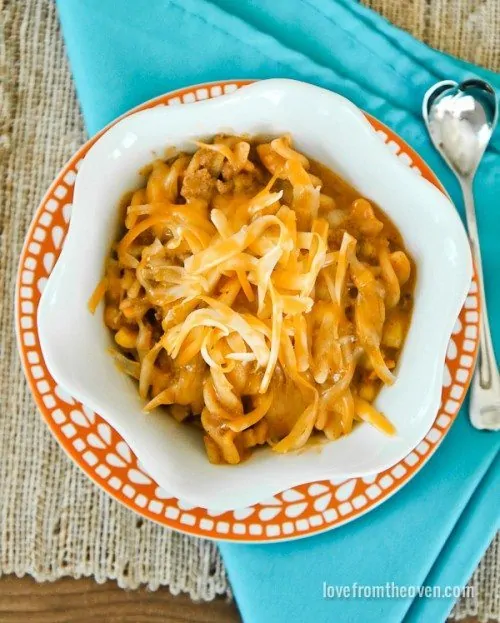 So bear with me, I'm used to photographing muffins and cupcakes.
Making dinner look pretty, a bit harder!
I used to really enjoy cooking. And then I had two picky eaters. The end. Seriously, it makes it challenging. After a few hundred nights of plain chicken, I don't think anyone would love to cook. I know, there are many people out there who do not believe in catering to picky eaters. I get it, I do. But having grown up as a picky eater, I've been there myself (and in many ways, still am – accidentally put a pickle on my plate and watch me fall apart!). I also happen to have one child with sensory issues and one child whose picky eating ways actually have probably helped keep her safe with life threatening food allergies, so I'm probably more flexible than some when it comes to picky eaters. That said, I'm really over plain chicken. REALLY.
I keep seeing these one pot meals, and decided that was a great idea for me. I'm one of those adults who actually does have doctor diagnosed ADHD, and sometimes juggling four pots and the oven all at once totally overwhelms me, and I always mess something up. So one pot recipes have huge appeal to me. I've seen so many delicious recipes at No. 2 Pencil that I decided to start with her One-Pan Enchilada Pasta recipe.
It was amazing. And it was easy. I think my husband almost cried tears of joy over the fact that beef was on the menu. Seriously. Go to her site and make it exactly as it is. It's amazing. It was a little spicy for the girls, but one ate her entire serving, and the headstrong little one ate her four bite requirement. That's pretty much mealtime winning for us. If I make it for the kids again, I will probably leave out some of the taco seasoning and maybe replace half the enchilada sauce with a milder version, or even tomato sauce.
It is however, my nature, to mess with recipes. I can't really help it. My husband had mentioned that chili would be good (it's like denial that fall is still far off in Phoenix), so I decided to adapt this recipe into a half pasta, half chili version, and lighten up on some of the cheese. While I adore all that cheese, I wanted to make a little lighter version, so I made some changes. What did I do? I saved the grated cheese just for topping in our individual bowls. I took out 1/2 the pasta and replaced it with beans (I used white beans, but black or pinto would be great I'm sure). I added some corn and to add just a touch of creaminess, I added a bit of cream cheese. Sour cream added when serving would probably serve a similar purpose.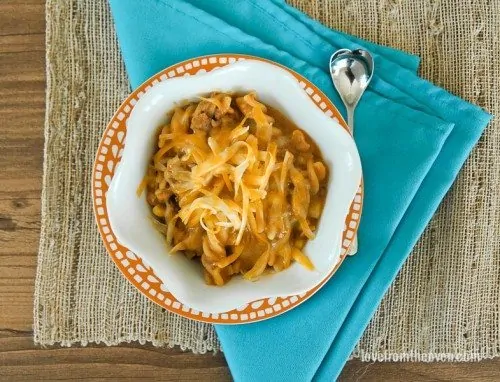 Giveaway I'm a dessert blogger – no chives, or
green onions or any colorful pretty toppings.

It was delicious. It's not quite as decadent (hey, I did take out most of the cheese and swap half the pasta for beans!) but it was still completely delicious and we loved it. I might be quite excited to have leftovers in my fridge for dinner tonight, that is if I don't dig in for lunch. Making this all in one pot is so easy, and very do-able for even those that get frazzled in the kitchen.  While I'm very comfortable baking, and often do it without a recipe even, I won't lie, cooking stresses me out. That whole have it all done at one time – I just suck at it. I've made peace with it, and know it's a sore spot for me. One pot meals? A fabulous option for me.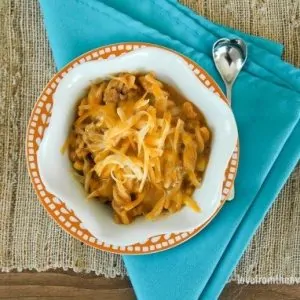 One Pot Meals – Enchilada Chili Pasta
Ingredients
2

tablespoon

of extra virgin olive oil

2

cloves

of garlic

minced

1/2

of a small onion

diced

1

pound

of lean ground beef or turkey

seasoned with taco seasoning

2

cups

chicken broth

1 19

oz

can of red enchilada sauce

4

oz

about 1.5 cups of dried rotini pasta

1

can beans of choice washed and drained

black beans or cannellini beans work well

1-2

cups

corn

if frozen, place in a strainer and run under hot water to help thaw, but you don't need to cook

3-4

tbsp

cream cheese

1/2

cups

of freshly grated Colby Jack cheese

Optional: Sour cream or guacamole for topping
Instructions
In a pot or pan large enough to eventually hold all ingredients, sauté garlic and onions in olive oil over medium low heat until softened.

Add ground beef or turkey meat, along with taco seasoning and cook, breaking meat up with a wooden spoon until browned.

Once meat is cooked through, add pasta, beans, chicken broth and enchilada sauce to pan.

Bring to a boil, then reduced heat to low and cover.

Cook on low, with pan covered for about 15 minutes.

Remove lid, add in corn and cream cheese, stir well, and let simmer for additional 7-8 minutes until pasta is tender and sauce has reduced.

Remove from heat. Transfer to serving plates or bowls.

Top individual servings with a sprinkle of grated cheese.

Serve with sour cream and guacamole for topping as desired.

Enjoy!
Notes
Adapted from Number 2 Pencil
Disclaimer
Nutrition information is estimated as a courtesy. If using for medical purposes, please verify information using your own nutritional calculator. Percent Daily Values are based on a 2000 calorie diet.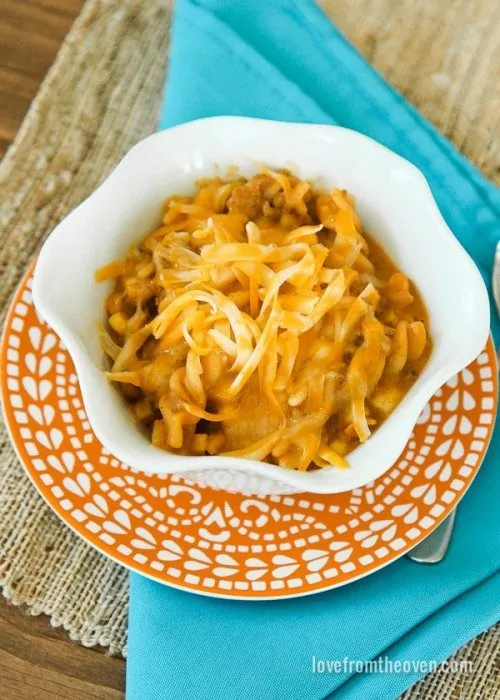 This would be great paired with some tortilla chips, or even Fritos (I had that Fritos / Chili association made as a young child, so now I always think anything chili like needs Fritos). We LOVED this. It really was amazing. I actually felt like a dinner making success. Well, aside from my four year old coming into the kitchen about 11 times to tell me, "not gonna try it", but eh, it's a phase (please, let it be a phase). And she did try it. Granted I lacked the pretty garnish and really should have had some sour cream or guacamole, but baby steps, baby steps.
I'm hoping to share more meal recipes with you as I find ones that work for us. And I promise in the future I'll totally have green stuff to garnish with. 🙂
If you are like me, and find dinner challenging,
I'd love to know what your favorite recipes are!