It's been a month since my girls returned to school, and I think we have all adjusted, found our groove and started establishing routines that work for us. One routine that is really important to me is our lunchbox routine. My little one is a teeny tiny little peanut, who is also a very slow (not to mention picky!) eater. She's pretty accustomed to mom making her a hot lunch everyday, so switching to lunch in a lunchbox has been a big transition and one I was worried about. I think we've got it right, and she's eating a great lunch each day!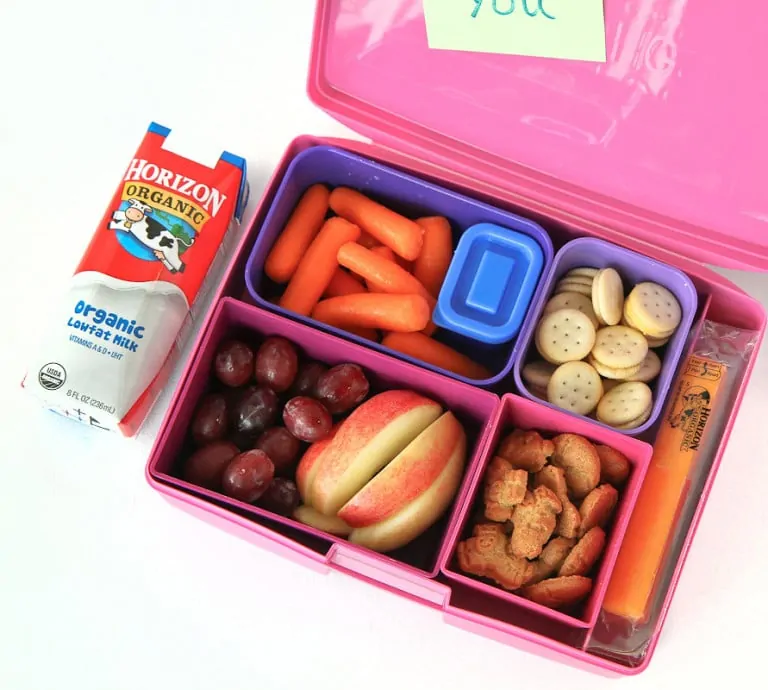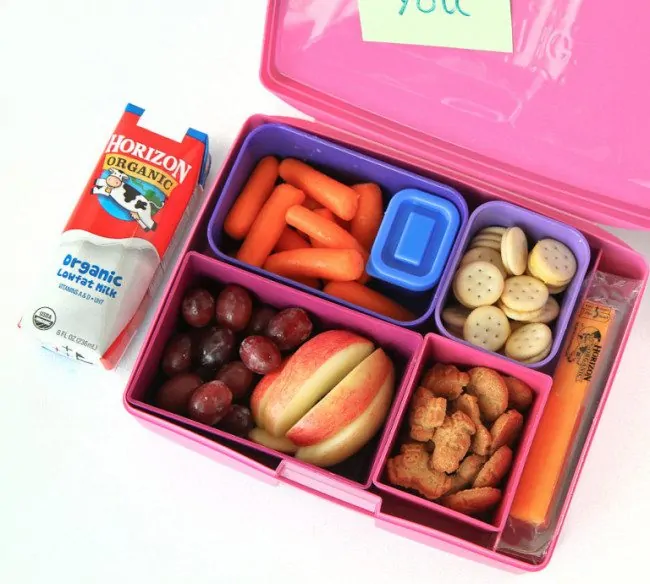 When Horizon Organic asked if I would like to share what works for us in our lunchbox routine, as well as any tips I might have to share, I was happy to oblige. Thank you to Horizon Organic for sponsoring this post. To say we go through a few boxes of Horizon Organic Cheddar Sandwich Crackers and snacks each week would be an understatement. My girls are both absolutely crazy about them!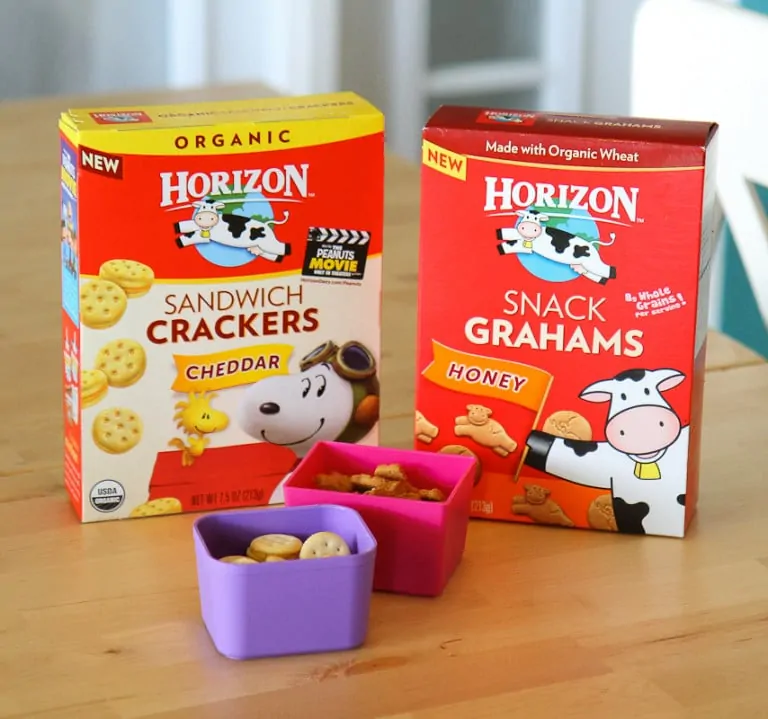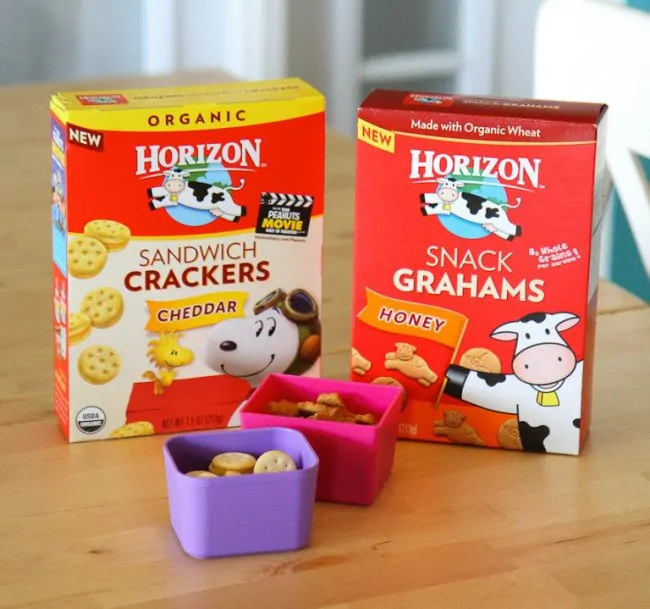 One of the best pieces of advice I was given when my oldest daughter started school was to pack a lunch that I knew she would want to eat, not one I hoped she would eat. For us, the lunchbox isn't the time or place to fight the broccoli battle. My goal each day when I pack lunches is to have the girls open their lunchboxes and be excited to eat what is in front of them. This means they are going to get the food they need to get them through the day and we aren't wasting food with it ending up in the trash. Sure, I'd love for them to be getting some greens in and maybe some chicken, but at least for my little one, that is not going to happen. So I focus on packing foods that we both approve of.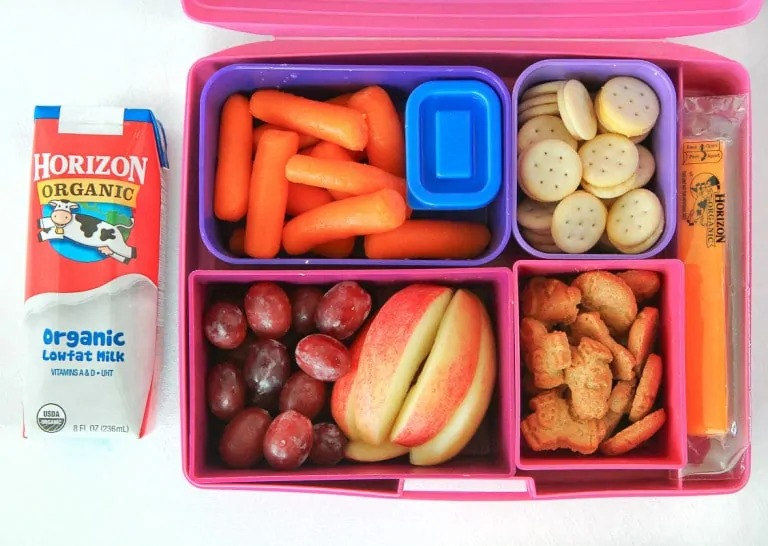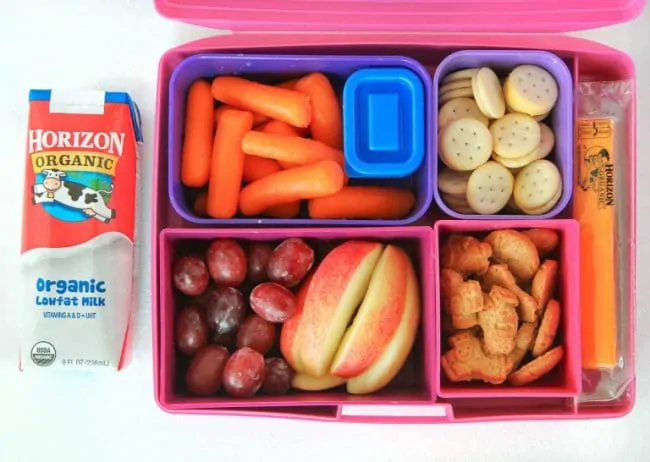 At the same time that I want to give them foods they want, I also want to make sure that they are fueled with wholesome foods. I think we have found that balance. One thing I have found very helpful in figuring out what works for our lunches is to have the girls never throw away the food they don't eat. It comes home with them. It doesn't take long to pick up patterns of what isn't getting eaten and what is getting gobbled right up. This really helps me adapt what I'm packing to make sure it's the foods that they are actually eating. Sometimes food goes uneaten due to running out of time, school lunches can be very short, and those uneaten items are gobbled up as snacks as soon as the girls get home.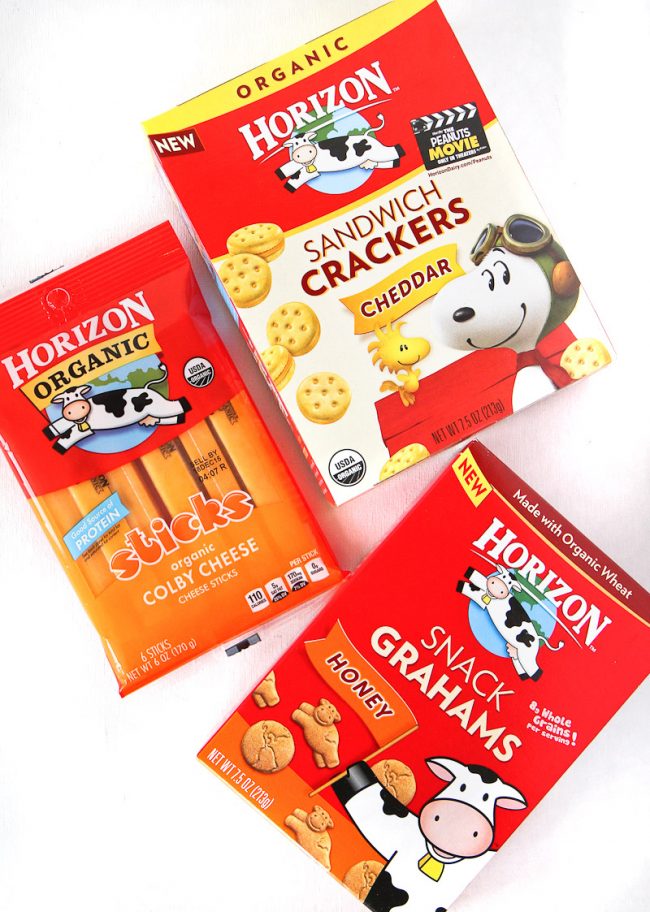 My girls have never been sandwich eaters, which can present a challenge when making a lunch. Both are big on fruit, and love crackers. I've tried packing turkey and chicken, but it usually re-visits me when the lunchbox comes home. Horizon Organic Milk Boxes and Cheese Sticks come to the rescue packing in 15 grams of protein combined. Add in the Horizon Organic Cheddar Sandwich Crackers and we are up to 18 grams of protein. It certainly makes me happy to know they are getting all that protein with their lunch.
My formula for packing the lunchbox is to include two or three fruits, a veggie, cheese and milk for protein, crackers and something that the girls consider a "treat", but still sneaks in some nutrition, such as Horizon Honey Snack Grahams, which have 8g of whole grains. Grace, my kindergartner, is pretty big on "rules", so she actually eats her grahams last. If she doesn't have enough time to finish them during lunch, then the container comes out of her lunchbox right after school – sometimes while we are still in the car, and she finishes them at that time.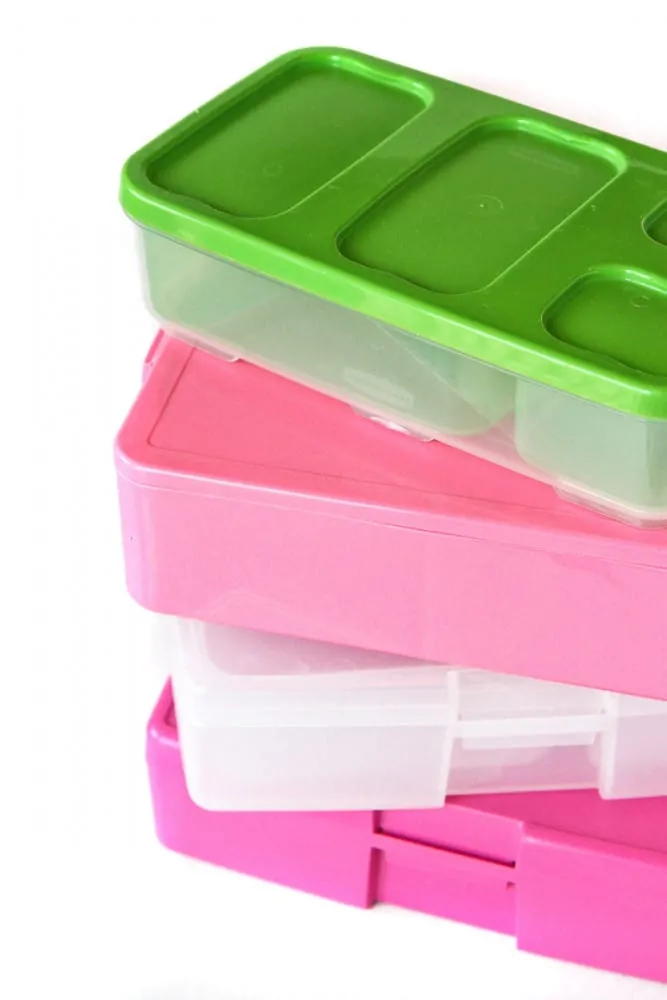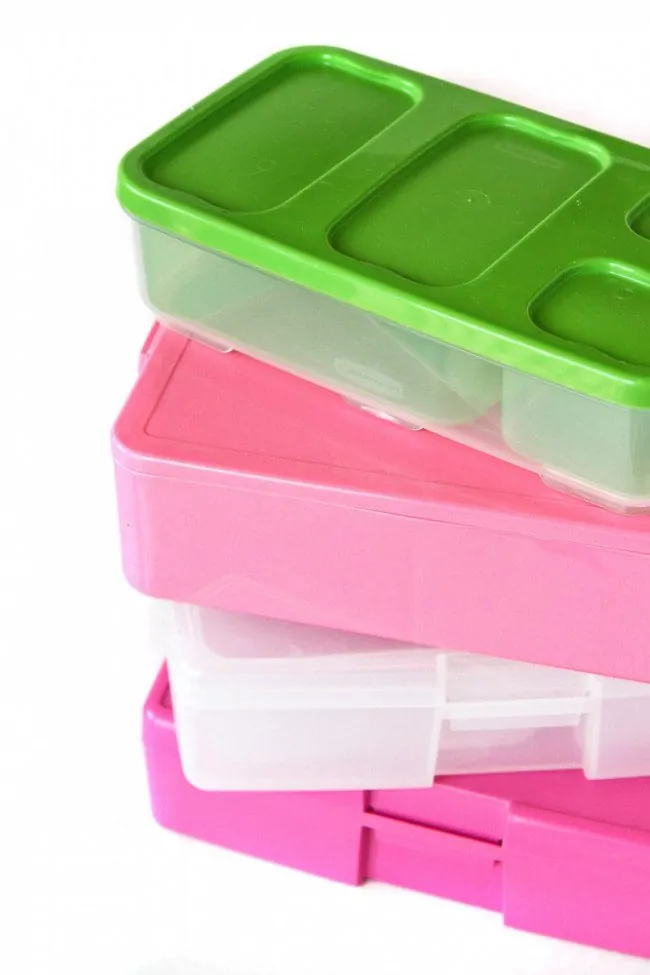 Something that has made lunches a lot easier to eat, especially for my little one, is using a bento style box. This doesn't have to be anything fancy, just a box with a few different compartments. I've even used food storage boxes without compartments and placed silicone baking cups in the boxes to make my own compartments. The beauty of these boxes is that the kids open them and eat. No packaging to mess with. I remember visiting my oldest daughter's school for lunch one day when she was in kindergarten and I was shocked by much time and effort many kids were putting into just getting their foods opened. The amount of trash generated was also eye opening. Two words of advice when using these types of boxes. First, make sure you child can easily open and close it. My youngest has fine motor challenges, and Yumbox was the easiest brand for her to open. Second, some of these boxes don't fit in traditional lunchboxes, so make sure you check the sizes.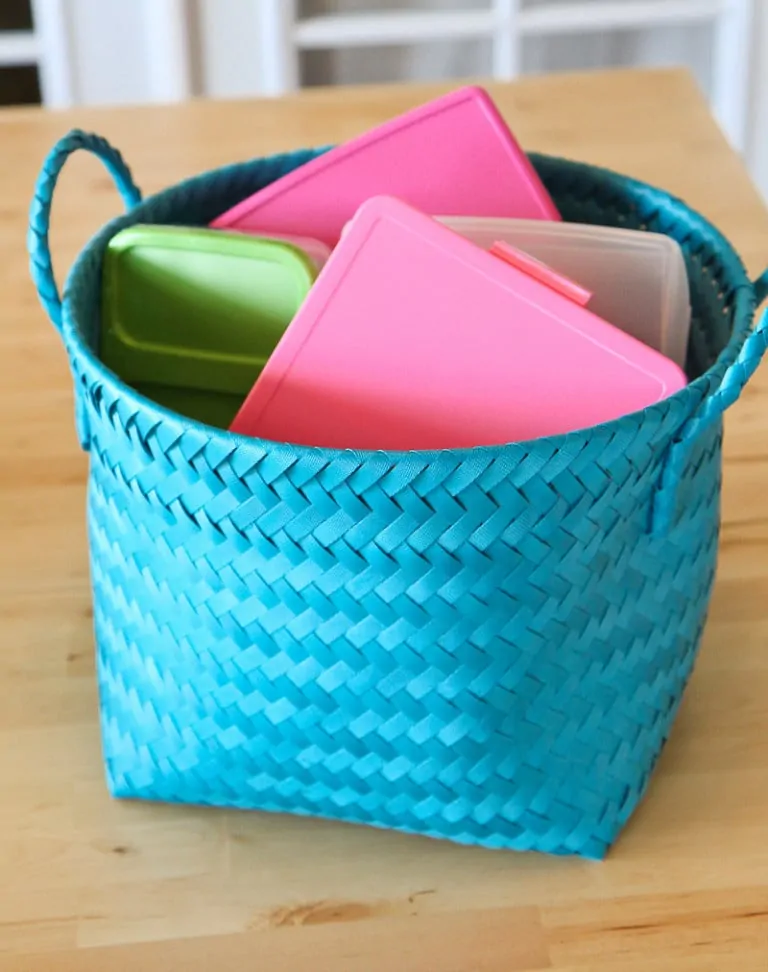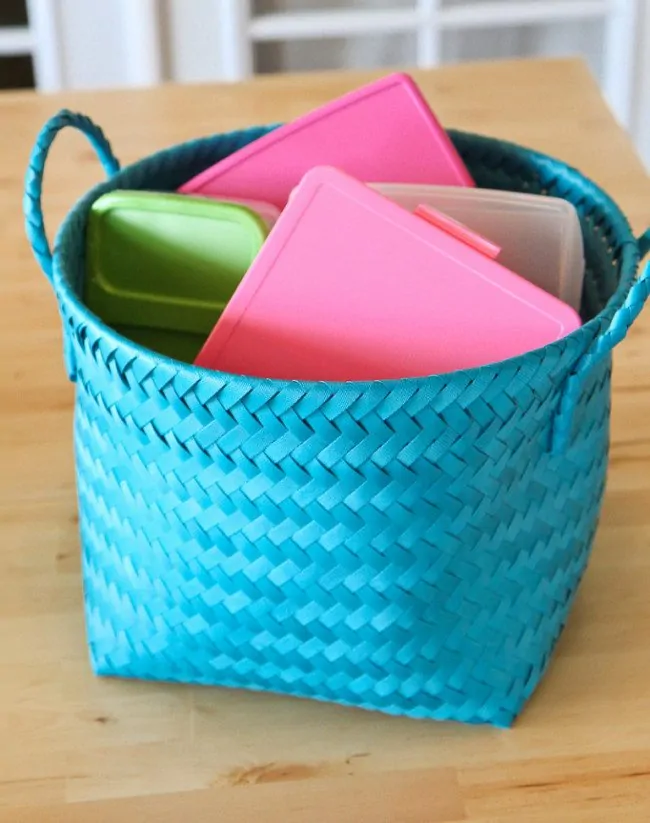 To make lunchbox packing easier for me, I picked up a small tote that I keep all of our bento boxes and other lunchbox accessories in. This is a lot easier for me then these items getting mixed in with other items in our cupboards. I also keep things like post it notes (for little notes), reusable child size silverware, fun napkins and other items in this tote.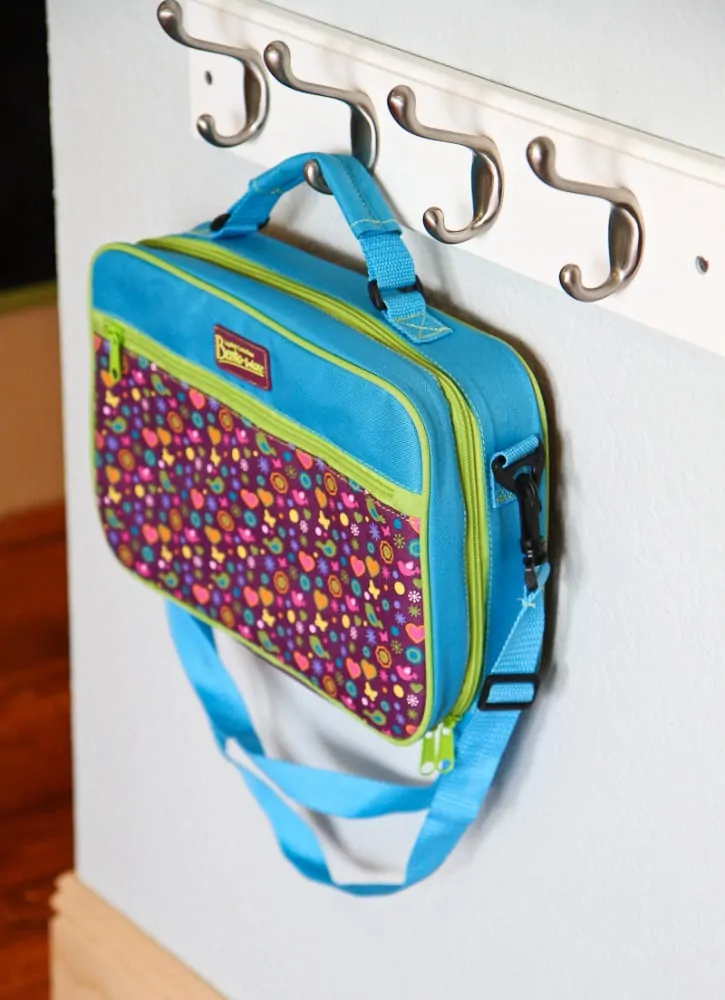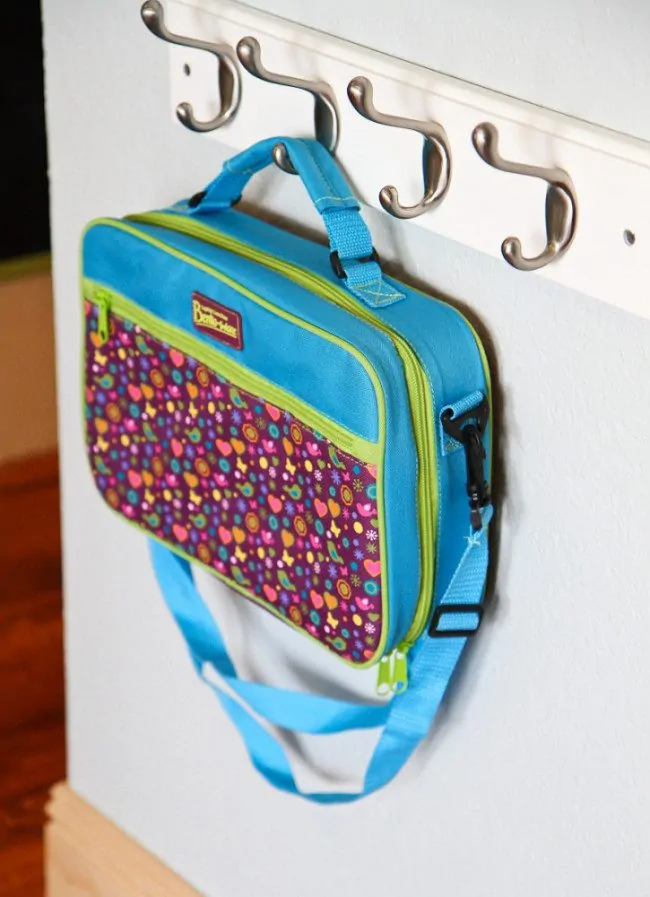 We installed some hooks on a wall next to our kitchen where we hang up our lunchboxes after school each day. This has been one of my favorite things we've added to the routine this year. The lunchboxes always seemed to be all over the counters and never really had a true home. Now we just unpack them, hang them up, and they are waiting and ready to be refilled the next day.
One last tip, to tuck away for upcoming school years… if you have a little one who has never had lunch in a lunchbox before, start practicing eating out of the lunchbox a few weeks before school starts. You can also contact your school to ask about coming and having lunch with your child before the end of the school year prior to your child's first day of school. This probably works best if you already have another child at the school, as we did. But if you can make it work, it's great. We had two practice lunches in the school cafeteria with my little one's big sister, which really helped familiarize her with the process and the cafeteria.
My Top Five Tips For Packing School Lunches
1. Pack the foods that you know your kids will eat, not what you wish they would eat. Find items that you both approve of.
2. Tell the kids that the uneaten food needs to come home each day. This lets you see what kids are and are not eating and can also provide after school snacks.
3. Use a bento style box so kids can spend their time eating, not opening packages. This also cuts down on waste!
4. Keep lunchbox accessories and containers together in one place for easy packing. Containers, cutters, fun napkins, notepads for notes, silverware…
5. Create a home for your lunchbox and return it there each day after school. We find a hook near or in the kitchen works great, especially when it's at the child's level.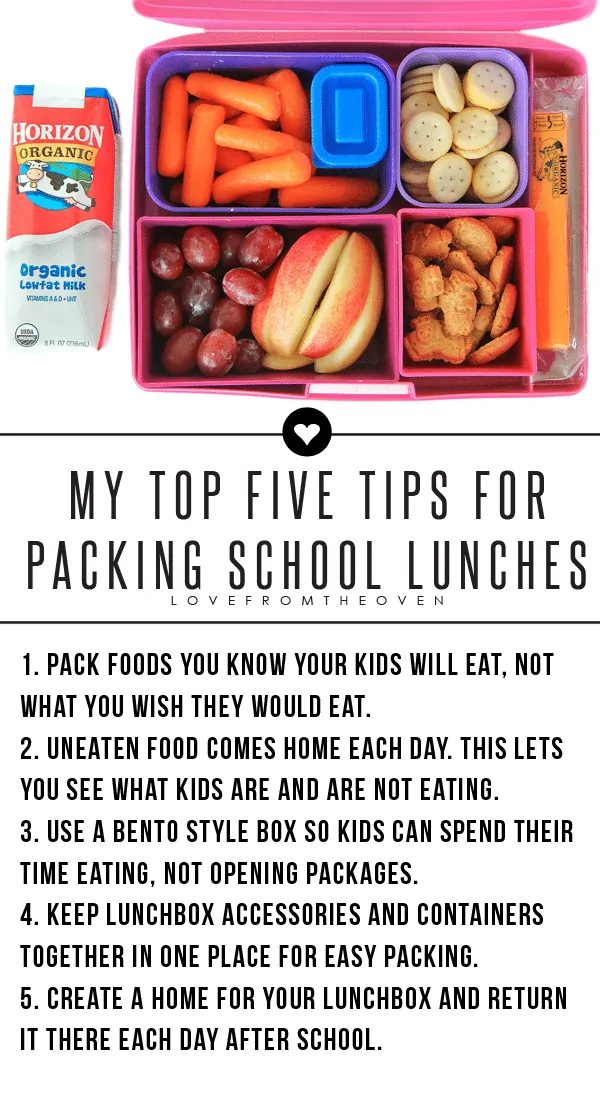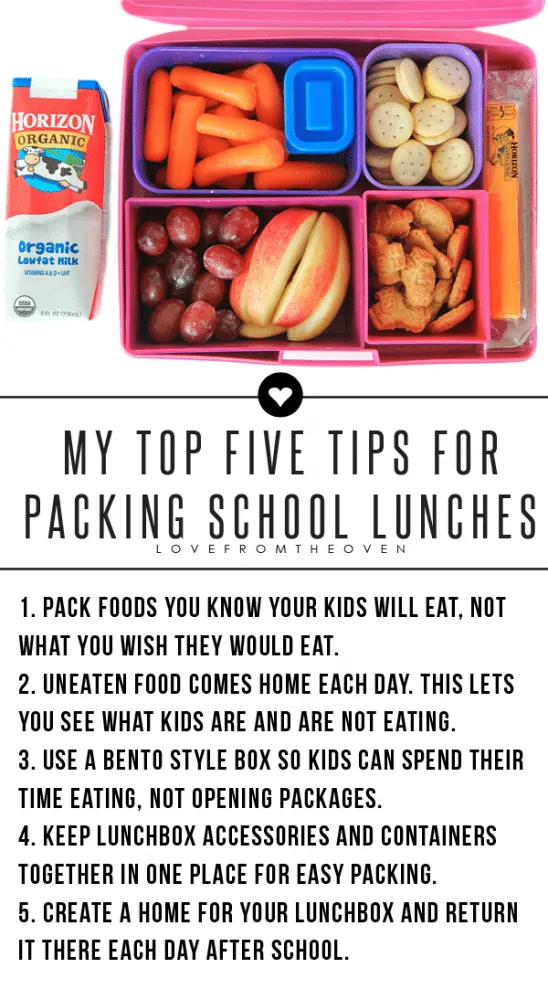 I hope some of these tips can be helpful for your family. It's so important to find what works for you and establish a lunchbox routine that is unique to your family. Horizon Organic Snacks can make a great addition to those lunchboxes! For more great ideas and lunchbox ideas, follow Horizon and check out #HorizonSnacks on Twitter, Facebook, Pinterest and Instagram!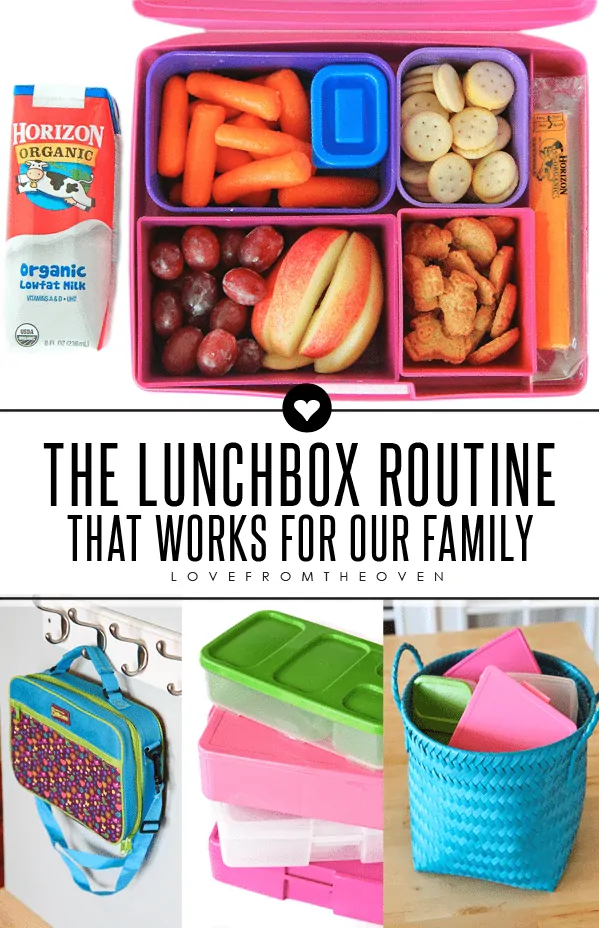 Disclosure: This post was sponsored by Horizon Organic. All opinions however are mine and mine alone.
This conversation is sponsored by Horizon. The opinions and text are all mine.