I like chocolate cookies and I like "stuff" in my cookies. Chocolate chips, white chocolate chips, a little something for crunch, it's all good.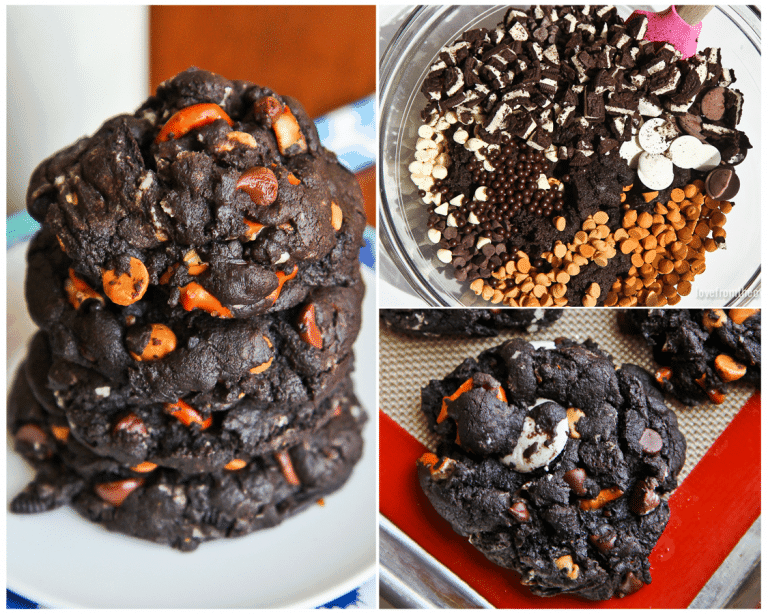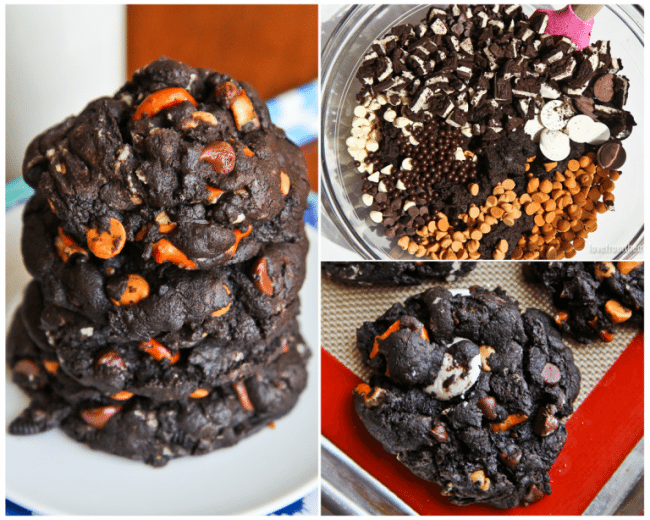 But sometimes, when you keep adding more and more stuff, those chocolate cookies can turn into Overwhelming Chocolate Cookies. Overwhelming Chocolate Cookies are not bad, quite the contrary. They can easily be the greatest and most amazing thing ever. But they can also be confusing. They can be unexpected. They might not cooperate and what comes out of the oven might not be what you anticipated, because there is SO MUCH STUFF. At times all that "stuff" in them just completely overwhelms that chocolate cookie. That wonderful, sweet, perfect, chocolate cookie. No matter how much stuff you add to it, the heart of it all is that chocolate cookie. Meet my Overwhelming Chocolate Cookies. We can also call them Autism Cookies.
If you just want cookies, and no autism on the side (hey, I won't blame you!) just scroll all the way down for the recipe. 🙂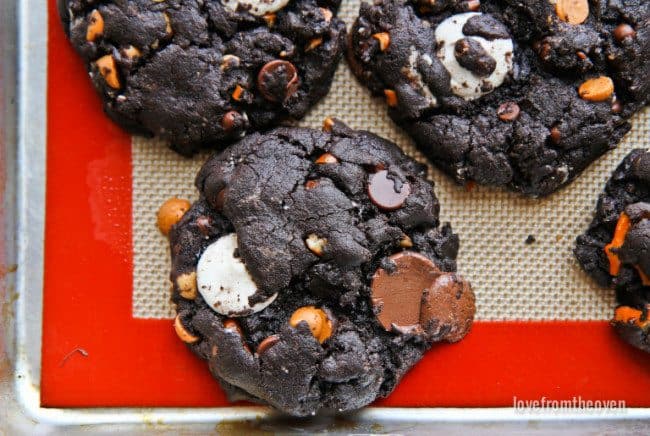 April is Autism Awareness Month. There are lots of puzzle piece symbols and things being lit up blue all over the internet. I have been on the fence about writing an autism related post, and in my typical fashion, I decided to do it at the last minute. Being a baker, naturally I thought I'd make some cookies. When you hear autism cookies, you might think of cookies shaped like a puzzle pieces, frosted blue. While those are wonderful, the truth is I have a hard time frosting a sugar cookie blue to talk to you about autism awareness, when in reality I don't let my child with autism have artificial food dyes. I kind of keep that hush hush, I mean this is a blog built on sprinkles after all. Anyways, back to cookies. And autism.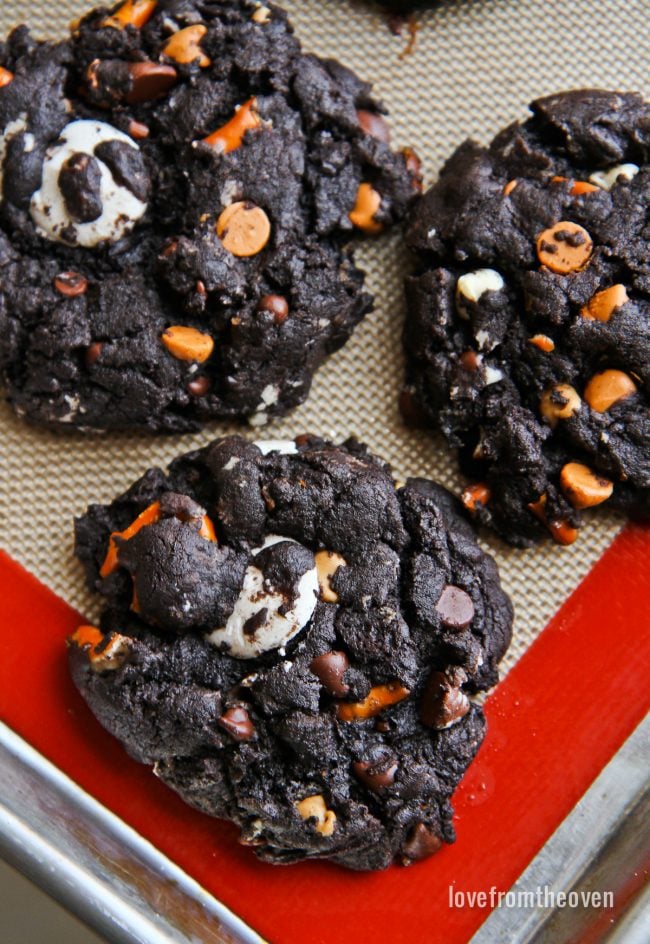 I can't tell you what it's like to have autism, because I don't know. I'm not sure I ever will know. I do however know what it's like to be the parent of a child with autism. Our six year old daughter has autism. I thought I would share a glimpse into our world of autism through cookies. It's a baking blog. This makes sense in my head. Hopefully it might even make sense in yours.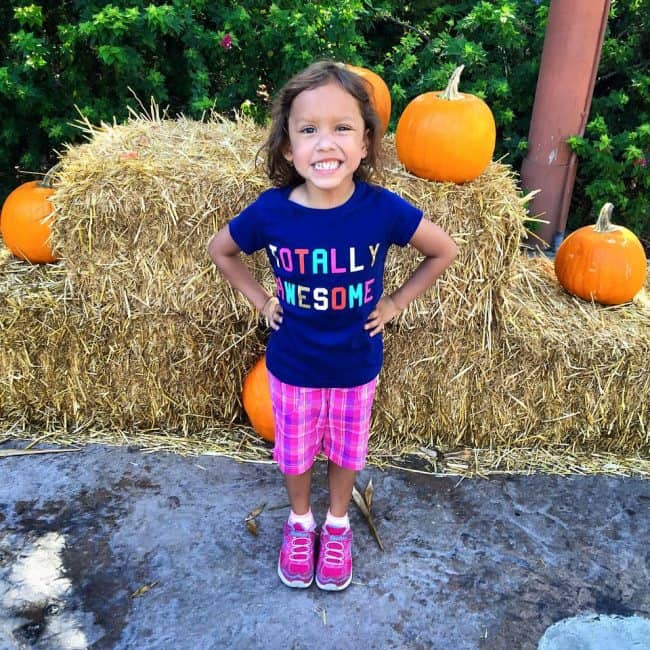 So cookies and autism.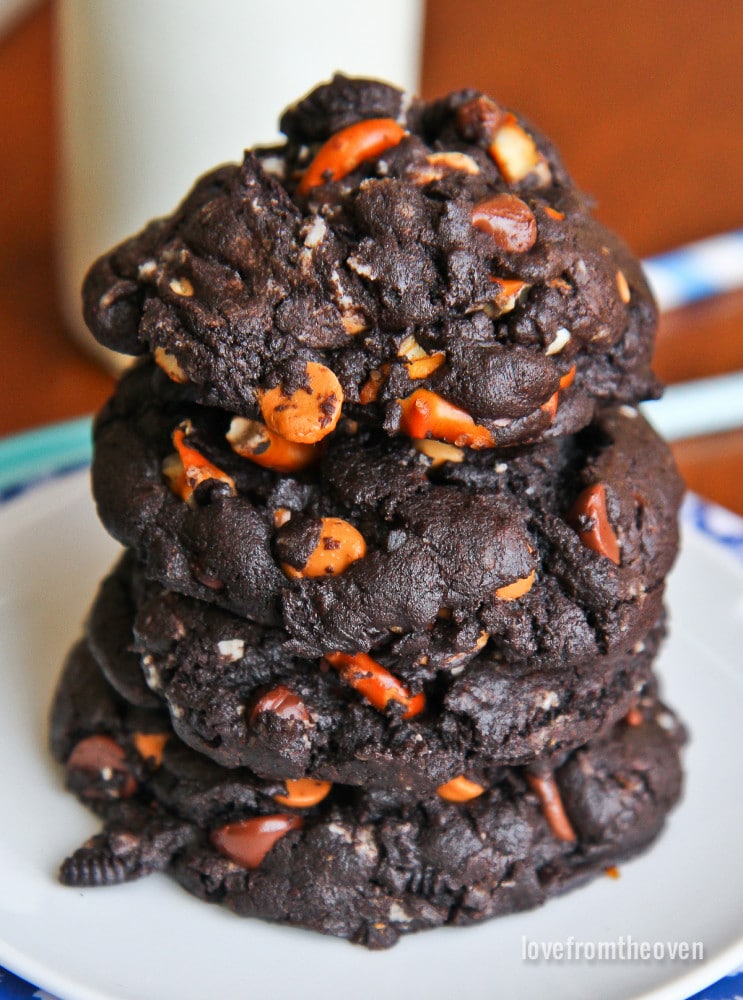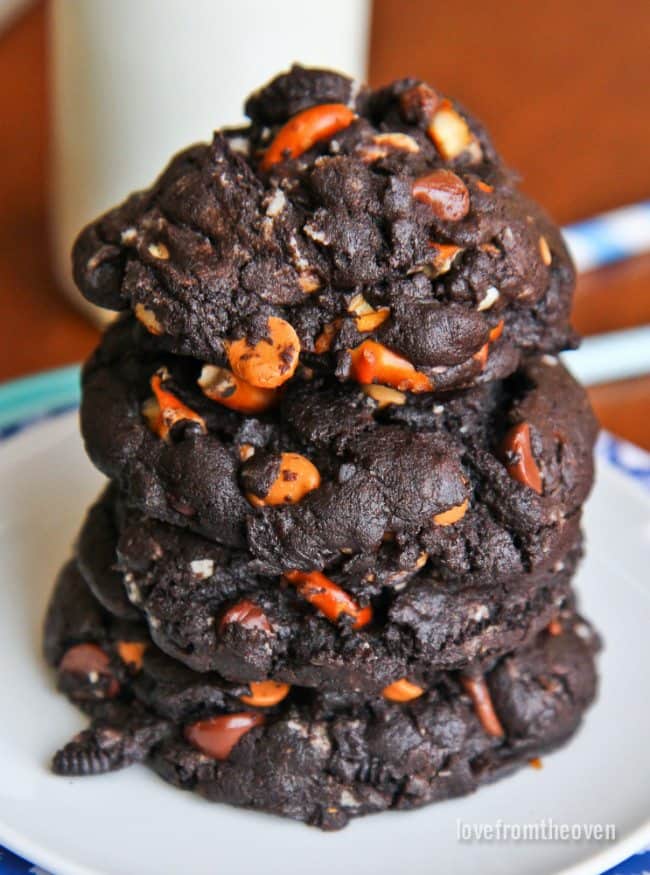 Let's think of the chocolate cookie as the person with autism. Just that plain, simple, wonderful chocolate cookie, without all the stuff in it. The base of the cookie so to speak, that's our person. Now let's talk about the stuff. This big pile of stuff. That's autism.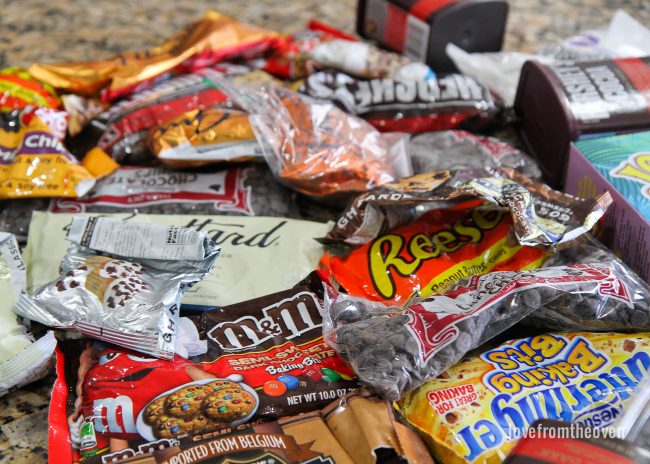 These cookies, they have a lot of stuff, chocolate chips, white chocolate chips, butterscotch chips, peanut butter chips, mini chips, Butterfinger Bits, chocolate chunks, sandwich cookies, random cool little chocolate balls I found at Whole Foods, pretzel pieces… all kinds of STUFF. All this stuff is kind of like the stuff that comes along with autism. The saying, "if you've met one person with autism, you've met one person with autism" really holds true, autism truly seems to be different for everyone, so we'll just be talking about our stuff here.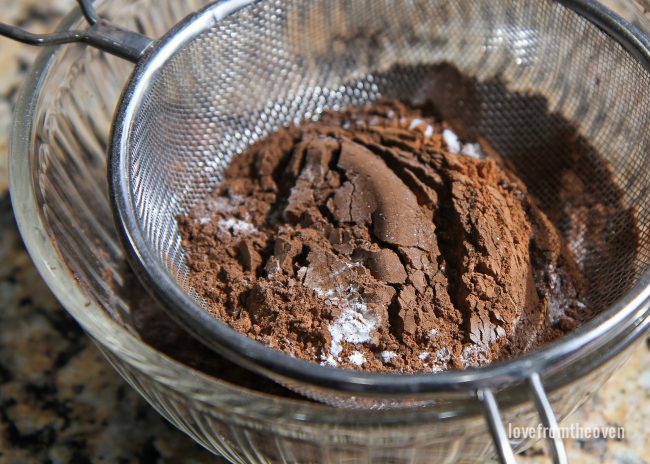 Wonderful, simple, understandable chocolate cookie dough. Fantastic just how it is, full of flavor potential and widely accepted and embraced by people. Chocolate cookies are kind of predictable, you've probably had experience with them, you know what they are like. They are all a little different, but if you take a bite, you have a pretty good idea what they'll taste like. Kind of like people. That chocolate cookie dough is our person.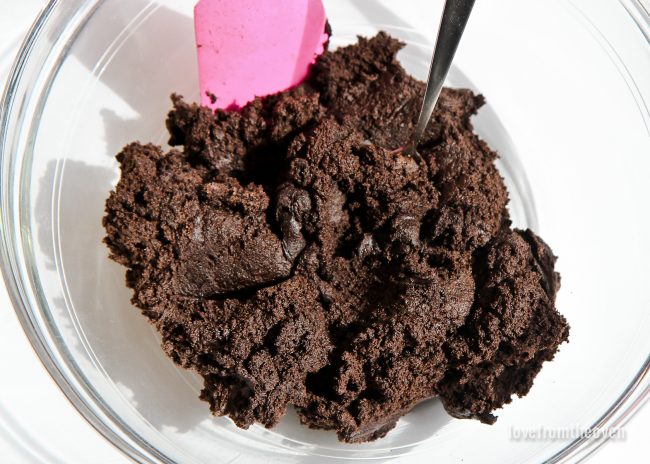 Now let's add some stuff. We'll start with chocolate chips. A few different kinds. These will make the cookie interesting and different. Some might cringe, "ew, I don't like white chocolate chips" or "darn bloom on those chocolate chips" or "I don't like those combined". When it comes to autism, I think of these chips as some of the things that come with autism. Things like… communication disorders, social impairments, rigid behavior and inflexible thinking.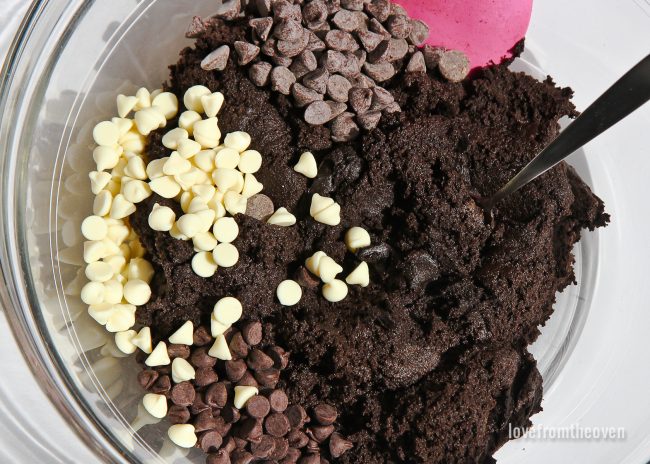 Let's throw in some more chips! Butterscotch and peanut butter chips. Wait, which is which? I can't really tell by looking at them, heck, sometimes I can't tell when I taste them. Kind of like the anxiety, ADHD and sensory processing disorder thrown in with that autism. They are all there, but which is which? Many times I can't tell, no matter how hard I try. What's causing that meltdown or this behavior? I'm not sure, they kind of all blend together and look the same, which can make them even harder to understand and help.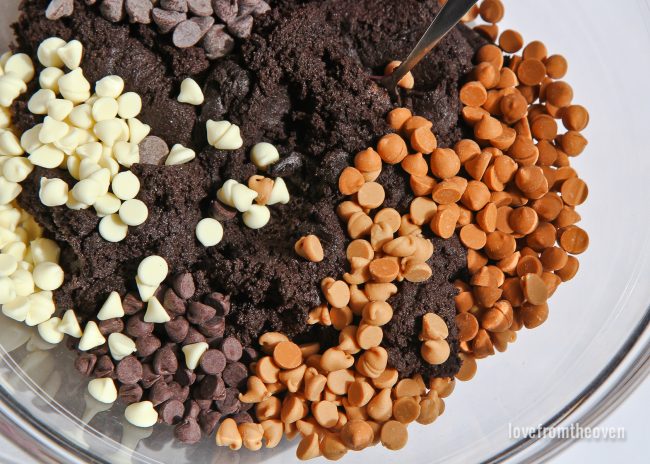 Back to our cookies. More stuff! Great big chocolate and white vanilla candy melts. Watch out with those white ones, they are so sweet they might make your teeth hurt. And those cute little tiny chocolate balls I found at Whole Foods. I don't really even know what they are. It's a little like the sleep problems, fixations and sensitivities. I'm not even sure what all those are sometimes.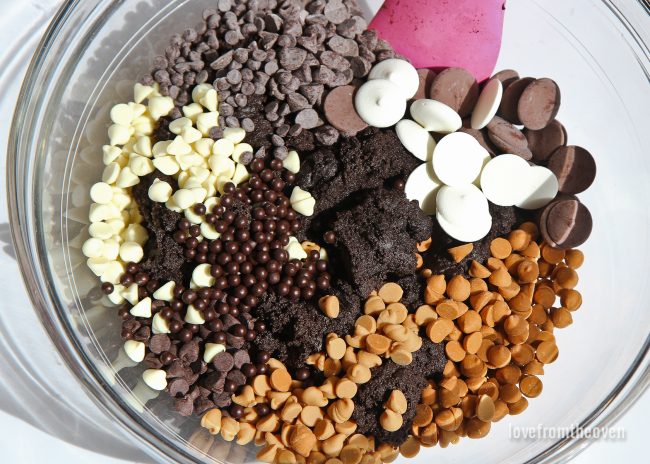 We've got more! Toss in some Oreos. Holy heck this is getting to be a LOT of stuff. And do those Oreos even fit in there? Do we have room for more stuff? Don't we have enough stuff? Does this stuff ever end, I thought we had all the stuff in these cookies figured out. We might not like it all, but we maybe were getting a handle on it. I think the Oreos can represent a bunch of other stuff… aggression, stomach problems, immune problems, learning disorders…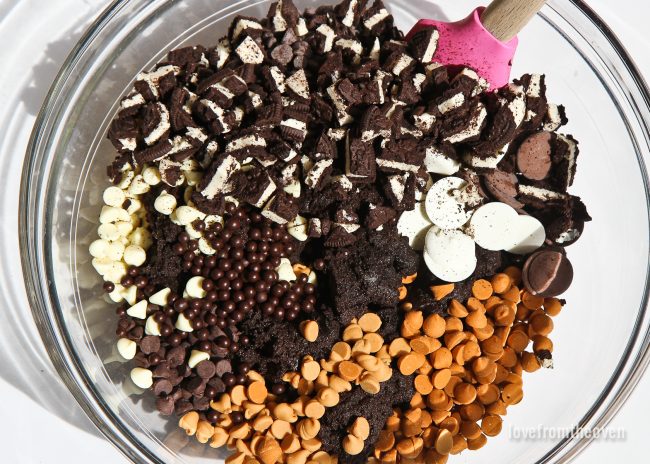 For the love of all that is holy, MORE STUFF? Really? But I really don't want more stuff. This bowl already has way too much in it! And who is going to pay for all this stuff, I mean that's a lot of stuff, and stuff usually has a price? And heck, now we are throwing pretzels in, those aren's the norm for cookies! Do they even fit in cookies? Can't they be a bit pokey when you take a bite? Will they get mushy baked into a pretzel? I think the pretzels will be our oppositional defiant disorder. The part that can really push you over the edge and make you feel like these aren't even cookies anymore, and you just don't know what to do with them.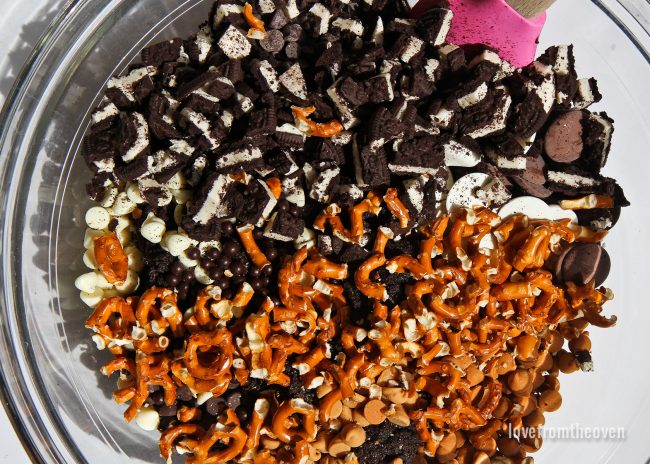 These cookies, like autism, have a heck of a lot of stuff. So much stuff that you can barely see that wonderful, beautiful chocolate cookie dough at the base of all of this. Take a look at this picture, it's overwhelming with stuff, isn't it? Is there even cookie dough under there? If you look hard you'll see it, but if you didn't know what you were looking at you, you might never know that there was cookie dough under all that stuff. You might wonder what the hell is all this stuff, and who would have all of this together in one bowl? What are you supposed to do with it, it's just too much!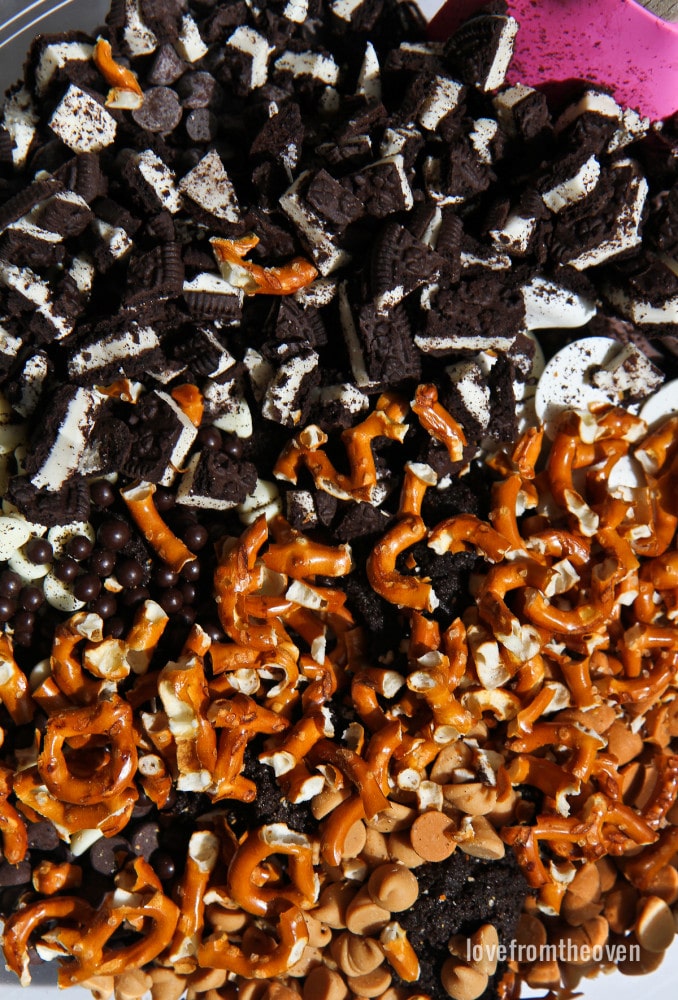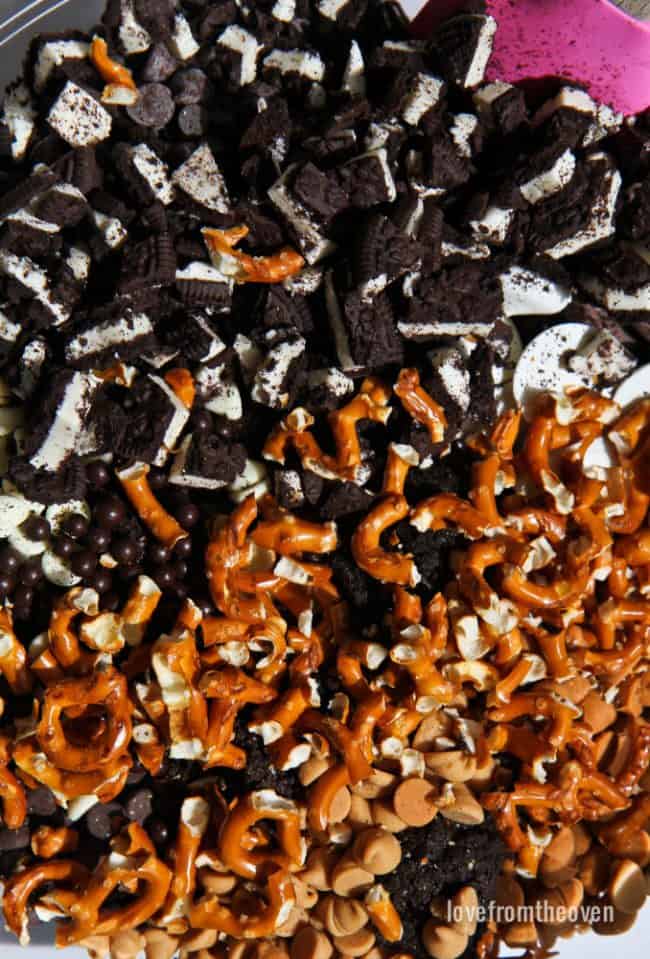 And you can't even stir it with a spoon, you have to work this cookie dough together by hand. The regular tool for this job doesn't cut it. You've got to dig in, and get your hands dirty. Really dirty. And sometimes even that doesn't feel like it's going to work, but you know that the spoon won't stir this, and you might even break the spoon trying. So in you go. With your perfectly pink manicured nails. The nails that you try to keep perfect so that a few times a day you can look down at those nails and feel like you have it together, even when your cookies are a mess and aren't coming together. The cookies, the kitchen, the sink, the house, it's all a mess, so you just look at the pretty pink nails and pretend you've got this mess handled.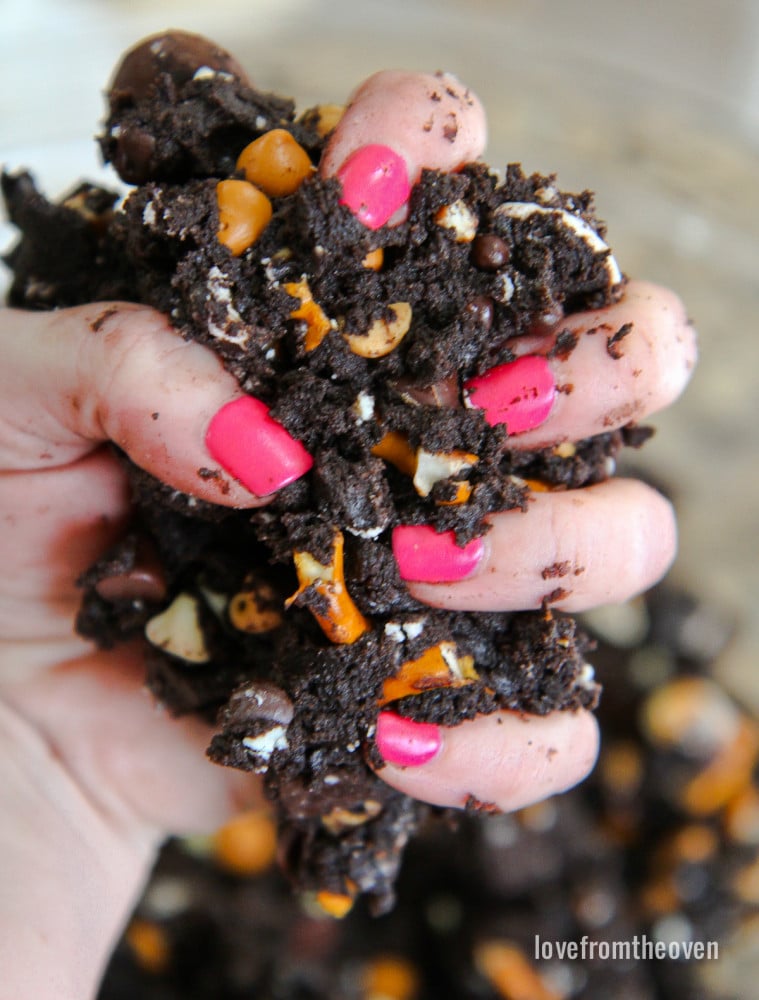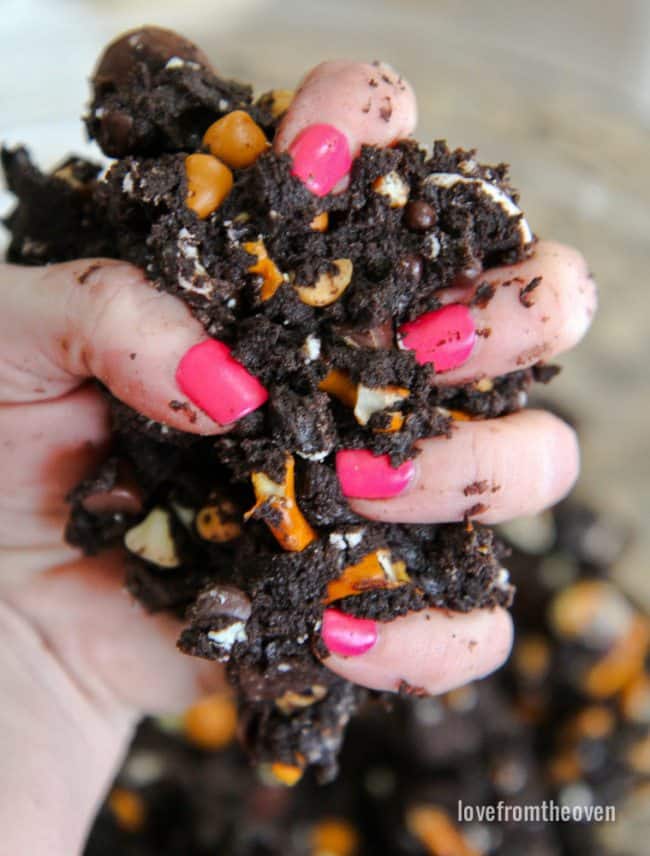 And somehow you managed to get this cookie dough, with all the stuff, mixed.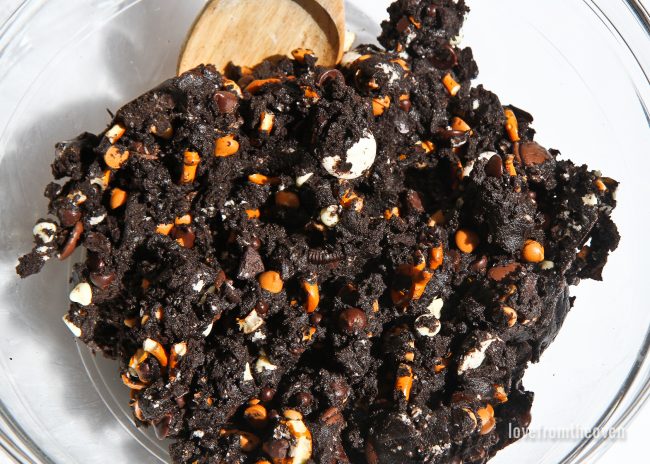 So you scoop out the dough and get ready to bake it. But you've never baked cookies with so much stuff. What will they taste like? Will they be any good? And with all that stuff overwhelming the chocolate cookie dough, will they even hold together, or will all that stuff break these cookies into pieces, leaving you with crumbs? YOU ARE GOING TO MESS UP THESE COOKIES! Clearly you aren't making them correctly. At first you think you can just checkout a cookbook at the library. You think that the info, answers and resources you need are out there. And they kind of are, but they can be a lot harder to find than you ever would have imagined, and you often have to wait in a very long line, sometimes years, for your turn to checkout a cookbook. But you don't have years, you are up to your elbows in cookie dough stuffed with stuff, so you are winging it. You can read about all different kinds of cookies on the internet, and see what people thought of them or how they altered the recipe, or those awesome reviewers who never made the recipe but still have ALL the things to stay about the cookies. But this exact cookie, the one you are making with all the stuff, it's one of a kind and you are just going to have to figure it out.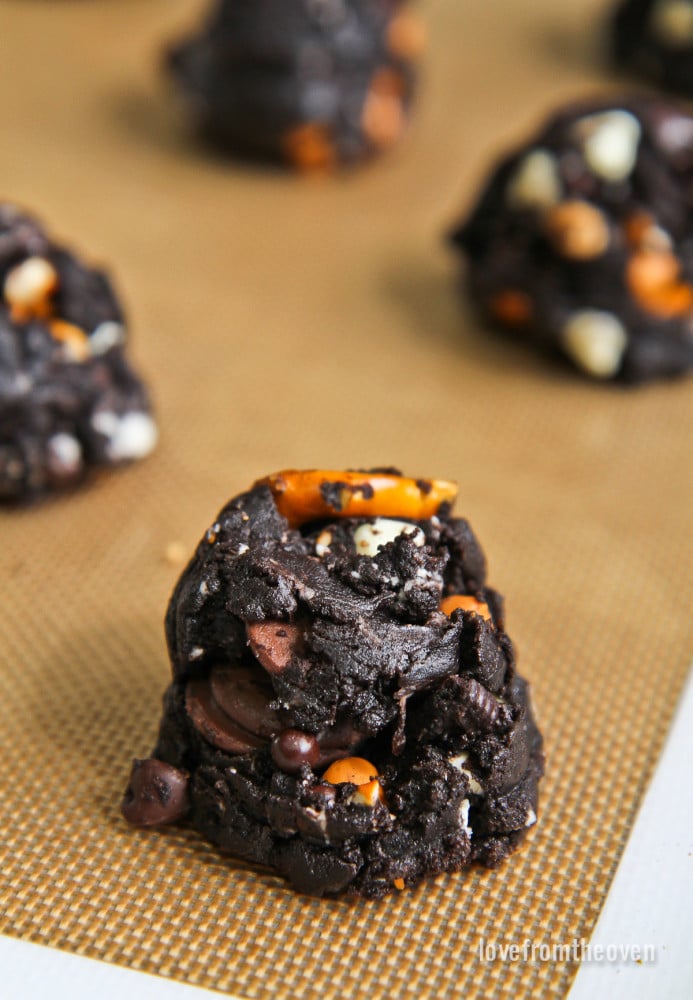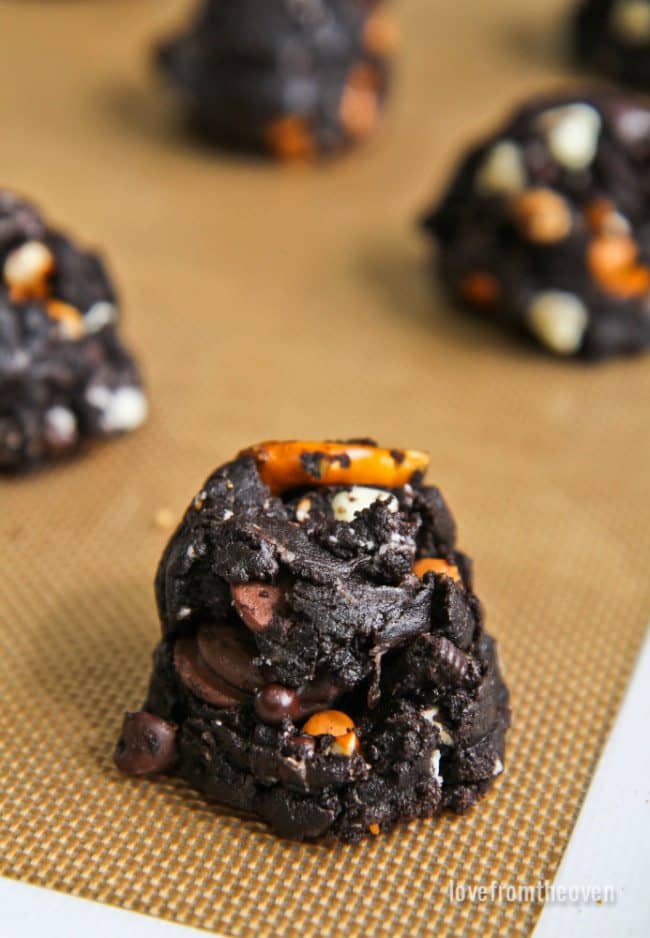 But somehow the cookies stay together. For the most part. Bits and pieces might fall off, but enough holds together to be a cookie. They don't bake quite like other cookies, and you probably get your baking time and temperature wrong, because the stuff throws it off. They don't spread out like you anticipate, the way other cookies you make do. Naturally with all that all that stuff in them, all those bits and bites and pieces and parts, these cookies are going to be unpredictable, and your results may vary. You just have to learn not to expect cookies that work the way all the other cookies do, let go of expectation and what you think "normal" cookies are like. They are still cookies, and still delicious, they are just their own unique cookies.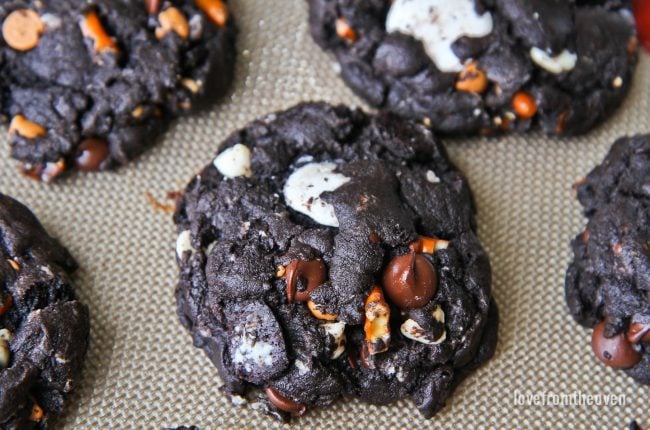 But then there is the taste test, I mean cookies are for eating, right? Each bite might be met with trepidation, what will it taste like? Will it be good? Will it be bad? Will those pretzels poke me in the roof of my mouth, causing a salty scratch? Will those giant chunks of ridiculously too sweet white chocolate candy wafers take over the cookie to the point you can't even taste anything else, including that perfect chocolate cookie that's holding it?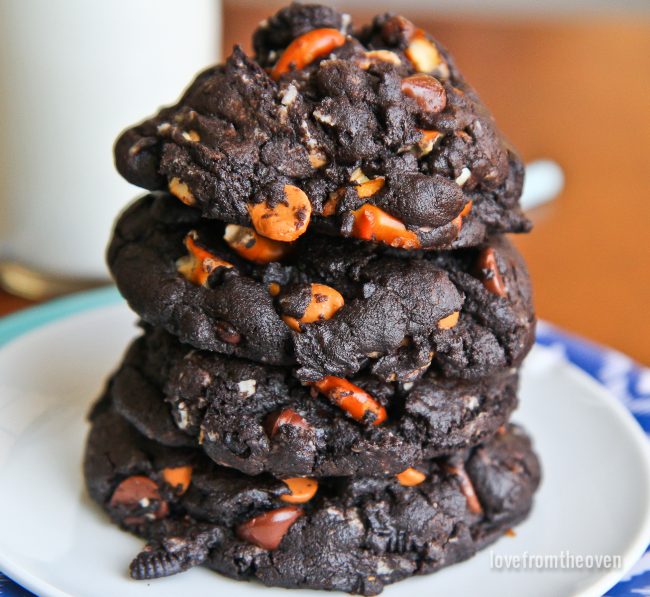 I don't really have those answers. Because we all have different tastes and no two bites of this cookie will ever be the same. One bite might be a little too sweet, the next one amazing and the next one totally overwhelming due to all the stuff. But if you try really hard, you can taste that chocolate cookie at the heart of it all. That rich, delicious, chocolate cookie that you love so much. Even if you don't love the butterscotch chips and the pretzels, or the big white chocolate wafers physically cause the teeth in your head to radiate with pain that you think you can't take, and all the stuff in these cookies just totally overwhelms you, you can still taste that chocolate cookie. It isn't always easy, but it's always there. All that stuff is a part of this cookie.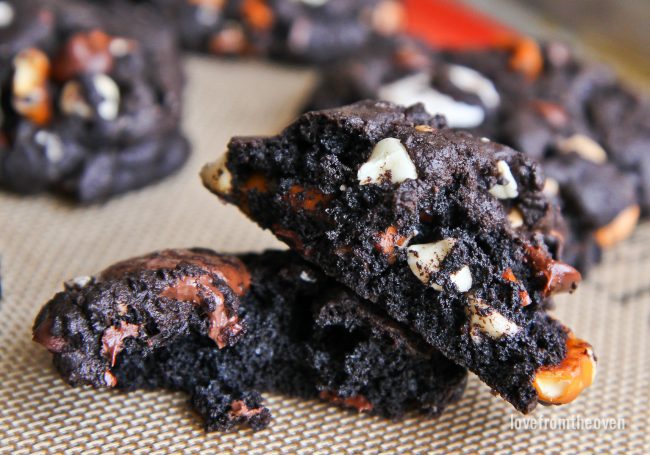 But now you have to leave your kitchen and take these cookies out to share with your family, friends, schools and strangers. You wonder if you should just keep them in your kitchen, where they are safe. But you have these cookies, and what good are cookies if you can't share them? But what will people think of these overwhelming cookies? Will they see past all the stuff? Will they try them and give them a chance? These cookies have a lot of stuff, but you love them so much, and it's scary to wonder if the world will love them as well. They aren't like other cookies. You hope that people will try them, and that even if the first bite isn't too their liking that they might try another bite. And you hope that underneath all that stuff, that they will be able to taste the amazing, wonderful, beautiful chocolate cookie.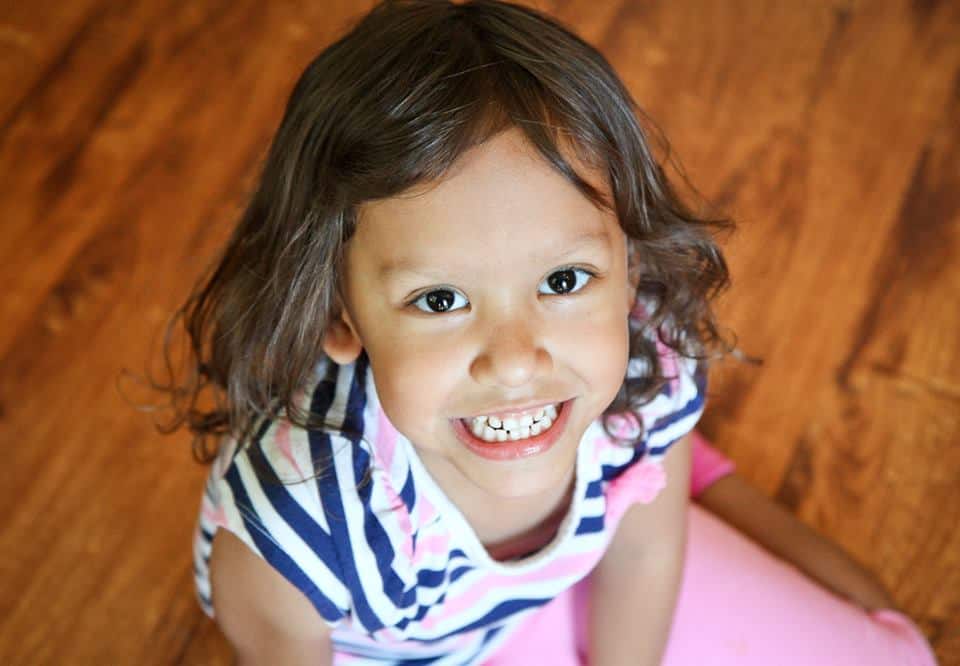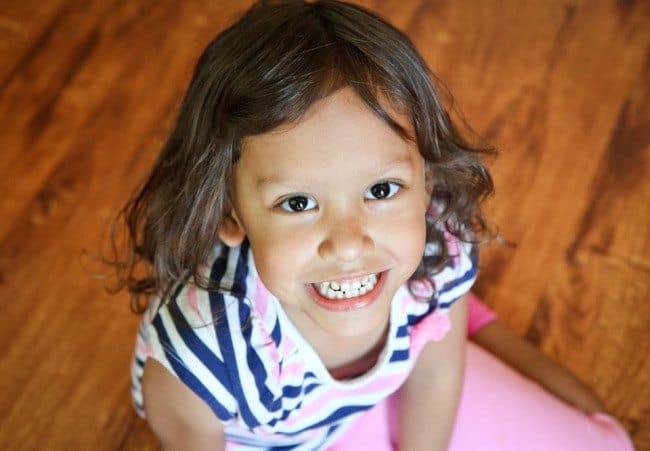 For me, that's kind of what it feels like to raise a child with autism. There is so much stuff. It's like the stuff never ends, and even if you think you've gotten a handle on it, there's more you didn't know was there. Sometimes the stuff is too much. Sometimes you have no idea what the hell to do with all that stuff. The stuff overwhelms you, your home and your family at times. It certainly overwhelms your child. Some moments are sweet. Some moments are scary. Some moments you feel like you've got this, and other moments the bottom drops out, leaves you on your knees, and you are not sure that you'll ever have it figured out. And the next moment has you laughing and thinking all is right in the world. It's a roller coaster, and the ride is never the same twice.
Much like these cookies, life with autism can be completely and utterly overwhelming. It can be confusing, unpredictable and frustrating. You never know from moment to moment what you will get, how to hold it together or in what ways the world might respond. You don't know if you are doing things right, but you are trying your best, and hoping you are making the right choices. There are some guidelines and paths that have been blazed before yours, but nobody's path is the same as the one you are on. You look for resources that you just know must exist, but so many times you come up empty handed. It can be lonely, it can be isolating and it can also be an incredible, fun filled adventure, sometimes all in the same day.
And just like these cookies, the heart and soul at the center of it all, under all that stuff, is the greatest and most amazing thing ever. Your child. So you keep digging in, mixing it up, trying your best and figuring it out as you go along.
Thanks for reading my crazy post about autism and cookies, and thanks for always looking for that chocolate cookie in people, those with autism, and those without. It's there, sometimes we just have to dig deep and look past all the stuff.
Here's the recipe, but you have to pick out your own stuff, because these cookies, they are unique.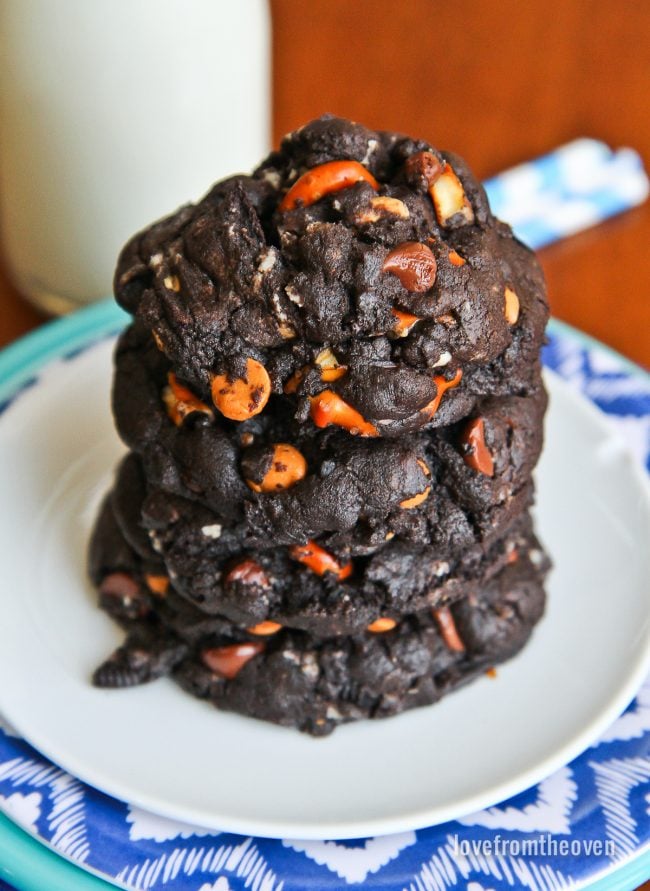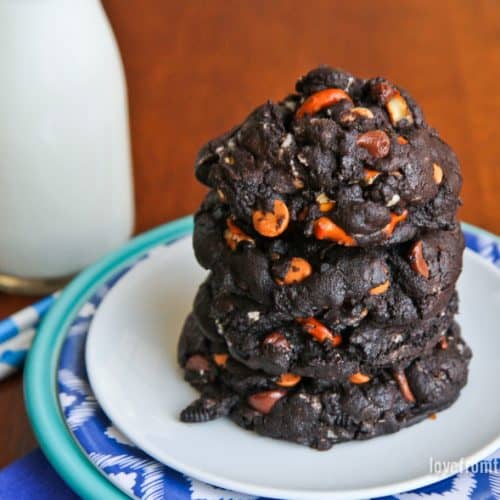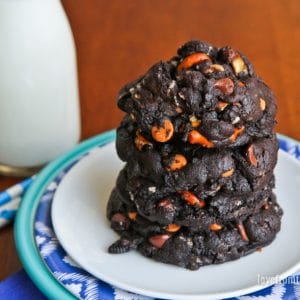 Overwhelming Chocolate Cookies (Autism Cookies)
Ingredients
INGREDIENTS:

1

cup

butter

1

cup

sugar

3/4

cup

brown sugar

tightly packed

2

eggs

2

tsp

vanilla

1

cup

all purpose flour

3/4

cup

bread flour (if you only have all purpose on hand

you can use that!)

1

cups

and 1/4 cocoa powder

I prefer to do a mix of regular and dark cocoa powder

2

tsp

baking soda

1

tsp

salt

3

cups

of "stuff" of your choice
Instructions
1. Preheat oven to 350 degrees F. Line a baking sheet with parchment paper or a silicone baking mat.

2. In the bowl of an electric mixer, beat butter until light and creamy. Add in sugar and brown sugar and beat until well combined. Add in eggs, one at a time, mixing until each is fully incorporated into batter. Add in vanilla and mix.

3. In a separate bowl, combine flours, cocoa powder, baking soda and salt. Slowly add dry mixture to wet mixture, mixing until just combined. Stir in your stuff.

4. Using a large cookie scoop, scoop cookie dough onto baking sheet. A large cookie scoop holds about 3 tablespoons of cookie dough. Space dough at least 2" apart.

5. Bake for approximately 10-12 minutes. Cookies should be starting to firm up but still soft in the middle. Remove from oven and allow to cool on pan on a wire rack for at least five minutes. Repeat with remaining dough. Allow to cool completely prior to storing. Store in an airtight container. Tip: Storing with a slice of sandwich bread really helps keep your cookies soft!

Yield: Makes approximately 24 cookies.
Disclaimer
Nutrition information is estimated as a courtesy. If using for medical purposes, please verify information using your own nutritional calculator. Percent Daily Values are based on a 2000 calorie diet.