We are huge peanut butter lovers in this house, but you don't see a ton of peanut butter recipes on here because our daughter has a nut allergy. We still eat it, but I don't bake with it that often, which is a shame because it' SO good. Buckeye Balls. Peanut Butter Cups. Chocolate + Peanut Butter. It's such a wonderful amazing perfect combo. Every now and then I give in and whip something up…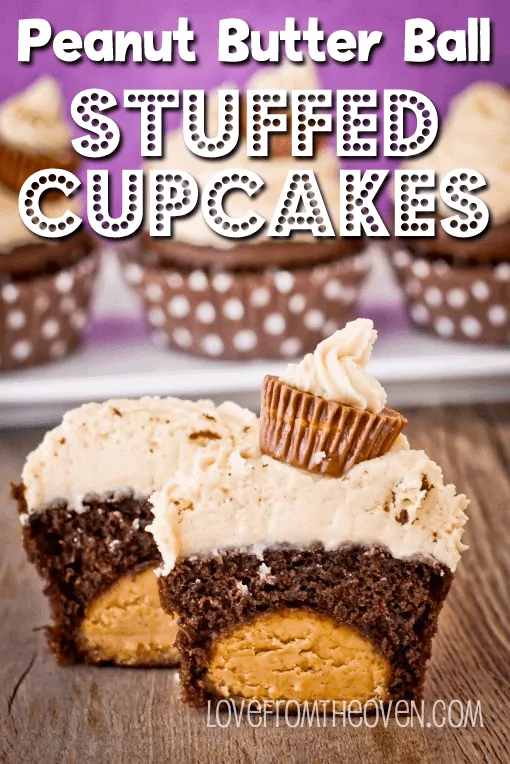 Something like chocolate cupcakes with a buckeye ball type filling and peanut butter buttercream frosting.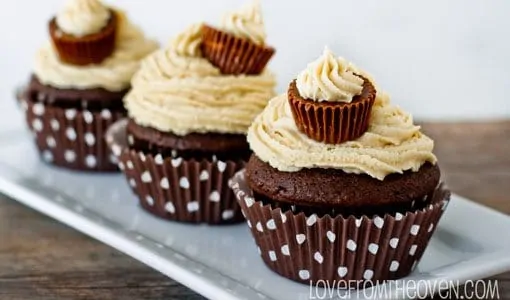 Yeah, these are mind blowingly delicious.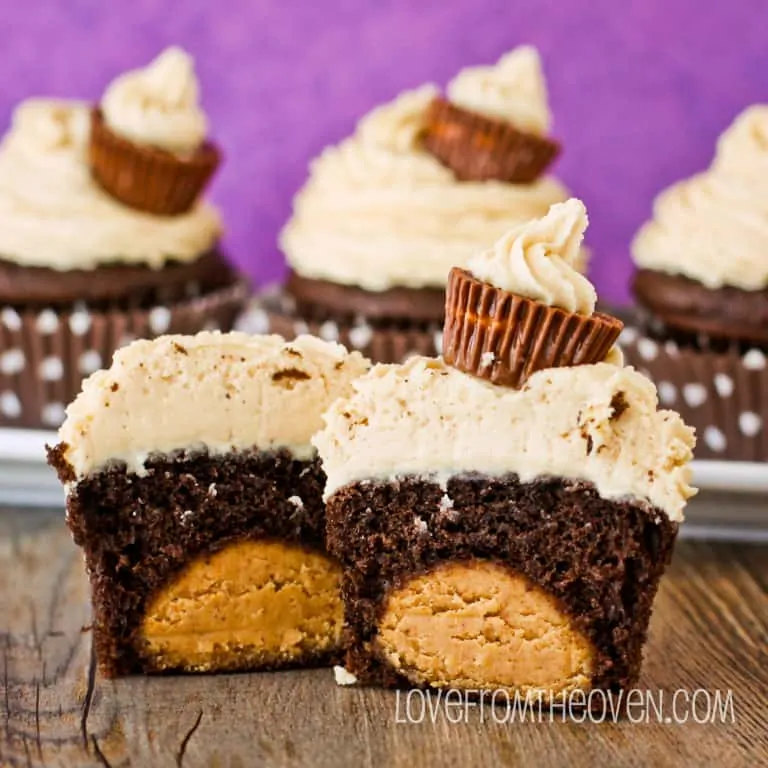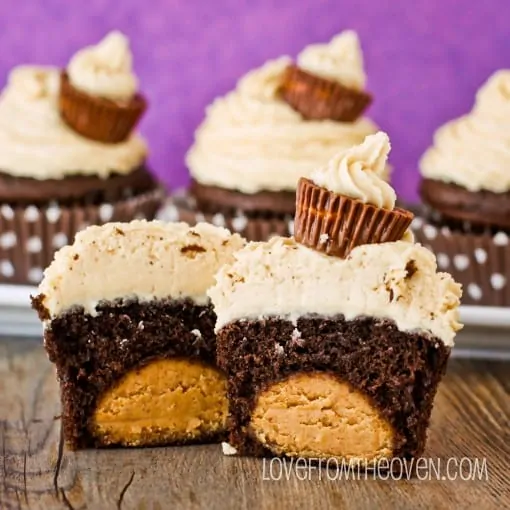 I originally wasn't planning to share these on the website for a few reasons… By no means is this an original idea, I've seen many people put peanut butter / Buckeye balls in cupcakes, so I take no credit for the idea. I made them late at night, which makes for lousy photos. I was baking them for a friend's birthday, working quickly, with no time to set up for pictures and what not. But after sharing a few pics on Instagram, I realized that I had to share these. This is really more of an "idea" than it is a "recipe". So some of the "in progress" pics are from my phone and not my camera, but you'll still get the idea.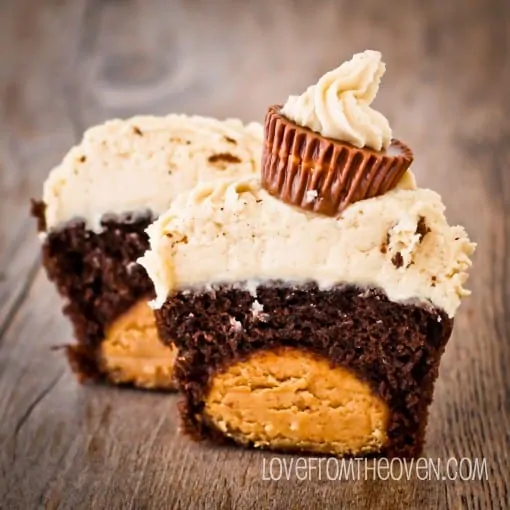 I started by making my peanut butter balls – the same ones I make when I make Buckeye Balls (quite possibly one of the greatest things EVER). There are SO many versions of peanut butter balls. I used the filling recipe at A Hen's Nest for my peanut butter balls. (IF YOU WANT A QUICK CHEAT, USE A PB CUP OR GRAB SOME OF THOSE EASTER PB EGGS THAT ARE AVAILABLE – THEY WOULD PROBABLY WORK JUST FINE!) After making 24 of them, I put them in the freezer and made my cupcakes. For the cupcakes I used a good old box Devil's Food cake mix. After preparing according to the package directions, I put a bit of cake batter in the bottom of each of my cupcake liners, and then added my peanut butter balls.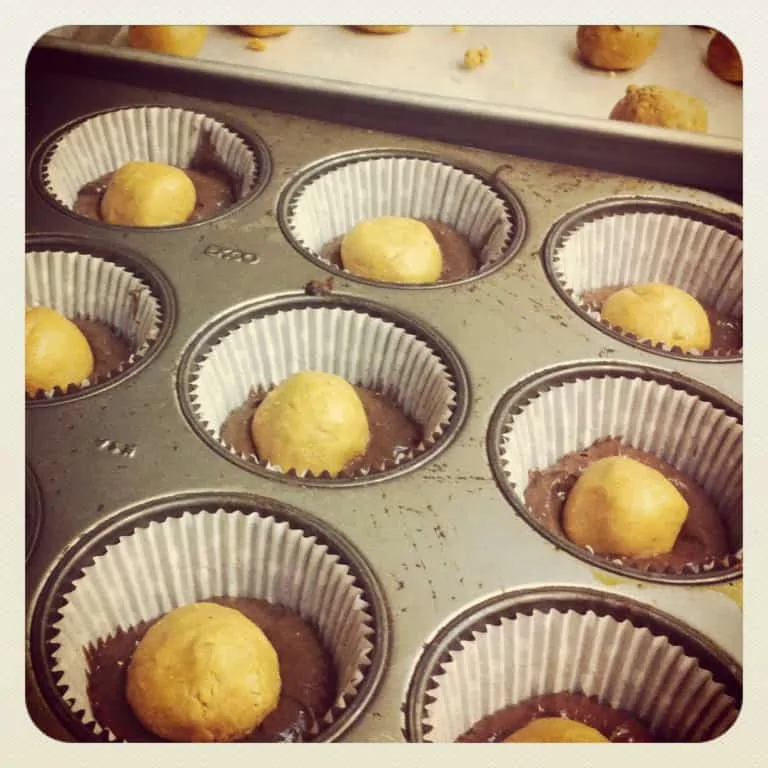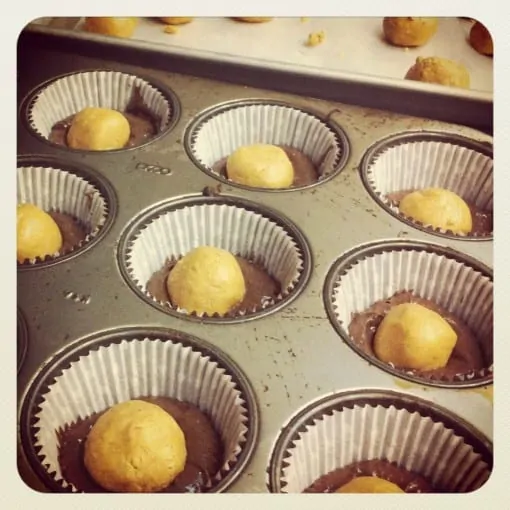 Next I covered the peanut butter balls in the remaining batter and baked according to the directions on the cake mix box. I was a little worried as to how the peanut butter balls would survive in the oven but a quick check after they were done revealed that they held their form wonderfully. Yay!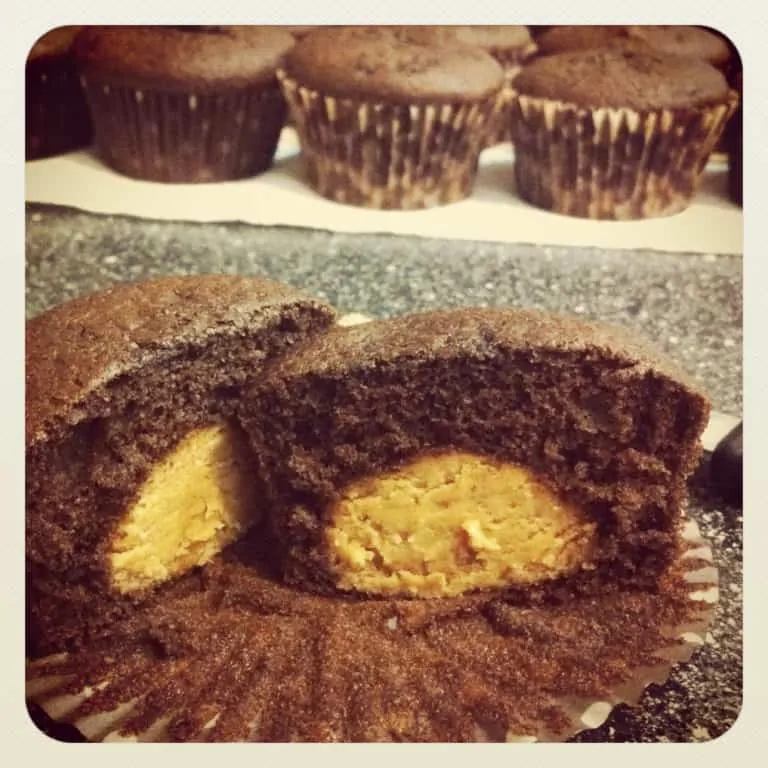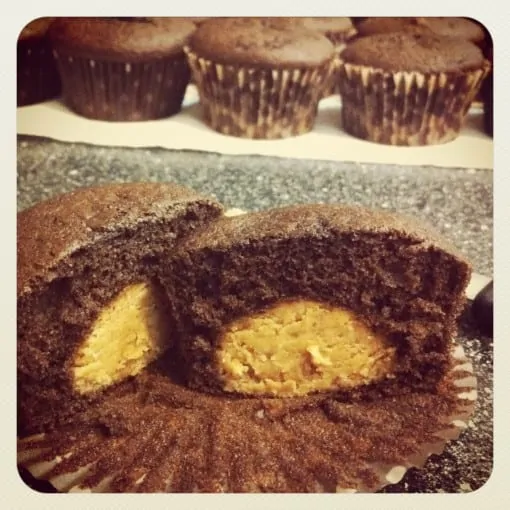 Seriously you could just stop right here and call it good. They are delish. Adding a peanut butter buttercream just takes them completely over the top, in a very good way. Much like peanut butter balls, there are many different recipes for peanut butter buttercream to pick from. Many have cream cheese, but since I was not going to be keeping these in the fridge, I decided to go a non-cream cheese route. I rarely follow an actual recipe when it comes to frosting, but it breaks down like this…
Peanut Butter Buttercream Frosting
3/4 cup butter at room temp
1/4 cup shortening (Crisco) (or for people like my friend Risa who hate shortening, just add more butter!)
1/2 cup smooth peanut butter
1/4 – 1/2 cup heavy whipping cream
4 – 5 cups powdered sugar
In a mixing bowl combine your butter, shortening, peanut butter and vanilla until smooth. Add in your powdered sugar, starting with four cups. Add about 1/4 cup of your whipping cream, combine well with mixer and switch to a high speed to beat until fluffy. You can play with the amounts of powdered sugar and whipping cream to get the exact texture and consistency that you want.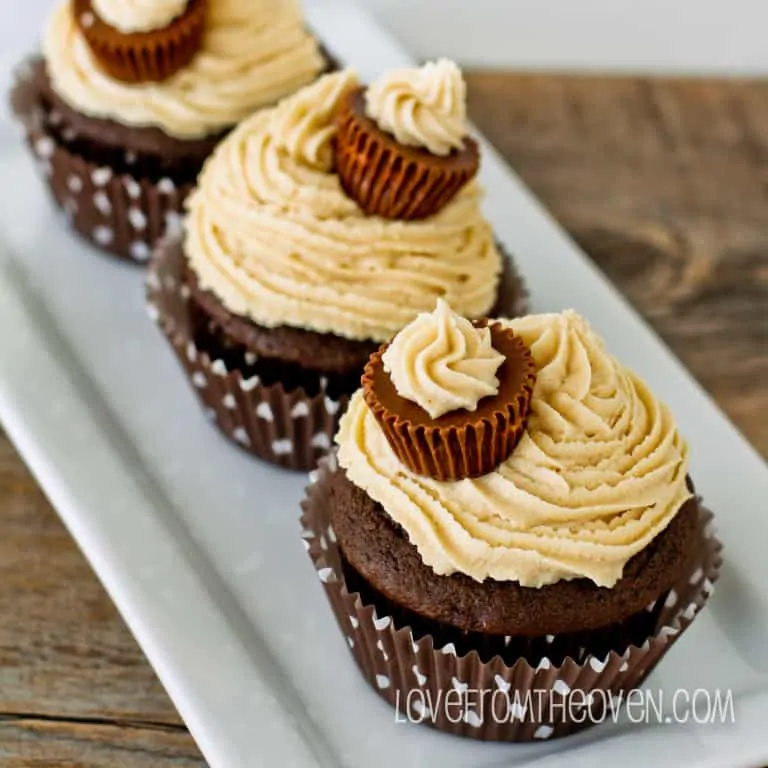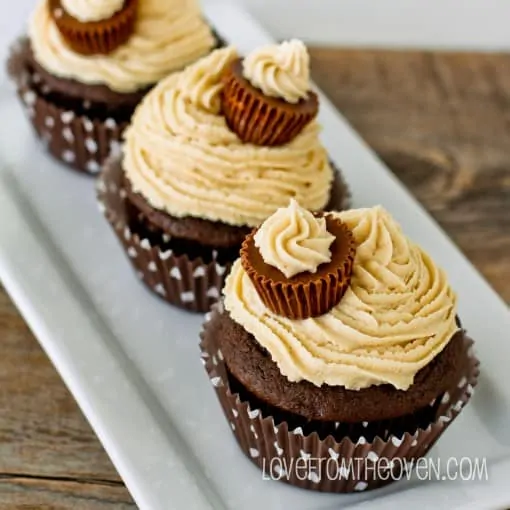 Then simply frost your cupcakes. You can pipe it on. Use a spatula. Even just get a spoon and eat the frosting straight from the bowl – it's not like there are frosting laws you have to follow (at least not that I'm aware of and if there are, ignorance is bliss). Top them however you like. Ever since seeing Kristan's brilliant idea of using mini peanut butter cups as cupcake cupcake toppers over on Confessions Of A Cookbook Queen, I have been wanting to do something similar.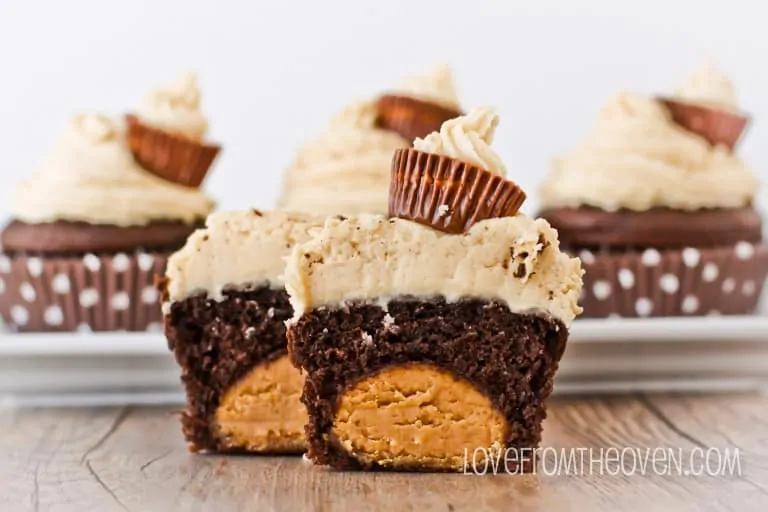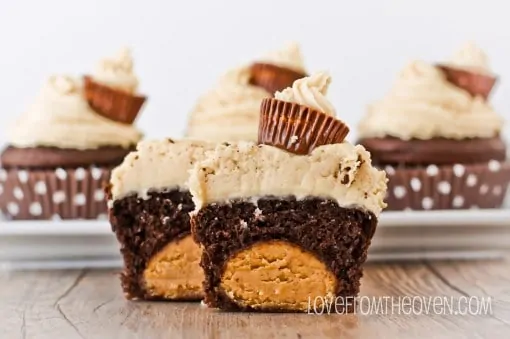 If you like peanut butter and chocolate, you must make these. If you are one of the many families who always make Buckeye Balls during the holidays, you must make these. If however you are allergic to peanut butter and would have to chase it down with epinephrine, do not make these. I've been challenged by my daughter to come up with a similar not lethal version of these for her, which I will share if I am successful at it.
Just to clarify – while my daughter does have a nut allergy, she is technically allergic to tree nuts (though we avoid peanuts as well, just to be safe). She has no issues whatsoever with nuts around her, so rest assured I'm not risking a trip to the ER to have some cupcakes!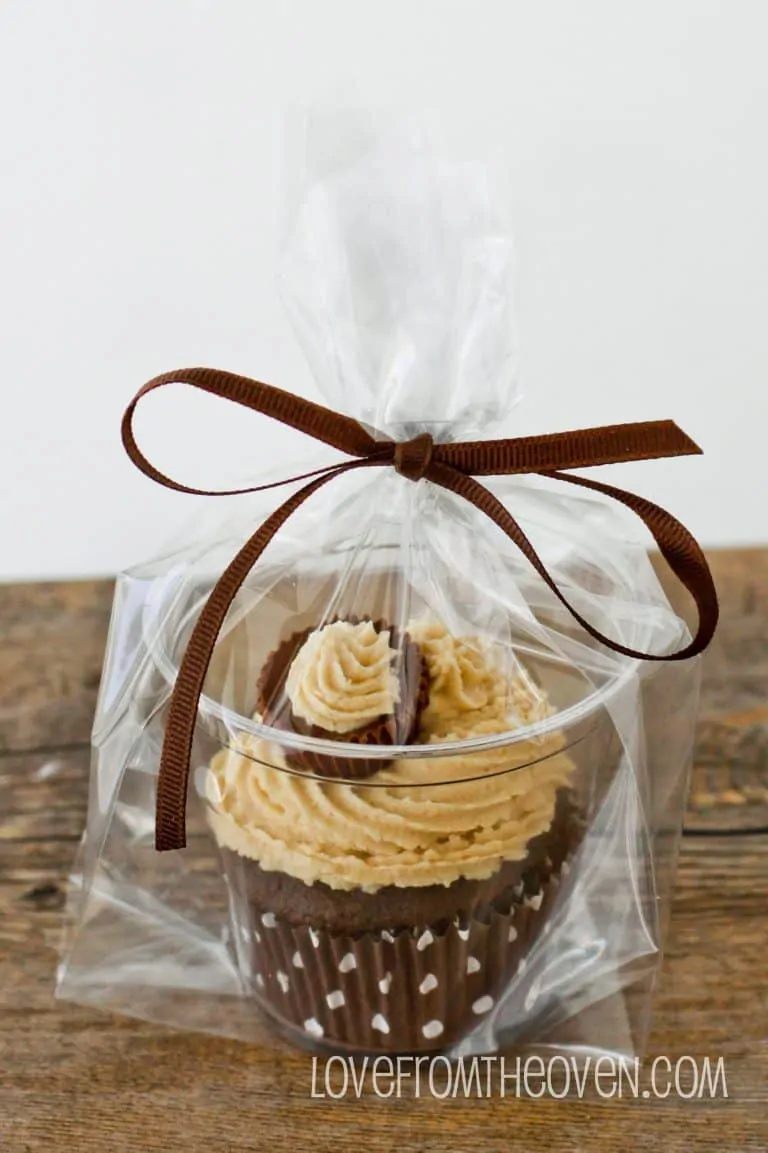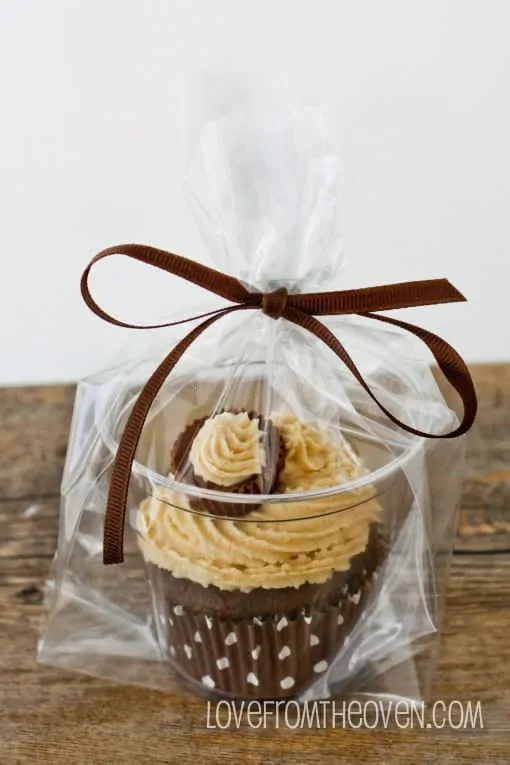 Want to package up some to give away? One of my favorite ways to package up single cupcakes is to put them in a small clear plastic cup, put the cup in a bag, tie with a ribbon and call it good. SO simple, and makes transport a breeze.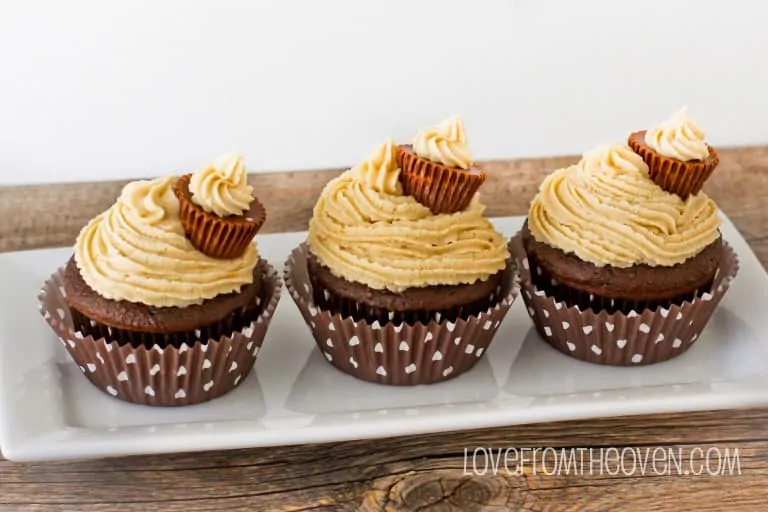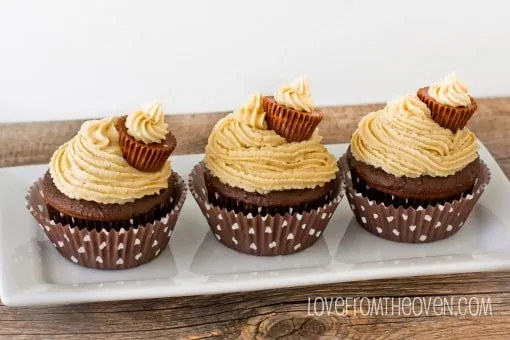 Enjoy!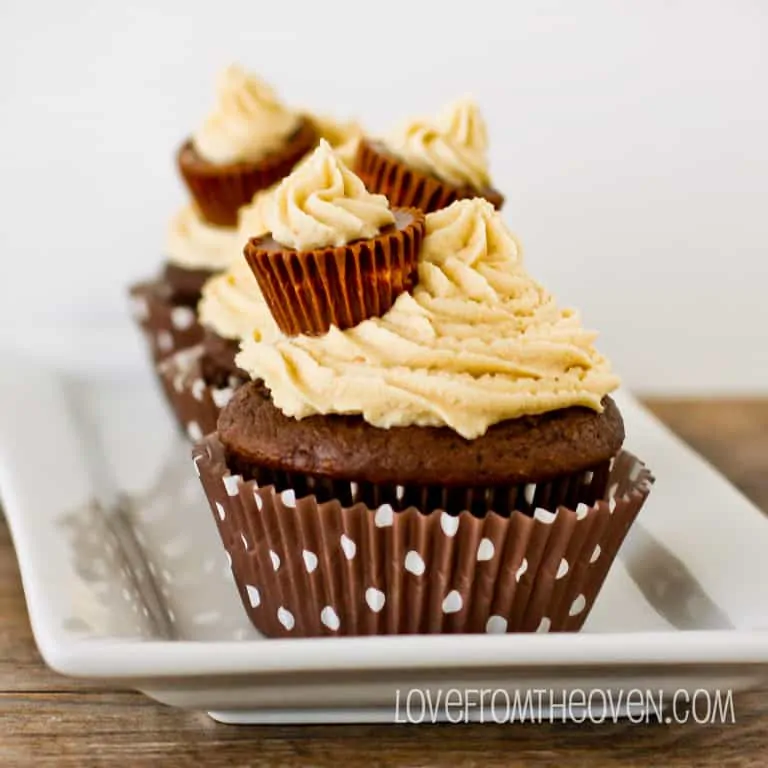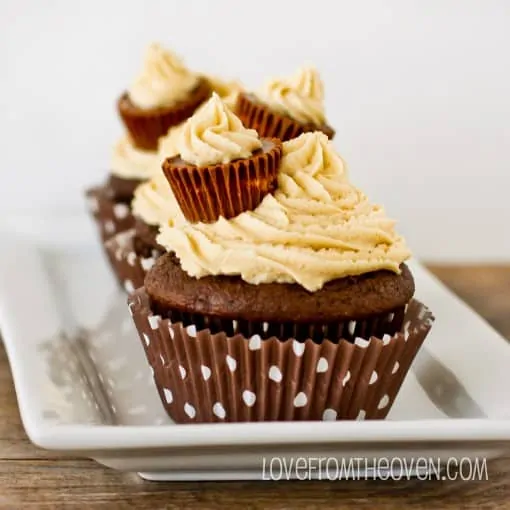 Want some more peanut butter and chocolate recipes? You must check out the Chocolate and Peanut Butter Bites From Other Blogs!