Sometimes you go to the grocery store to get some fresh fruit and eggs. You don't need anything else, but you have a lot on your mind. It wanders, you wander. The next thing you know you have random ingredients like giant Reese's Peanut Butter Bars and Chocolate Frosted Flakes (for real) in your cart. It happens. Then these happen. Peanut Butter Brownies.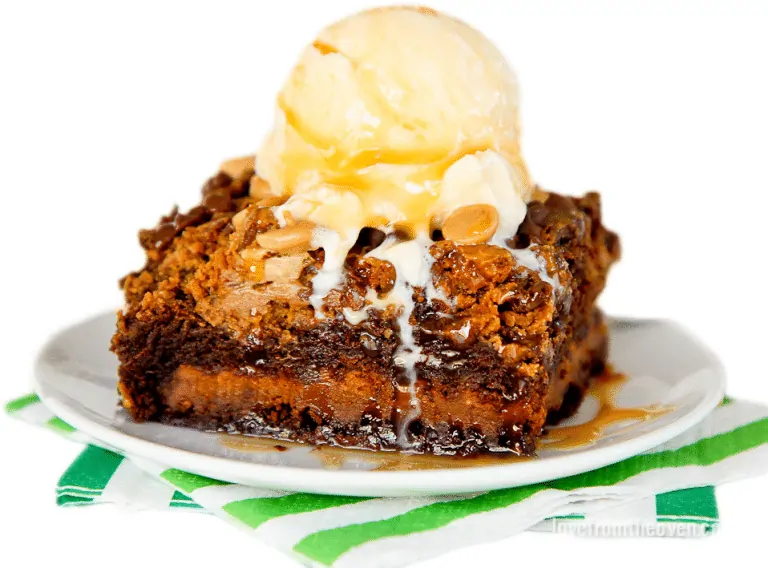 I had no intentions of making brownies today, but these items just followed me home. So what's a girl to do? Clearly, make peanut butter brownies. Chocolate and peanut butter therapy right here folks.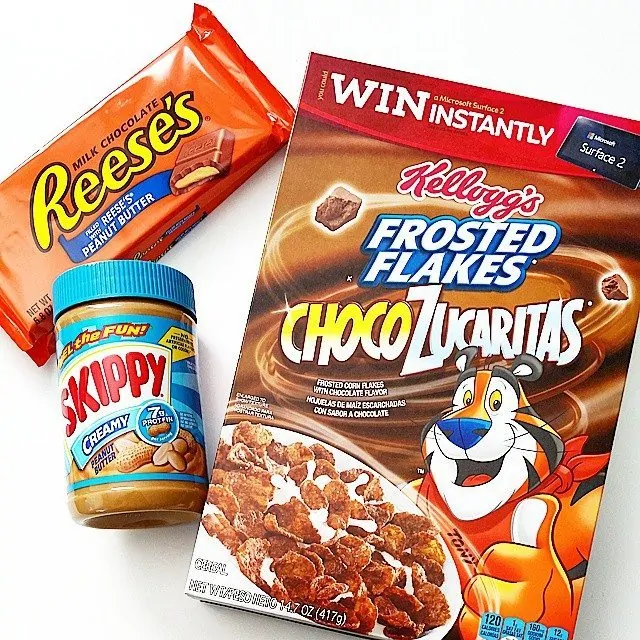 It's been a tough week. A week that has basically required chocolate. A loved one has been in the hospital in ICU, and I'm kind of in a "hands tied" situation with providing help and making sure the right choices are made. We are also knee deep in testing and assessments for my little one as we start the process of transitioning her to kindergarten. Starting kindergarten with my oldest was an exciting and fun time, but it's a different experience with special needs, and there's a lee-tle bit of anxiety and fear involved.
In a few weeks I will sit down with a team at her preschool made up of teachers, speech therapists, occupational therapists, psychologists, directors and probably someone "playing the role of" someone else (anyone who has sat through an IEP gets that one) to go over all of those tests. I hope to hear some good news, yet I will do my best to be prepared for some hard news, as you have to identify the challenges to help them. I'll try to take in all that information to make some decisions for her education and future.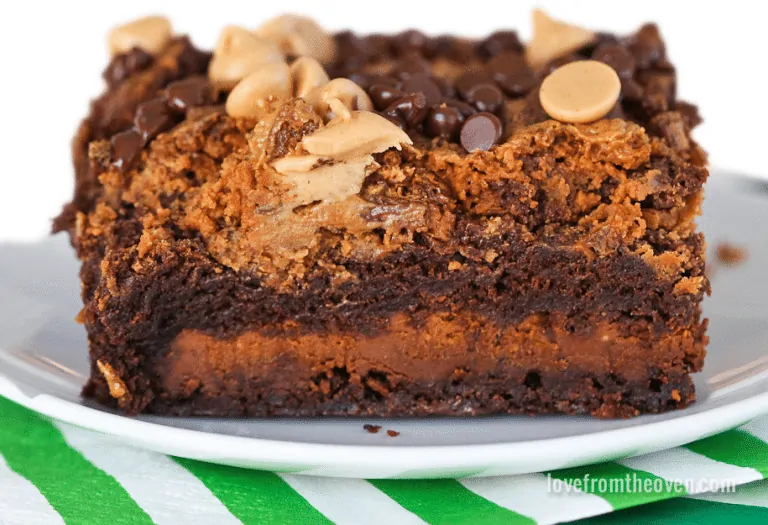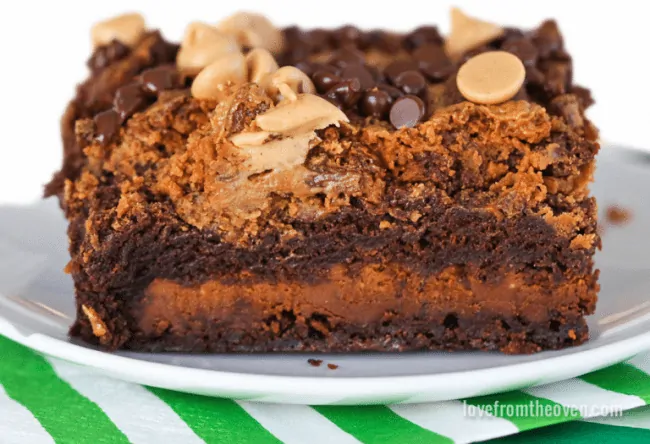 I'm a worrier and a researcher and I like to feel like I have a handle on things and have control of what's going on. I really don't have much of a handle on these things, and control, yeah, not so much. I have no idea what school or what type of program they will recommend. I watch as schools hold kindergarten nights and open houses, and I wish we were going to those, knowing, planning, preparing and getting excited. But as my beloved Beatrice (from the Essurance commercial) is told, "that's not how this works, that's not how any of this works!". So it's really one of those, sit, wait and "eat all the feelings" types of things. Chocolate, party of one please! So, peanut butter brownies. #EatAllTheFeelings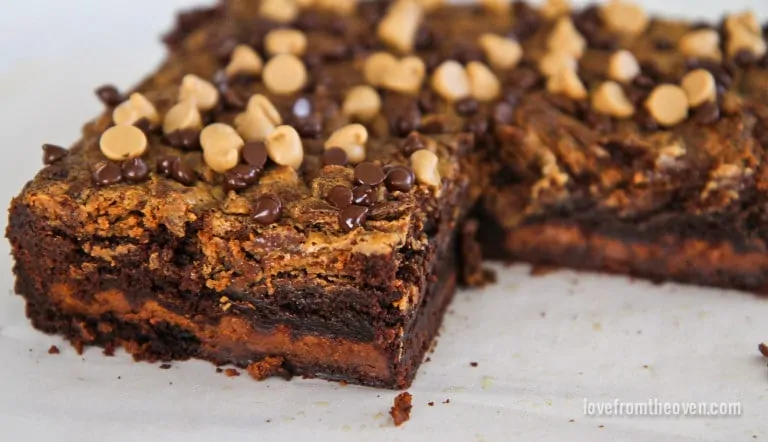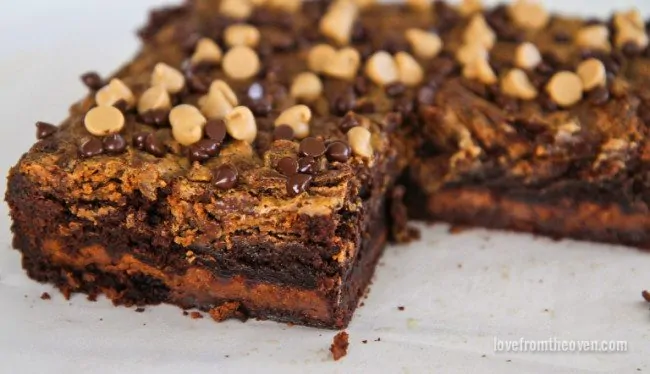 I've always said that baking is a form of therapy. As a former therapist, that's actually my professional opinion. Baking is almost like meditation for me. I'm not good at quieting my mind, but baking lets me get totally focused on one thing, for a little while. So these are basically therapeutic brownies. Not to be confused with "special brownies". Geeze, no, that's not where I'm going here!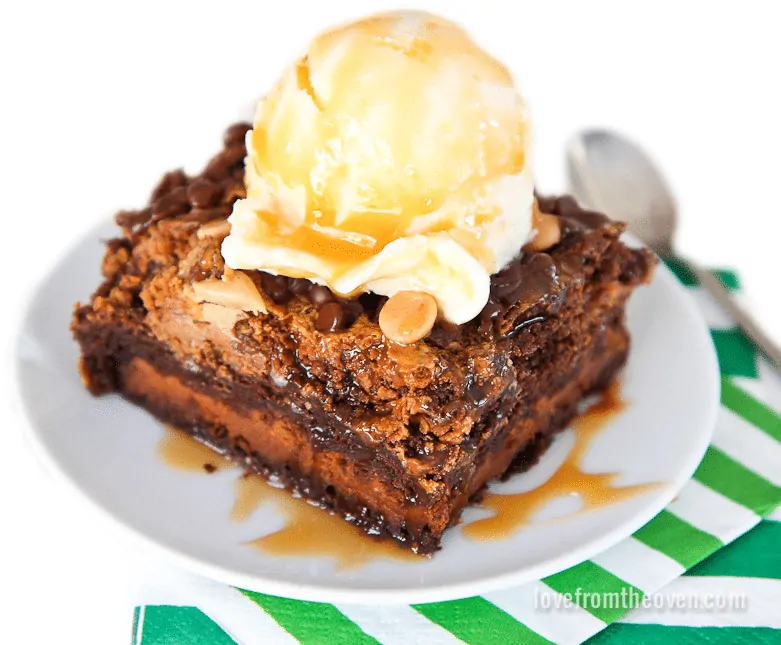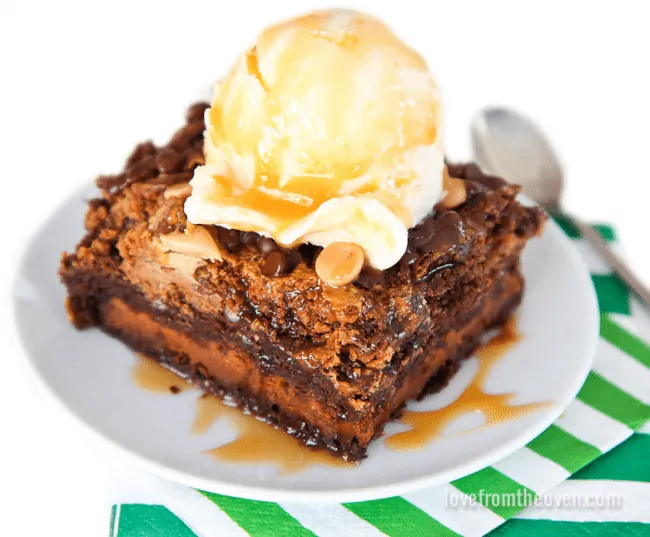 So if you are in the mood to eat all your feelings, or just all the brownies, these babies are for you. They are, well, excessive. In a very good way. Dark chocolate brownies have two giant Reese's Peanut Butter Bars stuffed into the center, and are topped with a super delicious combo of peanut butter, butter, powdered sugar and Chocolate Frosted Flakes (omg – they are all kinds of amazing). If you can't find these jumbo Reese's Peanut Butter Bars, just use cups. Or heck, I've seen lots of Reese's Peanut Butter Eggs at the store for Easter, those would work as well.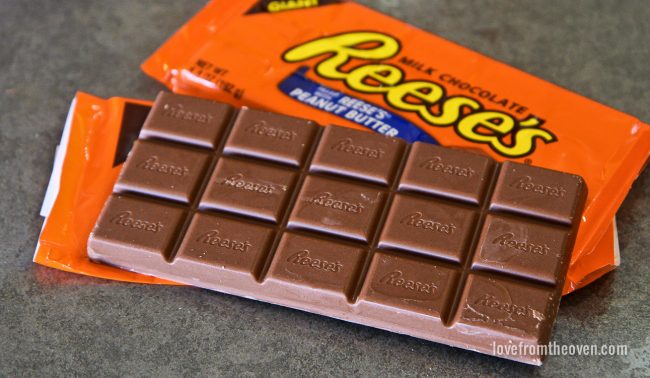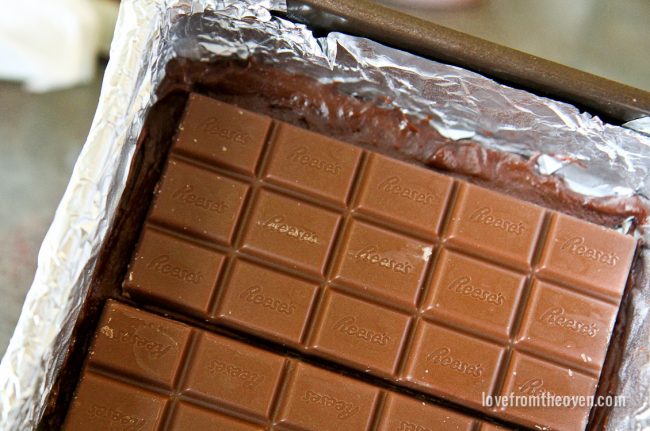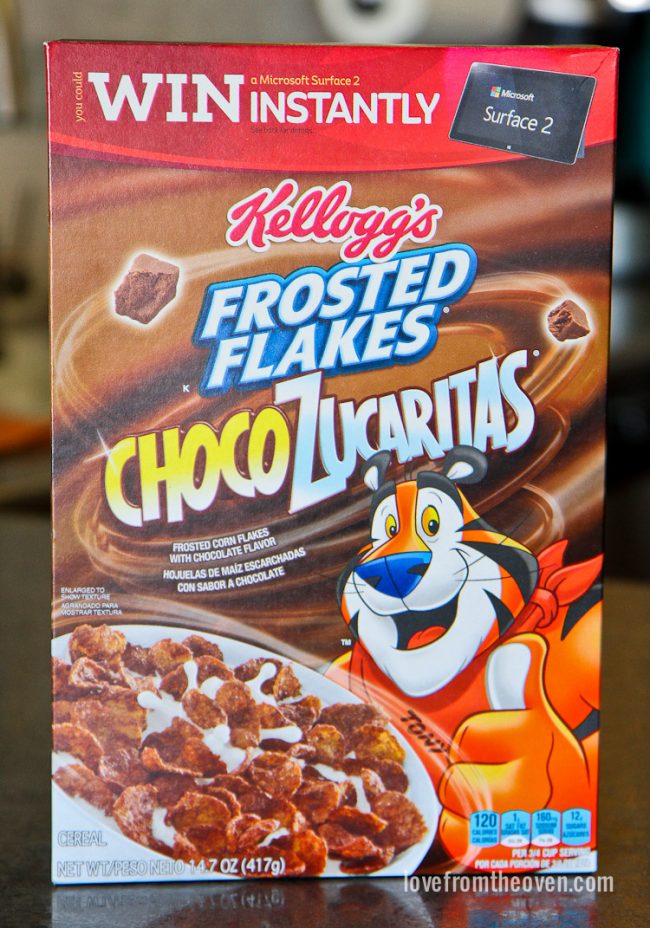 The mixture of peanut butter and this cereal? Whoa, you could just eat it with a spoon. Actually, that really should be it's own recipe, it's that good. If you can't find these Chocolate Frosted Flakes, you could use regular Frosted Flakes or even Cocoa Krispies.
What I like about using Frosted Flakes in a recipe like this is that they manage to retain their crunch, and I love some crunch in things like brownies. And to clarify, this post is in no way related to Frosted Flakes. They just randomly ended up in my cart today. 🙂 And then ended up on top of my brownies and kind of swirled in. I adapted this peanut butter topping from Crazy For Crust's delicious Fudgy Peanut Butter Swirl Brownie recipe. Heck, you could use her recipe for those and just add in the chocolate bars and cereal!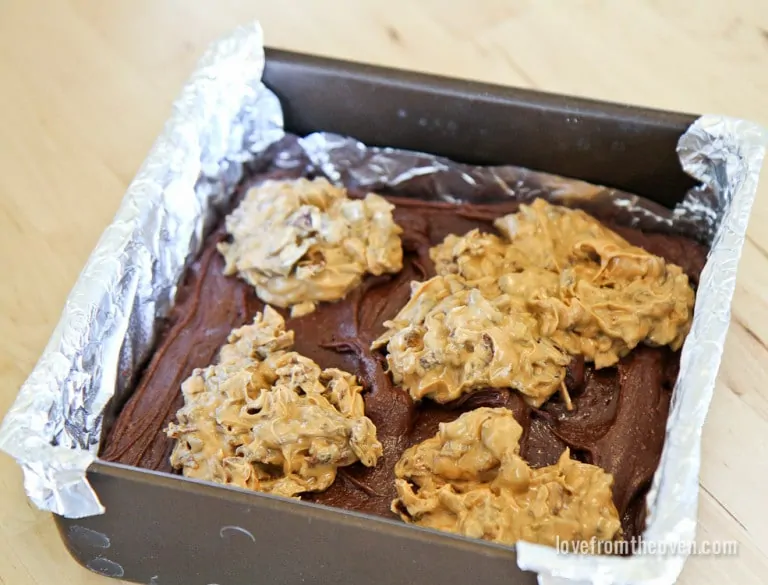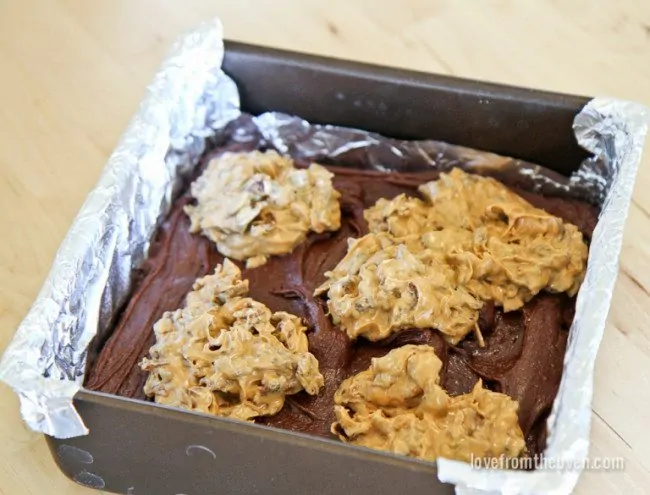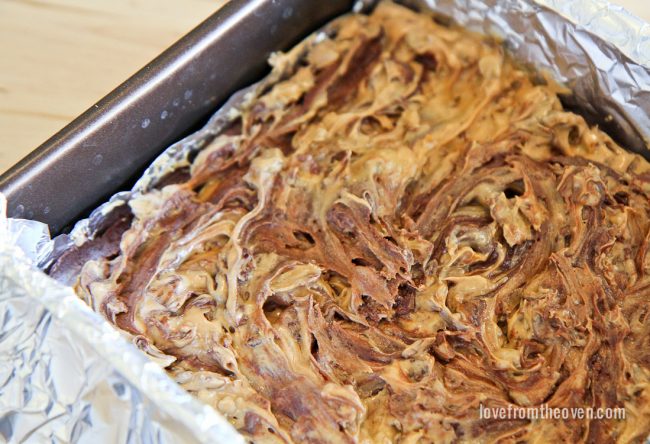 Soooo good.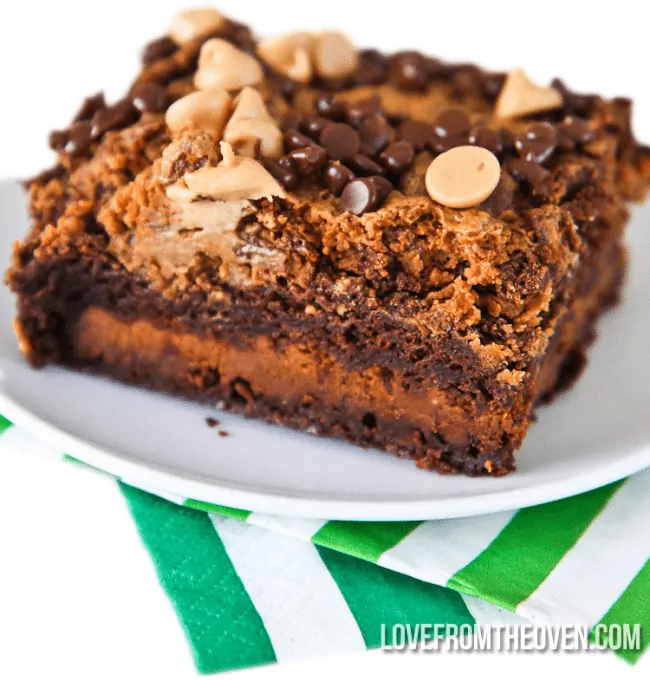 And even better with ice cream on top.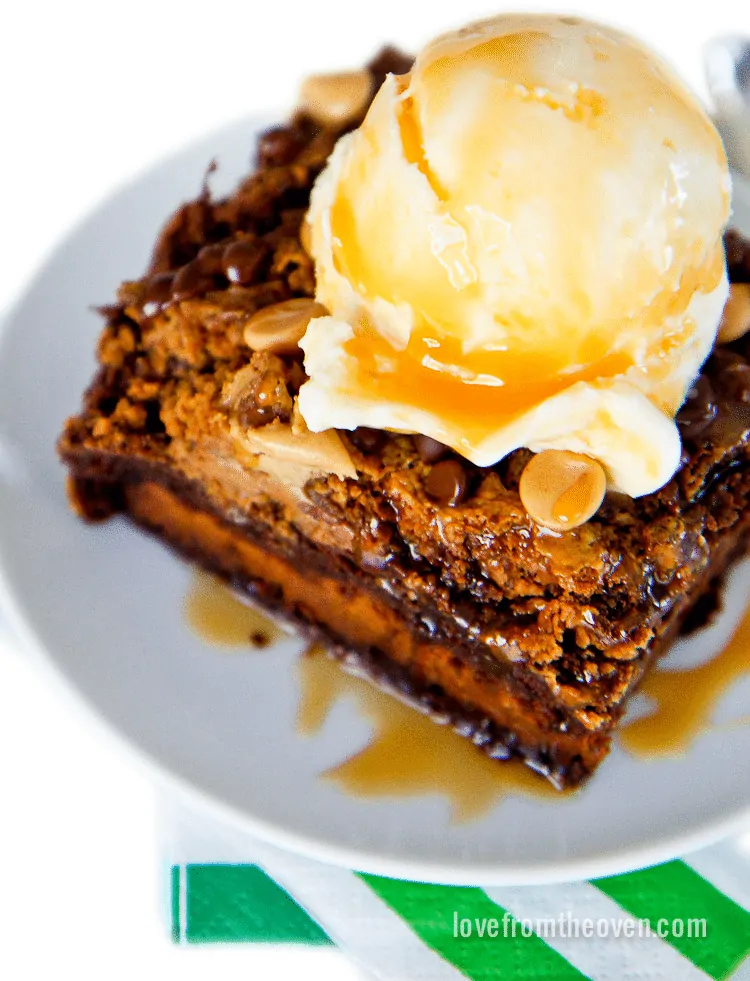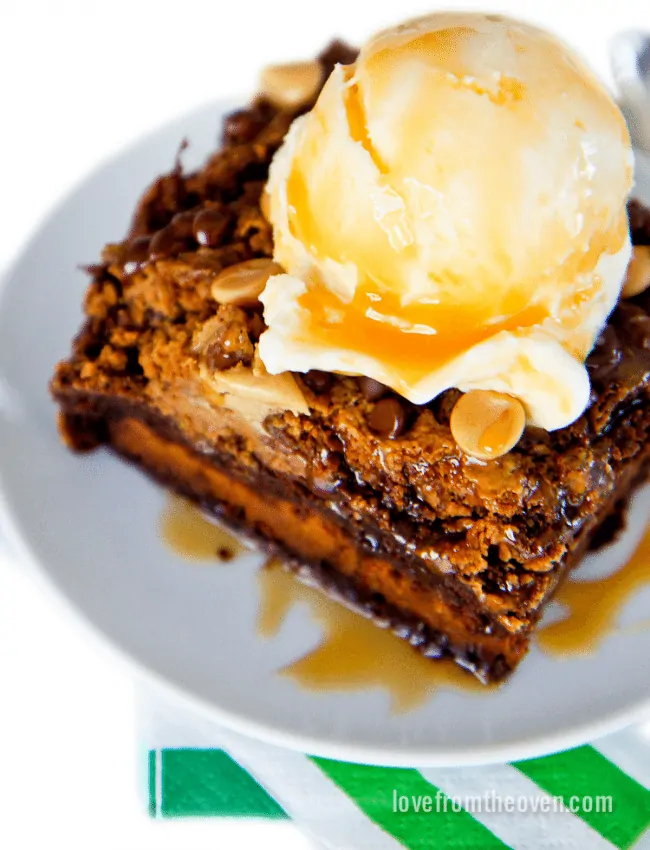 Here you go. Over the top, eat all your feelings, or just all the Peanut Butter Chocolate Frosted Flakes Topped, brownies. #sorrynotcaloriefree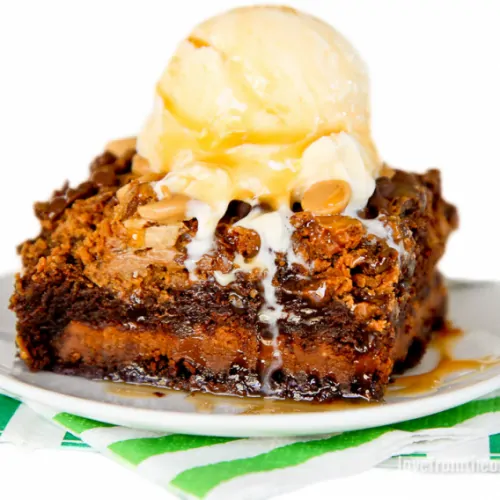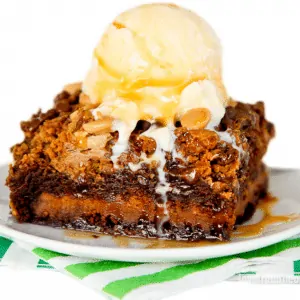 Peanut Butter Brownies
Ingredients
1

box of your favorite brownie mix or recipe

Ingredients as called for on mix or in recipe

2

jumbo Reese's Peanut Butter Bars

or use peanut butter cups or other peanut butter candies

3/4

cup

peanut butter

3

tablespoons

butter

melted

1/2

cup

powdered sugar

2

cups

cereal such as Chocolate Frosted Flakes

Frosted Flakes or even Cocoa Krispies
Instructions
Prepare brownie mix according to package directions or recipe. Preheat oven to temp called for on package/directions.

Line an 8x8 or 9x9 pan with foil and spray with non stick cooking spray.

Prepare peanut butter topping in a separate bowl by combining peanut butter, butter, powdered sugar and cereal. Set aside.

Spread a thin layer of brownie batter on the bottom of your pan, making sure to cover the entire bottom of the pan.

Place your jumbo Reese's Peanut Butter Bars on top of your thin layer of brownie batter.

Cover the bars with the remaining batter.

Drop the peanut butter mixture over the top of your brownie batter and use a knife to swirl into your brownie batter.

Bake according to package directions or brownie recipe. These brownies may require an additional 5 5 to 10 minutes baking time.

Remove from the oven and allow to cool.

Cut up and serve! Delicious served warm topped with ice cream!
Disclaimer
Nutrition information is estimated as a courtesy. If using for medical purposes, please verify information using your own nutritional calculator. Percent Daily Values are based on a 2000 calorie diet.