I'm so excited about the new Peanuts Movie. Seeing the Peanuts gang is like seeing old friends from my childhood. I can't wait to take my kids to see the movie and share Snoopy, Charlie Brown, Lucy, Woodstock amd Pigpen (who might be my favorite) with them. My friends at Safeway are also excited about the Peanuts Movie, and asked me to share a fun way to celebrate the return of my old friends.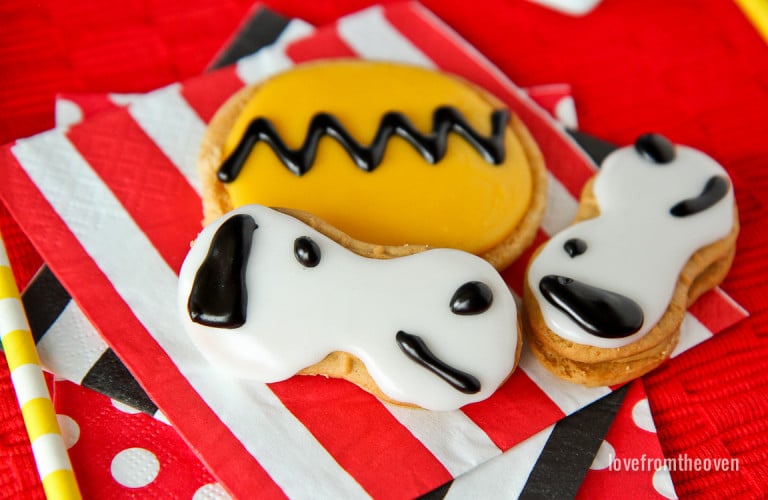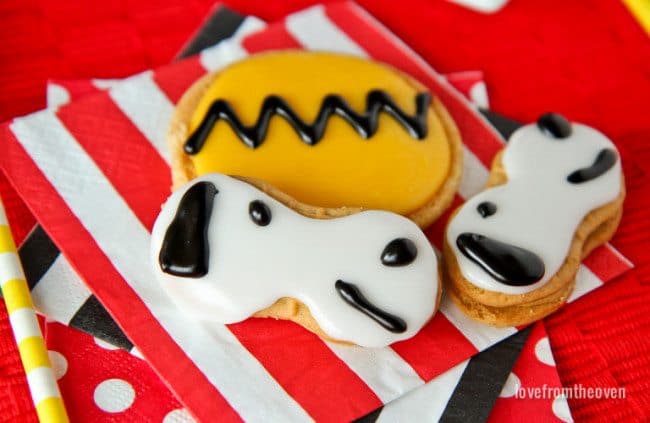 Albertsons Safeway is the official grocery partner of the Peanuts movie, and not only do they have everything you need to whip up some fun Peanuts themed treats to celebrate (like my easy cookies I'm sharing with you today!), but they also have designed two exclusive reusable Peanuts shopping bags that are perfect for trick or treating. These bags are available in stores for free, with purchase, while supplies last.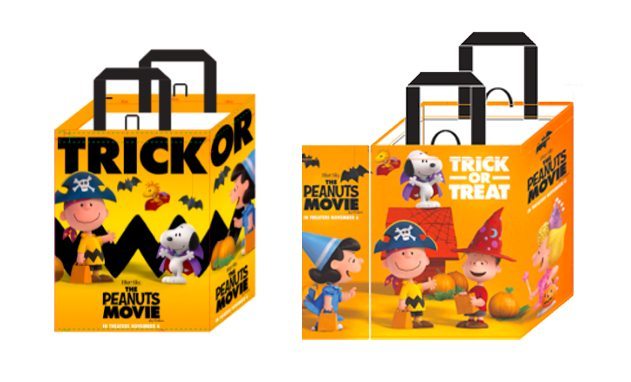 I picked up everything I needed at my local Safeway to whip up some fun and super easy Peanuts themed cookies. I decided to go the Smart Cookie route and use premade cookies so that I could skip the baking and focus on the decorating. With simple round sugar cookies from the bakery at Safeway, some peanut butter sandwich cookies, a simple icing recipe and some Ziploc bags to use for my icing, I whipped up these cookies in no time.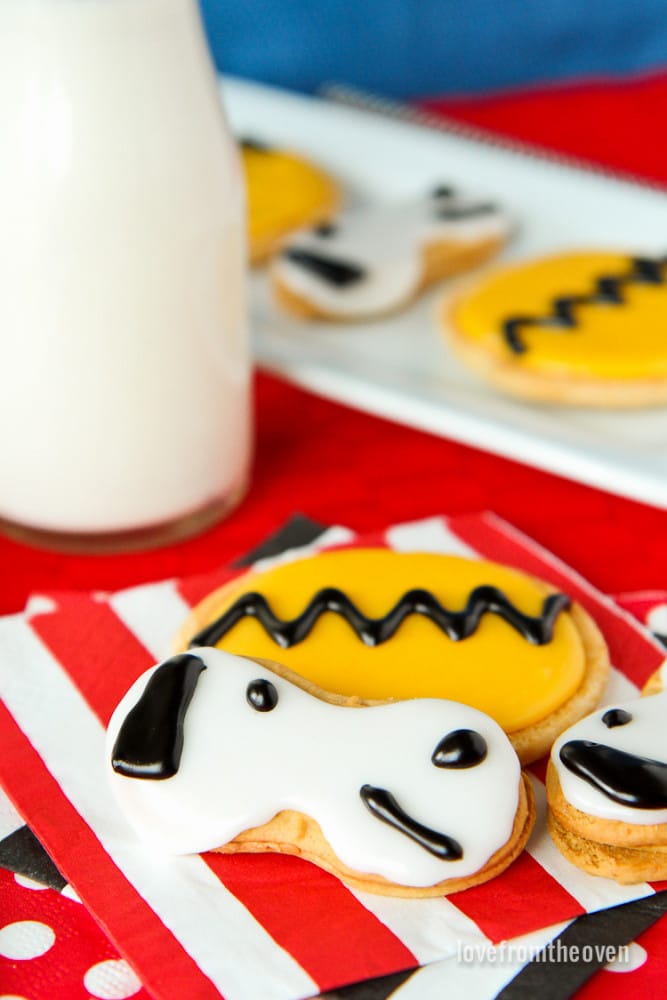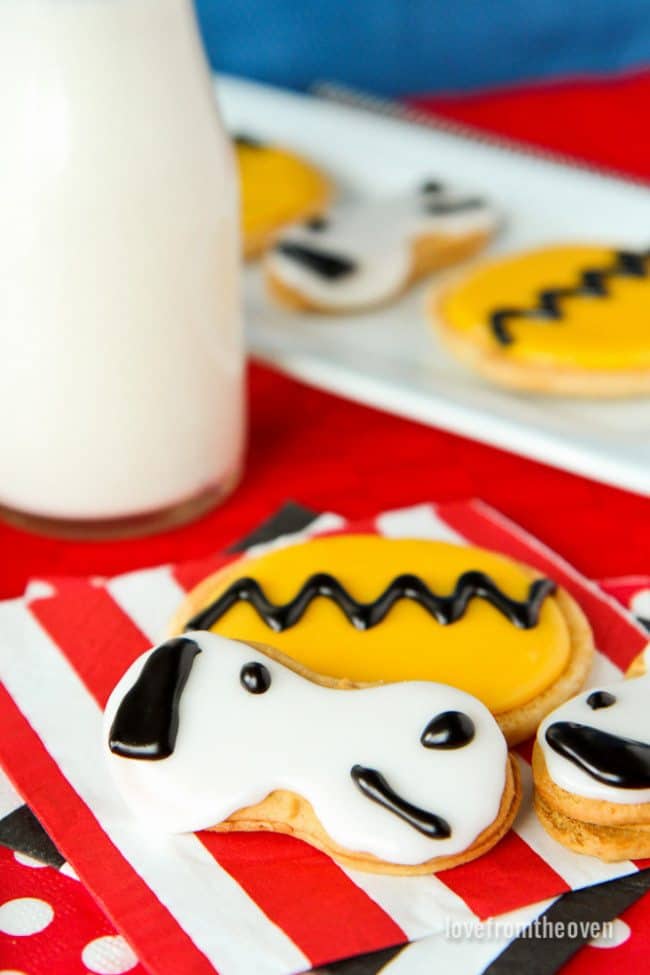 Don't worry if you aren't a cookie decorator, these are simple, you can totally do this! The icing recipe is really easy and will dry to a nice hard finish for you, perfect for these types of cookies. All you need for the icing is powdered sugar, milk, corn syrup and an extract of your choice. While vanilla is always a great option, I like lemon as it let's the white of the icing remain a nice, bright, white. Once your icing is mixed up, you divide it into three bowls, and add your food coloring to make yellow and black icings. I use Ziploc Sandwich Bags to pipe my icing onto the cookies. You just place your icing into your bag, give one of the bottom corners a tiny little snip, and you are ready to squeeze your frosting onto your cookies.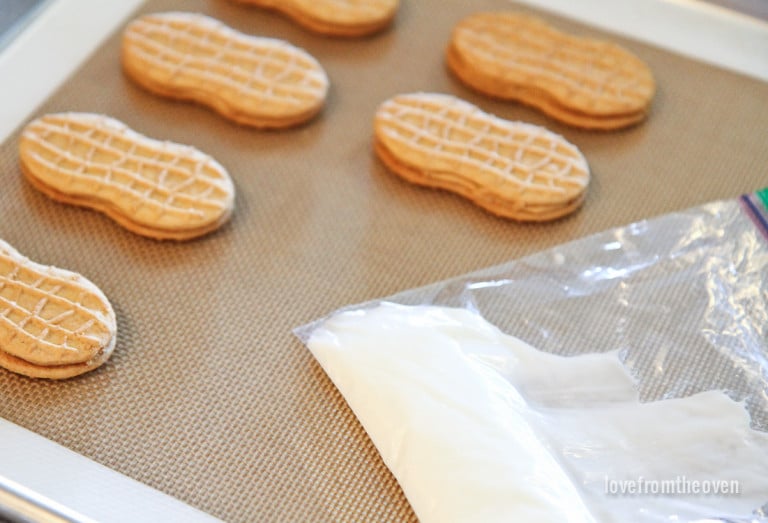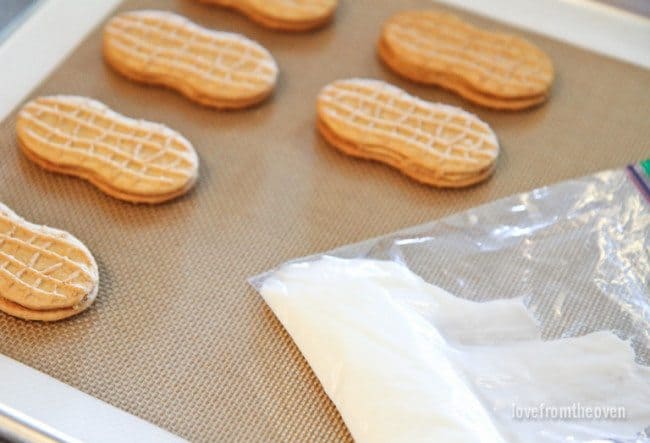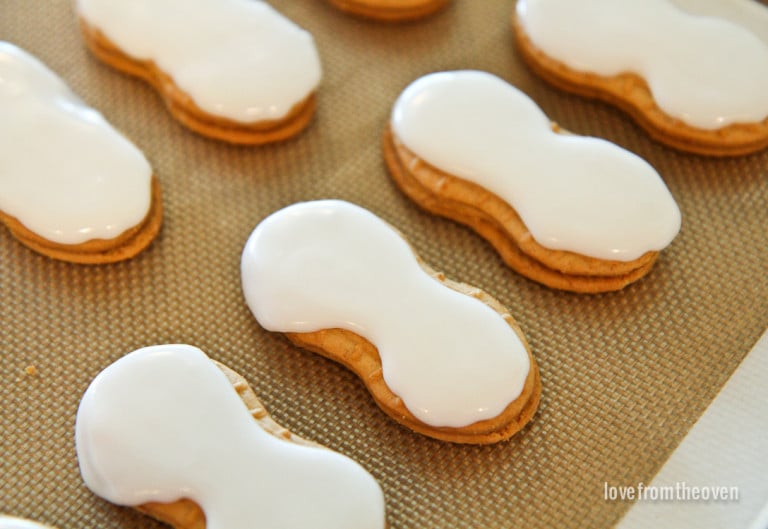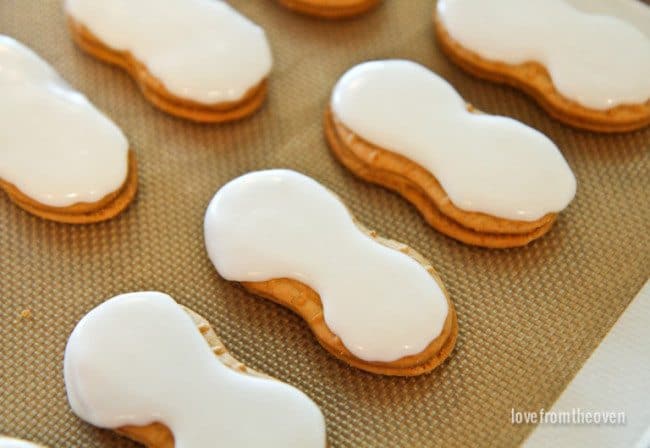 These peanut butter sandwich cookies are perfect to make Snoopy cookies! You want to try to pipe your icing on almost in the shape of an eight, coming in a bit at the center. I used round sugar cookies for my Charlie Brown cookies. A tip when decorating round cookies like this, I flip them over and decorate the back side, which is usually nice and flat compared to the front.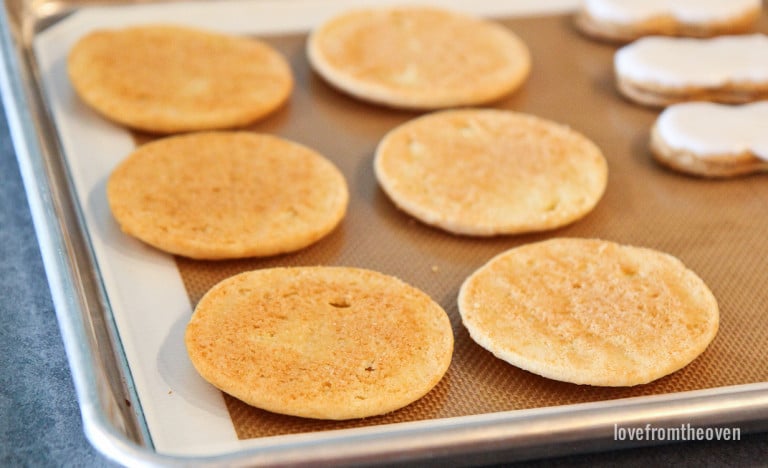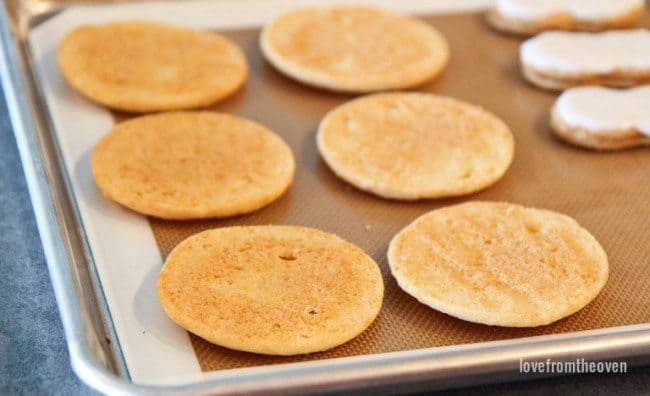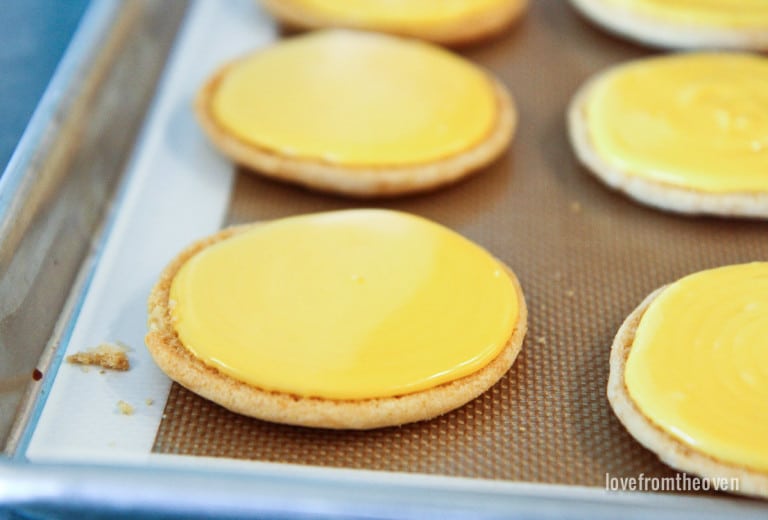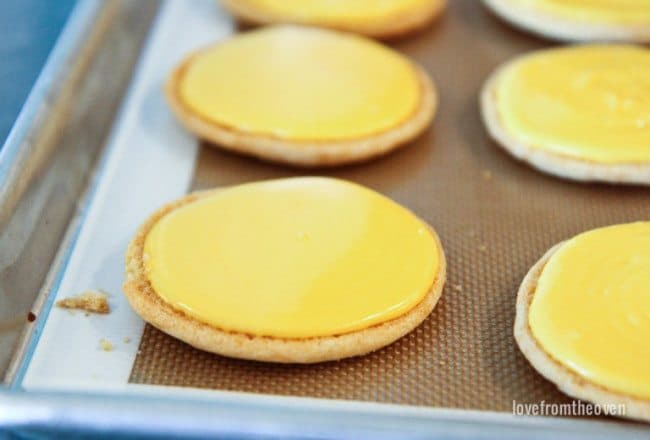 While these are super quick and easy to make, you do need to allow some drying time. If you can let your white and yellow icings each set up on the cookies for about an hour, the frosting will still be slightly soft, but if you are careful you can still go ahead and pipe on your black frosting. You simply pipe a zigzag on your Charlie Brown cookies and pipe a nose, mouth, eye and ear on your Snoopy cookies. That's it! Let them dry for a few hours, and if you want to stack them, it's best to let them dry for at least 12 hours so the icing can fully harden. But don't worry, this frosting doesn't dry rock hard, it just dries enough to be solid.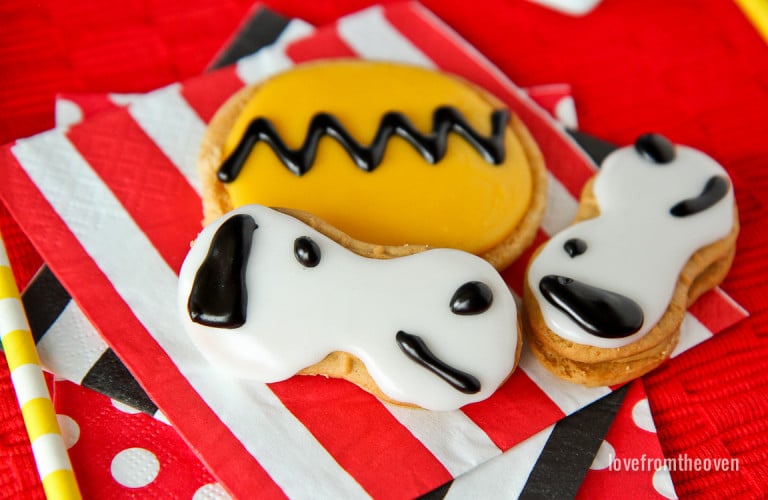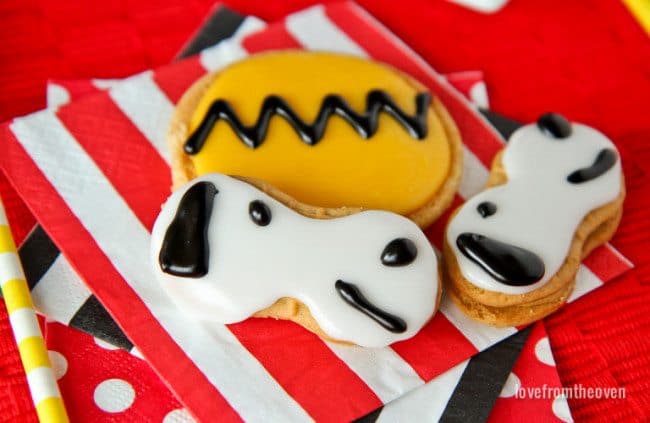 These are so fun, my kids loved them. Here is your recipe!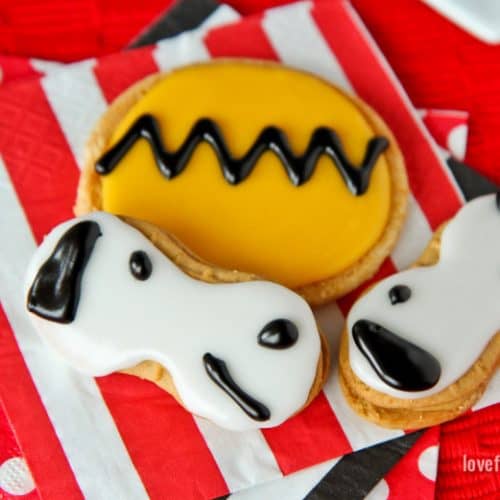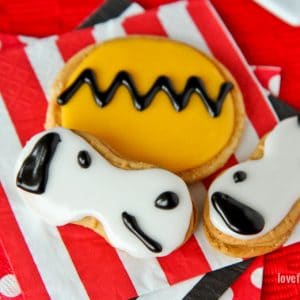 Peanuts Movie Cookies
Ingredients
12

Round Sugar Cookies

12

Peanut Butter Sandwich Cookies

3

cups

powdered sugar

3

TBSP

milk

2

TBSP

light corn syrup

1

tsp

extract of your choice (vanilla

lemon, almond...)

Yellow and black food coloring

3

sandwich size Ziploc bags
Instructions
Prepare your cookies by laying them out on a baking sheet.

To make your icing, combine powdered sugar with milk, corn syrup and flavor extract. If icing is too thin, add more powdered sugar, 1 tsp at a time until desired consistency is reached. If icing is to thick, add more milk 1 tsp at a time until desired consistency is reached. For best results, you want the icing to be the consistency of a very thick honey. If it's much thinner than that it will run off your cookies.

Once icing is mixed, divide it into three bowls. You will want slightly more icing in two of the bowls than you will in the third bowl, which will be used for your black icing. Leave one bowl of icing white, color one bowl yellow and the bowl with slightly less icing, black. Once colors are mixed you are ready to ice your cookies. =

Pour each of your icings into a Ziploc bag for piping. Working one color at a time, snip a very small corner off the bottom of your bag (1/4" at most). For Charlie Brown cookies, ice the flat, back side of round sugar cookies with your yellow icing. Once completed, sit aside to dry. For Snoopy cookies, ice the top of each peanut butter sandwich cookie. Set all cookies aside to dry for at least 30 minutes.

When ready to complete the cookies, knead your black icing in the Ziploc bag a bit to freshen it up. Snip a very small corner off the bottom of the bag. Gently pipe a black zig zag line on your Charlie Brown cookies, and an eye, nose, mouth and ear on to each of the Snoopy cookies. Once completed, let cookies dry for at least 6 hours prior to eating to allow icing to harden.

Enjoy!
Disclaimer
Nutrition information is estimated as a courtesy. If using for medical purposes, please verify information using your own nutritional calculator. Percent Daily Values are based on a 2000 calorie diet.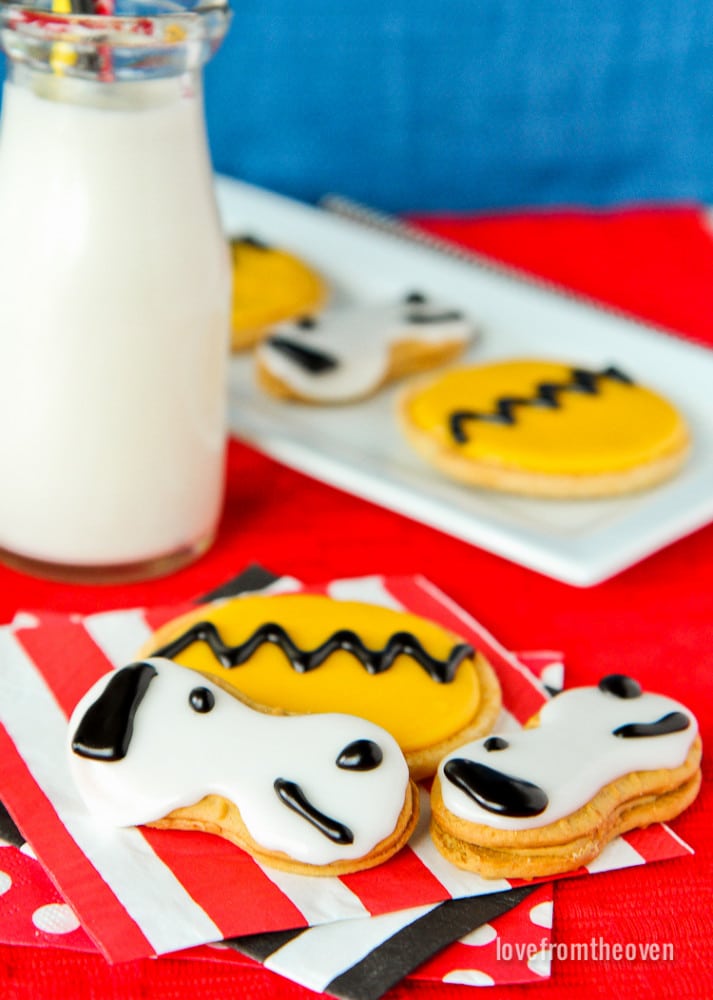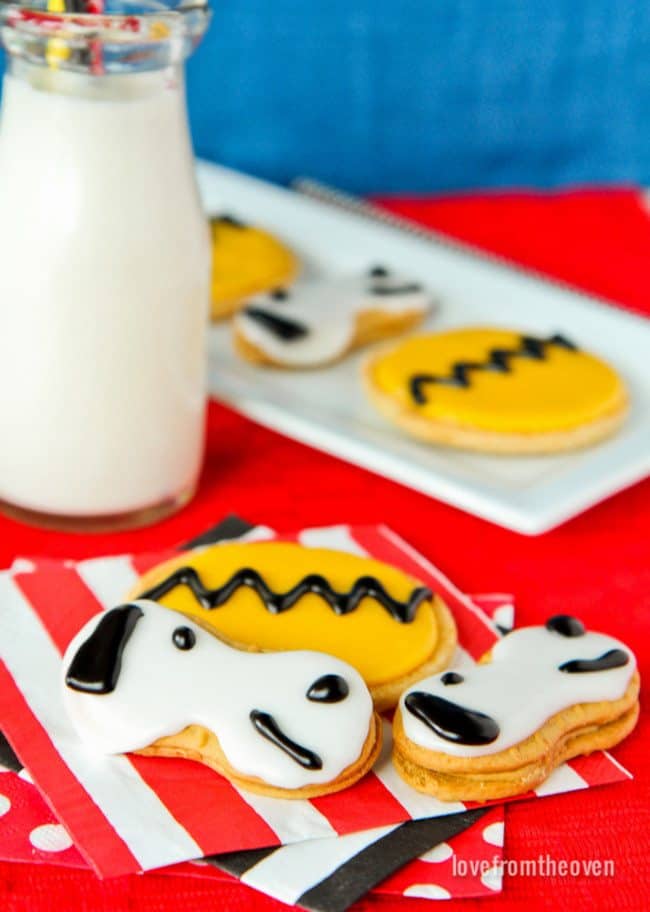 I hope your family enjoys these fun cookies, as well as the new Peanuts movie! Head to your local Albertsons Safeway (or Vons Pavillions, Jewel-Osco, Randalls, United Supermarkets, Tom Thumb, Acme, Star Market, Shaws, Carrs / Safeway, Market Street or Amigos, depending on your location) to pick up your free (with purchase, while supplies last) reusable Peanuts trick or treat bag!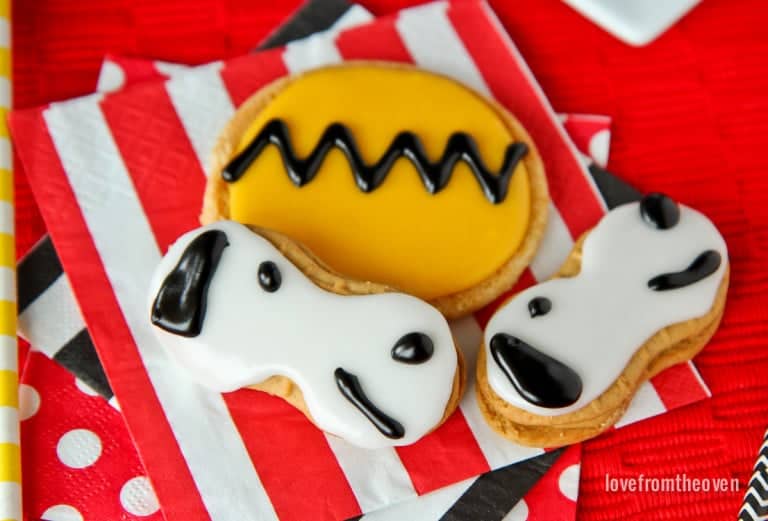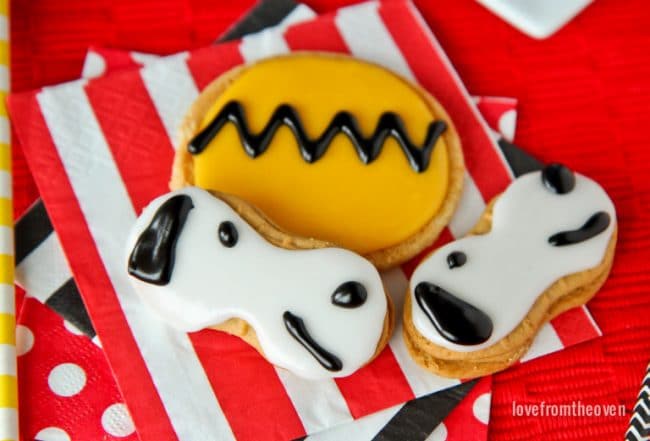 This is a sponsored conversation written by me on behalf of Albertsons Safeway. The opinions and text are all mine.