These are one bowl brownies. Almost easier than a mix and they taste a whole lot better! And…all you have to do is sandwich in some Peppermint Patties. That kind of makes them even fudgier. If that's even possible?
These are truly heaven.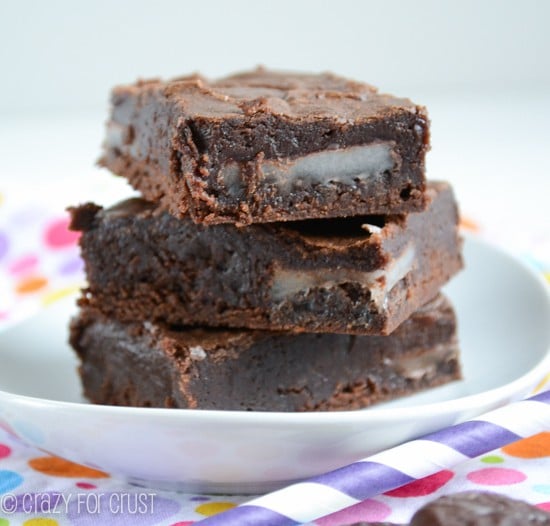 Peppermint Pattie Brownies
2 ounces unsweetened baking chocolate, coarsely chopped
2 ounces semi-sweet baking chocolate, coarsely chopped
3/4 cup butter
1 3/4 cups sugar
3 eggs
1 tablespoon vanilla extract
2 tablespoons unsweetened cocoa powder
1 cup all-purpose flour
24 (small) peppermint patties, or less bigger ones
Preheat oven to 350 degrees. Line a 9×13" pan with foil and spray with cooking spray.
Place the two baking chocolates and butter in a large, microwave safe bowl. Heat on 50% power for 2-3 minutes, stirring every 30 seconds, until chocolate is smooth. Stir in sugar. Add eggs, vanilla, and cocoa and stir well. Add flour and stir carefully.
Spread half batter in prepared pan. Top with an even layer of peppermint patties. I used small ones, so I needed 24. Depending on the brand you use, you may not need as many. Top with remaining batter and spread evenly.
Bake about 25 minutes, until a toothpick 2 inches from the outside of the pan comes out clean. Let cool before cutting.
Note: I recommend using name-brand peppermint patties in this.