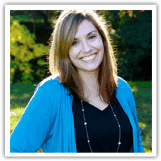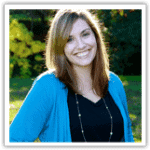 I am so excited to share a guest post with you today from one of my favorite bloggers, one who shares a very similar sweet tooth to mine (I kind of crave everything she makes!). If you aren't already familiar with Dorothy from Crazy For Crust, you are in for such a treat. She is incredible and you are going to fall in love with her, as well as her awesome sweets and treats. For example…. Peanut Butter Oatmeal Cookie Dough Truffles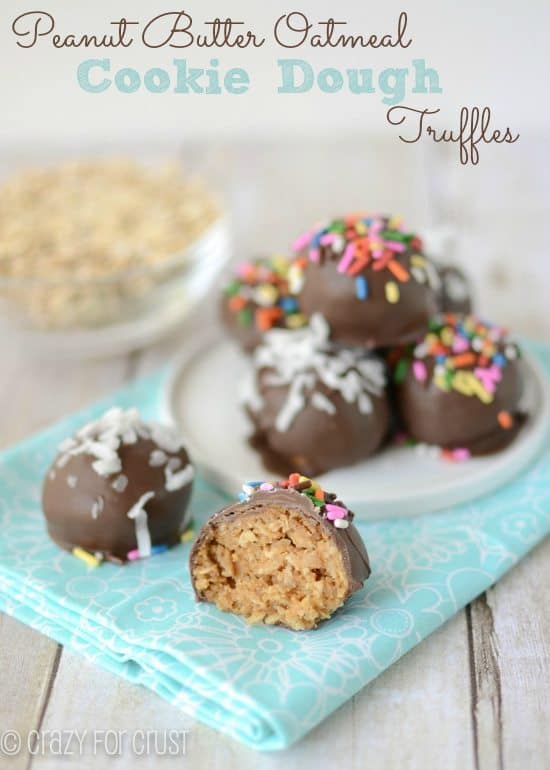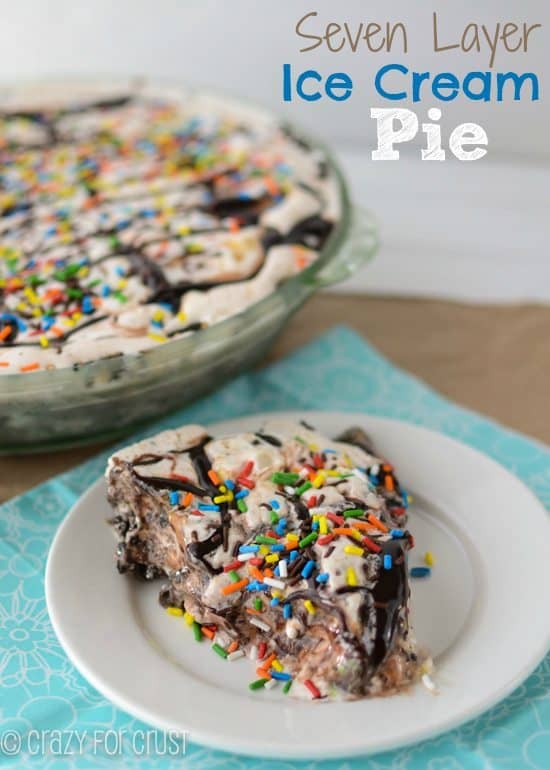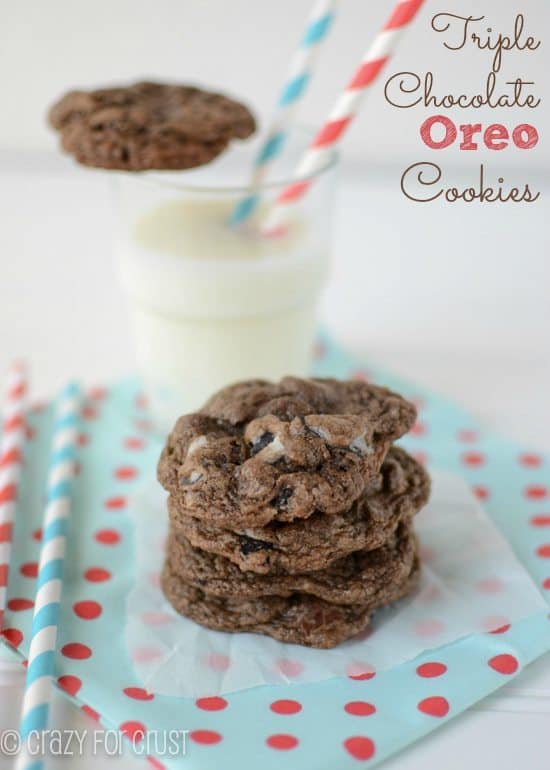 And Lemon bars With Kings Hawaiian Crust (um, WOW!)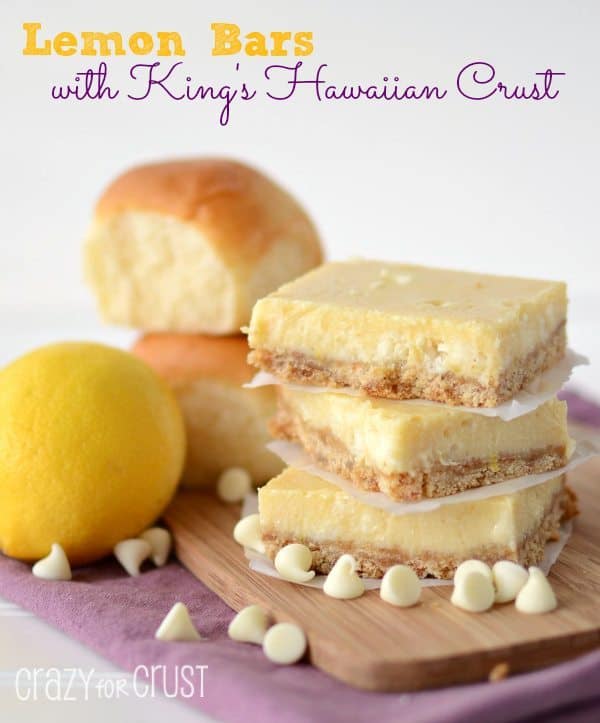 All kinds of amazing, right??? That's enough of my blabbing, let me turn it over to Dorothy and her drool-icious (is that a word?) Peppermint Pattie Brownies. 🙂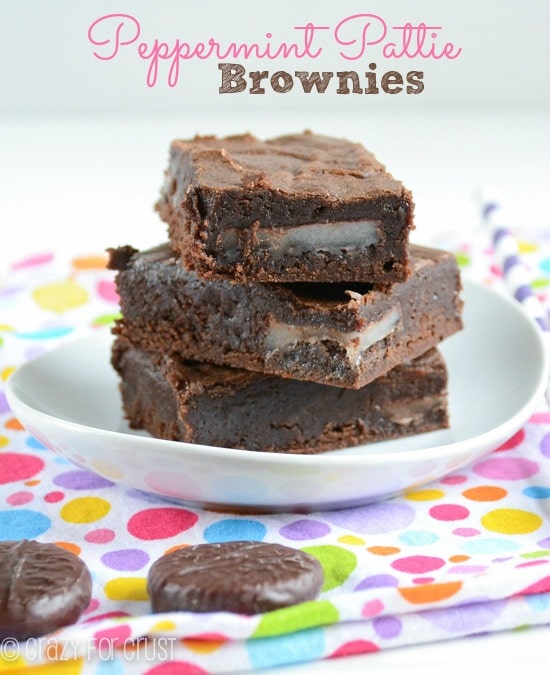 Hello Love From the Oveners! I am so happy to be here today! I'm Dorothy, from Crazy for Crust. I blog about sugar, as much as my waistline will let me. Then I share my recipes along with a slice of my life!
I have been reading Christi's blog for a long, long time. She was one of the first ones I fell in love with! I mean, how do you not fall in love with cake pops? And krispie treats? And brownies?
I have to tell you, my first love is crust. I'm a total slave to my crust cravings. But my second love? That's brownies. A rich, fudgy, indulgent brownie. I've been known to make a boxed brownie…and eat the entire pan. With a fork. In front of the Real Housewives of Anywhere. (Those chicks are cray-cray, if you ask me. I mean, their outbursts and table flips are obviously the result of not enough brownie eating. Maybe if they indulged in some brownies now and again, they wouldn't be throwing wine in each others' faces. Just a thought…)
Anyway, I digress. That's a normal thing for me, just to warn you, in case you come say hi.
If you've ever read my blog, you'll know about my recent love affair with my favorite brownie recipe. It's fudgy and dense with a crackly top, just like a brownie should be. I've dressed it up with frosting and put it on sticks. And now? Now I'm paring it with mint. Because chocolate + mint = heaven.
These are one bowl brownies. Almost easier than a mix and they taste a whole lot better! And…all you have to do is sandwich in some Peppermint Patties. That kind of makes them even fudgier. If that's even possible?
These are truly heaven.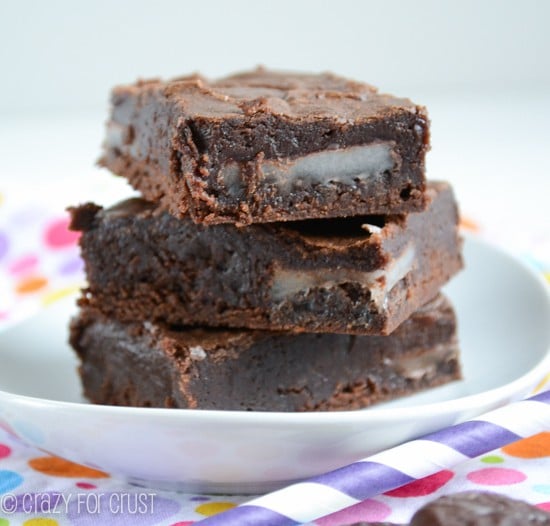 Go grab a pan of them, and your remote. Watching crazy people on TV is always better with brownies, methinks.
Peppermint Pattie Brownies
2 ounces unsweetened baking chocolate, coarsely chopped
2 ounces semi-sweet baking chocolate, coarsely chopped
3/4 cup butter
1 3/4 cups sugar
3 eggs
1 tablespoon vanilla extract
2 tablespoons unsweetened cocoa powder
1 cup all-purpose flour
24 (small) peppermint patties, or less bigger ones
Preheat oven to 350 degrees. Line a 9×13" pan with foil and spray with cooking spray.
Place the two baking chocolates and butter in a large, microwave safe bowl. Heat on 50% power for 2-3 minutes, stirring every 30 seconds, until chocolate is smooth. Stir in sugar. Add eggs, vanilla, and cocoa and stir well. Add flour and stir carefully.
Spread half batter in prepared pan. Top with an even layer of peppermint patties. I used small ones, so I needed 24. Depending on the brand you use, you may not need as many. Top with remaining batter and spread evenly.
Bake about 25 minutes, until a toothpick 2 inches from the outside of the pan comes out clean. Let cool before cutting.
Note: I recommend using name-brand peppermint patties in this. Dollar store ones don't cook as well as the good ones do. 🙂
Come on over and visit me sometime! I'll ply you with sugar and talk your ear off…and that's a promise.

I can't thank Dorothy enough for sharing this delicious recipe with us! Please make sure to head over to her site and check out all of her fantastic recipes.  Don't be surprised if you end up browsing her site for the next six hours (don't say I didn't warn you!). 🙂