I need to start this post with a confession. A deep dark secret of mine. Time to just put it out there…
Before today, I had NEVER made a pie crust from scratch. Ever.
You'd think that someone who bakes as much as I do would have made many pie crusts in her day, but Pillsbury and their refrigerated pie dough have enabled me all these years. The worst part is that I've often been complimented on my pie crust recipe, and while sometimes I say "oh, it's store bought", other times I just smile and take the compliment. While we are being totally honest on taking compliments that aren't exactly warranted, I may have also just smiled and said "thanks" when strangers told me that I, an adoptive mother, looked great for just having had a baby. I figure I did put the pie in the oven and I was a new mom, so I was kind of entitled to those compliments, right? Something like that.
So back to pies. The folks at Harvard Common Press contacted me and asked if I would like to review their cookbooks "Pie – 300 Tried And True Recipes For Delicious Homemade Pies" and "Apple Pie" by Ken Haedrich.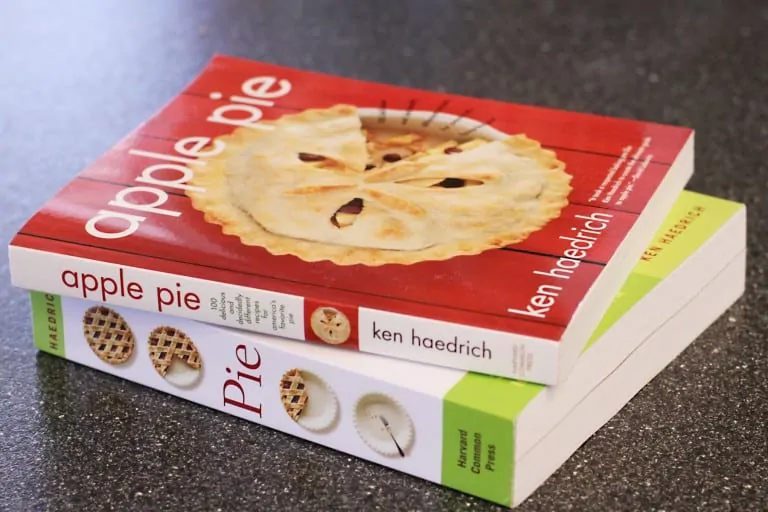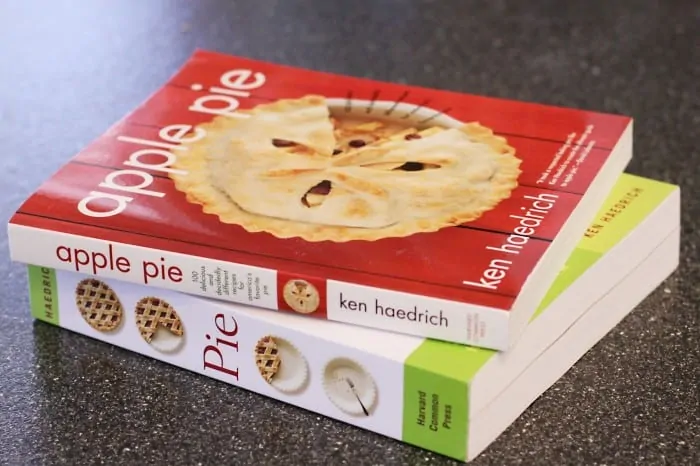 Being that it's fall – and thus the greatest time of year for pies, I told them I was happy to check out these cookbooks and share my thoughts with my readers. But I knew this meant I was going to have to confront my fear of pie crust making, and trust me, I've been stressing about that.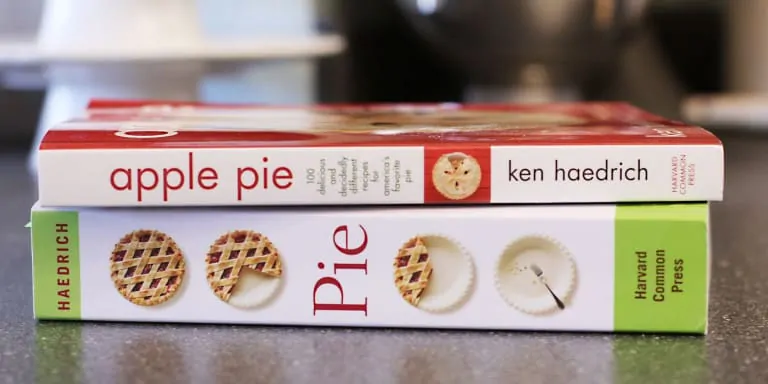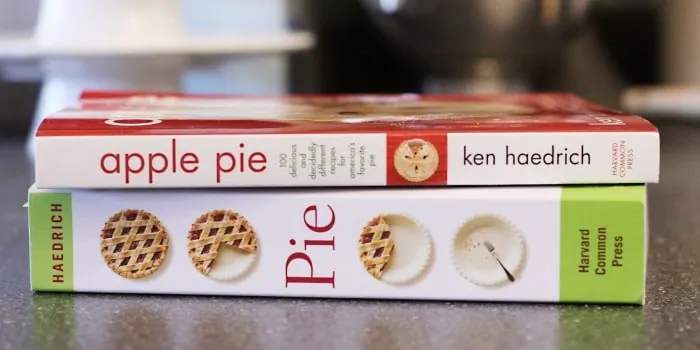 Well, luck have it, "Pie" is not just a cookbook, it's so much more. It's more like a Pie Bible. With 640 pages, this is a true guide to pies, not just a few recipes. This book is as thick as my rolling pin!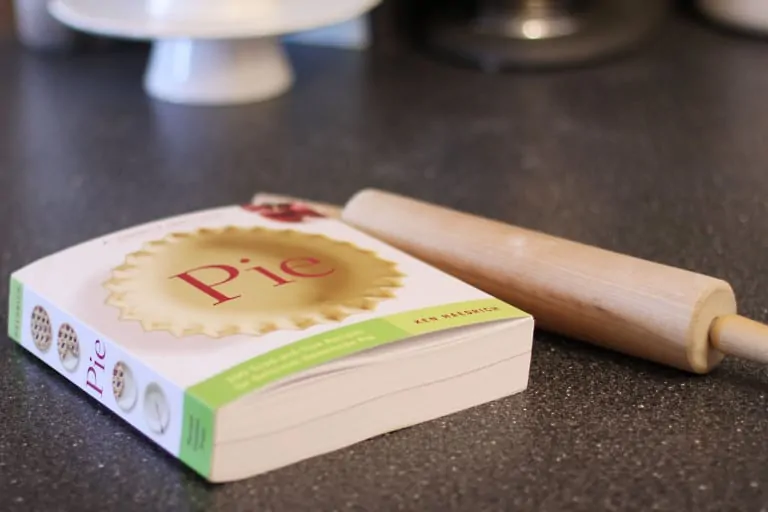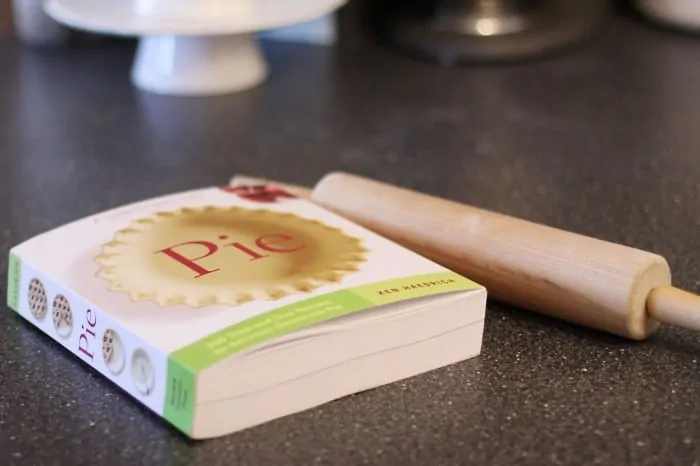 There is so much information, education and advice that I felt like I had a teacher holding my hand telling me that even I could make a pie crust. After reading about the different techniques, I decided that using a food processor for making a pie crust was the way I wanted to go, and that the Peaches & Cream Pie was the pie I wanted to make.
It's a good thing I had a giant box of fresh peaches on my hands telling me that I needed to make a peach pie, otherwise I would have had a really hard time picking from the 300 different pie recipes in the book. With pie recipes like Three Sisters Coconut Buttermilk Pie, Butterscotch Banana Cream Pie, Maple Pumpkin Pie, Jack Daniels Chocolate Chip Pecan Pie, Peanut Butter Cheesecake Pie With Brown Sugar Sour Cream Topping, Chocolate Cherry S'mores Ice Cream Pie, 10 Minute Lemon Meringue Icebox Pie and Mini Cheesecake Pies For The Kids, it would have been VERY difficult to pick one. Heck, I had TEN peach pies to pick from!
According to author Ken Haedrich, the All Butter Pie Pastry recipe is the easiest pie crust to make in a food processor, so that decided which crust I would make (there are 21 pie pastry recipes to pick from).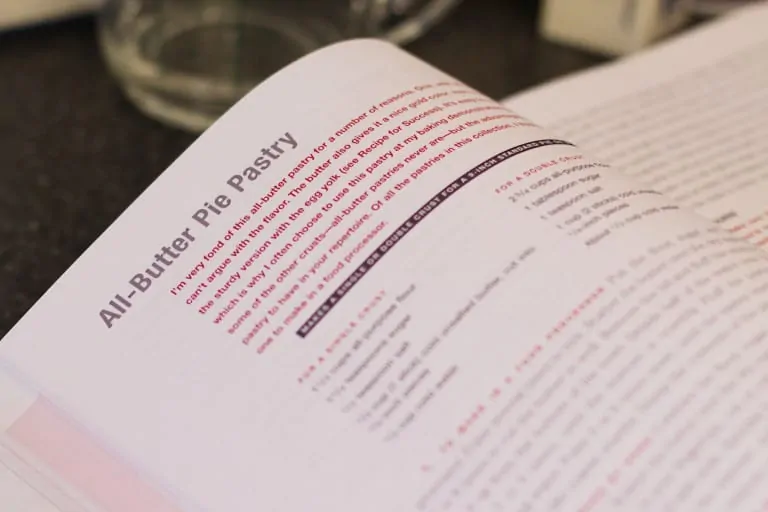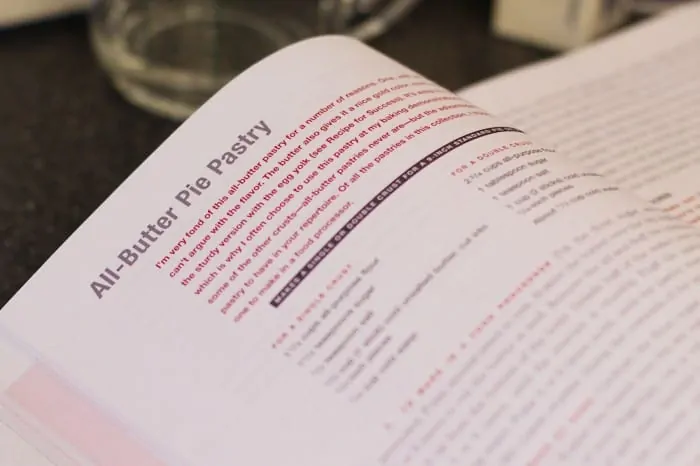 I gathered my ingredients, took a deep breath and started making my first pie crust.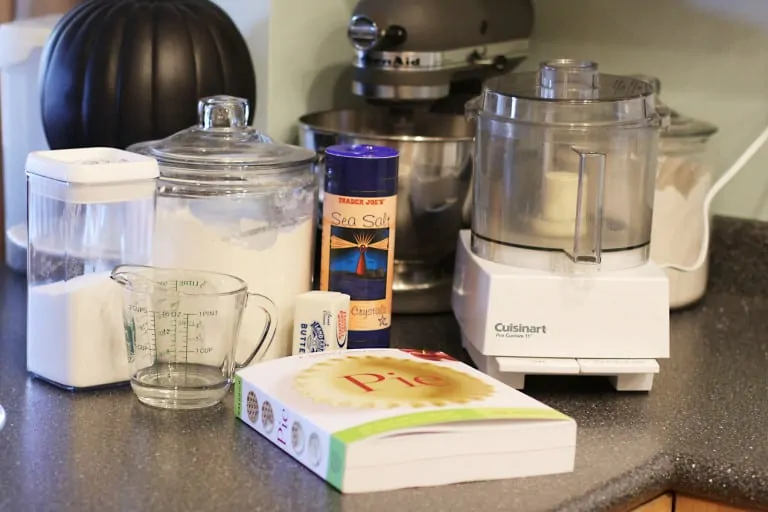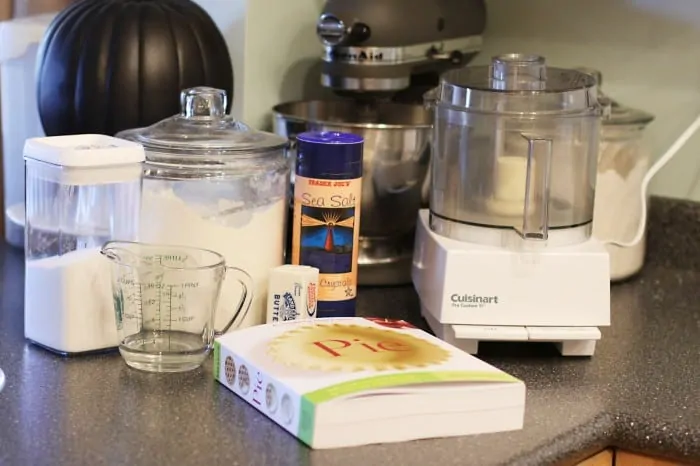 The dough required very few ingredients and came together quickly in the food processor. Ken talks about how you need to use the pulse button with the food processor for pie pastry and not over process or your crusts will not be flaky and tender. Good thing he pointed this out, as I probably would have processed the poor crust right into tomorrow otherwise.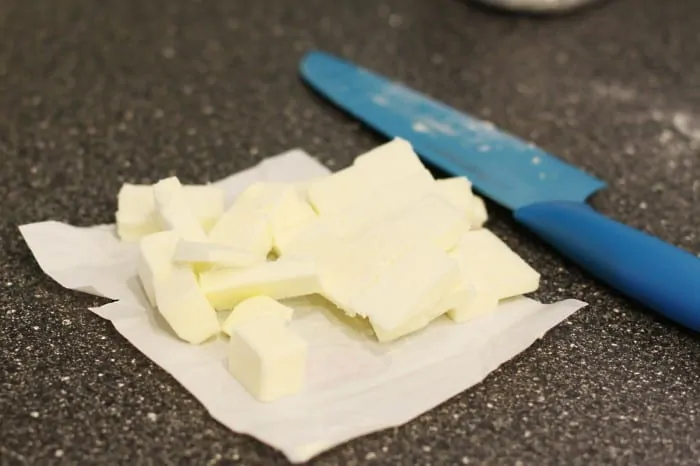 With a few ingredients and a few pulses in the food processor, I ended up with what looked like this…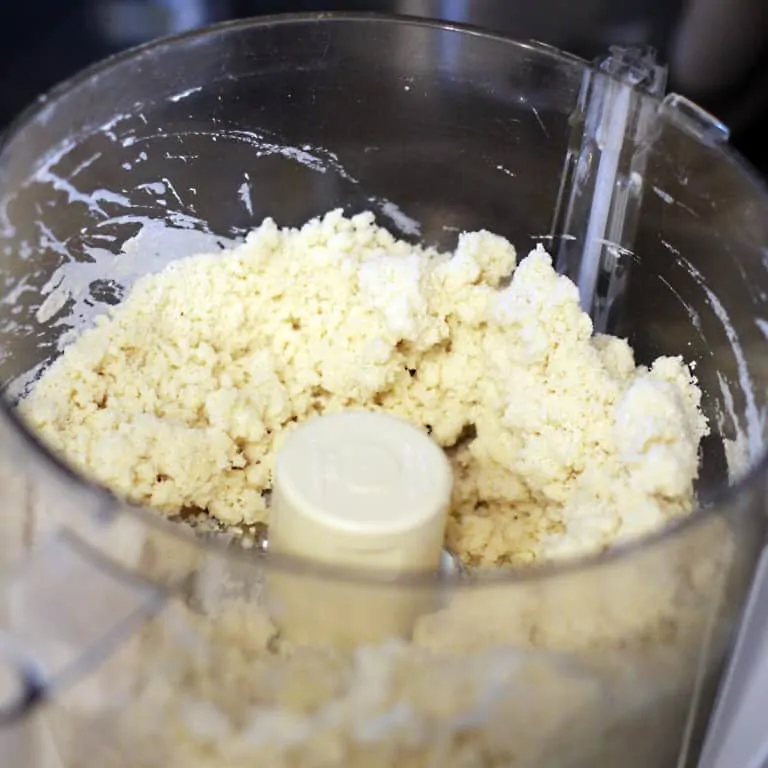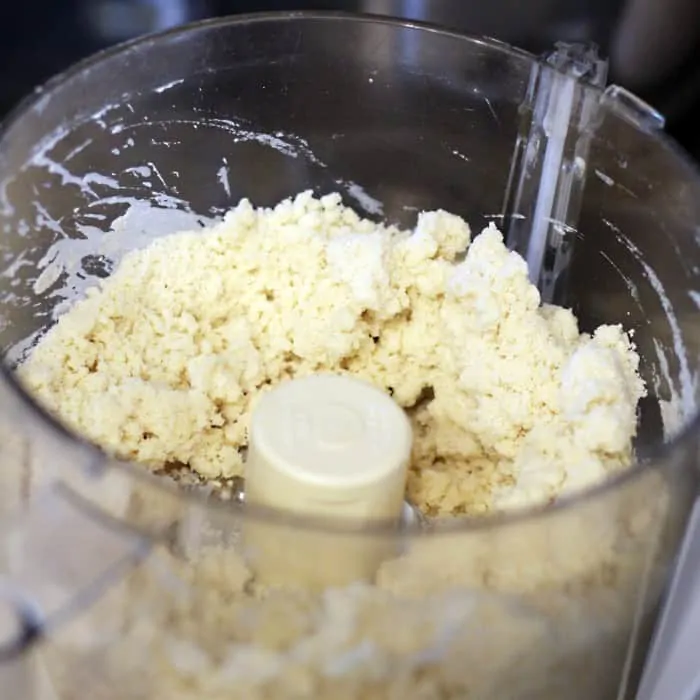 And then looked like this…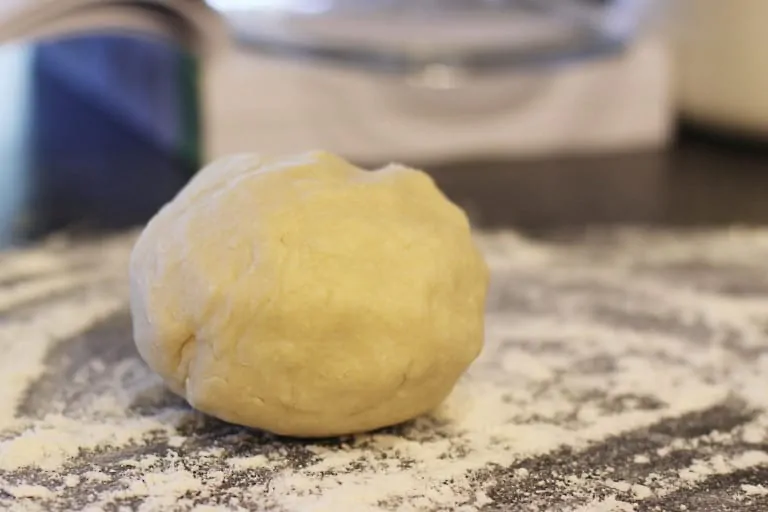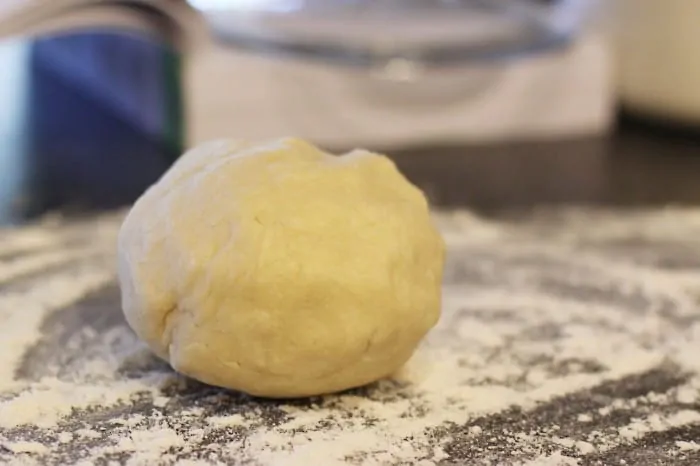 It actually looked like something that might eventually turn into a pie crust. I flattened it out a bit, wrapped in plastic wrap and put in the refrigerator to chill for an hour.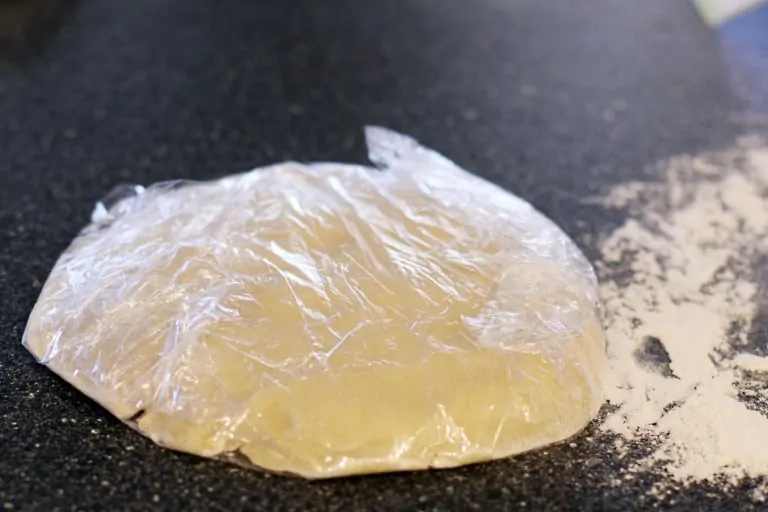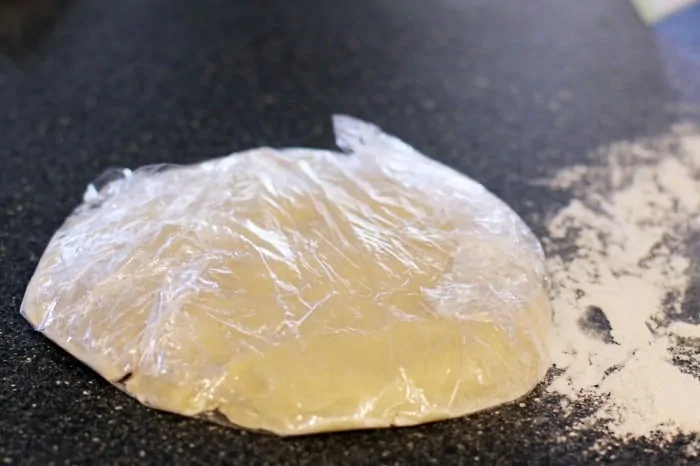 Next it was time for the part that really scared me – the whole roll it out, get it into a pie pan, and have it look like something that can hold a pie filling.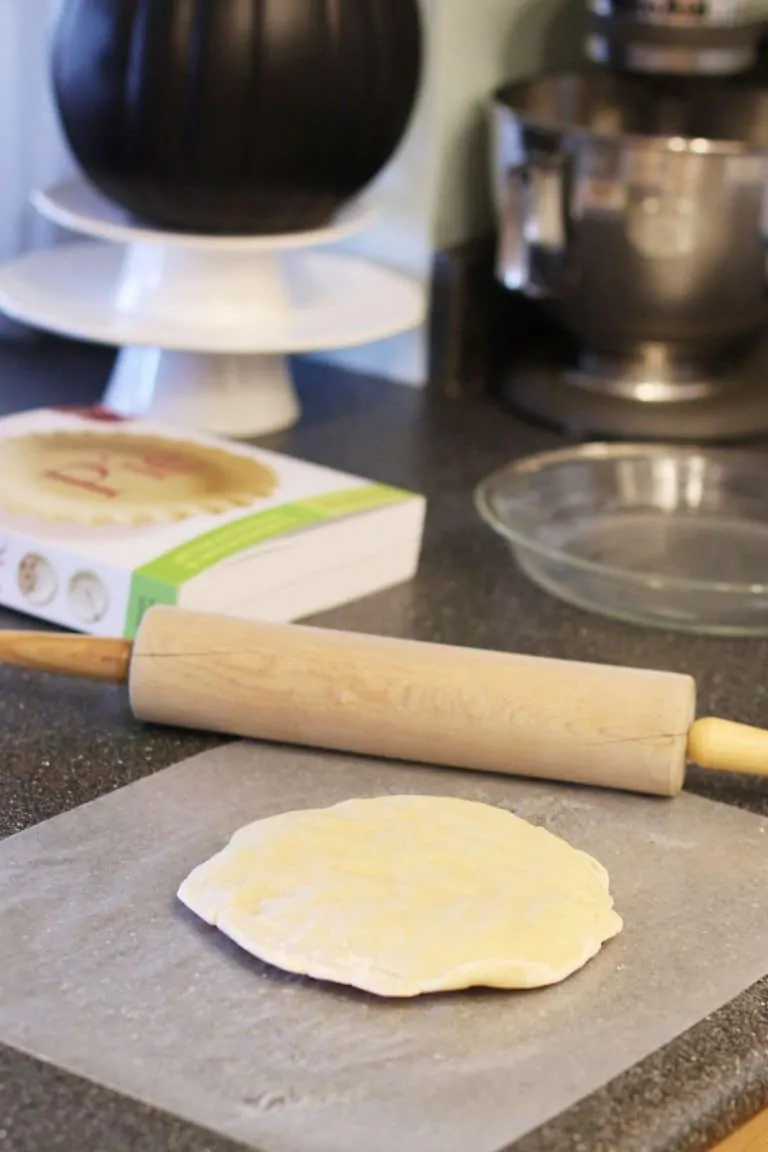 So I started rolling. Ken gives great advice on the best ways to do this (including how to use wax paper to help you out).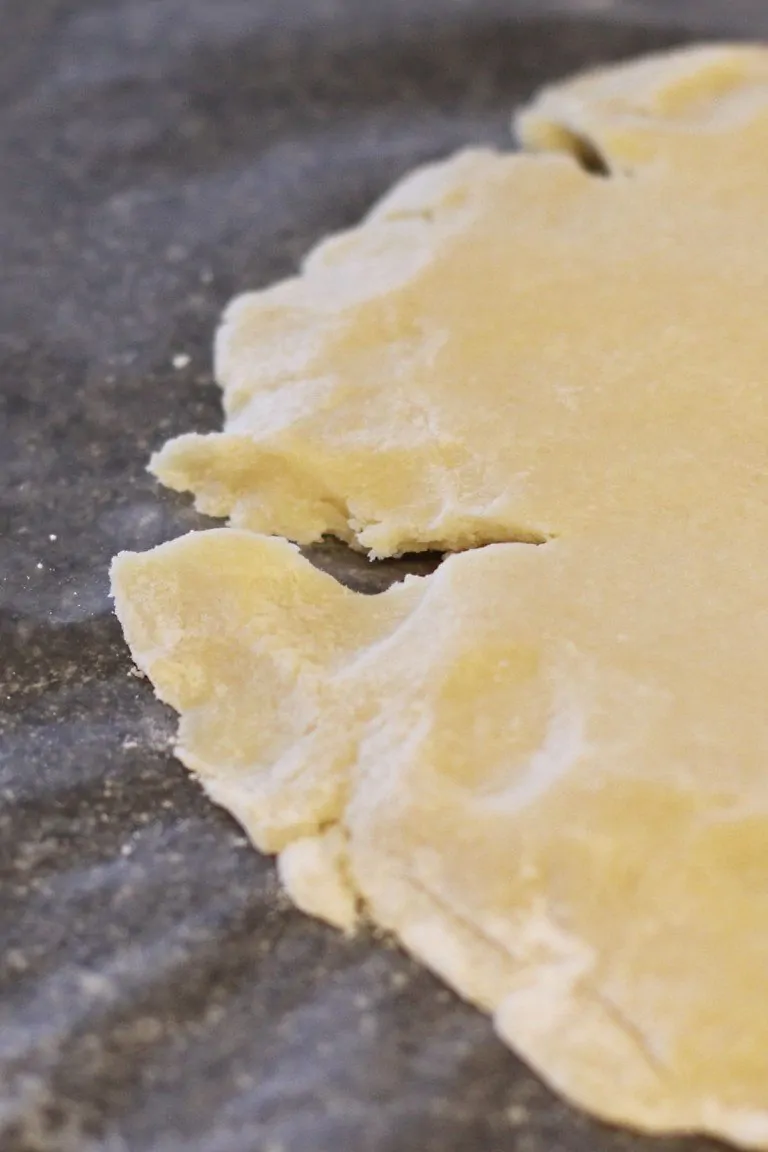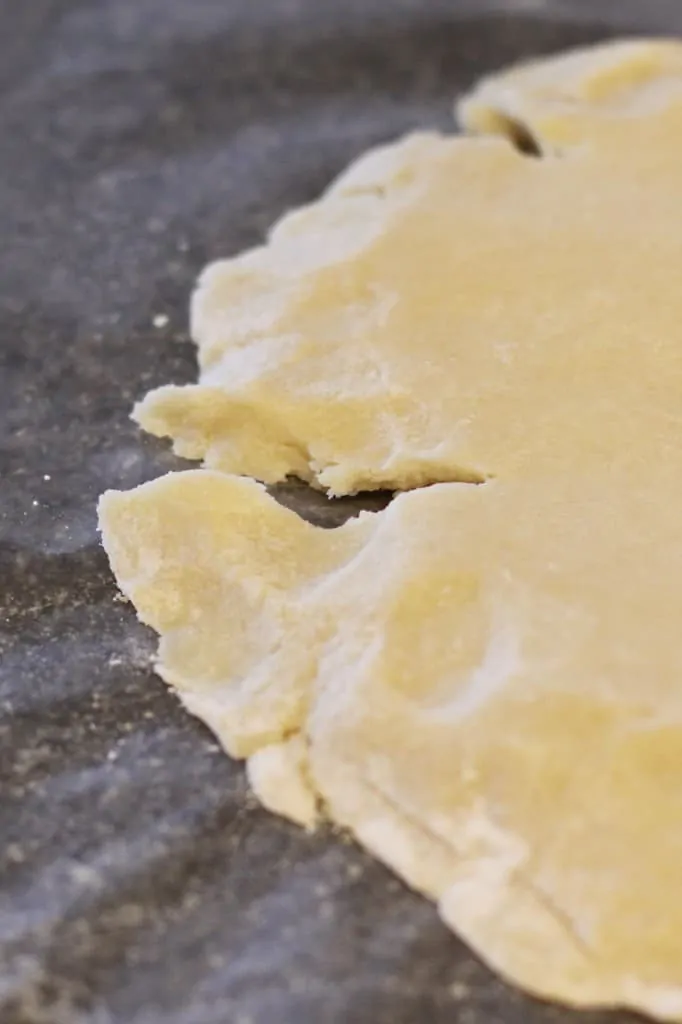 I tried not to freak out over the cracks – and trusted Ken's advice to not worry about them and if they were bad enough to pinch them back together. And next thing you know I had this…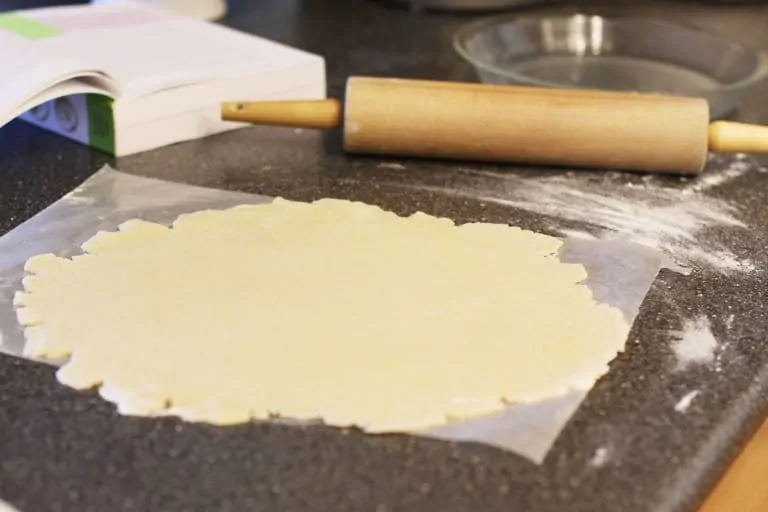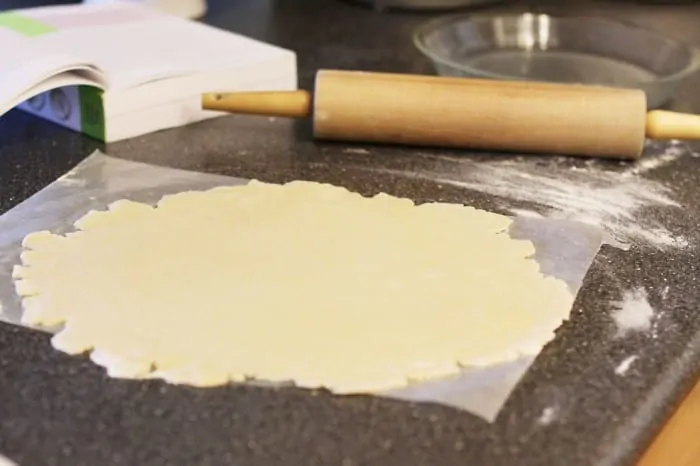 Something that looked like an actual pie crust! After congratulating myself I realized that I wasn't quite done yet, somehow that crust had to get into a pie pan. In one piece. So I closely followed Ken's advice on how to transfer the dough to the pie pan…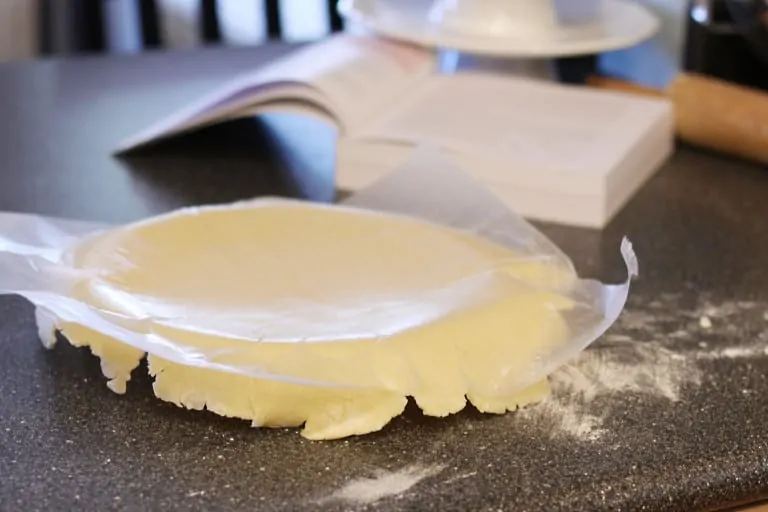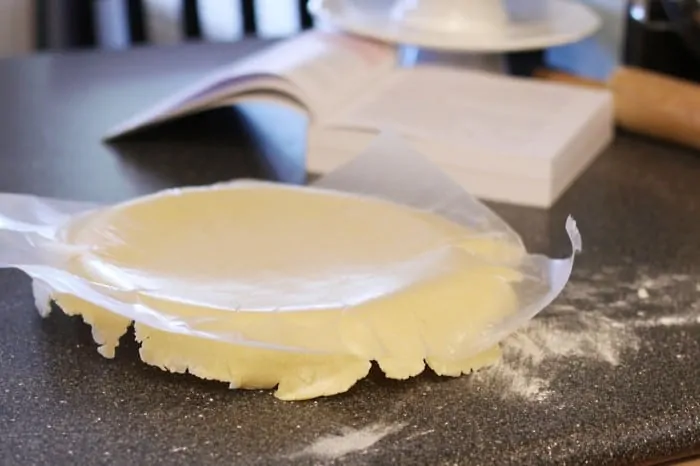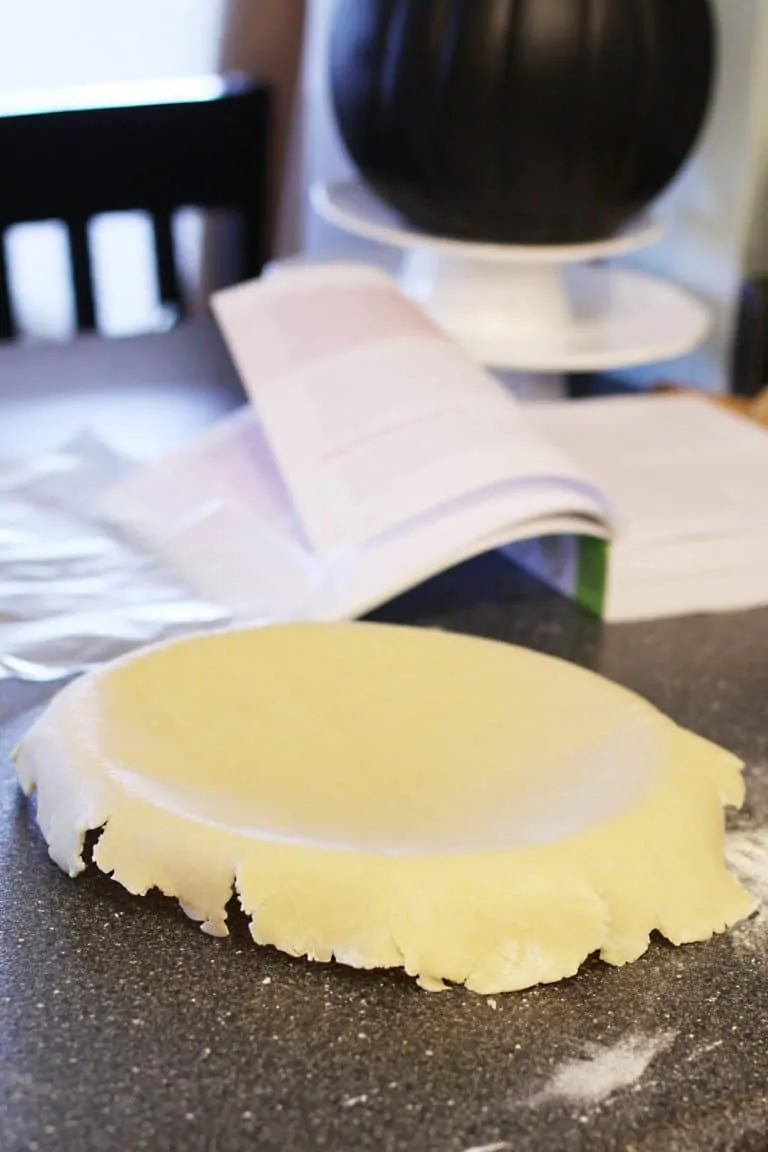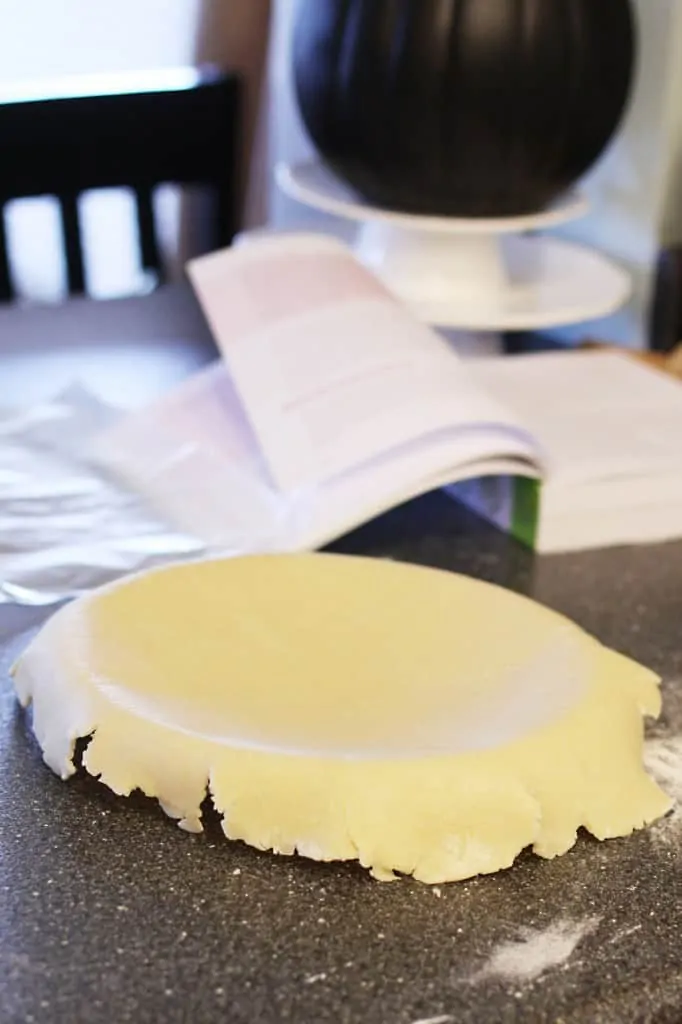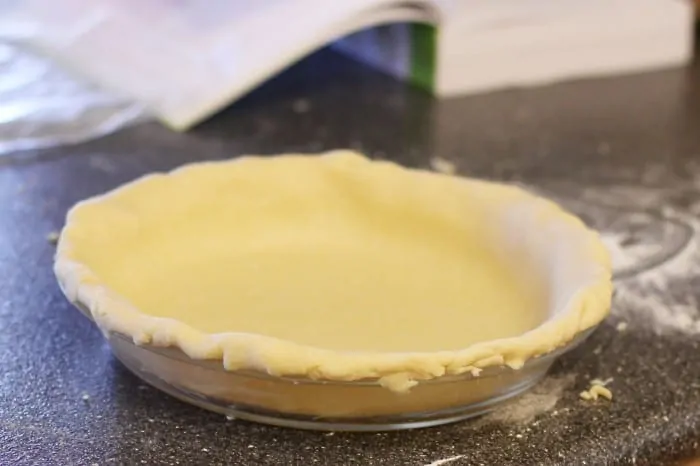 Wow. It worked. As I was staring at my pie crust in dreamy awe, I was brought back to reality by my toddler. Who also reminded me why I wasn't making a blueberry pie. She doesn't normally have a purple beard, I promise.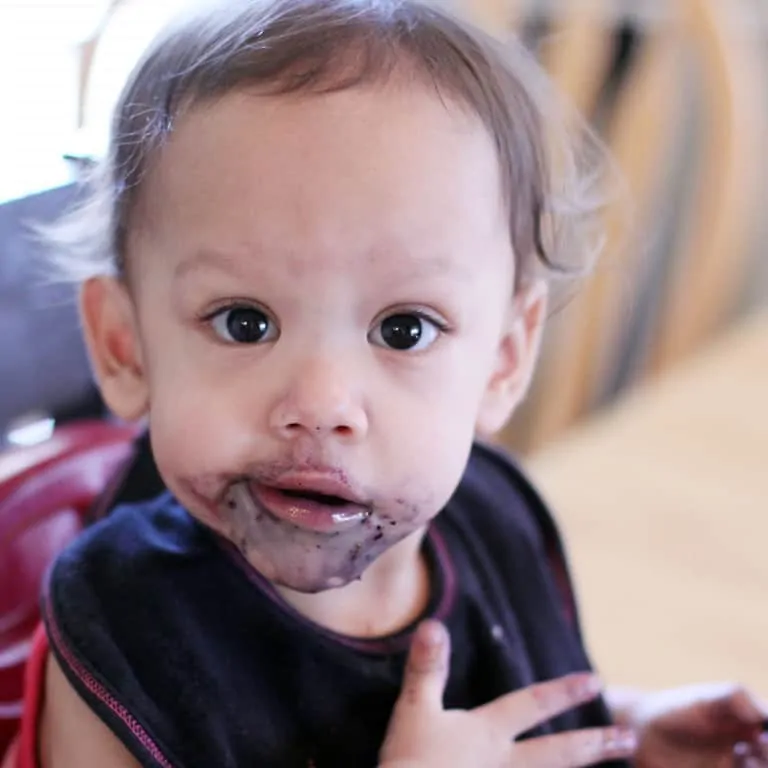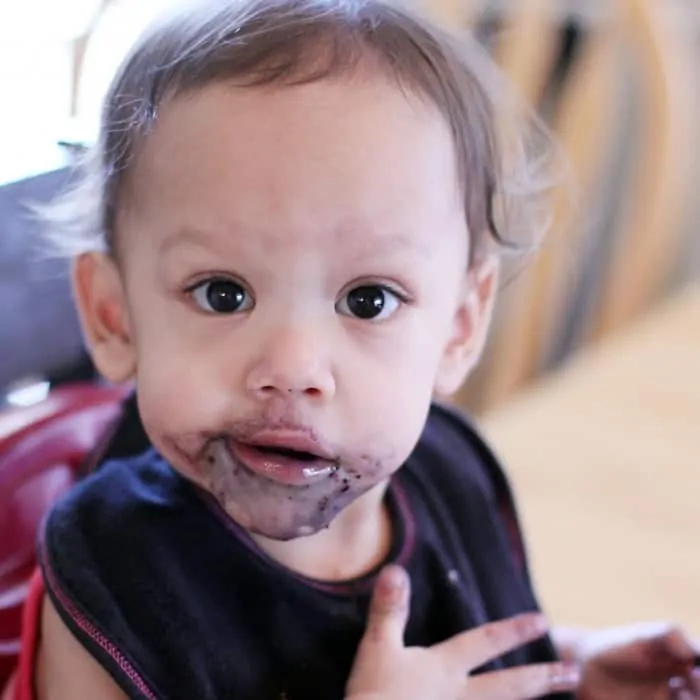 The next step was to put the pie crust in the freezer and and assemble the ingredients for the whole Peaches & Cream part of this equation.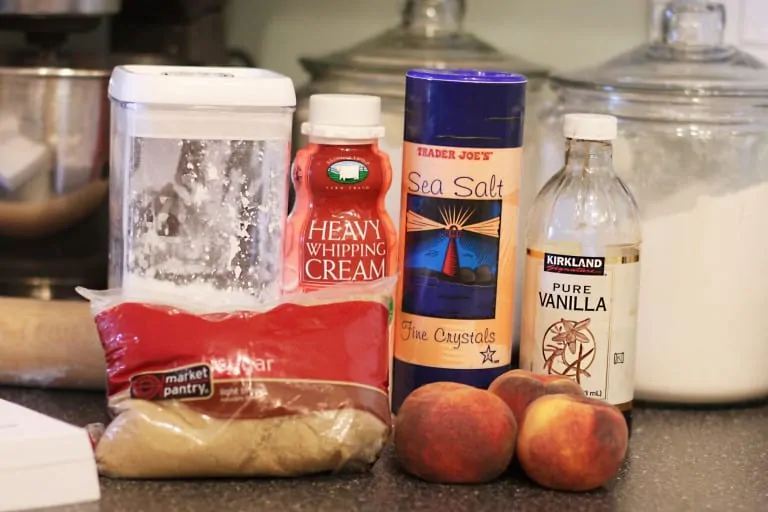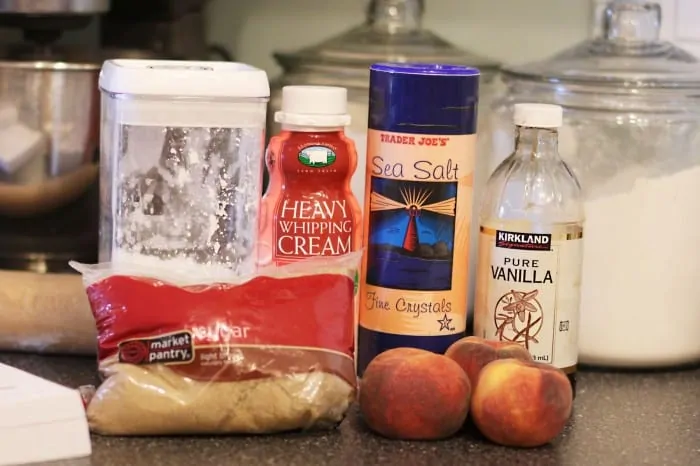 Like a television chef, I magically pulled out freshly peeled and sliced peaches (instead of subjecting my audience to the peeling of said peaches).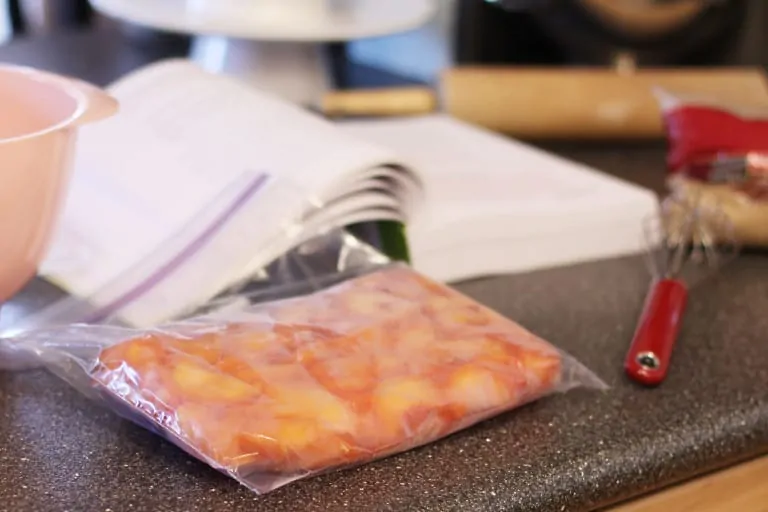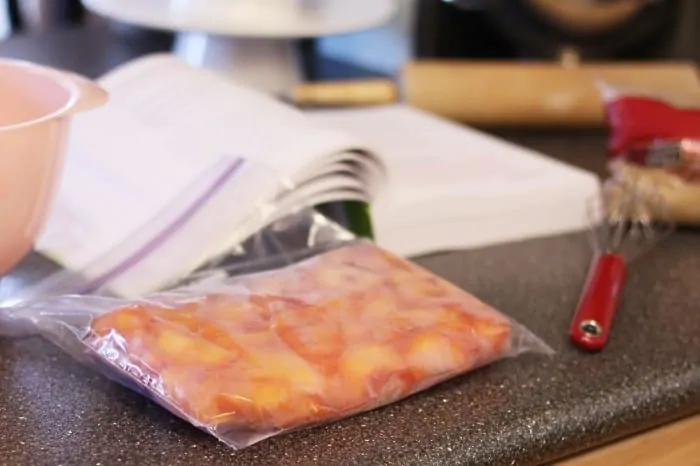 The pie came together so easily. First the fresh peaches, and then the cream…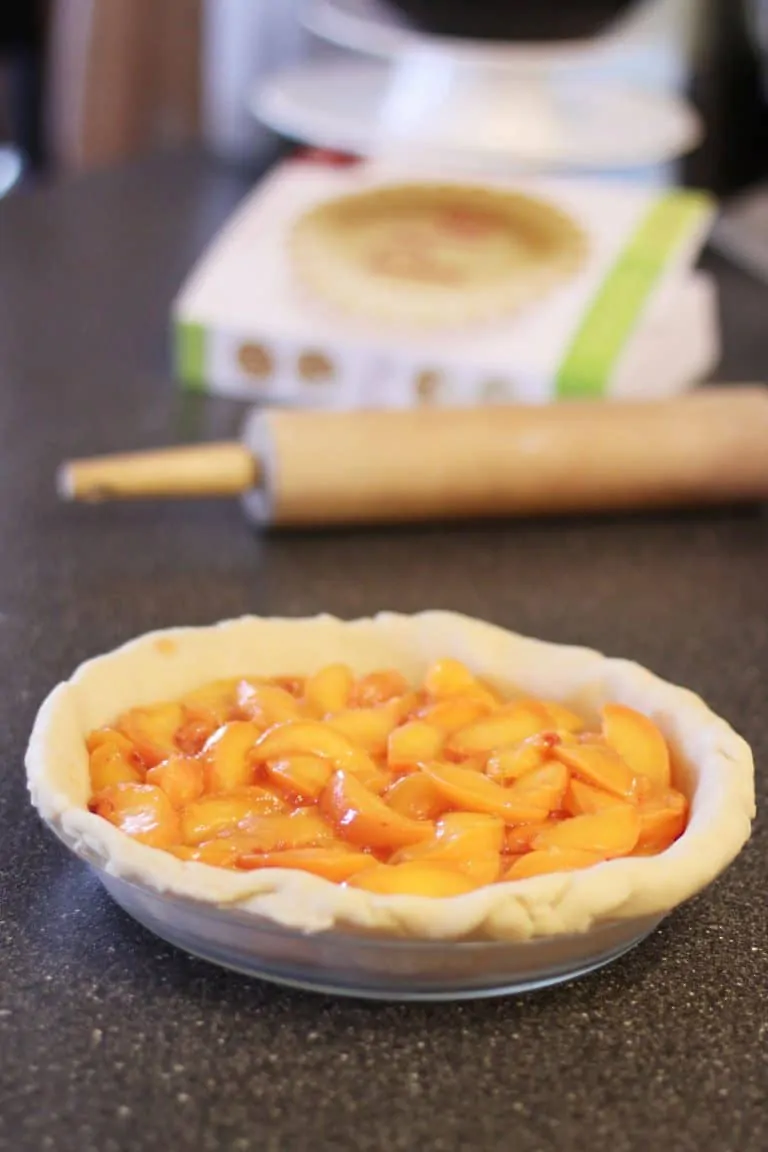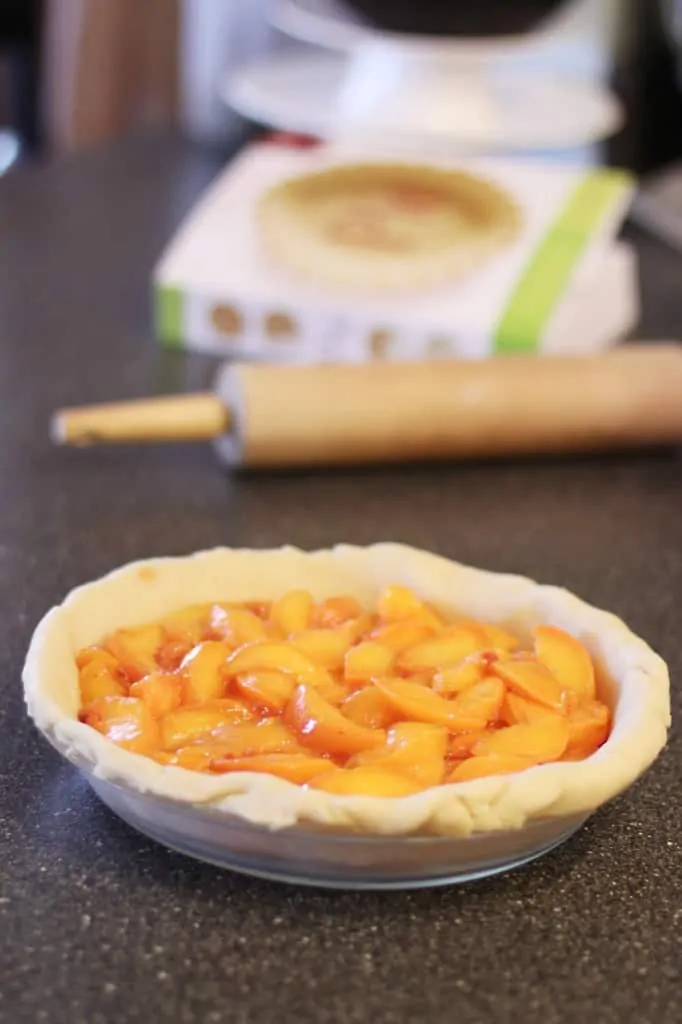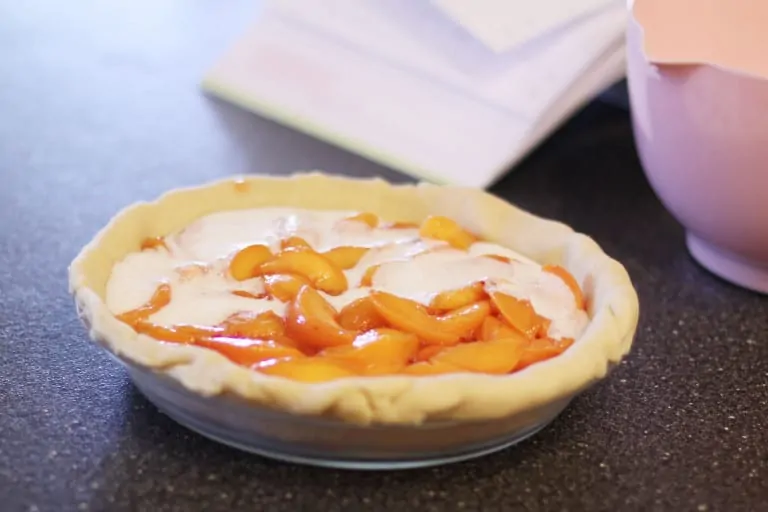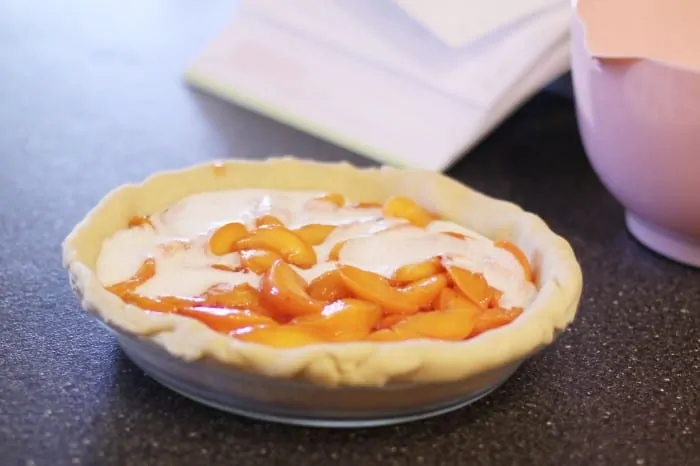 And into the oven it went.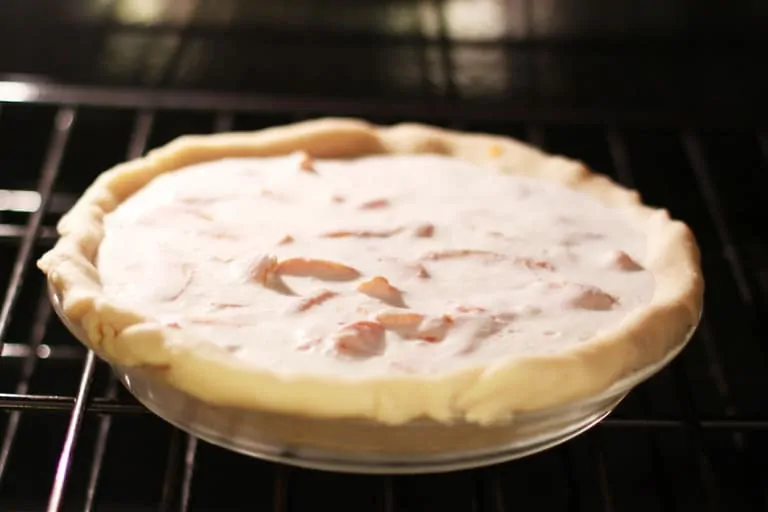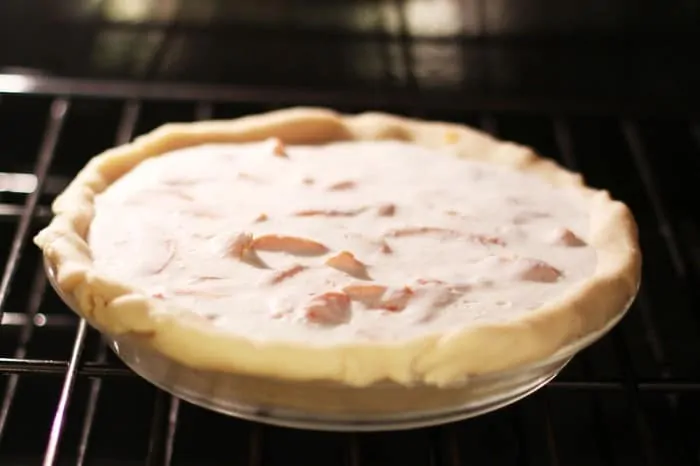 After 30 minutes the pie comes out, gets covered in brown sugar and goes back in for another 15-20 minutes.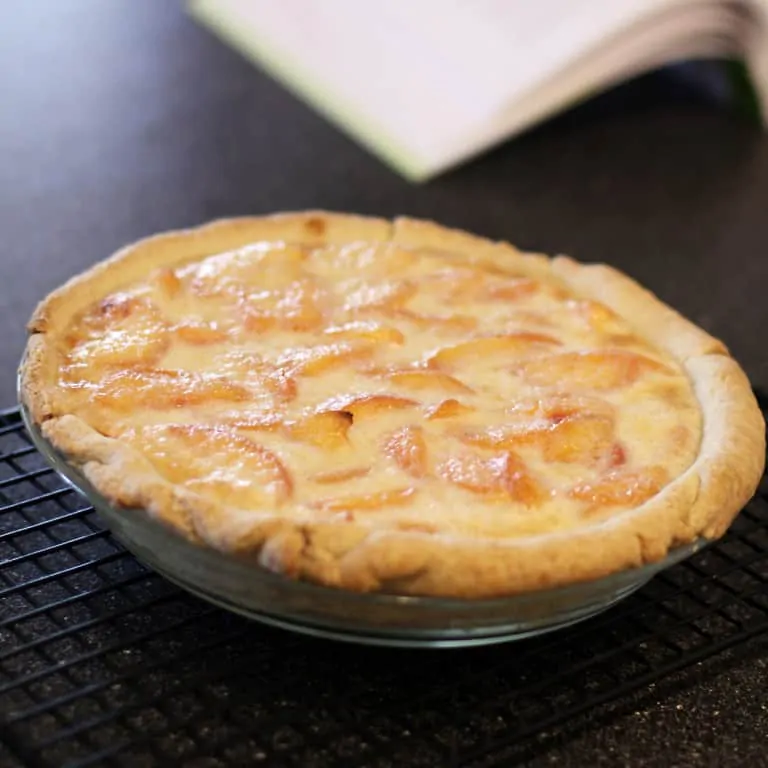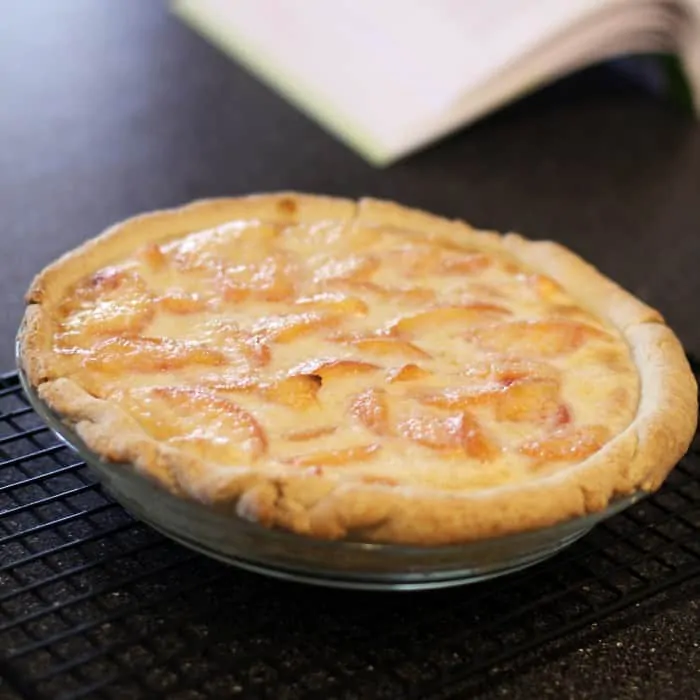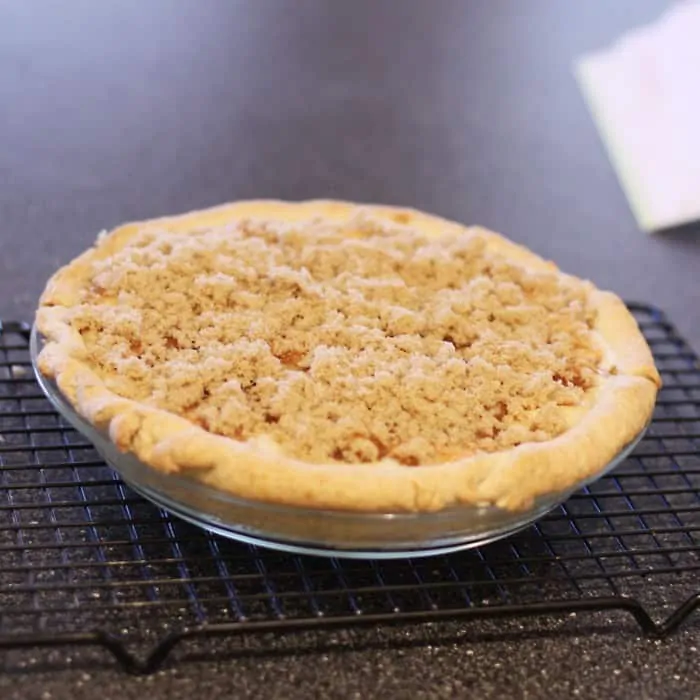 And that was it. I can't believe I've spent all these years afraid of making my own pie crust, when in reality it was incredibly easy. I have to thank Ken for his great book and reassuring advice. I can't imagine buying a pre-made crust again, this was simply too easy (and cheap!).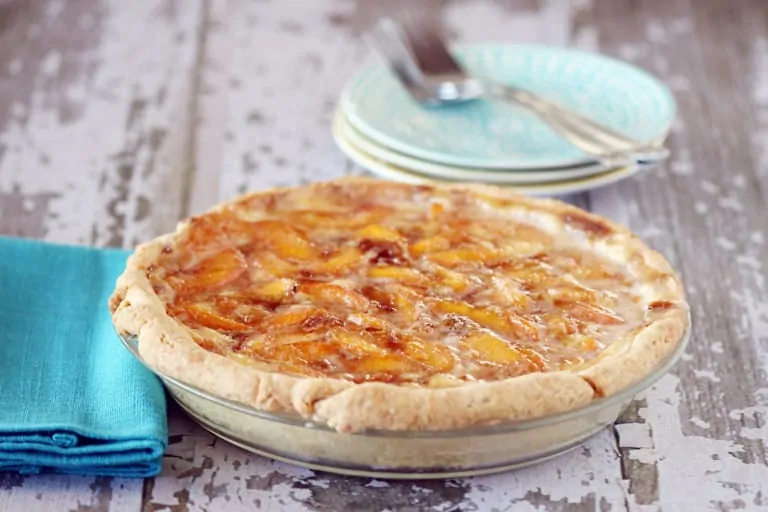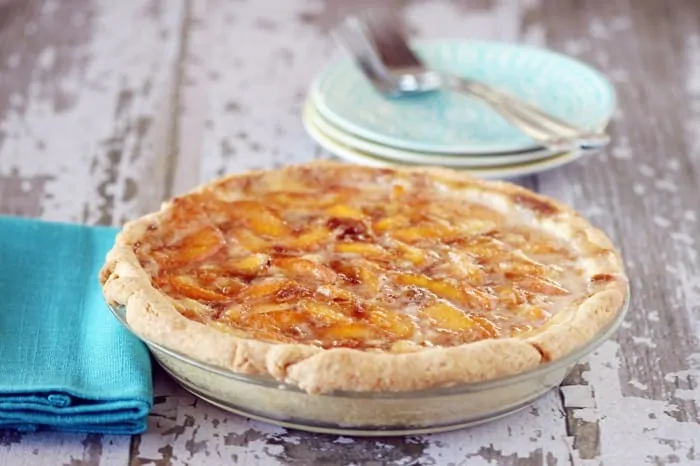 Tomorrow I will tell you about "Apple Pie – 100 Delicious And Decidedly Different Recipes For America's Favorite Pie". by Ken Haedrich. And I'm not just telling you about it, but I have a copy of "Apple Pie" to give to one of you, thanks to the folks at Harvard Common Press (who have SO many amazing cookbooks!). 🙂
Peaches & Cream Pie
From Pie – 300 Tried And True Recipes For Delicious Homemade Pies By Ken Haedrich
Using your choice of pie crust…
2 1/2 to 3 cups peeled, pitted, and sliced ripe peaches
(you can substitute a 1 pound bag of frozen sliced peaches, thawed)
1 cup heavy or whipping cream
1/2 cup powdered sugar
Big pinch of salt
1/2 teaspoon vanilla extract
1/2 cup firmly packed light brown sugar
Distribute the peach slices evenly in the chilled shell. Combine the cream, confectioner's sugar, salt, and vanilla in a medium-size bowl and whisk to blend. Slowly pour the cream over the peaches. Use a fork, if necessary, to rearrange the peach slices evenly in the shell.
Place the pie on the center oven rack and bake for 30 minutes. Remove from the oven and reduce the temperature to 350 degrees. Sprinkle the brown sugar evenly over the pie, then return it to the oven, placing it so that the part that faced the back of the oven now faces forward. Bake until the filling is bubbly and the top is caramel-colored, 15-20 minutes. The filling will still be liquidy.
Transfer the pie to a wire rack and let cool thoroughly. Cover with loosely tented aluminum foil and then refrigerate for at least 4 hours or overnight before serving.