The date 3.14 is important for four reasons…
Our wedding anniversary – 16
My brother's anniversary – 3
Pi Day – 3.1415926535897932384626433832795…
Einstein's Birthday – 133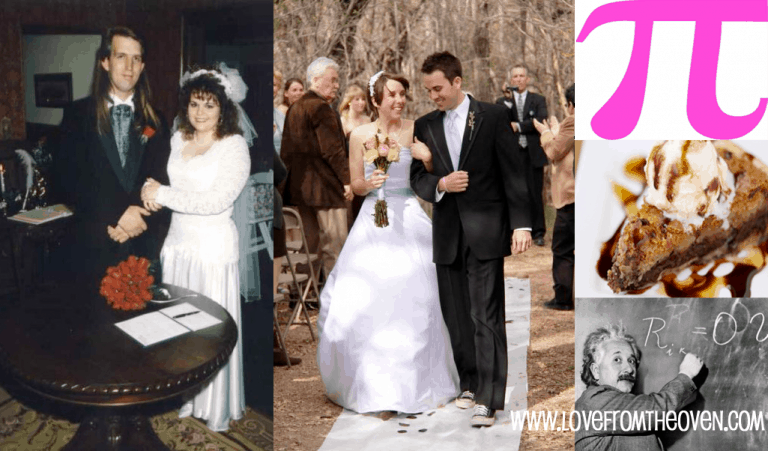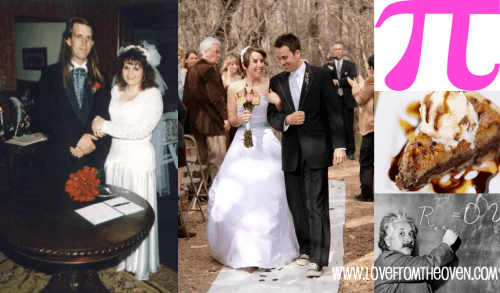 Can I just say that my brother got married in a MUCH more stylish decade, and had a better photographer (moi!).
So CLEARLY we need to celebrate. And we need PIE. I mean it's PI DAY – it's our obligation to have pie! Since it's been two years since my husband and I have had an anniversary dinner out (yes, this is painfully pathetic, I'm well aware – I really need to look into this urban legend called a babysitter), I think we MUST have a super duper extra delicious pie to mark the occasion. It's not exactly the four course meal at The Melting Pot that we used to always celebrate with, but it is delicious.
Truth be told I'm not a big pie baker. Not sure why. My pie recipe collection is pretty much limited to pumpkin, apple and chocolate chip. But the pies I do make are crazy good.
Chocolate Chip Cookie Pie – just make this. Seriously. Pi Day is your excuse. It's like warm chocolatey amazingness on a plate.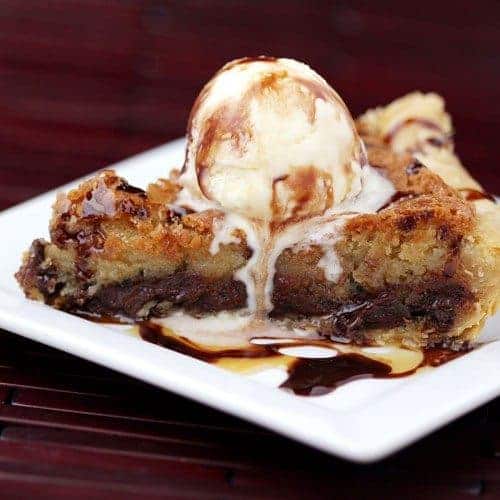 Caramel Apple Nut Pie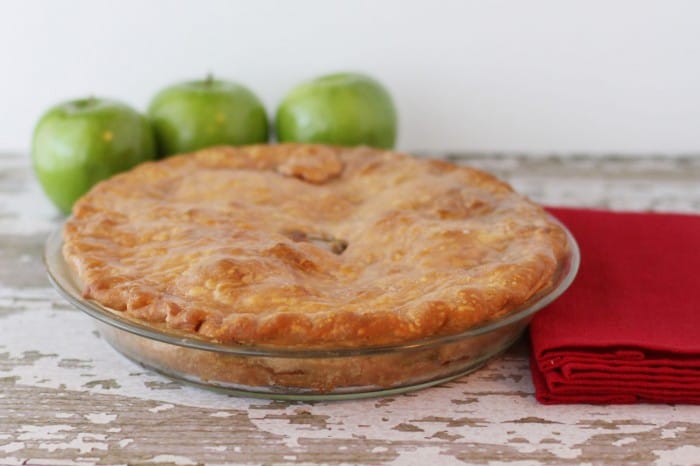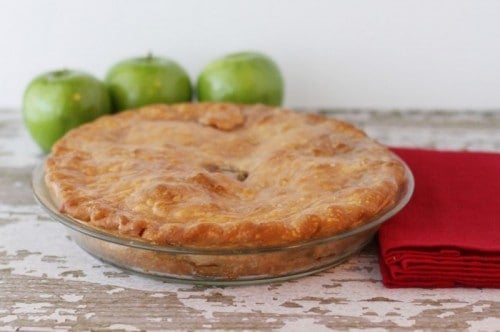 Since I have so few pie recipes to share with you, let's take a look at what great pie recipes other bakers and bloggers are baking up. Happy Pi Day!!!
Mini Cherry Pies From What You Give You Keep
Grasshopper Pie From Boulder Locavore
Two Bite Coconut Cream Pies From Dessert For Two
Twix Bar Cheesecake Pie From Recipe Girl
Coconut Pecan Why Not Pie With Walnuts And Toffee From 17 And Baking
Banana Cream Pie From Simply Delicious
Ice Cream Pie From Snappy Gourmet
Biscoff Pie From Texanerin Baking
Peanut Butter Oreo Ice Cream Pie From Kevin And Amanda
Mississippi Mud Pie From The Flour Sack
Oreo And Peanut Butter Layered Baby Lattice Pies From Picky Palate
The Ultimate Chocolate Fudge Pie From Chocolate Covered Katie
Messy And Delicious Peach Pie From Honey And Jam
Blueberry Banana Cream Pie From Real Mom Kitchen
Healthy Deep Dish Cookie Pie From Chocolate Covered Katie
Pretzel Crust Peanut Butter Cup Blondie Pie From Cookies & Cups
Brownie Pie From The Family Kitchen
Take 5 Candy Bar Pie From Brown Eyed Baker
Triple Coconut Cream Pie From Family Friendly Food
Peanut Butter And Chocolate Pie From Stonewall Kitchen
Chocolate Pecan Pie From David Lebovitz
Pretzel Bottomed Reese's Peanut Butter Cup Cookie Pie From AKM Designs And Delights
Out Of The Campfire Into The Oven S'mores Pie From The Family Kitchen
Chocolate Strawberry Truffle Pie From Chocolate Covered Katie
Apple, Ginger & Blueberry Shortcrust Pie From What Katie Ate
Custard Hand Pies From In Katrina's Kitchen
Lemon Chiffon Pie From Prepared Pantry