Yesterday I shared the cool new Babycakes Flip Over Cake Pop Maker (head here to enter to win your own!). Today I want to tell you a bit more about the cookbook, 175 Best Babycakes Cake Pops Recipes by Kathy Moore & Roxanne Wyss. This cookbook is AWESOME. I'm not easily impressed with cookbooks, but this gets my seal of approval. Not only do all of the recipes look delish, but they have great how to info, tips and tricks throughout the book. Cakepops can be a challenge, so great advice is always welcome.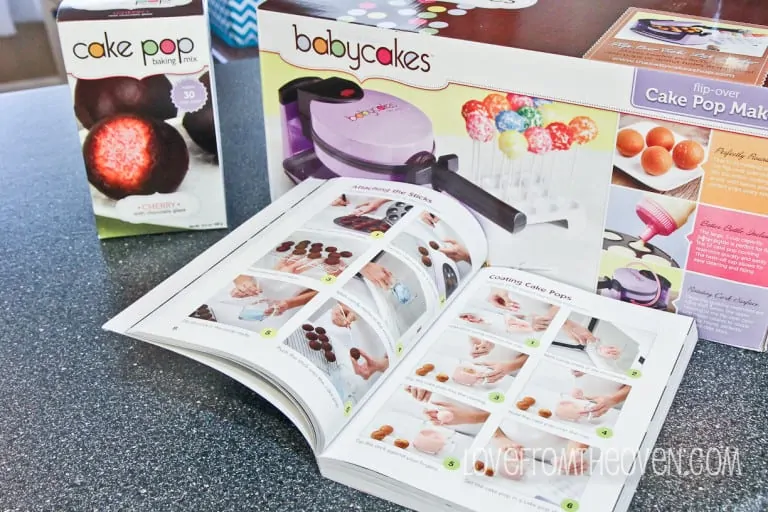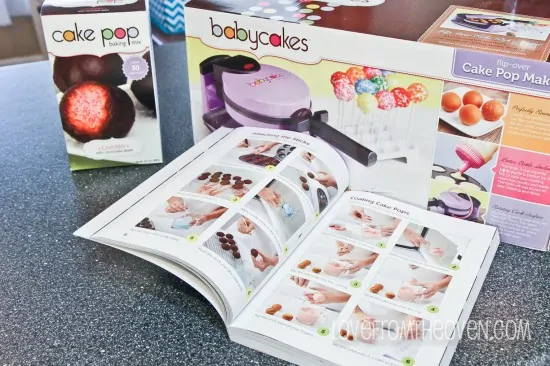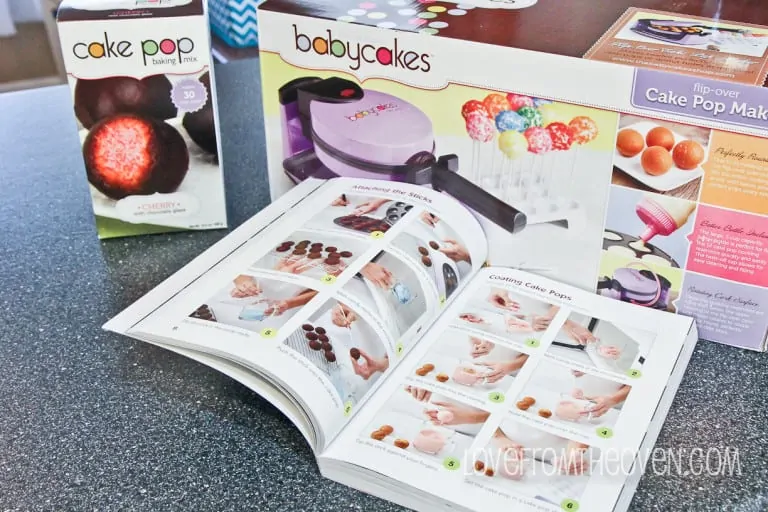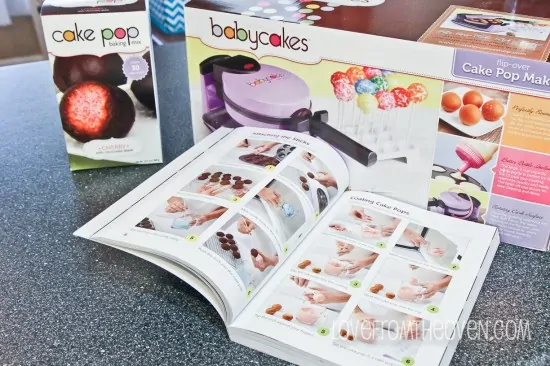 At first cake pops were just cake + frosting + chocolate coating = the end. But they have really grown into so much more, fun little bite size treats. The Babycakes Cake Pop Makers allow you to not only make a wide variety of sweet treats, but also quite a few of the savory variety. Some of the recipes I'm looking forward to trying include Banana Nut Cake Pops, Dark Chocolate Brownie Pops, Firecracker Biscuit Bites, Mexican Meatballs, Biscuits & Gravy, White Velvet Cake Pops, Gingerbread Cake Pops, Maple Nut Doughnuts, Caramel Cake Pops and Margarita Cake Pops. You will also find a gluten-free section and a vegan section. Talk about variety. Here is a bit more about the cookbook…
"These delightful and creative recipes have been developed specifically for use in the cake pop maker. The book features chapters on cake pop classics; desserts and sweets; glazes, dips and fillings; doughnuts and ebelskivers (traditional Danish pancakes); muffins and biscuits; appetizers; breakfast bites; savory nibbles; booze pops; and show-stoppers that are ideal for parties and gifts and come with gorgeous presentation suggestions.
You'll enjoy creating delicious treats such as:
• Red Velvet Cake Pops
• Jalapeño Poppers
• Champagne Cake Pops
• Halloween Treats
• Baby Shower Balls
• Easter Cake Pops
• Pancake Bites
• Romantic Roses – perfect for weddings
• Margarita Cake Pops
There's even a gluten-free and vegan section!
Also included are easy-to-follow tips and techniques and full-color photos to help you create everything from rustic to fancy pops, as well as decorating ideas for occasions such as holidays, weddings and birthdays.
KATHY MOORE and ROXANNE WYSS are leading experts on small appliances. Their food consultancy firm develops recipes, tests products and generally sets the standard for innovative recipes and food information. They have a regular column in the Kansas City Star and regularly appear on television."
The first recipe I made from the cookbook were the Pumpkin Ebelskivers. Since starting this blog and talking about cake pops, I have often been asked about making Ebelskivers in the cake pop maker. Truth be told I had no idea what they were, must less how to make them. Well this cookbook has an entire chapter devoted to them. From Sour Cream and Buttermilk Ebelskivers to Bananas Foster Ebelskivers with Rum Sauce, there are a variety of recipes. The pumpkin ones were great, everyone in my family absolutely loved them.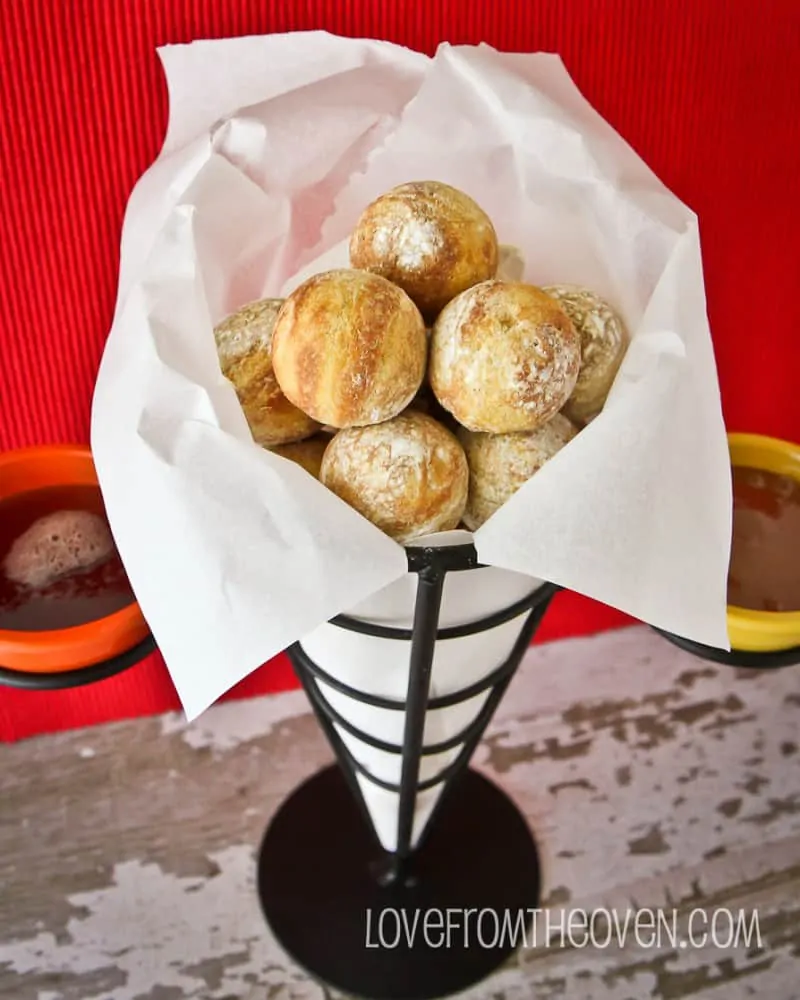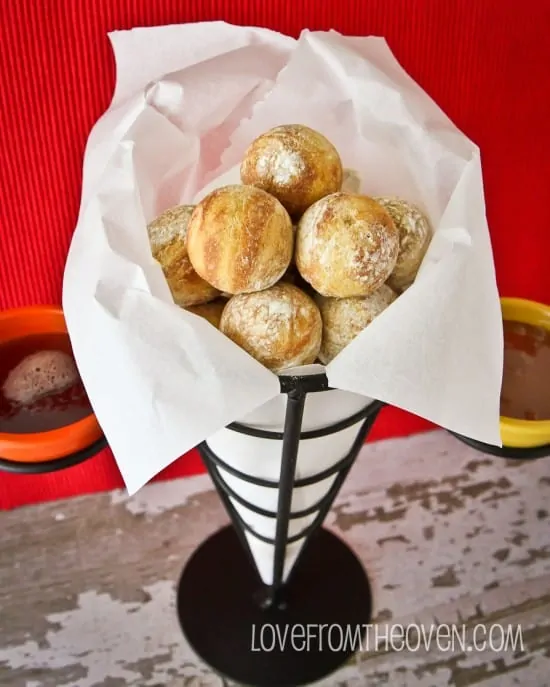 The recipe is very straight forward and very quick and easy to make.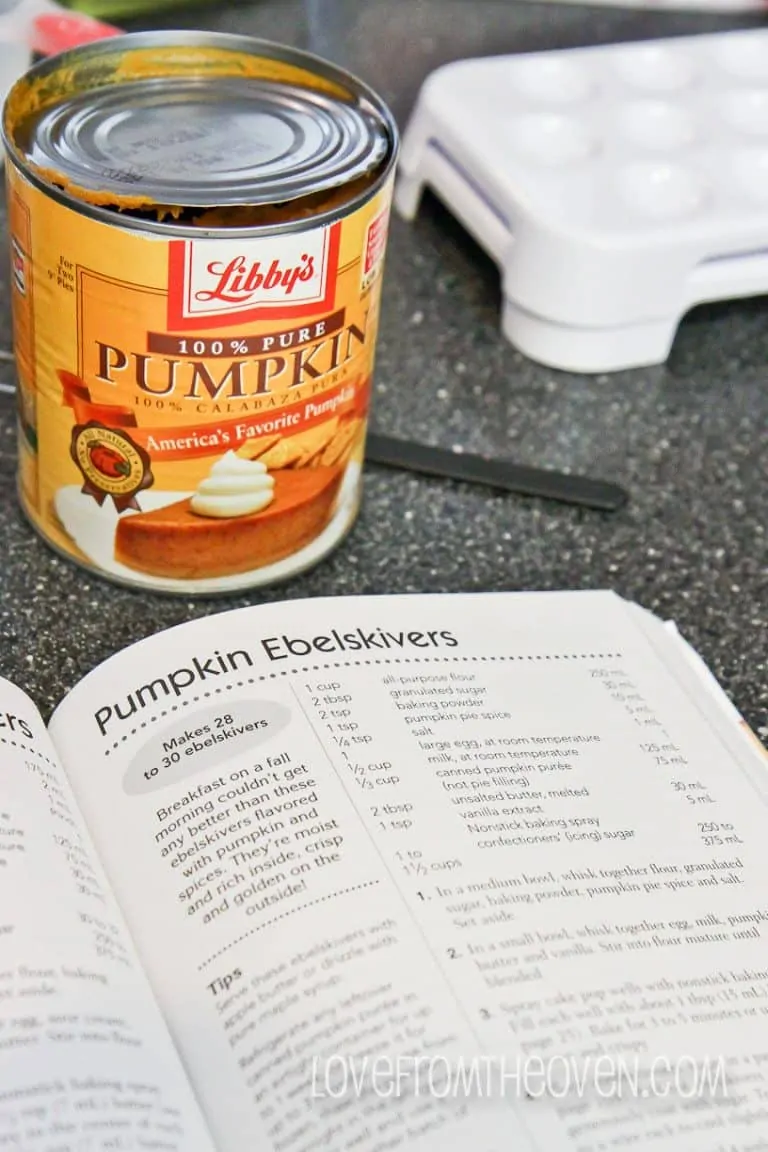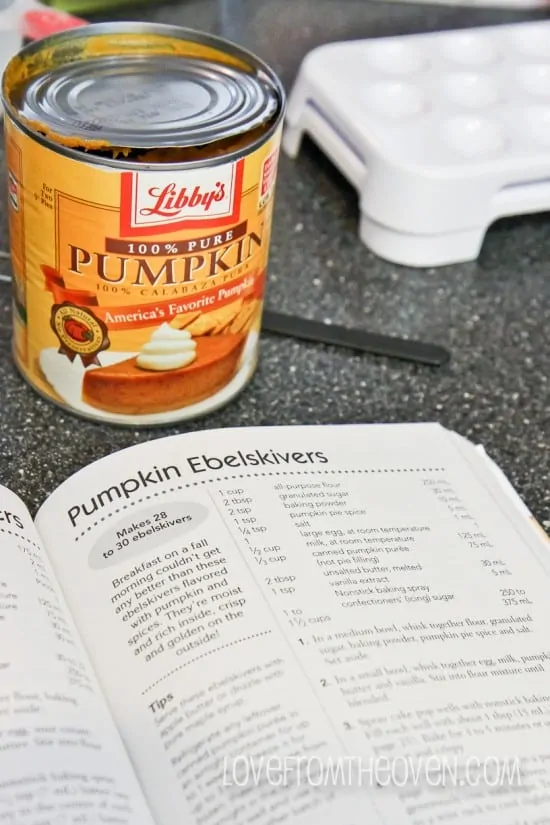 Because the batter was quite thick, I used a large plastic bag for the batter. This worked out great.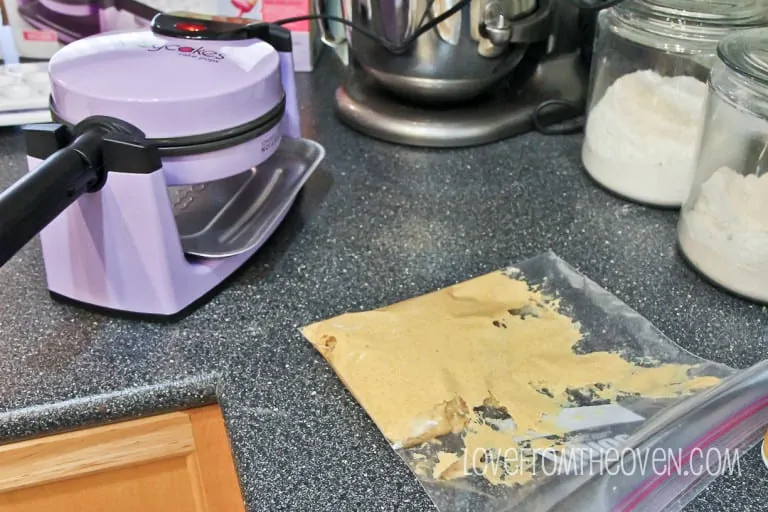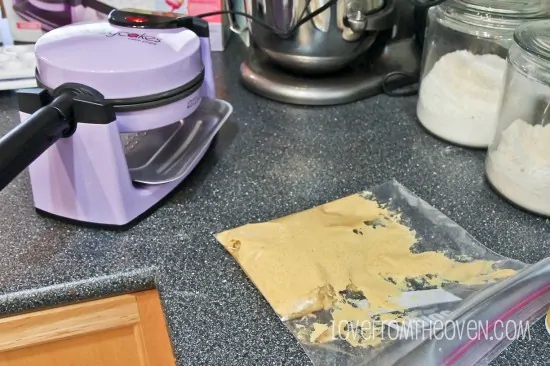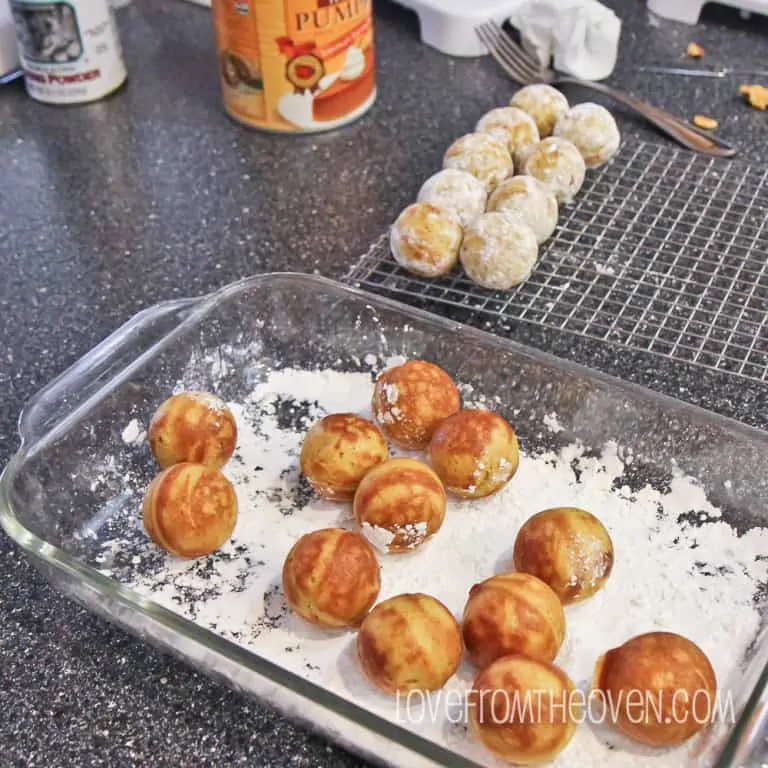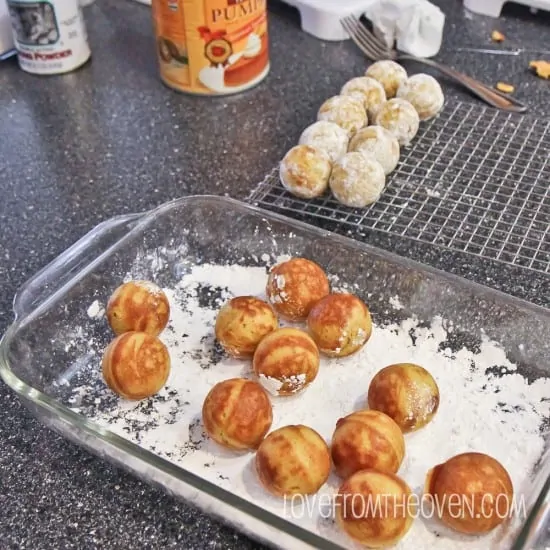 The recipe calls for the Ebelskivers to be put in a paper bag to coat with powdered sugar, but I realized at the last minute I was out of paper bags. Giving them a bit of a shake in a casserole dish full of powdered sugar worked out just fine.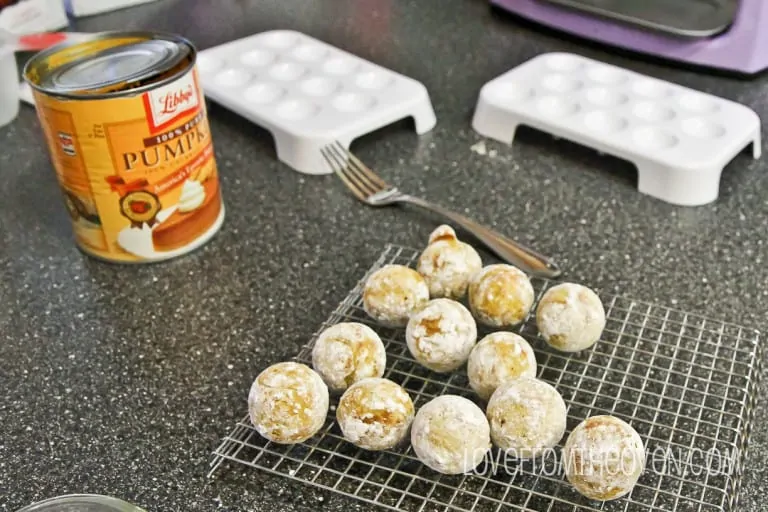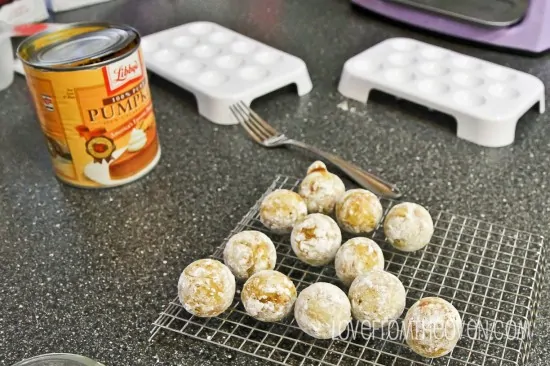 These were so good. Sweet but not overly. While I know they aren't meant to be cake pops, truth be told I think they'd be pretty tasty that way!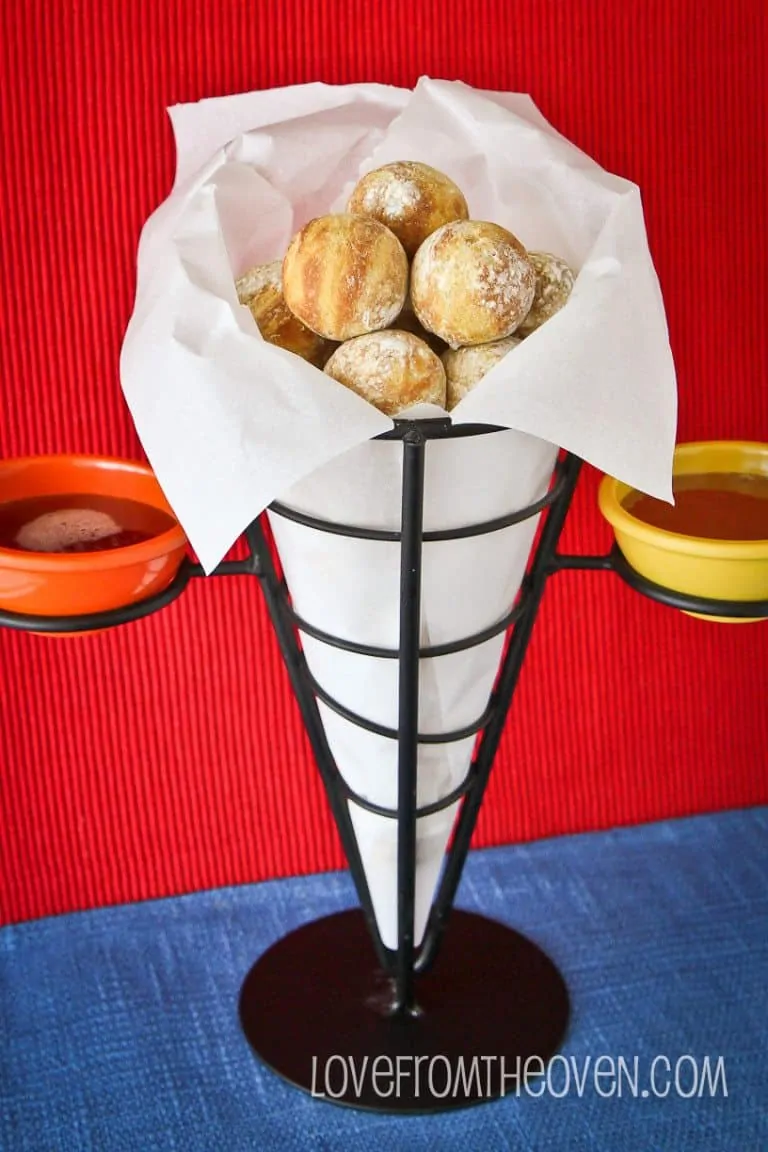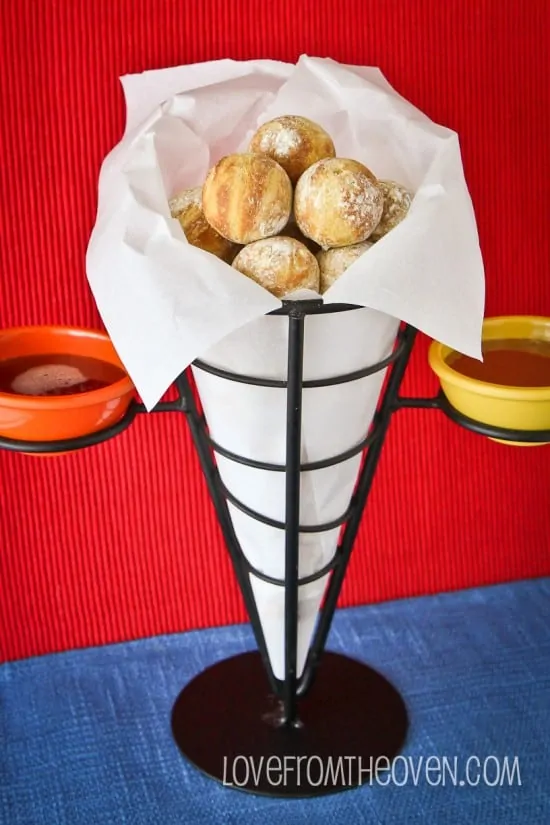 Here is the recipe for Pumpkin Ebelskivers, made with the Babycakes Flip Over Cake Pop Maker.
Excerpted from 175 BEST BABYCAKES® CAKEPOP RECIPES: by Kathy Moore & Roxanne Wyss © 2011 Robert Rose Inc. www.robertrose.ca Reprinted with permission. All rights reserved. RECIPE PROVIDED BY BABYCAKES – thank you!
1 cup all purpose flour
2 tbsp granulated sugar
2 tsp baking powder
1 tsp pumpkin pie spice
1 large egg at room temperature
1/2 cup milk at room temperature
1/3 cup canned pumpkin puree (not pie filling)
2 tbsp unsalted butter, melted
1 tsp vanilla extract
Nonstick baking Spray
1 to 1.5 cups confectioners' sugar
1. In a medium bowl, whisk together flour, granulated sugar, baking powder, pumpkin pie spice and salt. Set aside.
2. In a small bowl, whisk together egg, milk, pumpkin, butter and vanilla. Stir into flour mixture until blended.
3. Spray cake pop wells with nonstick baking spray. Fill each well with about 1 tbsp of batter. Bake for 3 to 5 minutes or until golden brown and crispy.
4. Place confectioners' sugar in a paper bag. Add hot ebelskivers and gently toss to generously coat with sugar. Transfer ebelskivers to a wire rack to cool slightly.
5. Repeat steps 3 and 4 with remaining batter. Serve warm.
Make sure to head over to this post to learn more about the Flip Over Cake Pop Maker and to enter to win your very own!