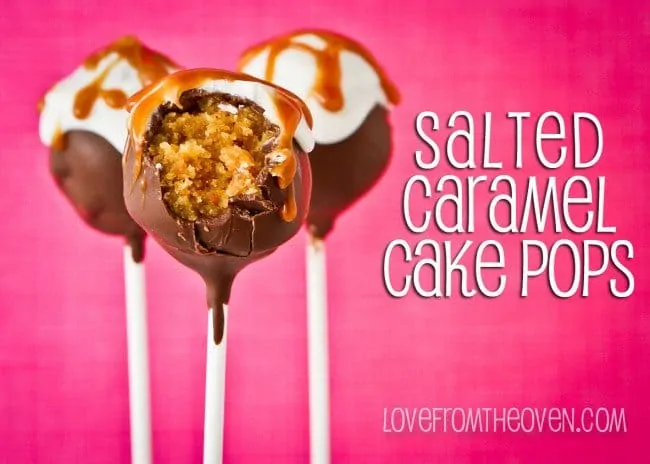 This is one of those recipes that I actually didn't intend to share on the website. I made these for my daughter's teacher, for her daughter's birthday. She mentioned that she liked salted caramel (the glorious goodness that it is), and I thought these would be a fun treat for her 15th Birthday. I made them late at night so I didn't take my step by step photos or any do any of my normal "I'm blogging this" type of things, so all I have is the end result and how I made them to share. But after the response to sharing a quick photo I took on Instagram, I decided that I probably should share these yummy treats.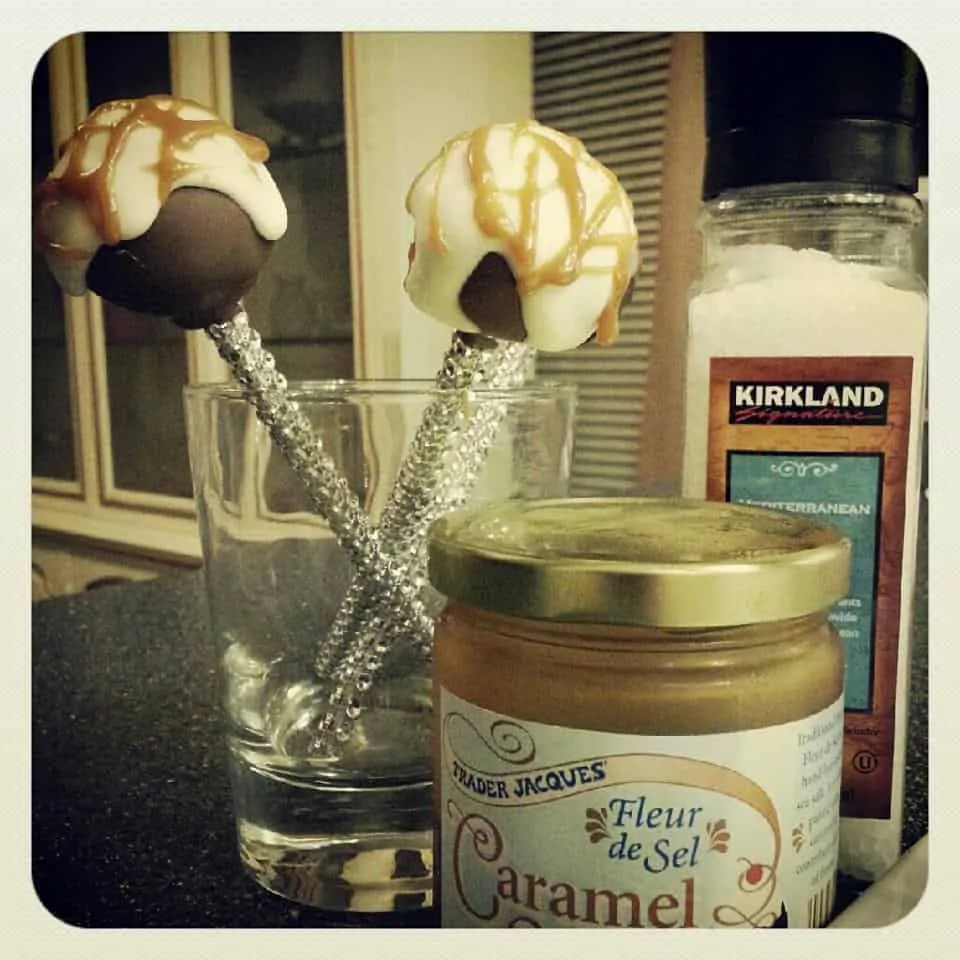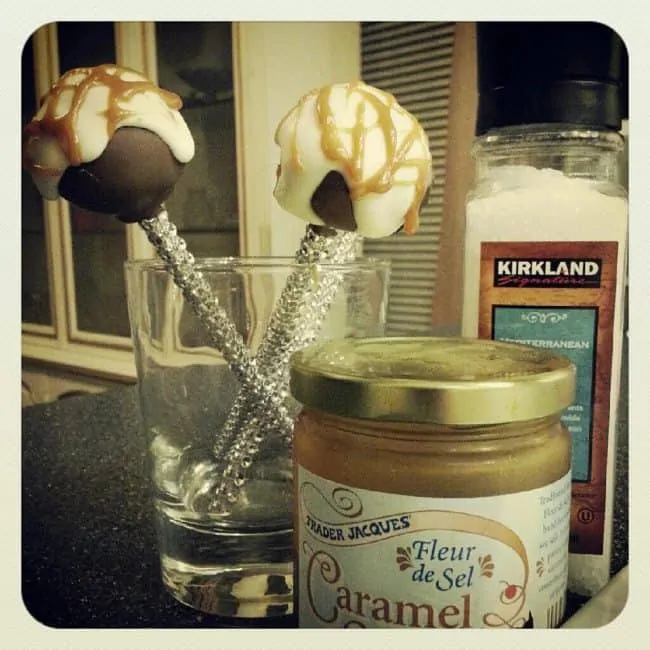 The birthday girl gets the super cute bling sticks on hers.
Make sure to check out this post about them, with a giveaway for some!
While these may look like the Salted Caramel Cake Pops from Starbucks, I have to admit that I've never had them and I'm not even sure what the recipe is. So while the outside may look similar (there aren't too many options for the salted caramel look), I have no clue if these are anything like the Starbucks recipe. That said, they are mighty tasty. Want a bite?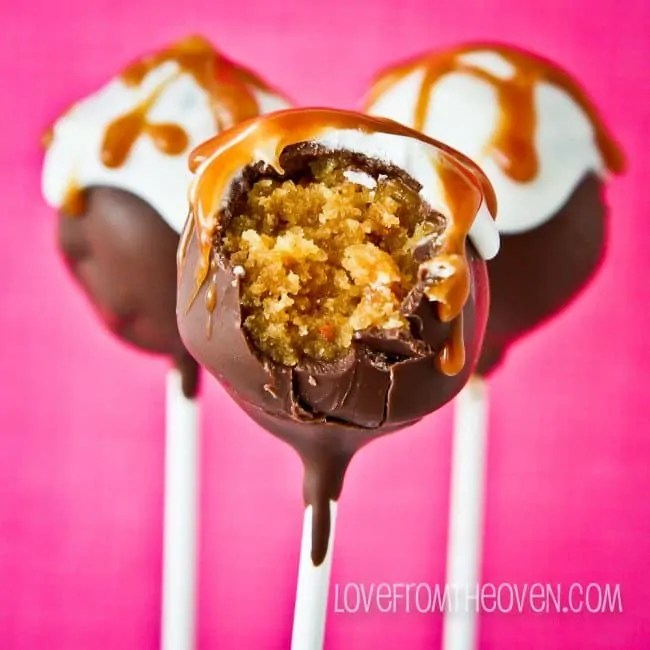 I will say, this recipe may not be the most specific I've ever shared, mainly because I wasn't making everything as precise as I normally do. So think of this more as an idea/guideline on how to make these. For a more detailed look at how I make cake pops, check out this post.
To Make Salted Caramel Cake Pops
I made a 9×13 yellow cake (from a mix) and let cool. I know that Duncan Hines makes a caramel cake mix, but I wasn't able to find one. That would be awesome, and I think chocolate would be delish as well.
I made up a frosting (though it wouldn't really work to frost with, a bit more of something specifically for these cake pops) that was one stick of softened butter (1/2 cup), one cup of powdered sugar, one cup of dark brown sugar and 1 tsp vanilla. I combined those ingredients well in my mixer. I probably could have cut that recipe in half really, it made more than I needed.
I shredded up my cake in a large bowl and added a large spoonful (let's estimate about 1/3 of a cup) of the frosting. Then to the bowl I also added 1/2 cup of caramel sauce. I used the Fleur De Sel Caramel Sauce from Trader Joe's, but any would work, from Smuckers to homemade. I kept adding a bit more of the caramel and a bit more of the frosting to the cake to get to the consistency that I wanted for the cake pops. I then shaped them into balls. It probably made about 36 of them. I gave a light sprinkle of table salt to them and put them in the fridge to chill.
I then melted some chocolate coating (had I planned ahead better, I totally would have used a dark chocolate for this, dark chocolate + caramel is like the best thing ever in my book). I then dipped my cake pops in the chocolate coating, and before they set up, I gave each a sprinkle of sea salt.
After that was done, I melted some white chocolate and spooned a bit on top of each chocolate coated cake pop.
And finally I melted some Kraft Caramel Bits (these are what I always use when I'm melting caramel, I've not used the little plastic wrapped squares). I follow the directions they give for caramel apples on the bag – you melt the bits with a tiny bit of water and stir, stir, stir. Don't overdo the heat or you make burnt caramel sauce, and I don't mean burnt as in some fancy French high end way, I mean set off the smoke detectors type of thing. I drizzled a bit (the non burnt version!) of that on top of each cake pop. The Kraft Caramel Bits tend to harden up a bit after they've been melted and have a chance to set back up, which makes for less of a sticky mess than if you were to use the caramel sauce that is in the recipe, on top of them. And the result is this…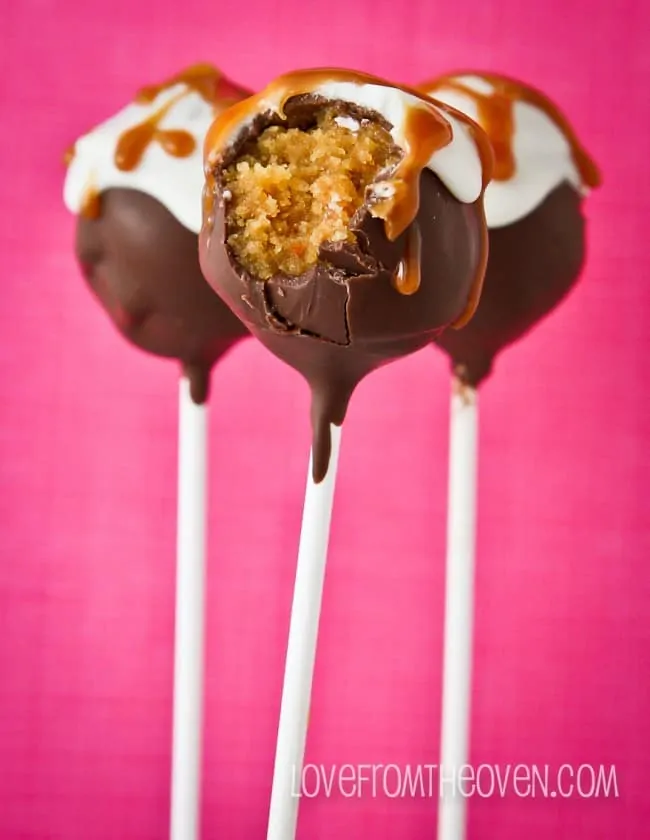 I hope V and her friends enjoy these at her party this weekend! 🙂 I sure enjoyed taste testing one!