Rich, creamy and cheesy Scalloped Potatoes are a stand out side dish on any dinner table. Thinly sliced potatoes, a creamy sauce, cheese and spices come together in this delicious dish. While special enough to grace a holiday table, this scalloped potato recipe is easy enough for a weeknight meal.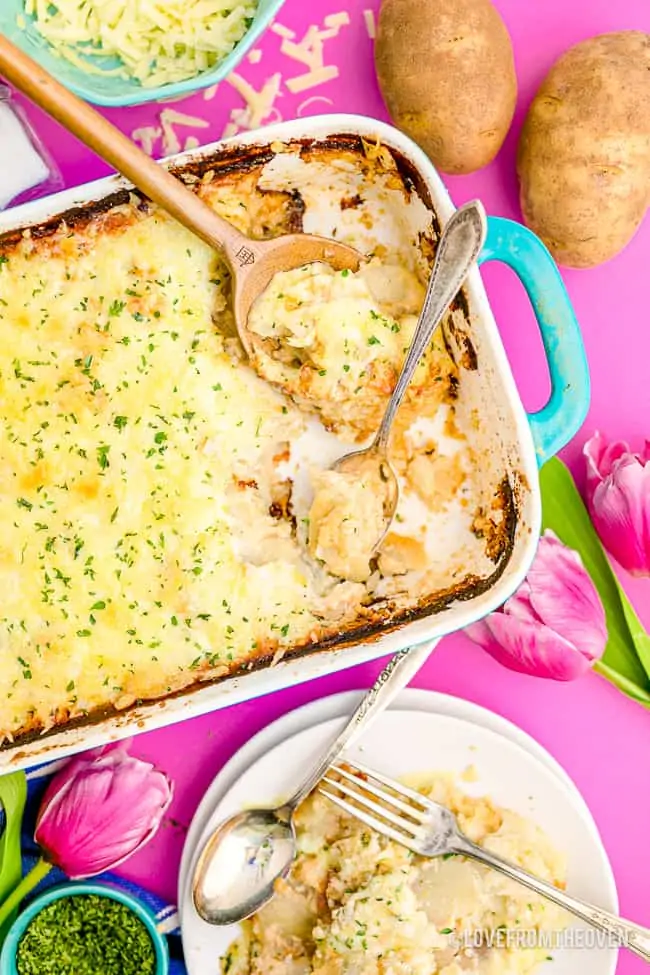 Cheesy Scalloped Potatoes
We love good potato recipes, and this Easy Scalloped Potatoes Recipe is one of our all time favorites. There are so many reasons we love this recipe! 
Creamy Scalloped Potatoes are the ultimate in comfort food!
These easy potatoes pair perfectly with any many course. From a fancy steak to a simple burger, they truly go with anything and everything.
Cheese lovers rejoice, you can get creative and try different cheeses in this recipe.
When it comes to a holiday side dish, easy scalloped potatoes are a fantastic option. We love to pair them with a spiral ham for Easter dinner.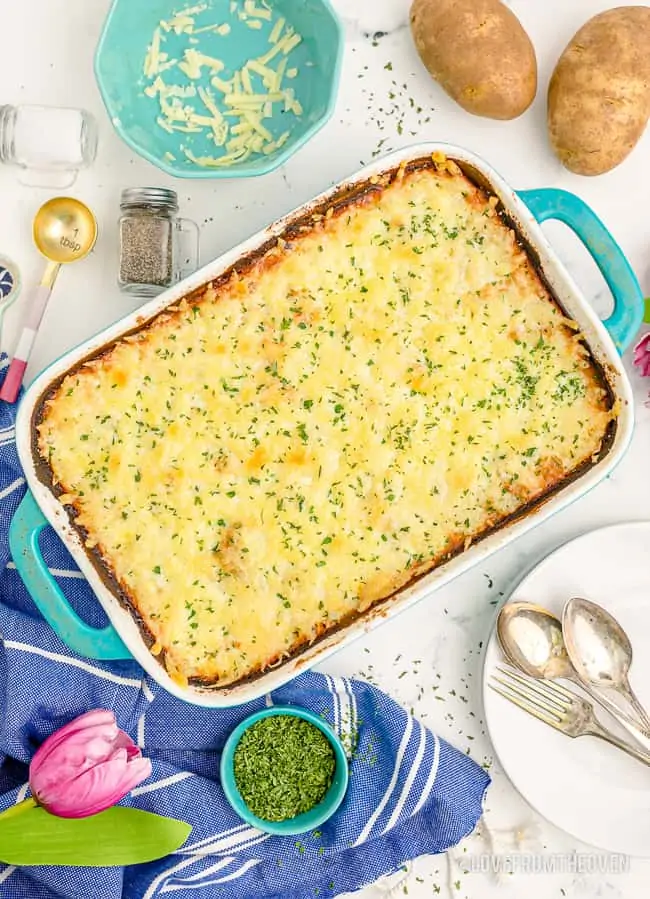 What is the difference between scalloped and au gratin potatoes?
Typically the defining difference between scalloped potatoes and au gratin potatoes is that scalloped potatoes are made with milk and/or cream where gratin potatoes are made with cheese.
For this recipe we used both cream and cheese, because frankly it's really delicious. Scalloped potatoes often include garlic and herbs, which these do, while au gratin potatoes are sometimes topped with breadcrumbs, which these do not.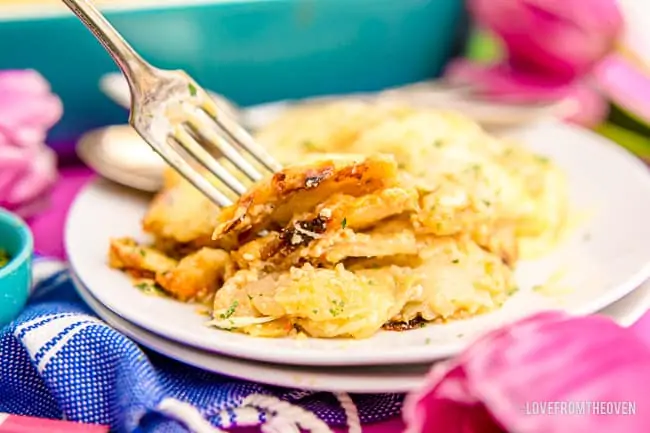 How Do You Make Scalloped Potatoes From Scratch?
While they do take a few steps, these easy scalloped potatoes are simple to make. Let's go over what you will need and the steps you will take to make scalloped potatoes, as well as some tips and tricks to help you out. The full printable recipe is found at the bottom of the post.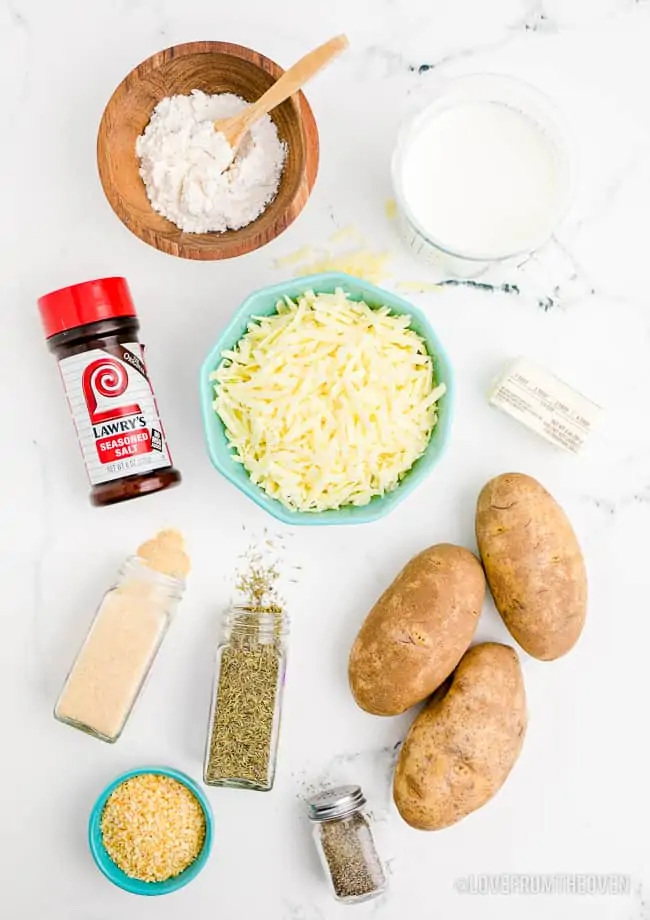 *Reminder, the printable recipe, with exact measurements, is found at the bottom of the post. What follows this paragraph is information about ingredients, supplies, the process as well as answers to commonly asked questions.*
Ingredients
Butter – salted is preferred, but unsalted will work if that's what's on hand.
All-purpose flour
Whole Milk – this is really a recipe where you want the thicker, richer texture that whole milk provides.
Herbs and Spices – Garlic powder, dried minced onion, parsley, seasoning salt, pepper & thyme.
Cheese – Monterey Jack was used with this recipe, but you can get creative with your cheese choice. Other cheeses that work well include Gruyere, Mozzarella, White Cheddar or Provolone.
Potatoes – starchy potatoes work best for this recipe. Russet, Idaho and Yukon Gold are great choices.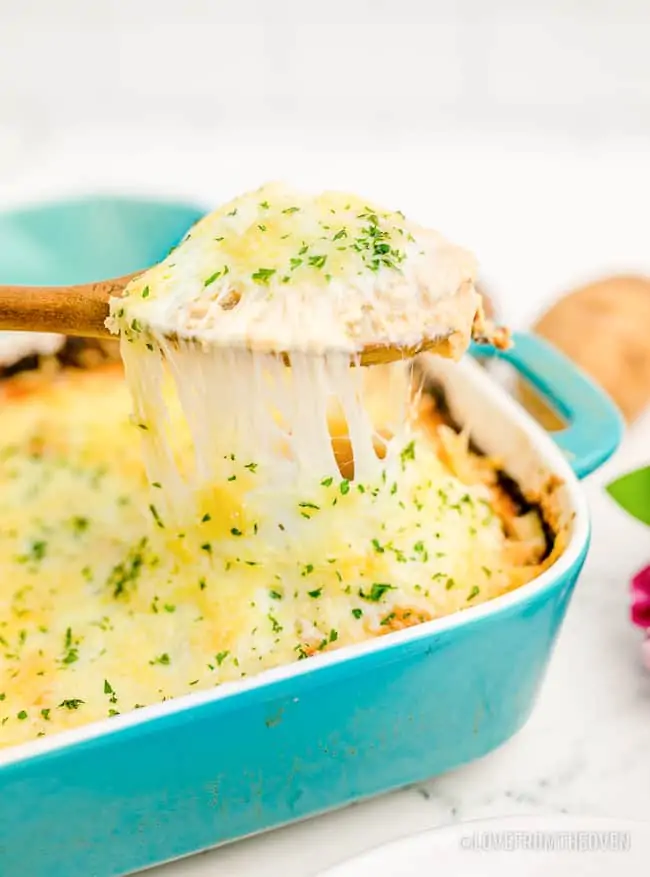 Supplies Needed
Steps To Take
To make scalloped potatoes, prep your potatoes by slicing them as thin and as even as possible. A mandolin is really the best way to do this. If potatoes are not sliced thin, they will not fully cook or cook evenly.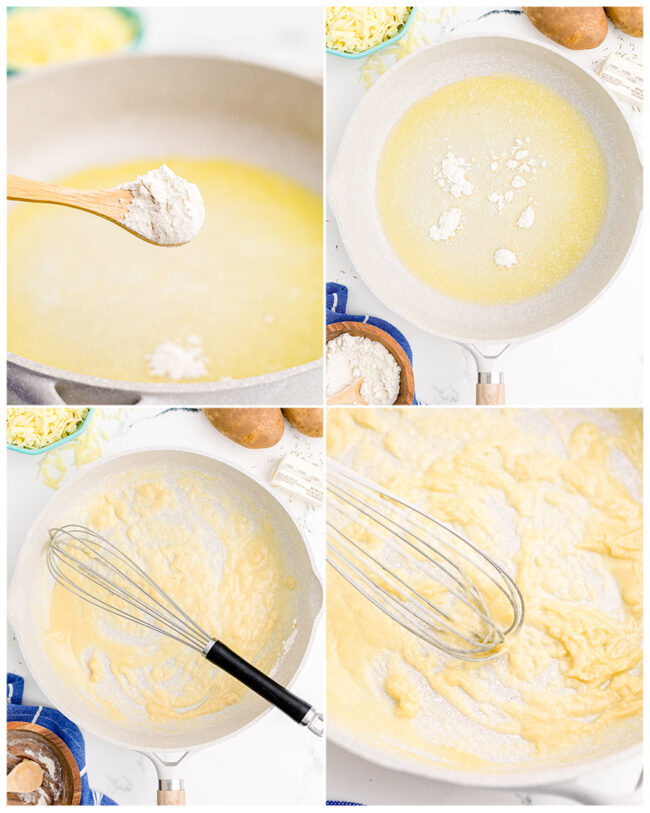 Next prepare the white sauce by melting butter in a large saucepan, then whisking in flour. After that the milk is added and the mixture is cooked and thickened.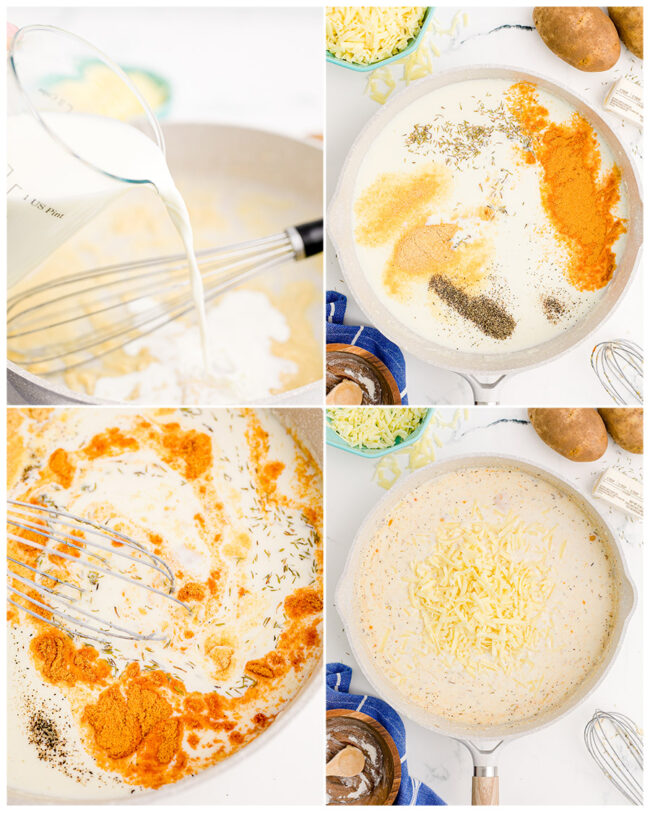 Garlic, seasoning salt, salt, pepper and thyme are added to the sauce, followed by the cheese.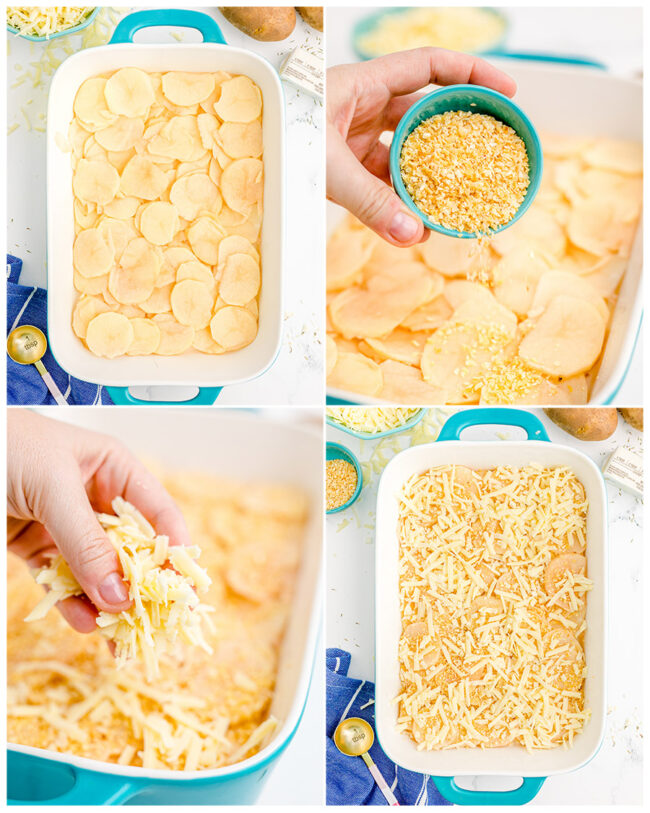 Potatoes, minced onions, sauce and cheese are layered in the baking dish, which then goes into the oven to bake for at least an hour. The dish is pulled out towards the end and additional cheese is added to the top.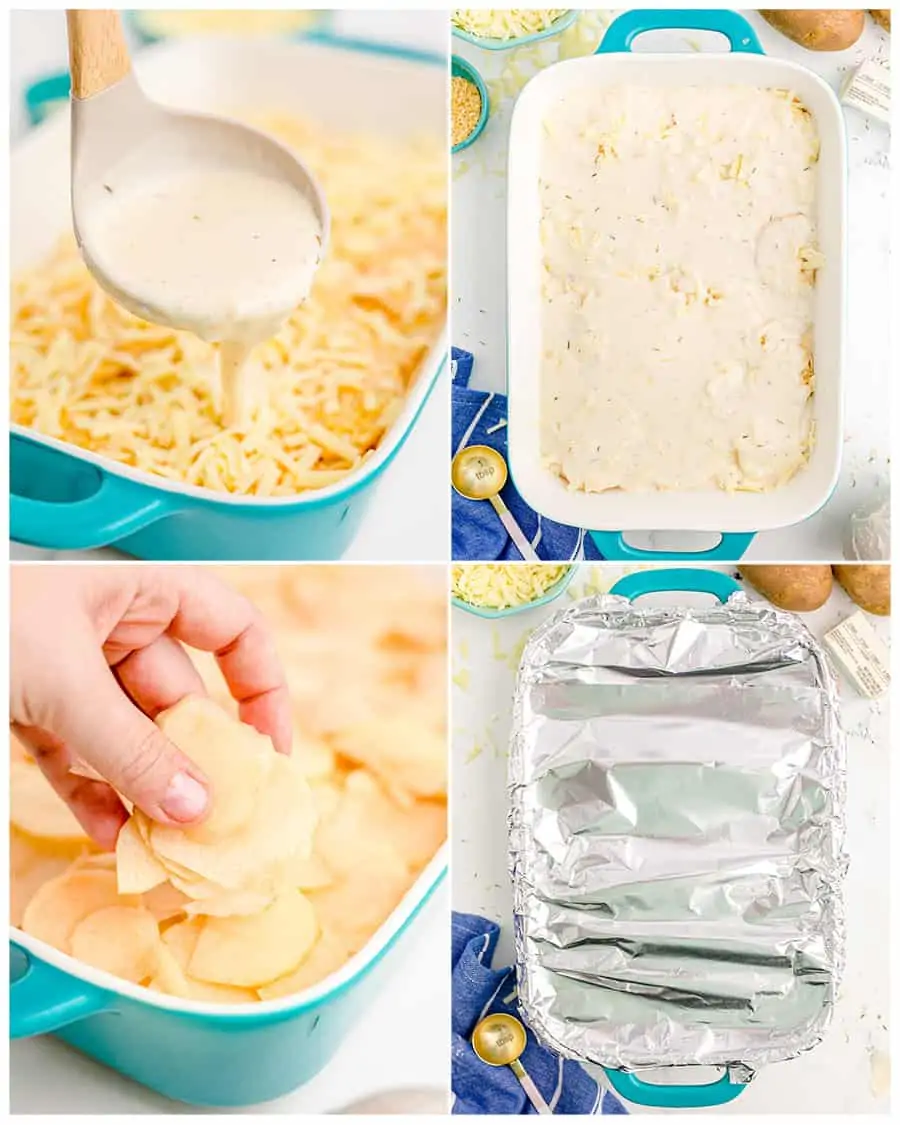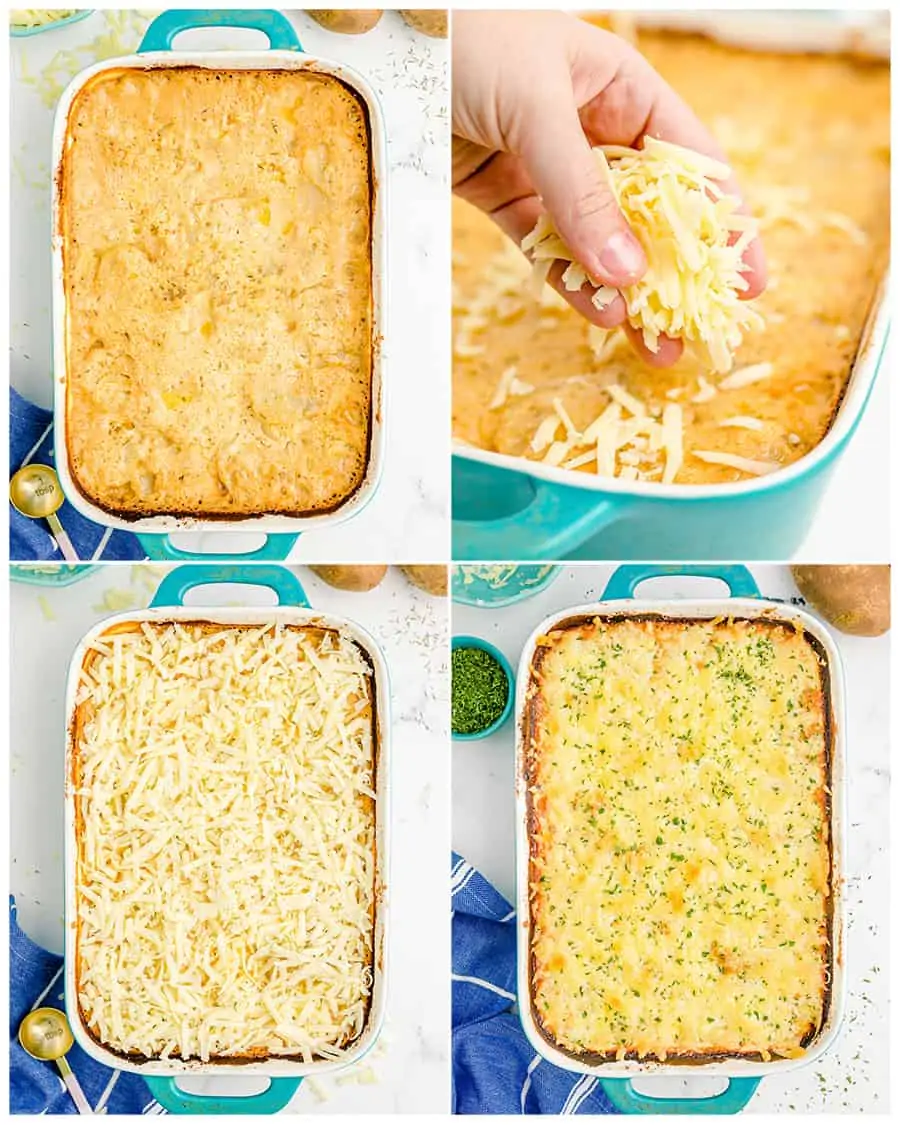 Prior to serving, let the dish sit for a bit! Giving it a good ten minutes time lets it cool just enough to hold together well, and will still be piping hot.
Questions And Answers
How do I store scalloped potatoes? 
Scalloped potatoes will keep well in the fridge for up to 4 days (if airtight).
Can I make these scalloped potatoes in a crockpot?
Yes, assemble as directed above and cook for 4-5 hours on high heat.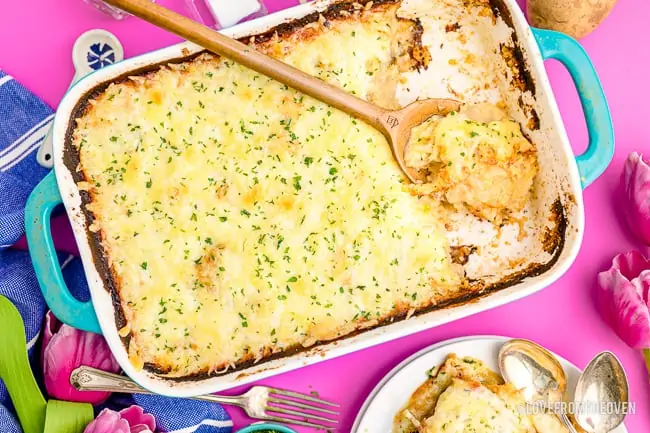 Could I add meat to this dish?
Yes, this would also be great with ham added!
I don't have any garlic powder. Can I use cloves of garlic?
Yes, substitute 4 cloves of garlic in this recipe.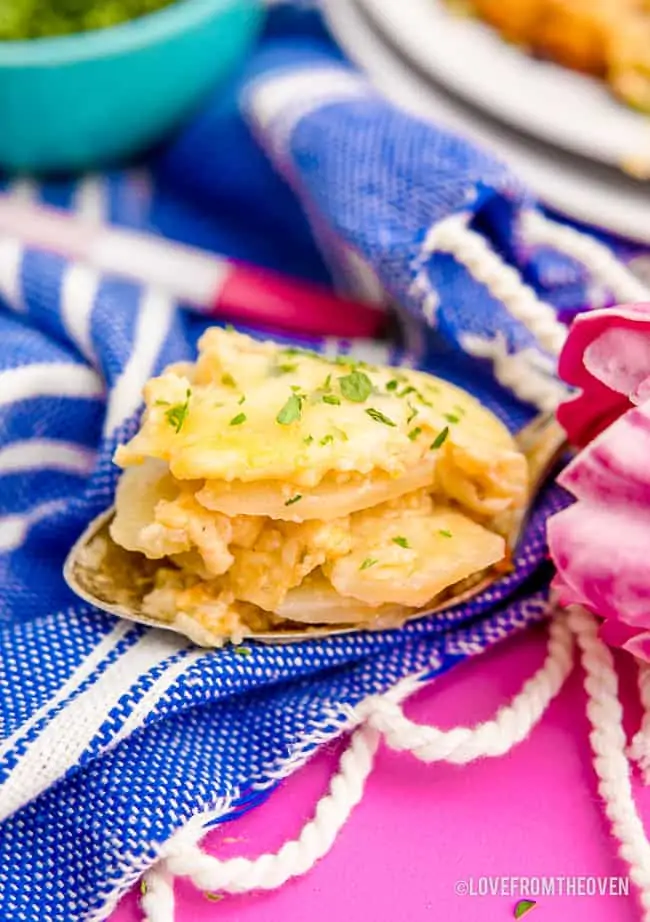 Can I slice the potatoes ahead of time?
If you are going to slice the potatoes ahead of time, you must cover them with water, or they will turn grey. We usually slice the potatoes just before we are going to layer them into the pan. (After assembling the sauce.)
Do these freeze well?
No, sometimes the texture of potatoes changes after freezing. It is better to eat them fresh. And do not freeze this dish before baking. The raw potatoes may turn grey. It is really best to enjoy scalloped potatoes fresh and refrigerate leftovers. They will still be delicious when you reheat them.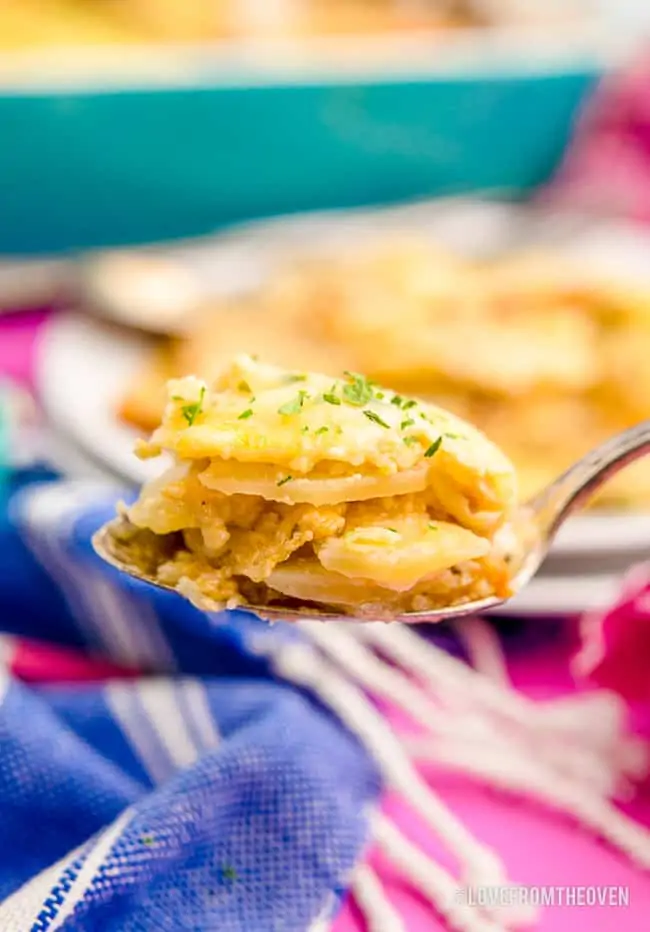 I prefer to use fresh onion instead of dried, what is the ratio of substitution?
You will need one medium onion in place of the 3 Tablespoons minced. Make sure to chop it thin, and cook until translucent.
My family only likes cheddar cheese – can we just use cheddar instead?
Absolutely! Both cheeses give this dish a delicious flavor so feel free to use either, or even do 2 cups of each, they pair together perfectly!
More Delicious Recipes To Try
If you love these homemade scalloped potatoes, make sure to try my Cheesy Hashbrown Potatoes.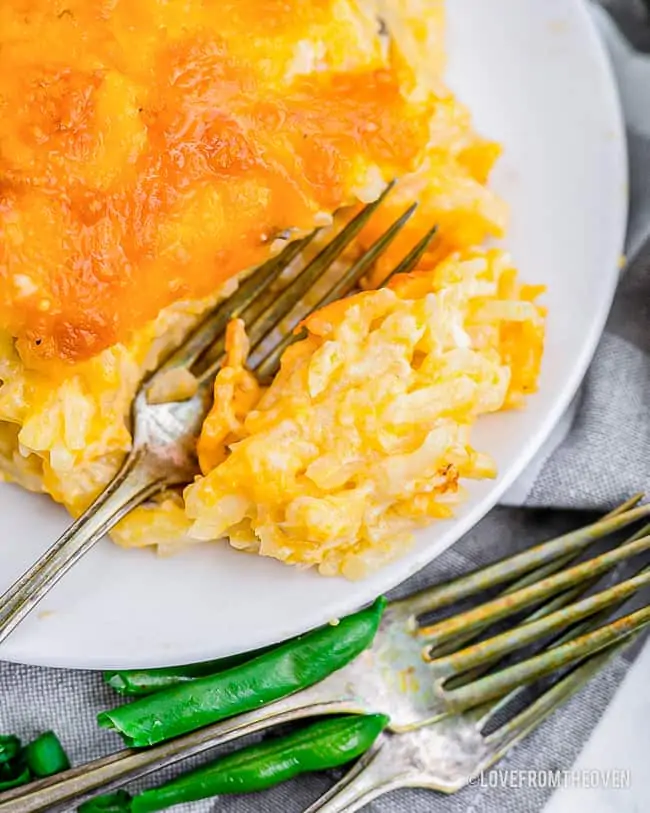 More Side Dish Recipes To Try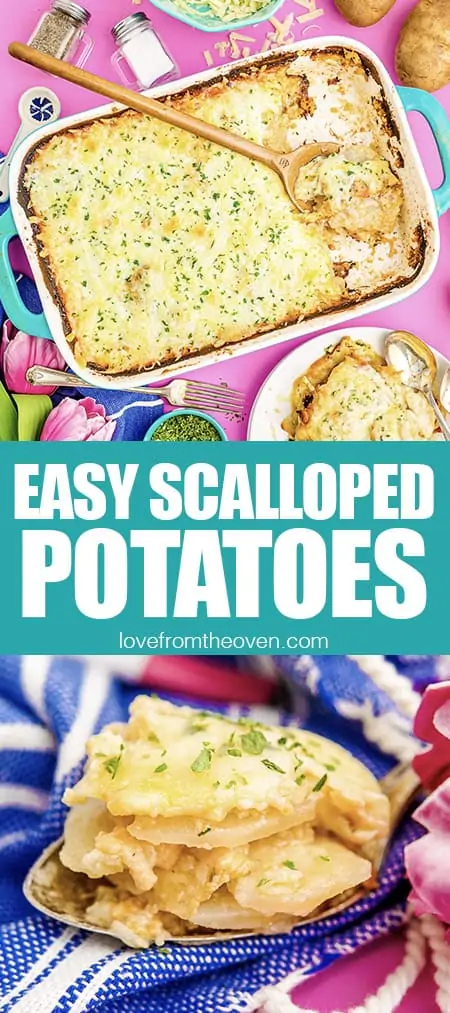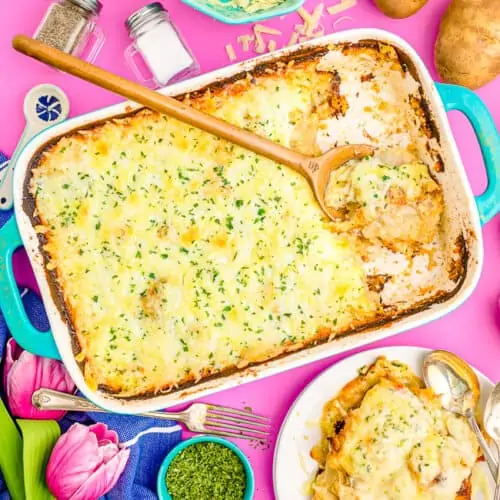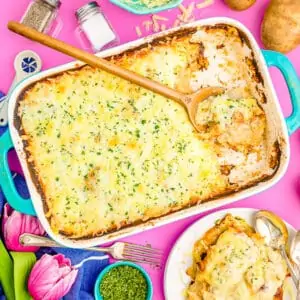 Homemade Scalloped Potatoes
Rich, creamy and cheesy Scalloped Potatoes are a stand out side dish on any dinner table. Thinly sliced potatoes, a creamy sauce, cheese and spices come together in this delicious dish. 
Ingredients
4

tbsp

salted butter

5

tbsp

all-purpose flour

5

cups

whole milk

2

tsp

garlic powder

1

tbsp

seasoning salt

1

tsp

pepper

1/2

tsp

thyme

4

cups

grated Monterey jack cheese

divided

3

large

potatoes* (russet, Idaho or Yukon) peeled and sliced very thin - no more than 1/4" thick.

approximately 3 cups

3

tbsp

dried minced onion

parsley

optional, for garnish
Instructions
Prepare a 9x13 inch baking pan by spraying it with cooking spray. Preheat oven to 400 degrees F.

Prepare sauce by melting butter in a large saucepan on medium heat. Add flour and whisk continuously as it cooks, until golden. Gradually add milk while whisking. Heat may be turned up slightly as you cook and whisk, until the mixture thickens, which takes about ten minutes. Take care to not over heat or the sauce will scald.

Add garlic, seasoning salt, salt, pepper and thyme to the mixture, stir in well. Add 2 cups of the Monterey jack cheese to the sauce and stir until melted.

Lay half of the potato slices onto the bottom of the baking pan. Sprinkle about half of the minced onion evenly over the potatoes. Pour half the sauce over potatoes. Layer remaining potatoes over sauce, sprinkle on remaining minced onions and 1/2 cup of Monterey Jack cheese. Pour remaining sauce over the top as evenly as possible, trying to make sure that all potatoes are covered by the sauce.

Cover tightly with foil and bake for one hour.

Remove from the oven, remove foil and sprinkle remaining cheese over the top. Place back into the oven, uncovered and bake for another 15 minutes or until cheese is melted. If desired, broil for 1-2 minutes for a golden top. As always, when broiling watch closely as dishes can go from browned to burnt quickly.

Allow to cool for at least 10-15 minutes prior to serving.
Notes
*The potatoes must be sliced very thin or this dish will take longer to cook. Also, try to slice the potatoes as evenly as possible (a mandolin will make this easier) or they will not cook evenly. 
Scalloped potatoes will keep well in the fridge for up to 4 days (if airtight).
Nutrition
Calories:
484
kcal
|
Carbohydrates:
37
g
|
Protein:
22
g
|
Fat:
28
g
|
Saturated Fat:
17
g
|
Trans Fat:
1
g
|
Cholesterol:
81
mg
|
Sodium:
1298
mg
|
Potassium:
844
mg
|
Fiber:
2
g
|
Sugar:
9
g
|
Vitamin A:
865
IU
|
Vitamin C:
8
mg
|
Calcium:
617
mg
|
Iron:
2
mg
Disclaimer
Nutrition information is estimated as a courtesy. If using for medical purposes, please verify information using your own nutritional calculator. Percent Daily Values are based on a 2000 calorie diet.