Out of every sweet or treat I've ever made for the holidays, one item remains my most favorite ever…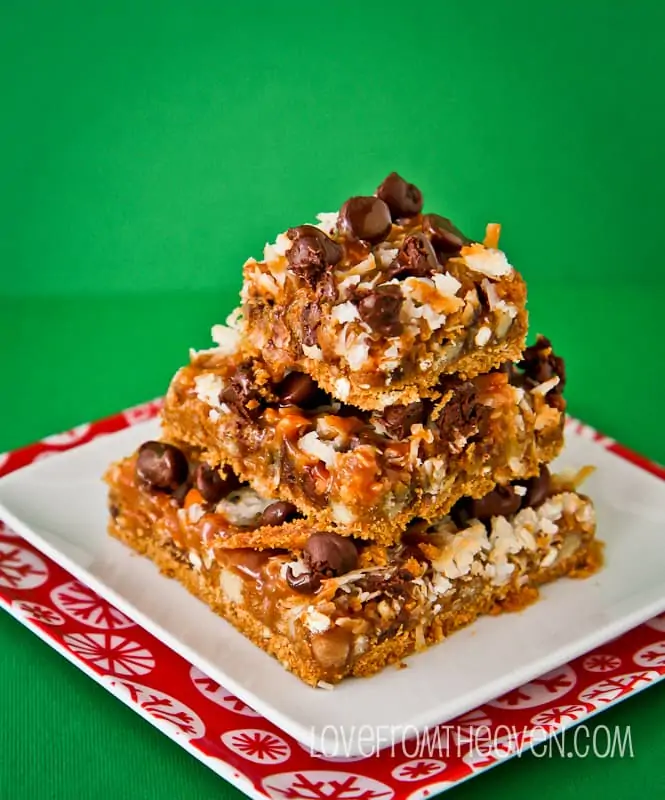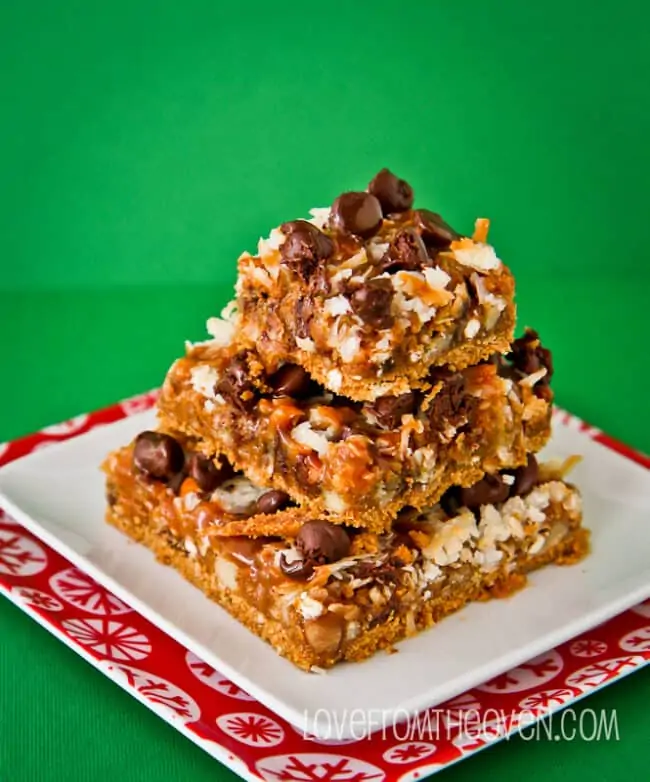 The Magic Cookie Bar. Or Seven Layer Bar. Call it whatever you want, it really is magic in a pan. And not only are they insanely delicious they are SO easy to make. You don't even need a bowl (though for this version I used one bowl, but minimal clean up – I promise). Hello, how great is that??? And I love bar cookies because you can whip up a batch quickly, much more so than traditional cookies. So to celebrate my favorite holiday treat, I will be sharing a week of different magic cookie bar recipes with you. So are you ready to get this party started?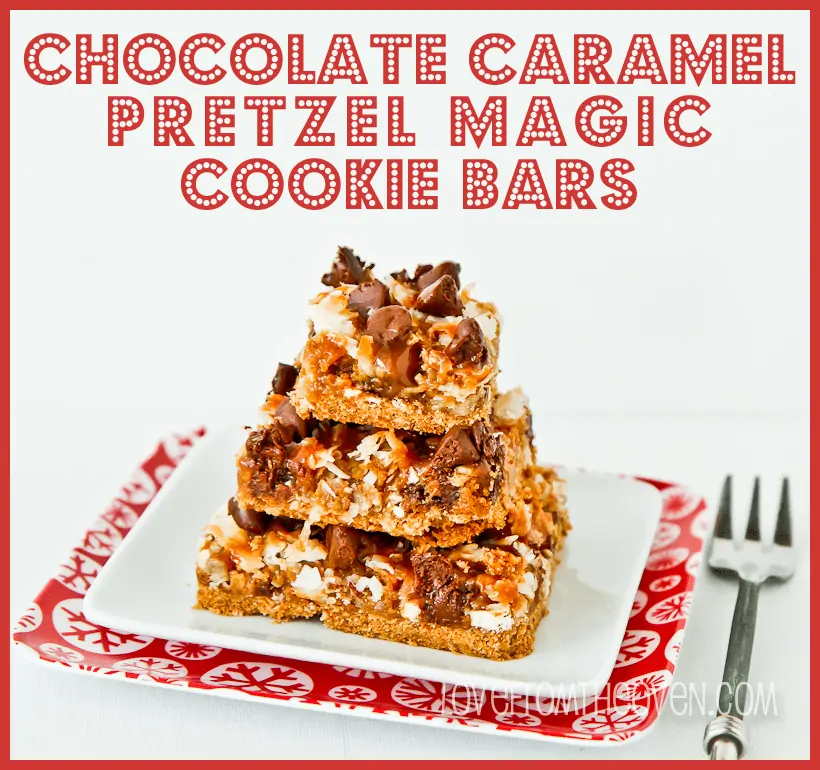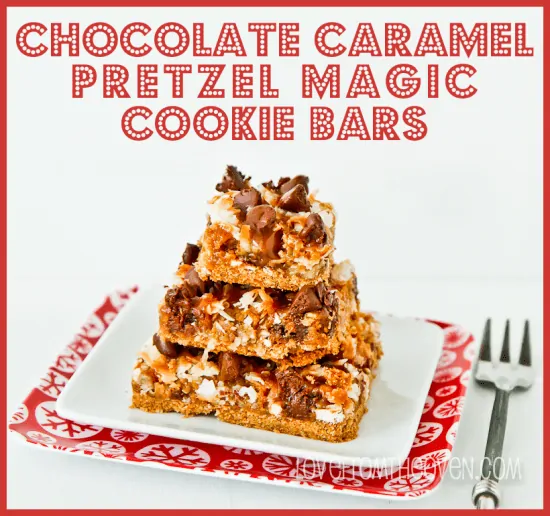 Chocolate Caramel Pretzel Magic Cookie Bars. You are welcome! The feedback from the taste testers on these were all extremely positive. I think my husband was both sad and thankful that most of them had been shared with friends before he got home from work, because "Chocolate Caramel Pretzel Magic Cookie Bars" and "Portion Control" are probably not found together in nature.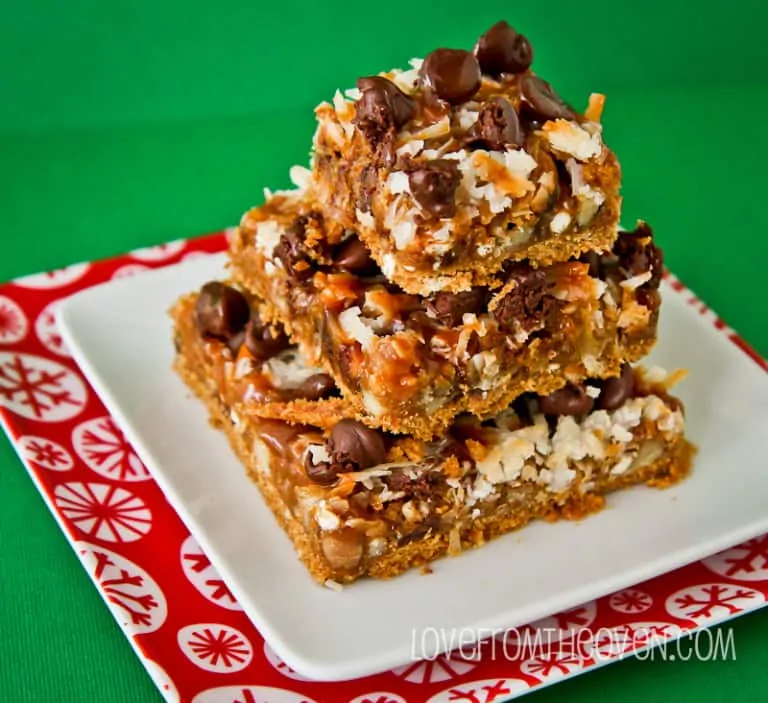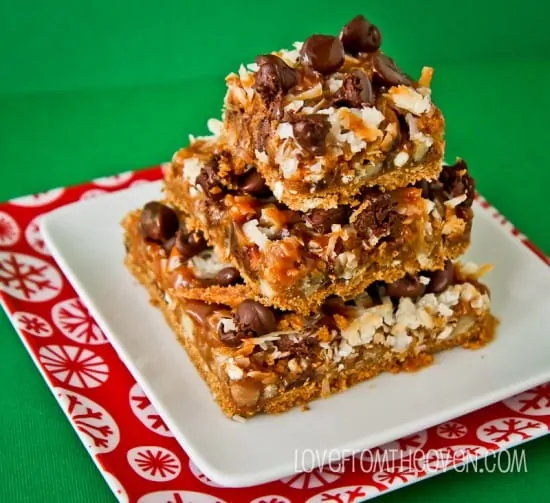 Okay, let me show you how simple these are to make, and the printable recipe will follow at the end of the post. Start by gathering your ingredients and getting a 13″ x 9″ pan.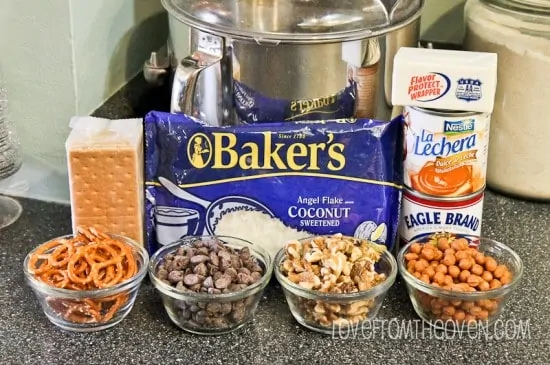 A few weeks ago I came across this can of Nestle La Lechera Dulce De Leche next to the sweetened condensed milk at my store. I really had no idea what I would use it for, but I had to use it. Since sweetened condensed milk is a big part of the magic in these bars, I figured this would be a great place to try it out. I've read that it can be REALLY sweet, so I decided to use half Dulce De Leche and half regular sweetened condensed milk in this recipe.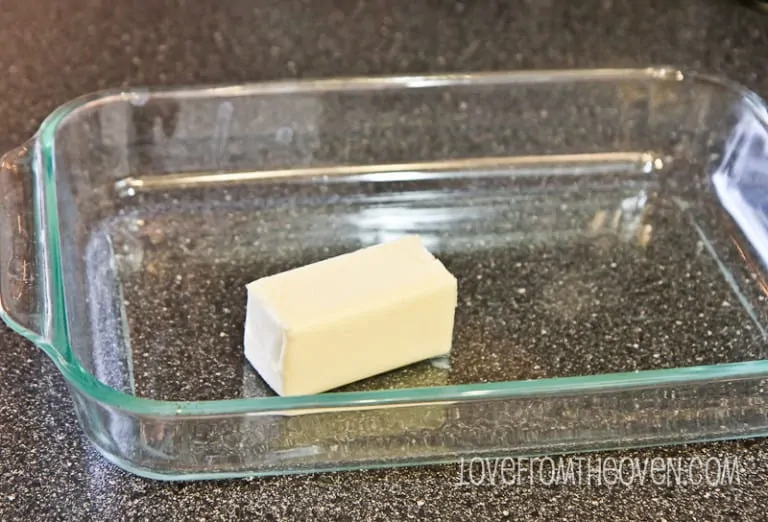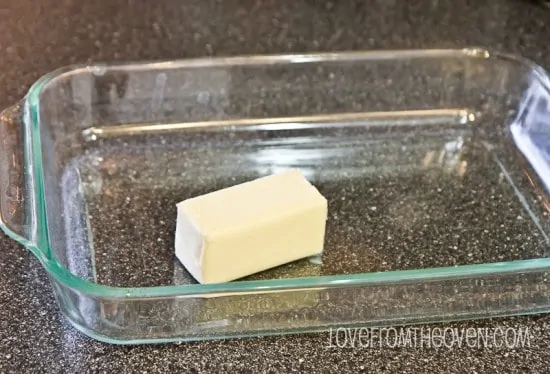 Most recipes will tell you to melt your butter and then combine with graham cracker crumbs, then press into a pan. Well given that I'm pretty much always in a hurry, I found a shortcut. I put my stick of butter in my pan, and then stick it in the oven while the oven preheats. Usually the butter is melted just before the oven comes to temperature, and while this is going on I get everything else ready.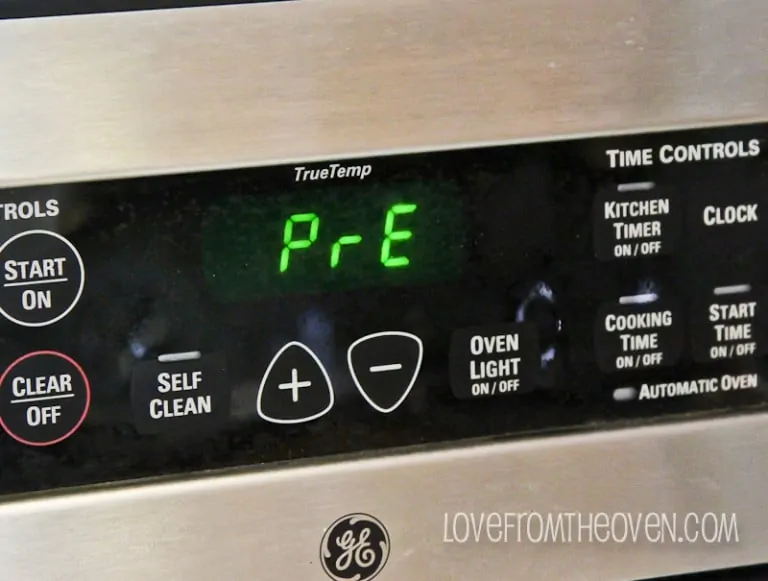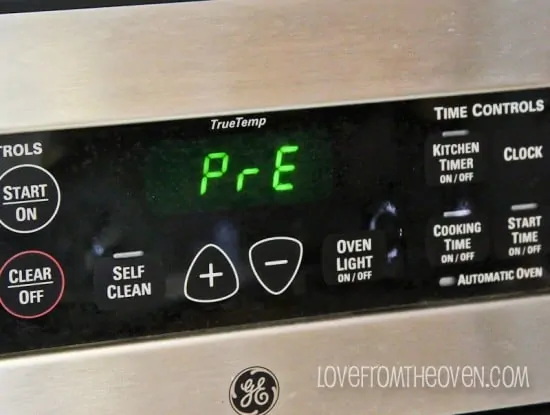 You can buy graham cracker crumbs or make your own, I usually just make my own in the food processor. I package (not the whole box, but the individually wrapped ones inside the box) of graham crackers came out to about 1 1/4 cups for me.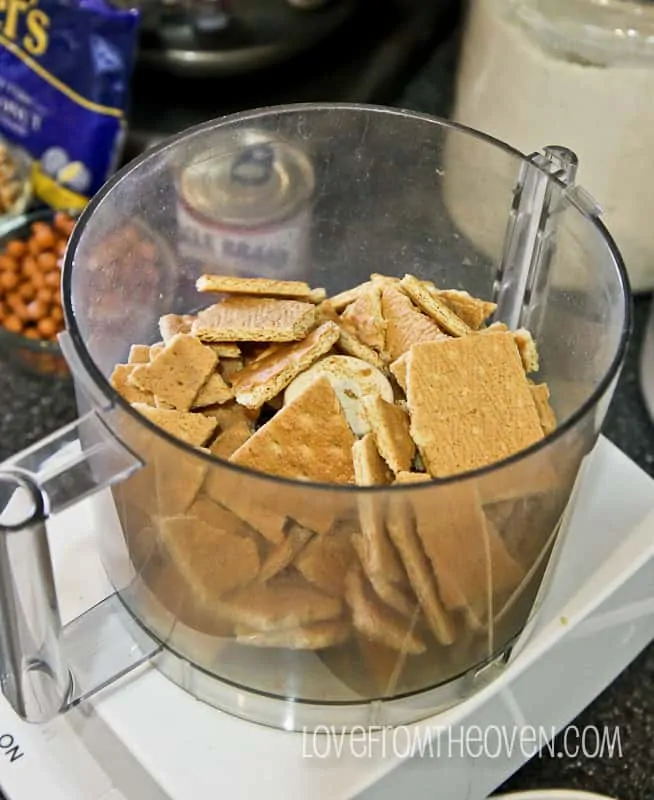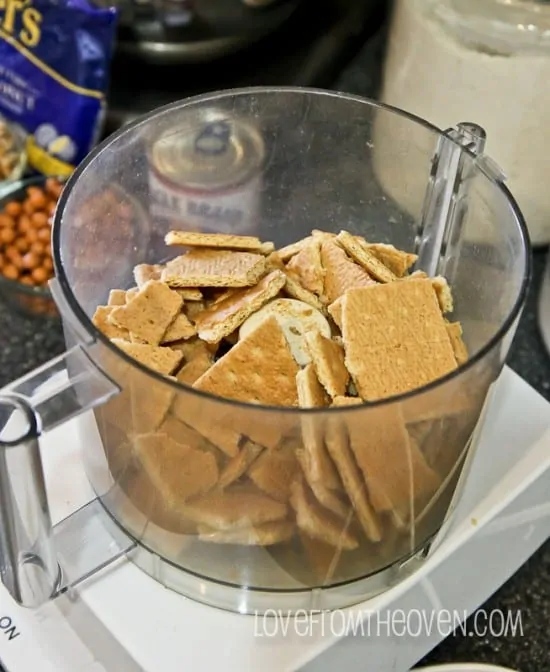 Because I wanted to create a sweet and salty thing with these bars, I added in crushed pretzels to my crust. One cup of pretzels prior to crushing…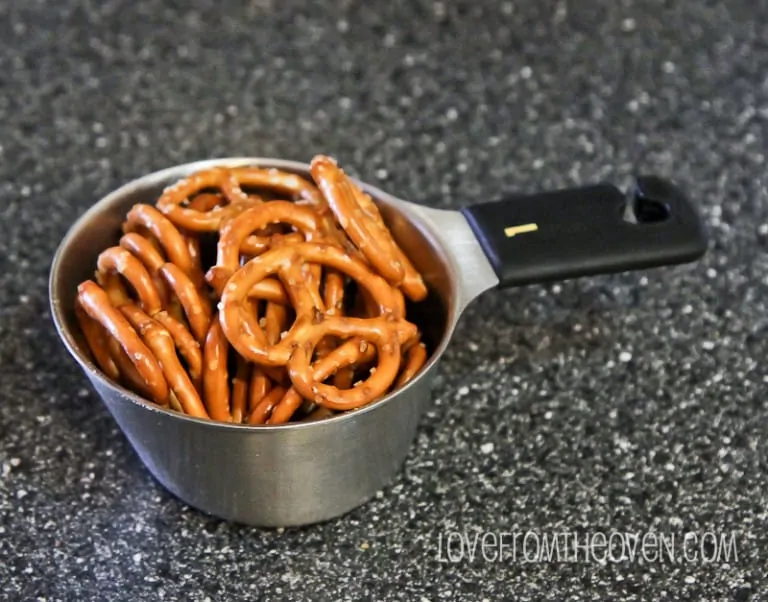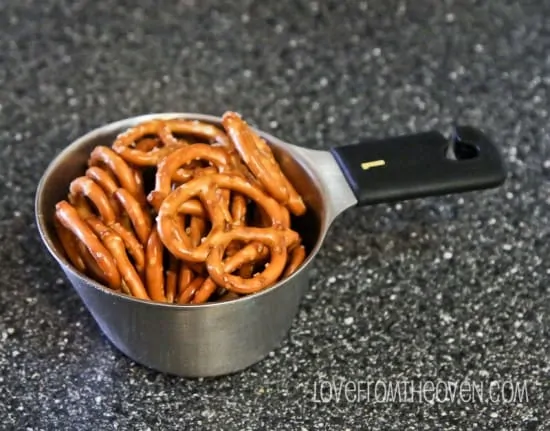 Worked out to be a little less than 1/2 a cup once crushed.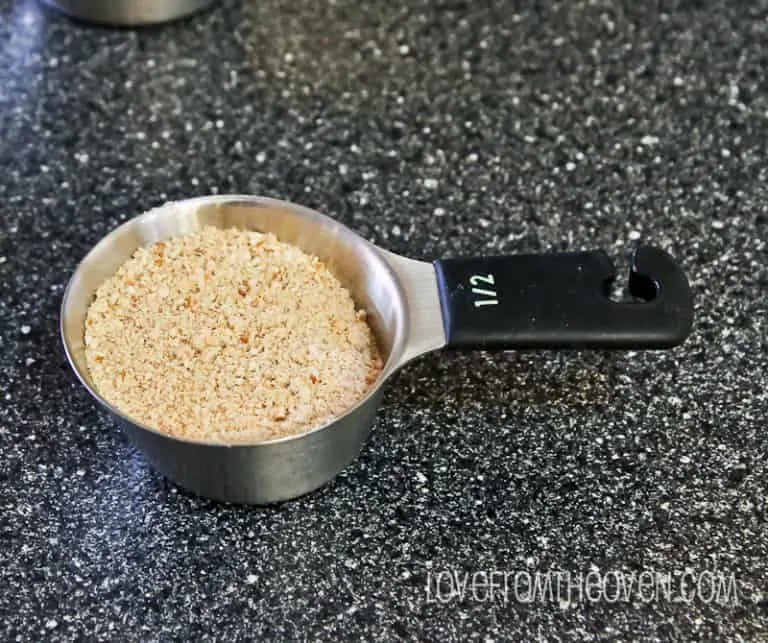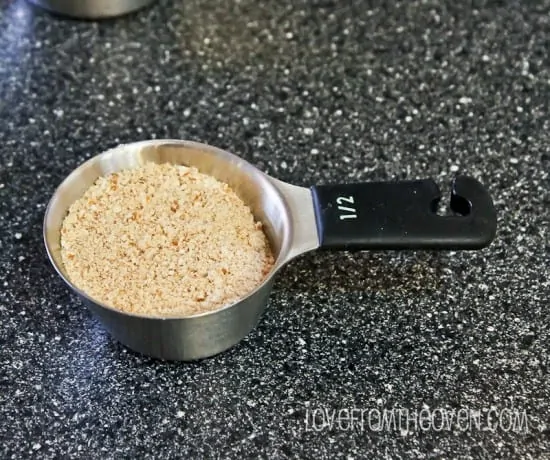 They don't crush as finely as the graham crackers, but I think that's fine, I like the added crunch.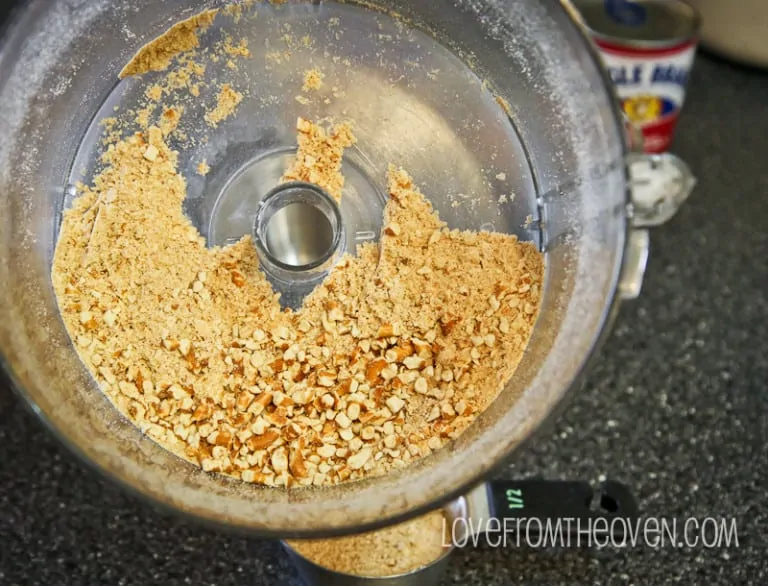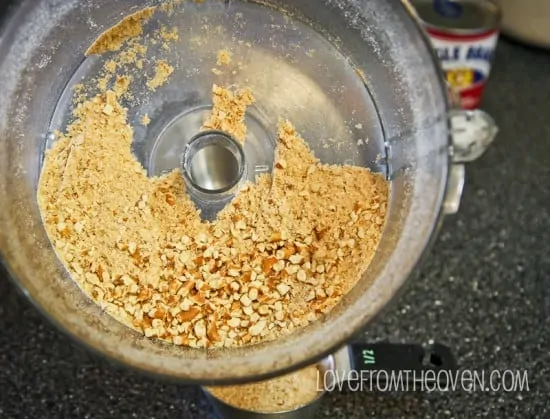 Butter is still melting in the oven. On to mixing up the sweetened condensed milks. The dulce de leche is pretty darn thick, so I put half of the can into a glass measuring cup, along with half a can of regular sweetened condensed milk and microwaved and stirred until it reached a pourable consistency (probably about 30 seconds, but in 10 second bursts, stirring in between).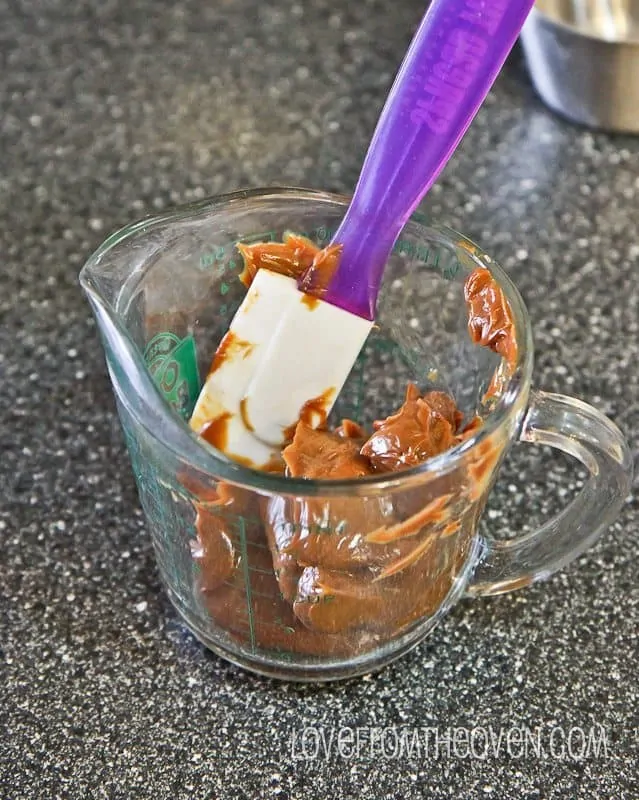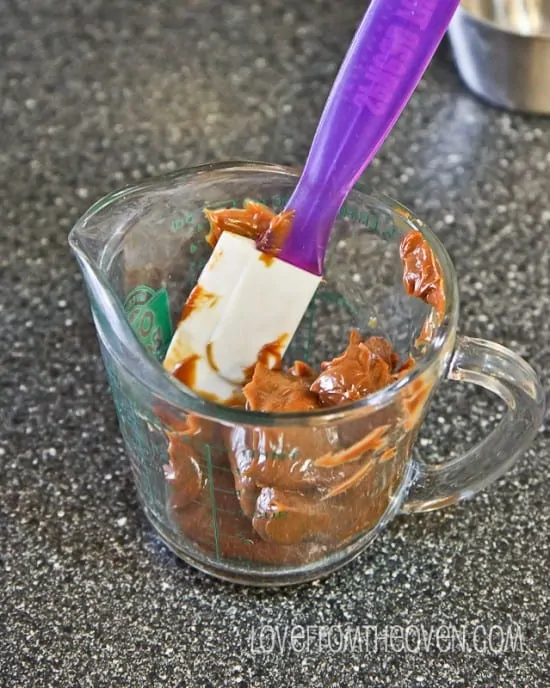 Our friend butter is ready!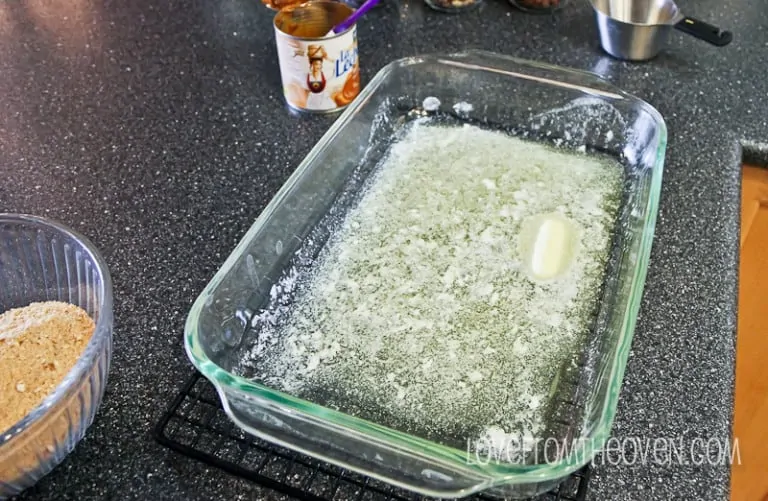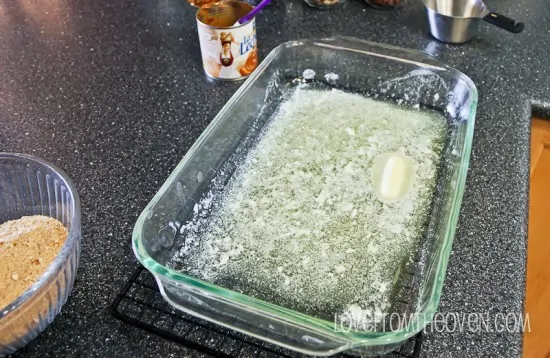 Okay, so I did end up using one bowl – I used it to combine the graham cracker crumbs and pretzel crumbs. The one thing if you do the "melt the butter in the oven" thing is that you have to remember to be careful, the pan is HOT. It's sort of second nature to grab a pan when you are preparing something like this, and it's very easy to burn yourself. Don't do that. It'll hurt. Sprinkle the crumbs over your butter.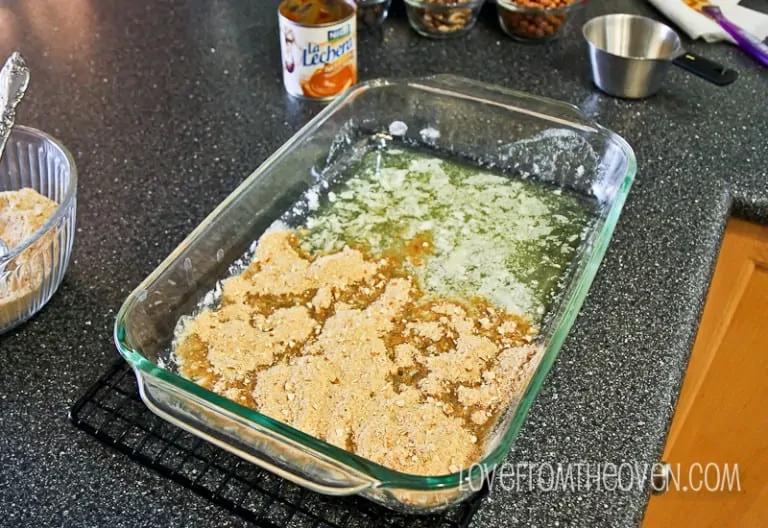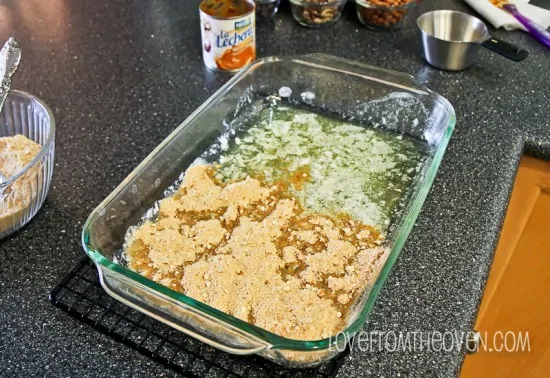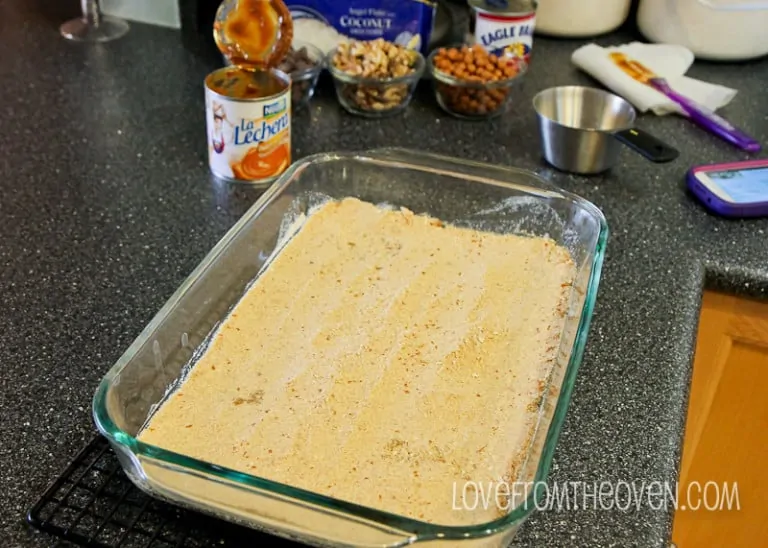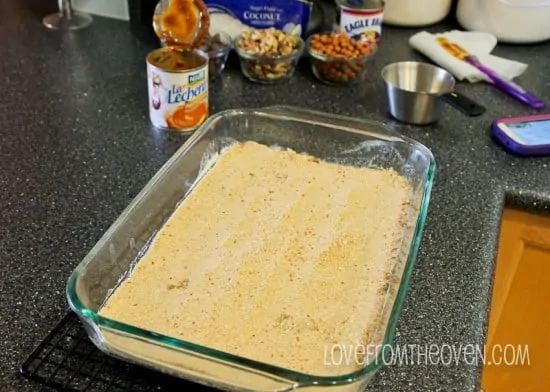 Next you pour on the sweetened condensed milk.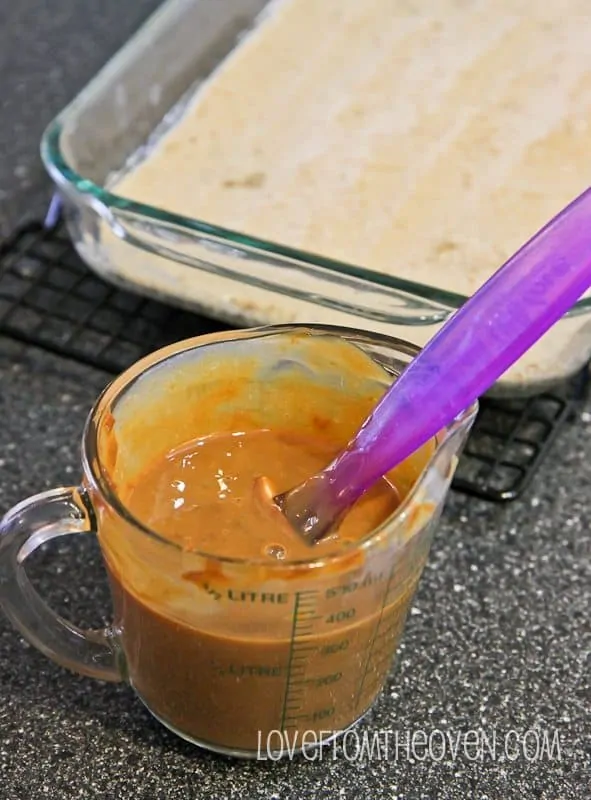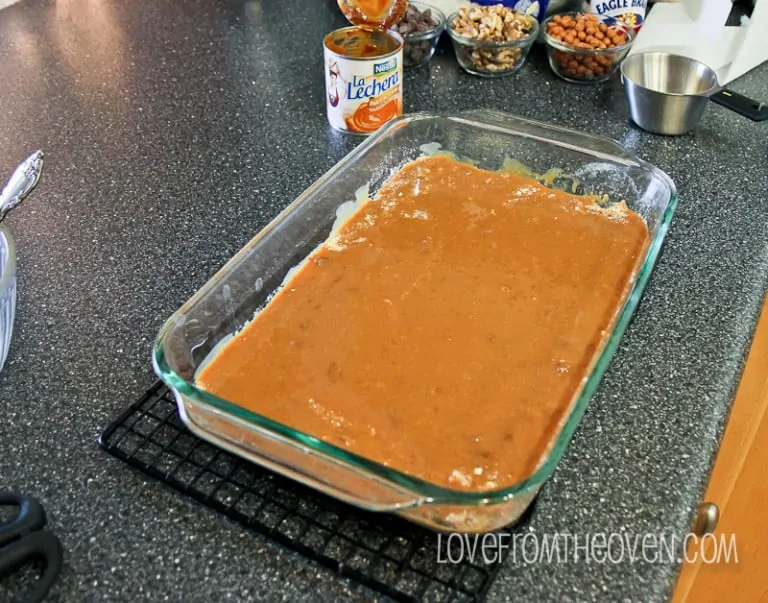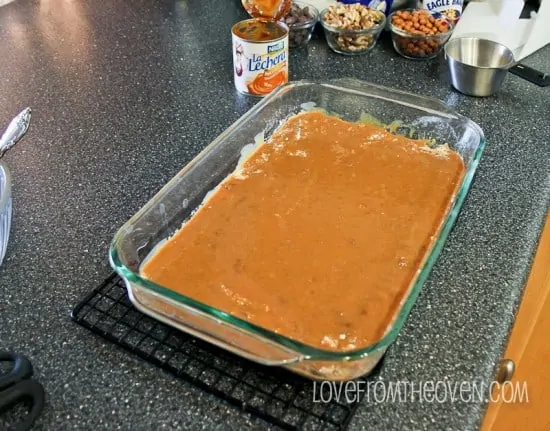 Than I add my nuts, followed by some of the chocolate chips, caramel bits, pretzel chunks, coconut and then a few more chocolate chips on top.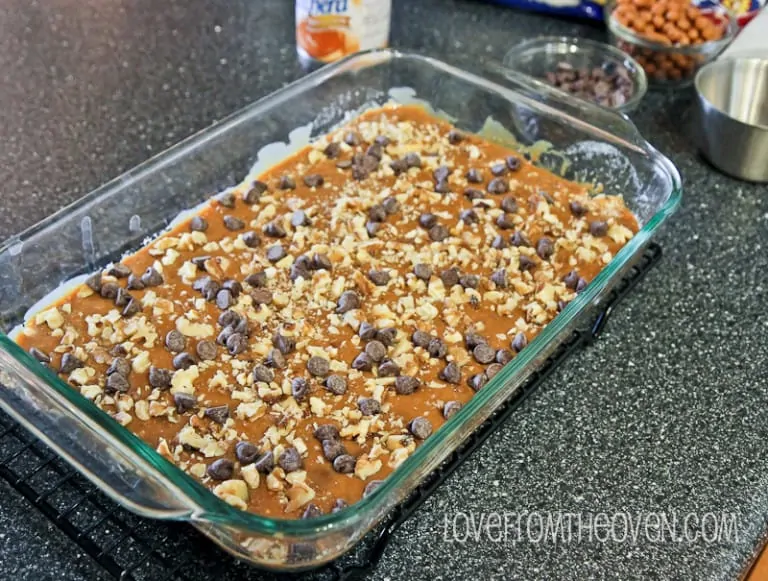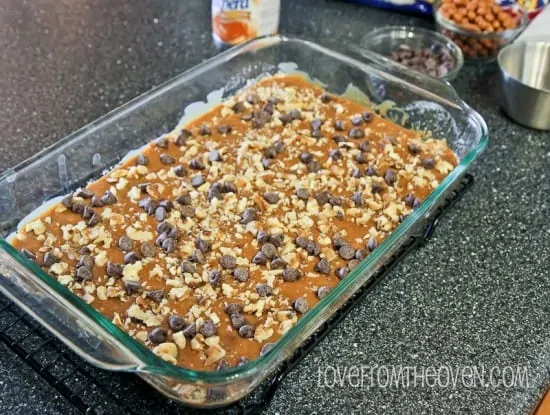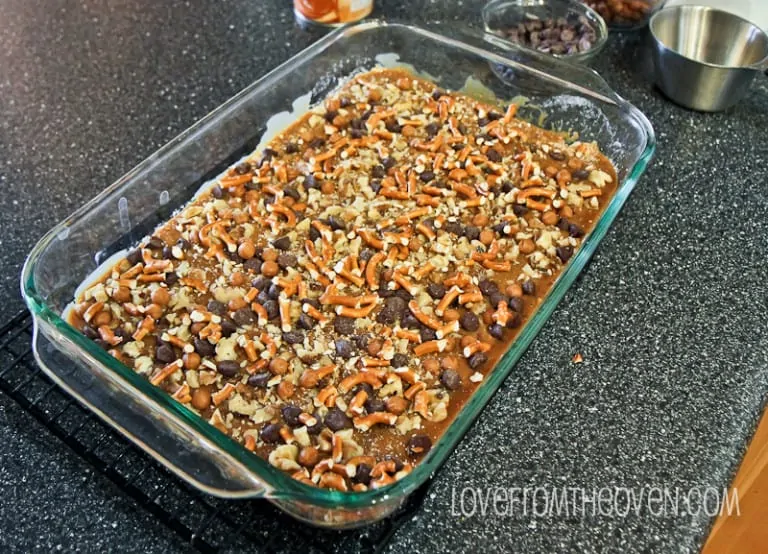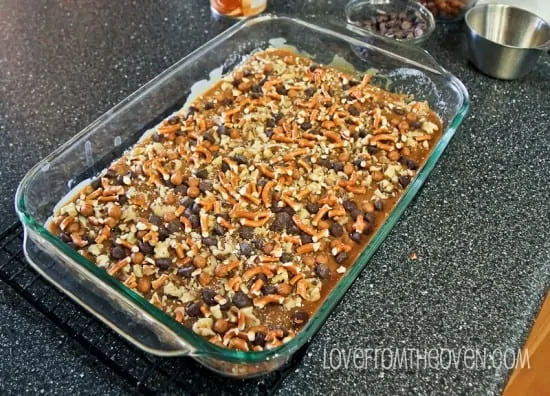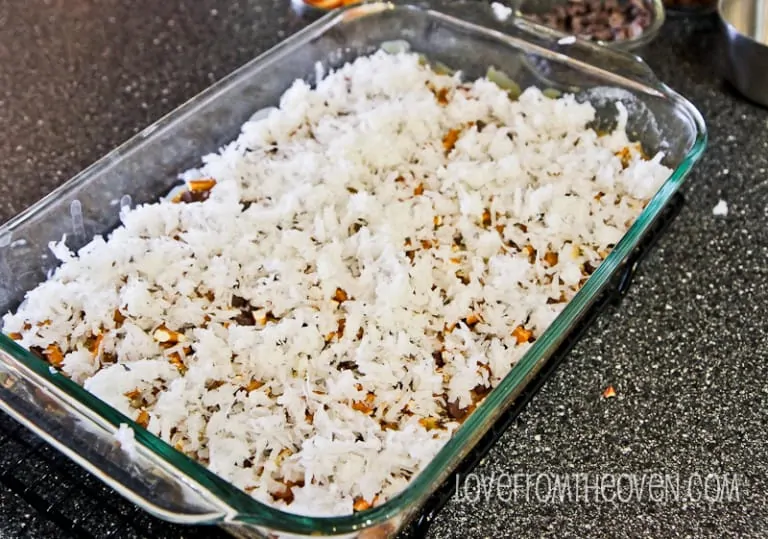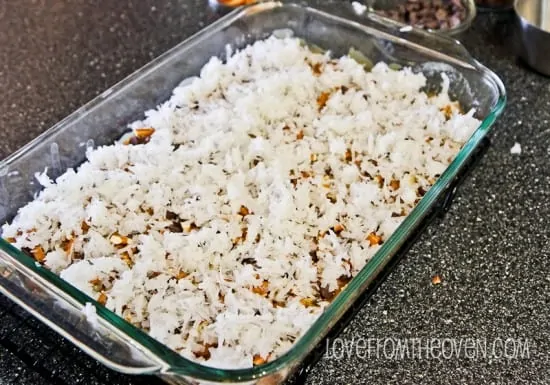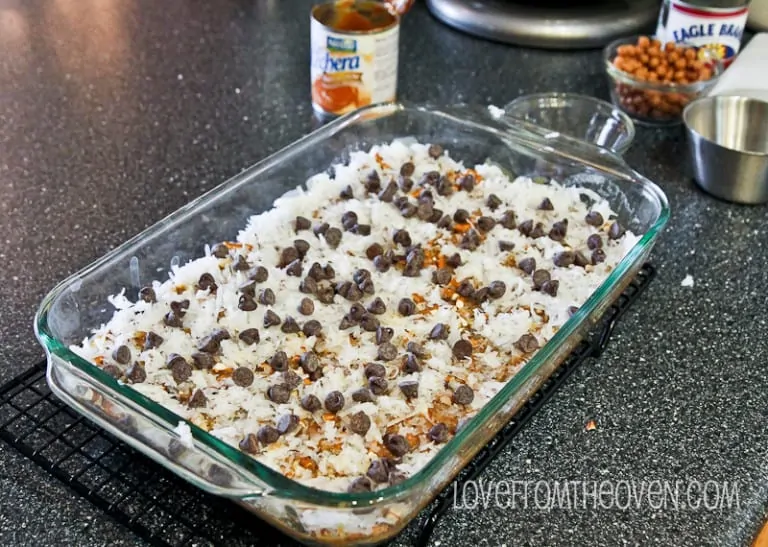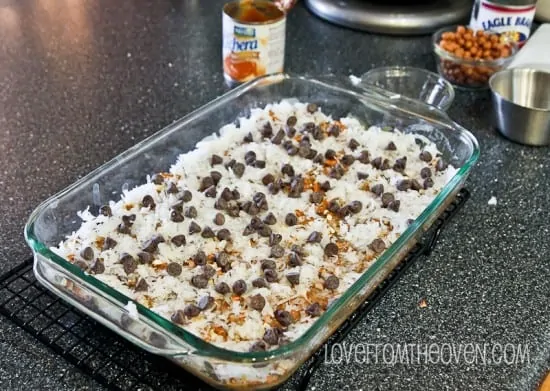 Into the oven for approx 25 minutes.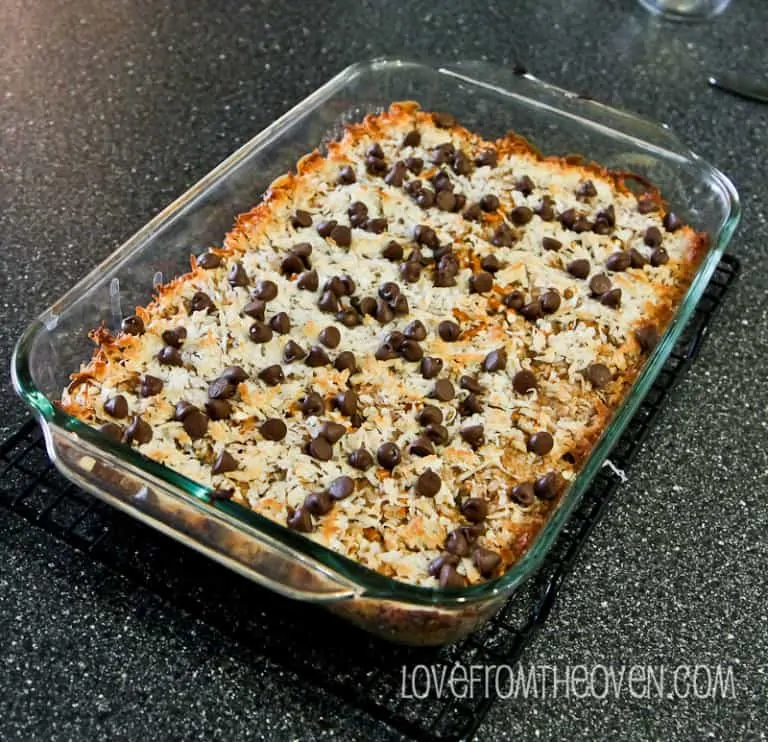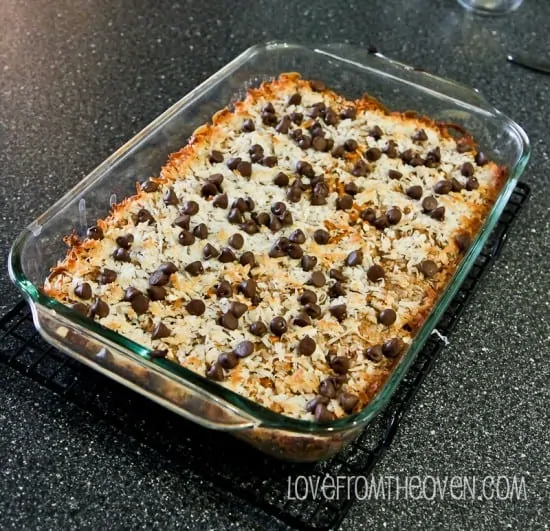 I drizzled a little extra caramel on top.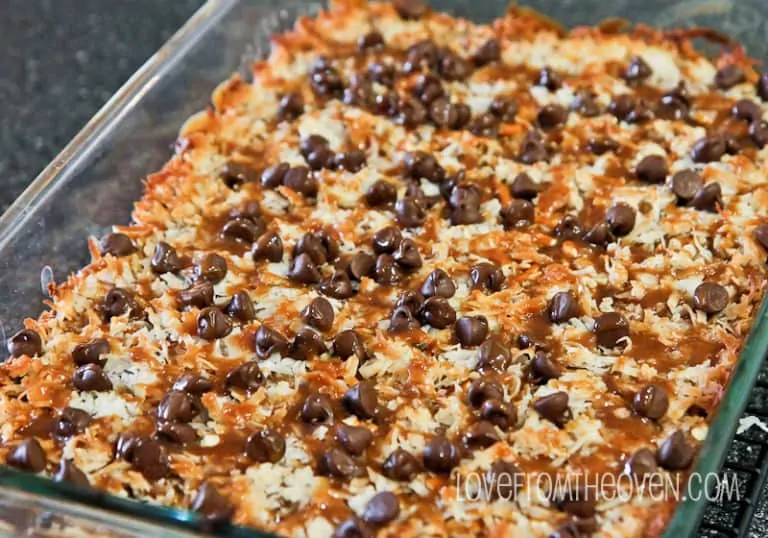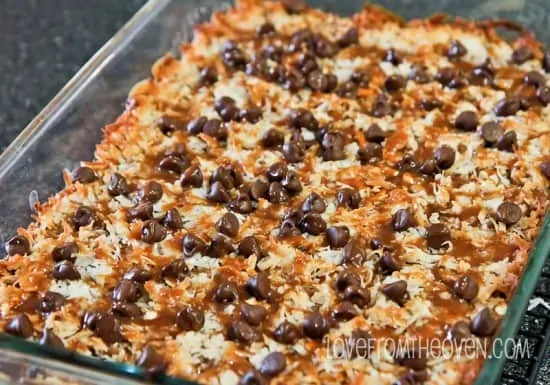 Need a fork?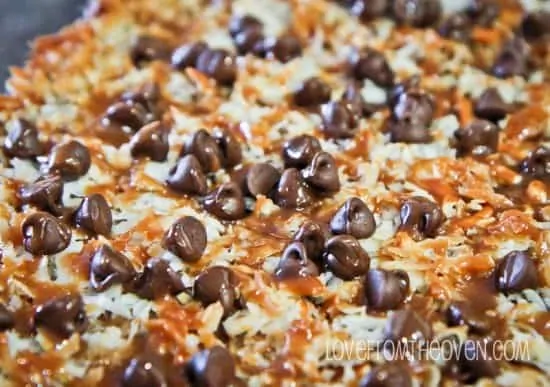 I used my square Ateco cutters to cut them out.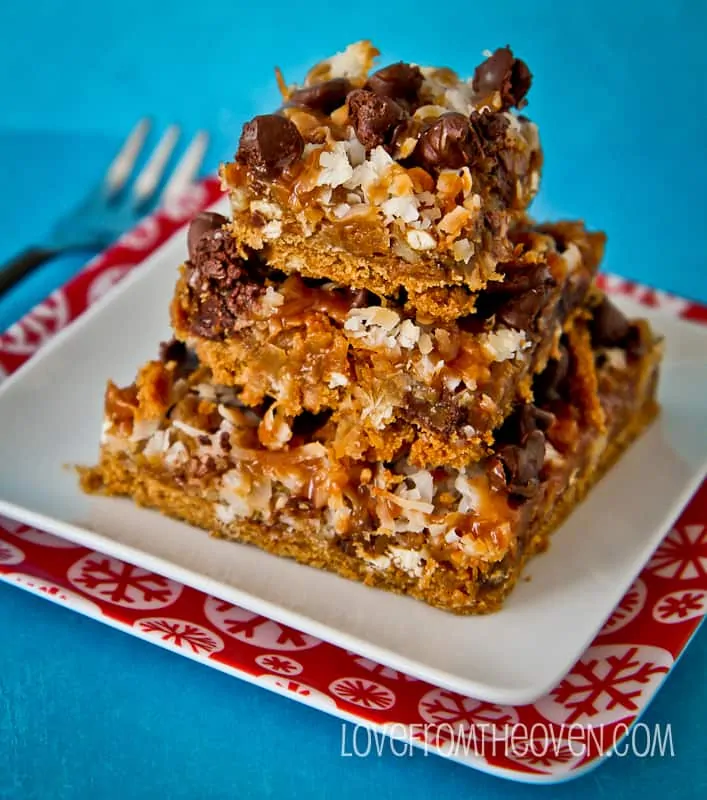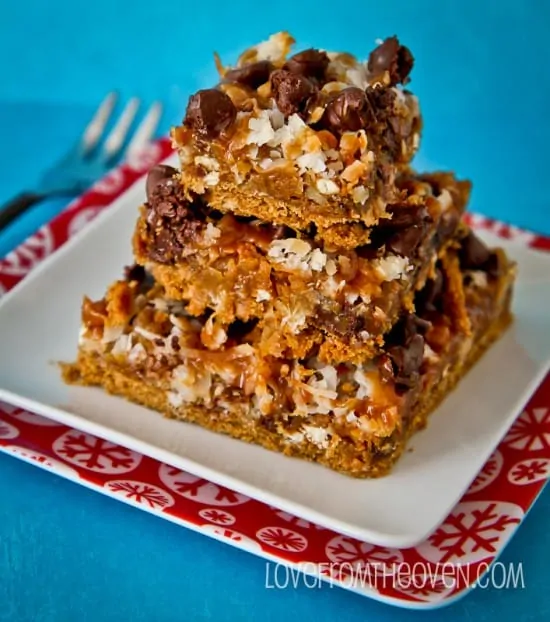 SO. DANG. GOOD.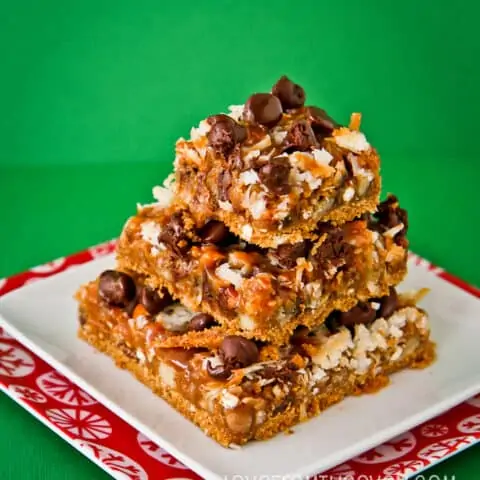 Caramel Pretzel Magic Cookie Bars
Ingredients
1

stick butter

1/2 cup

7

oz

1/2 can Sweetened Condensed Milk

7

oz

1/2 can La Lechera Dulce De Leche (if you can't find this, just use all regular sweetened condensed milk)

1

cup

graham cracker crumbs

1

cup

crushed pretzel crumbs

about 2 heaping cups prior to crushing

1

cup

chocolate chips

divided into 1/2 cup portions

1

cup

chopped nuts

1

cup

Kraft Caramel Bits

divided into 1/2 cup portions

1

cup

broken up

but not completely crushed pretzel pieces

1 1/2

cups

flaked coconut

Approx 1-2 TBSP of water

to be used with Kraft Caramel Bits to create a caramel drizzle
Instructions
Unwrap butter and place in 13″ x 9″ pan. Place pan, with butter, in the oven and turn the oven on to 350*F. Butter can melt in pan while preheating. Keep an eye on it, checking every few minutes and pulling out of the oven when butter is melted. Please be careful while preparing recipe as pan will be very hot.

Crush graham cracker and pretzels in food processor to crush into a fine crumb. Set aside.

Mix sweetened condensed milk and dulce de leche in a microwave safe bowl. Microwave for ten seconds, remove, stir and microwave for another 10 seconds if needed. You'll want the two to combine and be a pourable consistency.

When butter is melted, remove from oven and carefully sprinkle the graham cracker and pretzel crumbs over the melted butter. Press in lightly with fork or back of spoon.

Pour sweetened condensed milk & dulce de leche mixture over crumb layer.

Sprinkle 1/2 of the chocolate chips, nuts, 1/2 of the Kraft caramel bits and broken up pretzels over sweetened condensed milk layer.

Sprinkle coconut on top, followed by remaining chocolate chips.

Bake in oven for 25-30 minutes or until lightly browned. Remove from oven.

Following the directions of the back of the Kraft Caramel Bits, melt bits with small amount of water then drizzle over top of bars. Allow bars to cool completely.

Cut, serve, share, enjoy!
Disclaimer
Nutrition information is estimated as a courtesy. If using for medical purposes, please verify information using your own nutritional calculator. Percent Daily Values are based on a 2000 calorie diet.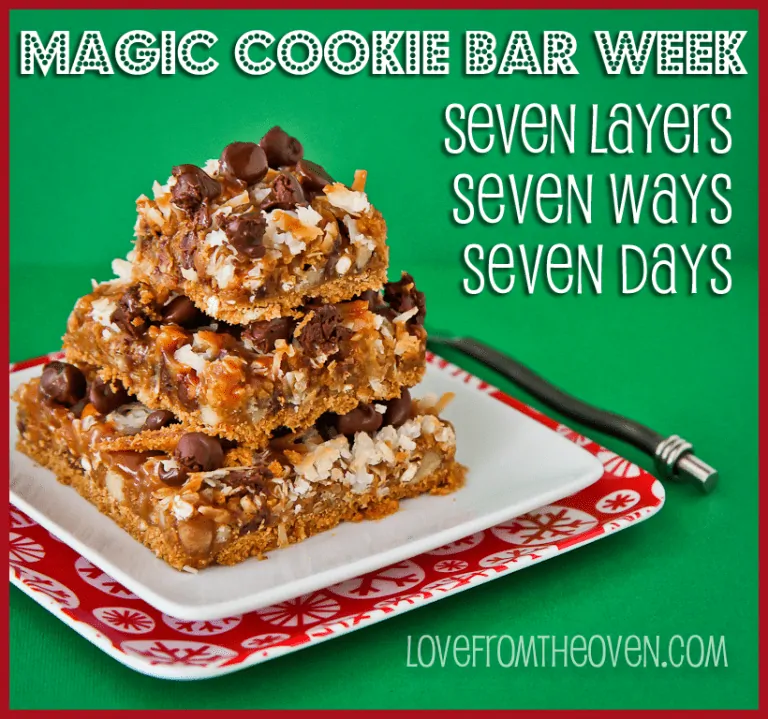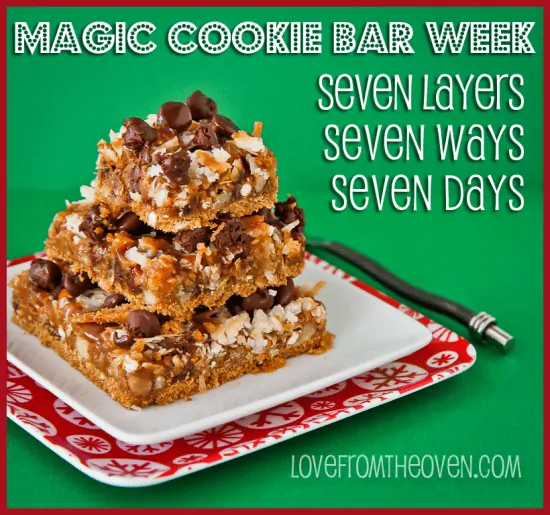 Enjoy and stop by tomorrow for another decadent and delicious Magic Cookie Bar recipe! Make sure to check out my new book, SMART COOKIE, which is available on Amazon!