Day two of Magic Cookie Bar Week and after going a little peppermint crazy with yesterday's Peppermint Bites From Other Blogs, I simply had to bring some peppermint goodness to a magic cookie bar.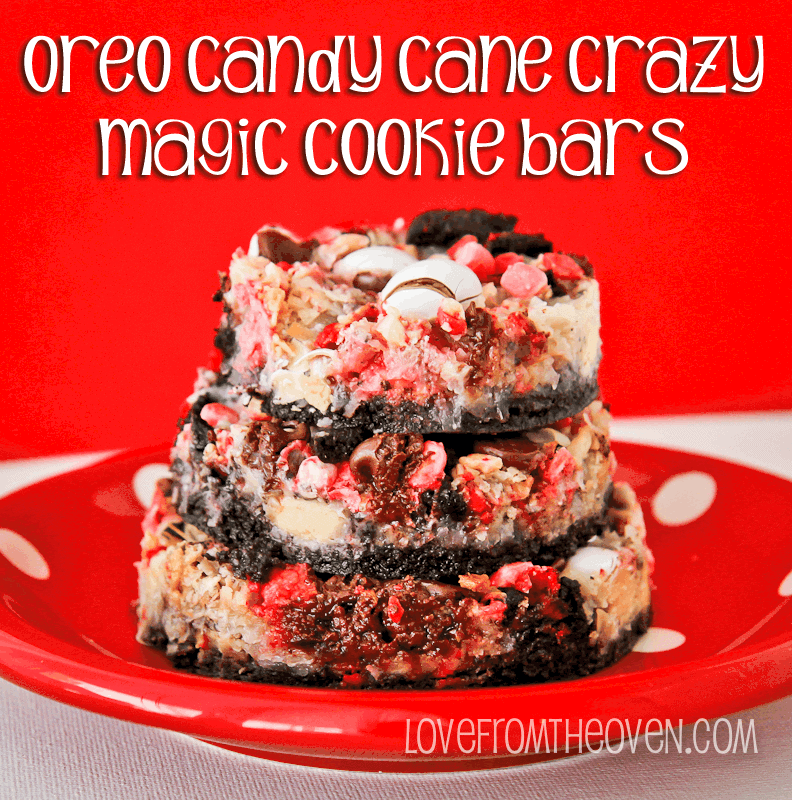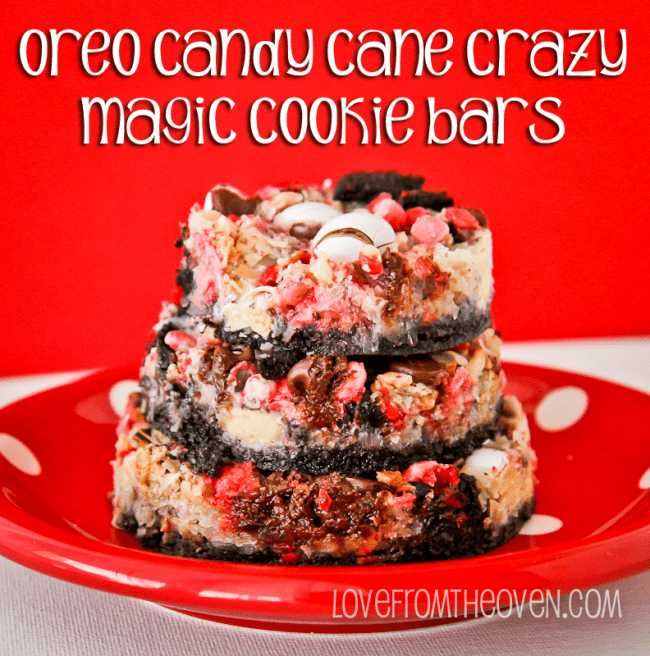 These are loaded with just about every candy cane flavored treat I had in my house, including Candy Cane Oreos, White Chocolate Peppermint M&M's, Jet-Puffed Peppermint Mallow Bits and Andes Peppermint Crunch Baking Bits. As my philosophy always goes, if you can't find these items, just substitute and use something else. No Candy Cane Oreos? Use regular and add a bit of crushed up candy canes to the mix. No Peppermint M&M's? Use plain, or white chocolate ones or a totally different candy. No Peppermint Mallow Bits? Use regular. No Andes Peppermint Crunch Baking Bits? Any sort of chopped up peppermint bark will do. Seriously, get creative!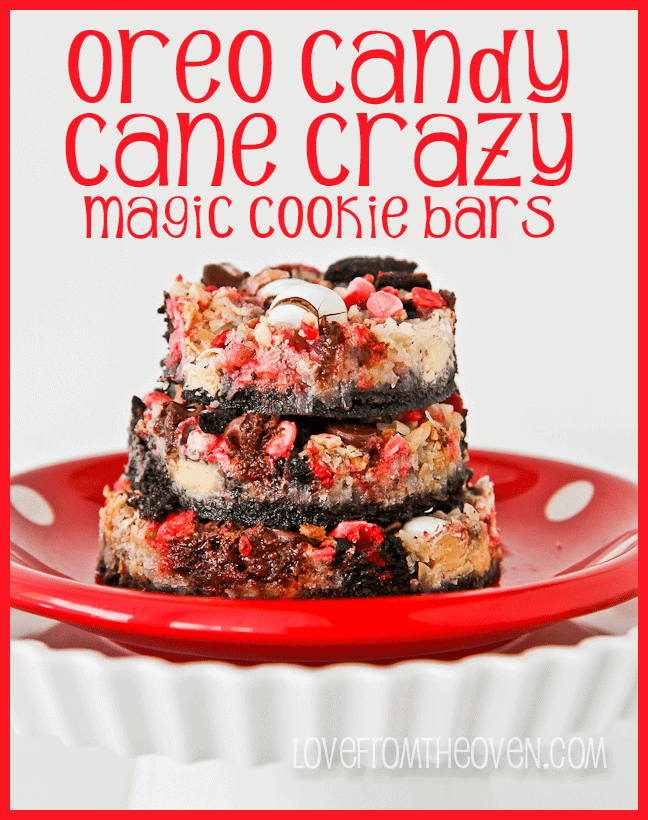 The one major change to this recipe (aside from the flavors) from my last magic cookie bar recipe is that because the of the filling in Oreos, you can cut back on the butter some, probably by almost half. I used a whole stick and had my doubts about it and sure enough the crust was a bit more moist than it needed to be (but dang, it was good). To see step by step how to make seven layer bars, check out this post. Here are a few pics of the making of these…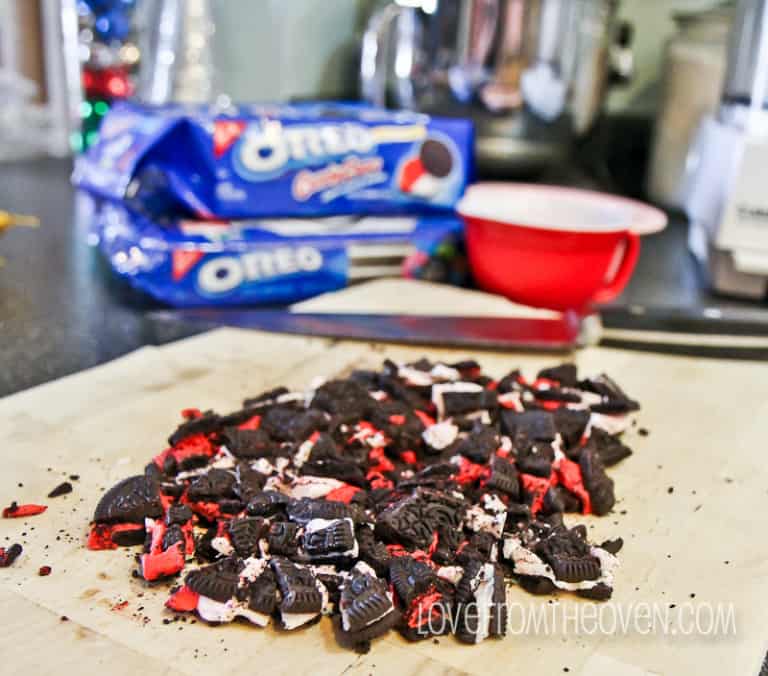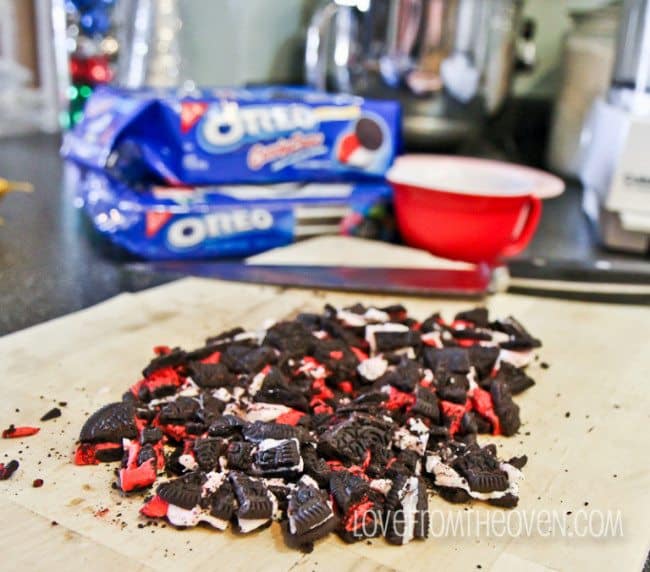 I used about ten Candy Cane Oreos chopped up to use on top of the bars, and about 1 1/2 cups of Candy Cane Oreo Crumbs (ran the cookies through my food processor to create the crumbs) for the crust.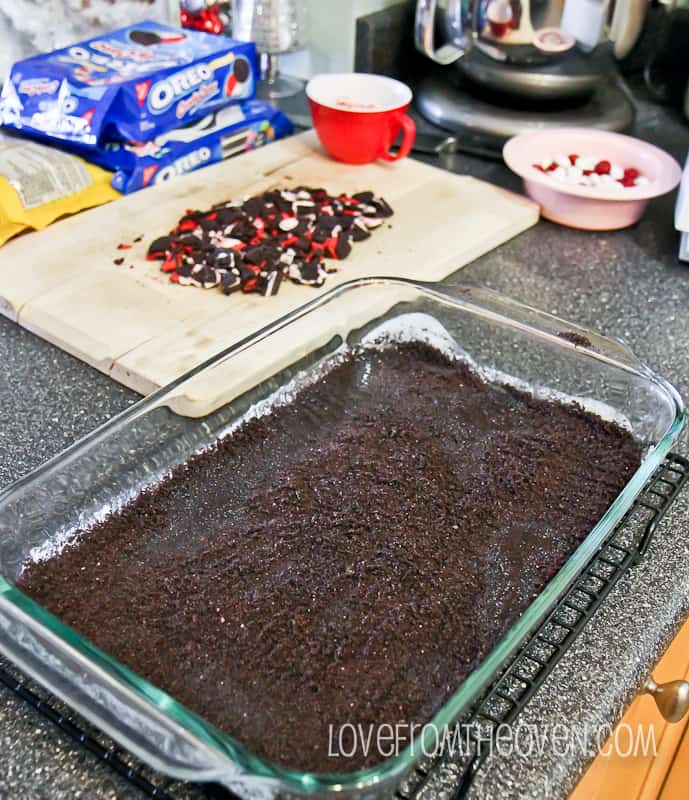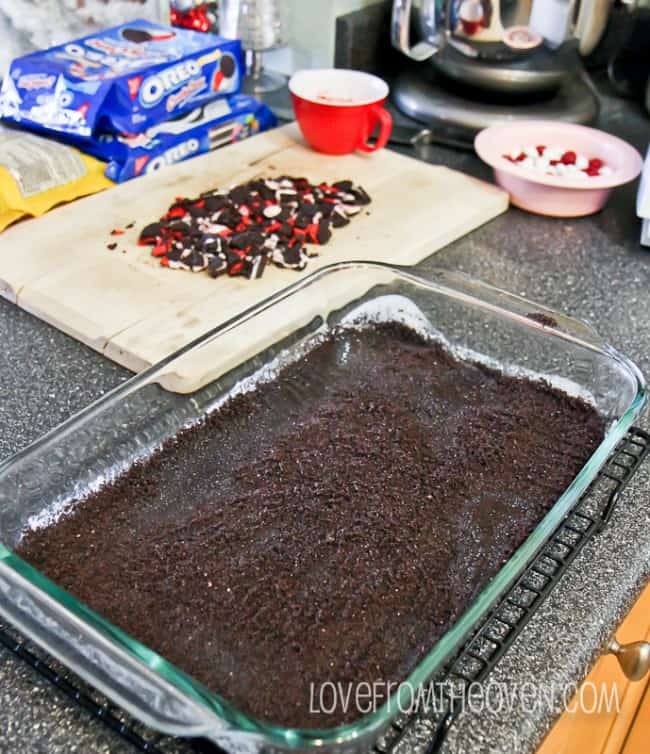 Then topped with sweetened condensed milk, coconut, the chopped up Candy Cane Oreos, Andes Peppermint Crunch Baking Bits, White Chocolate Peppermint M&M's (I found at Target) and chocolate chips.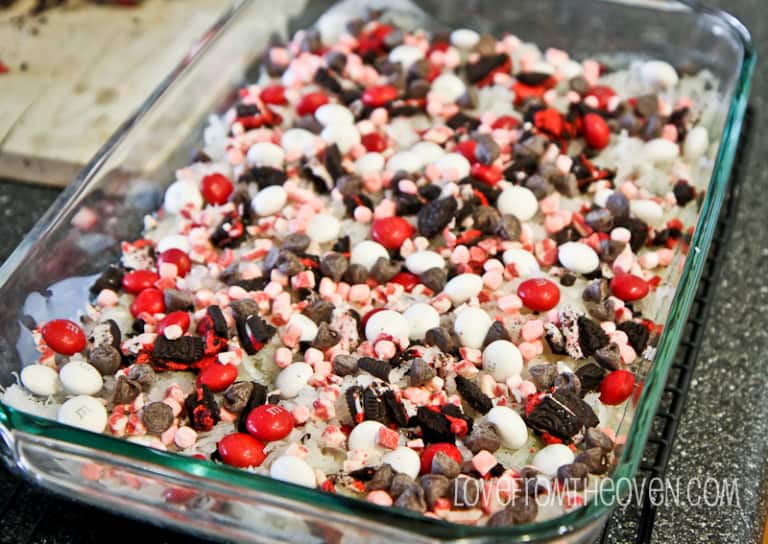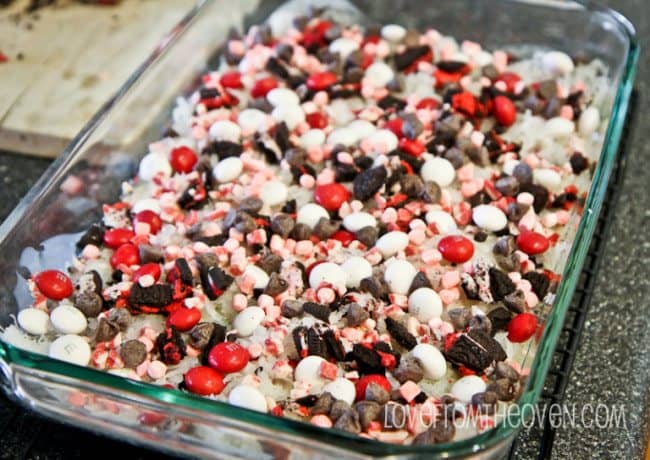 And baked for 25-30 minutes.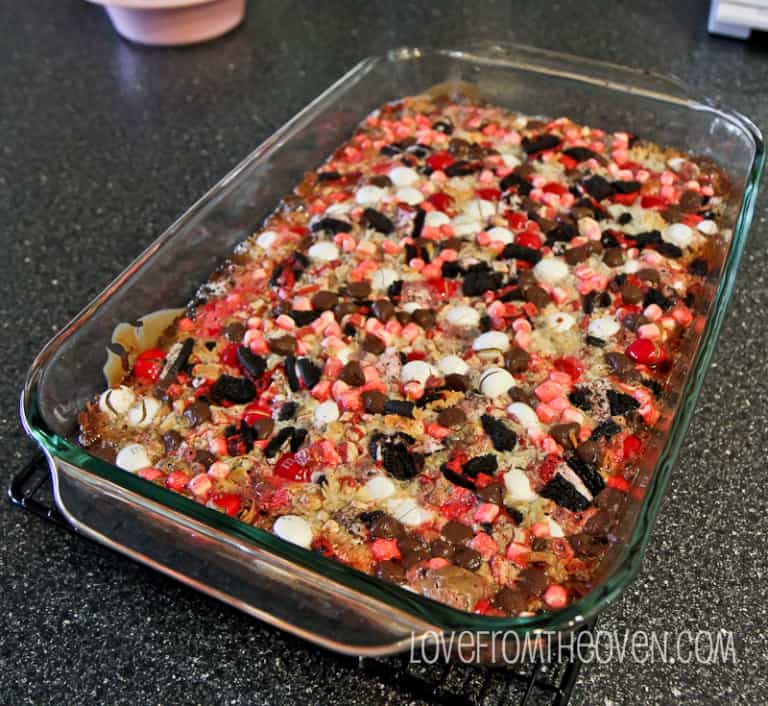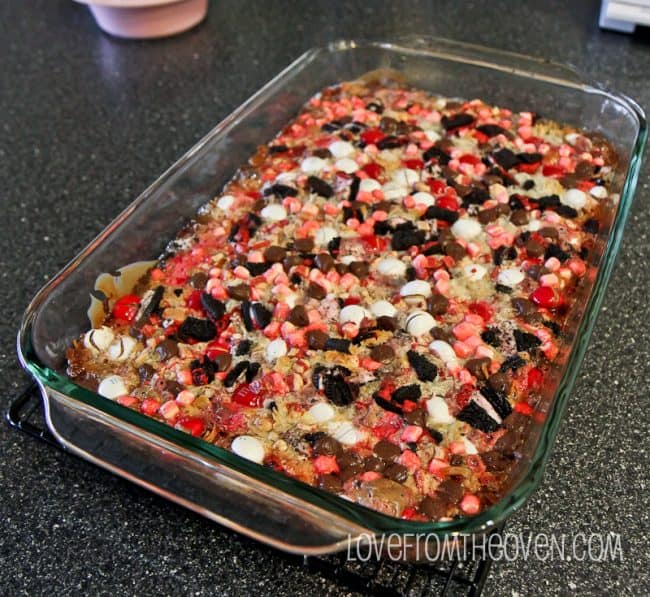 Here's the recipe!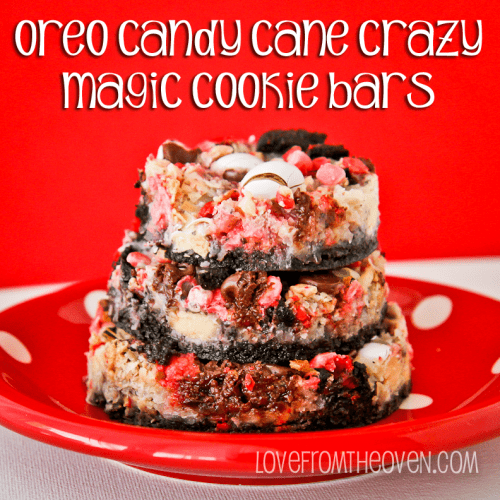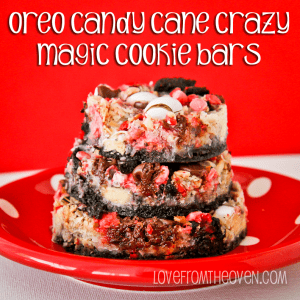 Oreo Candy Cane Crazy Magic Cookie Bars
With the toppings, use as little or as much as you like of items like chocolate chips, Peppermint M&M's, Peppermint Mallow Bits, Andes Peppermint Crunch Baking Bits - those are all a matter of taste so if you don't like one or don't have one, just use more of another ingredient. The toppings really just "top" off this great dish, so they do not have to be specific in types or amounts.
Ingredients
1/2-1

stick butter

1/4-1/2 cup - depending on how moist of a crust you want

1 14

oz

Sweetened Condensed Milk

1

& 1/2 cup Candy Cane Oreo or regular Oreo Crumbs

run Candy Cane Oreos through food processor to create crumbs - it will probably be about 2/3 a package - you will want to measure after making them into crumbs versus as whole cookies

10

Additional Candy Cane or regular Oreos to chop up and use with toppings

1/2-1

cup

chocolate chips

1/2-1

cup

Peppermint M&M's

or regular M&M's

1/2-1

cup

Peppermint Mallow Bits

or regular Mallow Bits

1/2-1

cup

Andes Peppermint Crunch Baking Bits

or other peppermint bark chunks

1 1/2

cups

flaked coconut
Instructions
Unwrap butter and place in 13" x 9" pan. Place pan, with butter, in the oven and turn the oven on to 350*F. Butter can melt in pan while preheating. Keep an eye on it, checking every few minutes and pulling out of the oven when butter is melted. Please be careful while preparing recipe as pan will be very hot.

Crush Oreo cookies into a fine crumb in food processor. Set aside.

When butter is melted, remove from oven and carefully sprinkle the Oreo crumbs over the melted butter. Press in lightly with fork or back of spoon.

Pour sweetened condensed milk over crumb layer.

Rough chop 10 Candy Cane or regular Oreos.

Sprinkle 1/2 of the chocolate chips, M&M's, Mallow Bits, rough chopped Oreos & Andes Peppermint Crunch over sweetened condensed milk layer.

Sprinkle coconut on top, followed by remaining ingredients Press all ingredients down lightly with a fork.

Bake in oven for 25-30 minutes or until lightly browned. Remove from oven.

Cut, serve, share, enjoy!