A warm SKILLET COOKIE, also known as a PIZOOKIE, topped with cool and creamy ice cream is a dessert that everyone will love!
Pick your favorite cookie flavor and combine it with your favorite ice cream for a spectacular yet easy chocolate chip pizza cookie!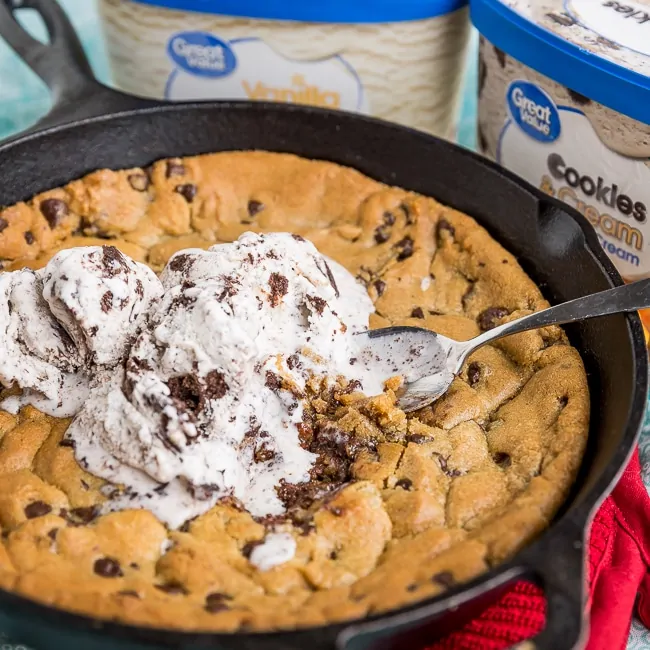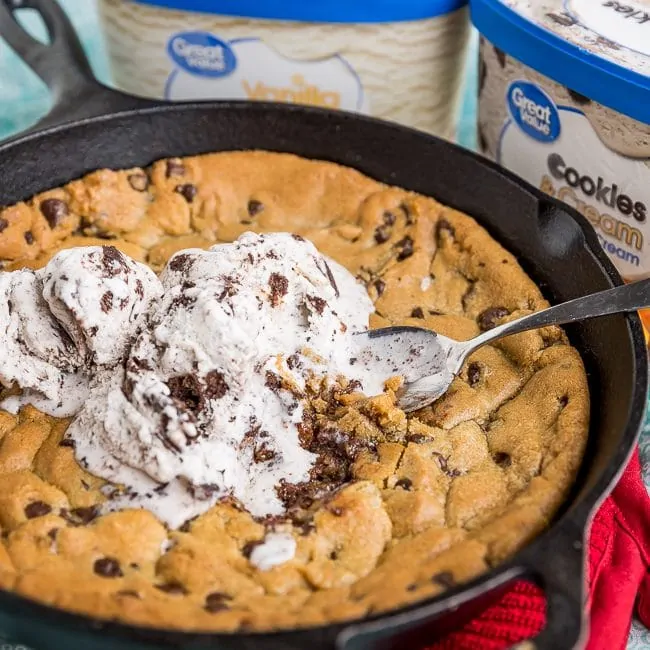 If I had to pick a favorite dessert, a chocolate chip skillet cookie topped with ice cream would be at the very top of my list. It's hard to beat a warm, just out of the oven cookie topped with cold, creamy ice cream.
When the warm cookie and cold ice cream meet, they create a magic all of their own.
To make it even better, it's an incredibly easy dessert to make. We're saving some time and taking a short cut on this one, and I promise, it is amazing.
Pizookie Recipe
While I've always loved making chocolate chip skillet cookies – sometimes called pizza cookies or pizookies – at home in my oven, when it's summer I like to take things outdoors.
Skillet cookies are ready to join in the outdoor fun as they can also be made on the grill. This takes your summer BBQ to a whole new level of deliciousness!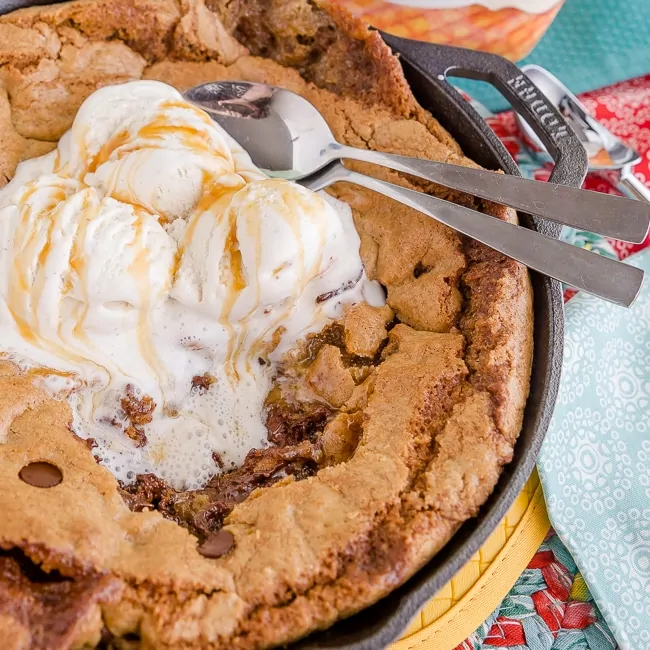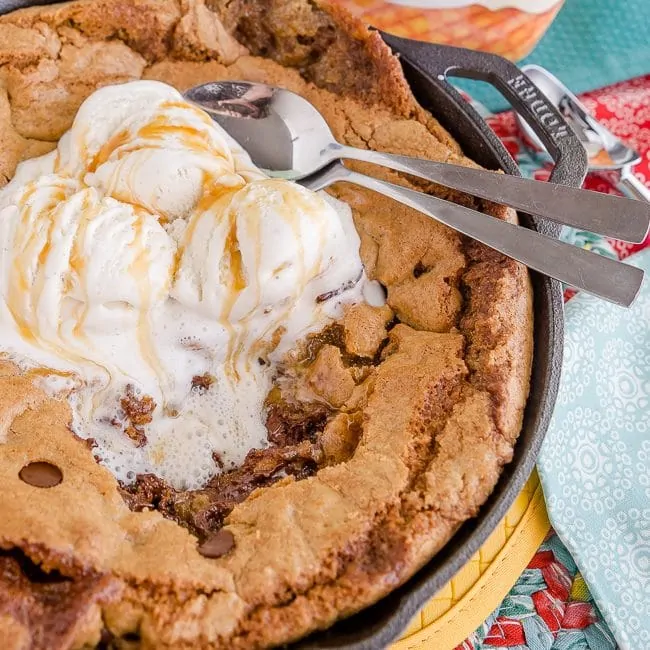 Chocolate Chip Skillet Cookie
While a fresh, warm, giant cookie is good on it's own, with a skillet cookie, the addition of ice cream is a vital part of the equation. A cold scoop of ice cream is the perfect finishing touch for this skillet cookie recipe.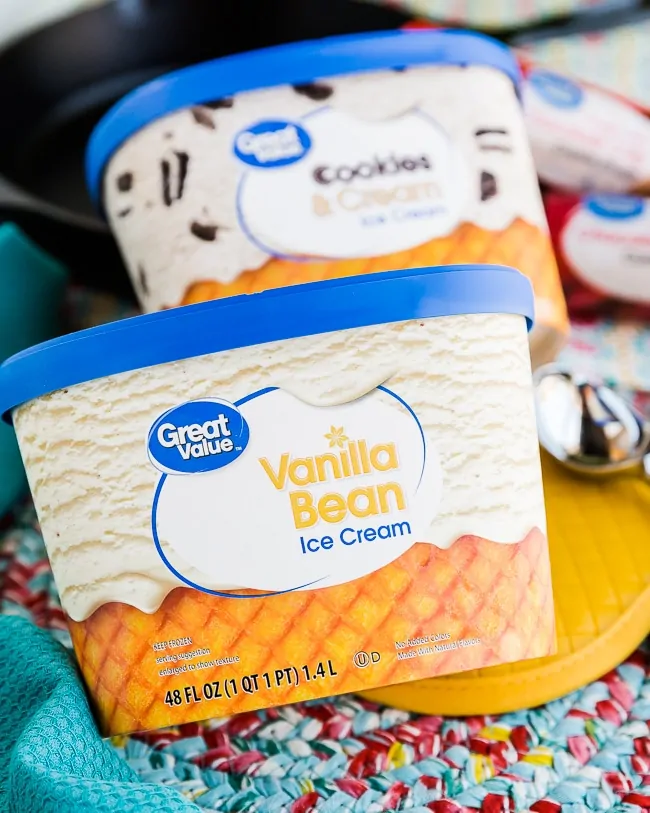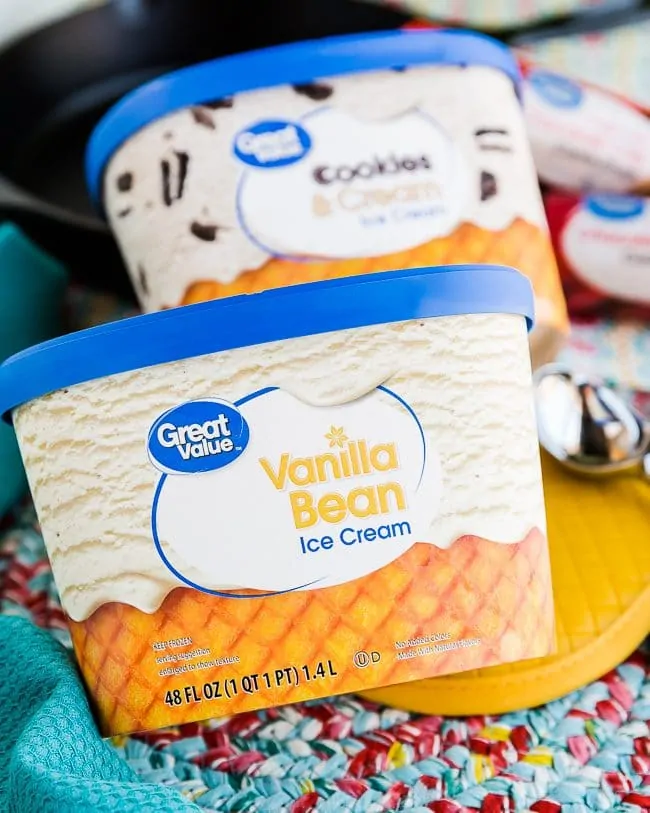 Great Value Premium Ice Cream is made with fresh milk, cream and other delicious ingredients. It's easy to find in the freezer section of your local Walmart.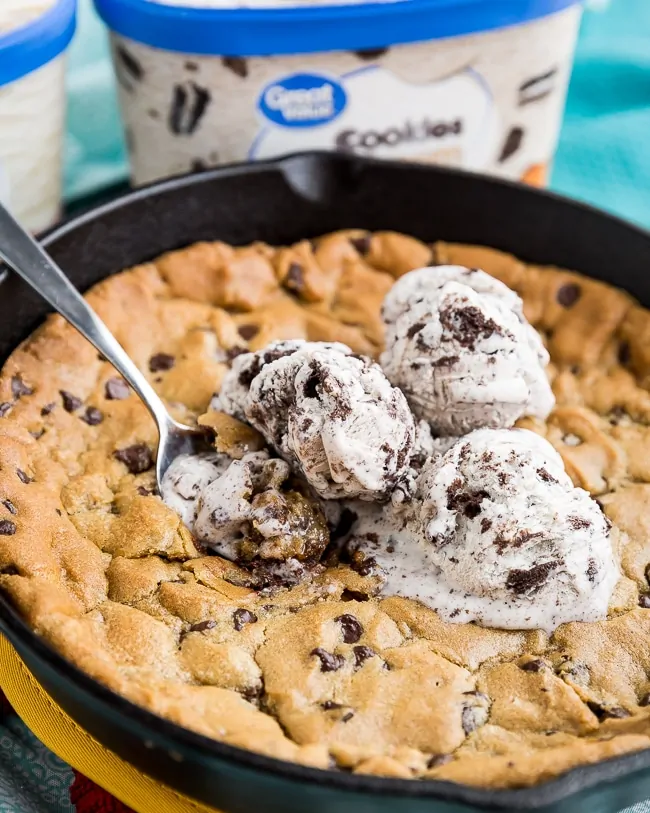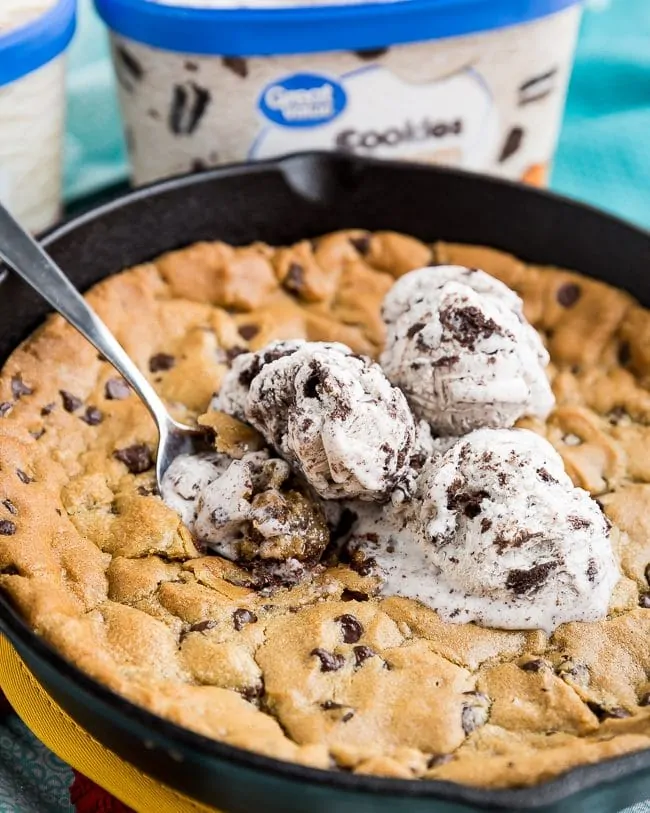 Using Premade Cookie Dough
While this is a dessert that always impresses, it's deceptively easy to make. As a food blogger, I tend to make most my recipes from scratch.
However after extensive taste testing (which nobody is complaining about) I've come to the conclusion that skillet cookies are every bit as delicious when made with ready made cookie dough.
I do not say this lightly, but this is one of the few recipes where I don't feel there is a huge or noticeable difference in homemade versus ready made.
I think this is one of the only recipes or times where I use pre-made cookie dough. I'm a big believer in making cookies from scratch, but this it the one time I say take the easy way out.
And as a bonus when you use ready made cookie dough, you can make skillet cookies or pizookies at a moment's notice. It's a great dessert option to have on hand.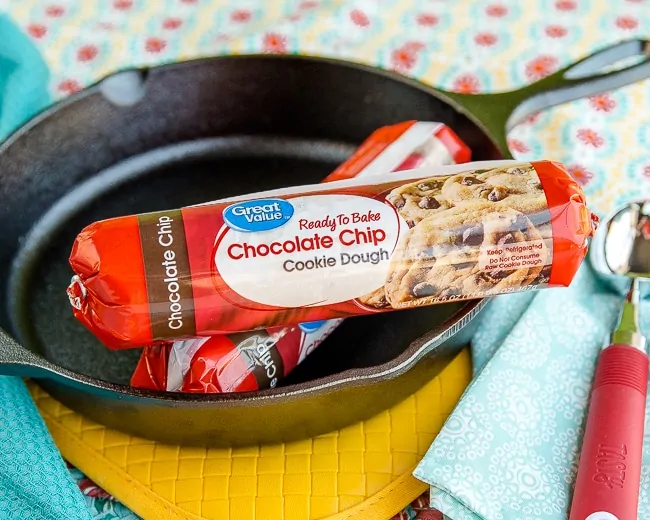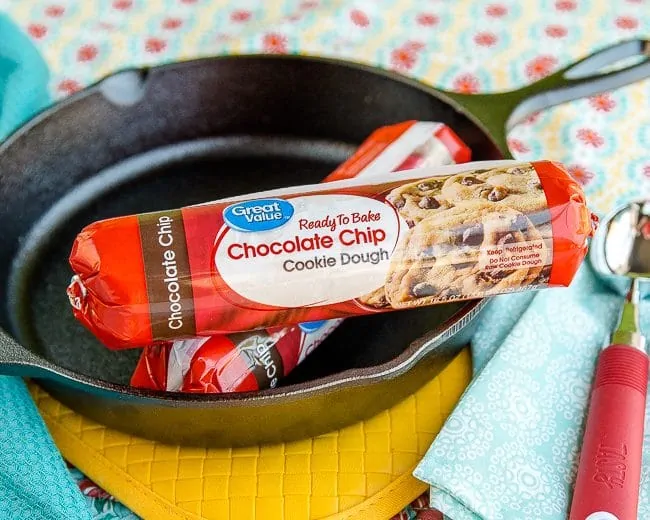 Are you ready for the detailed instructions? Open cookie dough, press into pan. Bake. Top with ice cream. Eat. It doesn't get any easier than that.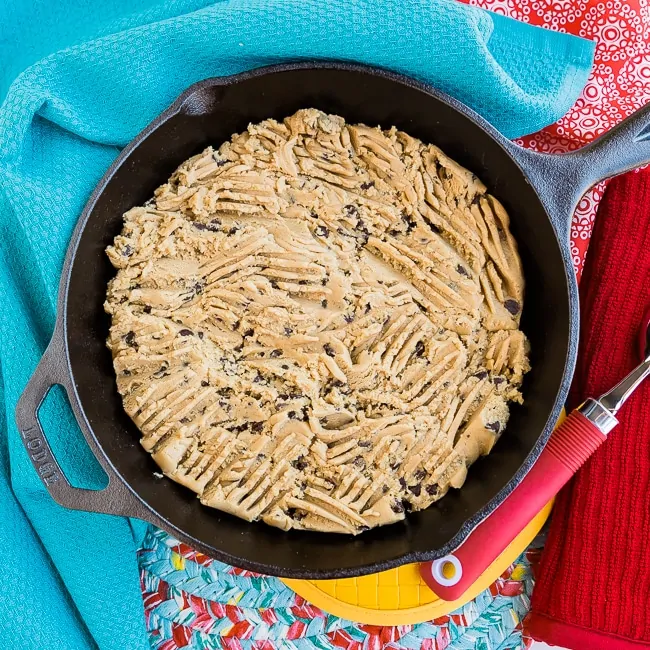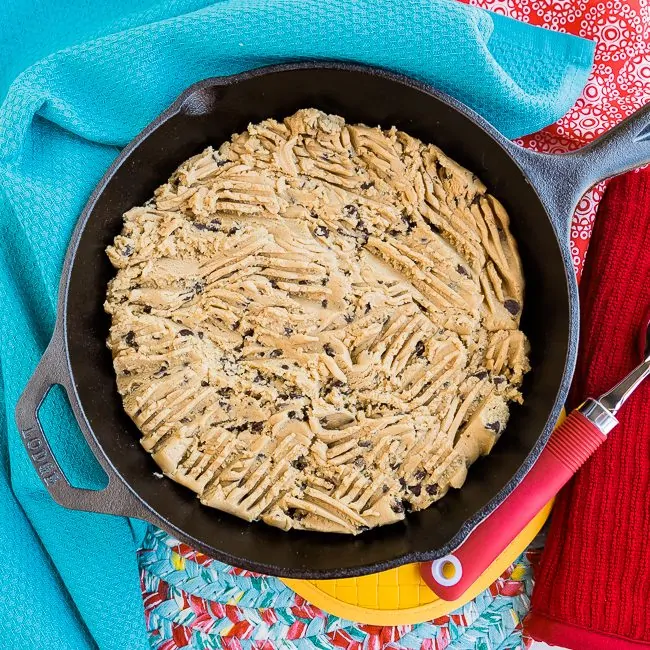 Cookie Made In A Skillet
I love an easy dessert like this for lazy summer evenings or to make while on vacation. While you can scoop out individual servings and serve them in bowls or on plates, our family likes to dig in and share from the skillet.
Maybe it's not be the most dignified way to eat dessert, but our kids love it and it's such a fun experience. It's the type of thing my girls always talk about, and I love that they enjoy these family moments.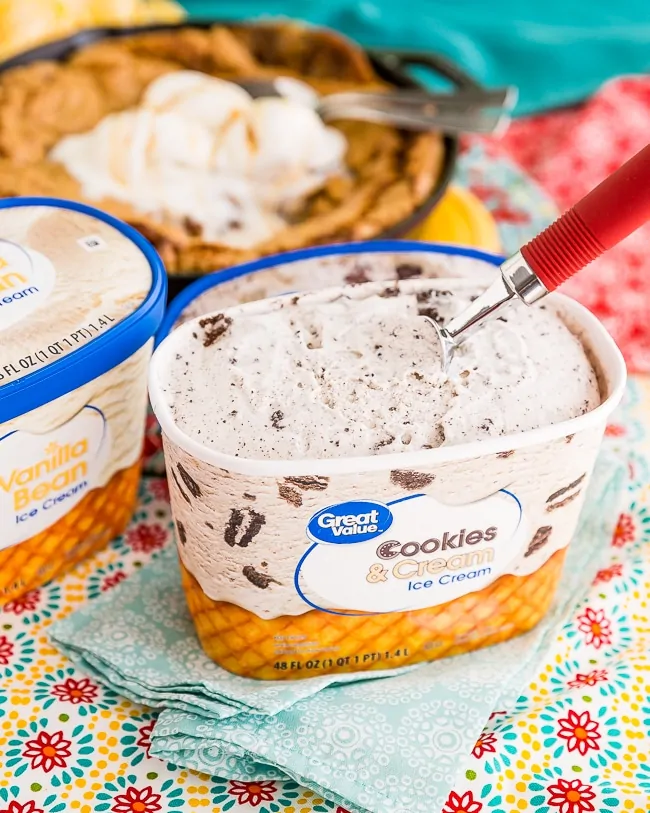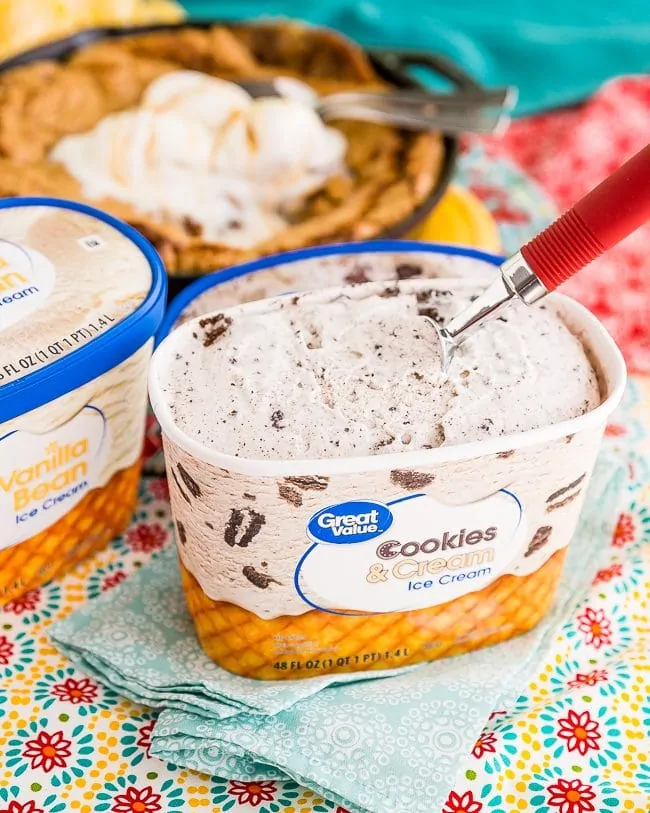 How To Make Pizookie
For this post, I used a 10″ cast iron skillet I picked up at Walmart. You can adjust the recipe up or down depending on the size skillet you use.
For the 10″ skillet, I used 1 and 1/2 tubes of Great Value Chocolate Chip Cookie Dough. For an 8″ skillet I'd use one tube, and for a 12″ skillet I'd use two tubes.
Basically, this is one of those recipes that is flexible and you can change it up.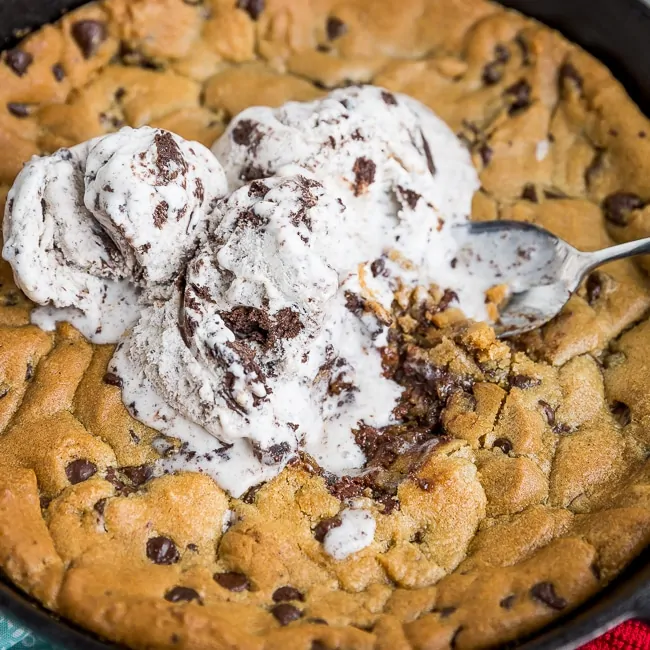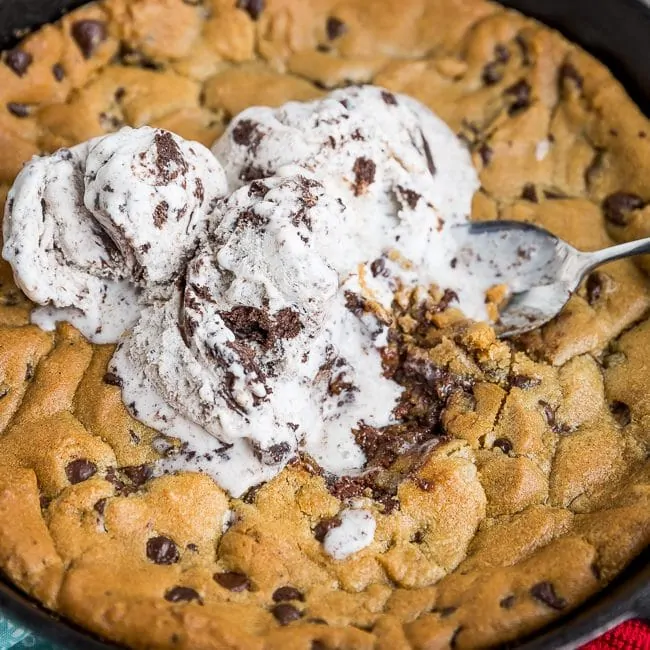 One of our favorite pairings is a chocolate chip cookie with Great Value Cookies And Cream Ice Cream. I highly recommend it! Who's ready to dig in?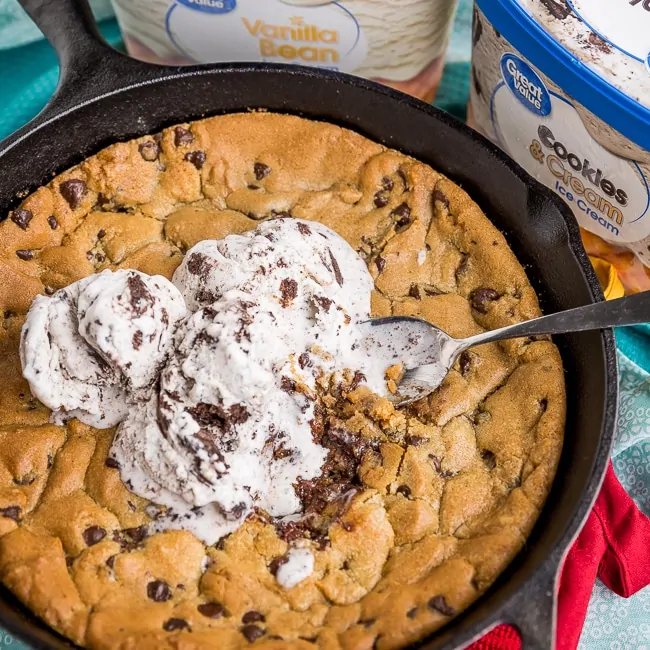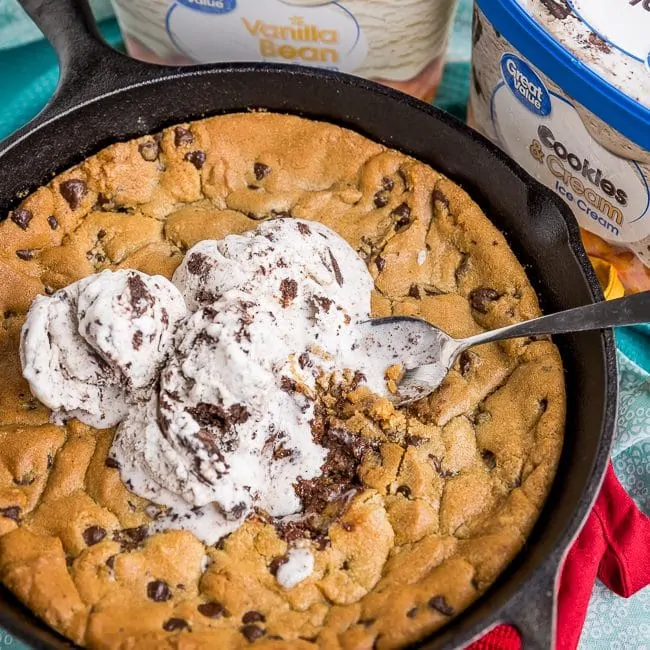 Skillet Cookie Recipe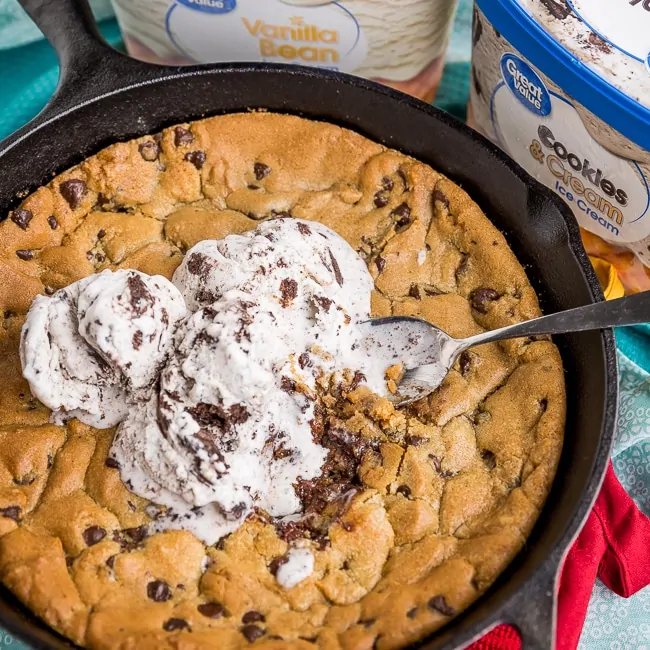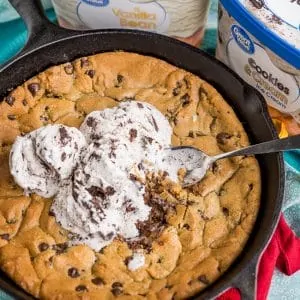 Skillet Cookie Recipe
A warm and delicious skillet cookie, also called a pizookie, is topped with cool and creamy ice cream for an amazingly delicious dessert.
Ingredients
1 1/2

tubes

Great Value Ready To Bake Chocolate Chip Cookie Dough

3-4

scoops

Great Value Ice Cream
Instructions
Preheat grill to 350 or oven to 325 degrees F.

Oil a seasoned cast iron skillet.

Press cookie dough into skillet.

For grill: Place onto grill, close grill and bake for approximately 15-20 minutes. If possible to use only one burner, and move skillet to cooler side of grill, that seems to work best. Otherwise just make sure to check often starting around ten minutes. You are looking for a golden brown top and a center that has started to set.

For oven: Bake for approximately 15-20 minutes. You are looking for a golden brown top and a center that has started to set.

Carefully remove pan from grill or oven, using caution as the skillet will be hot.

Allow to cool for approximately 10-15 minutes. If desired scoop out individual pieces and top with ice cream or simply add Great Value Ice Cream to the top of cookie and share, just be careful, the skillet retains heat.
Nutrition
Serving:
0
g
|
Calories:
306
kcal
|
Carbohydrates:
6
g
|
Protein:
1
g
|
Fat:
3
g
|
Saturated Fat:
2
g
|
Cholesterol:
11
mg
|
Sodium:
20
mg
|
Potassium:
49
mg
|
Fiber:
1
g
|
Sugar:
5
g
|
Vitamin A:
105
IU
|
Vitamin C:
0.2
mg
|
Calcium:
32
mg
Disclaimer
Nutrition information is estimated as a courtesy. If using for medical purposes, please verify information using your own nutritional calculator. Percent Daily Values are based on a 2000 calorie diet.
Check out all of the cookie recipes on this site!
Make sure to pick up Great Value Premium Ice Cream the next time you are at your local Walmart. In addition to this delicious skillet cookie, you can use it to top these scrumptious Apple Pie Packets as well.