It's been quite while since I've shared a Sweet This Week post. Blogging has changed so much over the past decade, and over the years I've gotten away from sharing more personal posts in favor of sticking just to recipe posts. But I miss those early days of blogging when it was more about conversations and connecting. I used to share some of my favorite things every few weeks with a "Sweet This Week" post. It was just me, sharing with you, some of the things I was enjoying in life, the types of things you'd share with your friends. I've been feeling a tug to return to those posts, the types of posts that aren't going to have a Pinterest perfect image to pin and would never include the right elements to be picked up in a Google search. But what they might do is connect in some way, or maybe pass along a useful recommendation or tip. So all that said, let's get to what was Sweet This Week…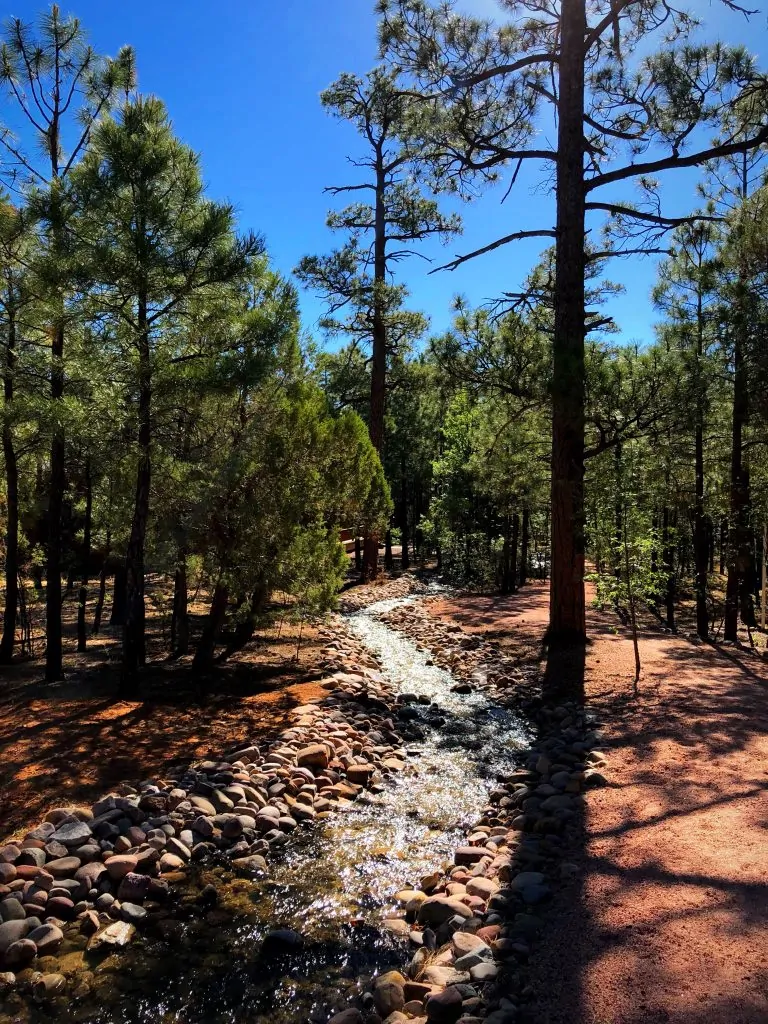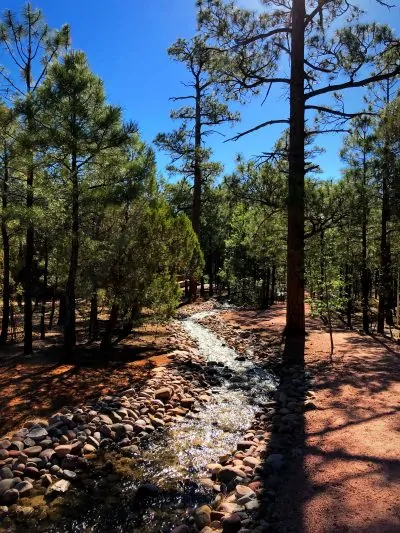 Sweet This Week
Pinetop, AZ
We spent the past week up in Pinetop, Arizona with my parents, brother and sister-in-law. I'm not sure if Pinetop is really known outside of Arizona, but it's my favorite place in the state. About 3.5 hours from Phoenix, it's home to cooler weather, pine trees, lakes and a slower and simpler lifestyle. My great-grandparents lived in Pinetop, so I've been visiting my entire life. We try to take our girls for a visit at least once a year so that they can experience fresh air, nature, wildlife and that small town lifestyle. If you are in Arizona and you've never been to Pinetop, you need to change that! And if you are visiting Arizona, Pinetop offers something so very different than Phoenix, it's hard to believe it's only a few hours away.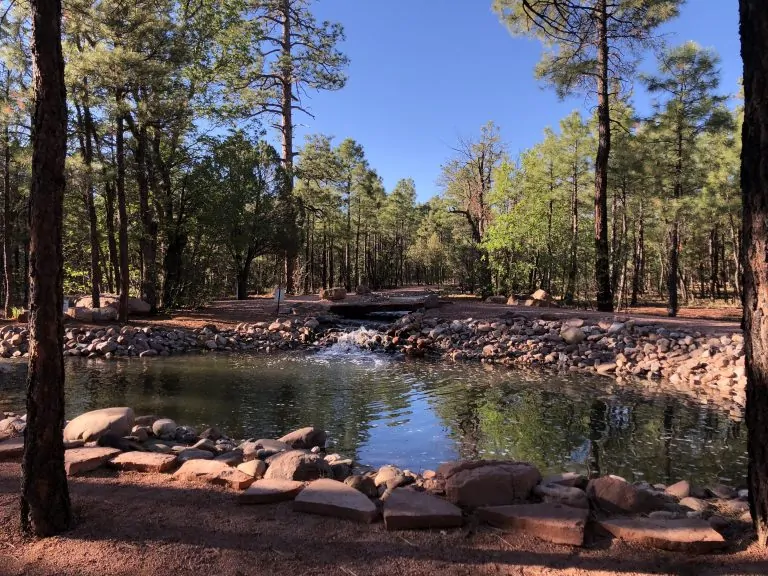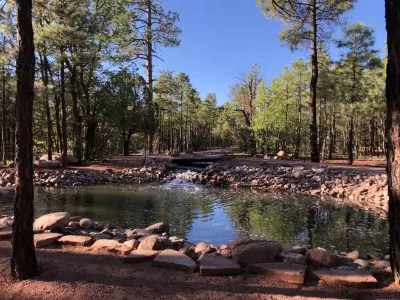 Flybold Slackline
One of our favorite things while on the trip was this slackline that my brother brought up. It was a huge hit with the entire family and my girls were on it every time they were outside. It was amazing to see how everyone progressed in just a few days, from barely being able to stand to trying to do it without holding on. It's one heck of a great balance and core workout. I wish we had the trees and space for one of these at home.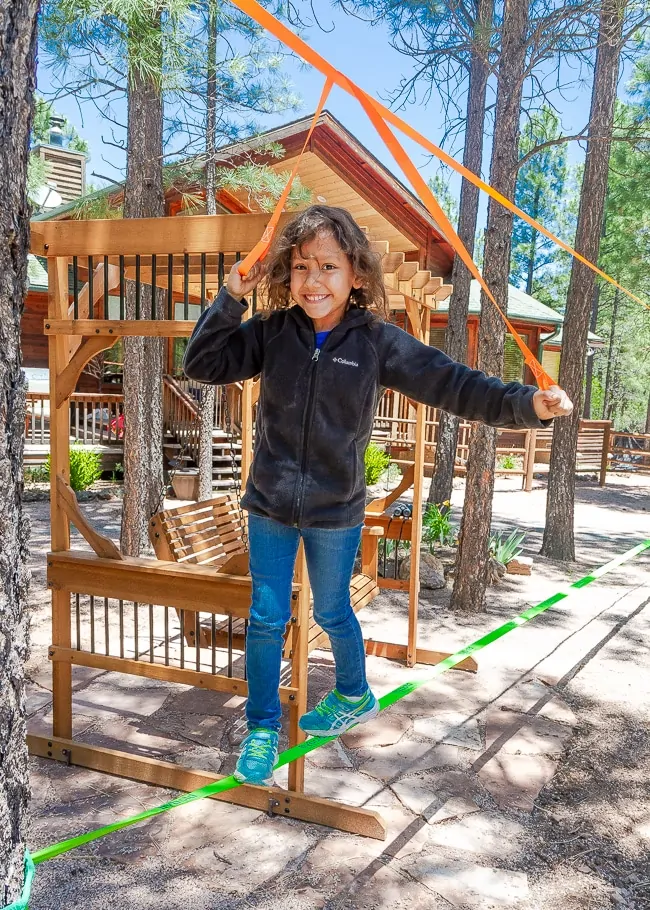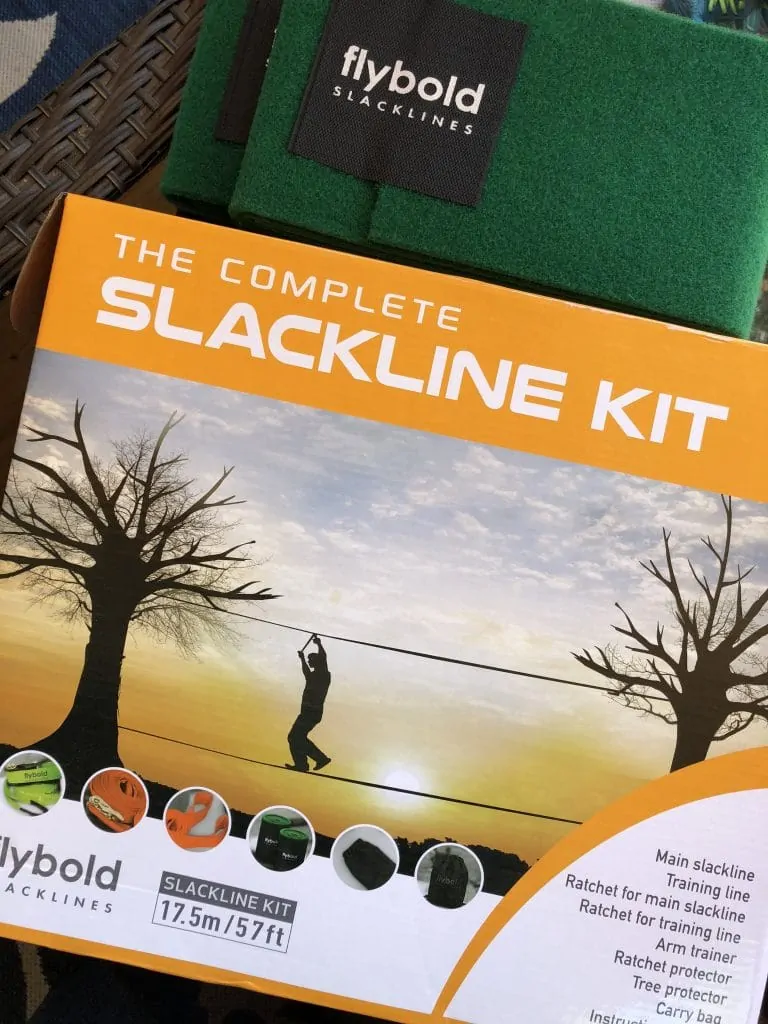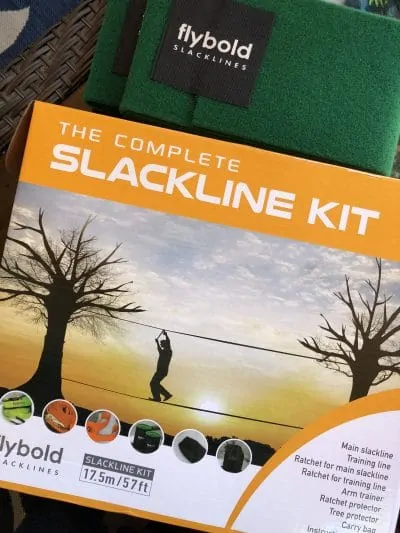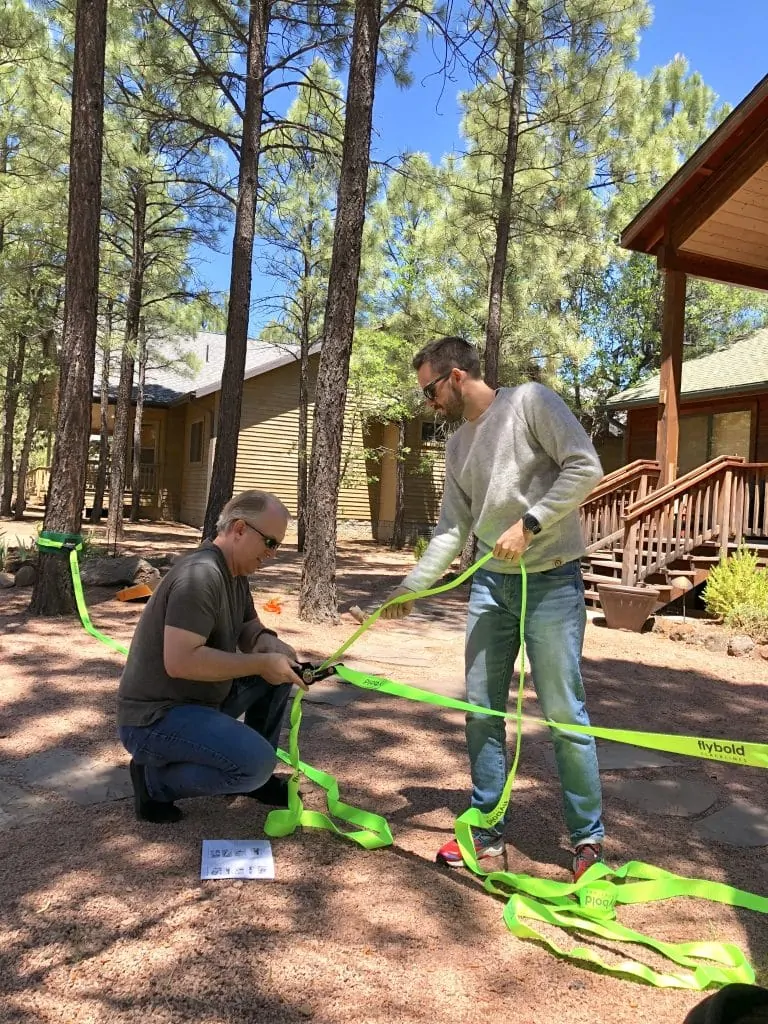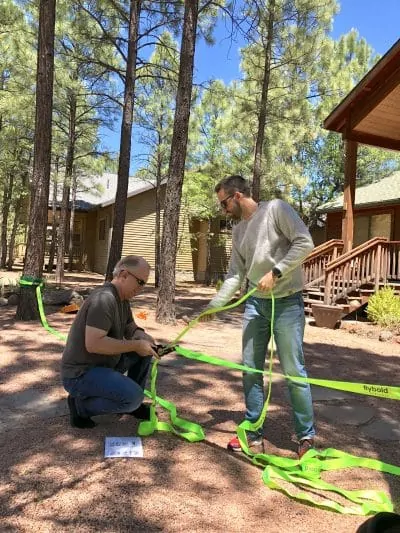 Hydro Flask
At one point during our trip I realized that all of us brought Hydro Flasks with us. It wasn't intentional, though I do think my brother has gifted us each with one over the years. I had to take a photo to capture all of our Hydro Flasks in action.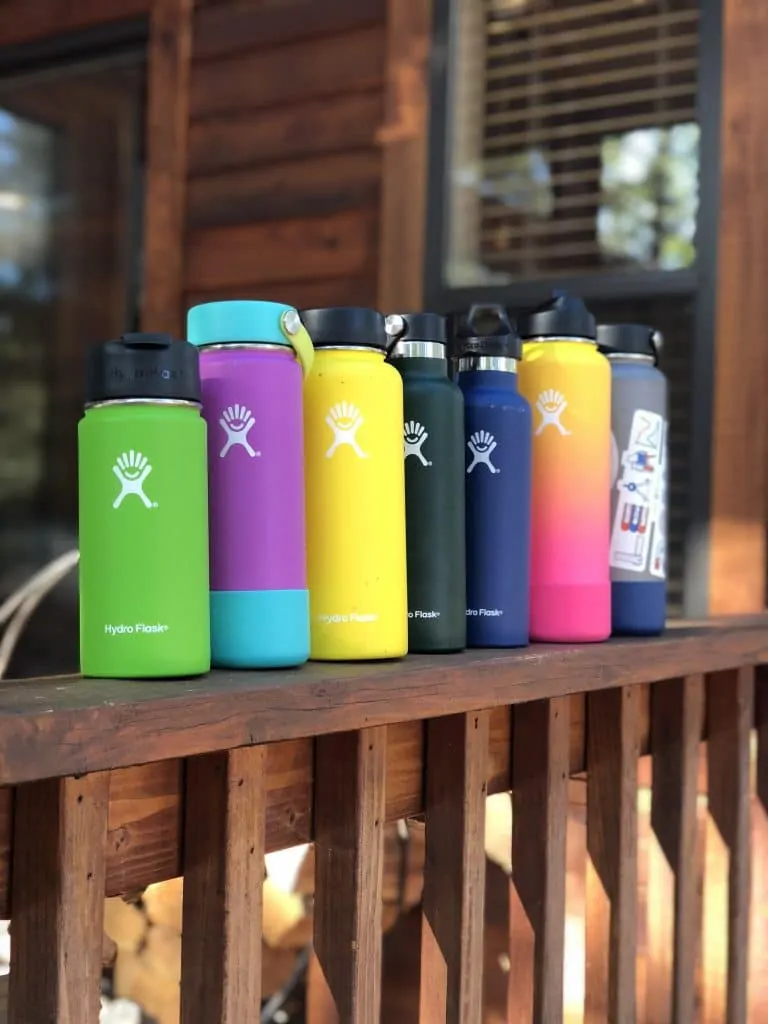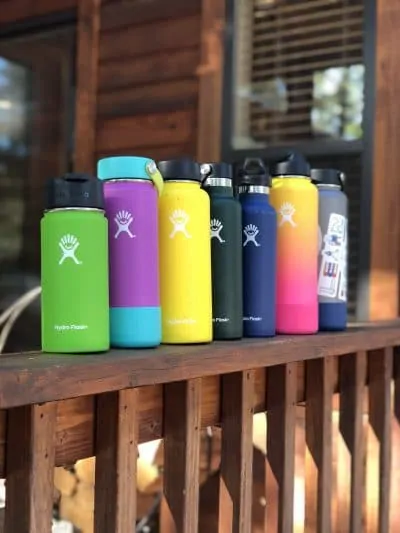 Mine is the pretty yellow, orange and pink Ombre Hydro Flask. It's the "Sunset" one, and it's part of their new limited edition PNW line. I'm kind of obsessed with this water bottle. It's huge, it holds 40 ounces. It has the typical, amazing insulating qualities of a Hydro Flask which means I can put ice in it on Saturday and there will still be ice in it on Sunday. It has the wide mouth top so you actually CAN put ice in it. And let's be honest, it's pretty. I noticed the one I have (Sunset) is already gone from the HydroFlask site. A lot of other places carry them, and the best price I can find is at Dick's Sporting Goods where they are 25% off right now. I just ordered one of my daughter's the Waterfall, which is the blue ombre one.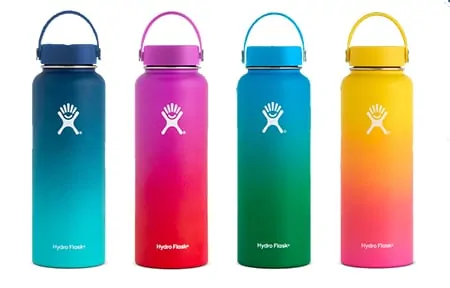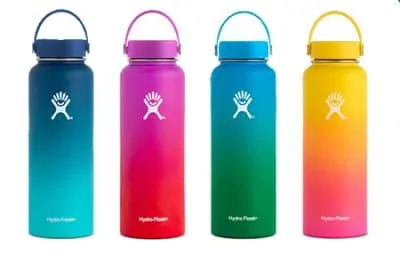 I added a pink flex boot to mine, which is a silicone piece you put on the bottom. These aren't the lightest of water bottles, so they can tend to clank a bit when you sit them down and the boot totally gets rid of that. I also am waiting for the pink flip top cap I ordered to arrive. The handle is fun and cute, but for me the flip top is more practical, and the black one I am using from another bottle kind of kills the cute vibe these have going on.
White Mountain Donuts
Okay, this one is pretty darn specific, but White Mountain Donuts in Show Low, AZ (the town immediately adjacent to Pinetop) gets a big pink puffy heart from me. Not only were these the BEST donuts I've tried in years (trust me, I try a lot), but they were safe for my daughter with a nut allergy to eat. That might not seem like a big deal, but she hasn't had a legit donut in over two years. Donuts are the food item she misses the most. Sure, I bake donuts for her, but that's not the same as a big, fresh, fried donut.
The owners have children with food allergies, so they understand and take the necessary safety precautions. When I say my daughter had tears in her eyes, that is not an exaggeration. So if you find yourself in Pinetop, Lakeside, Show Low, Taylor, Heber, Overguard or anywhere in the White Mountains, get yourself to White Mountain Donuts. And as an added bonus the shop is darling, and they also have a cafe.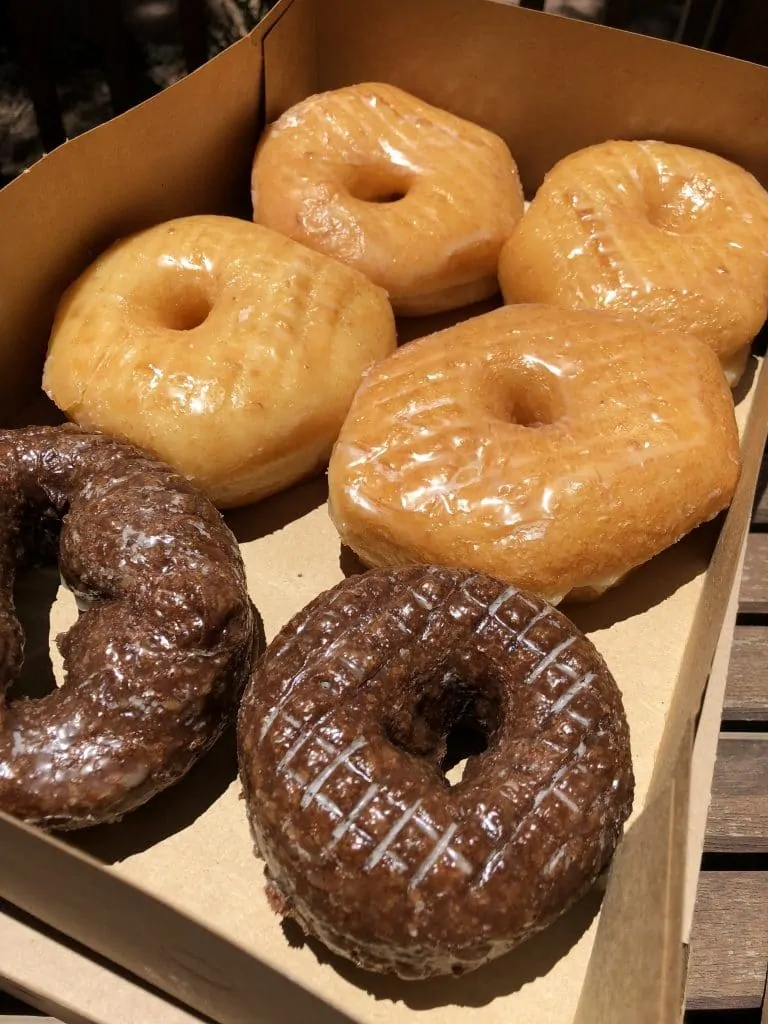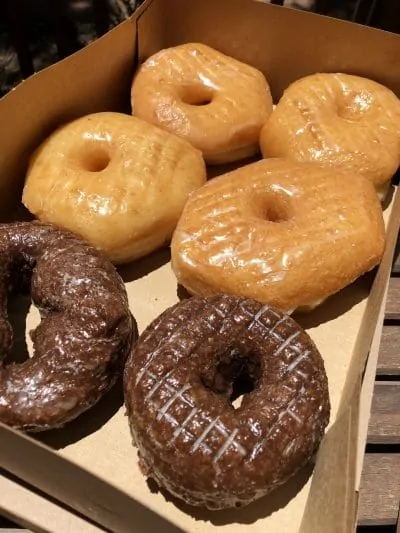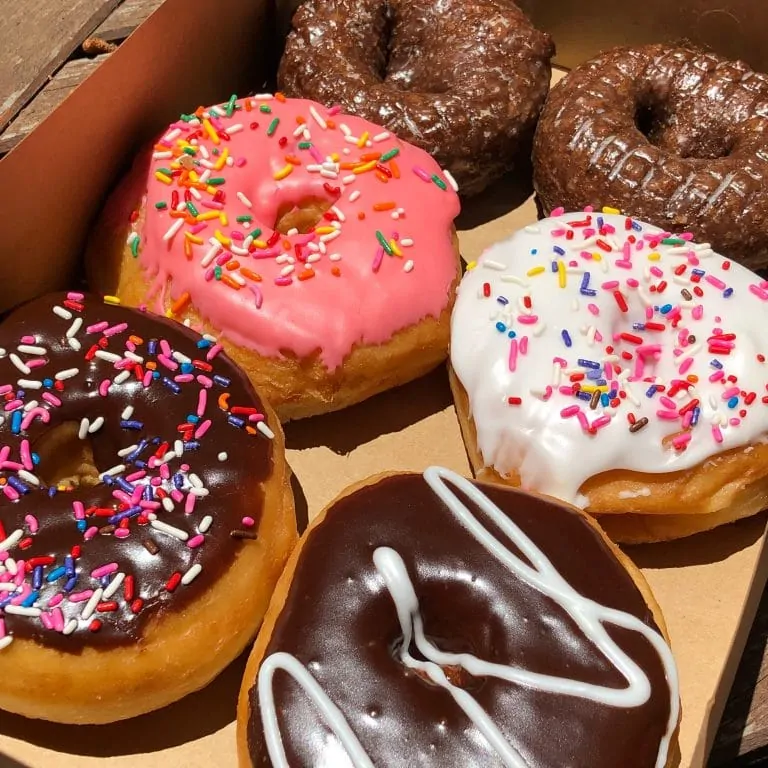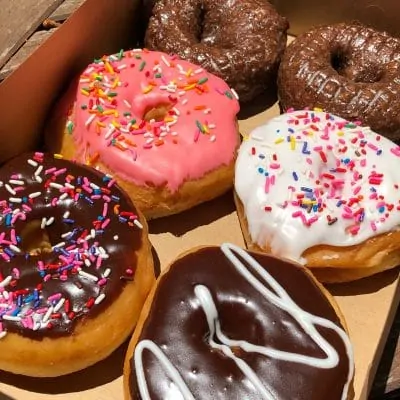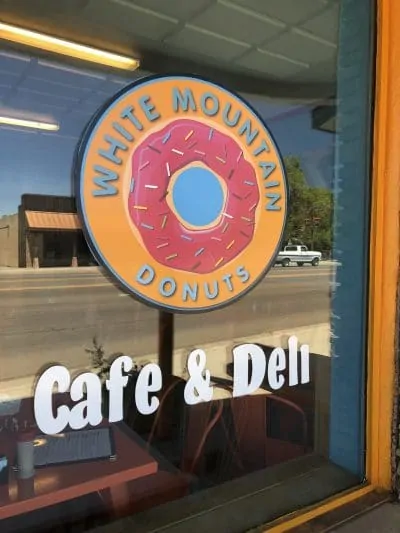 The Handmaiden's Tale
Are you watching this? Wow, this week's episode was intense. Possibly the most intense yet. I'm consistently blown away by the acting on this show. This show brings the Breaking Bad level stress back to my television.


Overdrive / Library e-Book Loans
Are you using your public library for electronic books? If not, get on that! While I still love a good physical book in hand, when traveling I find carrying my Kindle Paperwhite so much easier to do, as it fits in my purse. I LOVE using my library's online system to check out books, usually through Overdrive. Overdrive has a new app called Libby (get it, library…) which I installed while we were out of town. I like it, but I didn't like that when I checked out a book it only was available on that app, and thus not in my Kindle. I'd prefer to read on my Kindle instead of my phone, so just a heads up on that.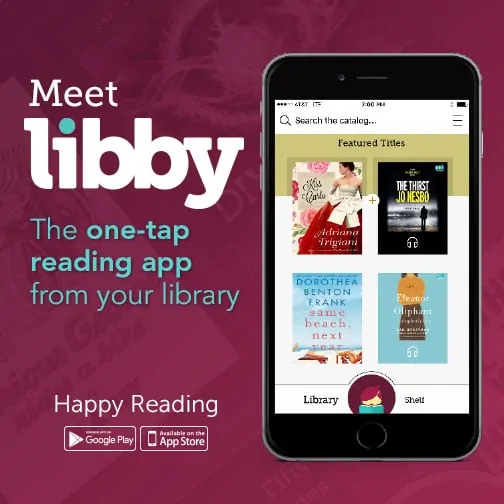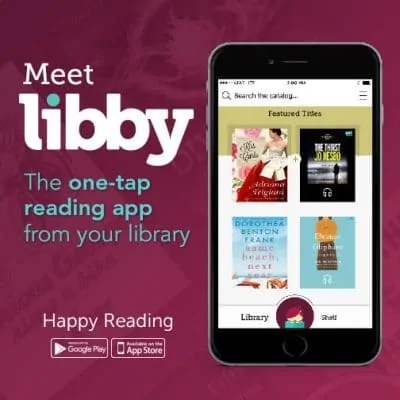 My Little Pony Baking Book
I'm also pretty excited about this, my third book, the My Little Pony Baking Book. I'm up to my eyeballs in delicious recipes and colorful sprinkles right now as I work on this book. While you might not be a My Little Pony fan, this book contains 50 of my all time favorite recipes. And we aren't talking just "kid" recipes, these truly are my best recipes. My goal for this book is to not only create fun food that works with the My Little Pony theme, but to create SOLID DELICIOUS RECIPES you will use time and time again. From chocolate chip cookies to one bowl brownies, bundt cakes to biscuits, this book is the most ME of all my books. While it's a collaboration with Hasbro, these recipes are the best of the best from Love From The Oven as well as many that haven't made it onto the site. The book comes out next April, and I can't wait to share it with you.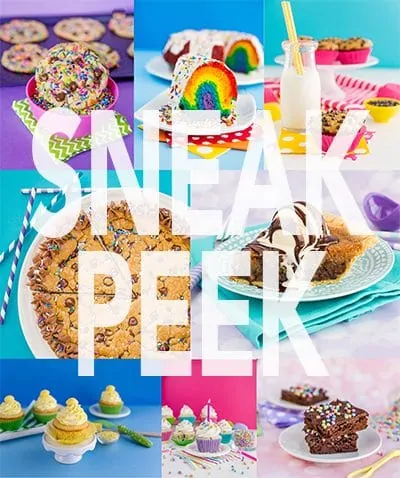 Have a sweet week!