I love Rice Krispies Treats. I always have. They are so simple, yet so good. I recently spotted some Jet Puffed Chocolate Royale Chocolate Flavored Marshmallows at the store, and instantly chocolate Rice Krispies Treats came to mind. And then they came to my kitchen…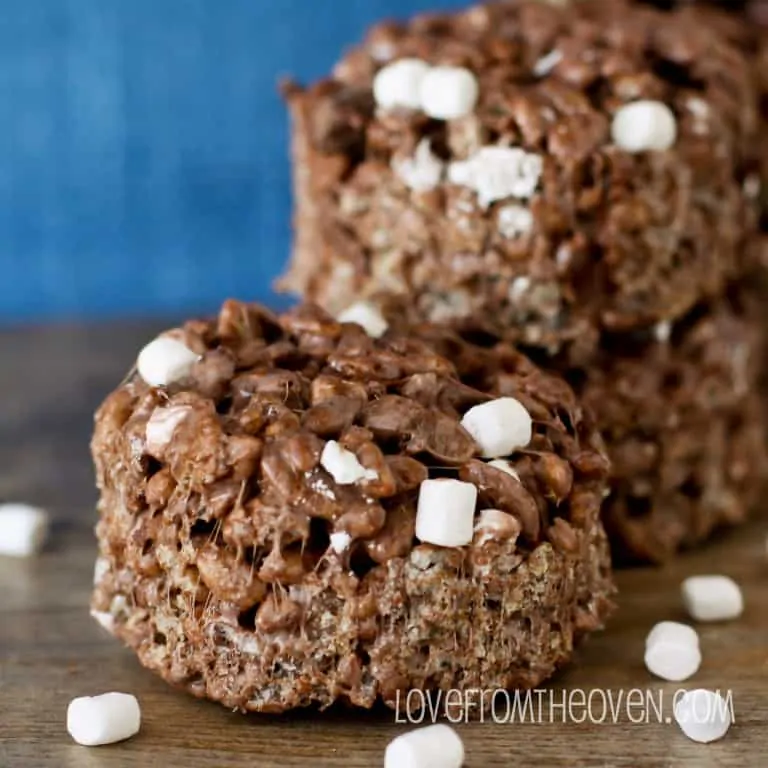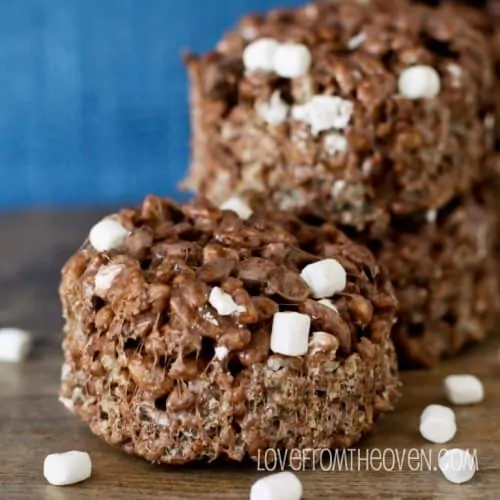 Oh. My. Word. These are insane. SO good and SO easy. Like run to the store, gather your supplies and make them tonight good. If you need to whip up something quick to take somewhere, I highly recommend these. The really take no longer to make than regular Rice Krispies Treats and I promise, they will be the hit. Of course that's provided you can refrain from eating the entire batch prior to leaving the house (and there is no shame in that, heck – someone needs to join me in that club!). So here is what you need…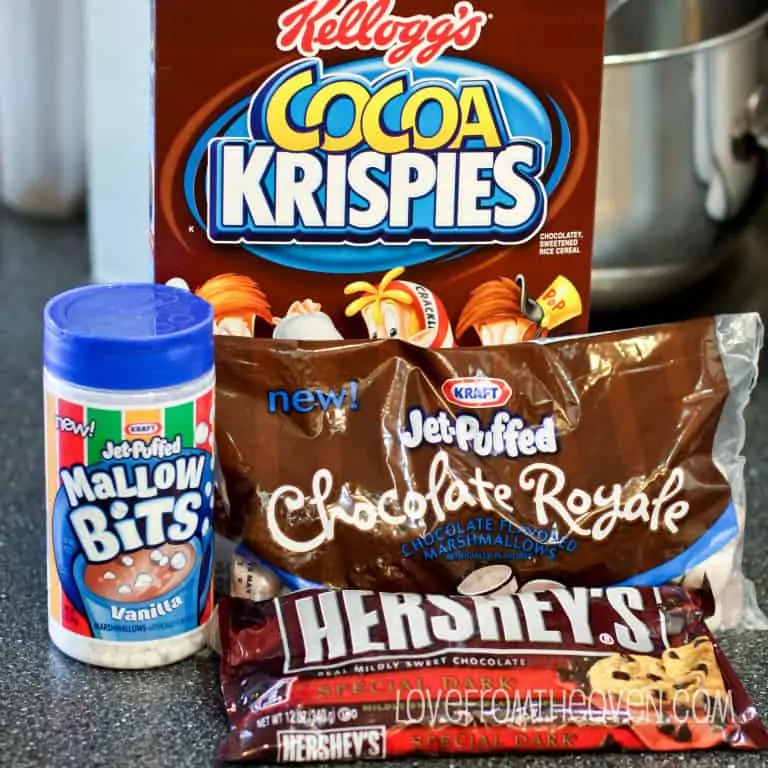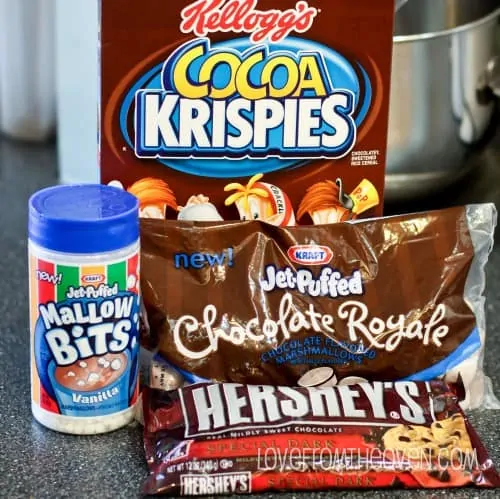 Triple Chocolate Rice Krispies Treats With Jet Puffed Mallow Bits
3 Tablespoons Butter (or margarine)
1 package of Jet Puffed Chocolate Marshmallows
1 cup regular marshmallows (this is optional, you could leave it out or you could add more regular marshmallows)
6 cups Cocoa Krispies
1 cup chocolate chips
1 cup Jet Puffed Mallow Bits
In a large sauce pan melt butter over low heat. Add marshmallows and stir until completely melted. Remove from heat and add your Cocoa Krispies cereal. Stir until well coated. After the cereal and marshmallow/butter mixture is well combined, add in chocolate chips and Mallow Bits, stir well to combine. Do not add the chocolate chips and Mallow Bits at the same time as you add your cereal, as the hot marshmallow/butter mixture can melt them (I also recommend mixing it in a bowl and not the hot pan). Using a buttered spatula or wax paper, evenly press mixture into a 13×9 pan coated with cooking spray (or lined with wax paper). Cool, cut, serve, consume. 🙂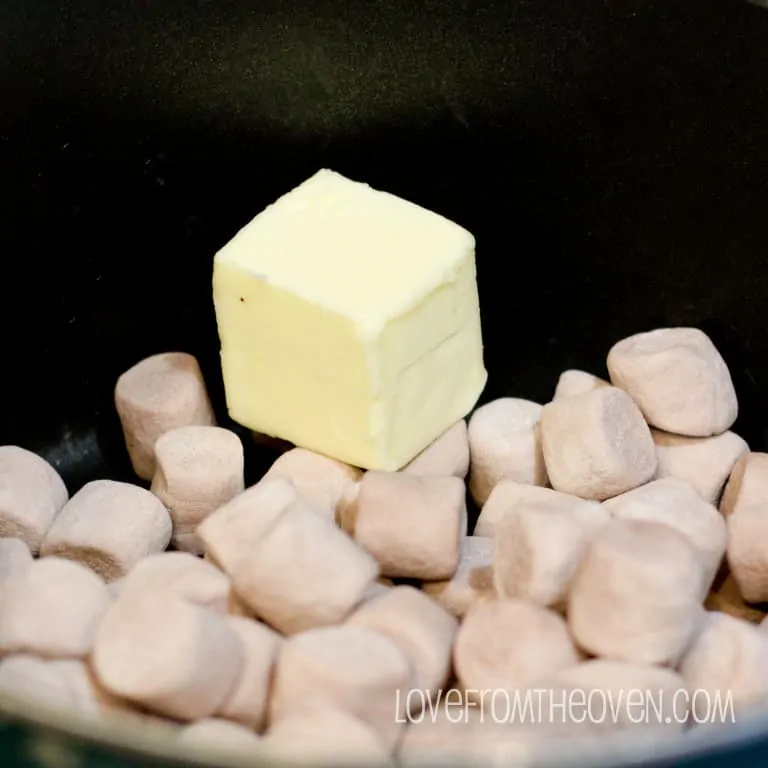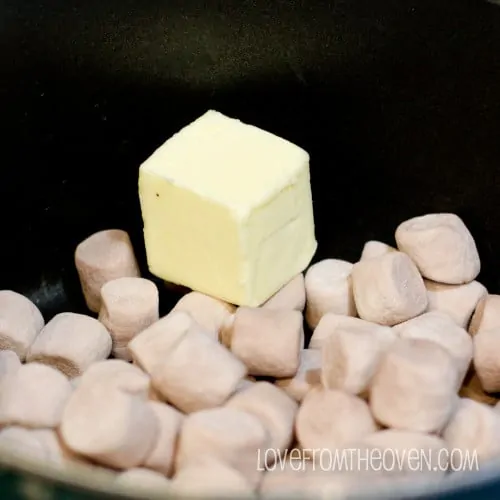 You can melt your marshmallows and butter in the microwave, but I have always preferred to do it on the stove.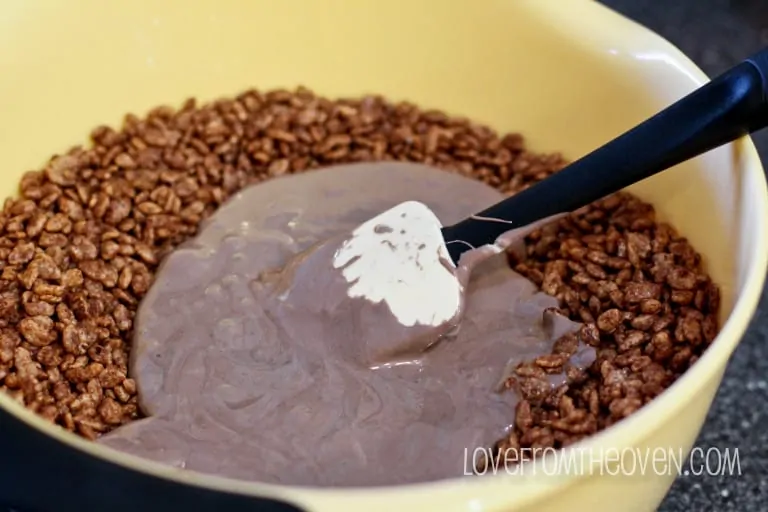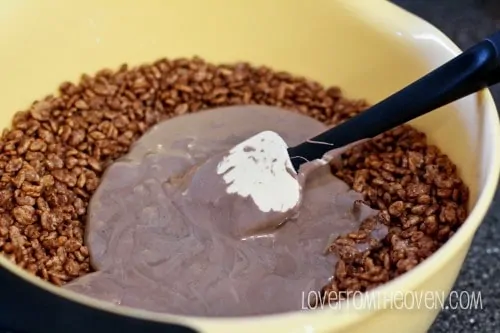 At this point I split my batch in half – I have another version coming for you shortly. I always use wax paper (or foil) when I make krispie treats.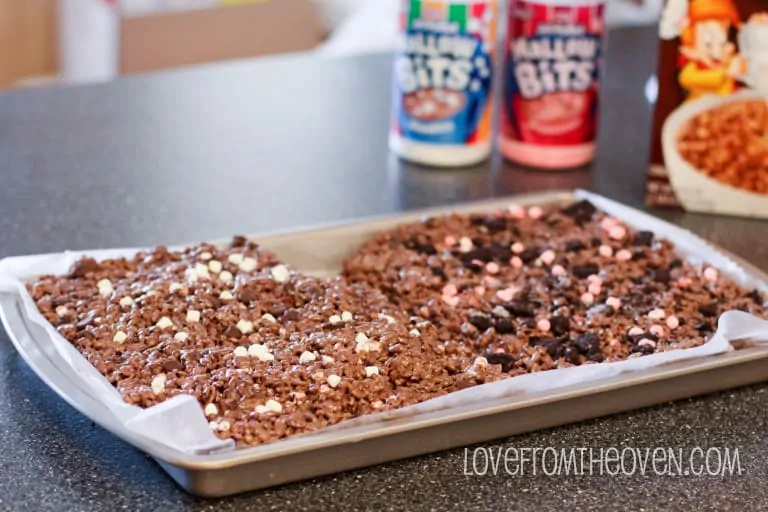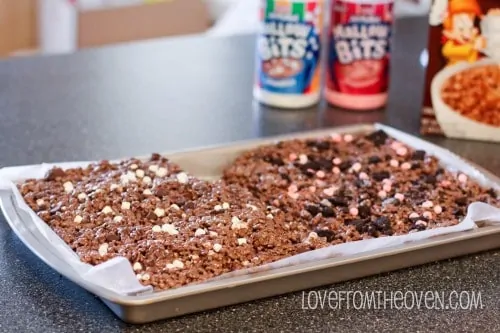 You just lift it out…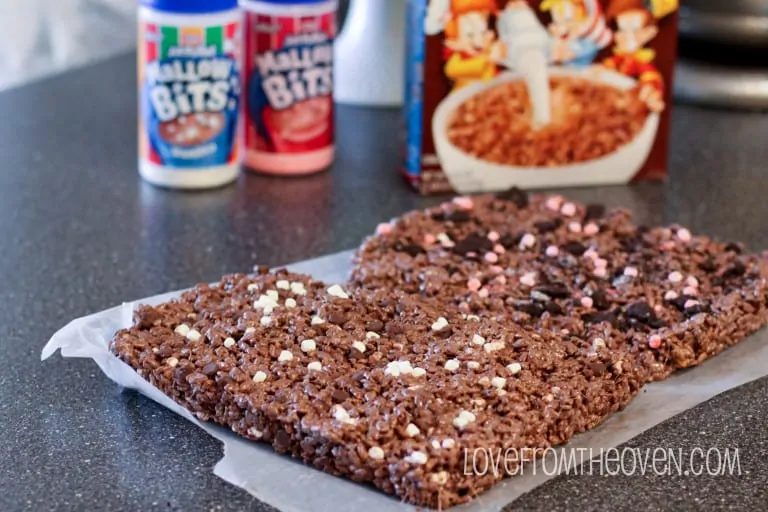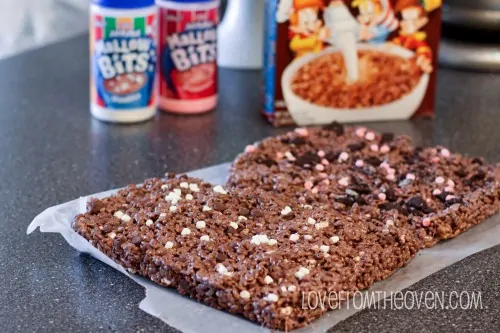 If you love Rice Krispies Treats and you love chocolate, seriously, these are a MUST MAKE.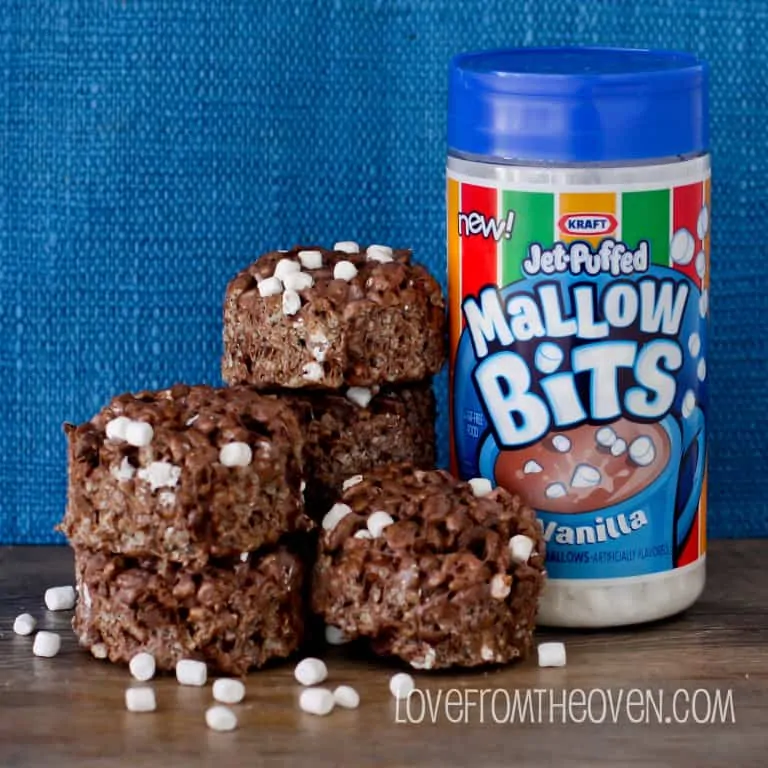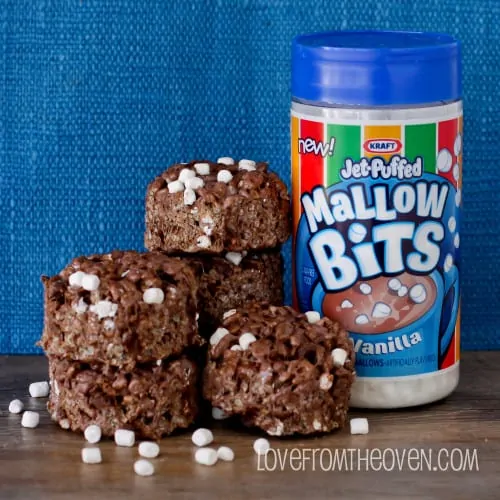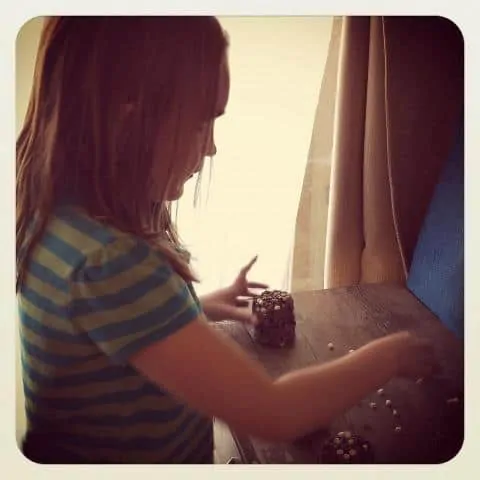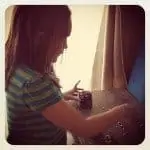 These last two pictures below were styled and photographed by my nine year old daughter, Bella. She's home on spring break and wanted to try her hand at doing what mom does.
I think she did a GREAT job! And she's more than happy to be paid in Krispie Treats and Mallow Bits.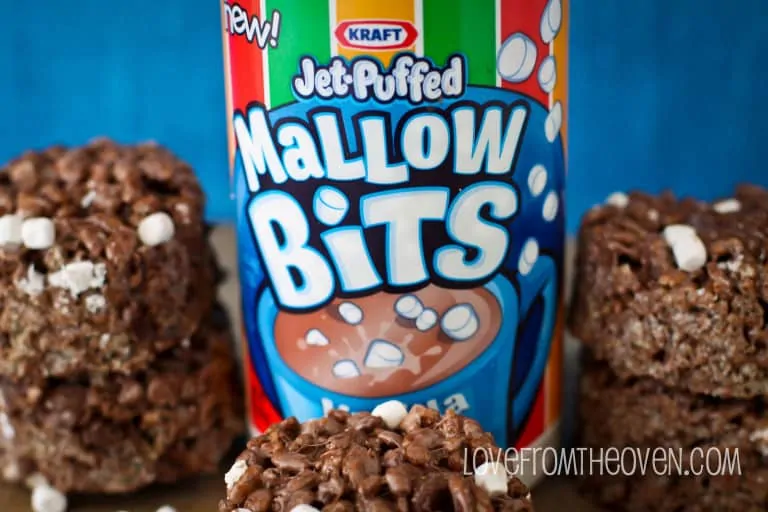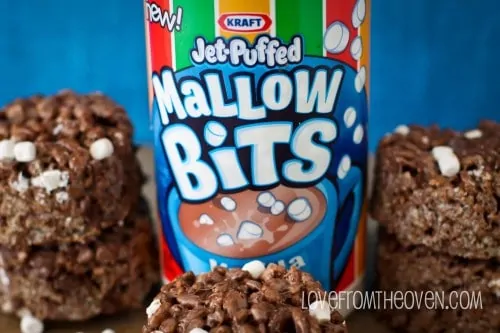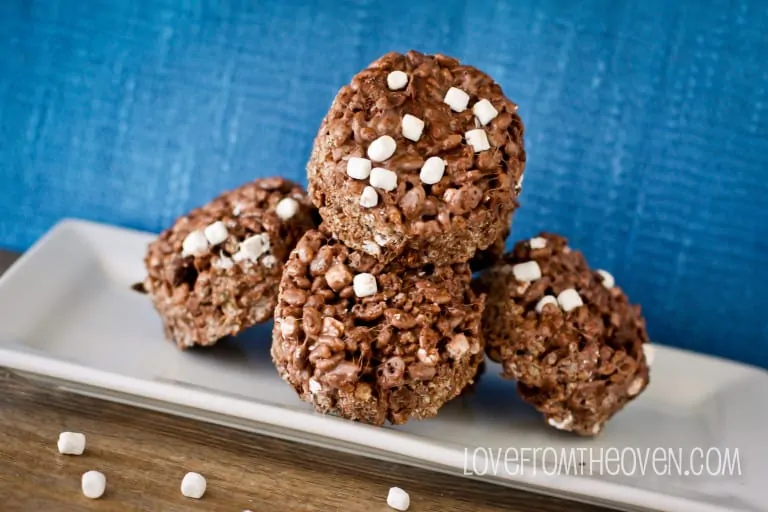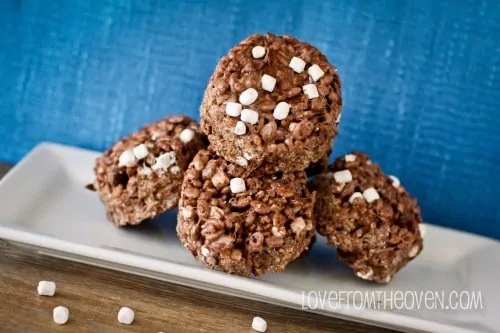 Stay tuned for a delicious variation of this recipe. Or don't stay tuned, and instead run to the store and grab what you need to make these. If you can't find the chocolate marshmallows, you can use regular marshmallows – I'm sure they will still be delicious.
I find my Mallow Bits at Target, but if you can't find them, you can either omit or try and replace with regular mini marshmallows. That said, if you can get your hands on the Mallow Bits, they are fabulous in these. They are also pretty darn amazing in Hot Cocoa Cookies and Hot Cocoa Cupcakes. Enjoy!