I like Thanksgiving, just like everyone does.  But truth be told, I really prefer Thanksgiving leftovers.  Heck, it might be the main reason I am so willing to host Thanksgiving every year, the leftovers!  Not only are Thanksgiving leftovers delicious, but the stress of getting a great big dinner on the table is long gone.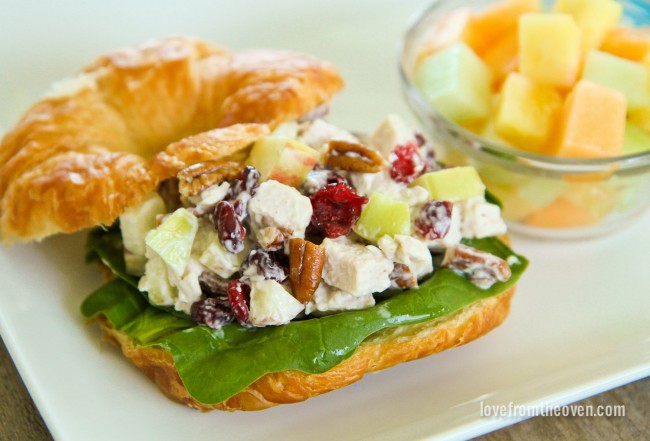 Turn your holiday leftovers into Best-Overs with Best Foods.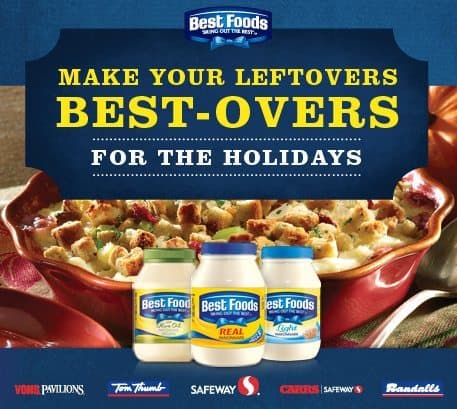 The folks at Safeway and Best Foods asked me to share how I like to turn my leftovers into Best-Overs using Best Foods Mayonnaise.  That was pretty easy to do, because I have a sandwich that I love to make with leftover turkey (or chicken).   This turkey salad sandwich is packed full of crunch, thanks to pecans and apples and gets a nice sweet and tart bite thanks to dried cranberries.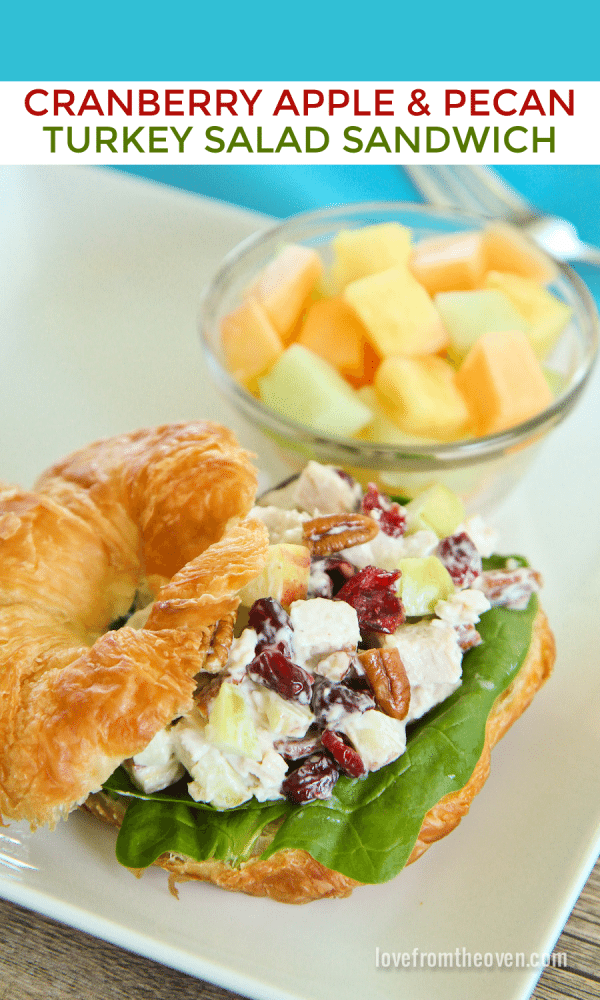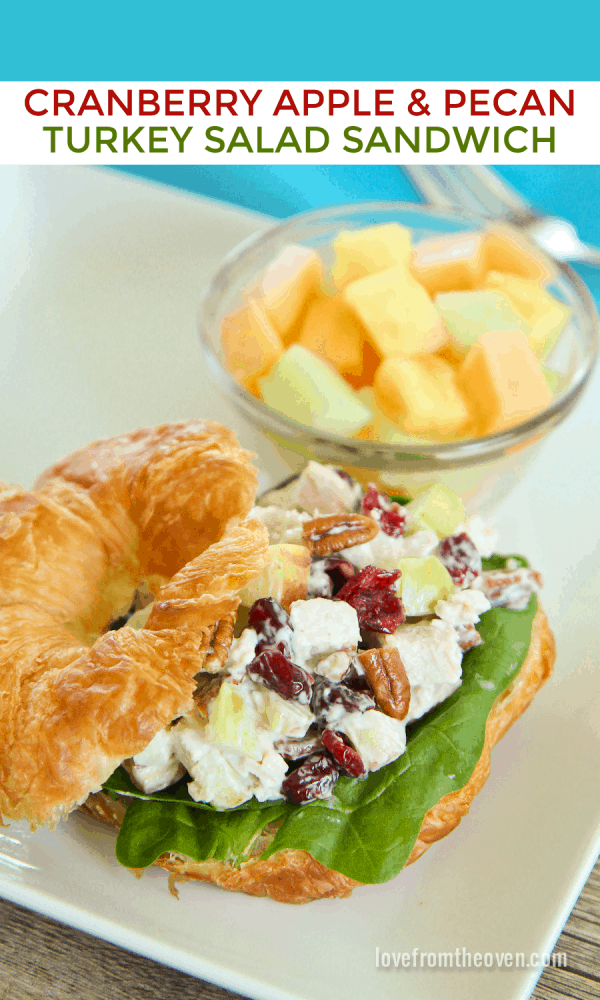 This is one seriously easy sandwich to make.  I usually use whatever bread or rolls we have leftover from Thanksgiving, and if you happen to have croissants, they are fabulous with this sandwich.  While I used pecans, you can also use walnuts, or if you prefer, leave nuts out all together.  Grapes are a great addition, and I like to fill mine with lots of apple for the added crunch.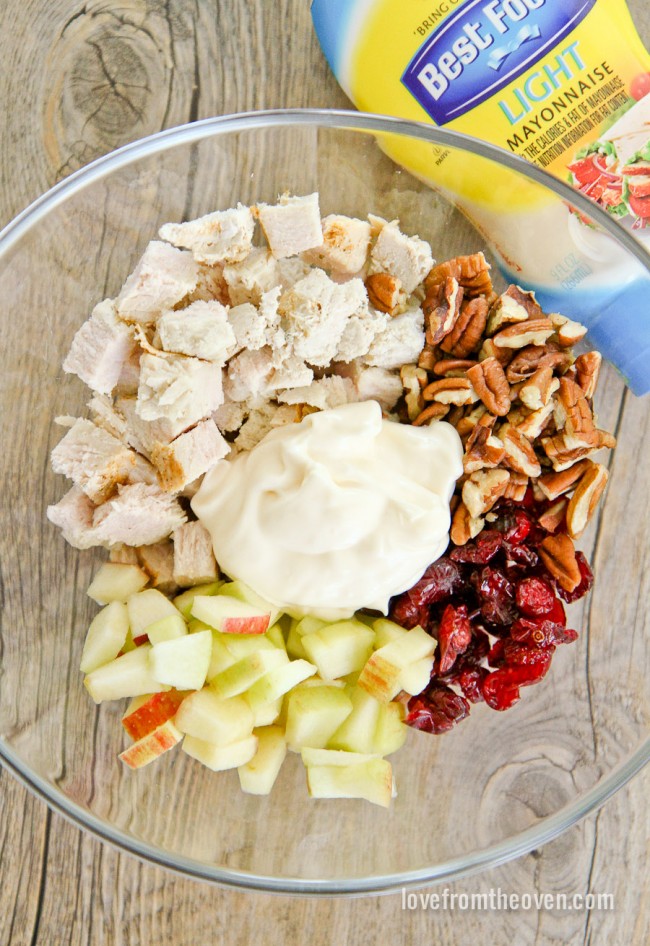 This is one of those recipes that really is flexible.  If you don't have the exact amounts of every ingredient, that's totally fine, just use what you have!  Don't have dried cranberries, but have raisins?  Use those!  I'm not big on celery in my sandwiches, but if you like it, throw some in!  After all that work for Thanksgiving dinner, I like to keep the leftovers e-a-s-y.
This recipe could make two really big sandwiches, or three or four smaller ones, depending on how full you might be the day after your Thanksgiving feast.  You can even go without the bread and eat it on a bed of lettuce, if you are still in a bit of a carb coma from all the mashed potatoes, sweet potatoes, stuffing and pie!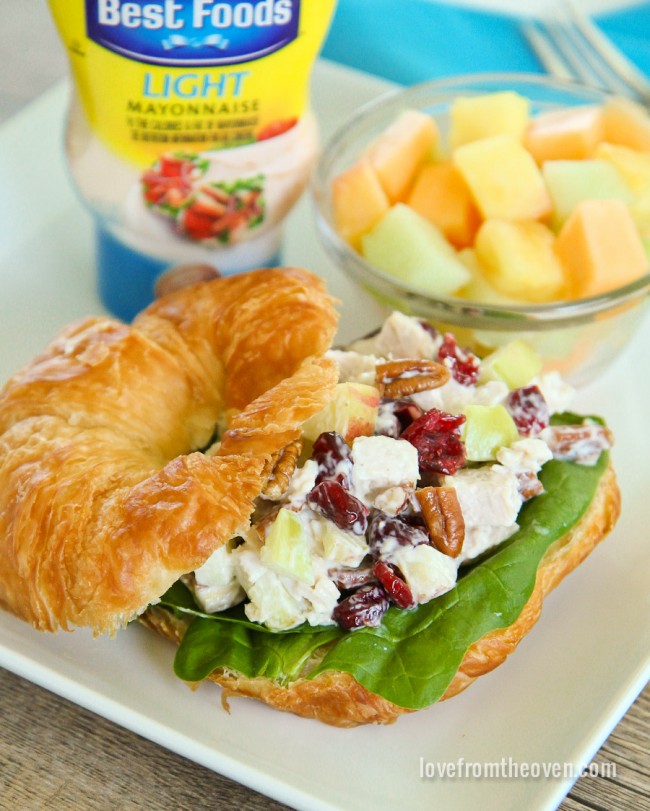 You can even grab a coupon for $1.00 off your Best Foods or Hellmann's Mayonnaise.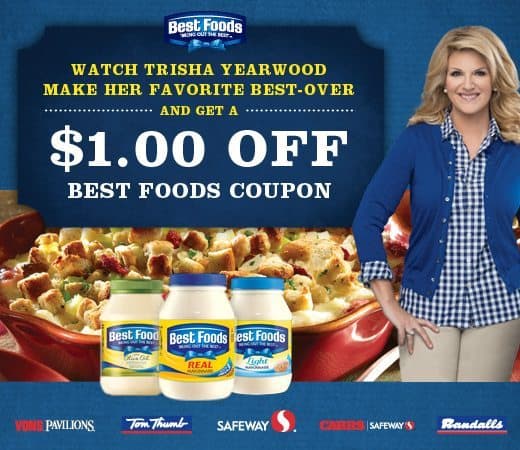 This recipe is a delicious way to use up left over Thanksgiving turkey!
Ingredients
1 cup chopped, cooked turkey breast
2 TBSP Best Foods Mayonnaise
1/2 cup diced apples
1/4 cup chopped pecans or walnuts
1/4 cup dried cranberries
2-4 rolls, croissants or bread for sandwiches
Salt and/or pepper to taste
Instructions
In a large bowl, combine turkey, Best Foods Mayonnaise, diced apples, nuts and cranberries. Stir until combined. Season with salt and or pepper if desired. Scoop onto rolls, croissants or bread. Enjoy!
https://www.lovefromtheoven.com/turkey-salad-sandwiches/
As a special bonus to all my followers, I've got two ways that you can enter to win Safeway Gift Cards to make your own Best-Overs.   You can head over to the Best-Overs Website and enter to win a Safeway Gift Card valued between $15-$500, AND you can enter here on my blog for a chance to win a $25 Safeway Gift Card.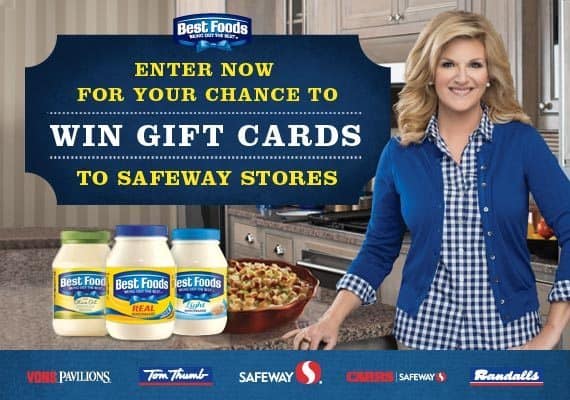 You had the huge Thanksgiving dinner with the family and shared what you're thankful for but, when the food is put away, what do you do with all those leftovers? Don't settle for eating bland turkey sandwiches all weekend long; get creative and bring out your Best-Overs. This Thanksgiving Safeway and Best Foods Mayonnaise want you to reward you for making the most out of your leftovers.
To enter to win, you do one or both of the following…
1. Head over to the Best-Overs website and enter to win.  And while you're there watch Tricia Yearwood's Creamy Turkey Casserole Recipe how-to video for a $1.00 off Best Foods coupon.
2. Use the widget just below this sentence to enter to win.

The Safeway & Best Food's Love From The Oven Sweepstakes
Disclaimer: Safeway gift cards also valid at Vons, Pavillions, Pak'nSave, Randalls, Tom Thub, & Carrs. The gift card contest is open to the following states: AK, AL, AZ, CA, CO, DC, DE, HI, ID, TX, MD, MT, NE, NV, NM, OR, SD, VA, WA, WY
Disclaimer:  This post is sponsored by Lunchbox.  All opinions are mine and mine alone!