Don't you love it when a recipe is super simple, super quick and super delicious? This one has all of those covered. Eggo Waffle Ice Cream Sandwiches. That's right, ice cream sandwiches, made with waffles. But not just any waffles, Chocolatey Chocolate Chip Eggo Wafflers. These are CHOCOLATE waffles here people. Anytime chocolate and breakfast foods collide, I see it as a very good thing.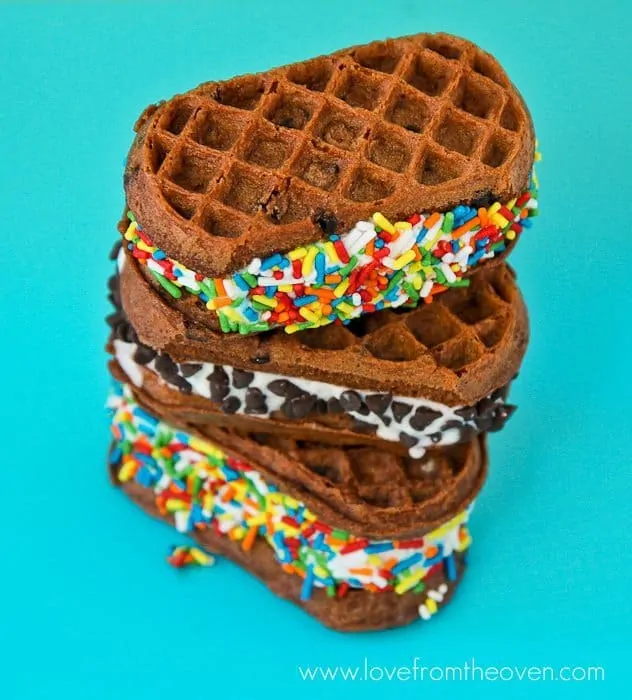 As a Chief Waffle Officer (CWO) with Eggo Waffles, every Wednesday I get to bring you a fun new way to enjoy Eggo Waffles. This week myself and other CWO's are sharing ways to combine your Eggo Waffles with ice cream. Now I know what you might be thinking – waffles and ice cream? Oh, my friend, you must try this, you will be so glad you did.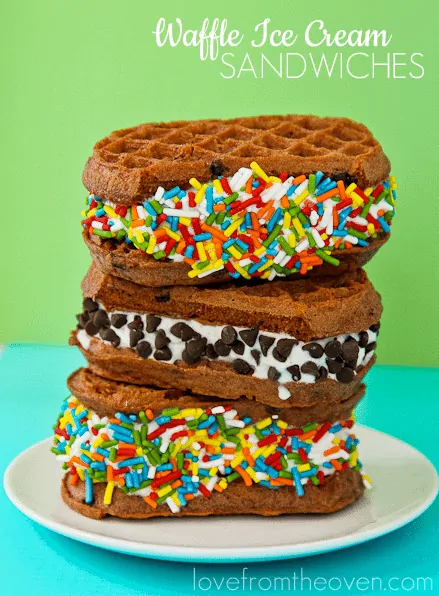 To make my Waffle Ice Cream Sandwiches… I toasted my waffles in my oven, so that I could do a number of them all at once. I'm not sure why I've never made them this way before, if you are making up more than two waffles this is a great way to go and only takes a few minutes. After toasting my waffles so that they were nice and crunchy, but not too crunchy (there is a fine waffle line you know), I let them cool on a wire rack. While I think that the warm waffles with cold ice cream could create an amazing a la mode experience, given it's still 108 here in Phoenix, I figured cool waffles would be easier to work with. I let them cool for about an hour, then simply scooped out some vanilla ice cream onto my Eggo Wafflers and made them into ice cream sandwiches. While you could totally stop right there and have a fabulous creation, I always like to take it one step further… sprinkles… and mini chocolate chips!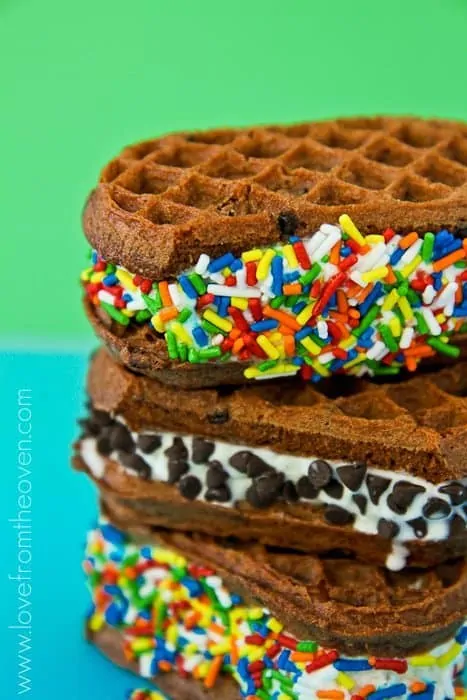 After dipping my Waffle Ice Cream Sandwiches into sprinkles and chocolate chips, I stuck them back in the freezer to firm back up, though you could certainly eat them immediately. I think these would be such a fun dessert to make with the kids, you could even create a little DIY Waffle Ice Cream Sandwich station where the kid could pick their own waffle and ice cream flavor as well as sprinkles or other toppings. And just to clarify when I say kids, I mean up to age 90. No, wait, 90+.
If you can't find the Eggo Chocolately Chocolate Chip Wafflers, this idea will really work with any Eggo Waffle. The Wafflers are just a really nice shape and size, but you aren't limited. I'm thinking that some Eggo Pumpkin Spice Waffles with some cinnamon ice cream would be fabulous.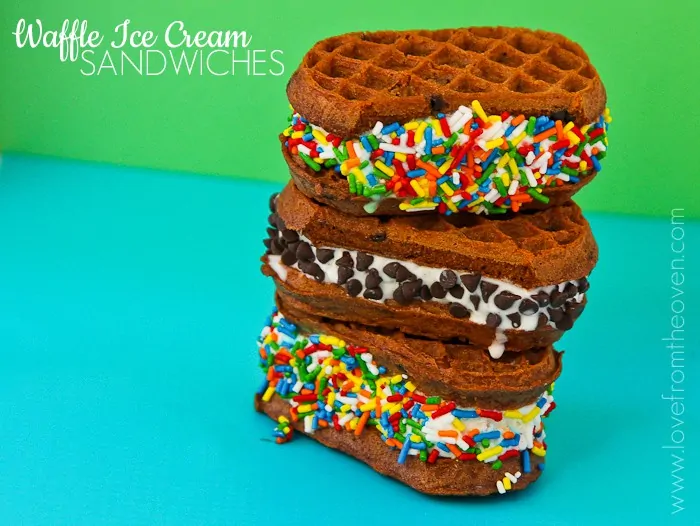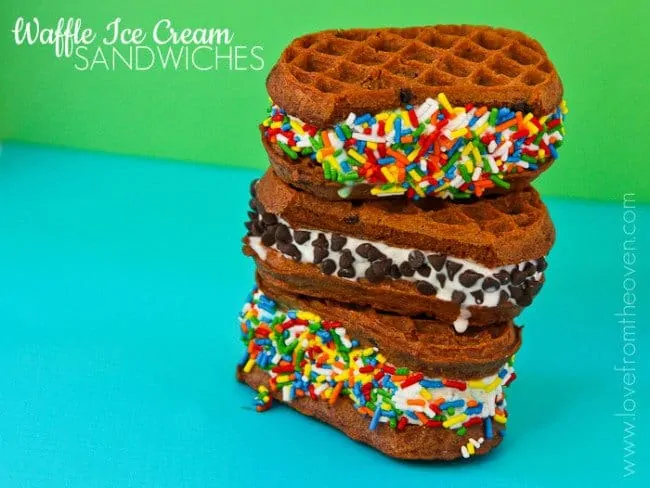 Do you have a fabulous creation that you've made with Eggo Waffles? Make sure to head over to the Eggo Waffles Facebook page and enter it in The Great Eggo Waffle Off. You would win $5,000 with your recipe. Yes $5,000! So head on over, that's a contest not to be missed out on. While you are there check out all of the delicious recipes that are already entered.
Waffle lovers, I will see you back here next week for another #WaffleWednesday.
Disclosure: Kellogg's sponsored this post and I am compensated for being a Chief Waffle Officer. That said, all opinions are, as always, mine and mine alone.