My little one turned three this weekend, so obviously a cute cake was called for. I went with one of our favorite characters… Hello Kitty.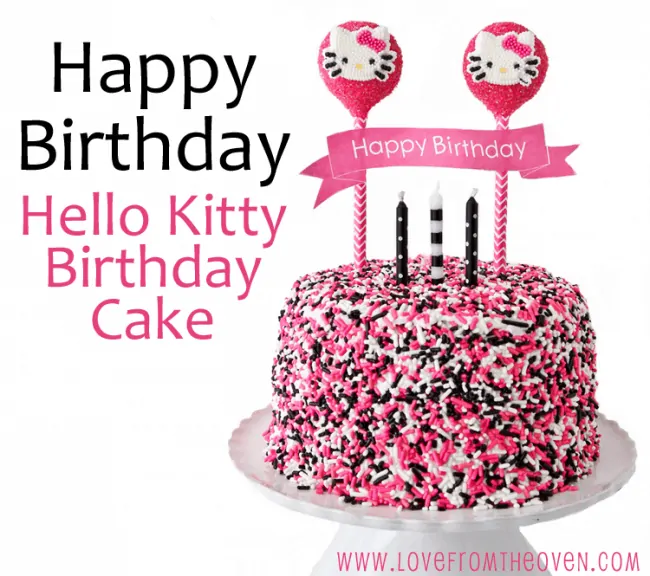 I often hear people say that they aren't a decorator, they don't know how to decorate cakes, so on and so forth. Let me tell you a secret. Me neither! I couldn't tell a number 8 tip from a number 45 tip (or if those are frosting tips). I can't freehand draw on paper, much less with frosting on a cake. But what I can do is load up on fun sprinkles, sugar decorations and cute cupcake liners, party straws and free printables, and let me tell you, those things let you fake cake decorating pretty easily. Let's break this cake down…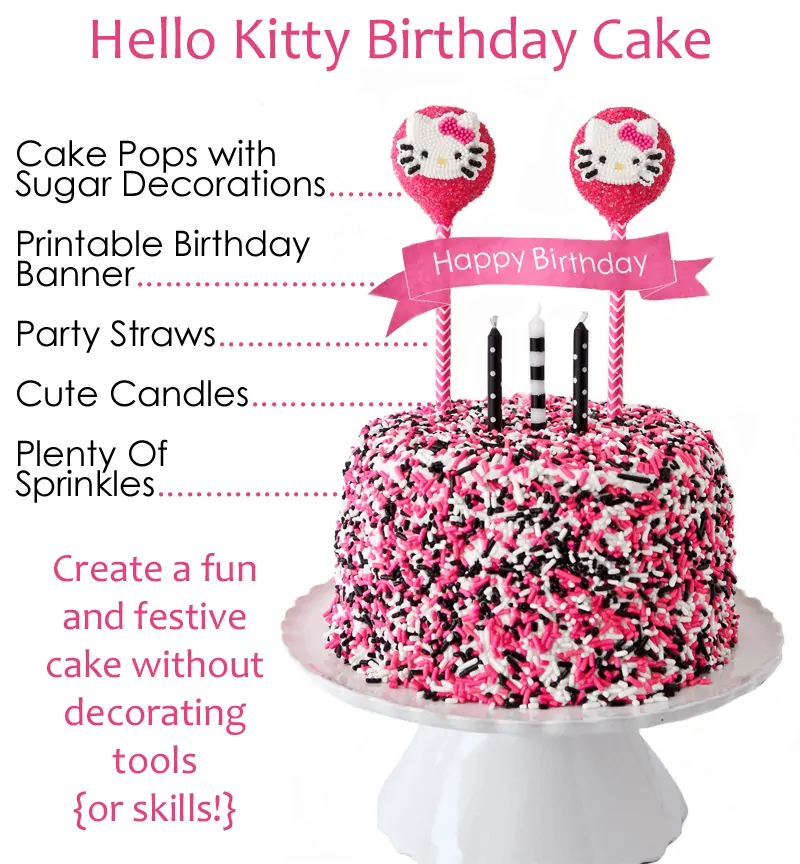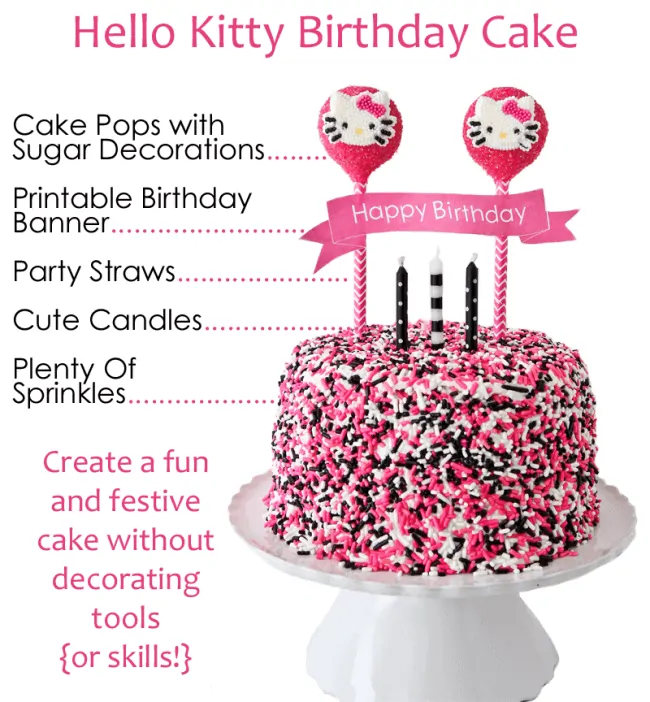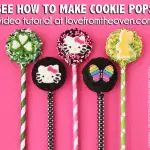 Once you break it down, you see it's really quite simple. I used a box cake mix and a simple buttercream, but good old canned frosting would work just fine. I love covering cakes in sprinkles. It has great visual impact, but it actually quite simple. I tend to make smaller cakes when I'm doing this (6″-7″ rounds). I also made two cake pops (Oreo Pops would be a great alternative if you don't have cake pops stocked in your freezer like I do – check out my video tutorial on how to make them!) to put on my paper straws to hold the banner (the banner is cut out then taped on – easy peasy).
I was going to get all fancy and show you how to do this by using Vine for the first time. Yeah, don't use Vine for the first time when you are trying to record something you can't do a take two on. I managed to erase, not post, my video. Blah. But I did snap a few pics. To cover my cake in sprinkles, I frost the sides, but not the top, then dip, dip, dip into a big bowl/plate of sprinkles. It helps to have two sets of hands, one to dip the cake in the sprinkles and one to keep pushing the sprinkles back into the center of the plate between dips of the cake.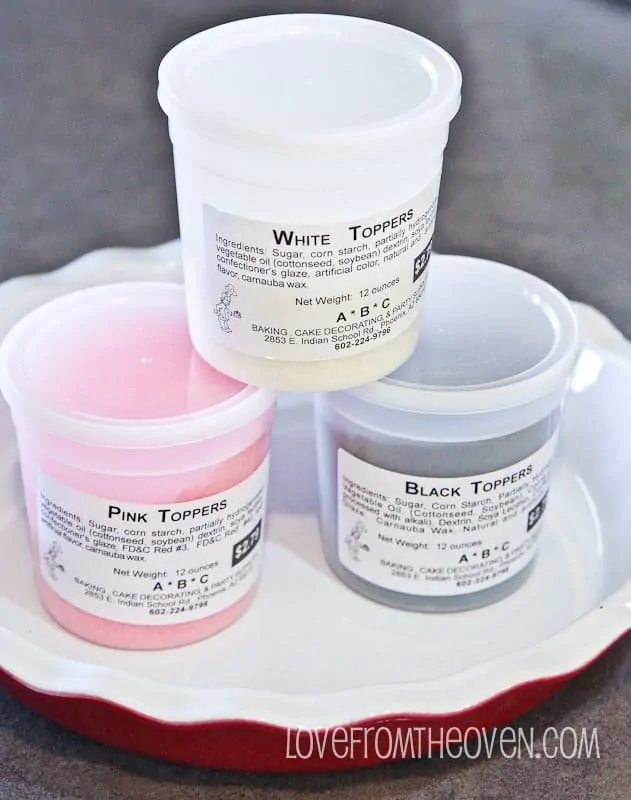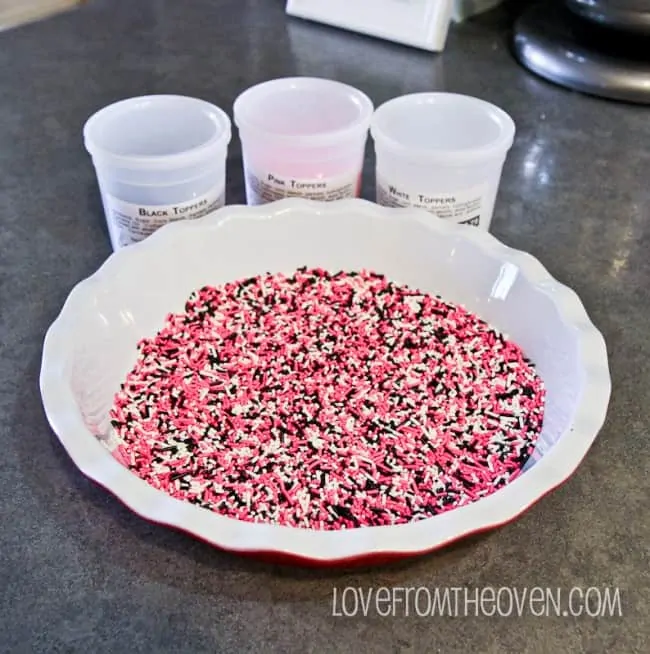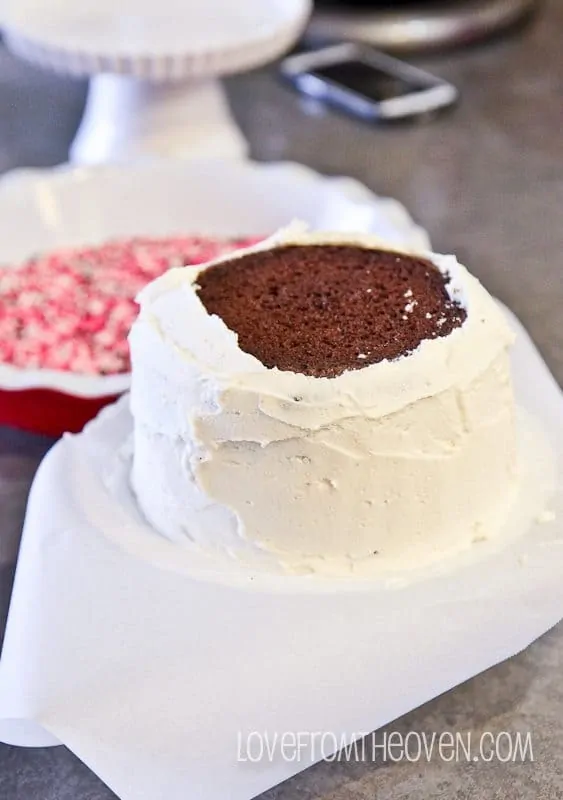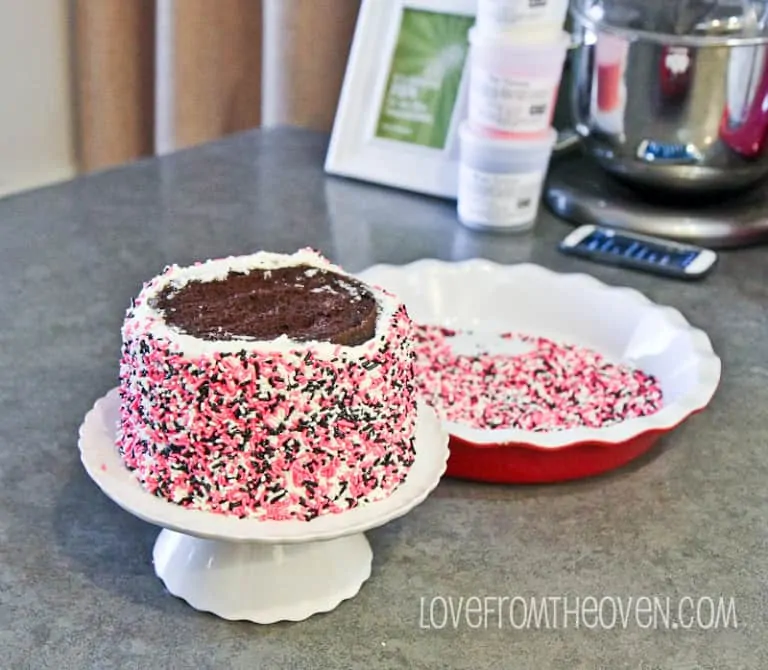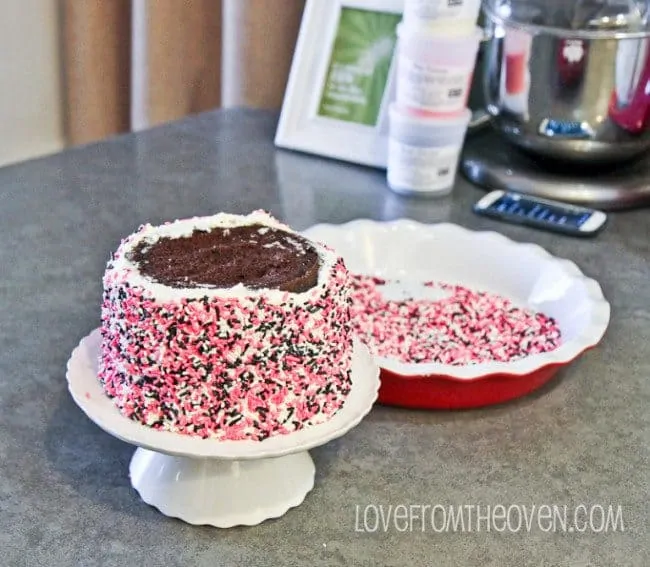 Once the sides are covered, onto the cake plate it goes, I frost the top and then add sprinkles to it. That's it!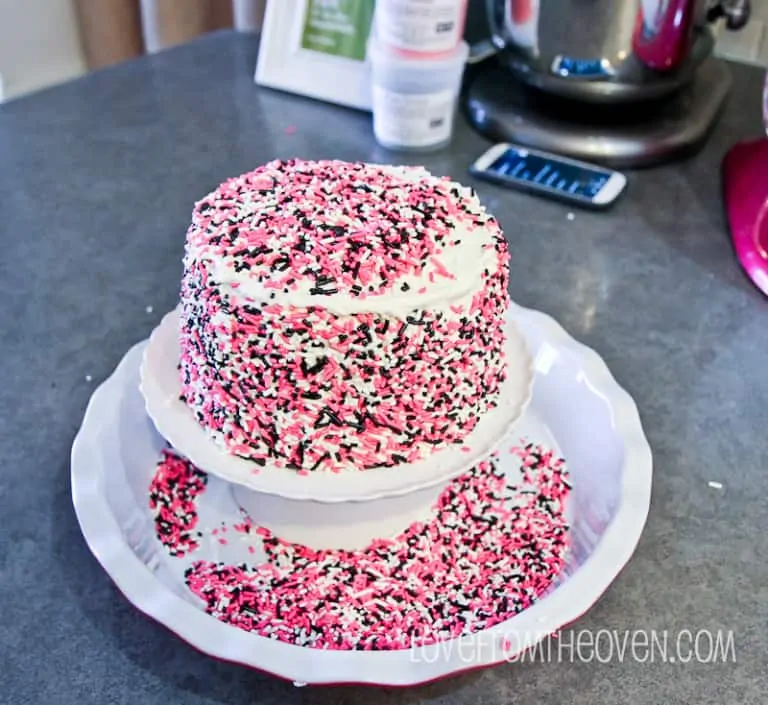 I'm also a fan of coating my cupcakes in sprinkles. Here are the cupcakes I made to go with the cake…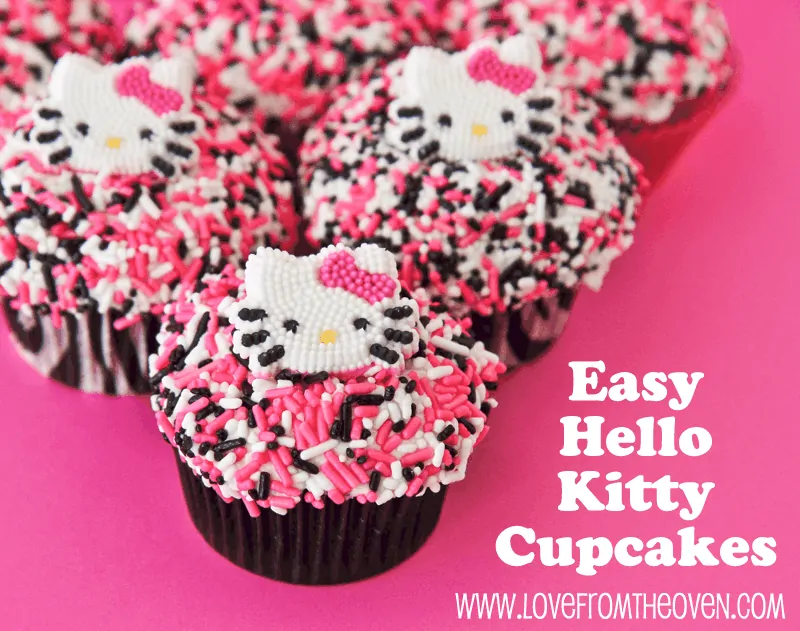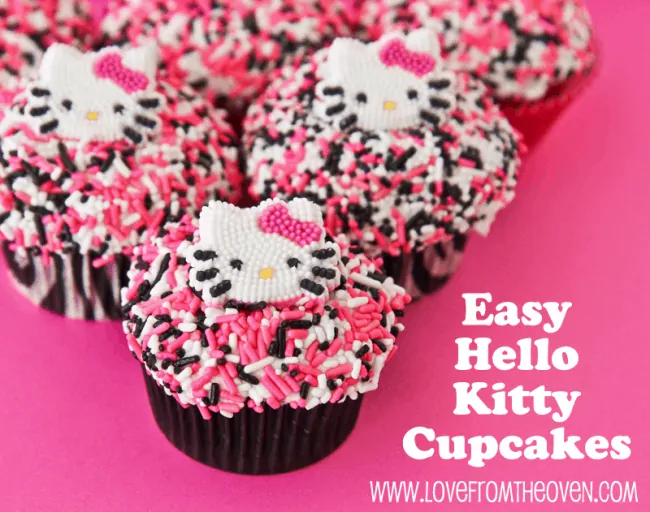 I just pop those frosted cupcakes into the sprinkles and pull them out – voila!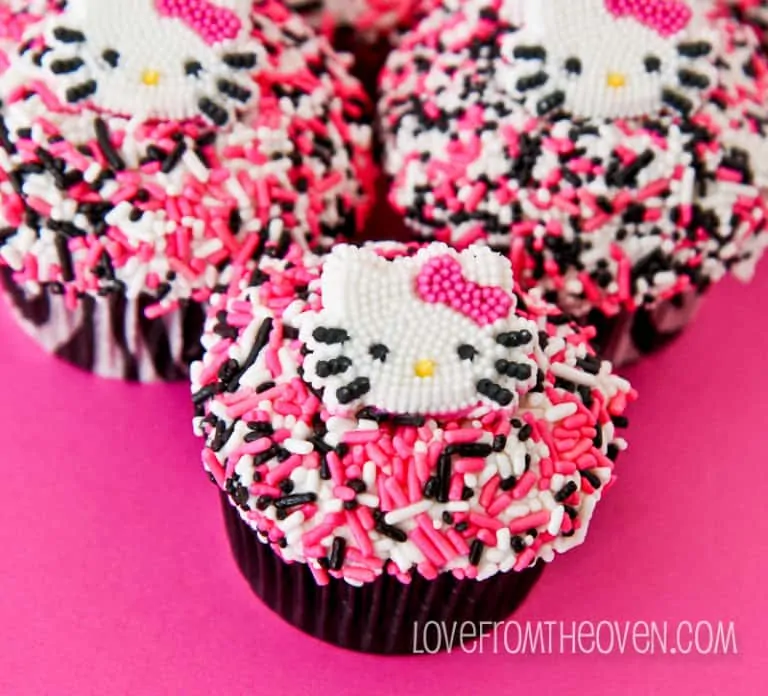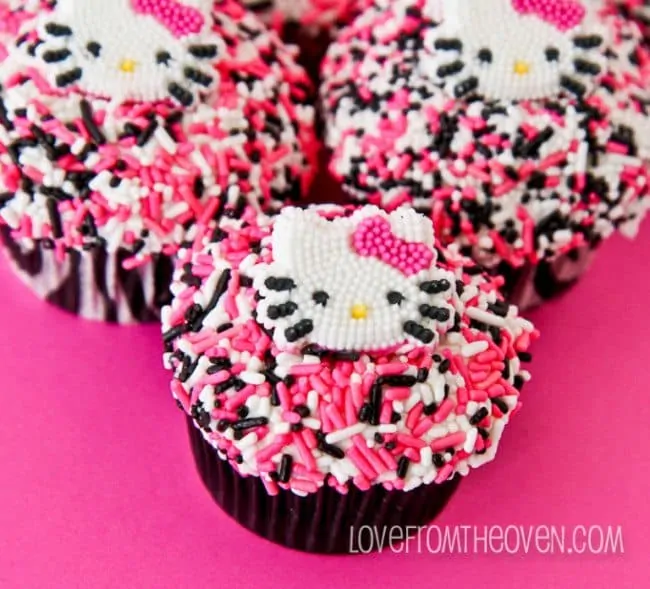 If you want to get fancy, you can go with a zebra stripe cake! Check out this post where I show how to make zebra striped cupcakes.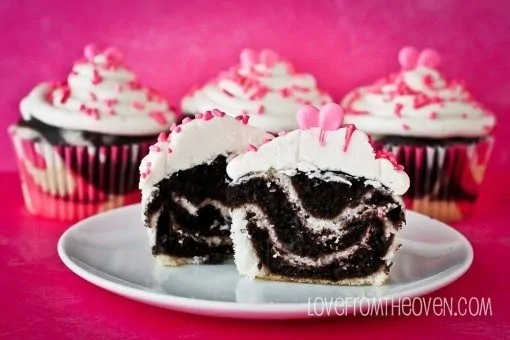 So, back to the decorating goodies. While I love a theme, I don't tend to love head to toe themed out stuff. Much like pops of color I like pops of theme and more importantly, I got tired of ending up with left over themed decorations that I never got around to using. Now I tend to just buy the sugar icing decorations in my "theme" and then use more basic items (sprinkles, party straws, cupcake liners) in coordinating colors and prints. I find this gives me so much more bang for my buck. I love having sprinkles on hand that I can just mix to create whatever color combo suits my project. I get my sprinkles at ABC Cake Decorating Supplies here in Phoenix, but you can get them at most grocery stores, places like Target and Walmart, party stores and of course online.
Here are some sample ideas that I put together for you on how I pull together coordinating decorating items. There are lots of great free printables out there that can be found to work with almost any color or theme.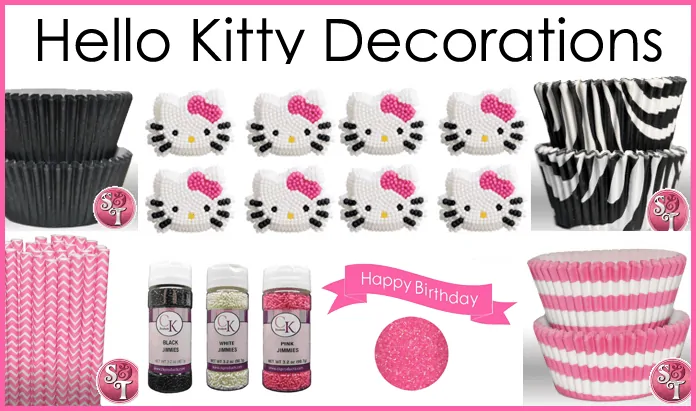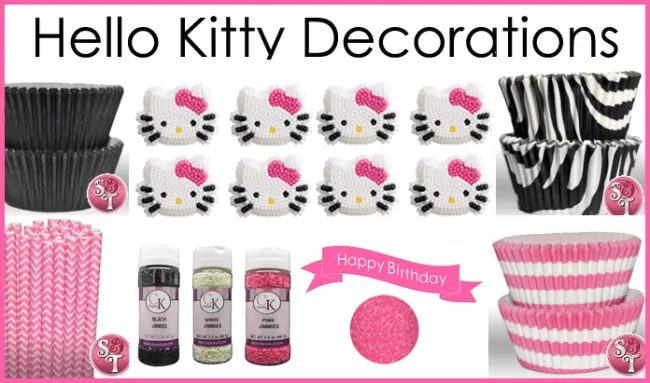 Hello Kitty Icing Decorations Pink Chevron Party Straws Pink Sanding Sugar
Pink Sprinkles Black Sprinkles White Sprinkles Free Birthday Banner Printable
Pink Striped Wrappers Zebra Cupcake Wrappers Black Cupcake Wrappers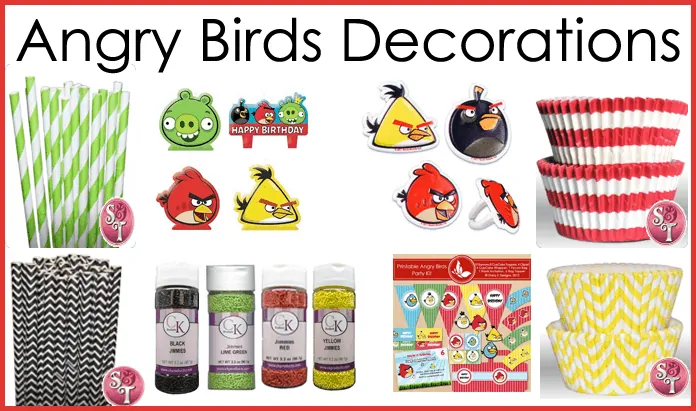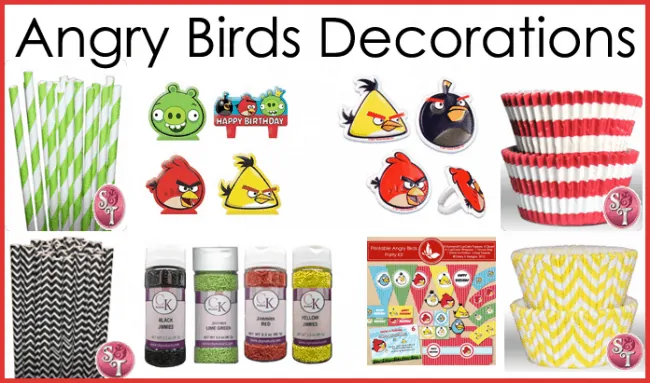 Angry Birds Candles Angry Birds Ring Cupcake Toppers Red & Yellow Cupcake Liners
Black Sprinkles Lime Green Sprinkles Red Sprinkles Yellow Sprinkles
Green & Black Party Straws Free Printable Angry Birds Party Decor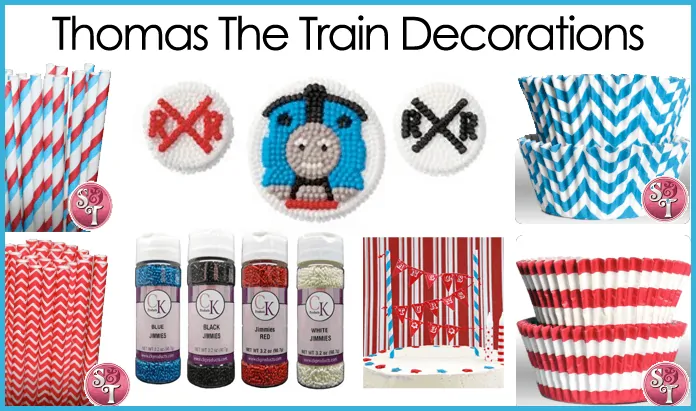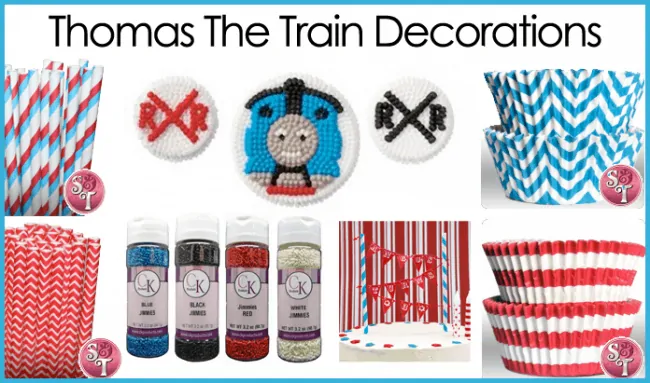 Stripe & Chevron Paper Straws Thomas The Train Icing Decorations
Blue Sprinkles Black Sprinkles Red Sprinkles White Sprinkles
Chevron & Stripe Cupcake Liners Free Printable Birthday Cake Banner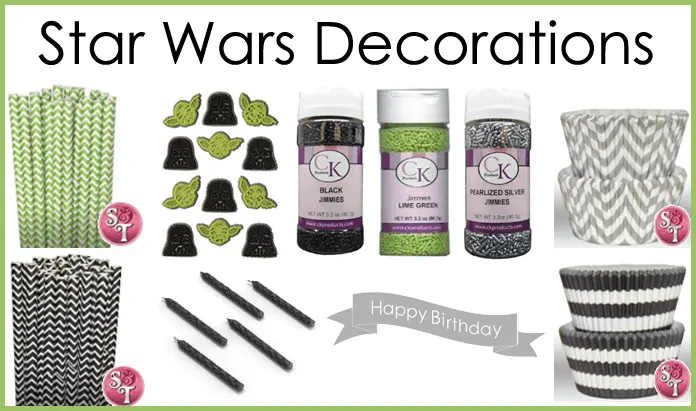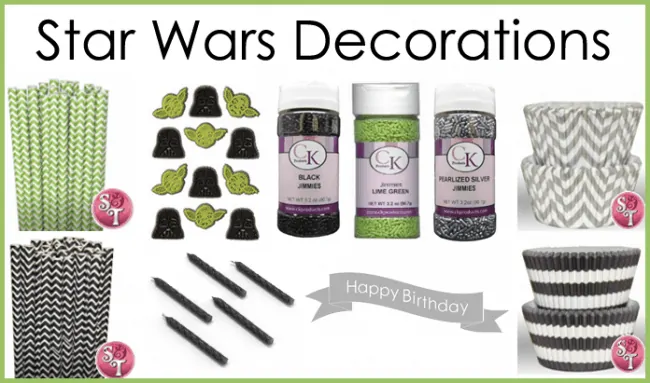 Star Wars Icing Decorations Silver Sprinkles Lime Green Sprinkles Black Sprinkles
Green & Black Paper Straws Black Candles Grey & Black Cupcake Liners
Free Printable Birthday Cake Banner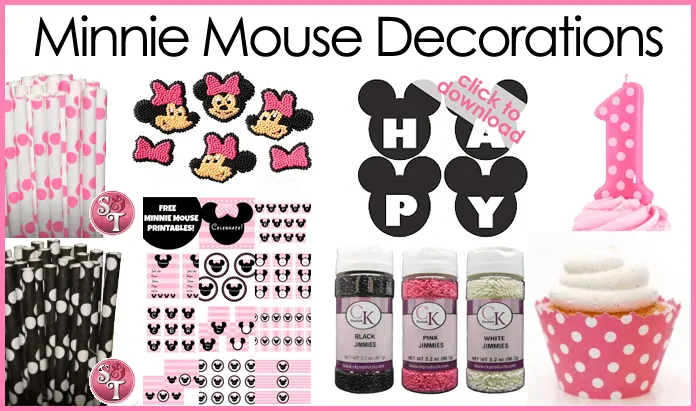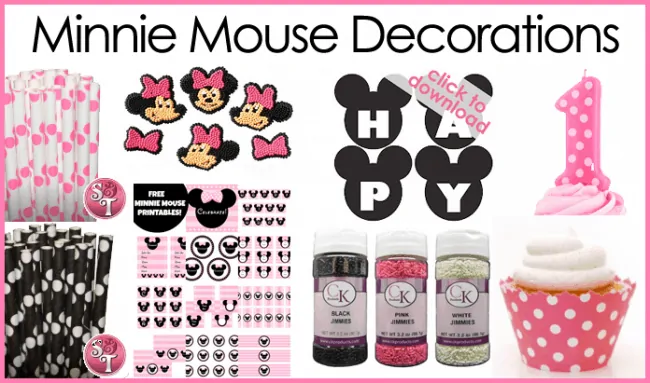 Polka Dot Party Straws Minnie Mouse Icing Decorations Polka Dot Candle
Free Minnie Mouse Party Printables Free Minnie / Mickey Mouse Banner Printable
Polka Dot Cupcake Wrapper Pink Sprinkles Black Sprinkles White Sprinkles
Those are just a few ideas, but you get the picture. Find your few pops of theme, and then work to fill in around them. This method of decorating with themes works really well for me and I find it much more cost effective then buying everything in the theme characters. Hope this might help you with an upcoming cake, cupcake or party project!
Follow my blog with Bloglovin
SaveSave