How about an apple for your favorite teacher to celebrate Teacher Appreciation Day and/or Teacher Appreciation Week?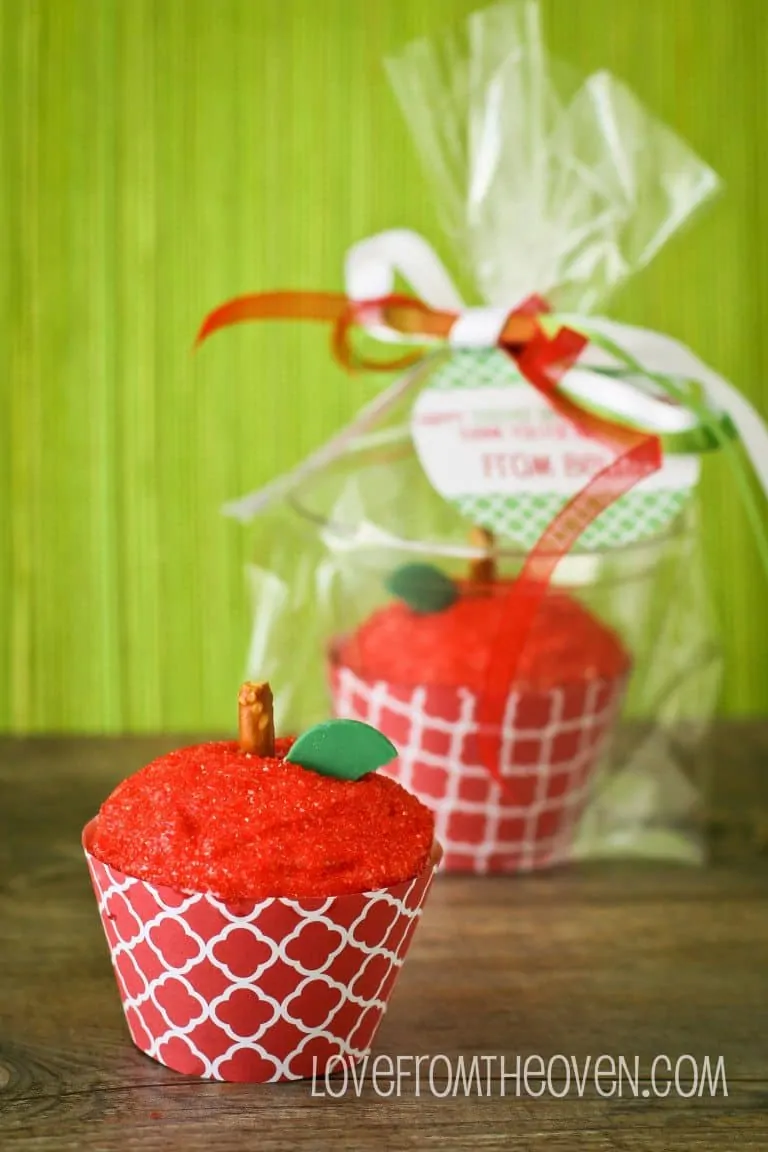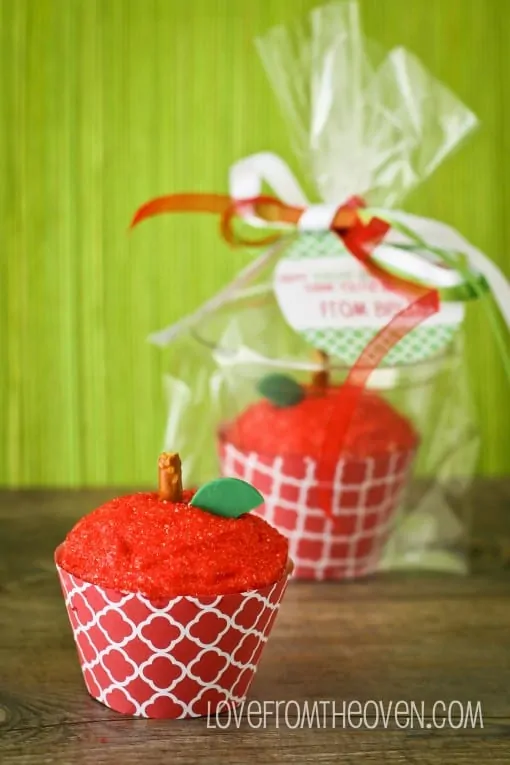 A cupcake apple to be specific! Heck, it doesn't need to be an official teacher appreciation day or week – teachers work so hard and do one of the most important jobs that anyone could ever do. They need to be appreciated each and every day. I can't take credit for this cute cupcake idea, I've seen them all over Pinterest and wanted to make a batch for my daughter to take to school, so I figured I'd share them with you, in case you had a special teacher (or teachers or entire school) that you want to share them with.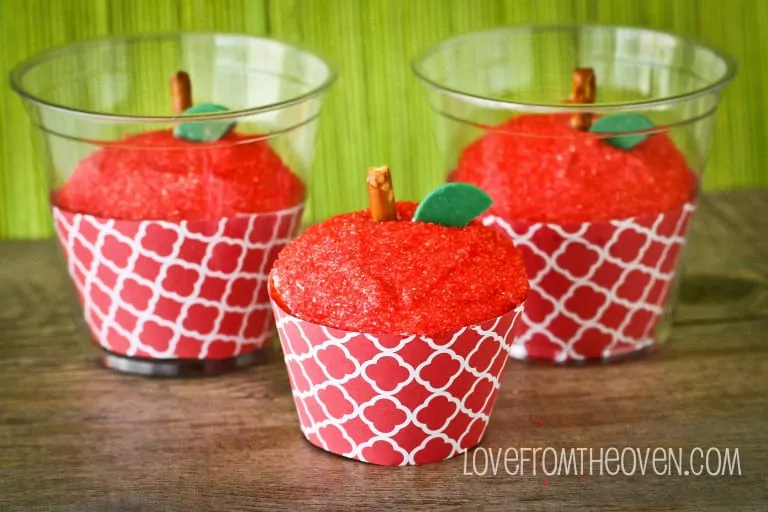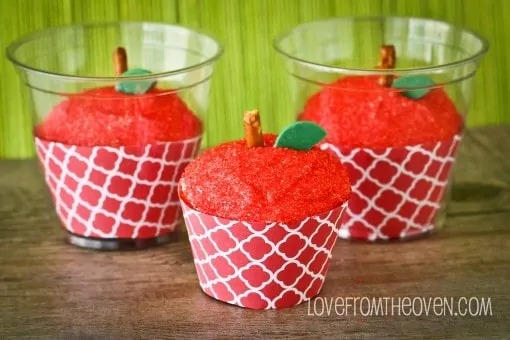 These sweet treats are SUPER easy to make and I have some free Teacher Appreciation printables for you to use with them.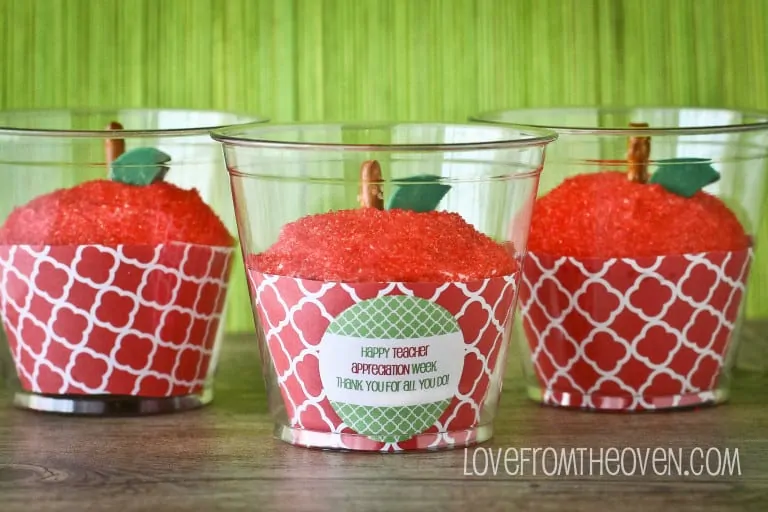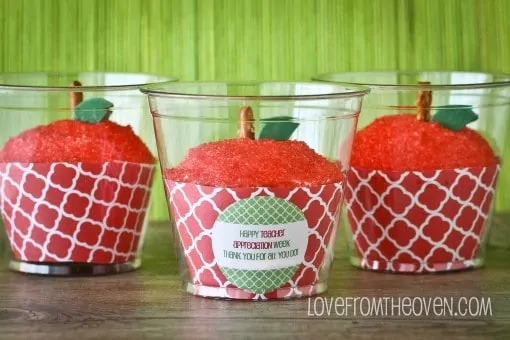 Start off by making a batch of cupcakes – I used a yellow cake mix from Duncan Hines. If you have red cupcake liners, they would be perfect. I did not have any, and that's how the free printable cupcake wrappers came to be. Bake your cupcakes according to the directions on your package. Once your cupcakes are cool, it's time to frost. You can use homemade frosting or canned – your choice. You could easily color your frosting red and skip the sprinkles – it's completely up to you – either way would be cute. Heck, you could color the frosting red and cover with red sprinkles. They are cupcakes – no rules here!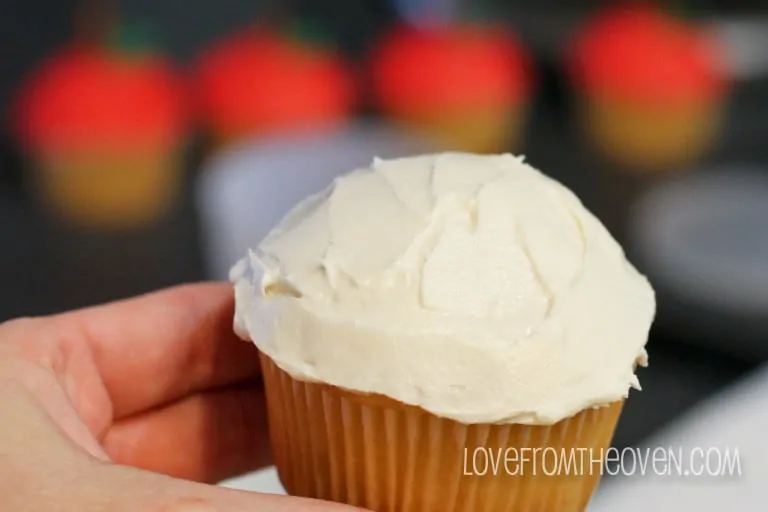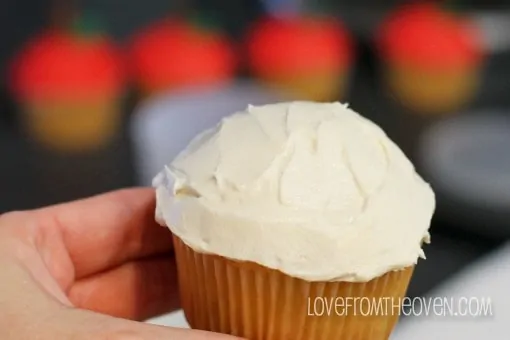 After frosting each cupcake I immediately covered them in red sanding sugar. Don't wait around, your frosting will start to set and your sprinkles won't stick. I used a big tub of sanding sugar sprinkles and poured them right on the cupcakes, with a bowl below to catch the extra sprinkles. If you want to see how I do this, check out my video in this post where I am covering pretzels with sprinkles. I literally dump my sprinkles on.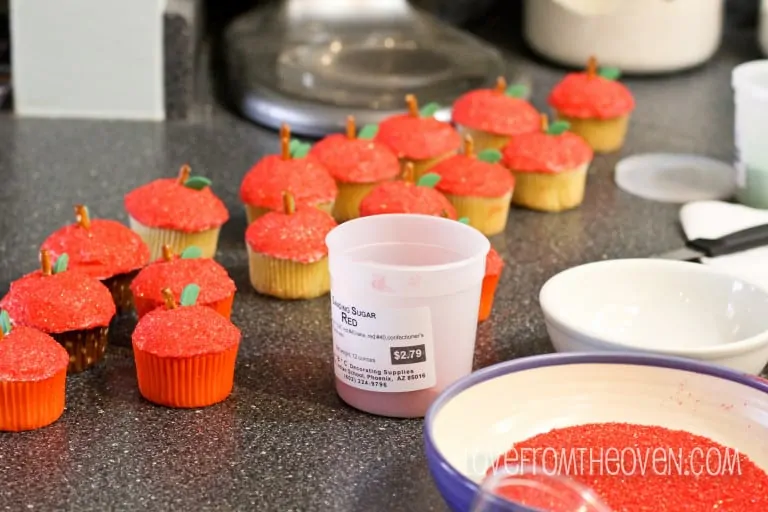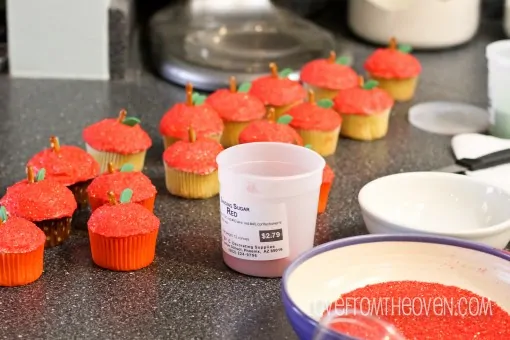 For the stems and leaves I used pretzel sticks and green chocolate melting discs that I cut in half. If you don't have access to green melting discs, you could use a variety of candies. Some that come to mind are green gumdrops, jelly beans, M&M's, fruit roll ups or even gummy worms. If it's green, it'll work. 🙂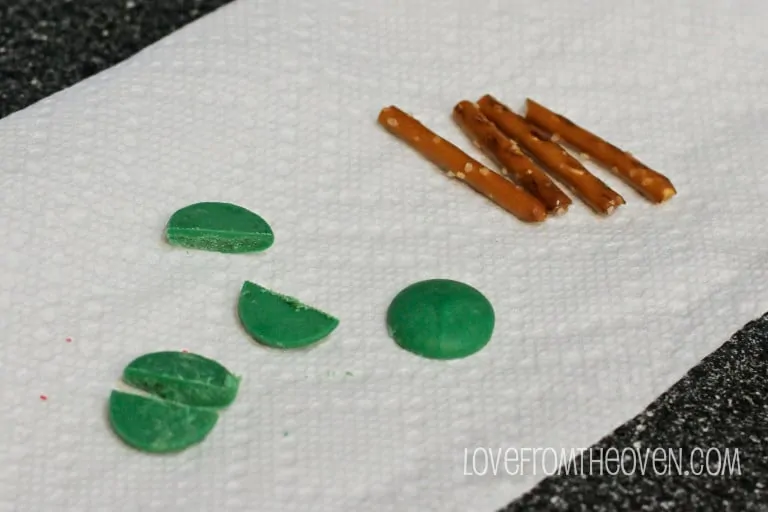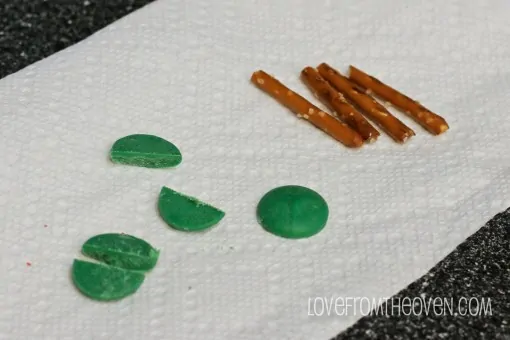 After covering your cupcake in frosting and sprinkles (or just red frosting if you prefer), add your leaves and stems. Next comes packaging. These are optional steps really – it's up to you how much you want to do. If you are making these for every teacher in the entire district, you may want to skip the printables and call it good. But if you want to do something a bit more, here is what I am doing…
Print off your cupcake wrappers. The papers I used for these cupcake wrappers are from Mel Stampz. She has the most AMAZING digital papers I have seen, and shares them for free, which makes her like the coolest person ever.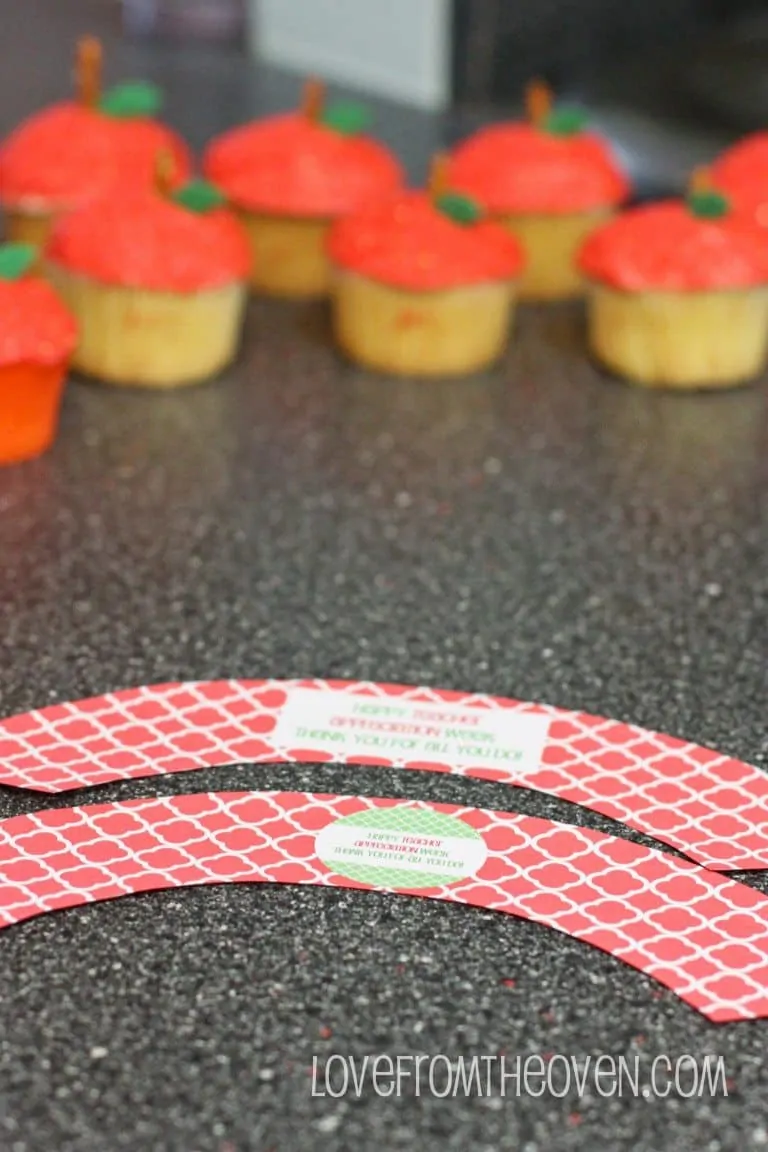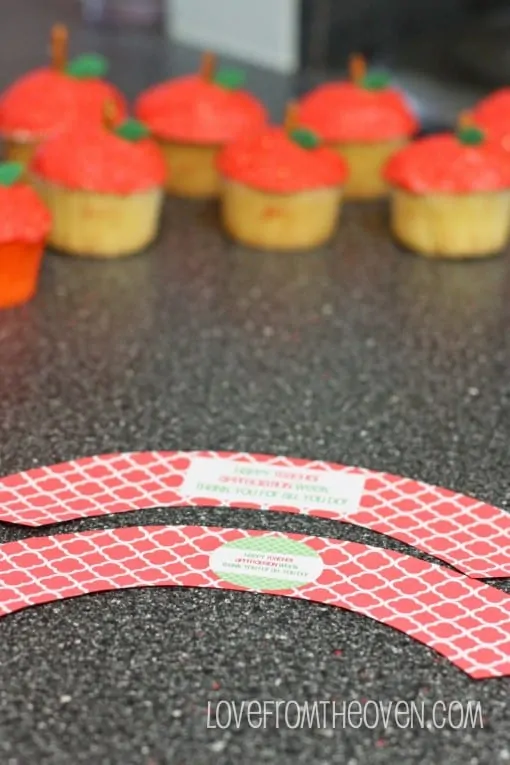 I just taped mine closed. I'm sure there are fancier and prettier ways to do it, but this was quick and easy – both of which I'm a fan of.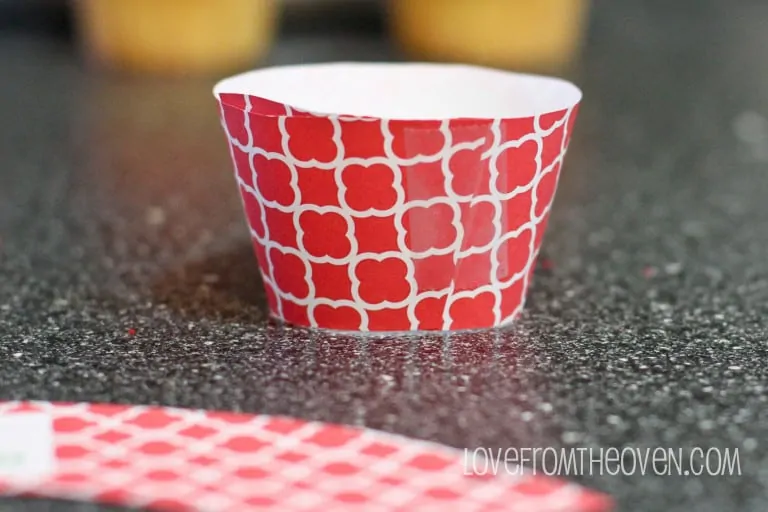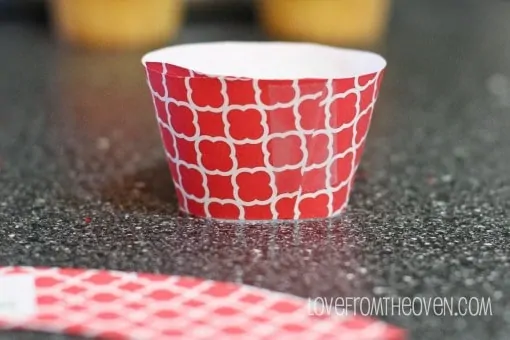 I then placed the wrappers in my clear plastic cups (so the wrappers are pretty much for decoration and are not serving a functional purpose) and then added my cupcakes to the cups.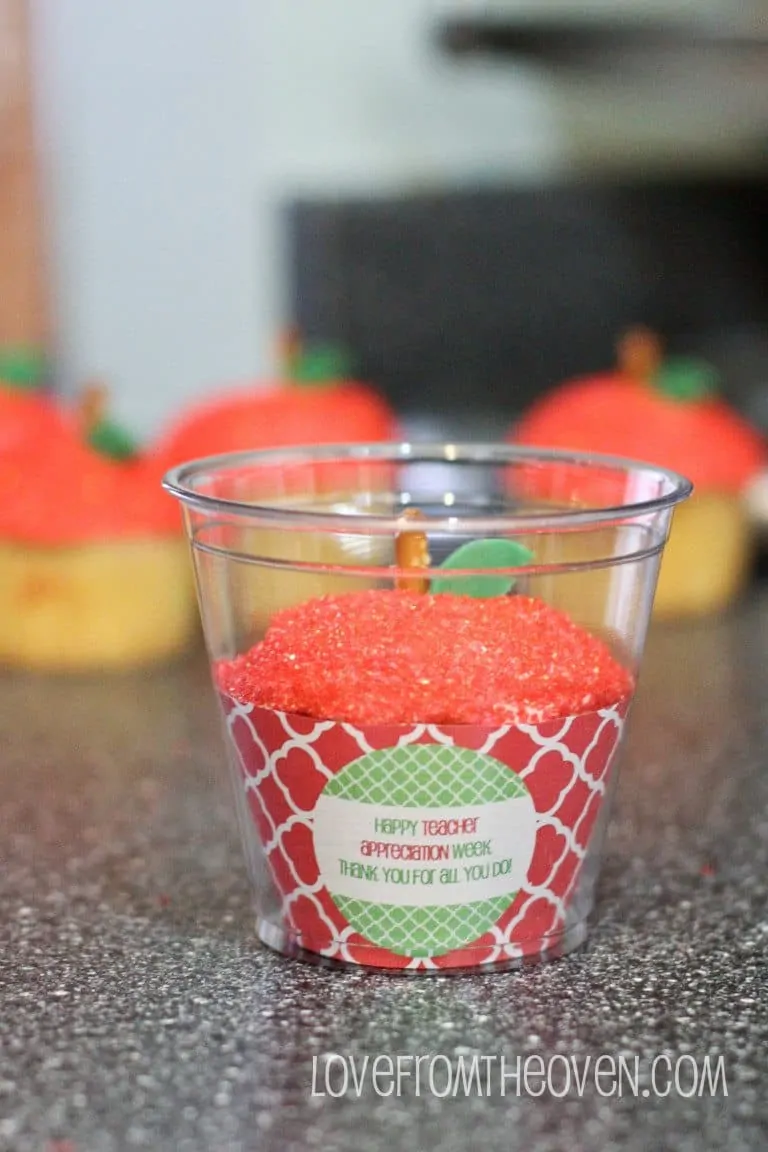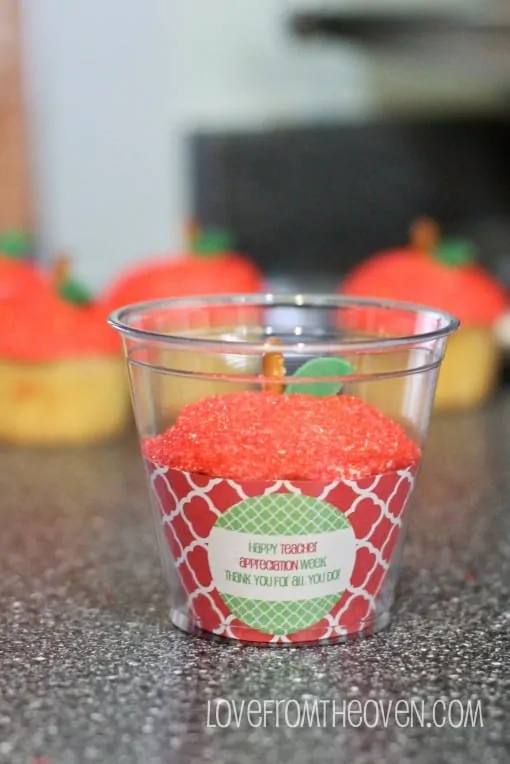 I like to package cupcakes in cups if I am taking individual cupcakes somewhere. It holds them still and allows them to reach their destination. The cups fit nicely in the cellophane bags you can pick up at craft stores (sometimes even Target and Walmart). Add a gift tag and some ribbon and voila – a sweet little teacher treat. That's it! These really are easy peasy treat to whip up.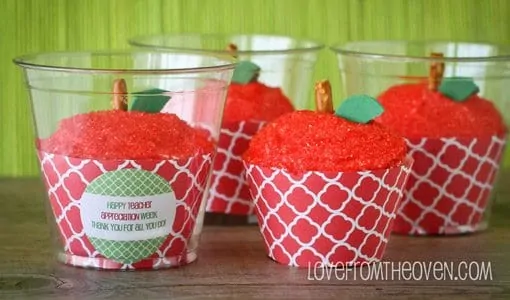 I often get asked how to get the cupcakes out of the cups without getting any frosting on you. Um, carefully? I usually quickly pop them out on to a napkin and then flip them over. The frosting is usually set enough that it's not that messy, especially if it's covered in sprinkles. And if one gets frosting on their fingers, I see this as a good excuse to eat frosting. I hate going through the trouble of making cupcakes only to have them jostle around on the car ride and look like crud upon arrival. So yes, they may be a tad messy to get out of the cup, but it's the sacrifice I'm okay making in order to keep their cute little looks preserved.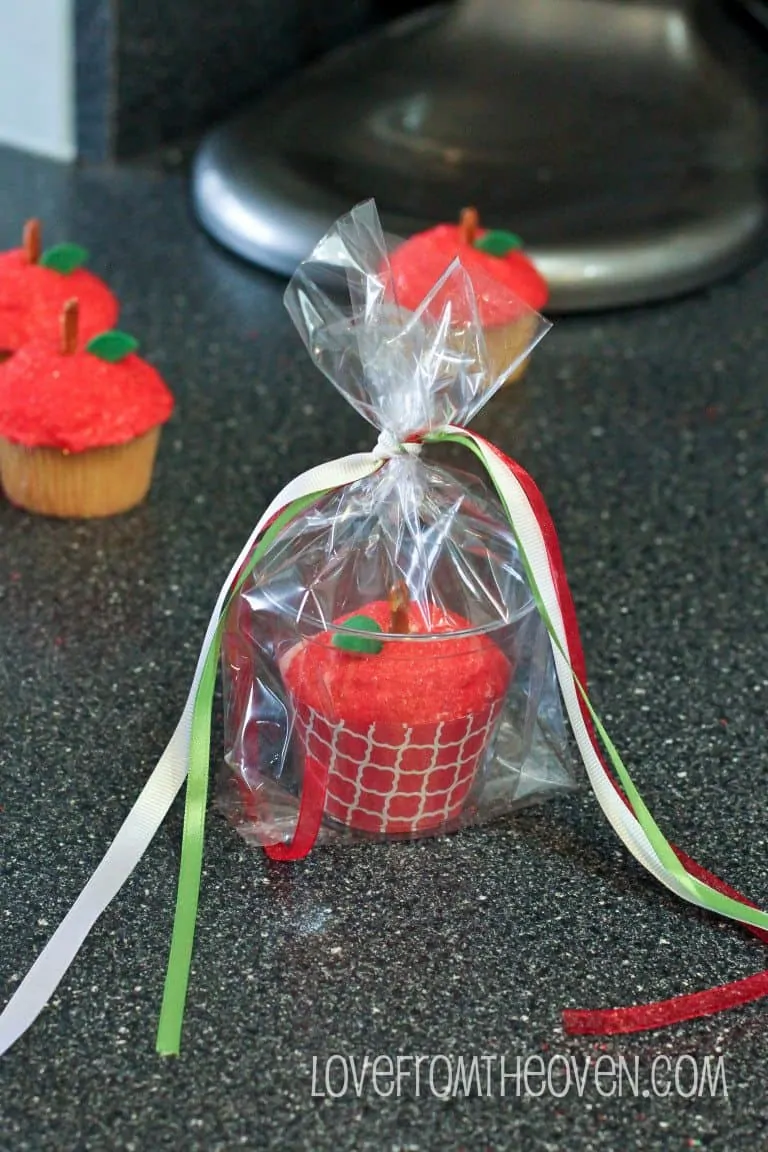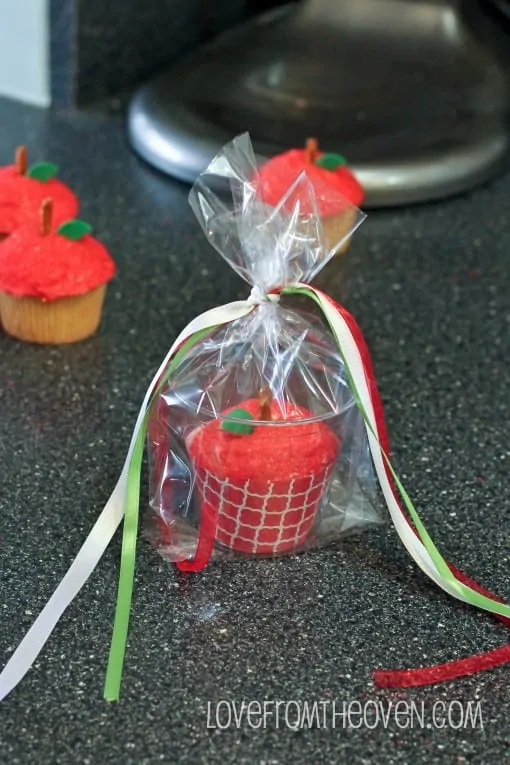 So sweet. I did these while my daughter was at school, but having the kids add the leaves and stems would be a great way to let them help out. They get to turn the cupcakes into apples!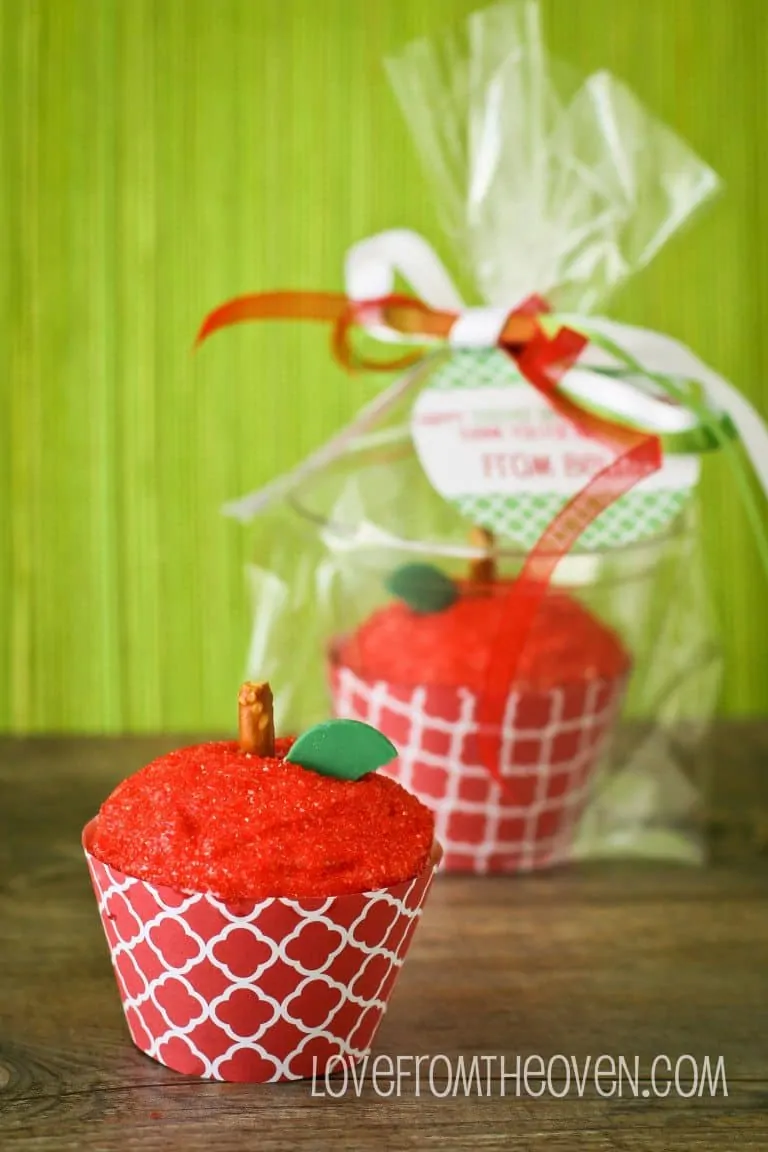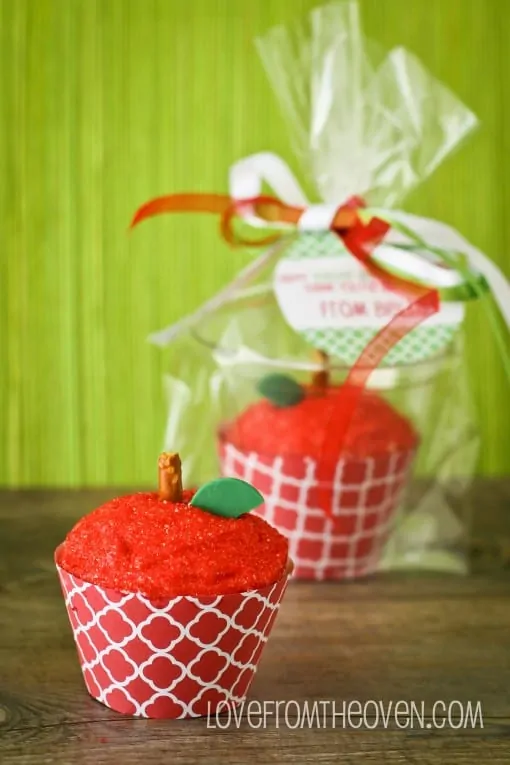 I've made a few different printable cupcake wrappers for you. One is plain and the other two have teacher specific text on them. I've created some in both red and green – so you can pick your favorite apple color to use.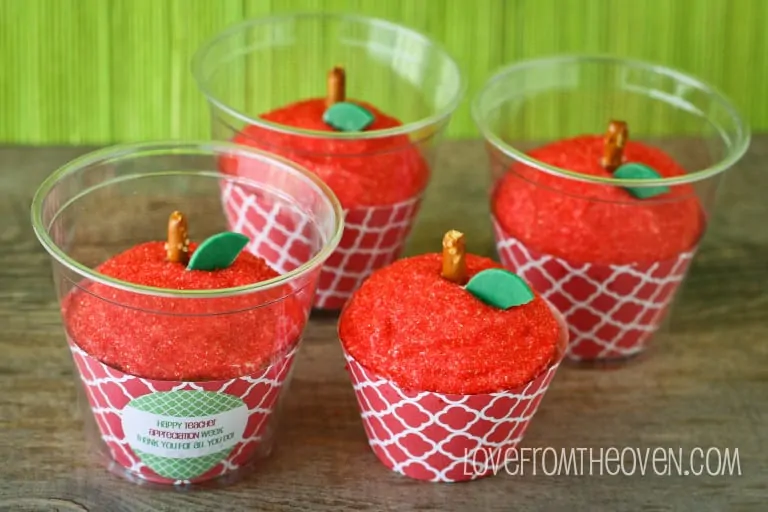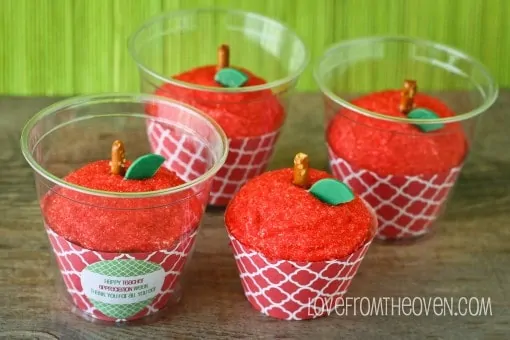 All of the free printables are available on the printables page.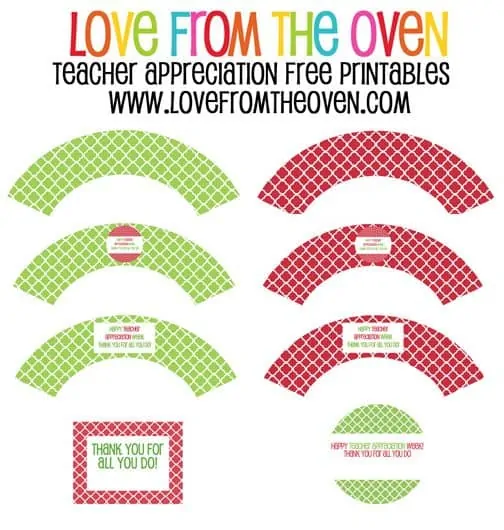 Enjoy and share some with a teacher! Also make sure to check out the super cute free digital papers over at Mel Stampz.