Start your morning off right with this savory Breakfast Crunchwrap! A flour tortilla is loaded with a layer of creamy melted cheese, fluffy eggs, hash browns and sausage making this a delicious and hearty way to get all the energy you need to start your day!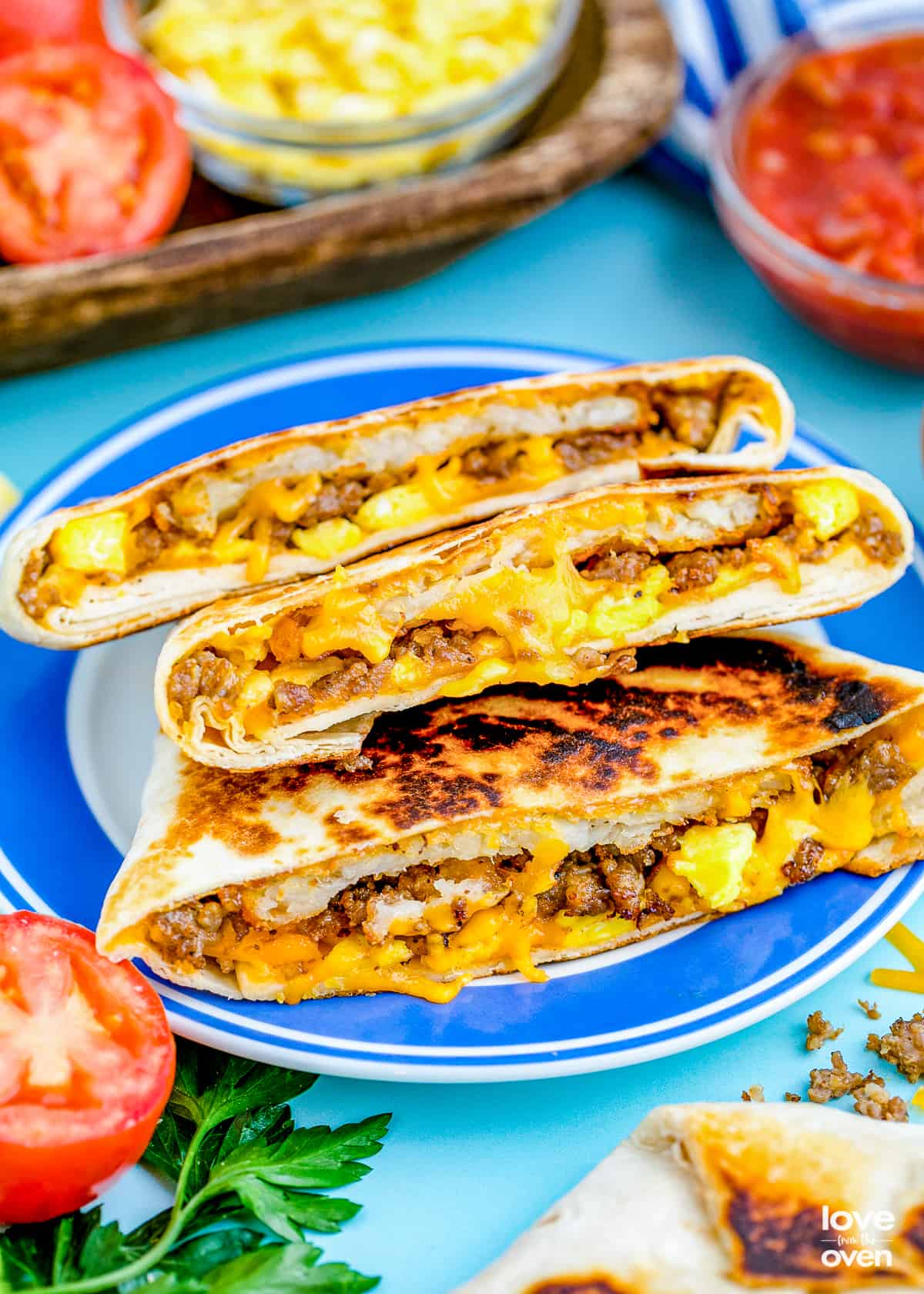 Reasons You'll Love This Recipe
Copycat Recipe – No need to wait in line at the drive-thru. This recipe tastes exactly like the Taco Bell Breakfast Crunchwrap. 
Cheesy Goodness – Who doesn't want their first meal of the day to be loaded with melty cheese? 
Kids Love it – The perfect meal to put on the breakfast table before school to keep those kiddos full all day long. 
On the Go – This is a great handheld breakfast option you can enjoy on your way out the door. 
Make Ahead – These are great to make ahead for the week, and will be ready to pop on the griddle when you're ready to eat.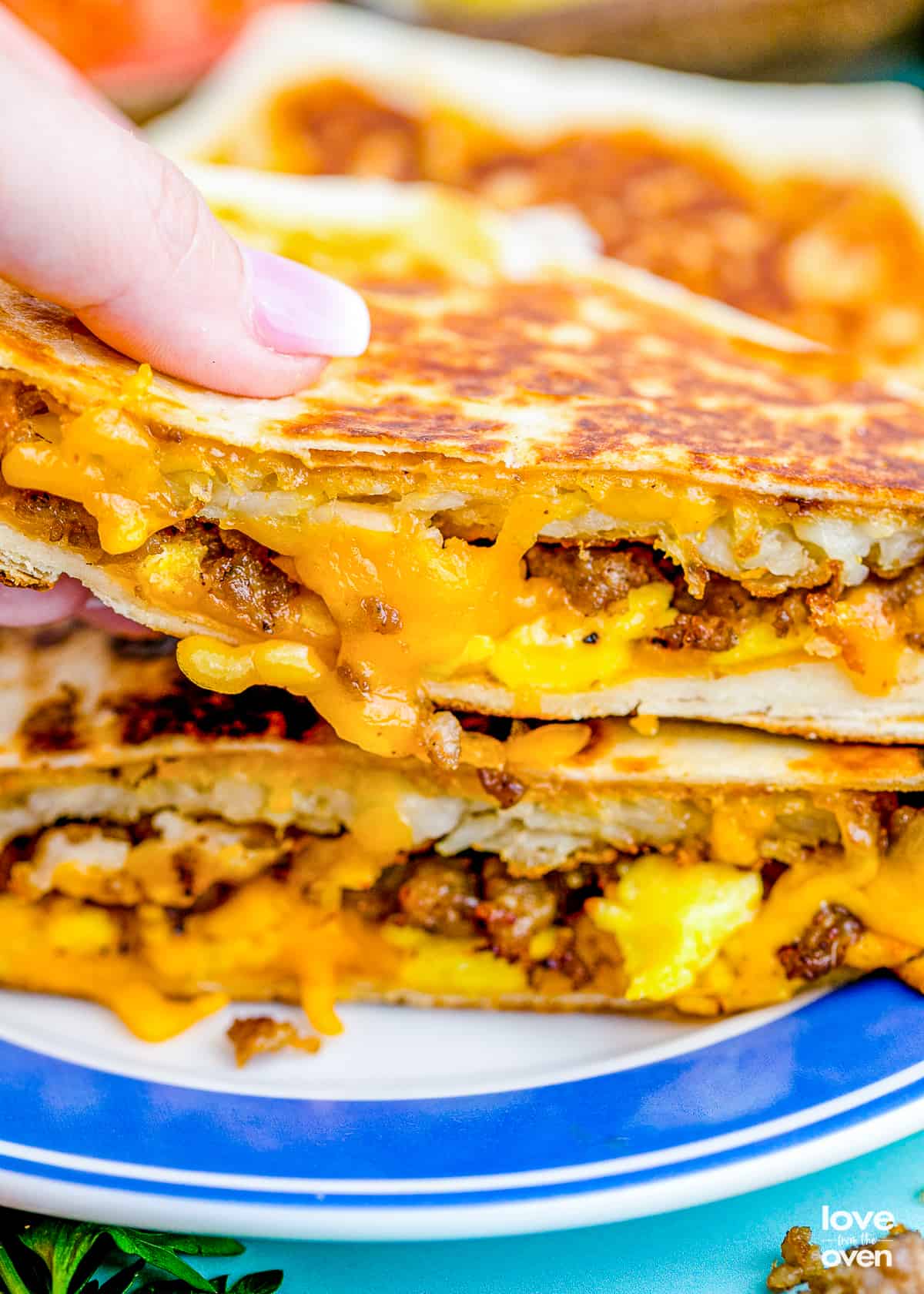 No matter what side of the bed you woke up on this morning, one bite of this homemade Crunchwrap will instantly brighten your mood. If you're a fan of the Taco Bell Breakfast Crunchwrap, you've found the right recipe to satisfy those cravings.
Ingredients and Substitutions
Recipe Discussion
Let's discuss how to make this recipe, as well as the ingredients that are needed. . If you *just* want the recipe itself, scroll down. The full printable recipe itself, with exact measurements and instructions, is found at the bottom of this page.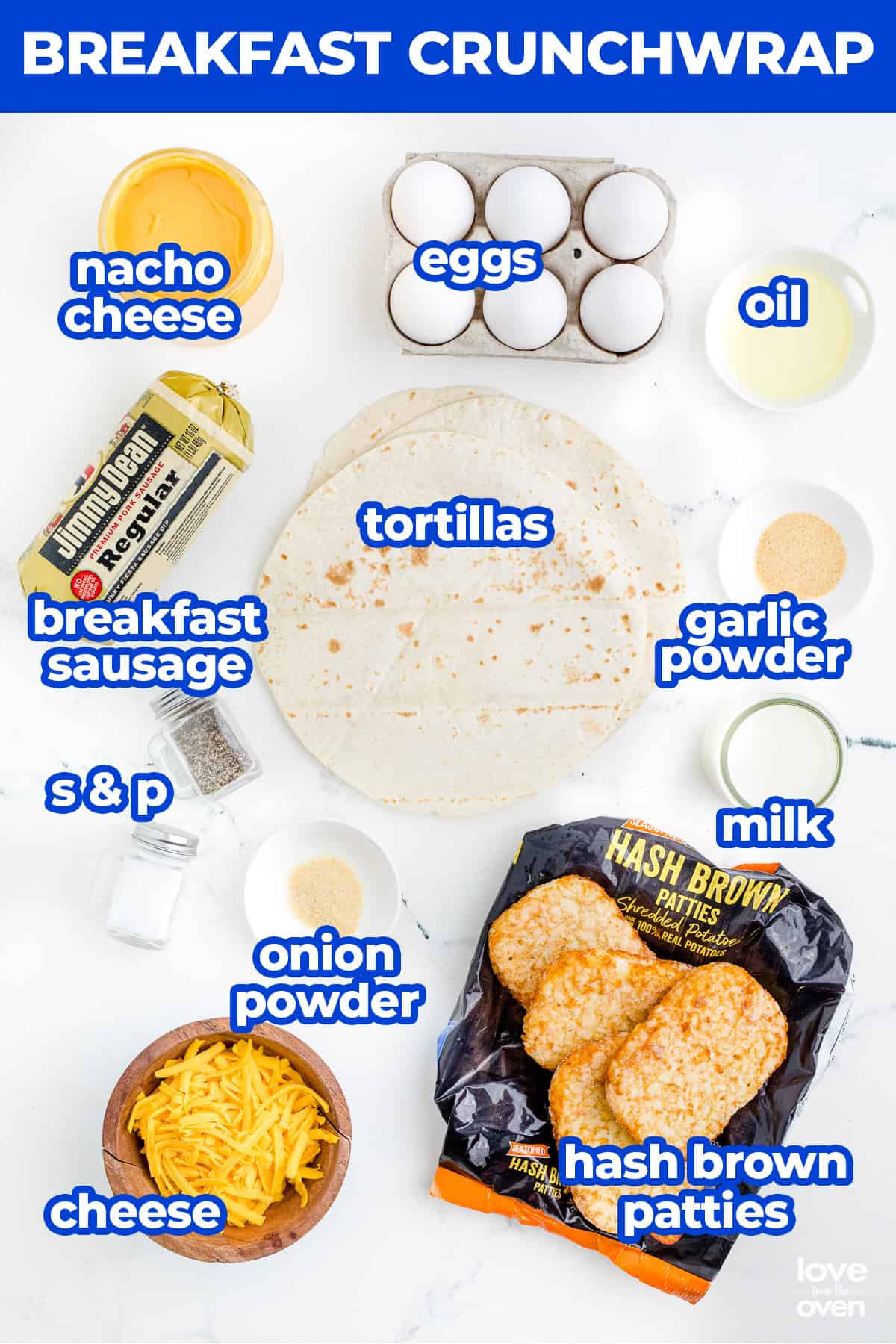 Frozen Hash Brown Potato Patties – Make sure to bake these until you have some crispy hash browns! You don't want to add frozen hash browns to your Crunchwrap.
Breakfast Sausage – Any kind of breakfast sausage works for this recipe, so get your favorite kind! If you're not a fan of breakfast sausage, try using chopped up crispy bacon instead.
Eggs – This recipe is a great way to use up those eggs you still have in the fridge. For an extra kick, try adding your favorite hot sauce on top of your scrambled eggs when assembling the Crunchwrap! It's SO good.
Milk – This will go into the eggs to make them nice and fluffy, but can be opted out if you don't have any on hand.
Flour Tortillas – You can either use 8 large tortillas and cut 4 of them into smaller circles (about 2 inches from the edge), or you can use 4 large tortillas and 4 street taco size tortillas. If your tortillas are a little hard before assembling, it may help to pop them in the microwave for about 10 seconds.
Nacho Cheese – You can warm up the nacho cheese before assembling, but it will most likely get hot while the Crunchwrap cooks.
Shredded Cheddar Cheese – You can also use whatever cheese you prefer like Colby Jack, American, Monterey Jack or even Pepper Jack for a little kick.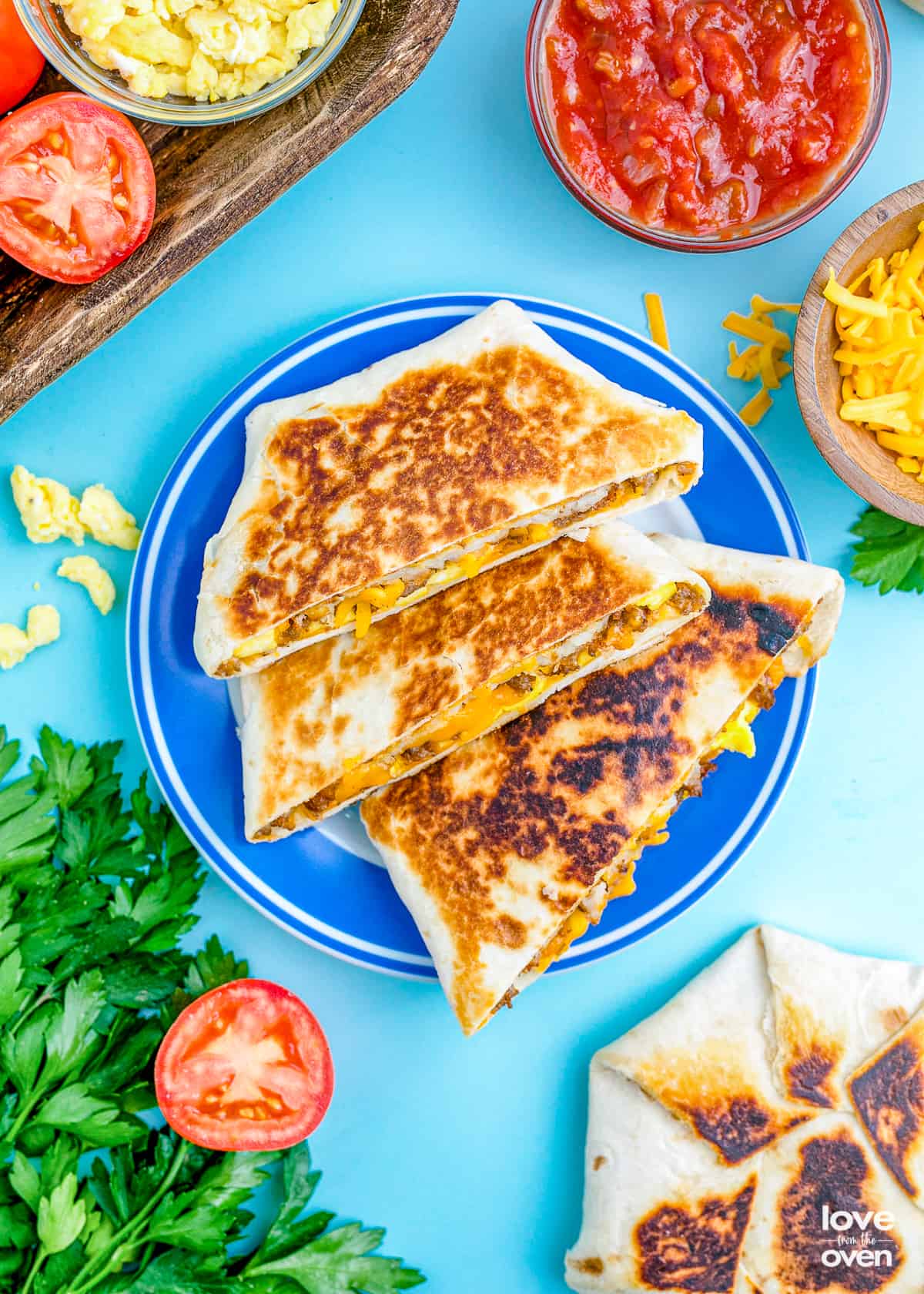 How To Make A Breakfast Crunchwrap
Start by prepping your ingredients. Bake the hash brown patties according to the package they come in and start on the sausage while that cooks.
To a large skillet, add your savory sausage of choice along with the garlic powder and onion powder over medium heat. Cook this until no pink is left. Once the sausage is fully cooked, remove it from the skillet and drain all but 1 tablespoon of fat which will remain on the skillet. Turn the heat down to medium.
In a separate bowl, whisk together the eggs and milk until combined. Pour the egg mixture onto the skillet and scramble to your preference. Add salt and pepper to your taste, and remove from the heat when done.
Next, begin assembling the Crunchwraps. To a large flour tortilla, add about a tablespoon of nacho cheese and spread it on the center of the tortilla. Next, add a hash brown patty to the center, and then about ¼ of the breakfast sausage on top. Next add a ¼ of the scrambled eggs on top of the sausage, as well as ½ a cup of shredded cheddar cheese on top. Make sure you have empty space around the edges of the tortilla.
In the same skillet or a griddle, add 1 tablespoon of oil and turn on the heat to a medium-low heat. While that heats up, grab the small tortilla, and place it on top of the Crunchwrap filling. Wrap the edges of the large tortilla up around the smaller tortilla until you have a hexagon shape.
Place the Crunchwrap on the skillet upside-down, to seal the edges first and let that fry for a few minutes until you see golden brown perfection before flipping it over to allow the other side to fry. Each side will need approximately 5 minutes.
Remove the Crunchwrap from the heat and repeat! Serve these hot and enjoy.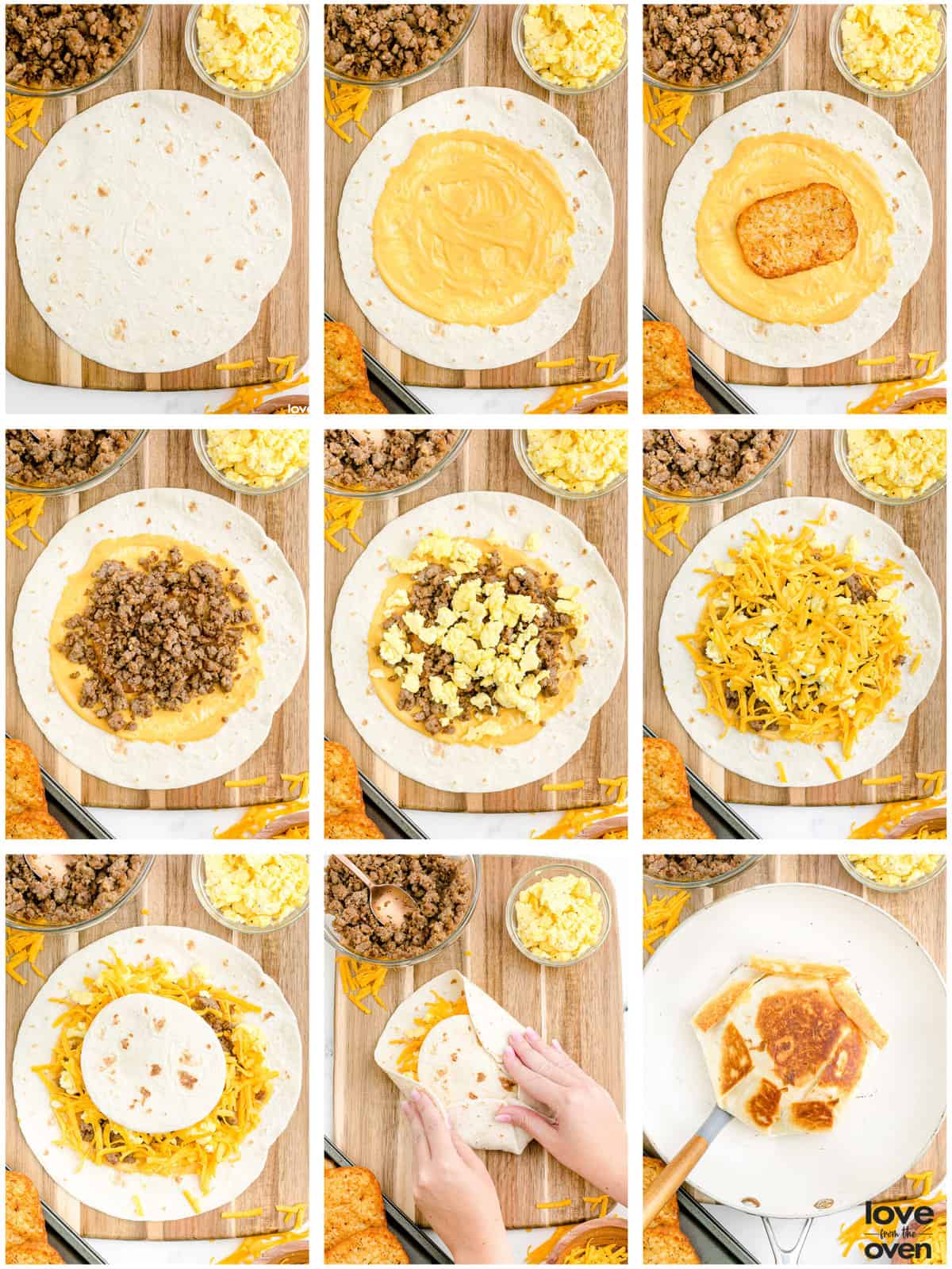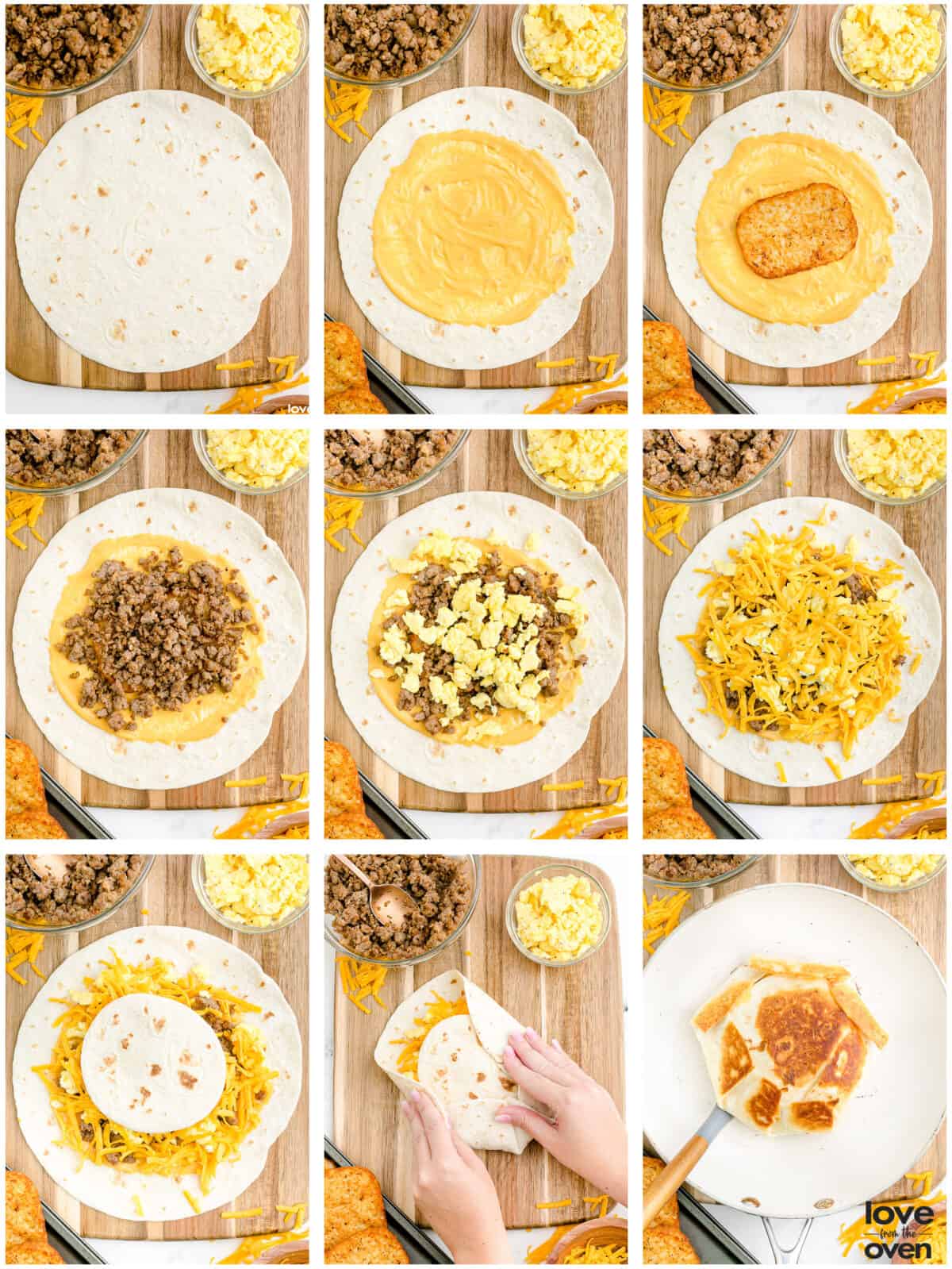 Recipe Tips and Advice
Storage – You can wrap these individually with foil or plastic wrap before storing them in the fridge for 3-4 days or in the freezer for about a month.
Materials – For this recipe you'll need a large skillet, a whisk or fork, spatula or something to mix with and a griddle. (optional)
Size – If they're too big for you, just add about half the filling to the regular sized tortilla. If you do it this way, you don't need the extra tortilla, it should fold onto itself.
Make Ahead
These are a great meal prep breakfast to make ahead for the week, especially on those busy weekday mornings. You can prepare all the ingredients, add them to the tortilla and wrap them up before cooking them. Store them in the fridge or in the freezer and take them out when you're ready to eat them. Just add your oil to the skillet, cook and enjoy!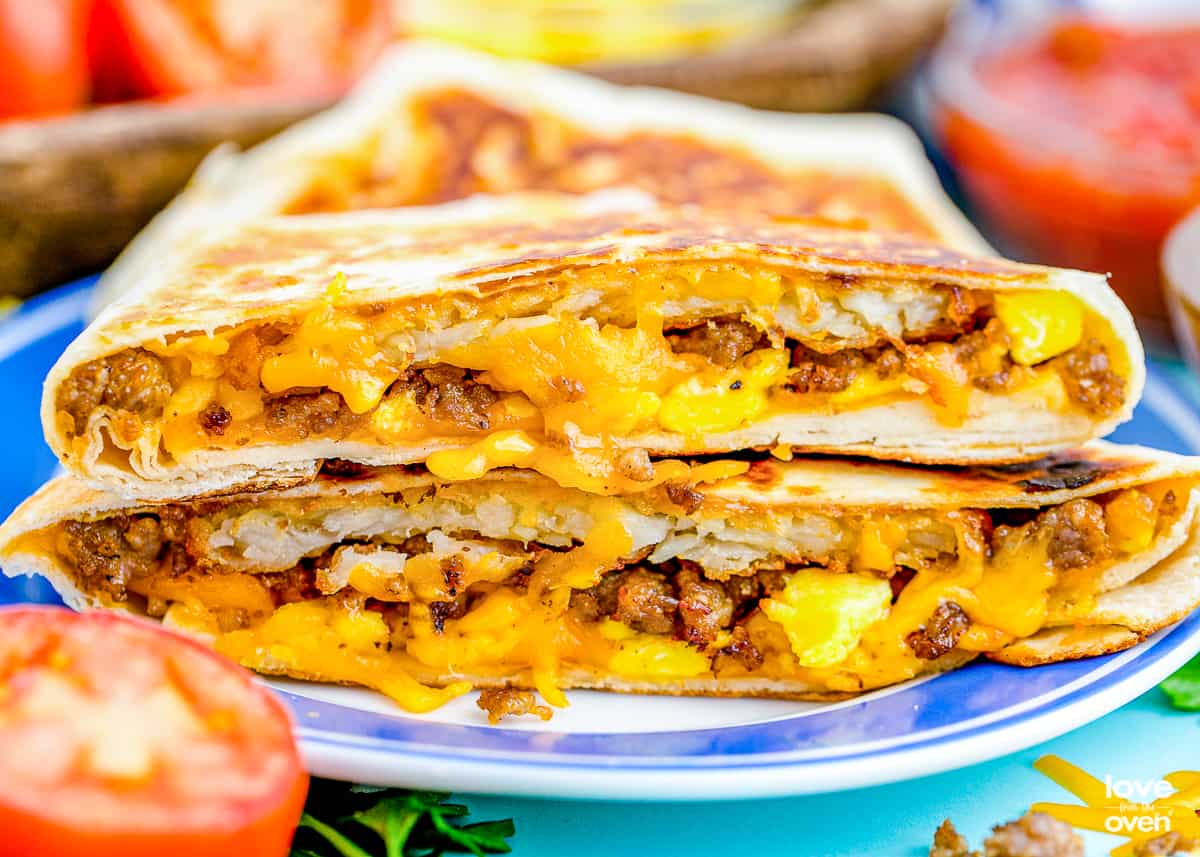 Recipe FAQs
Can I bake this crunchwrap instead of fry it?
Yes! Just preheat your oven to 400° and add oil to the exterior of the Crunchwrap before placing it on a baking sheet. Bake one side of the Crunchwrap and repeat on the other side.
How do you keep a crunchwrap from getting soggy?
If you're cooking the Crunchwrap right away, it shouldn't be too soggy. If it is, try letting the ingredients cool to a warm/room temperature before folding it up and baking. If you're making these ahead then definitely allow the ingredients to cool before adding them to the tortilla. 
What do you serve with this?
Serve this Breakfast Crunchwrap with a side of fruit, and some dipping sauces like salsa, sour cream, guacamole or a jar of taco bell sauce! 
More Breakfast Recipes To Try
Looking for an easy way to make eggs for a crowd? Try my Sheet Pan Eggs recipe!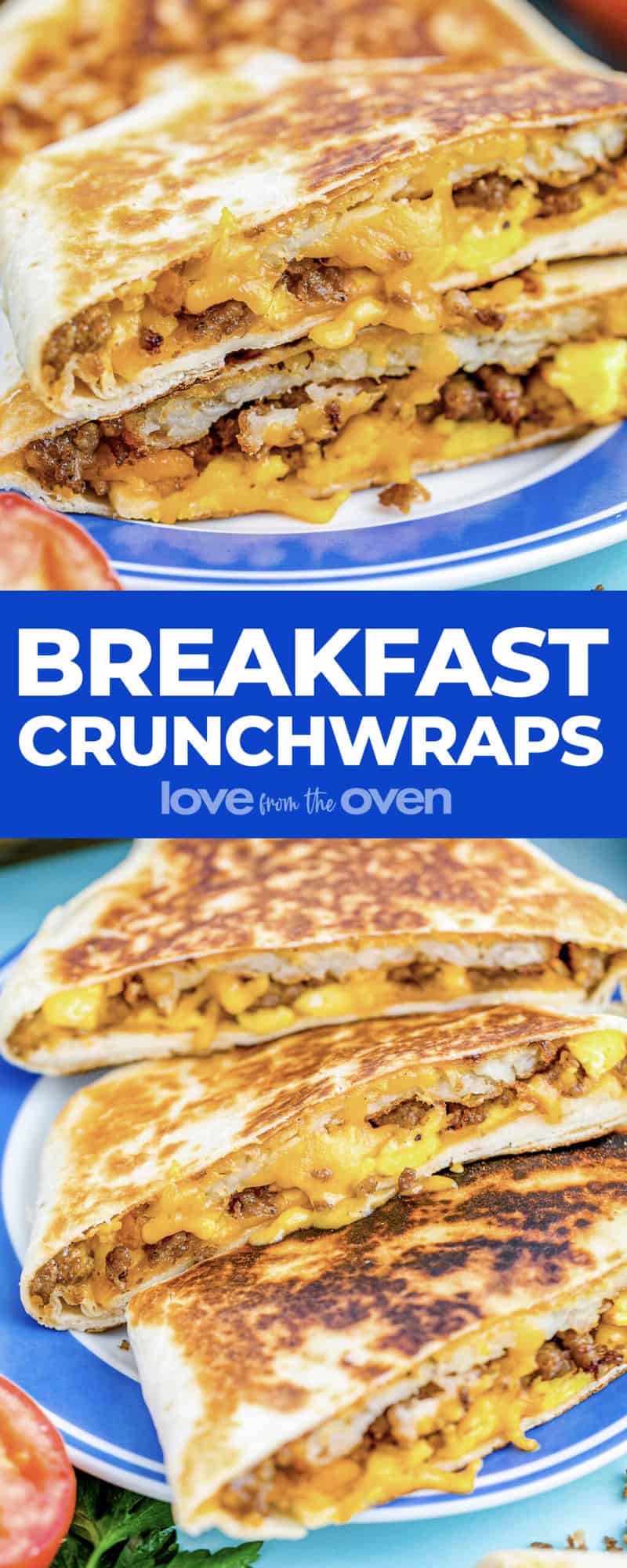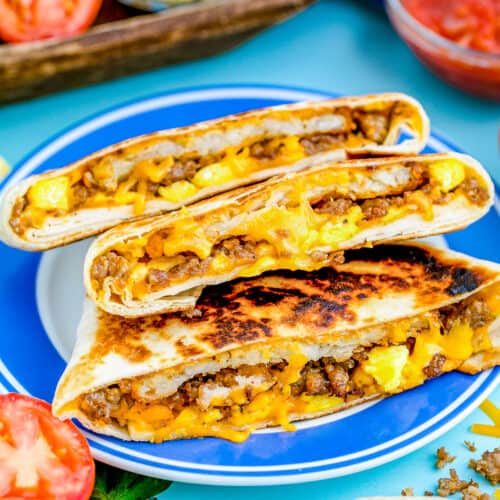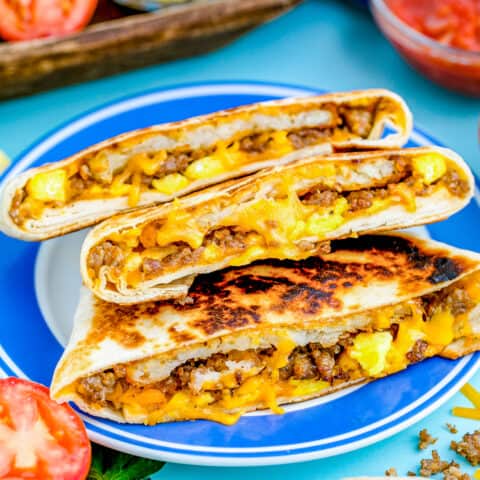 Breakfast Crunchwrap
Breakfast Crunchwrap is made with a flour tortilla, loaded with a layer of creamy melted cheese, fluffy eggs, hash browns and sausage.
Ingredients
4

frozen hash brown potato patties

1

pound

breakfast sausage

1/2

teaspoon

garlic powder

1/2

teaspoon

onion powder

6

eggs

1

tablespoon

milk

salt and pepper

to taste

8

large flour tortillas

or 4 large, 4 street taco size flour tortillas

4

tablespoons

nacho cheese

2

cups

shredded cheddar cheese

1

tablespoon

oil
Instructions
Bake the hash brown patties according to the directions on the package. While the hashbrowns are baking, begin on the sausage.

Fry the breakfast sausage in a large skillet at medium high heat. Stir in the garlic powder and onion powder. Break up the pieces as you cook it until there is no pink left.

When the sausage is fully cooked remove it from the skillet and drain out all but about 1 Tablespoon of the fat. Turn the heat down to medium.

Whisk the eggs in a bowl with the milk. Pour the eggs and milk mixture into the skillet and gently move them with a spatula until they are scrambled to your liking. Add salt and pepper to taste.

Next we will assemble the crunchwraps. Place 4 large tortillas on a flat surface. Spread about 1 Tablespoon of nacho cheese in the center of each tortilla. Place 1 hash brown patty on top. Then place about ¼ of the sausage onto each of the hash brown patties. Place about ¼ of the scrambled eggs onto each tortilla. Then put about ½ cup of shredded cheddar on top of each. Leave some space empty all the way around the edges of the tortilla.

Warm the large skillet again (or a griddle), adding about 1 Tablespoon of oil

Cut about 2 inches all the way around the edges of the 4 remaining tortillas (creating smaller circles) or place on street tacos size tortillas. Set 1of the smaller tortillas on top of the fillings of each large tortilla. Wrap the edges up around the smaller tortilla.

Place each of the wraps into the griddle or skillet upside down (with the turned up edges on the bottom, to keep them sealed). Fry on one side until browned, then flip and fry the other side until browned. They will need about 5 minutes per side.
Notes
Please read entire post for tips, advice and answers to frequently asked questions.
If you have hard or somewhat brittle tortillas, make sure to fold them slowly or even pop in the microwave for 10 seconds before assembly to soften them up.

Do NOT overfill each crunchwrap or you won't have enough room to fold the edges closed.

For nutritional purposes, 1 serving is equal to half of a crunchwrap.
Storage – 

Leftovers may be kept wrapped in the fridge for 3-4 days, or in the freezer for up to a month.   
Nutrition
Calories:
459
kcal
|
Carbohydrates:
17
g
|
Protein:
22
g
|
Fat:
33
g
|
Saturated Fat:
13
g
|
Polyunsaturated Fat:
4
g
|
Monounsaturated Fat:
12
g
|
Trans Fat:
0.1
g
|
Cholesterol:
193
mg
|
Sodium:
875
mg
|
Potassium:
252
mg
|
Fiber:
1
g
|
Sugar:
2
g
|
Vitamin A:
546
IU
|
Vitamin C:
0.4
mg
|
Calcium:
275
mg
|
Iron:
2
mg
Disclaimer
Nutrition information is estimated as a courtesy. If using for medical purposes, please verify information using your own nutritional calculator. Percent Daily Values are based on a 2000 calorie diet.