Campfire Apple Pie Packets are a delicious and easy dessert that your entire family will love. These yummy no-fuss apple pie foil packets can be made on the grill, over a campfire or baked in the oven.
Campfire Apple Pie is great for summer camping trips, parties or just for a fun summer dessert to share with the kids even if you can't get away for a trip.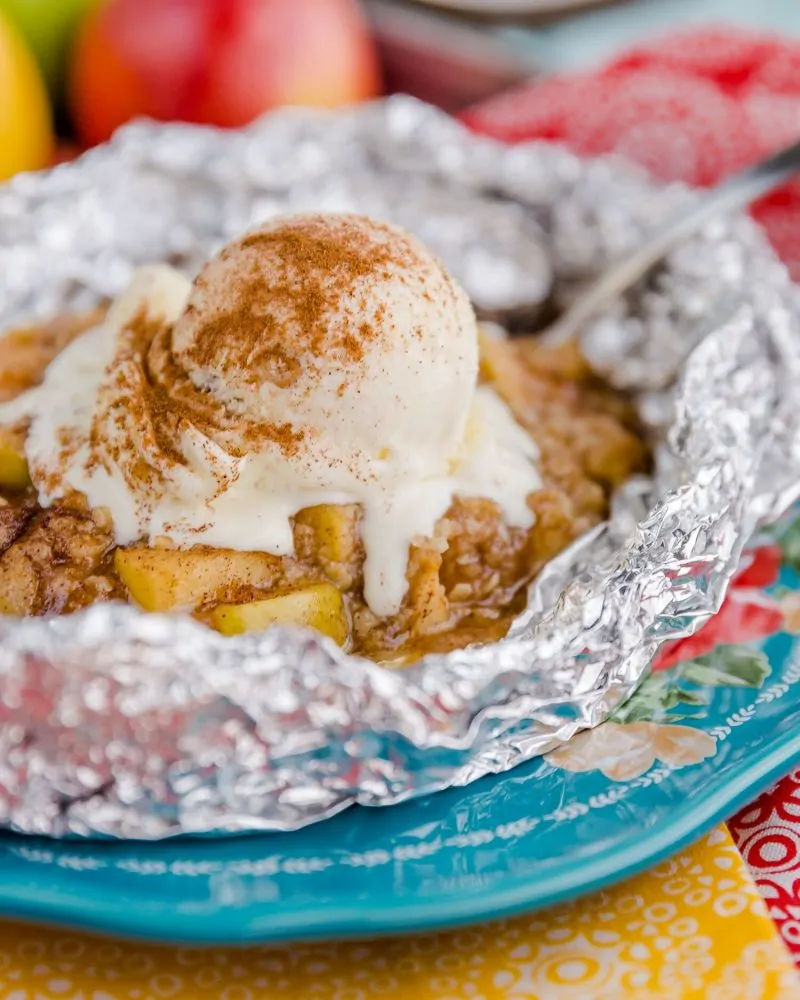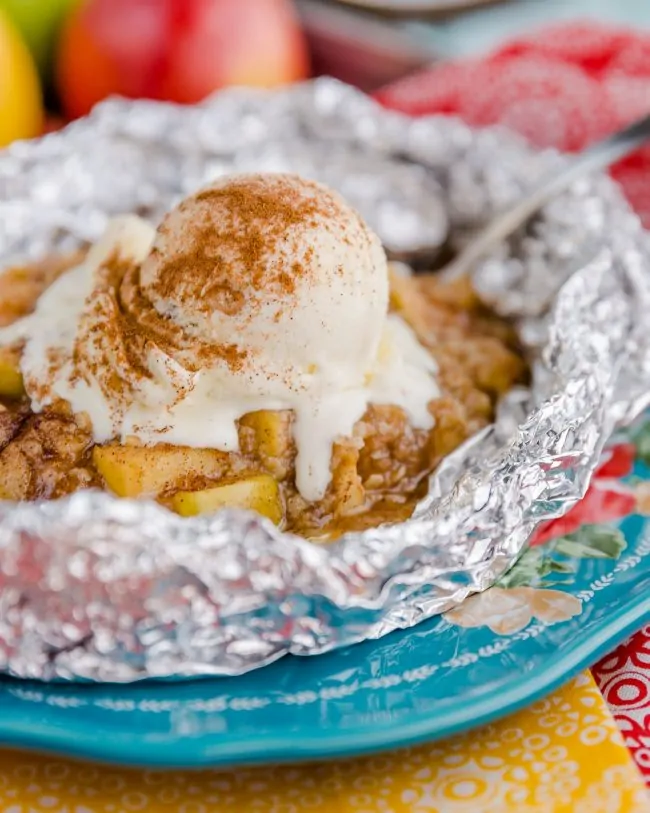 I love how flexible this recipe is, and while it's fun to make them over a crackling open campfire, the results are every bit as scrumptious when they are grilled or baked right in your own backyard.
Foil packets not your thing? Try my traditional apple crisp recipe instead!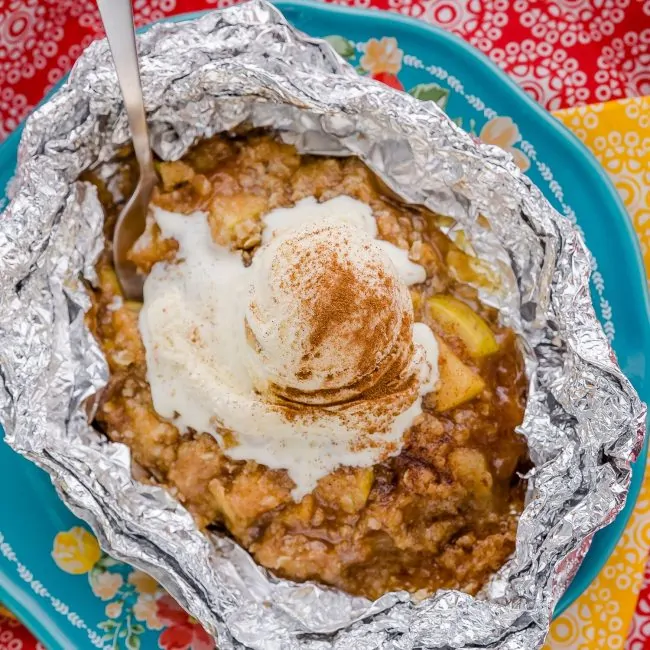 Easy Apple Pie Packets
This recipe for Campfire Apple Pie Packets is easy and delicious, as well as an affordable choice for a family dessert. We love to make desserts like these while on vacation.
Our family likes to stay in rental apartments or homes when we travel, as it allows us to make our meals where we are staying instead of eating out all the time. We find everything we need for our meals, including Great Value Ground Cinnamon for these apple pie packets, at our nearby Walmart.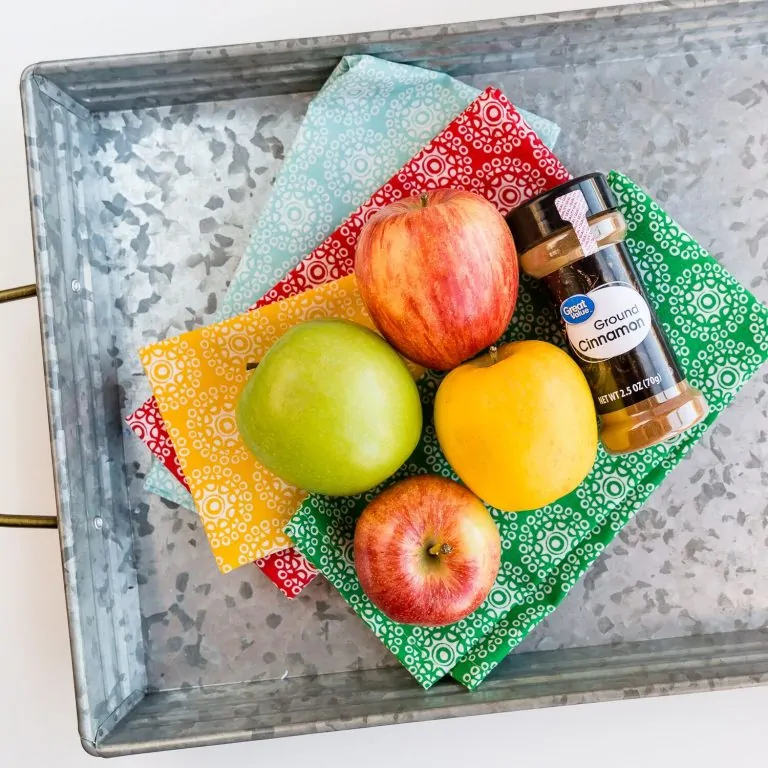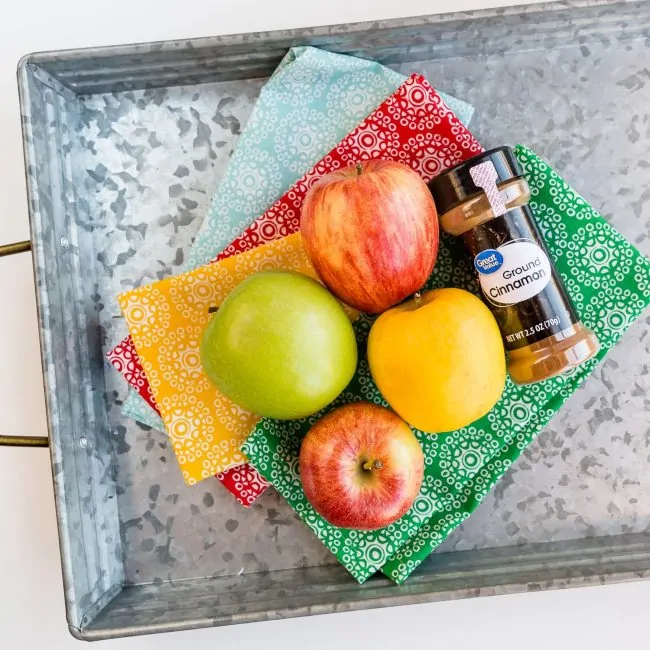 Not only are Great Value spices great quality, they are only .98 cents each! With over a dozen spices to choose from, Great Value Spices are perfect for grilling, cooking, baking and seasoning. For these yummy Apple Pie Packets, Great Value Ground Cinnamon provides the perfect flavor.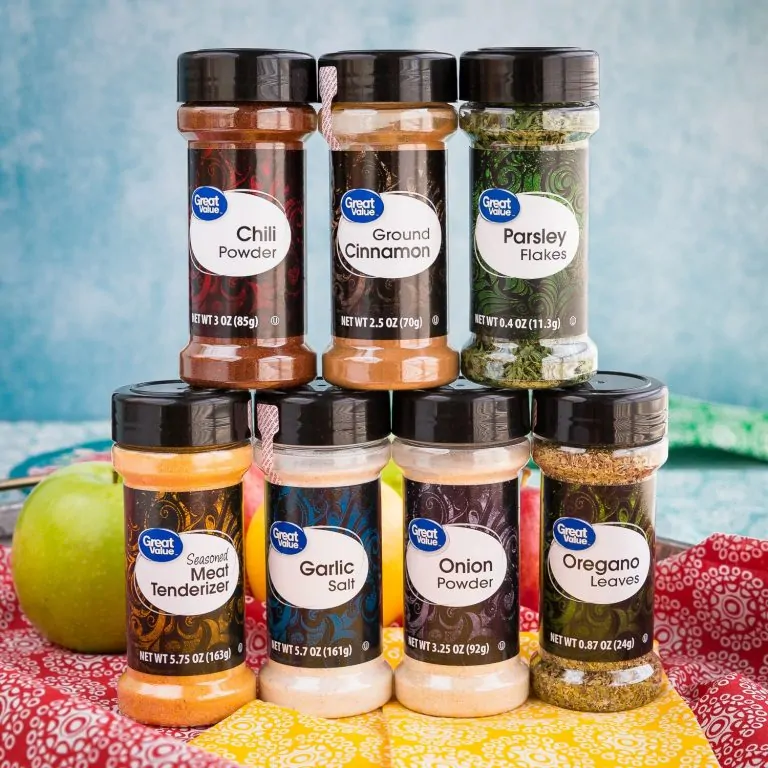 While these Apple Pie Packets are perfect around a campfire, especially on vacation, they are every bit as fabulous at home on a Wednesday summer night.
If your family is like mine sometimes it's hard to get away and a campfire in your small, suburban backyard would lead to all your neighbors calling the fire department. Thankfully you don't need a campfire for this Apple Pie Packet recipe.
Grill, Campfire or Oven Apple Pie Foil Packets
Fire up the grill or preheat the oven, both will work for this recipe. Even if you can't get away and gather around a campfire, your family can turn off the electronics, whip up some apple pie packets and gather around the table or backyard for a little vacation like break in the middle of a busy week.
Sometimes it's these out of the ordinary type moments at the end of an ordinary day, that create memories that our families remember.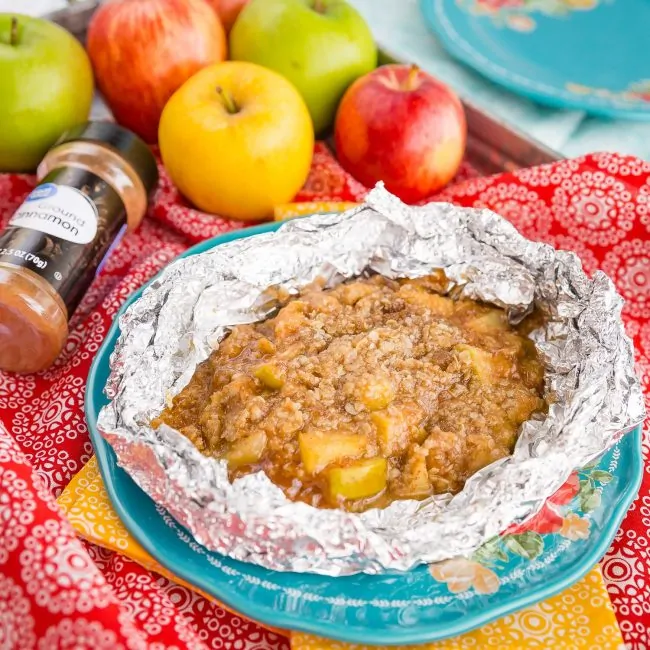 Making these apple pie foil packets is incredibly simple, and the kids can help out. For our family of four, two apples is the perfect amount. We make them in two packets and share them, but there is no reason you couldn't split your apple mixture into three or four foil packets if it works better for your family.
While you can peel your apples, I do not. My kids, who are quite the picky and observant eaters, have never minded at all that the skins are left on.
Best Apples For Making Apple Pie
When it comes to baking with apples, I find Granny Smith is the most versatile and dependable to use. Golden Delicious, Honeycrisp, Jonathan and Braeburn are also good choices. Try to avoid baking with Red Delicious as they tend to get mealy and watery when used for baking.
Making Apple Pie In Foil Packets
To make your apple pie packets, you start by cutting up your apples and mixing them with a bit of lemon juice. From there you add some granulated sugar, brown sugar, cornstarch and Great Value Ground Cinnamon. If you don't have cornstarch on hand and want to make these, you can skip it. I always use it in my apple pies as it helps the mixture thicken, but you can make them without it.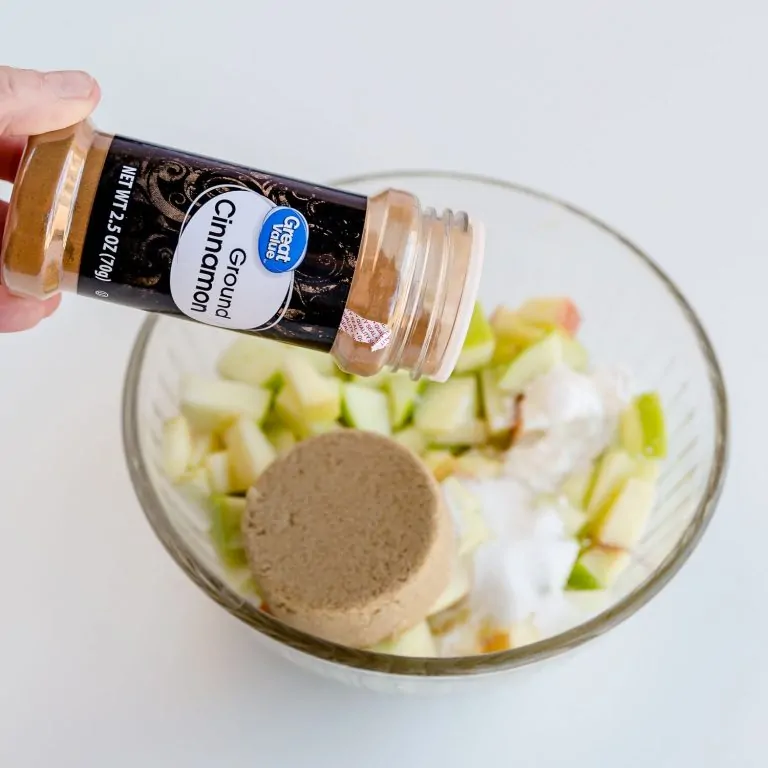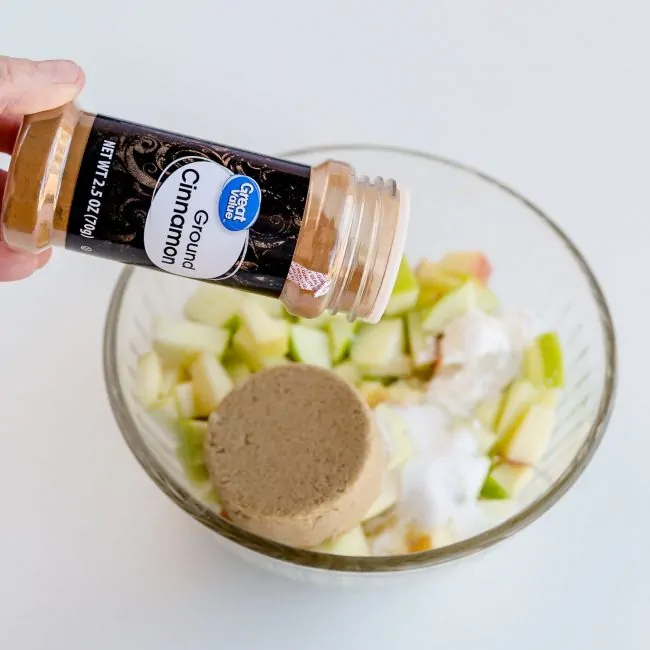 After that mixture is combined and set aside, you make your topping. The topping includes oats, brown sugar, flour, a touch of salt (if desired) butter and Great Value Ground Cinnamon.
Next you simply spoon half of your apple mixture onto a piece of non-stick piece of foil that is approximately 18″ long. Make sure your foil is long enough to allow you to wrap up your mixture well.
The crumb topping now gets spooned on top of the apple mixture, then the foil packet is wrapped tightly, and then wrapped a second time. Repeat process with another piece of non-stick foil and the remaining ingredients.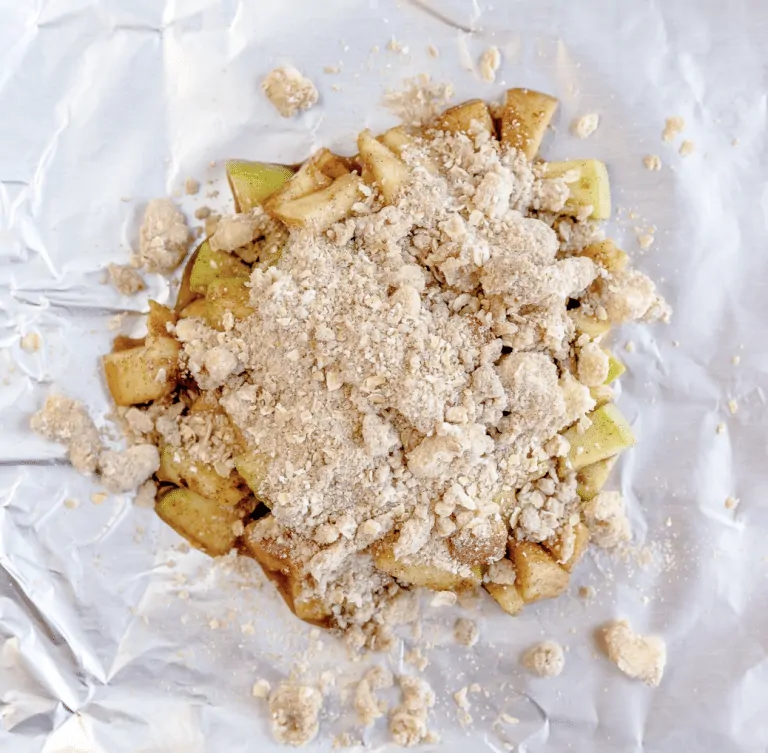 Now it's time to grill or bake. Once done, remove from oven, grill or campfire. Allow to cool slightly, approximately ten minutes. Finally, it's time to eat! Carefully open up the foil packets, using caution as they will be very hot. Top each opened apple pie packet with a scoop of Great Value Ice Cream, serve, share and enjoy!
Even if you don't find yourself around a campfire, I hope your family finds the time to unplug, make these apple pie foil packets and enjoy them while spending time with each other. Remember, you can find all the ingredients you need, including Great Value Ground Cinnamon, at your local Walmart at home and nearby Walmart while on vacation.
Pin To Save Campfire
Foil Packet Apple Pie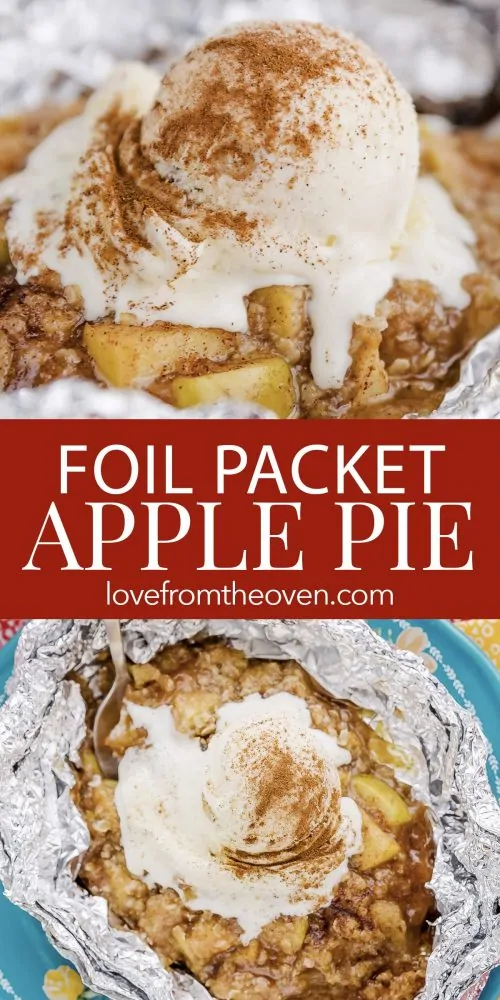 Recipe For Apple Pie Packets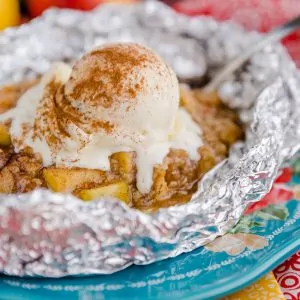 Apple Pie Packets
These delicious APPLE PIE PACKETS can be made in your oven, on the grill or over a camp fire. A delicious summer dessert that's perfect for camping and outdoor dining.
Ingredients
APPLE MIXTURE
2

medium to large sized apples

diced into approximately 1/4" pieces

2

tsp

lemon juice

2

tsp

cornstarch

2

tbsp

granulated sugar

1/4

cup

packed brown sugar

1

tbsp

cold butter

cut into small pieces, approximately 1/8"

1 1/2

tsp

Great Value Ground Cinnamon
TOPPING MIXTURE
1/4

cup

quick cook oats

old fashioned oats will also work, they just have a chewier texture

1/4

cup

all-purpose flour

1/4

cup

packed brown sugar

1 1/2

tsp

Great Value Ground Cinnamon

1/4

cup

cold butter

cut into small pieces, approximately 1/8"
Instructions
Preheat grill to medium heat or preheat oven to 450 degrees F.

Prepare four pieces of non-stick foil, approximately 12x18" in size.

In a medium sized bowl, combine diced apples and lemon juice. Add in cornstarch, sugars, Great Value Ground Cinnamon and butter. Mix to combine well. Set aside.

Next, in a separate bowl, combine oats, flour, brown sugar and Great Value Ground Cinnamon. Mix well.

Add butter to mixture and cut in with a pastry cutter or two forks.

Place half of the apple mixture onto the center of one of the pieces of non-stick foil, making sure the mixture is touching the non-stick side. Sprinkle half of the crumb mixture over the apples.

Seal foil packet tightly, making sure all sides are securely closed. Repeat with a second piece of foil. Repeat with remaining ingredients.

Place on grill or over campfire for approximately 8-12 minutes, or place on a cookie sheet and bake in oven for approximately 15 minutes. Times are approximate as grill and campfire heating is harder to regulate than an oven.

Remove from heat and allow to cool for approximately 10 minutes. Carefully open foil packets as they will be very hot. Top with a scoop of ice cream, serve, share and enjoy.
Nutrition
Serving:
0
g
|
Calories:
354
kcal
|
Carbohydrates:
56
g
|
Protein:
2
g
|
Fat:
15
g
|
Saturated Fat:
9
g
|
Cholesterol:
38
mg
|
Sodium:
136
mg
|
Potassium:
152
mg
|
Fiber:
3
g
|
Sugar:
42
g
|
Vitamin A:
490
IU
|
Vitamin C:
5.1
mg
|
Calcium:
32
mg
|
Iron:
0.9
mg
Disclaimer
Nutrition information is estimated as a courtesy. If using for medical purposes, please verify information using your own nutritional calculator. Percent Daily Values are based on a 2000 calorie diet.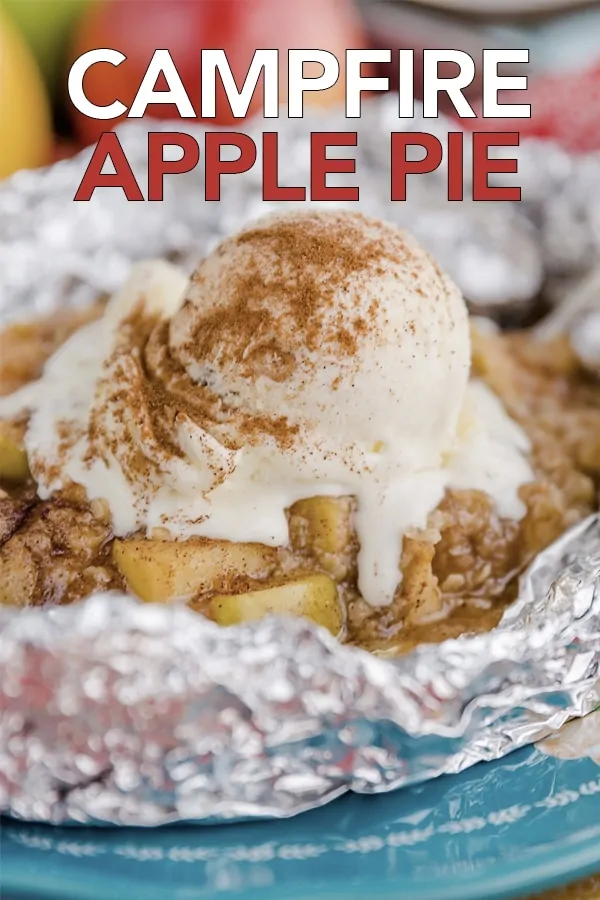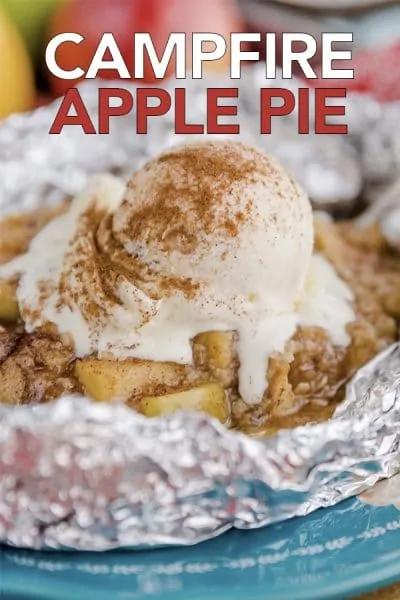 This post was sponsored by Walmart. All opinions however are mine and mine alone.