Warm apples, cinnamon, brown sugar, buttery oats, ice cream and caramel sauce come together in this deliciously decadent Apple Crisp recipe. One of my favorite things about fall are the warm and comforting recipes and this caramel topped Apple Crisp recipe is no exception. There is just some sort of special magic that happens when a warm apple dessert meets a cool and creamy scoop of ice cream. Bring on the fall desserts!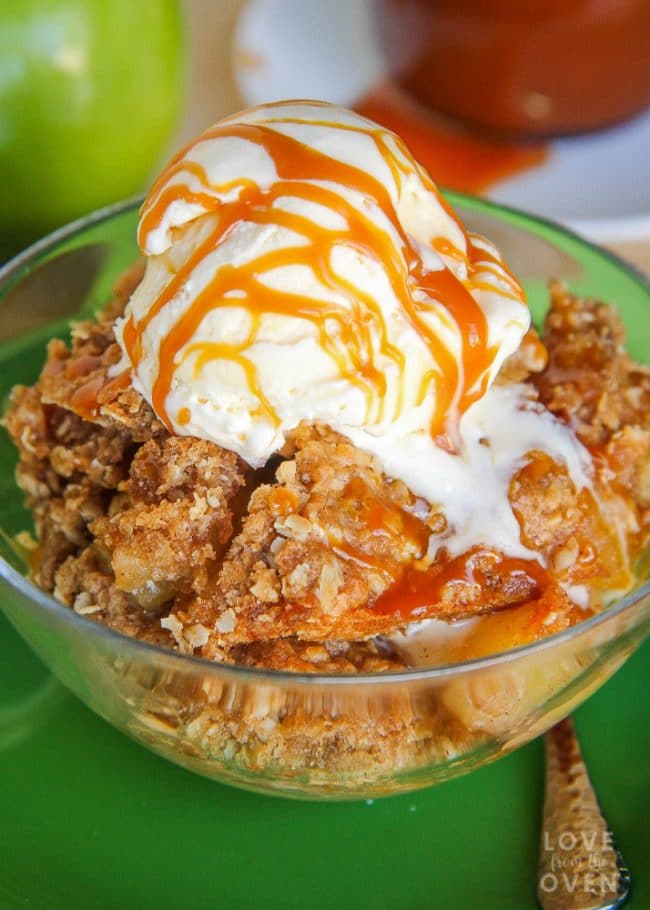 While apple desserts are always great on their own, I love to pair them with caramel. It really is a fantastic flavor combination. For this recipe I used my Easy Homemade Caramel Sauce, but you could also use your favorite jarred variety.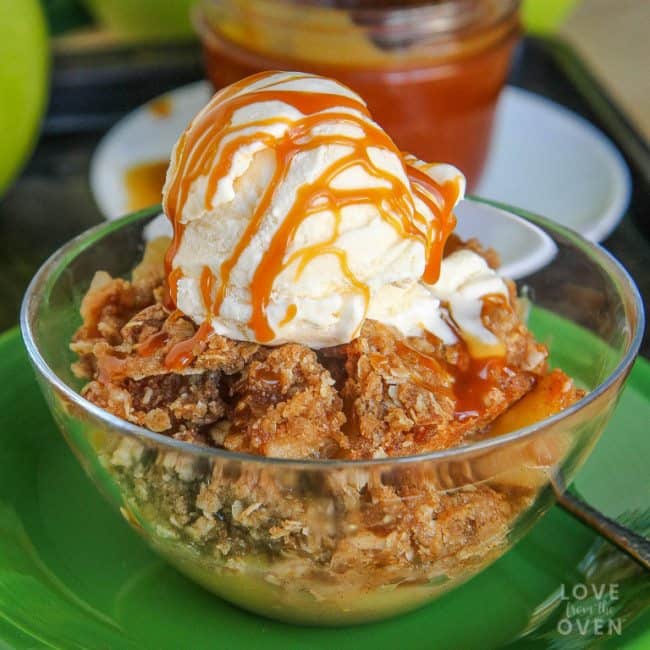 The Best Apples For Apple Crisp Recipes
When baking with apples, the apple varieties that you use can have a big impact on the end result. I find that some apples are best for simply eating and enjoying, while others are more suitable for baking. Some apples can lose a lot of their moisture, resulting in a watery baked good, while other apples can get a bit mealy when baked.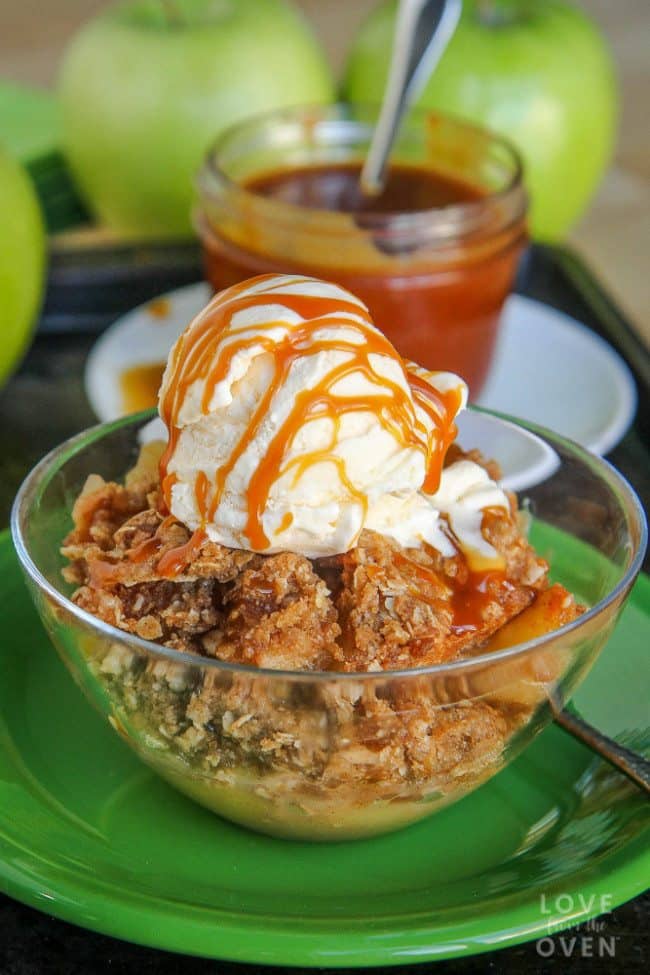 My go to apple for baking is the Granny Smith, I tend to have very consistent results with it and you can almost always find it in your local store. I actually prefer to combine two, or three, apple varieties in my baking. While on our family vacation this summer we visited a great apple farm in California, Jack Creek Farms.  This was one of those random spur of the moment road trip stops that ended up being one of our favorite parts of the trip (so much so we re-routed our return drive for a second stop!). While we were enjoying their apple cider slushees, I asked the ladies what apples they prefer for baking, and they too said a variety. So when in doubt, get a variety of apples for your recipes. Also when near Paso Robles, California, visit Jack Creek Farms.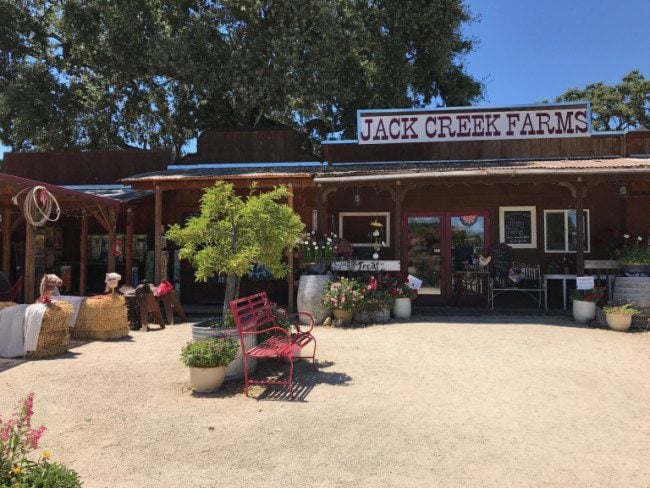 For this crisp I used both Granny Smith and Golden Delicious apples. Some other apples that are well suited for baking are Cortlands, Mutsus, Jonagolds, Braeburns and Honey Crisps.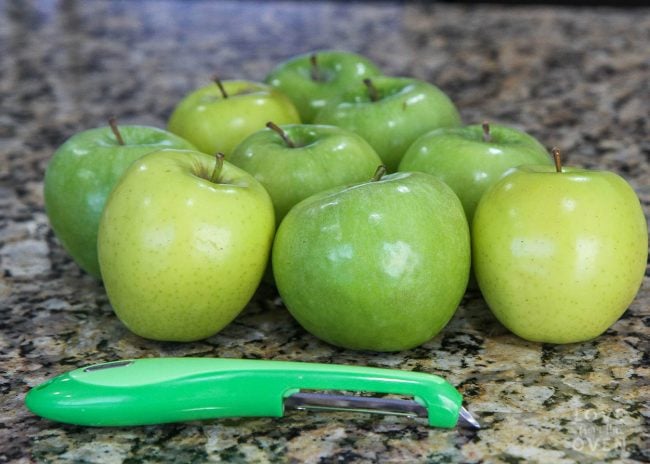 Some cooks skip peeling their apples for baking recipes, but I prefer to peel my apples. I'm a big fan of the OXO Peeler as well as the OXO Apple Cutter.  For this recipe I prepare my crumb topping first, then peel and slice my apples when I'm ready to use them. I toss them with a bit of lemon juice to help slow down the browning process, as well as some cinnamon and sugar for extra flavor.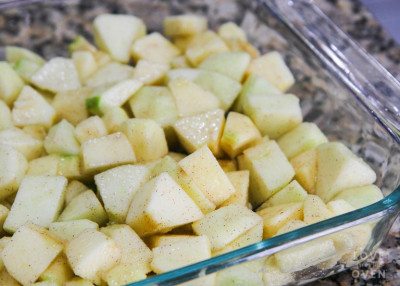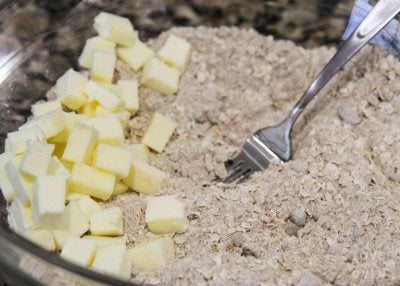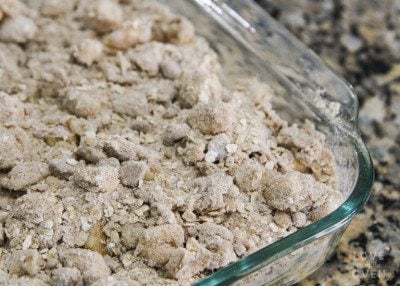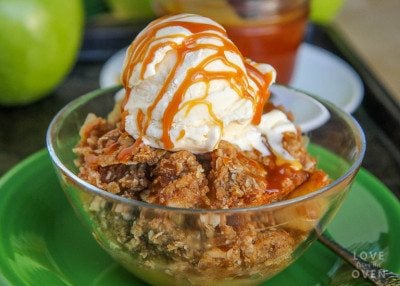 This recipe comes together quickly, and you can serve it warm right out of the oven. I like to put this in the oven right before we sit down to eat, the timing works out great for a delicious, warm dessert after our meal. In theory ice cream is optional, but in my home ice cream on warm apple desserts is never optional. It's flat our mandatory!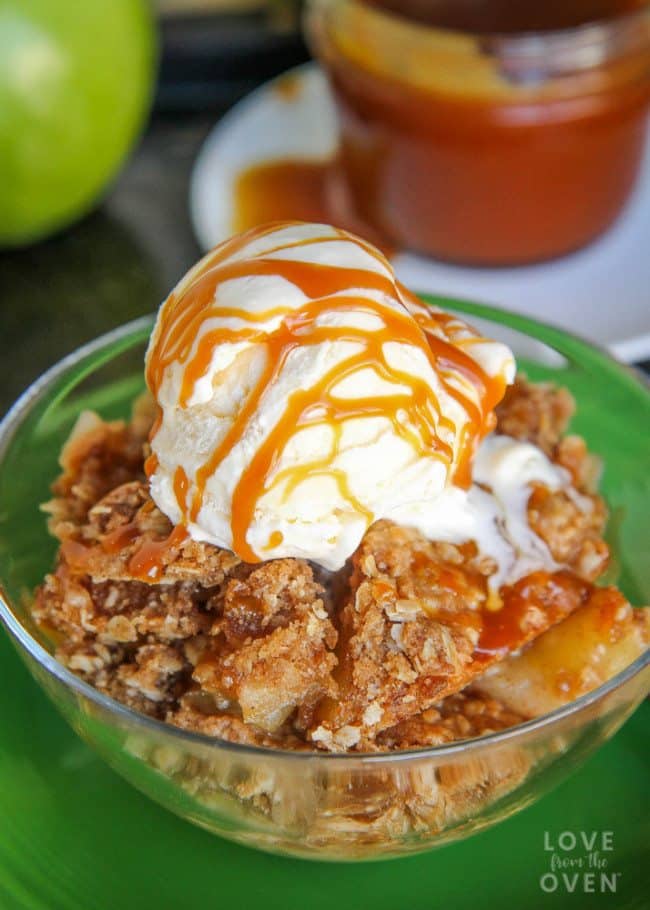 I used my homemade caramel sauce for this, but you can use a jar version as well.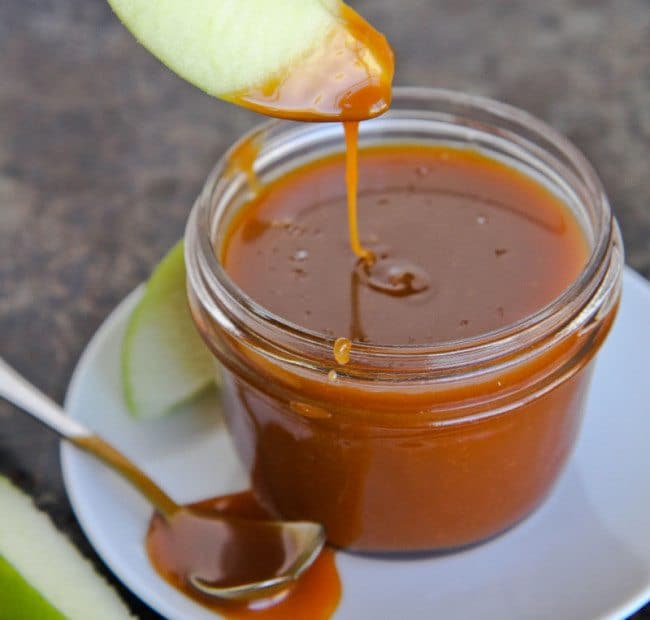 Apple Crisp Recipe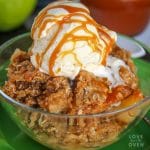 Apple Crisp
A warm and delicious apple crisp with brown sugar and buttery oats.
Ingredients
1

cup

all-purpose flour

1 1/2

cups

rolled oats

instant or old fashioned are acceptable

2

tsp

ground cinnamon

1

cup

packed brown sugar

1

cup

butter

cold and cut into small pieces

2

quarts

apples

approximately 6-8 large apples, peeled and cubed

1-2

tbsp

lemon juice

1/2

cup

sugar

1

tsp

cinnamon

1

tbsp

cornstarch
Garnish:
Caramel Sauce

Vanilla Ice Cream

Optional
Instructions
Preheat oven to 350 degrees F.

In a large bowl, combine flour, oats, cinnamon and brown sugar. Cut in butter until mixture has a crumbly texture. Set aside.

Grease the sides and bottom of a 13x9 baking dish.

In a small bowl, combine remaining sugar, cinnamon and cornstarch.

Place chopped and peeled apples into a large bowl. Drizzle lemon juice over apples and stir to combine. Sprinkle sugar, cinnamon and cornstarch mixture over apples and stir to combine well.

Pour apple mixture into prepared pan. Top with crumb mixture.

Bake for 45-50 minutes. Remove from oven and allow to cool slightly.

Place each serving in a bowl and top with a scoop of vanilla ice cream and caramel sauce. Store any leftovers in the refrigerator, and reheat individual servings if desired.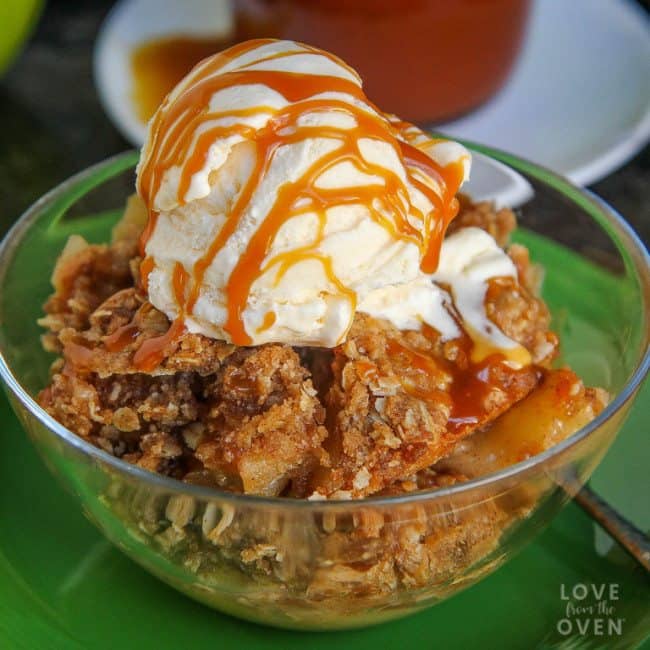 Need more apple recipes in your life? I hear you. And I present Apple Pie Cheesecake Bars.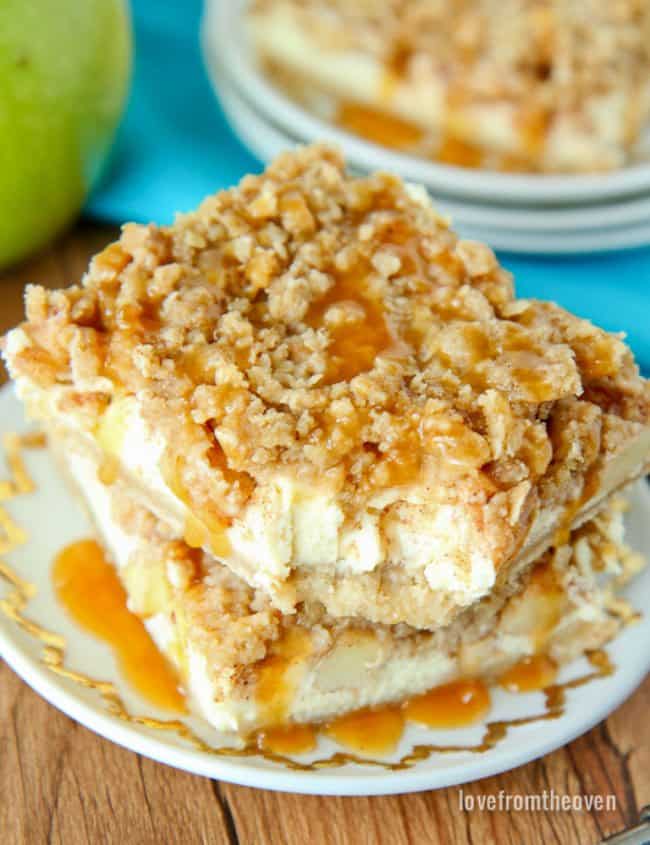 I also believe in apples for breakfast. Apple Breakfast Cookies anyone?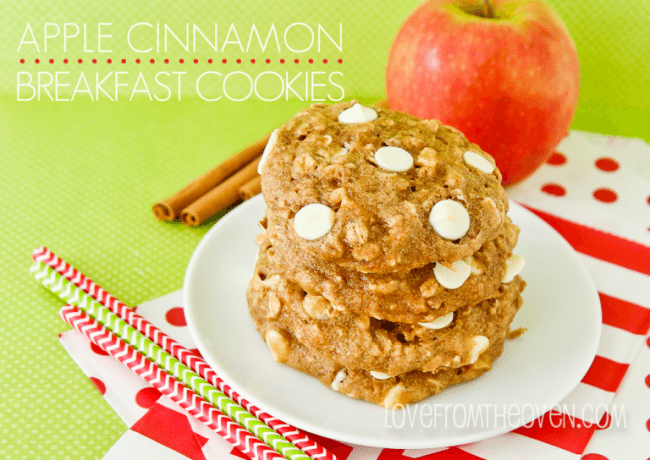 How about Apple Pie Bread! I shared this recipe over on Better Homes and Gardens.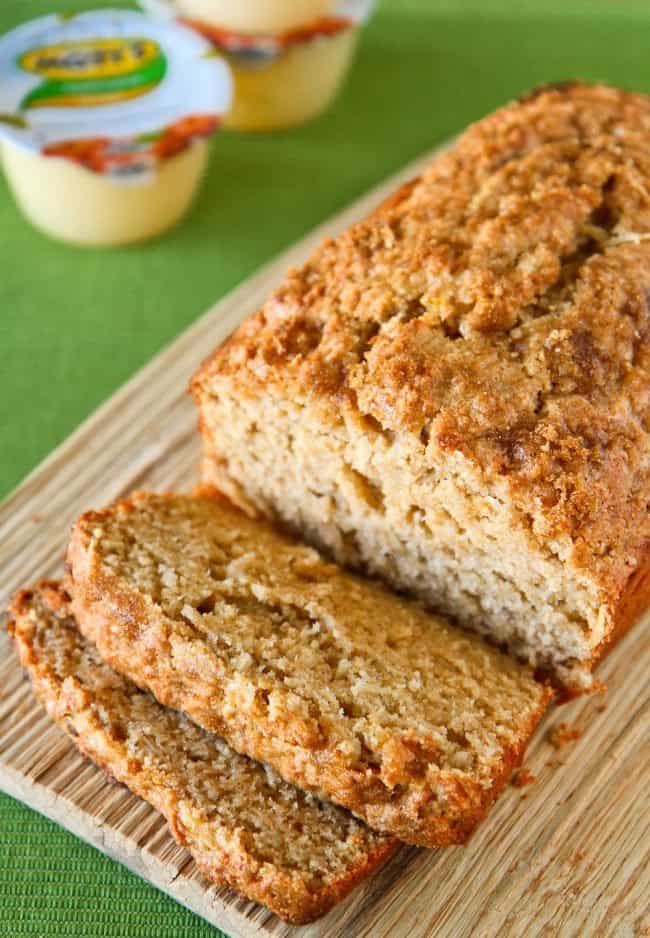 You know what they say about an apple a day! Make it a sweet day!
PIN THIS APPLE CRISP RECIPE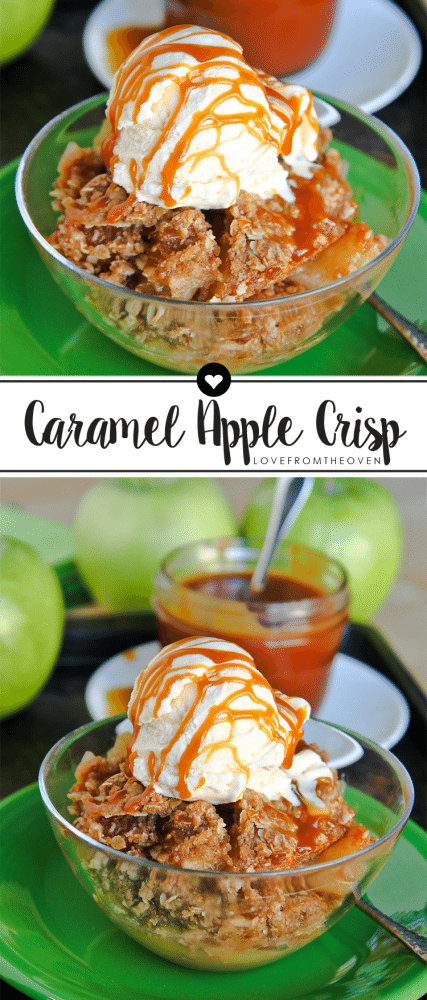 SaveSave
SaveSave