Caramel and pretzels, marshmallows and chocolate, these Caramel Pretzel Dessert Nachos are sure to be a party food hit!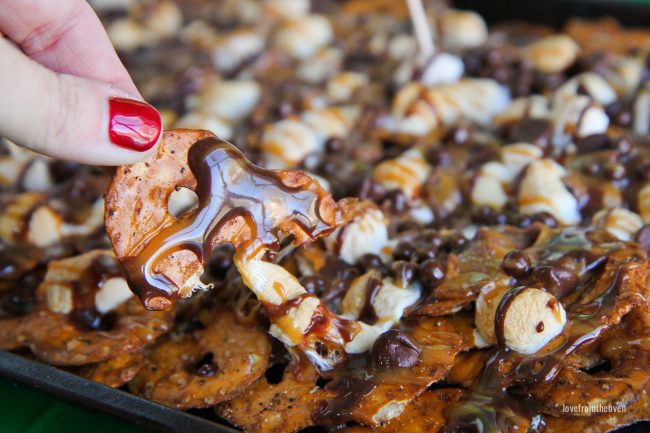 I'll be honest, I don't know a lot about football. I know I always want my alma mater to win, as well as whoever is playing my alma mater's rival. But, truth be told, I don't know a whole lot more than that. What I do know is food, and I think I have some pretty decent football food ideas every now and then. We always love to have nachos for a game day party food. They are easy, delicious and you can just toss them together. No need to stress or be worried about perfect measurements, just toss it all together and pop it into the oven. Easy peasy!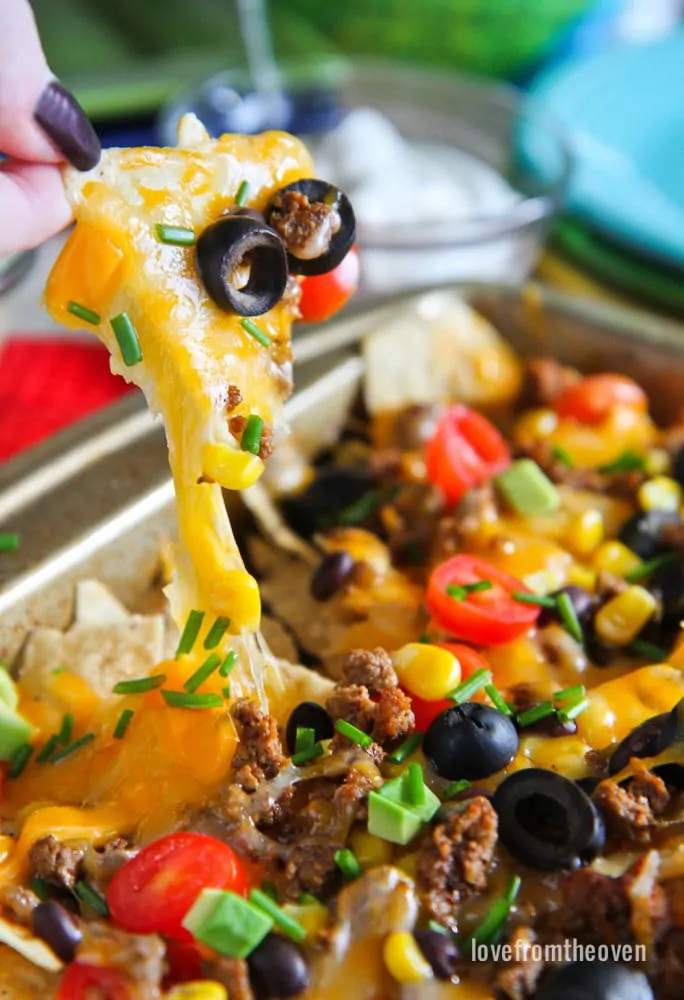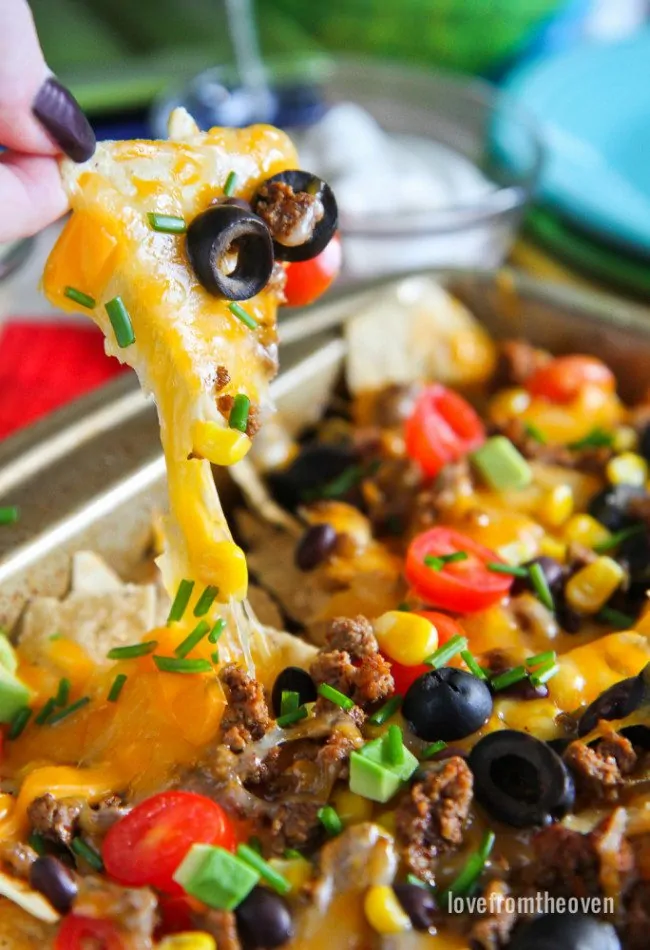 And while I love some good, savory, traditional nachos, I thought it was time to bring the nacho thing to dessert. Caramel Pretzel Dessert Nachos. Ooey, gooey, deliciousness, and they couldn't be easier to make! These might be one of my favorite game day party food ideas yet! Pretzels, marshmallows, candy, chocolate and caramel sauce – these have it ALL.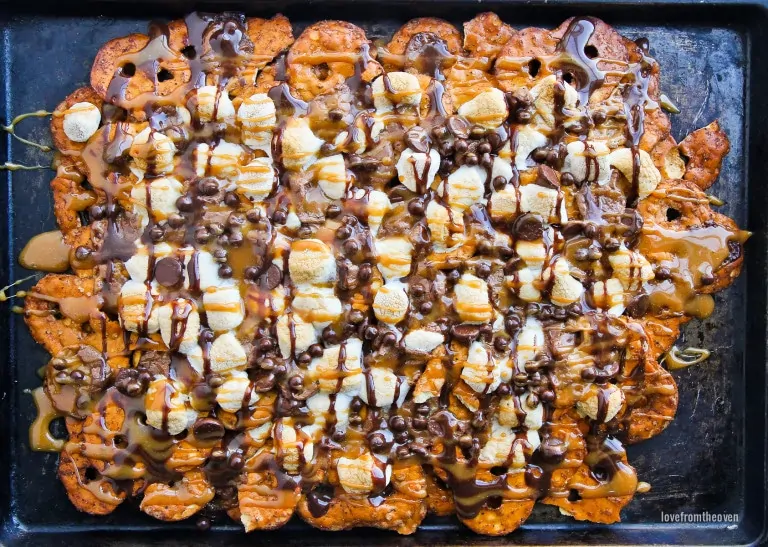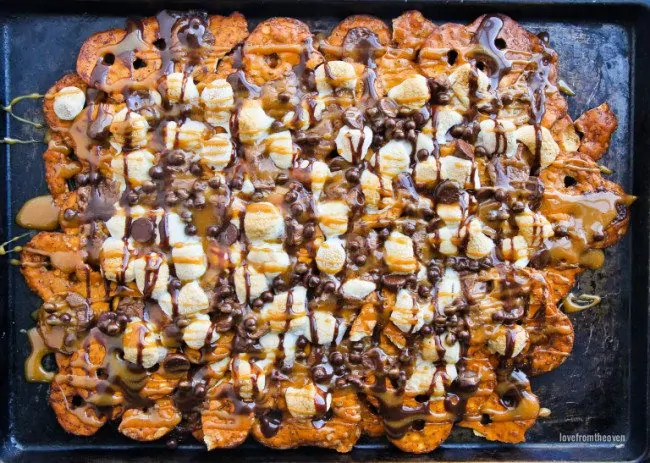 So they are easy, they are insanely delicious, you can throw them together in no time, and you can totally get creative with toppings. But… they are messy (all the best foods are!). But don't worry,
Bounty
is there to help you clean up any messes so that there are no party fouls at your game day party. Thank you to my friends at Bounty for sponsoring this post.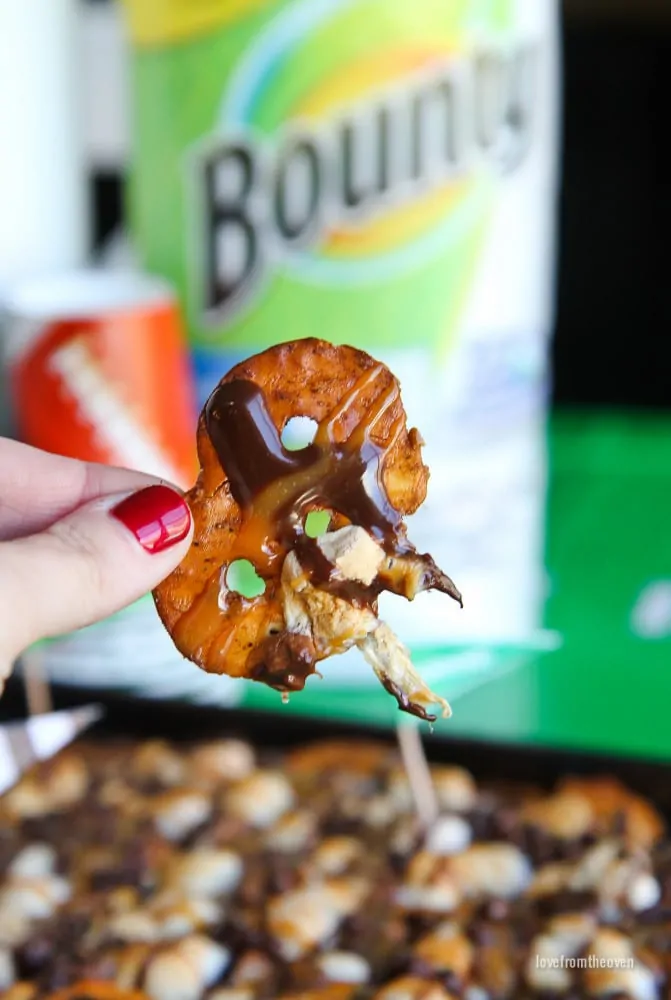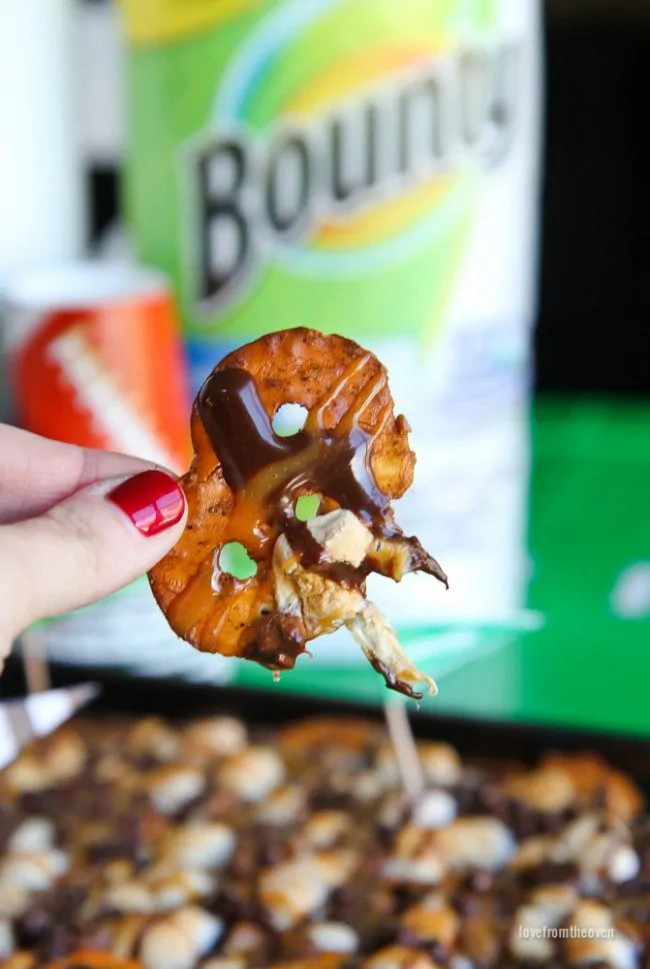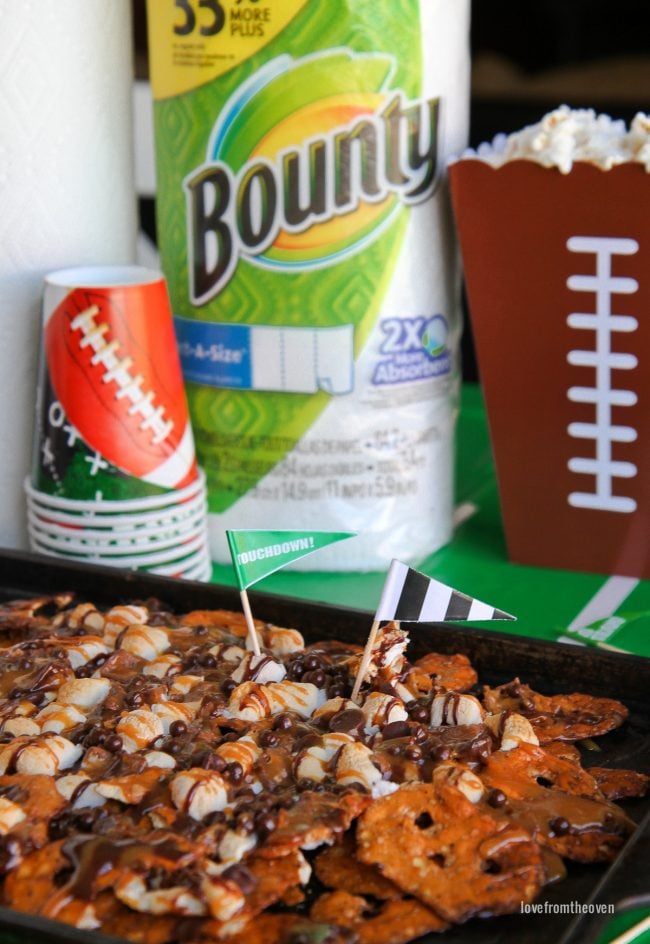 When I say these are easy, I mean they are E-A-S-Y. Let me walk you through it. Preheat your oven to 375 degrees F. Spread some pretzel thins out on a baking sheet.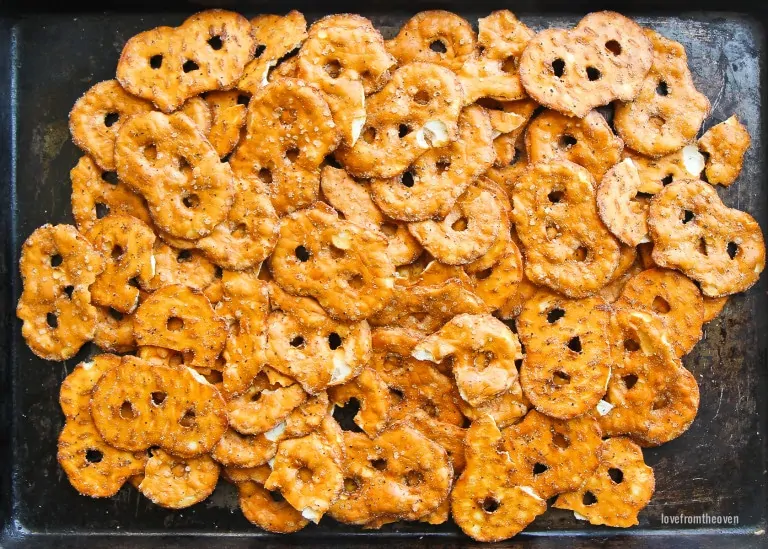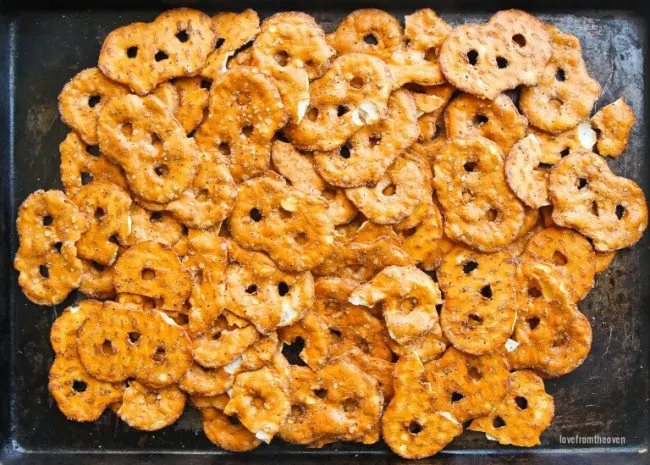 Next add some miniature marshmallows or marshmallow creme. The marshmallow cream will stay a bit softer, while the mini marshmallows will get a bit crunchier – totally a matter of taste.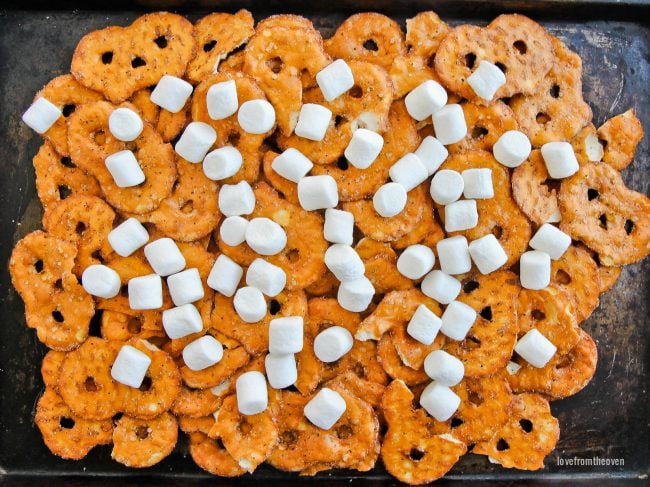 Next add some candy! I added chocolate chips, cut up Milk Duds and cut up Milk Ways. Chocolate and caramel goodness! But you can really get creative here, chocolate chips, peanut butter chips, butterscotch chips, white chocolate chips, whatever you like! Same goes for candy bars, chop them up and toss them on (this might be a great way to use up Halloween candy!). While I used caramel and chocolate sauces, just the kind you get to top your ice cream sundaes, you can use whichever your family likes and has on hand. I think game day party food should be simple and fun, letting you throw it together easily while watching the game and hanging with friends.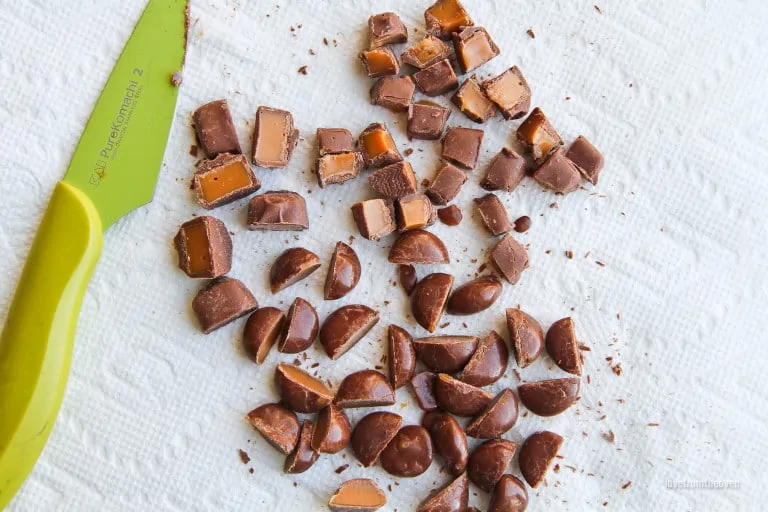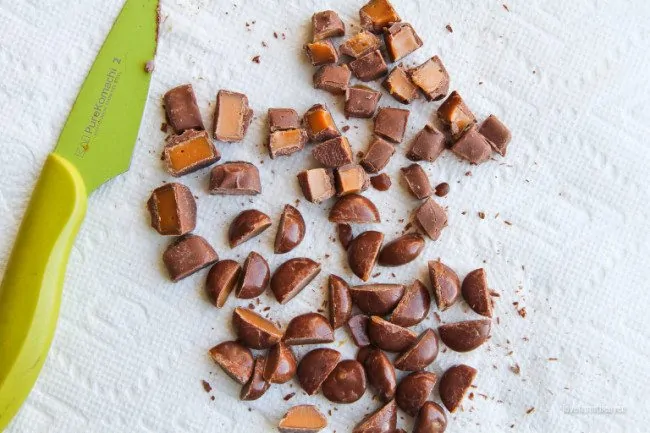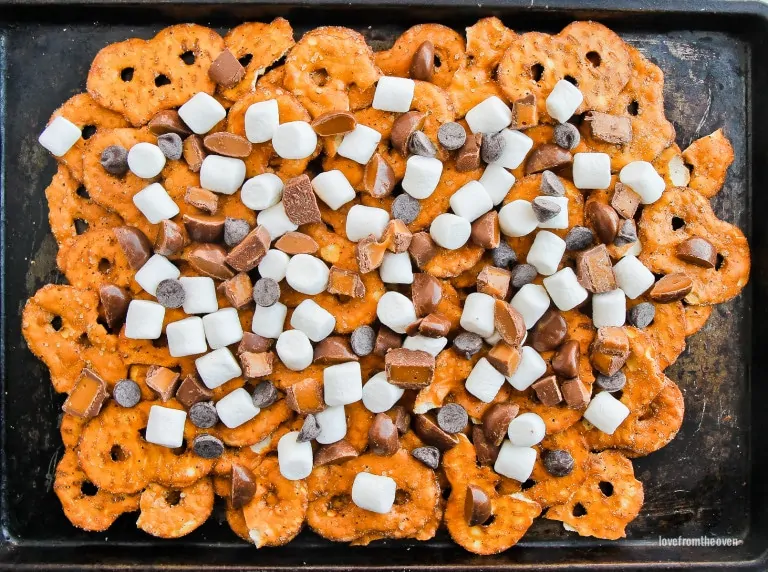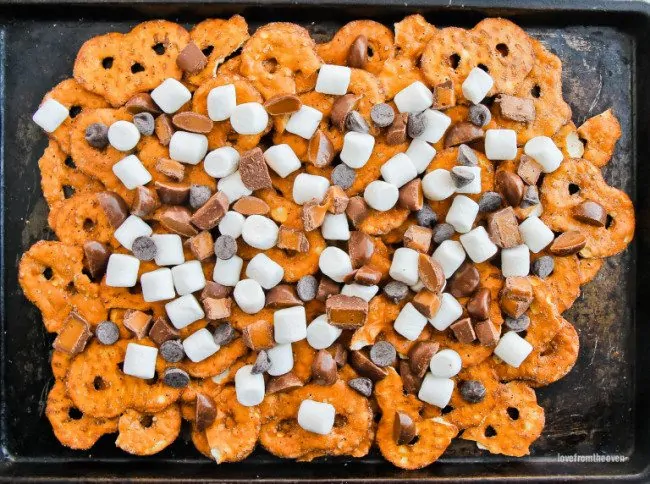 Into the oven they go for approximately 10 minutes. Even the timing on this recipe is flexible, the longer you leave it in, the more the chocolate will melt and the browner the marshmallows will get. When you pull it out, drizzle it with chocolate sauce and caramel sauce.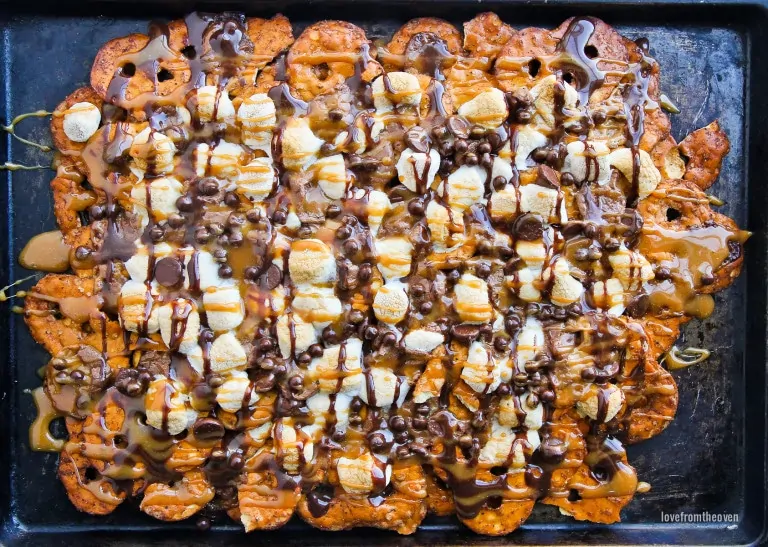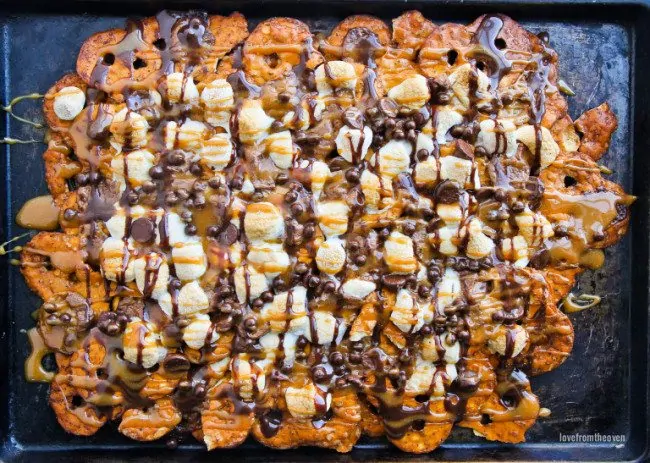 Serve with plenty of Bounty Paper Towels on hand, these are messy… in the very best way!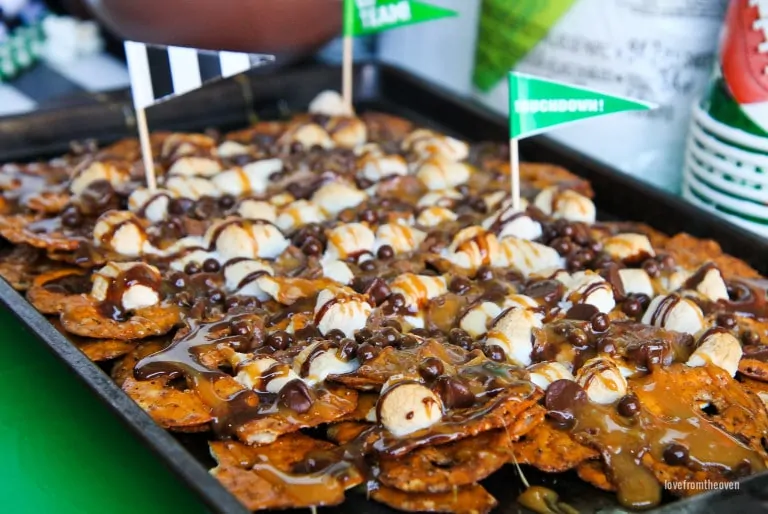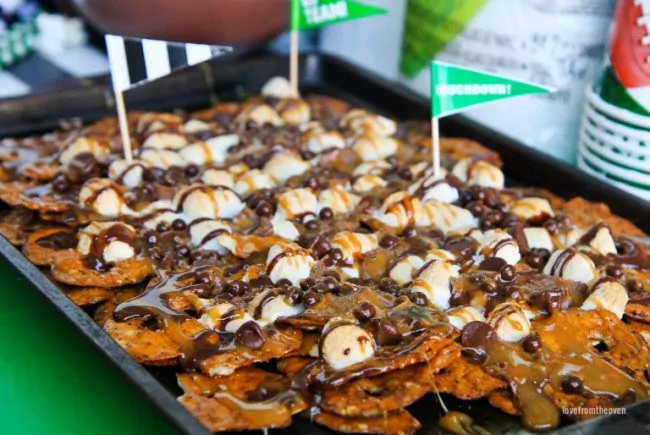 I actually kind of have a weird thing about messy hands. Not your messy hands, my messy hands! The feeling of anything on my hands can drive me a bit crazy. That said, these dessert nachos, TOTALLY worth the messy hands. I just need some Bounty Paper Towels close by for quick clean up.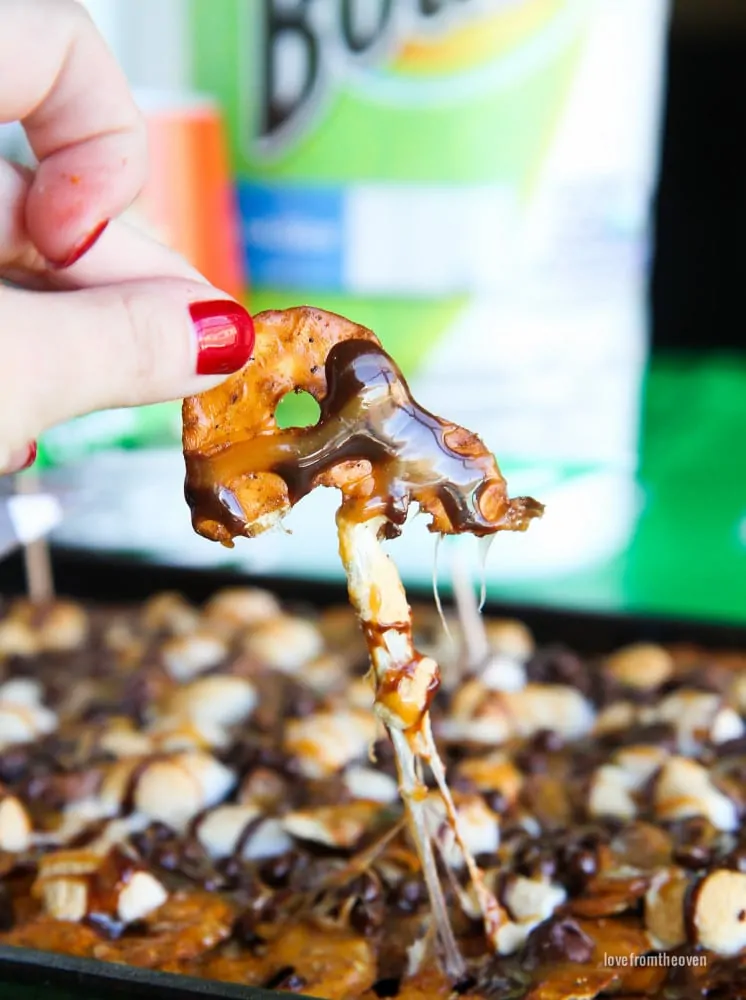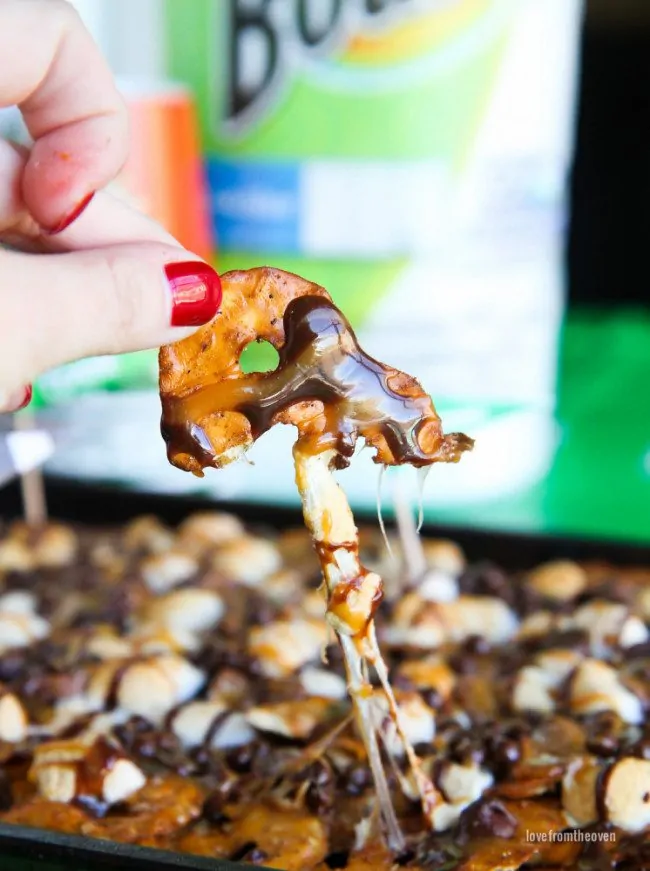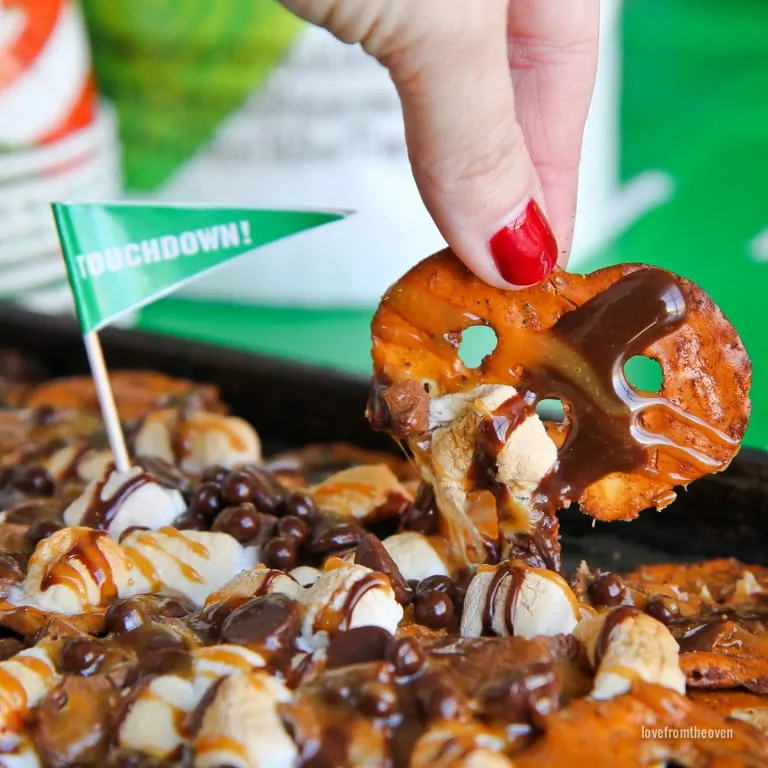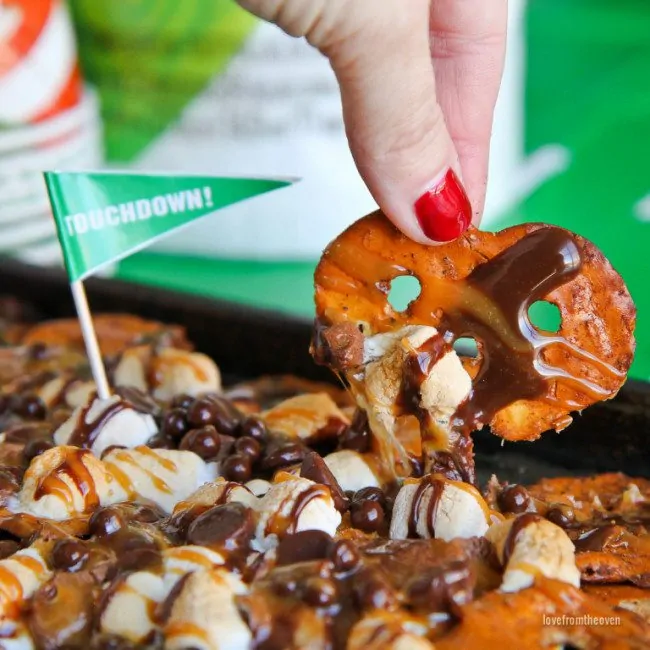 And when the game gets good, it always happens, someone yells or jumps or bumps and boom – foul – messes!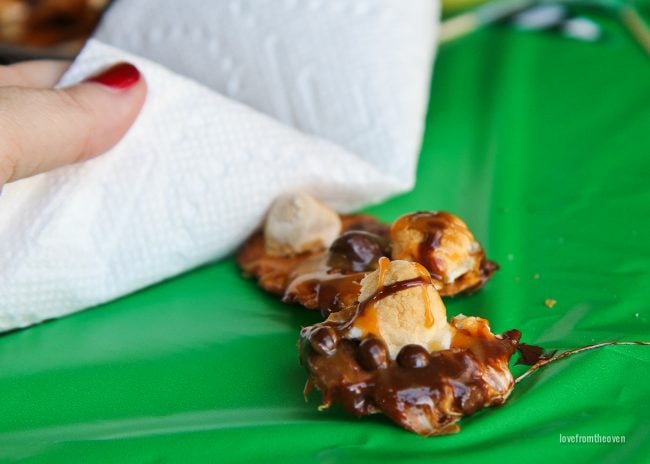 But no worries, Bounty is 2x more absorbent vs. the leading ordinary brand to help you clean up all those messes the come with the excitement of the game. No extended time outs for you, just wipe it up and move along.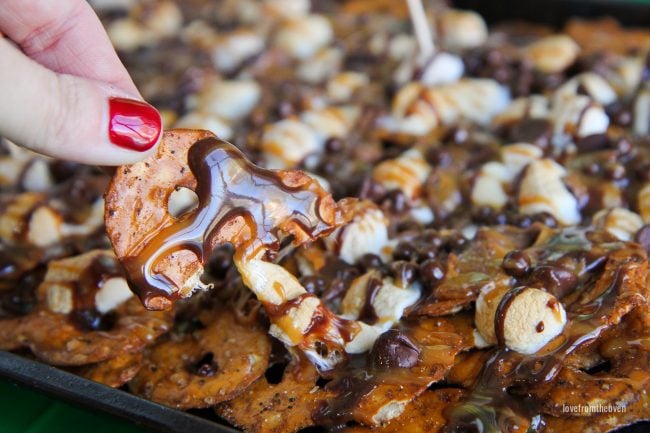 So focus on the game (and the food!), not the fumbles with 2x more absorbent Bounty at your side. And a big tray of dessert nachos!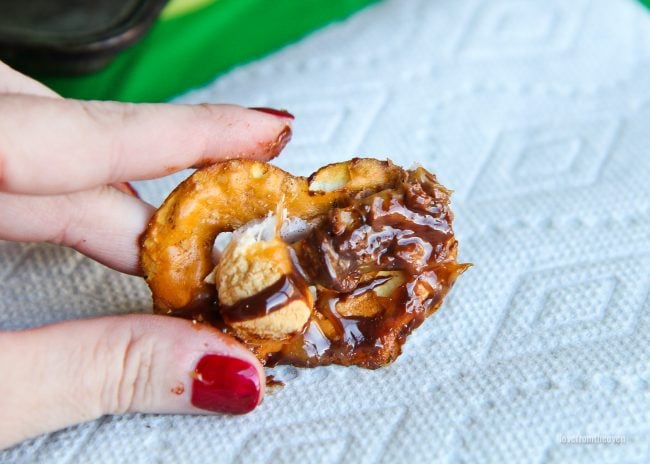 If you are serving these, your friends won't care who is playing, they'll be there.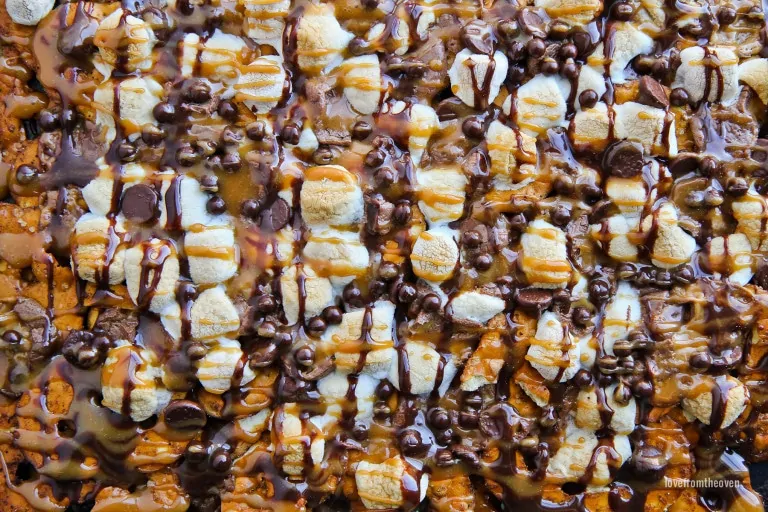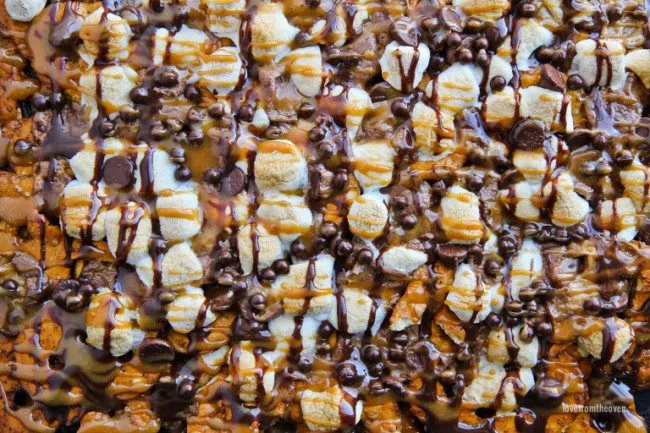 If you love this recipe, make sure to try my Caramel Apple Chocolate Bark!
Dessert Nachos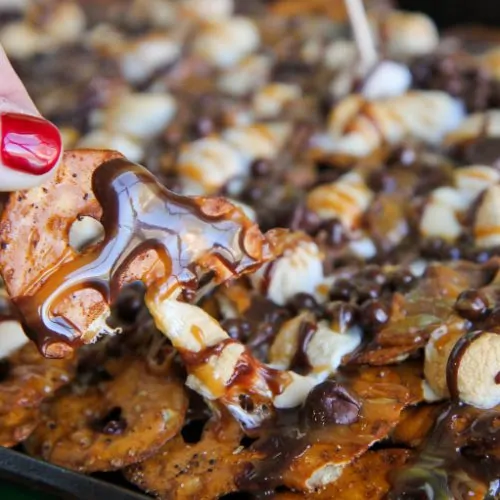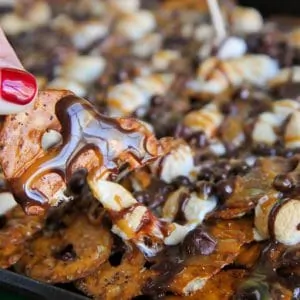 Caramel Pretzel Dessert Nachos
Ingredients
1

oz

bag of pretzel slims

approximately 8

1

cup

of mini marshmallows or marshmallow cream

approximately

Candy for topping such as chocolate chips or chopped up candy bars

Caramel

chocolate or other sauces for topping
Instructions
Preheat oven to 375 degrees F. Spread pretzel thins over baking sheet. Sprinkle with marshmallows (or drizzle on marshmallow cream), followed by chocolate candies. Bake for approximately 10 minutes or until marshmallows reach your desired level of browning. Remove from oven and drizzle with caramel and chocolate sauces. Serve immediately.
Disclaimer
Nutrition information is estimated as a courtesy. If using for medical purposes, please verify information using your own nutritional calculator. Percent Daily Values are based on a 2000 calorie diet.
I hope you will enjoy these fun Caramel Pretzel Dessert Nachos at one of your game day parties (or any random Thursday night, I won't judge!). Now dig in!
PIN IT TO SAVE!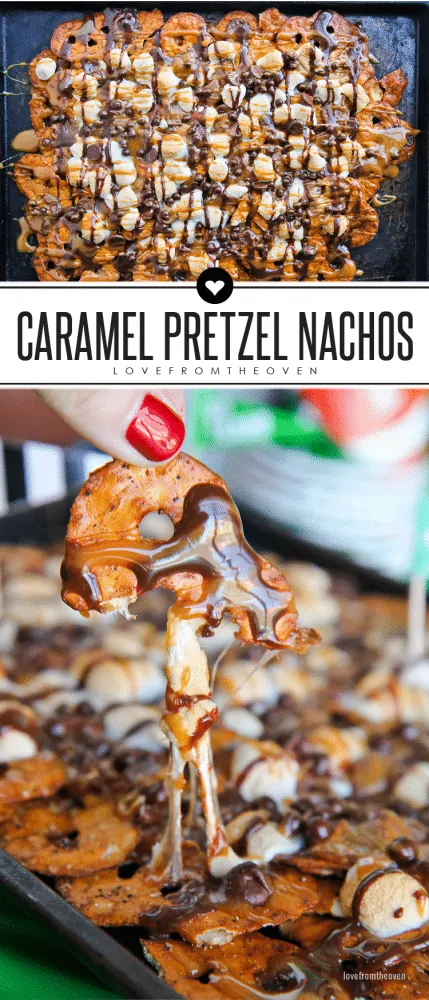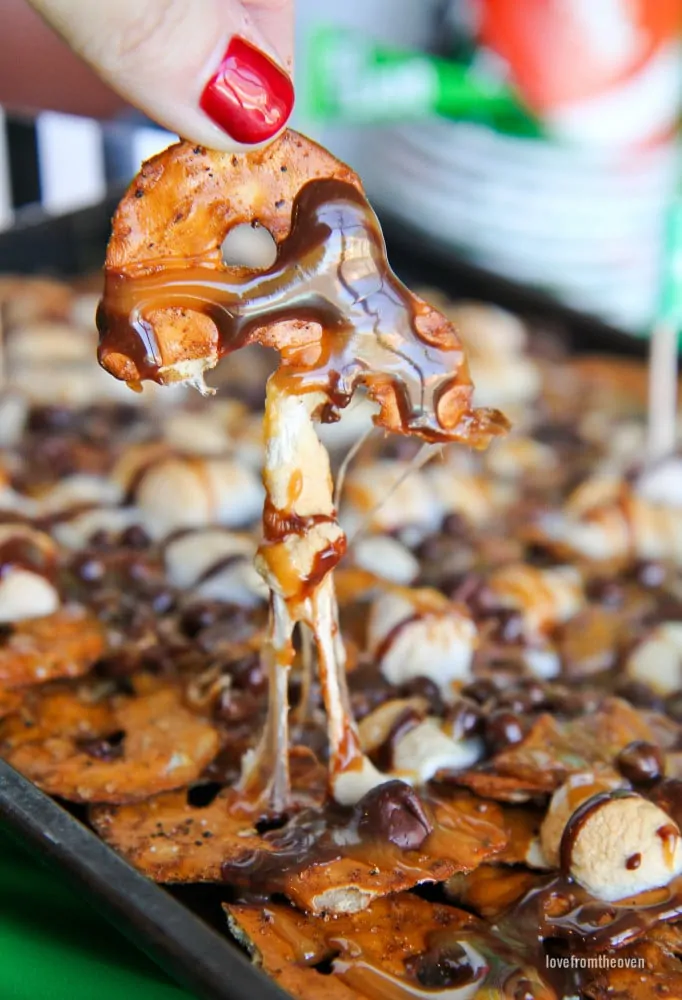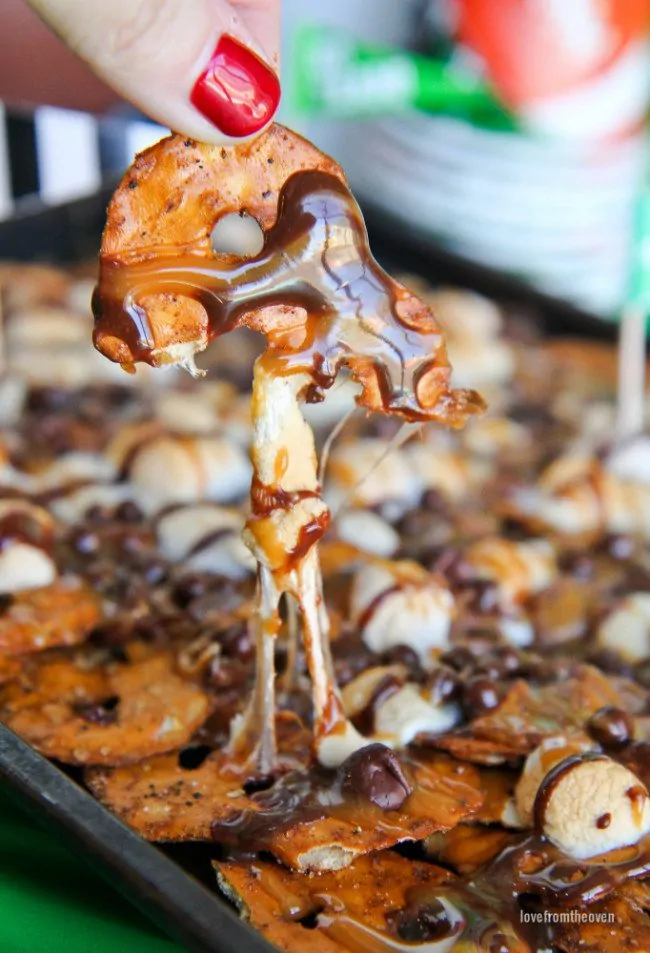 Disclosure: This post was sponsored by Bounty. All opinions however are mine and mine alone. That said, I use a LOT of Bounty Paper Towels in my home!