What's the best reason to visit that big seafood restaurant chain? The Cheddar Bay Biscuits of course! A copycat of the famous biscuits from Red Lobster, these biscuits are cheesy and buttery with lots of delicious garlic flavor. A word of warning: these are so good you might find yourself wanting to make them ALL the time!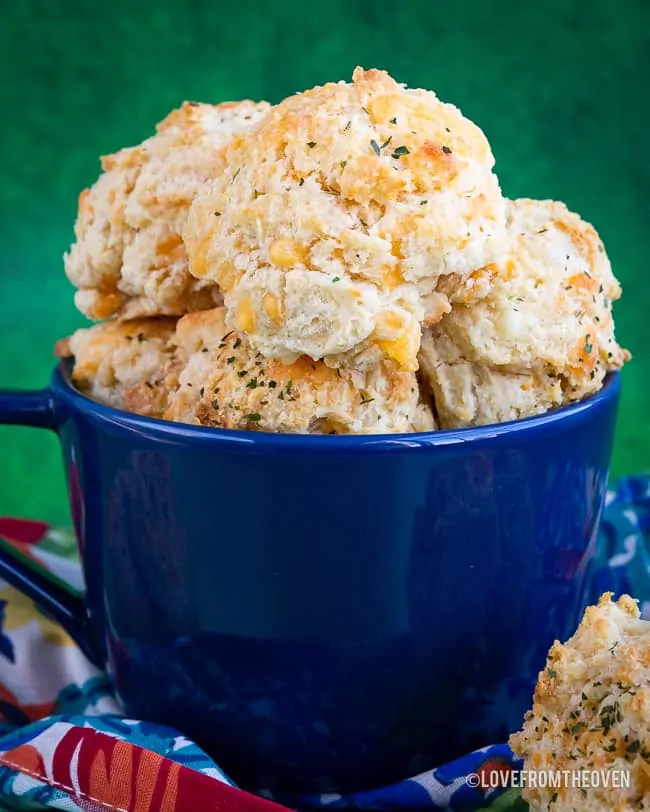 While I might not be the world's biggest seafood eater, I have a nostalgic love for Red Lobster. It was the "fancy" restaurant I recall going to as a child. I believe my order always included popcorn shrimp, hush puppies and a Shirley Temple.
But these days, I'm all about the Red Lobster Cheddar Bay Biscuits. They are so delicious, I darn near dream about them. After a recent craving for a cheese biscuit, I decided to see if I could recreate all the good taste of those restaurant biscuits at home.
Cheddar Bay Biscuits
For those of us who've enjoyed these flaky biscuits filled with herbs, cheese and all things delicious, Cheddar Bay Biscuits need no introduction. If you've never had a Cheddar Bay Biscuit before: I'd like to introduce you to your new favorite savory biscuit.
These are easy to make and a perfect side dish for just about any main course imaginable. I like garlic cheddar biscuits so much, though, that I could probably eat a big plate of these as a meal all on their own.
A balanced choice? Maybe not. Delicious? Definitely.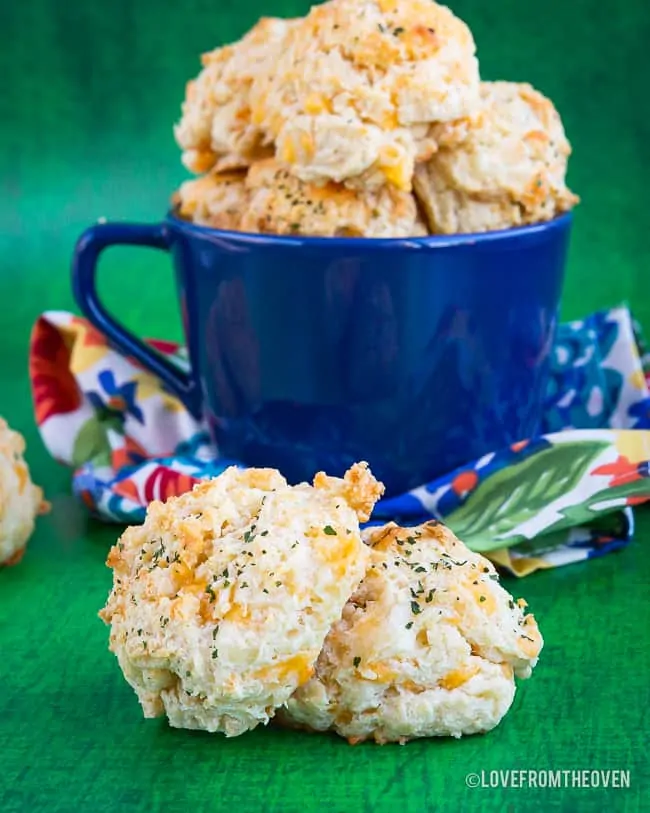 Red Lobster Cheddar Biscuits
Most of us know these as the steaming hot biscuits that come in a basket before your meal at Red Lobster. I've been known to find the cheesy buttermilk biscuits so irresistible that I fill up on them before my meal even arrives.
Made with lots of sharp cheddar and garlic, the homemade cheddar biscuits turned out even more delicious than the ones from the restaurant!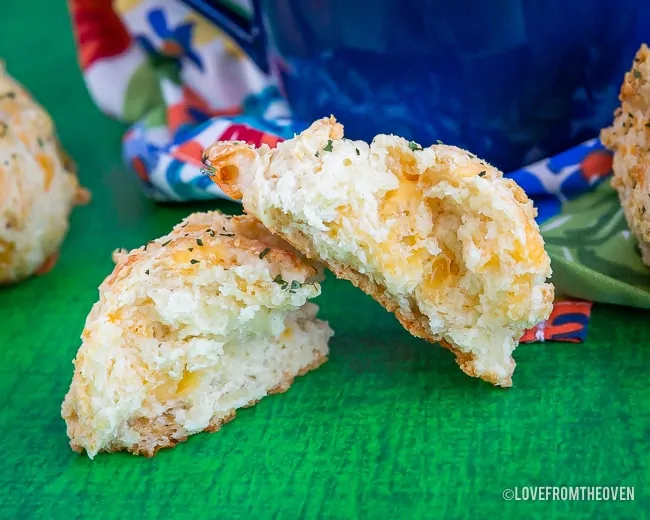 Garlic Cheddar Biscuits
It's pretty hard to go wrong when you put garlic and sharp cheese together in a buttery dough and bake it to fluffy flaky perfection. With just the right balance of herbs to cheese, these smell amazing while they're baking and taste even better fresh from the oven.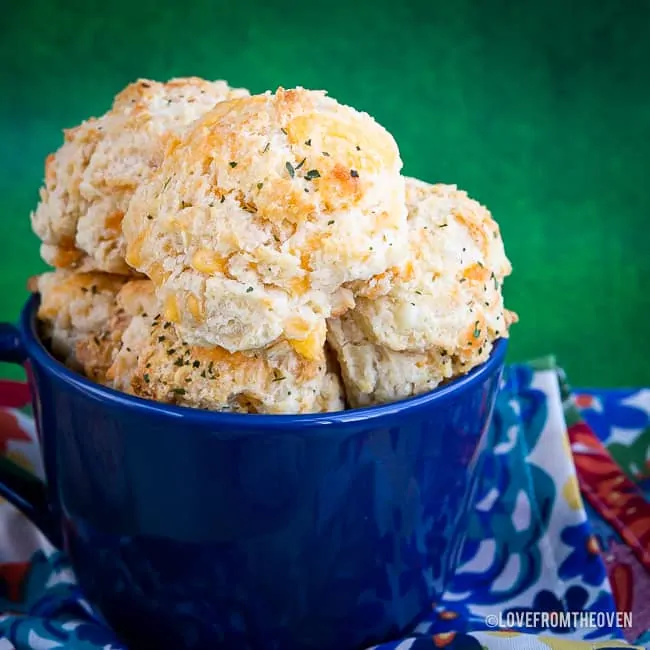 Cheddar Bay Biscuits Recipe
This recipe starts just like a basic Buttermilk Biscuit but instead of buttermilk, you use regular milk that's been cooled in the freezer for 10 minutes.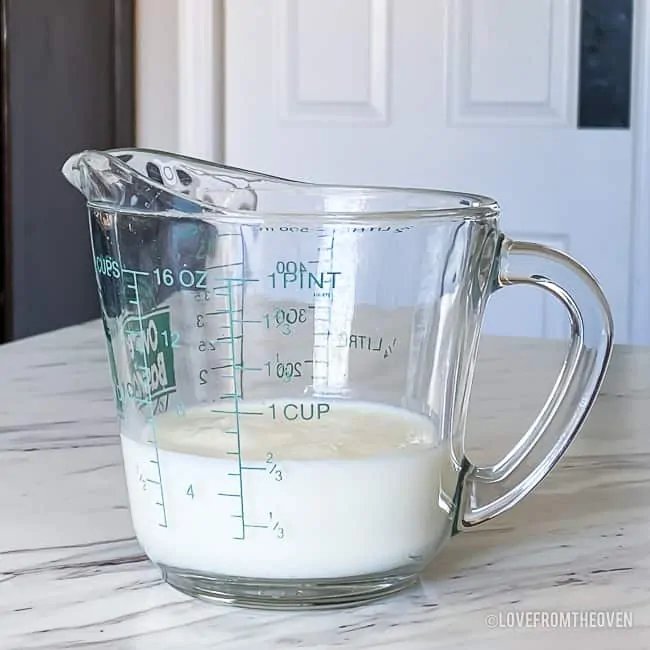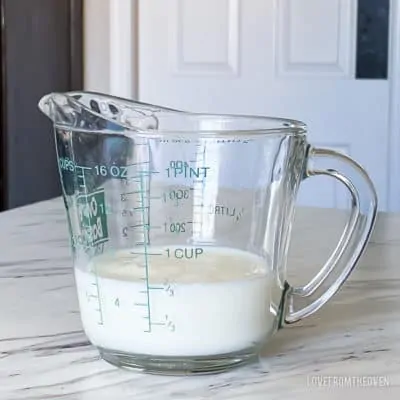 Lots of shredded cheese gets tossed together with Bisquick or your other favorite biscuit mix.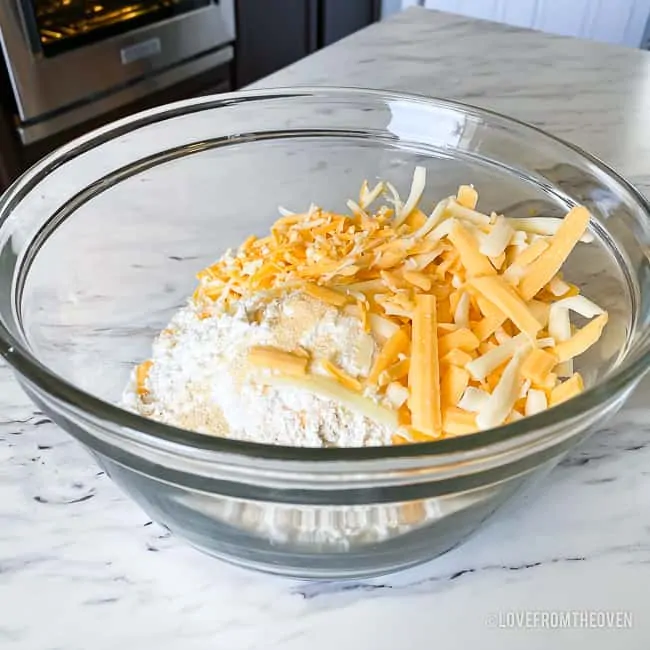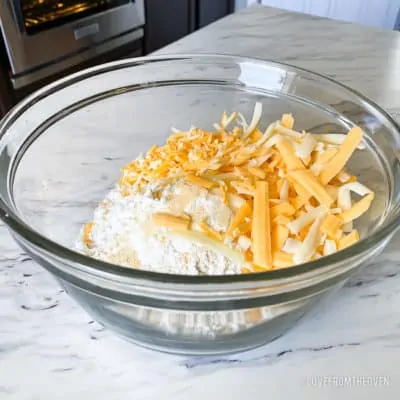 Next we add the melted butter to the milk mixture along with an egg.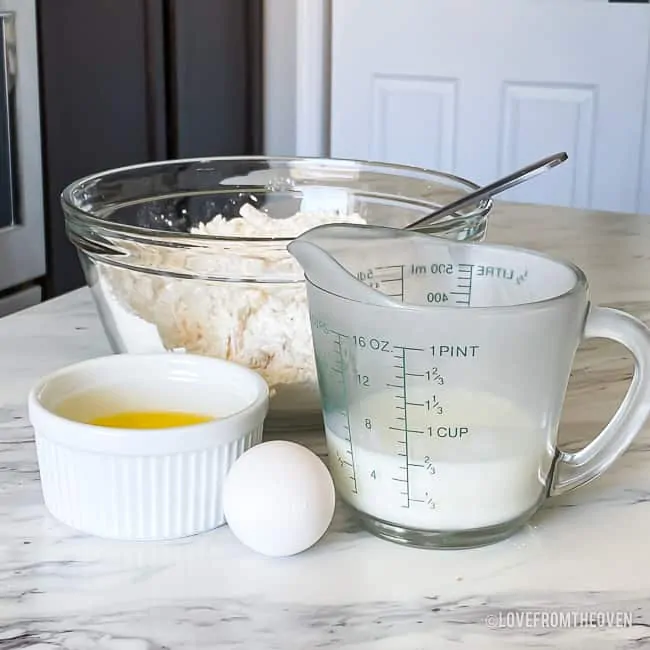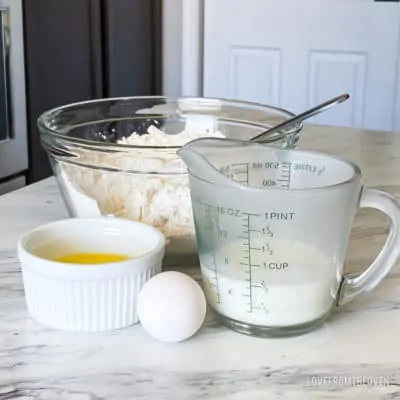 Letting the melted butter cool for a few minutes, then adding it to the cold milk helps the butter get evenly distributed throughout the dough. This gives us that amazing buttery taste in every bite of biscuit! Yum.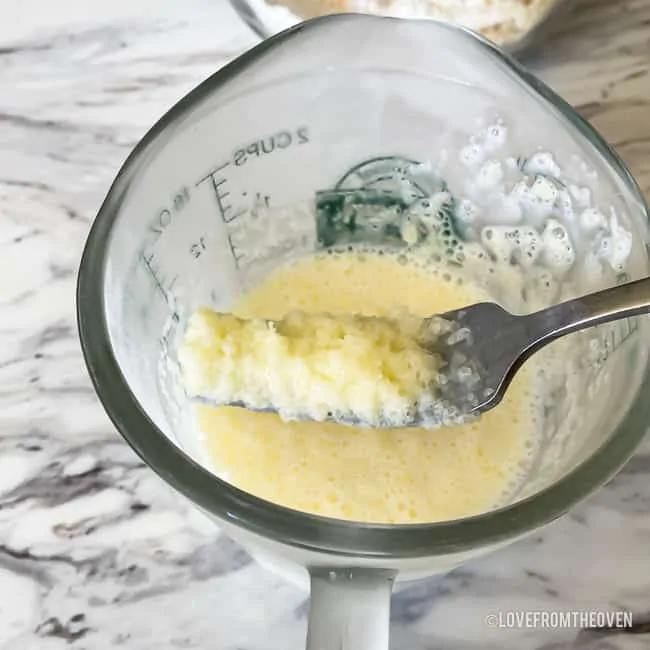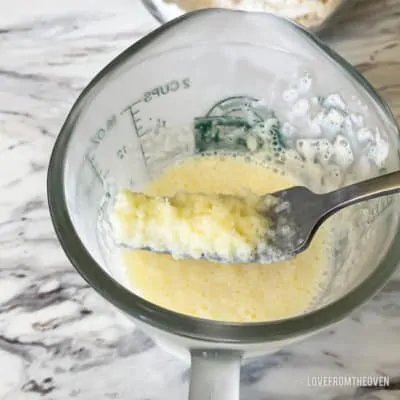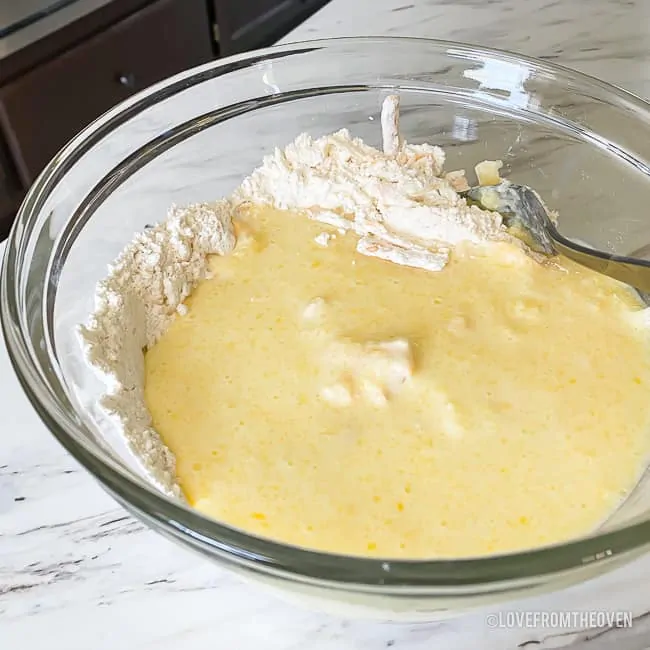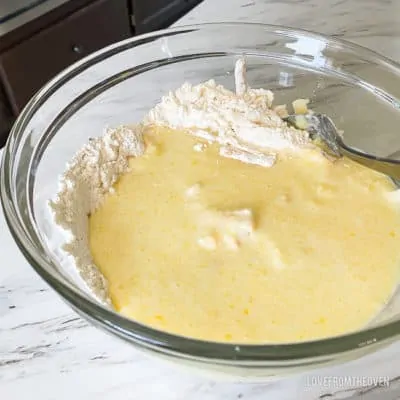 You want to mix this dough until just combined. Overly working the dough will result in tough and heavy biscuits. Definitely not what we want in our Cheddar Bay Biscuits!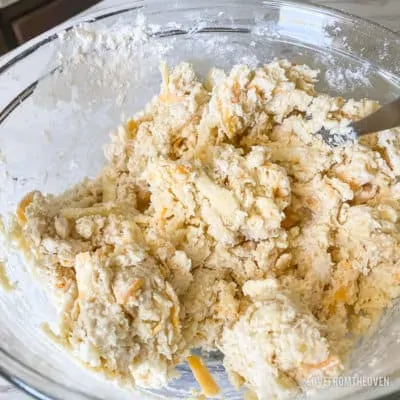 The dough will look a little crumbly. That's exactly how it should be! Resist the urge to add more liquid or knead it any more.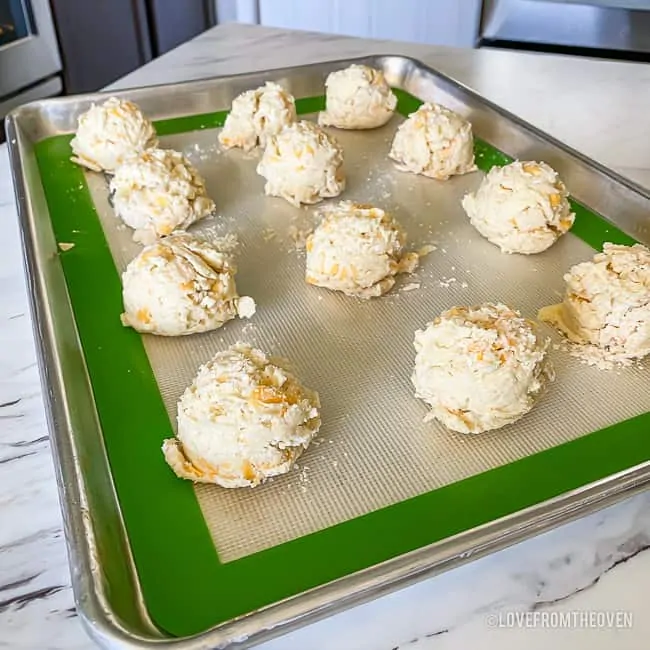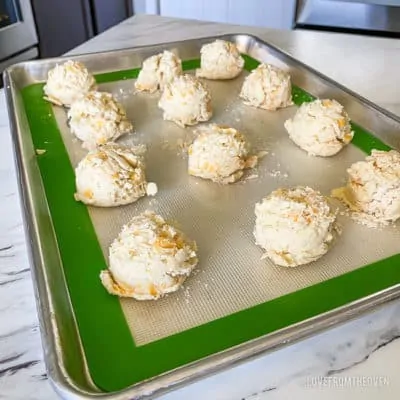 Unlike other biscuit recipes, you don't have to roll out the dough and cut the biscuits with a cutter. Instead, just scoop the dough into balls. Place them on a baking sheet lined with parchment or a silicone baking mat and bake for 10 – 12 minutes.
Meanwhile, you combine more melted butter with onion powder, garlic powder, salt and parsley. When the biscuits are done baking, brush the tops with the butter mixture while still warm. Serve HOT!
Tips for Cheddar Bay Biscuits
These cheese biscuits are really best when served the same day you bake them. If you want to make the dough ahead of time, you can freeze them before baking and have fresh hot cheddar biscuits within minutes. The dough keeps well in the freezer for a few months; you'll just need to adjust the baking time a bit.
For perfectly shaped biscuits, I use a leveled ice cream scoop to measure to dough! It creates a wonderful shape with an awesome dome top every time, not cutting or measuring required.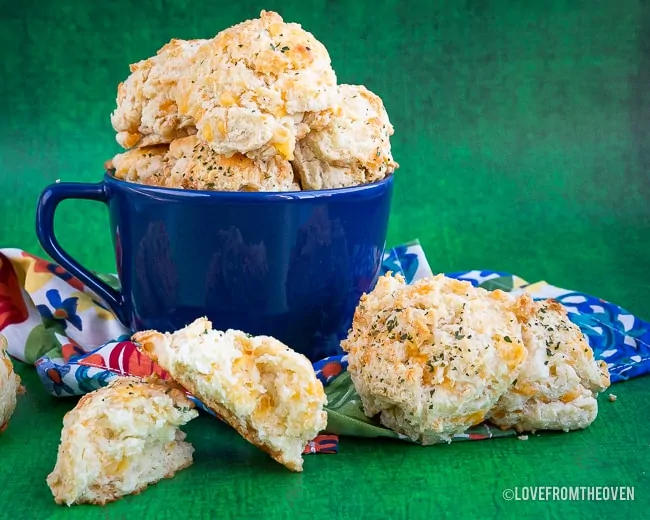 Cheddar Bay Biscuits are buttery enough that they really don't need anymore butter spread on them to be delicious. That said, I have several members of my family who love to add even more warm butter on top of their biscuits before they eat them.
The bottoms of these cheese biscuits get nice and browned so that every bite is just a bit crispy with a tenderly flaky inside. For cheese lovers, this is the ULTIMATE biscuit recipe!
If you love cheesy garlic bread, make sure you also try my Cheesy Garlic Rolls. They are one of my all time favorite side dishes! These Ham And Cheese Biscuits are also a great option for my fellow biscuit lovers.
Love copycat recipes? Pair these with my KFC Coleslaw Recipe!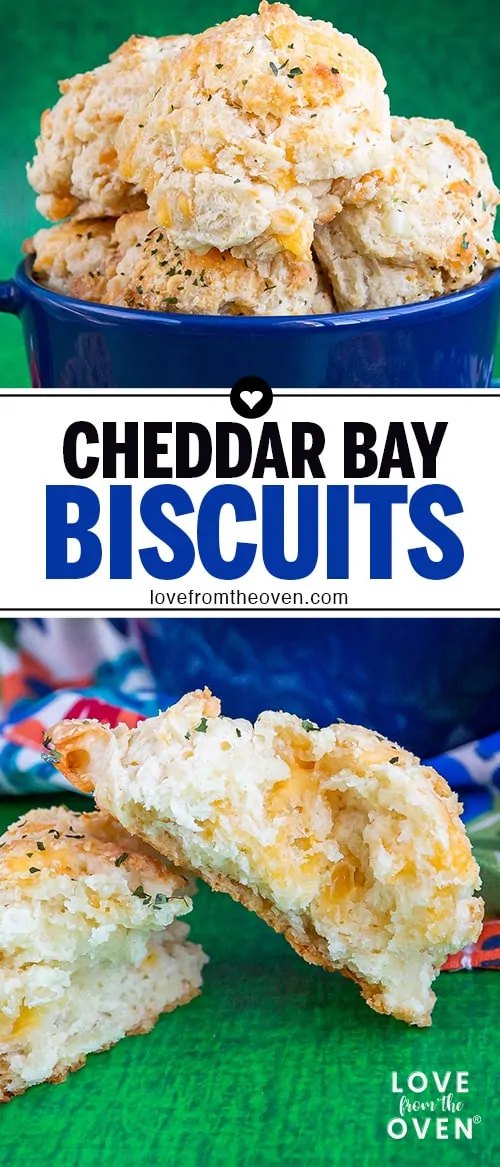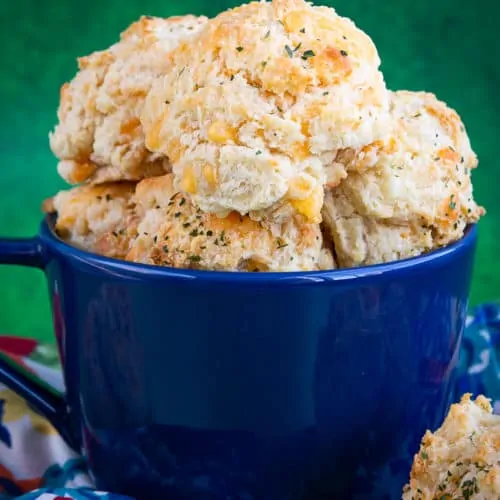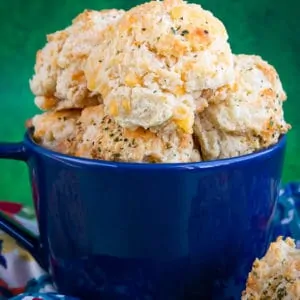 Cheddar Bay Biscuits
A copycat of the famous biscuits from Red Lobster,  these biscuits are cheesy and buttery with lots of delicious garlic flavor.
Ingredients
2

cups

all purpose flour

1

cup

grated cheddar cheese

1

tbsp

baking powder

(Note NOT baking soda!)

1

tsp

salt

1/2

tsp

garlic powder

2/3

cup

milk

1/3

cup

butter

melted

1

large

egg

lightly beaten

2

tbsp

melted butter

OPTIONAL: Additional garlic salt & parsley or chives for topping
Instructions
Preheat oven to 400 degrees F. Prep a baking sheet with parchment paper or a silcone baking mat.

Measure out 2/3 cup milk and place into freezer. Make sure not to do this too far in advance, you simply want to bring the temperature of the milk down further, not actually freeze it. If not already melted, melt butter then place in fridge to chill. Butter should be melted, but not hot.

In a large bowl combine flour, cheese, baking powder, salt and garlic powder. Stir to mix.

Remove milk from freezer and pour cooled, melted butter into the milk, and stir. Mixture will become lumpy, which is perfect. Add milk and butter mixture, as well as beaten egg, to dry ingreidents. Stir until combined, but do not over mix. Mixture will be lumpy and should not be overly wet/sticky.

Drop batter onto baking sheet, approxiately 1/4 cup of better for each biscuit. Using a levered ice cream scoop is a great way to do this.

Bake in preheated oven for 10 minutes. Remove from oven and quicky brush remaining melted butter over tops, and if desired sprinkle with additional garlic salt and/or chopped parlsey or chives. Return to oven for an additional 5 minutes or until golden brown. Remove from oven and serve immediately.
Nutrition
Calories:
192
kcal
|
Carbohydrates:
17
g
|
Protein:
6
g
|
Fat:
11
g
|
Saturated Fat:
7
g
|
Cholesterol:
47
mg
|
Sodium:
328
mg
|
Potassium:
157
mg
|
Fiber:
1
g
|
Sugar:
1
g
|
Vitamin A:
358
IU
|
Calcium:
134
mg
|
Iron:
1
mg
Disclaimer
Nutrition information is estimated as a courtesy. If using for medical purposes, please verify information using your own nutritional calculator. Percent Daily Values are based on a 2000 calorie diet.