Sometimes the best things in life are a little messy. Like these Caramel Chocolate Chunk Cheesecake Bars With A Pretzel Crust. Much like my life, they are a little crazy, they are packed full of "stuff", and they can get a little (or maybe a lot) messy.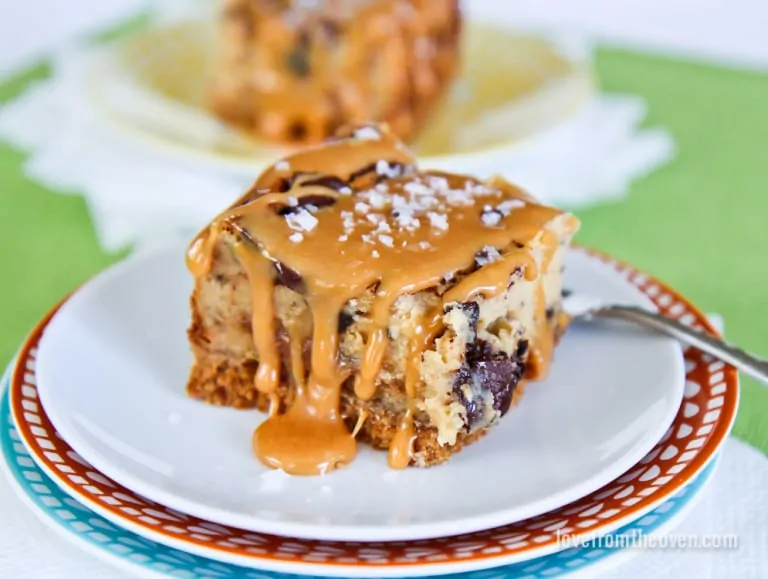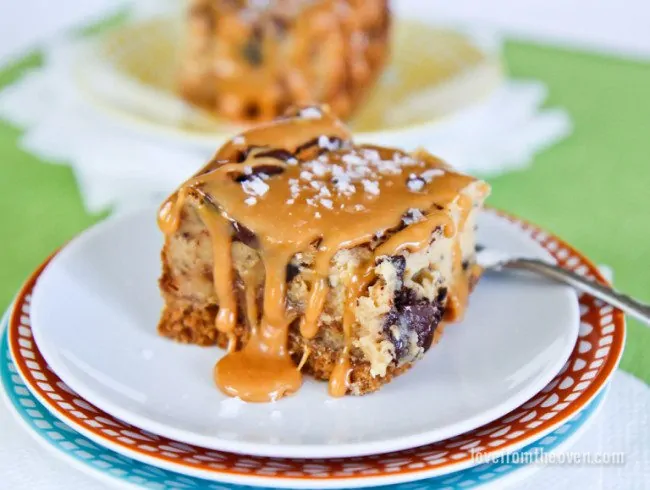 Messy isn't always a bad thing, and these cheesecake bars are pretty quick to back that theory right up.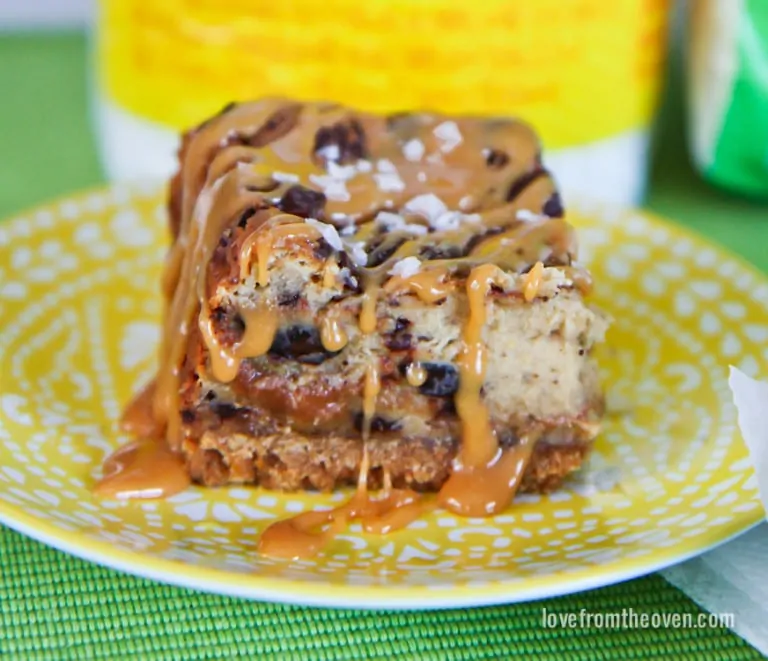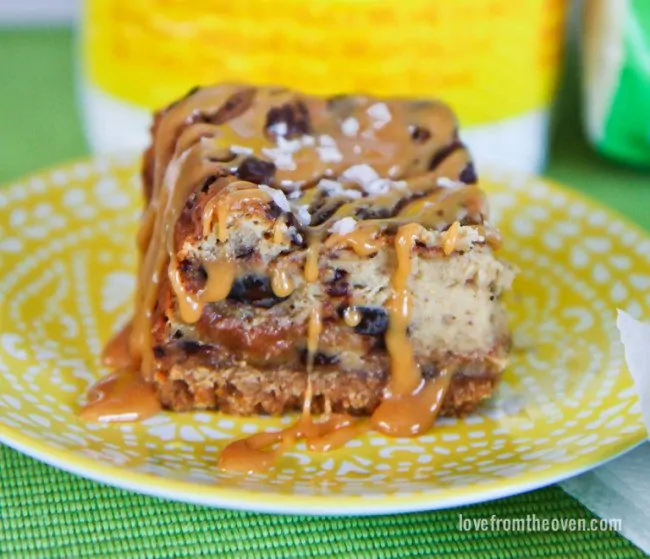 My friends at Bounty are celebrating 50 years of history as the long lasting quicker picker-upper. They asked me if I'd like to share how Bounty has been helping me clean up messes in my life.  It's like they somehow knew that my life was a mess??? Thank you to Bounty for sponsoring this post, and letting me talk about my messy life, which an often be a mess both literally and figuratively.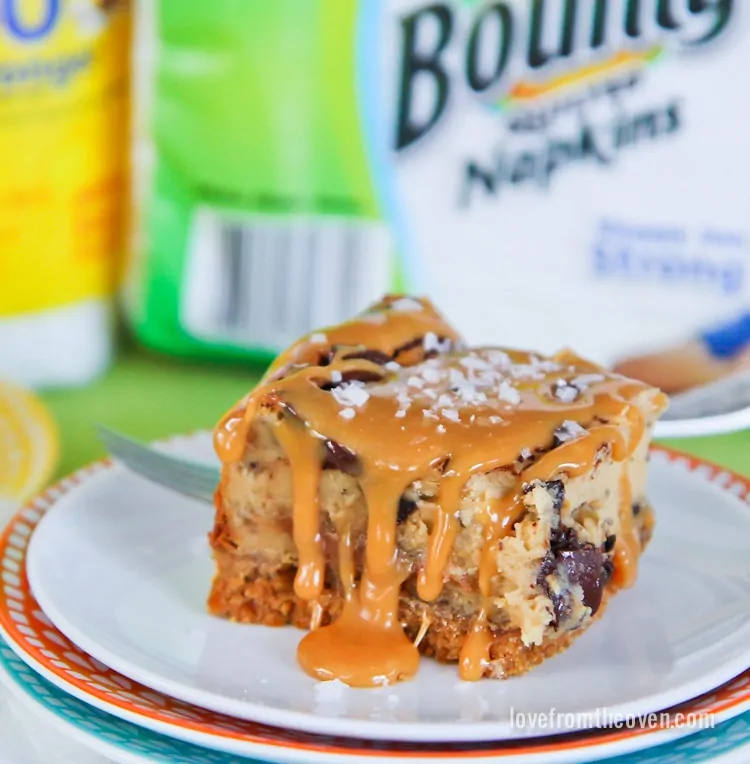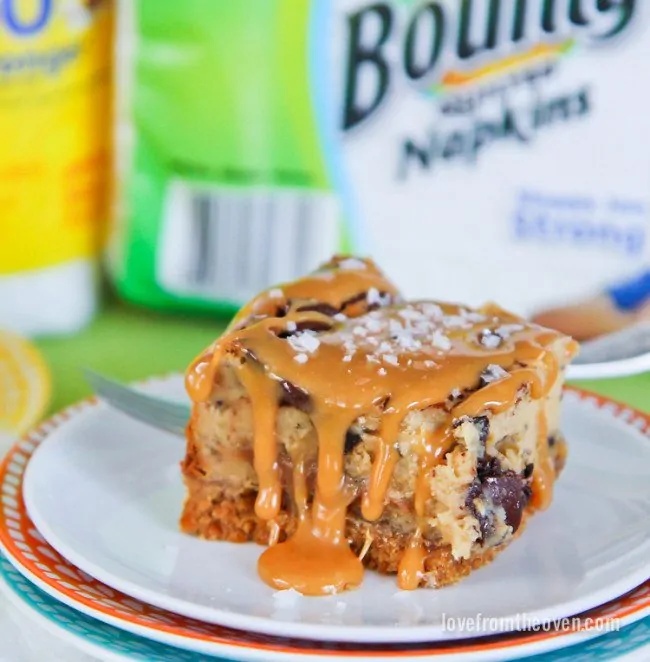 I've recently been giving a lot of thought to life's messes. From the spills on the counter, to the cluttered over scheduled calendar, to the kids' rooms, to the purse I can never find anything in (aside from crayons, straws and empty wrappers), to the permission slips I forgot to get signed, to craziness that is inside of my car. The truth is, there are a LOT of messes. My life, it's messy, in many ways. I have days where between developing four or five recipes, cleaning the house, doing dishes, cleaning up after the pets and cleaning up after the kids, I can darn near go through a roll of Bounty Paper Towels. Some days life is extra messy.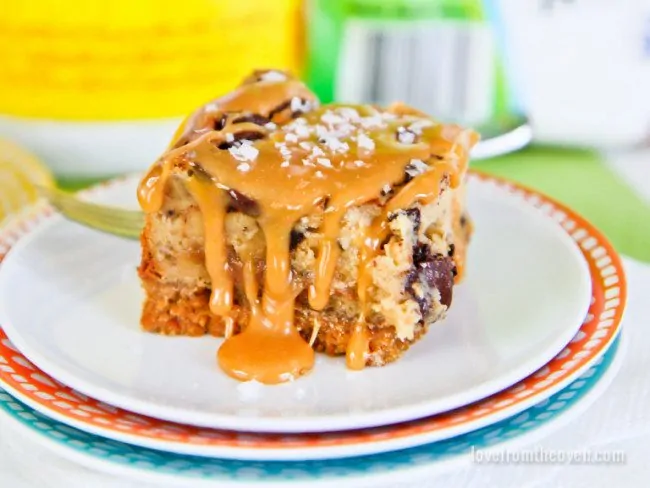 I think as moms, especially in the age of Pinterest and social media, it's easy to feel like we should have picture perfectly clean lives. We look at the pretty pictures on our screens and phones, and we don't see life's messes, of any kind. We see perfect little moments, in perfect homes,  and we feel like our messy lives somehow aren't okay. But when you stop and think about it, there is a lot of life, love and goodness creating those messes that might be filling our lives.
With one daughter finishing grade school this month and the other finishing preschool, more than ever I am all too aware of how quickly time goes by, and how one day the house will be quiet, neat and clean. There won't be so many messes to clean up. As I get ready to watch one daughter walk out of elementary school for the last time this month, and the other daughter get ready to walk into it, it hits me that one day, not too far in the future, I will miss those messes terribly. We won't discuss that I might have tears in my eyes even thinking of that day – but hey, Bounty also helps wipe away tears, or so I've heard.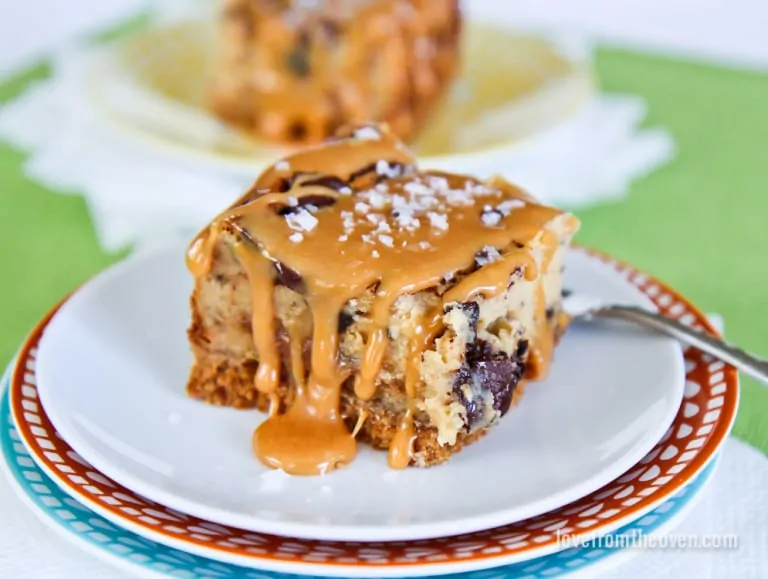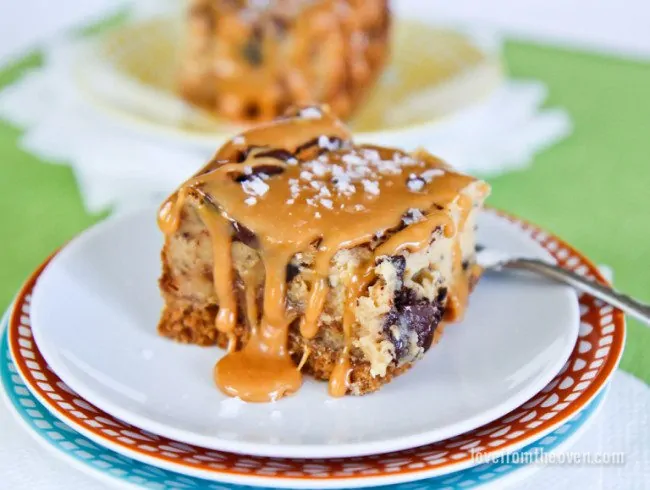 When I think of it like that, I kind of start to love those messes and what they represent. And you know what, most of those messes are really easy to clean up, and Bounty is there to help me with that, as they have been for me since I started this whole mom gig. I want to really embrace life with my kids –  live, love, laugh, share, play, have fun, make messes and clean them up – all together. Sometimes the messiest memories are the best ones. From frosting cookies together in the kitchen, to finger painting at the dining room table, to digging in the mud, to drippy popsicles in the summer, all of those experiences create something special that lasts long after the messes have been wiped away.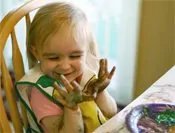 I remember my early years as a mom. So often I worried about the messes, the stains on the clothes or that crayon that didn't want to come off the kitchen table. I want to go back and tell myself not to worry, those messes are temporary and the moments move faster than we can imagine. I want to tell myself to let the kids make a mess, to make a mess with them, and don't worry about that mess in the kitchen. It will wait, and that the precious moments of childhood, won't. I think the messiest season of our life might just be the best one, and we need to embrace that.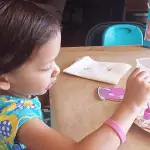 Spend that time together, make messes together, go paint pictures, swing on the swings or make s'mores outside at dusk. Those are the things we, both moms and kids, will remember, not the messes. The cluttered countertops and the windows that need cleaning, they can wait a little while. Embrace the moments, make the memories, and know that yes, the messes will be there, but you can clean them up, and Bounty will help, just like they have been, for the past 5o years.
I almost forgot, we have some messy cheesecake bars to make, don't we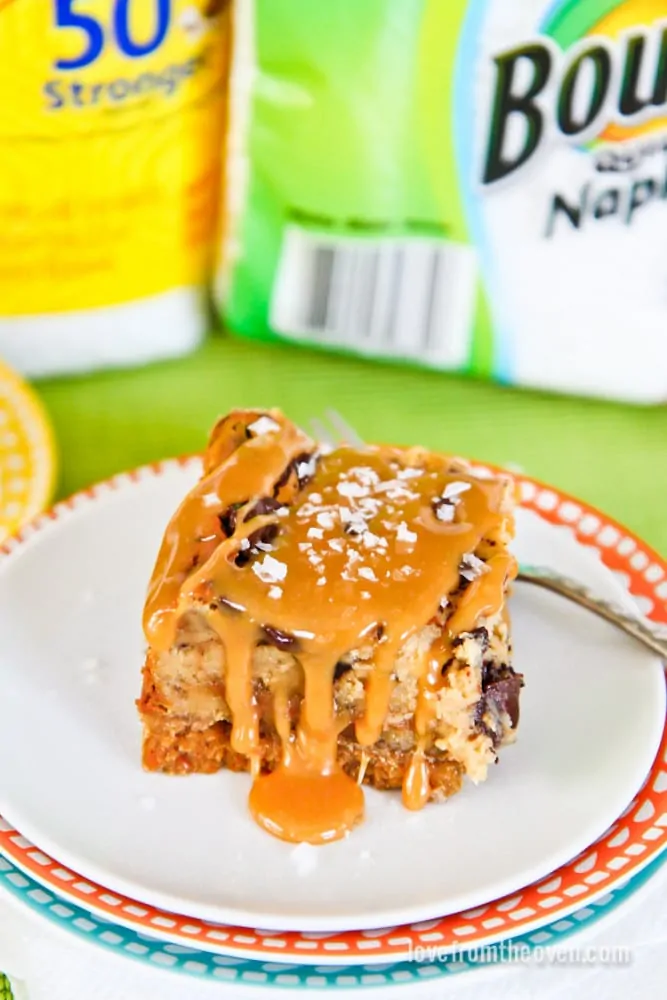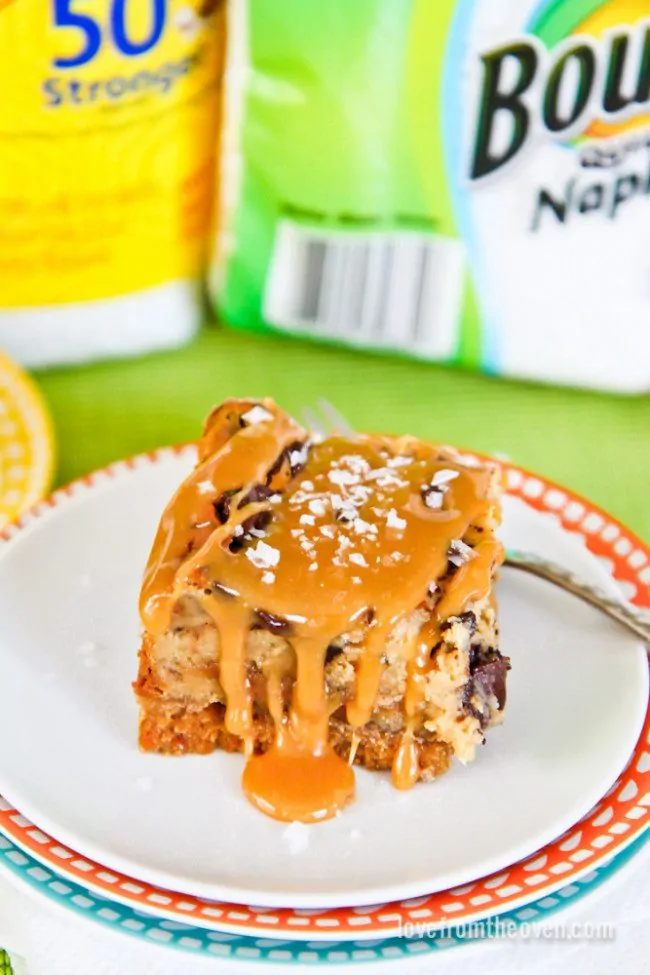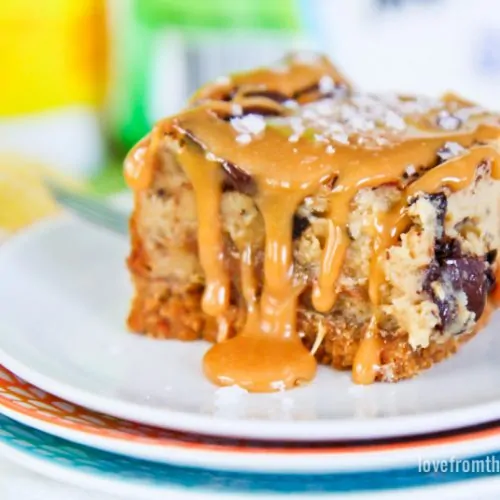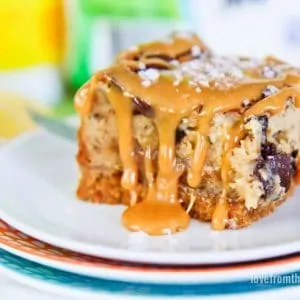 Caramel Chocolate Chunk Cheesecake Bars With Pretzel Crust
Ingredients
2 1/2

cups

crushed pretzels

I run mine through a food processor, then measure AFTER crushing

2

TBSP

sugar

1/3

cup

melted butter

4

packages

8 ounce cream cheese (the brick, not the tub!)

1

cup

brown sugar

2

TSBP flour

1 1/2

TBSP

vanilla extract

1/2

cup

sour cream

3

eggs

2

cups

chocolate chips or chocolate chunks

divided

14

oz

bag of caramels for melting

such as Kraft Caramel Bits

2

TBSP

water

Sea Salt
Instructions
Preheat oven to 350 degrees F.

In a large bowl, combine pretzel crumbs, 2 TBSP sugar and melted butter. Mix well to combine. Press crust mixture into a 13x9 inch baking pan that has been lined with foil and sprayed with non-stick cooking spray. Bake for 10 minutes, then remove from oven.

In a large mixing bowl using an electric mixer, combine cream cheese, brown sugar, flour and vanilla. Until blended. Mix in eggs, one at a time, and mix until blended. Stir 1 cup of chocolate chunks or chips into mixture. Pour half of mixture onto prepared crust (be careful, the pan for the crust is most likely still very hot from the oven!).

In a microwave safe bowl, combine HALF of the bag of caramels with 1 TBSP of water and microwave according to package directions. Remove, stir until well blended, then drizzle over the cheesecake mixture. Top with remaining cheesecake mixture. Sprinkle remaining chocolate chunks or chips over the top of the cheesecake mixture.

Bake cheesecake bars for 40-45 minutes or until lightly brown and center is set up. Remove from oven and allow to cool completely. Once cool, place in refrigerator, covered, until ready to serve.

When ready to serve, microwave remaining caramels and 1 TBSP water according to package directions. Drizzle over the top of cheesecake bars. Top with a sprinkle of sea salt. Cut and serve. They are messy, but sometimes, messy is GOOD!
Nutrition
Disclaimer
Nutrition information is estimated as a courtesy. If using for medical purposes, please verify information using your own nutritional calculator. Percent Daily Values are based on a 2000 calorie diet.
I hope your family enjoys these bars as much as we did. I also hope that other moms are out there making, and embracing, messes, and the memories that go with them. As they say when raising kids, the days are long, but the years are short. One day, which will no doubt be here before we know it, we will be thinking back fondly on these messy days.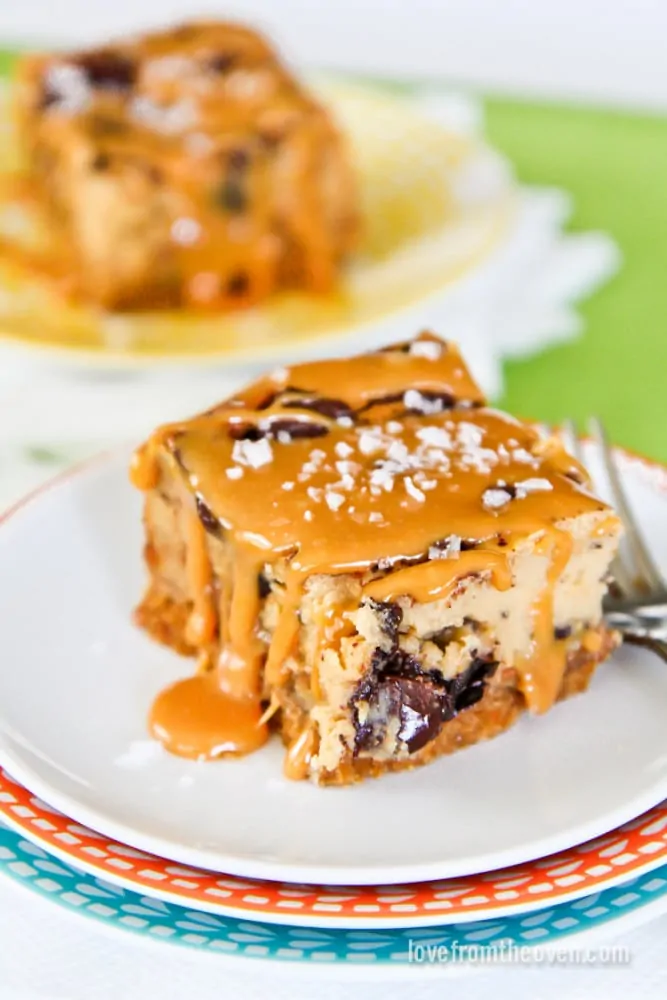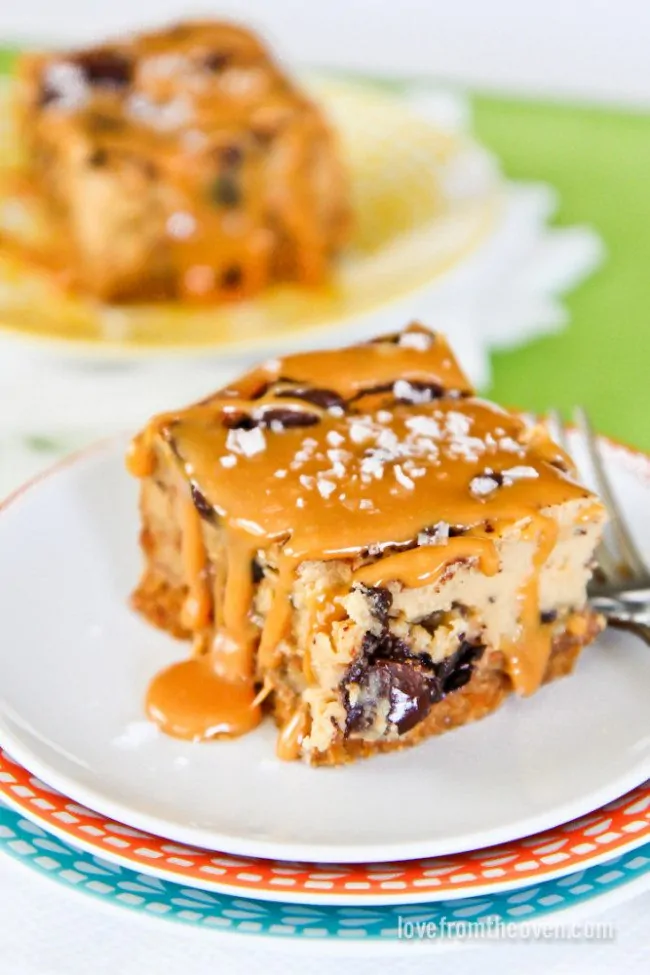 If messy (and delicious) desserts are your thing, check out my Caramel Brownies.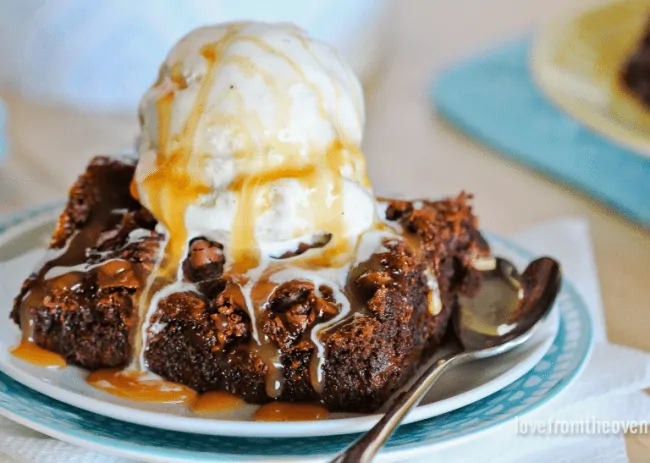 Bounty, the long lasting quicker picker-upper, has been soaking up spills and helping pick up everyday messes in American homes for over 50 years. By continually listening to consumers' needs and consistently innovating to improve strength and absorbency, Bounty brings consumers the best possible paper towel.
Disclosure: This post was sponsored by Bounty. All opinions however are mine and mine alone.