This easy and delicious CREAMY CHEESECAKE RECIPE is sure to be a hit with any cheesecake lover.
A surprisingly easy cheesecake recipe that combines a buttery graham cracker crust, a creamy cheesecake layer, and a perfect sour cream topping. If you are looking for the best and creamiest cheesecake recipe, you have found it!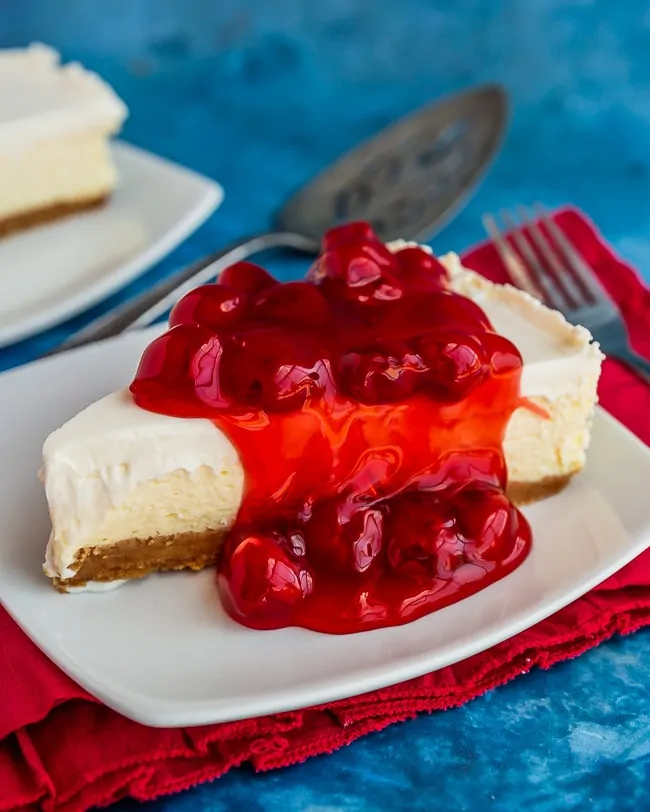 Creamy Cheesecake Recipe
This cheesecake recipe comes from the cookbook COURSES: A CULINARY JOURNEY.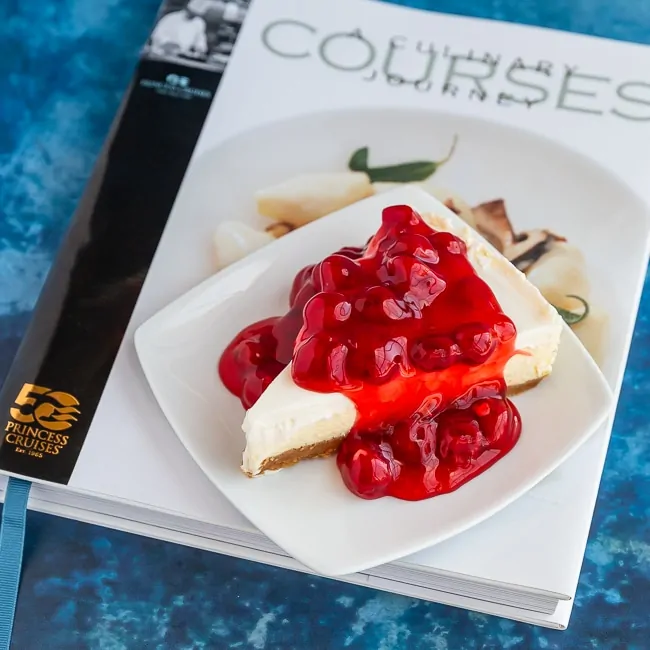 I received this cookbook as part of a Chef's Table Dinner experience on my recent Caribbean Cruise with Princess Cruises. I say "experience" because Chef's Table is truly an experience. And one that is truly not to be missed.
Thank you to Princess Cruises for sponsoring this recipe post.
Look at this cheesecake. You just want to grab a fork and dig in. I did just that the moment I was done taking photos.
I planned to take more photos but the temptation on this one was REALLY high.
Sorry about that.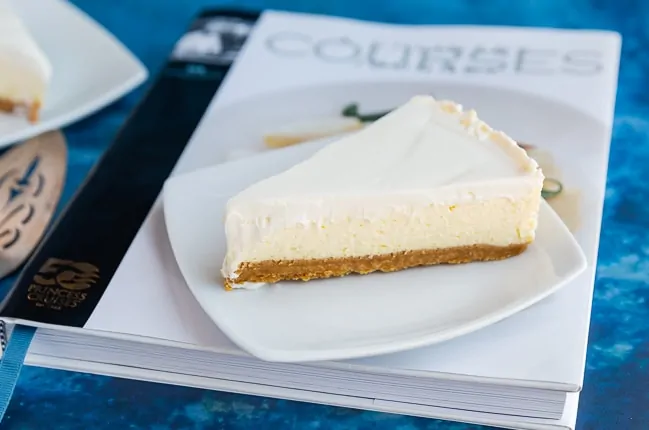 Easy Cheesecake Recipe
I don't make cheesecake often. For some reason I always think of it as a bit of a pain.
So many cheesecake recipes get a little complex. When I see terms like "water bath," no-bake cheesecake suddenly sounds like a much better idea.
But my friends, this is an EASY CREAMY CHEESECAKE RECIPE.
Yet it tastes absolutely exquisite.
In the past year I've had both Cheesecake Factory Cheesecake and Junior's Cheesecake in New York. This creamy cheesecake recipe 100% holds it's own against both.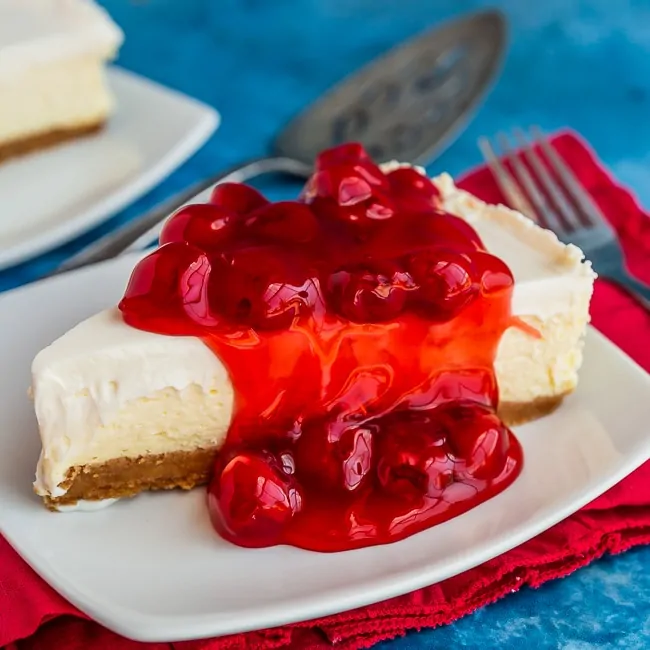 This recipe for cheesecake is very straight forward. Both the ingredients and instructions are simple.
The only item you might not have on hand is a springform pan. A nine inch round cake pan can also be used. I'm guessing a deep dish pie pan would work as well.
You do not need a stand mixer, and an electric mixer isn't even required. That said, if you have a hand mixer, I'd recommend using it.
If you're looking for the best creamy cheesecake recipe, if you've never made cheesecake before or if you've had some cheesecake failures, I urge you to try this recipe.
You'll find this CHEESECAKE RECIPE below.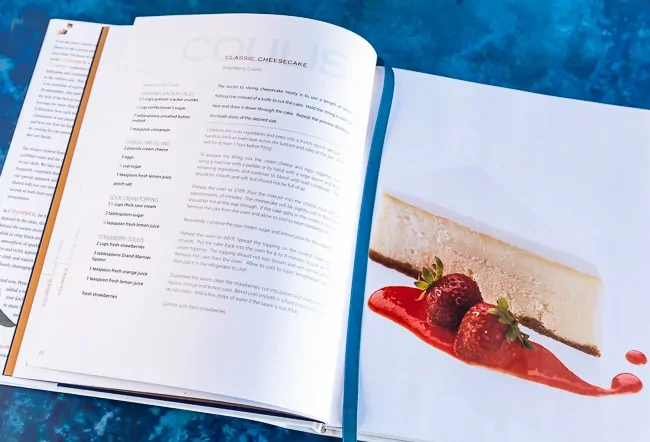 Chef's Table Cheesecake Recipe
As I mentioned, this recipe was found in the cookbook COURSES: A CULINARY JOURNEY. The cookbook was a gift I was given at the end of my Princess Cruises Chef's Table dinner.
Chef's Table was hands down one of my favorite experiences on my Princess Caribbean Cruise.
For Chef's Table, you join a select group of guests for a behind-the-scenes galley tour with champagne and hors d'oeuvres, followed by an extravagant multi-course dinner created and hosted by the ship's executive chef. This is a true VIP experience.
If a Princess Cruise is in your future (and I hope one is!) I highly encourage you to look into taking part in a Chef's Table experience. This is at the top of my to do list for all future cruises.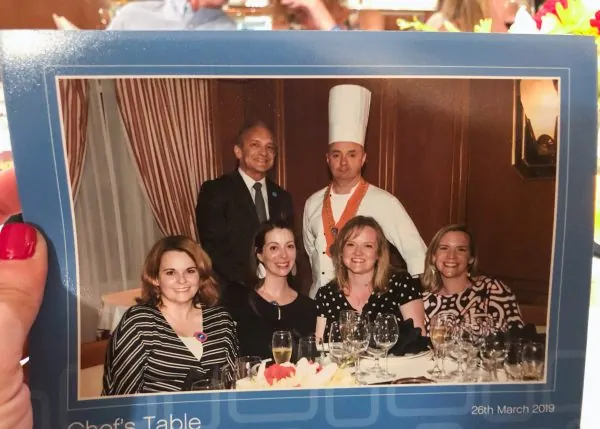 As part of the Chef's Table experience we were given a photo of our group. Read more about how my friends and I went on a Princess Cruise as a way to stay connected!
Chef's Table Experience
Chef's Table starts with a galley kitchen tour, champagne and tasting with both the Executive Chef .
Going behind the scenes and seeing one of the many kitchens on the Caribbean Princess was such a treat. Everything is immaculate. They take health and food safety extremely seriously.
After our kitchen tour, champagne and hors d'oeuvres, we were shown to our table.
The only downside of the Chef's Table was that it was hard to get great pictures. The upside is that the reason it was hard to get pictures is because of the amazing ambiance and soft lighting. Frankly this is a meal to be savored with all your senses, and I was happy to sit my camera down most of the time.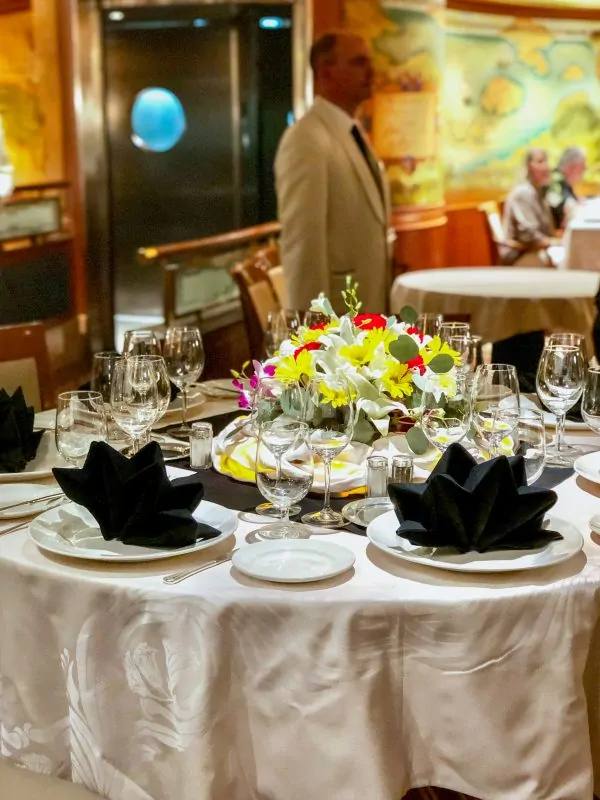 Princess Cruises Chef's Table Review
Honestly I can't remember how many courses our Princess Cruises Chef's Table was. It was many, and all were delicious.
Important tip! When you do Chef's Table, pace yourself. The food is plentiful and amazingly delicious, you'll want to have room to try it all. And it's a LOT of food.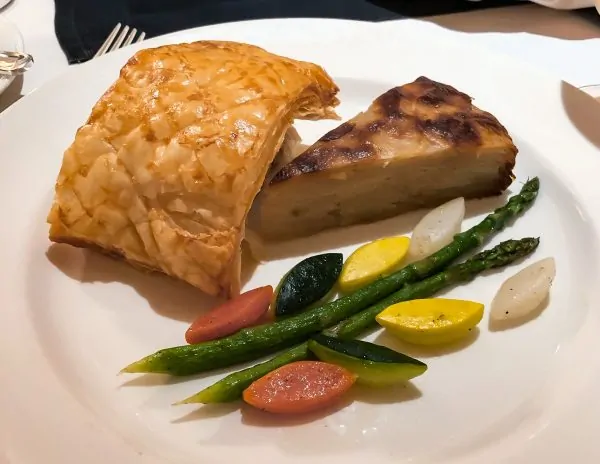 The Beef Wellington was amazing and the Pommes Anna (sliced potatoes cooked in a large amount of butter) was possibly one of the best things I've eaten in recent memory.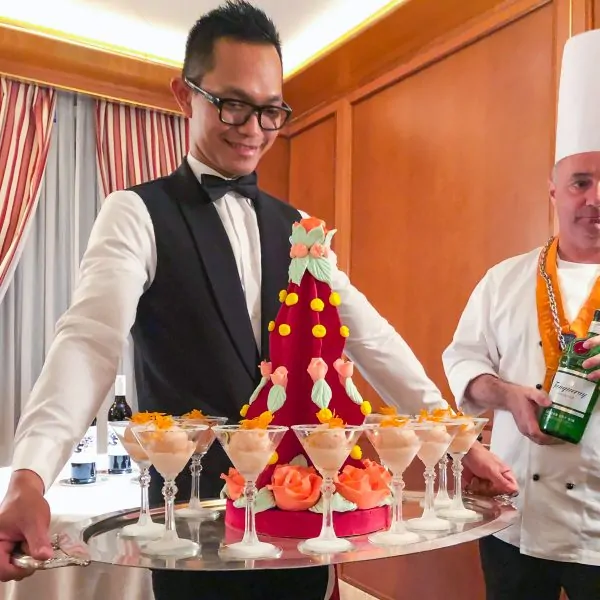 The presentation of each course is spectacular. To me this was an experience that ranks right up there with an amazing excursion.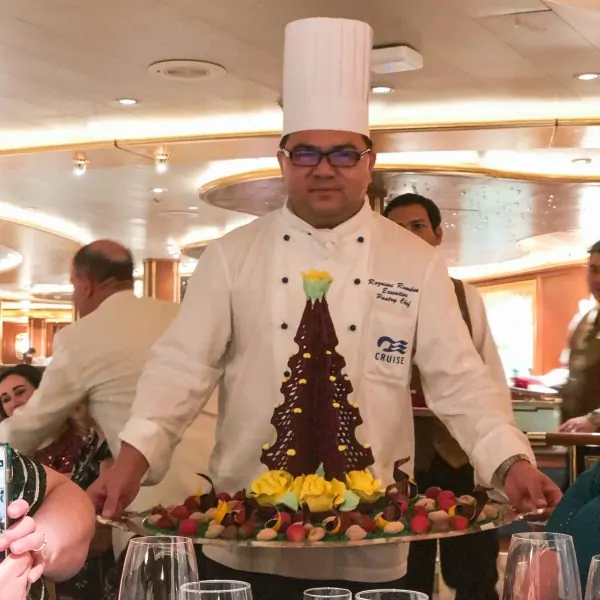 Every single course was a delight. Especially as a mom, who usually prepares all the food in my home, this meal absolutely positively spoils you!
I can't recall how many dessert courses we had. While this creamy cheesecake recipe wasn't on the list, there were at least four desserts!
That stunning red heart contains chocolate mousse, the ribbons are chocolate and the plate is covered in blue candy. AMAZING.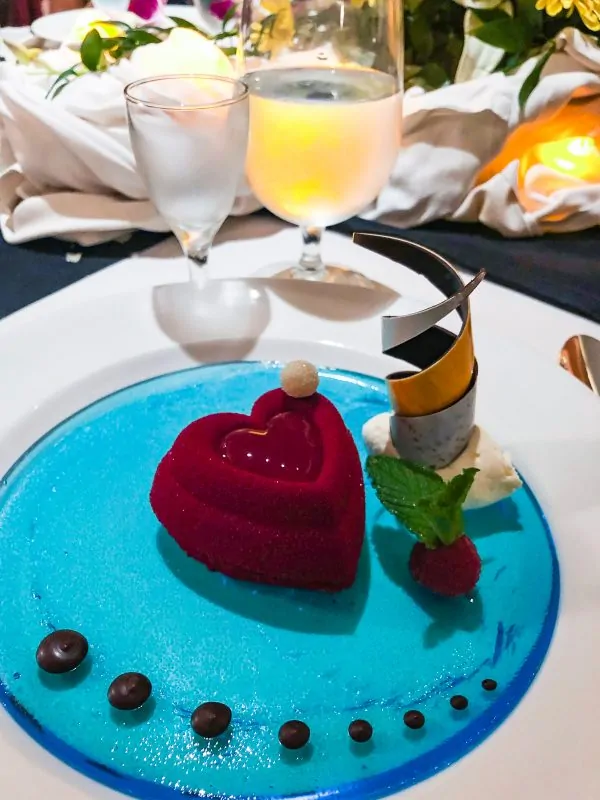 Princess Cruises Chef's Table Cost
If you are wondering how much Chef's Table cost on a Princess Cruise, you'll be surprised at the answer. Chef's Table costs around $95 per person, depending upon the ship you are on.
For the amount and quality of food and wine you get, the cookbook, photos and the one-of-a-kind experience, I think this is a fantastic price.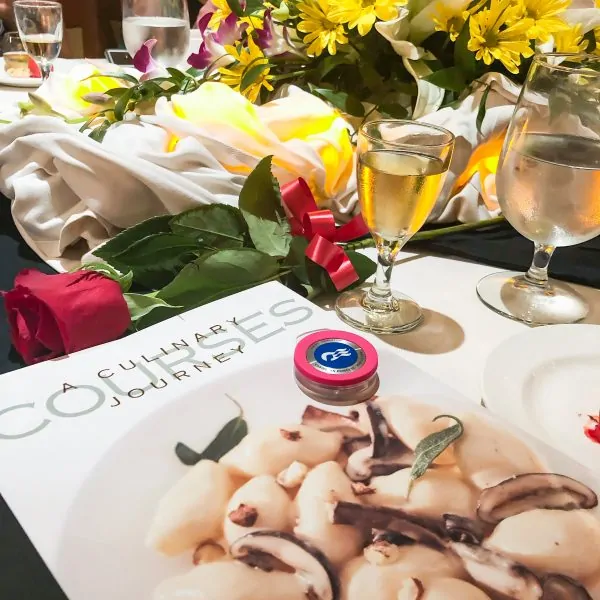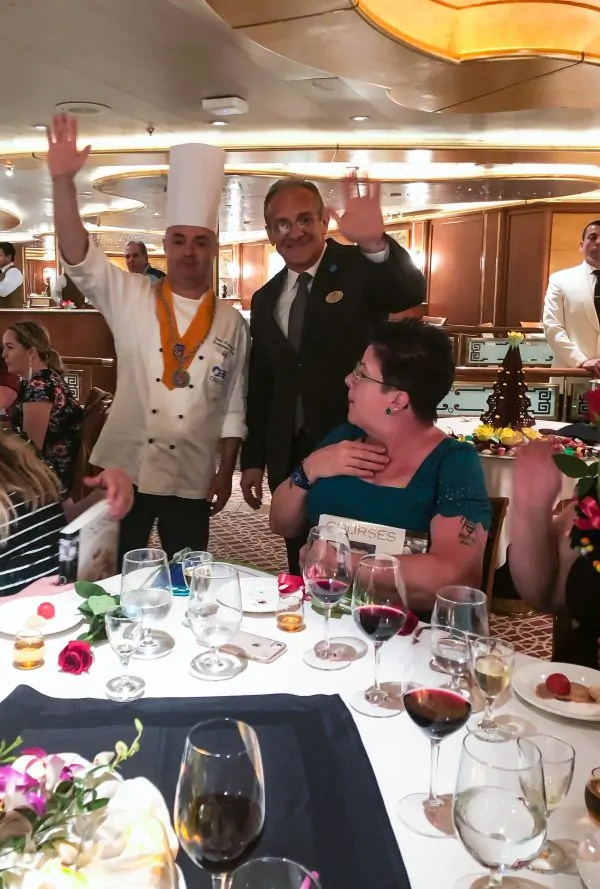 Booking Chef's Table On A Princess Cruise
It's important to note that you book your Chef's Table experience once you are on board your ship. Spaces are very limited, so I highly suggest doing so right after embarkation.
Reservations are made onboard through the ship's DINE telephone line or in person at the dining reservations table set up on the first day of the cruise.
Do yourself a favor and book a Chef's Table on your next Princess Cruise. I promise you will love it. And please come back and share your experience with me!
Recipe For Creamy Cheesecake
Don't worry, I didn't forget our delicious CREAMY CHEESECAKE RECIPE! If you love blueberries, make sure to try some Blueberry Compote on top of your cheesecake! If you love cheesecake, also check out this amazing Churro Cheesecake recipe!
CLICK TO PIN AND SAVE
CREAMY CHEESECAKE RECIPE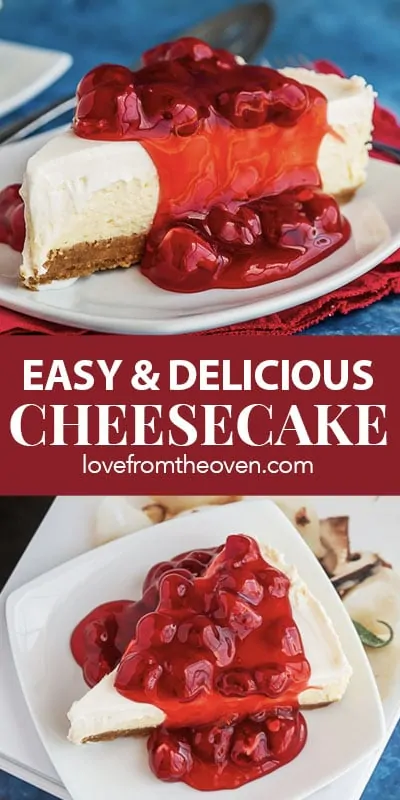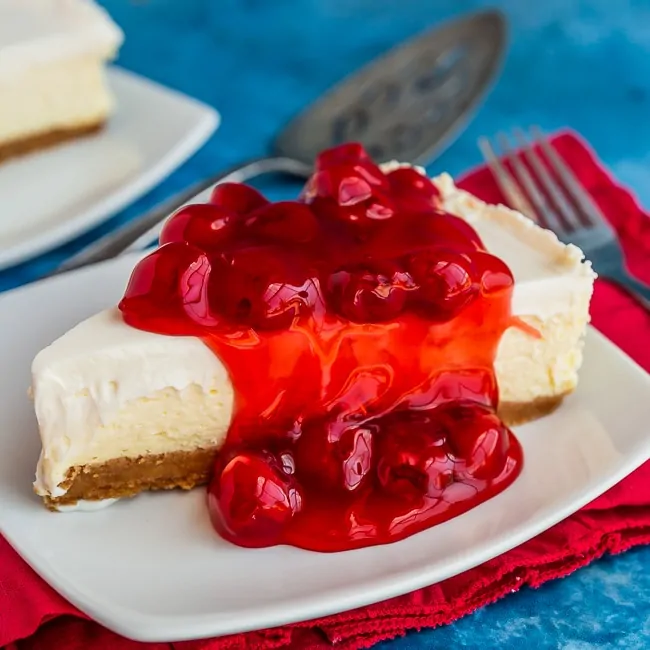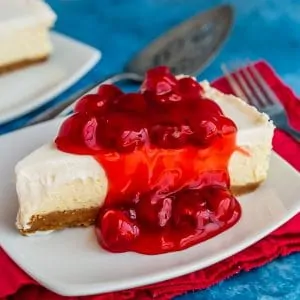 Creamy Cheesecake Recipe
A creamy and delicious easy CREAMY CHEESECAKE RECIPE that comes from Princess Cruise's Chef's Table Cookbook. A sour cream topped cheesecake recipe that is impossible to resist!
Ingredients
Graham Cracker Crust
1 1/2

cups

graham cracker crumbs

1/4

cup

confectioner's sugar

7

tbsp

unsalted butter, melted

1

tsp

cinnamon
Cheesecake Filling
2

pounds

cream cheese

softened

3

eggs

room temperature

1/2

cup

sugar

1

tsp

fresh lemon juice

pinch

salt
Sour Cream Topping
1 1/2

cups

thick sour cream

full fat versions work best

2

tbsp

sugar

1/2

tsp

fresh lemon juice
Optional Toppings
berries, pie filling, chocolate or caramel sauce are all great toppings if desired
Instructions
Graham Cracker Crust
Combine the crust ingredients and press into a 9" round springform pan using your hands to form an even layer across the bottom and sides of the pan. Chill the crust for at least one hour before filling.
Cheesecake Filling
Preheat oven to 370 degrees F.

To prepare the filling, mix the cream cheese and eggs together until smooth using a mixer or by hand with a large spoon. Add remaining ingredients and continue to blend until well combined. This may take some time, especially if cream cheese was not fully softened, but just keep mixing. Mixture should be smooth, but not full of air.

Pour the mixture into the chilled crust and bake for approximately 20 minutes. The cheesecake will be slightly soft in the middle but should be hot all the way through. If the cake splits in the center, it is over baked. Remove cake from oven and allow to cool to room temperature.
Sour Cream Topping
Once cheesecake has cooled to room temperature, preheat oven to 425 degrees F. Combine the sour cream, sugar and lemon juice and mix well.

Spread the topping on the cooled cheesecake and smooth. Put the cake back into the oven for 6 to 8 minutes to just set the sour cream topping. Topping should not turn brown and will not set completely. Remove from oven and allow to cool to room temperature again before placing in the refrigerator to chill.

If desired garnish and serve with fresh fruit, pie filling, chocolate sauce, caramel sauce or other topping of choice. Store remaining cheesecake in refrigerator.
Notes
Creamy Cheesecake Recipe from Courses: A Culinary Journey, by Princess Cruises. 
Nutrition
Calories:
363
kcal
|
Carbohydrates:
19
g
|
Protein:
5
g
|
Fat:
30
g
|
Saturated Fat:
17
g
|
Cholesterol:
118
mg
|
Sodium:
307
mg
|
Potassium:
134
mg
|
Fiber:
1
g
|
Sugar:
14
g
|
Vitamin A:
1095
IU
|
Vitamin C:
0.2
mg
|
Calcium:
93
mg
|
Iron:
0.7
mg
Disclaimer
Nutrition information is estimated as a courtesy. If using for medical purposes, please verify information using your own nutritional calculator. Percent Daily Values are based on a 2000 calorie diet.
You can read more about our amazing MedallionClass Caribbean Cruise with Princess Cruises by clicking here!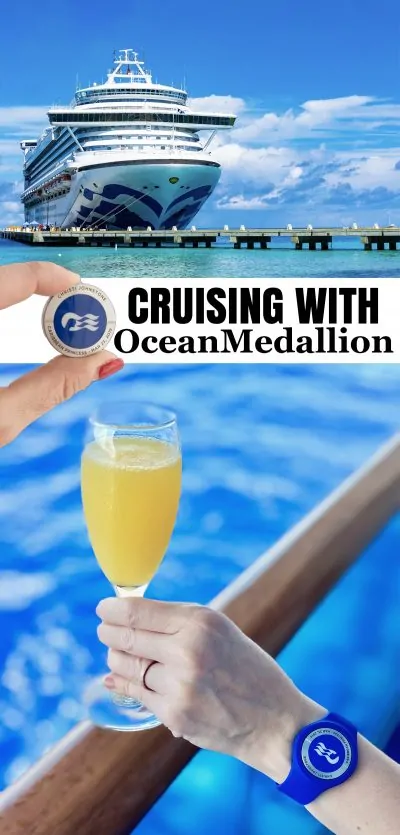 Thank you to Princess Cruises for sponsoring this post. All opinions are mine and mine alone. #oceanmedallion #comebacknew #princesscruises #caribbeancruise #caribbeanprincess