I don't mean to get all crazy on you, but I'm posting another recipe that falls into the salad category, my favorite Chicken Apple Salad. This is quite possibly my favorite lunch ever. Well, wait, let's not go crazy. My favorite lunch ever would probably consist of a nice juicy cheeseburger and a big basket of sweet potato fries, but whoever said that your metabolism takes a wee bit of a hit when you cross into your forties, they were painfully, ridiculously accurate not lying. So, 5,000 calories lunches aside, this Chicken Salad is one of my all time favorites.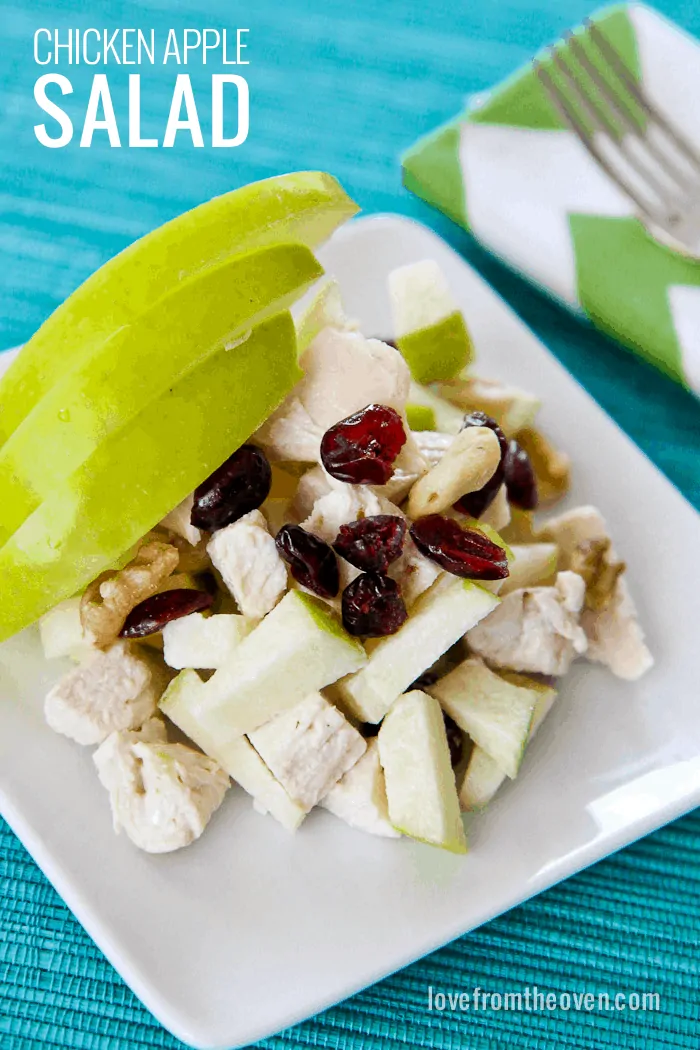 I get a little hesitant to post "savory" recipes sometimes, especially ones that are as simple as this. This chicken salad isn't exactly ground breaking, and there are probably 3.29 million versions and variations of it on Pinterest, but I figure I'll go ahead and share it with you in case it might give you a new lunch idea. Two salad-ish recipes in one week aside, I swear I'm still not a salad person. At all. But this combo of flavors and textures totally works for me. It's crunchy thanks to apples and walnuts. It's tart and sweet, thanks to cranberries and apples. It's creamy, thanks to a little bit of mayo, and it's going to hook you up with some nice protein thanks to the chicken. And if you have the ingredients in your fridge, you can whip it up in no time.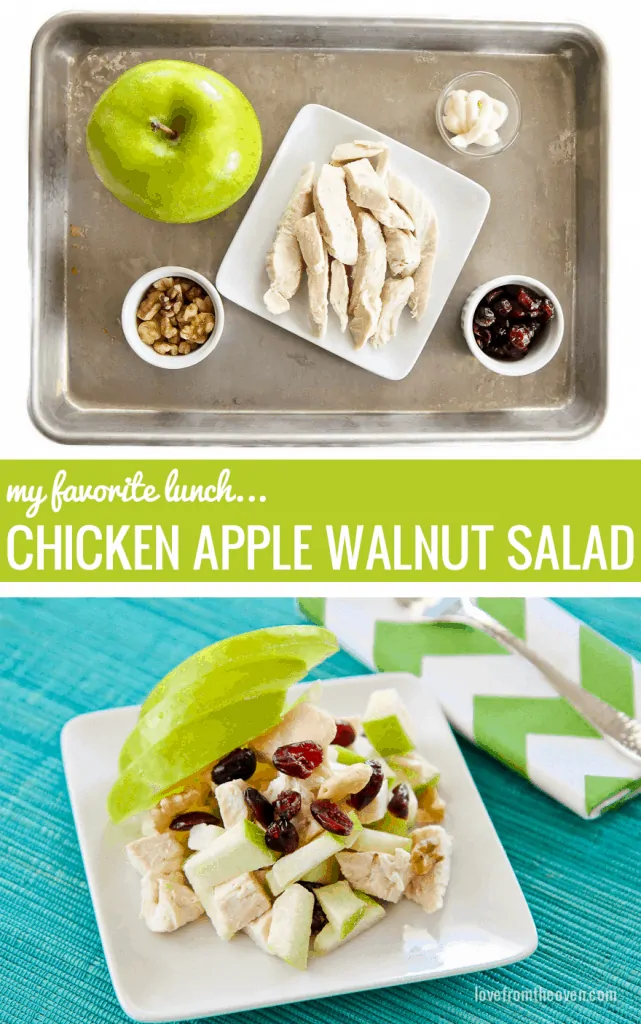 This is one of those recipes that is endlessly flexible. If you like raisins (sorry, I just can't), by all means, use those in place of or in addition to the dried cranberries. Love grapes? They are fabulous in this. Have pears instead of apples? Sure, why the heck not, the lunch police will not show up at your door. Not a nut fan? Skip them! Or swap the walnuts for pecans! Heck, use turkey instead of chicken. I haven't tried it with pomegranate seeds, but I bet they would be great.
You can also use Greek yogurt in place of mayonnaise. I did that. Once. Truth be told it's not the same. It's no longer chicken salad. It's chicken and Greek yogurt. I tried, but it's just not the same. I use probably one tablespoon of mayonnaise for a big bowl of this salad, just barely enough to taste (not really enough to hold it together on say a buttery croissant, if that's your thing), and as much as I love Greek yogurt, it's not going to be hanging out in this meal. For me. You do what works for YOU.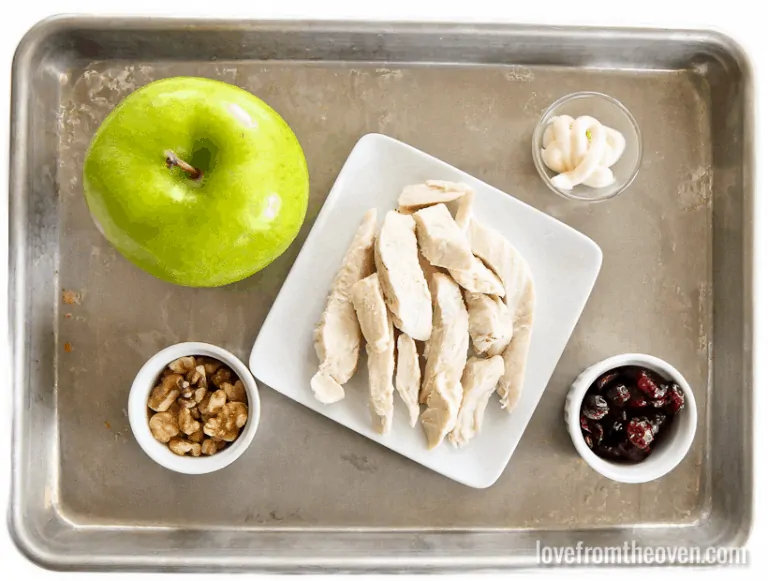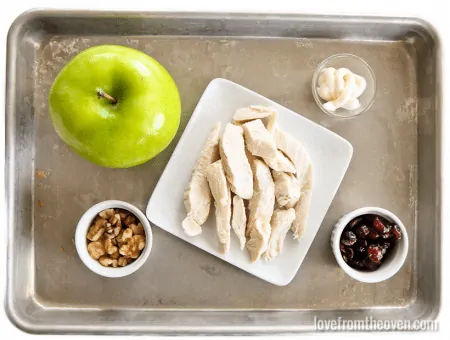 This recipe makes one generous serving. The rest of my family isn't quite as into this salad as I am. One gets a free pass, given her nut allergy, but my hubby would prefer a nice tuna salad and my little one would prefer all ingredients separate. That's fine, as that means when I make it, it's all mine. 🙂 I either use leftover grilled chicken or I actually buy the pre-grilled chicken strips in the fridge section of the grocery store. Bags of walnuts and dried cranberries last me a long time, and since we almost always have apples on hand, this is easy to pull together as long as I have chicken.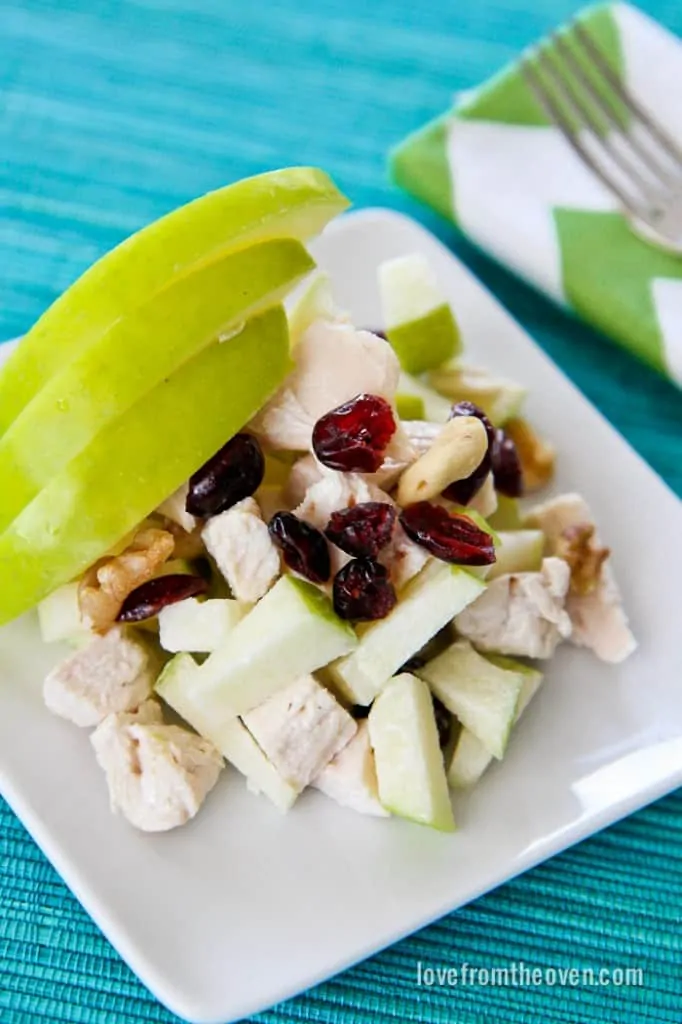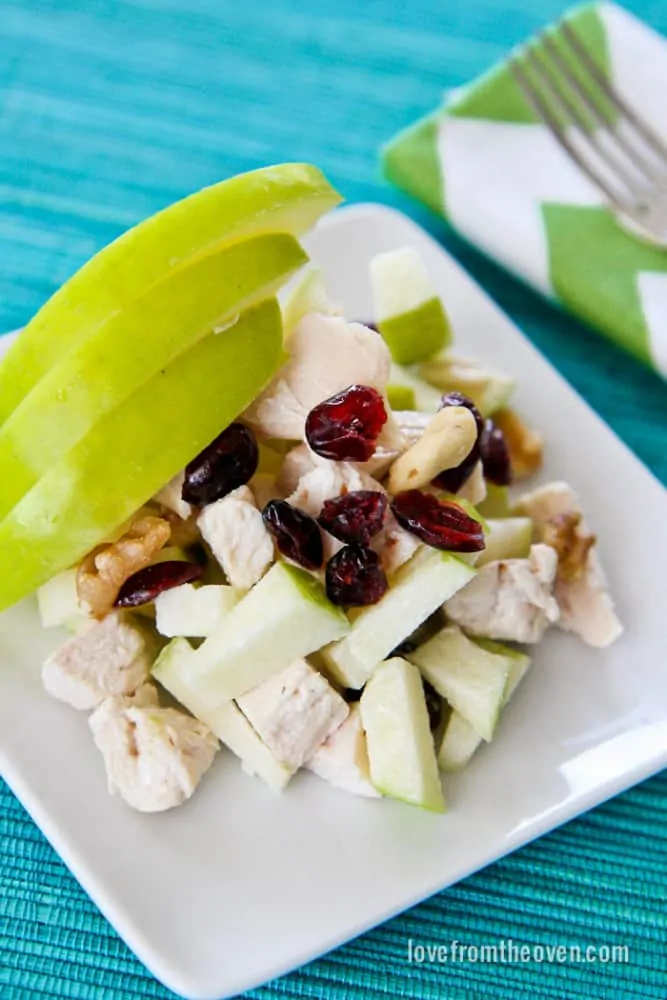 I use an entire apple in this recipe. It's a lot of apple. You totally don't have to use that much, but it helps give me a giant bowl of salad for lunch, lots of volume and lots of crunch. It borders on apple salad, but I don't think that's a bad thing. Okay, let's make this!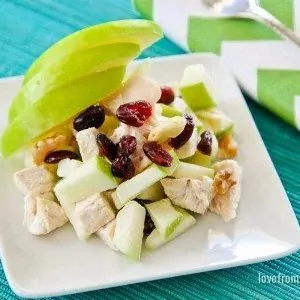 Chicken Apple Salad
This is my favorite lunch, packed full of lots of flavor and crunch!
Ingredients
1

medium chicken breast

cooked and diced into small bite sized chunks

1

medium apple

cut into small cubes

1

tablespoon

of chopped walnuts or other nuts of choice

1

tablespoon

of dried cranberries or raisins

1

tablespoon

of mayonnaise

this creates a fairly dry salad, so feel free to use more
Instructions
Combine all ingredients in a large bowl and mix well to incorporate mayonnaise. Enjoy on it's own or serve on bread for a sandwich.
Disclaimer
Nutrition information is estimated as a courtesy. If using for medical purposes, please verify information using your own nutritional calculator. Percent Daily Values are based on a 2000 calorie diet.
If this looks good to you, you might also enjoy my Sweet Tooth Salad, which has very similar flavors, and spinach or other greens.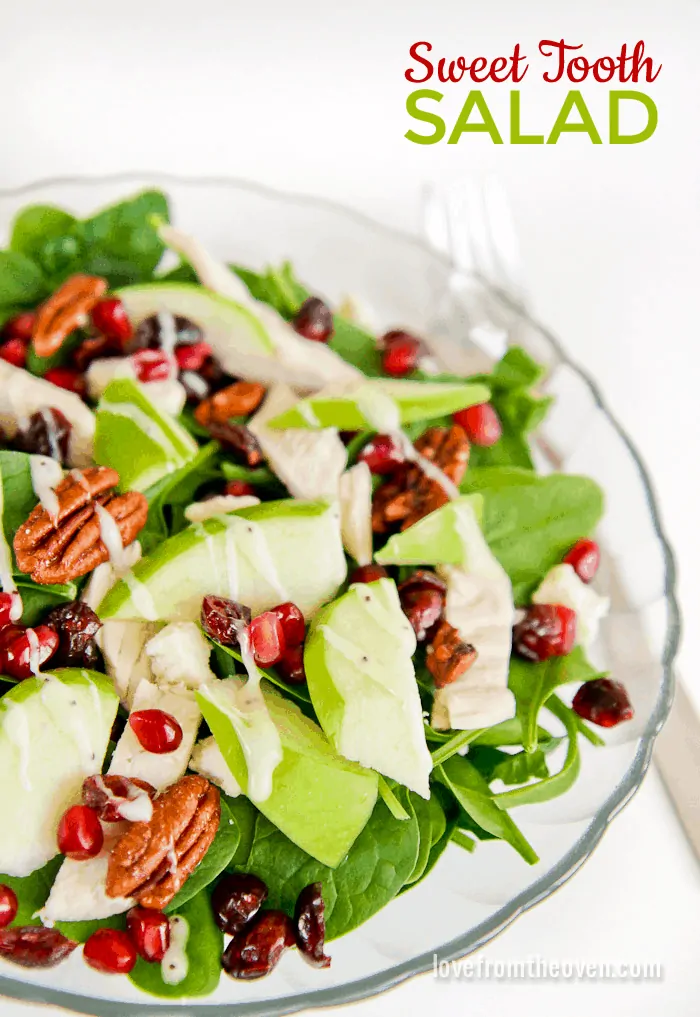 Now I promise we will get back to cookies and stuff dipped in chocolate. 🙂