Can I offer you a salad? No, the blog hasn't been hacked, there actually is a salad on here, but I think it's a salad that even those with a strong sweet tooth will love, which is why I call it my Sweet Tooth Salad. This is my all time favorite salad and I've made it for many years. I actually shared an earlier version of this salad probably seven years ago here on the blog. While I was making myself this salad the other day, I figured this gem of a salad could make another appearance here on the site.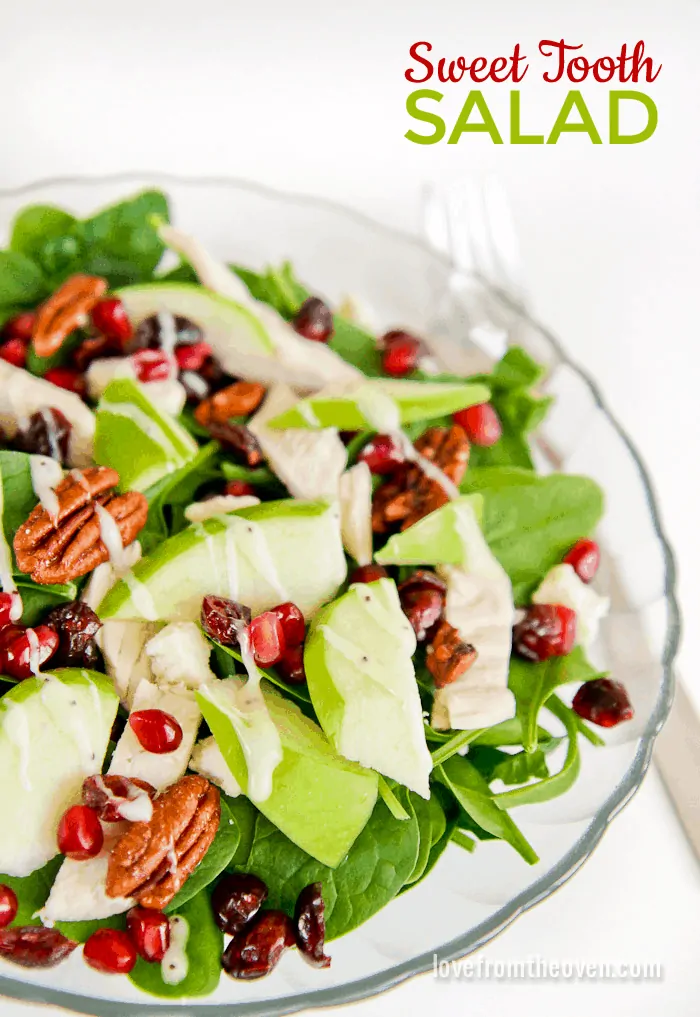 Let's be honest, I'm usually not the person who goes out to dinner and orders a salad. I'm just not that girl. Every now and then a salad will catch my eye, but for the most part, I want a nice hot meal that someone else made for me. And shopped for. And did the dishes for. And cleaned up after. But back to salad. I had a salad similar to this many years ago at a wedding, and I absolutely fell in love with it. It's a great combo of so many flavors, with sweet and tart notes, crunchy bites, chewy bites, it's got a lot going on.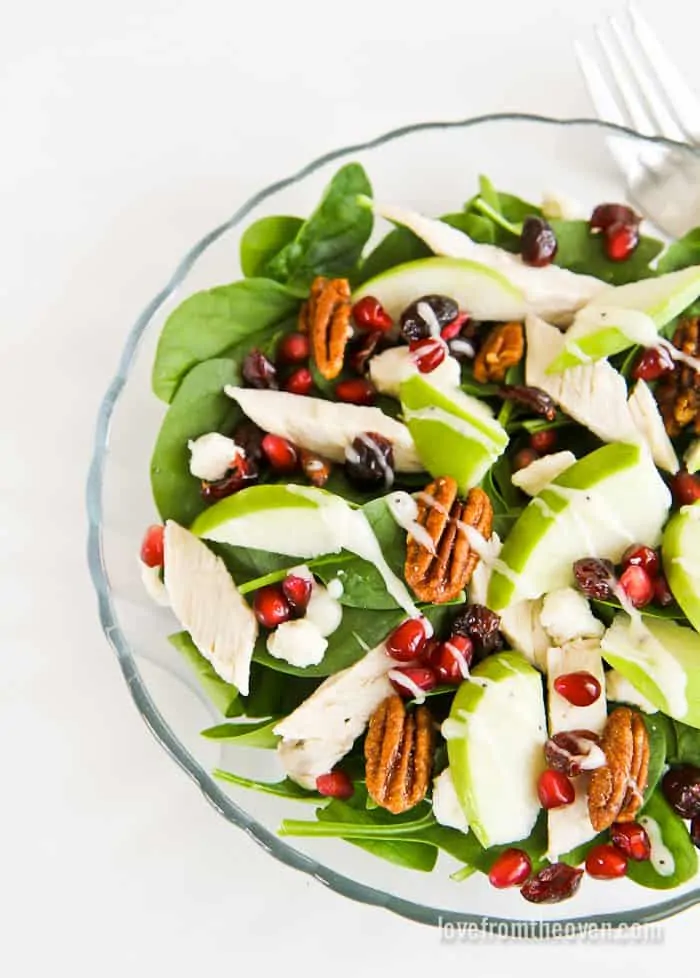 I'm not a big recipe follower with things like salads. I don't measure, I eyeball everything and what goes into my salad can be very dependent on what I've got in my fridge, and more often than not, what I did or did not forget at the store. When the stars align, this salad is made up of the following items… Baby spinach, dried cranberries, pomegranate seeds, sliced apples, feta cheese, candied pecans, grilled chicken and a drizzle of poppy seed dressing.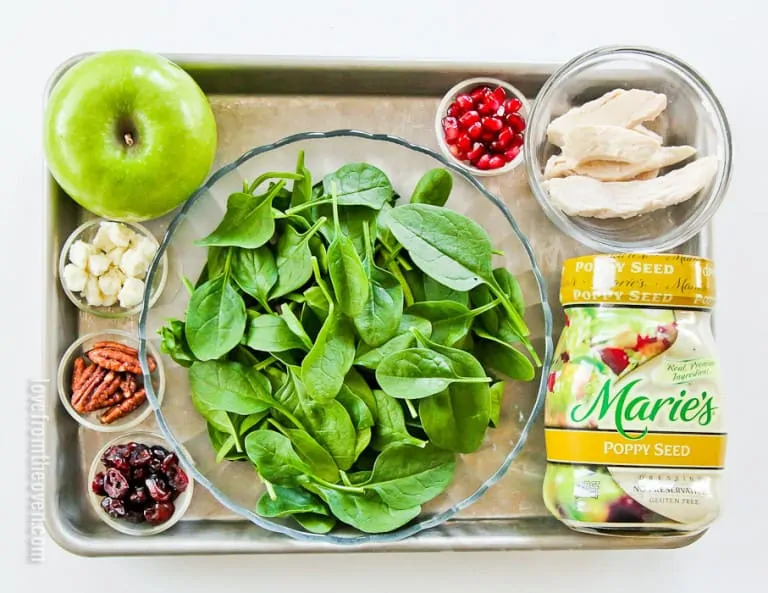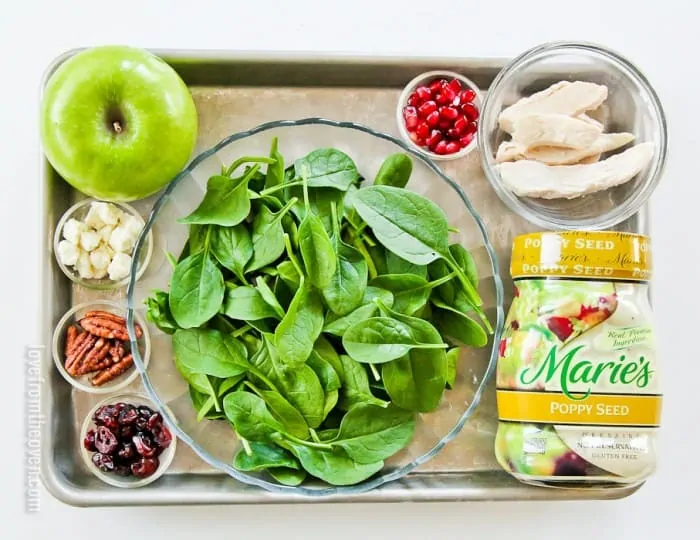 So. Darn. Good. If I'm serving this as a side, then I usually leave out chicken. If I want it as a main dish or complete meal, then chicken please! While this is my absolute favorite combo for this salad, I do mix it up. Feta or goat cheese can be swapped for blue cheese. Candied pecans (the amazing things that they are) can be swapped for regular pecans or walnuts. Apple or pear, whatever is on hand. And if one of the items is missing, that's okay as well. Sometimes I skipthe dressing all together. As always I'm all about flexibility and working with what you have.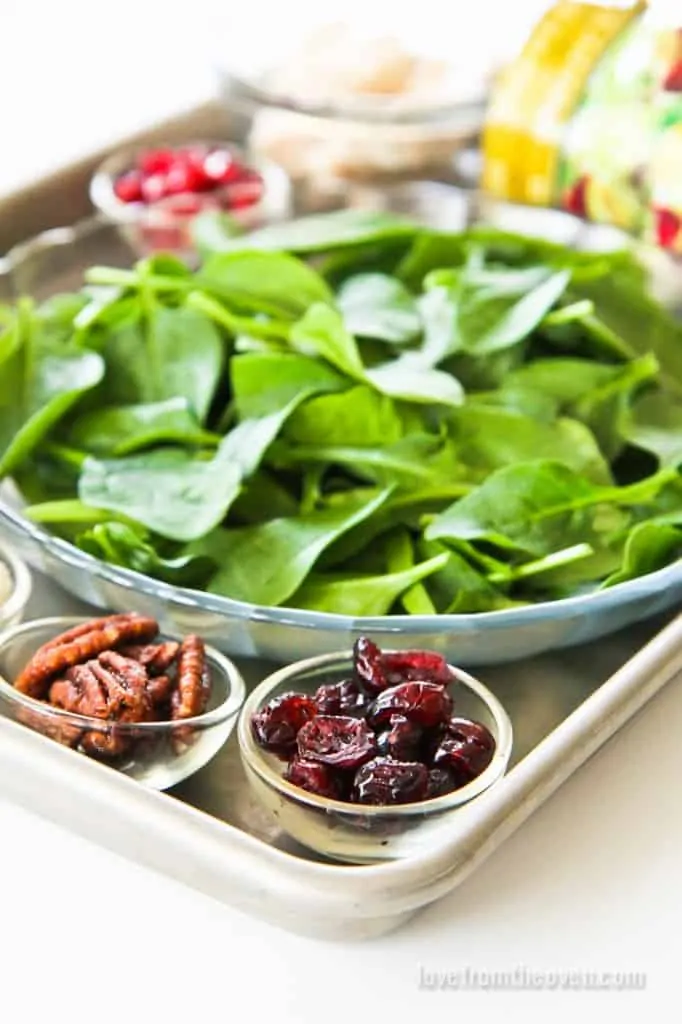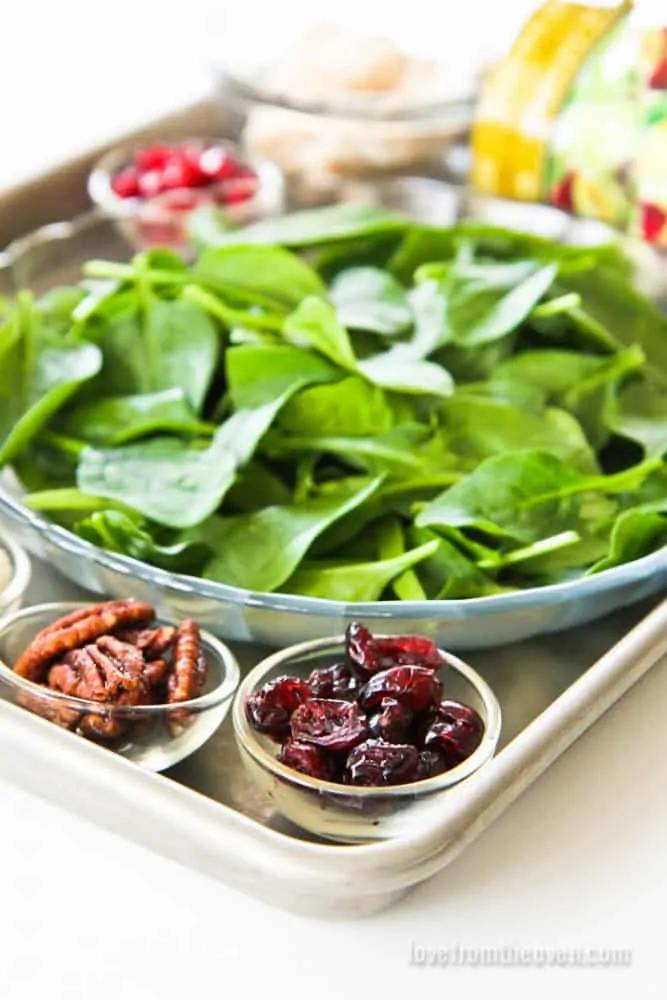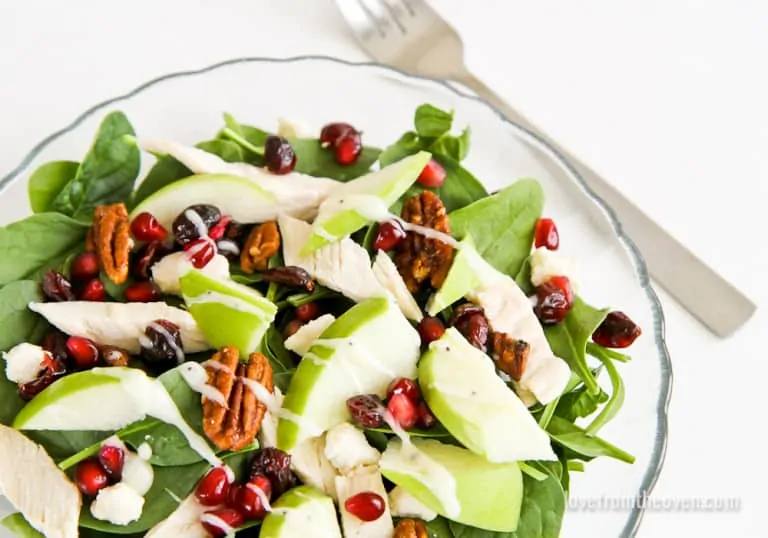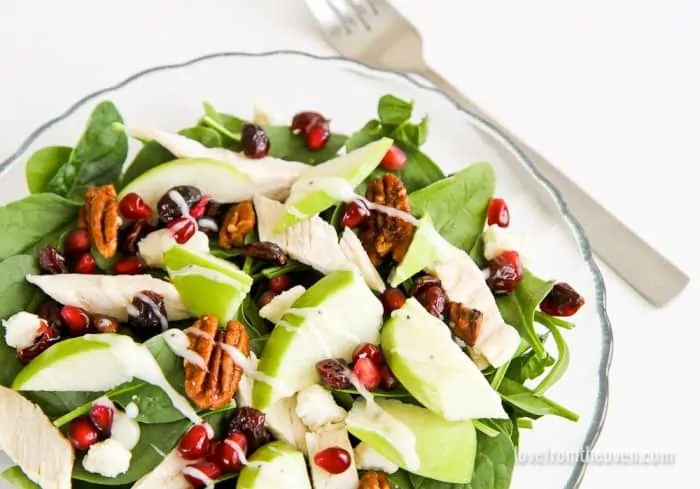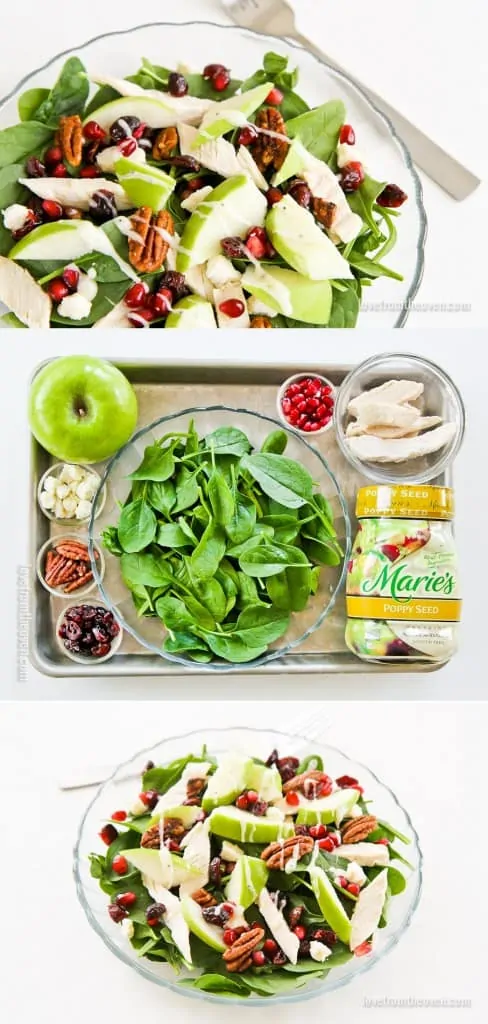 I am not very scientific in my measuring with salads, and think that making them to taste and working with what you have and what you like (or do not like) is a great way to go. Make sure to also try my Strawberry Chicken Salad.
Here is a recipe outline for this salad…
Sweet Tooth Salad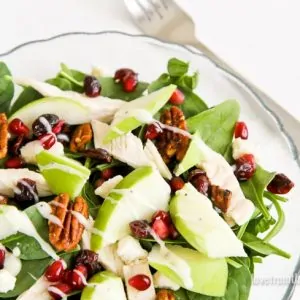 Sweet Tooth Salad
Ingredients
Ingredient amounts are based on what you like or need, use as little or as much of ingredients as you like.
Baby spinach or other greens

Sliced apples or pears

Pomegranate seeds

Dried cranberries

Nuts such as candied pecans

regular pecans or walnuts

Feta or blue cheese

Sliced grilled chicken

Dressing such as poppy seed or even a raspberry vinaigrette
Instructions
Combine ingredients in the amounts that you enjoy and serve!
Disclaimer
Nutrition information is estimated as a courtesy. If using for medical purposes, please verify information using your own nutritional calculator. Percent Daily Values are based on a 2000 calorie diet.
If you like this fruit and nut filled salad, I think you'll also enjoy this Blueberry Apple Walnut Salad from Barefeet In The Kitchen. It pairs a spring mix with apples, blueberries, walnuts and goat cheese. Make sure to check it out!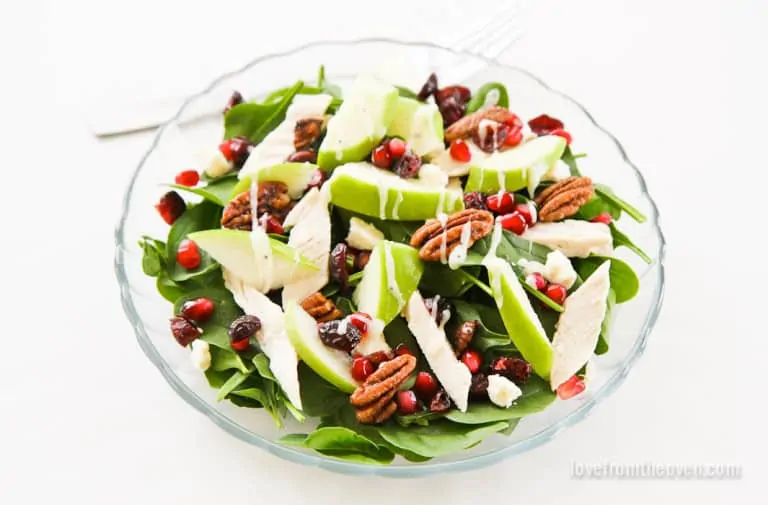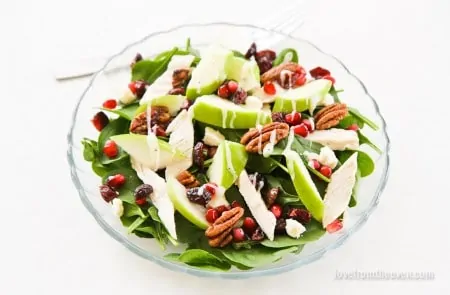 Enjoy!
SaveSave
SaveSave
SaveSave
SaveSave