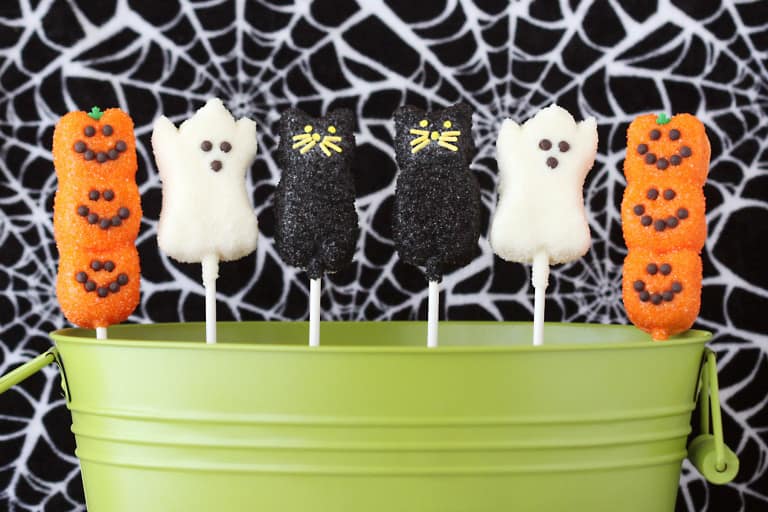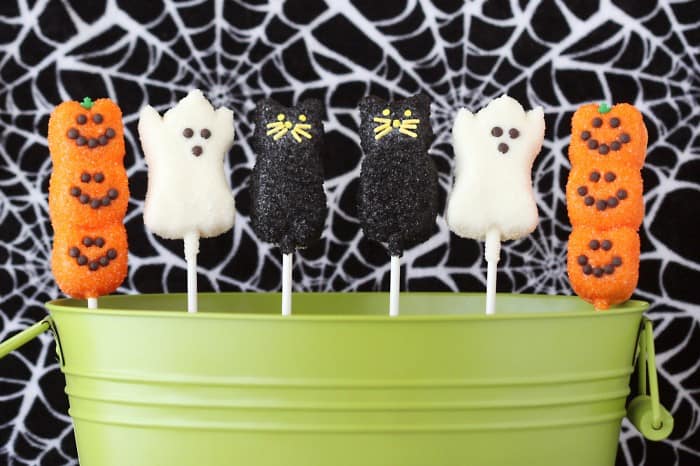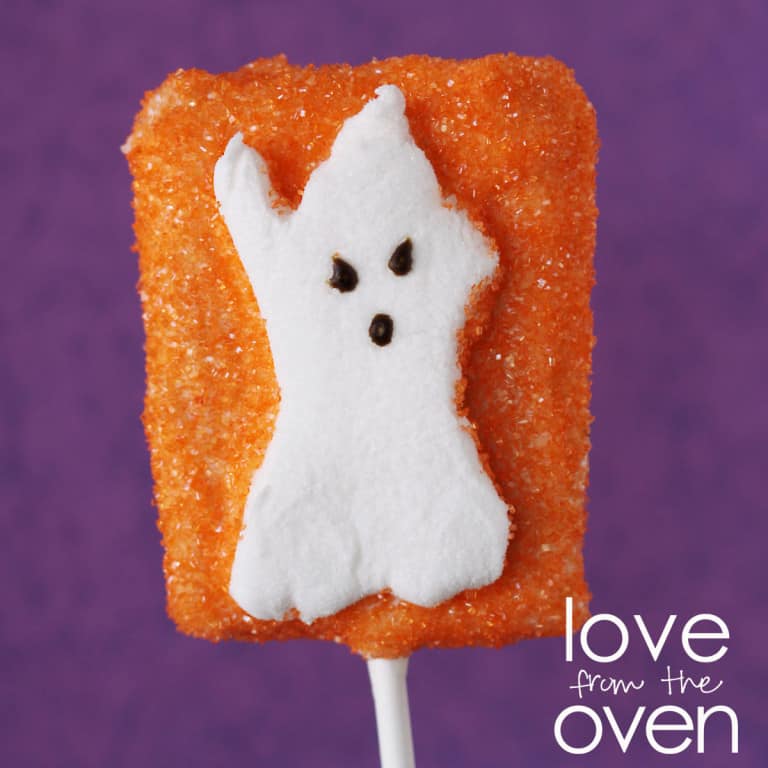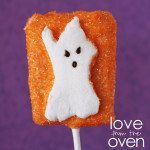 I've done Push Pop Halloween Peeps, I've done Peeps Halloween Rice Krispies Treats so it's only natural that I dip some Halloween Peeps in chocolate. This is another treat that is quick to make, and no bake, but is super cute and sure to be a hit at any Halloween party. Chocolate covered Peeps Pops! Let me tell you how to make them, and don't worry, I'm giving away lots of Peeps so that you can whip some up as well!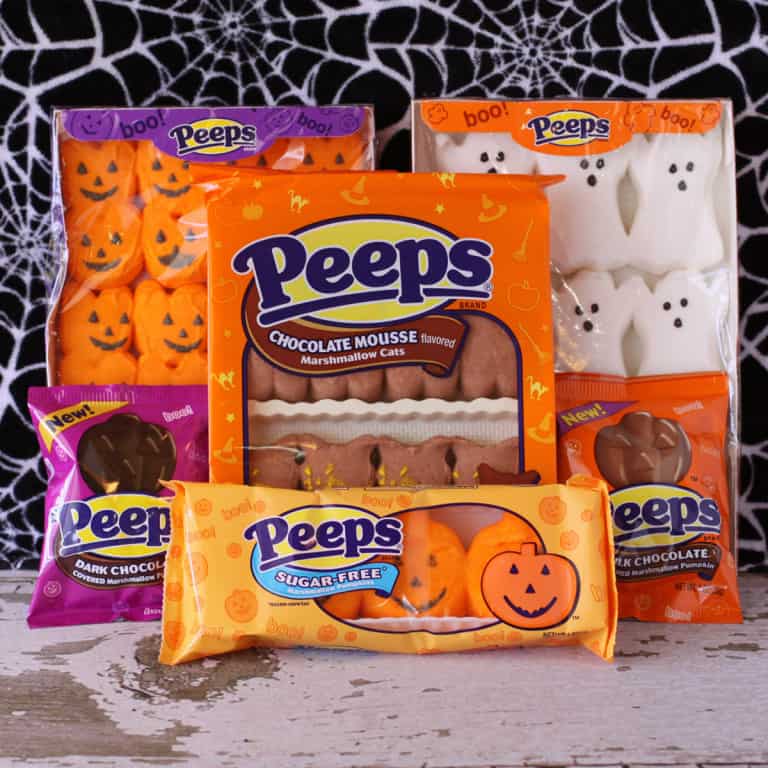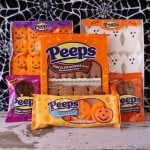 You need some of your favorite Peeps (I'm in L-O-V-E with the Chocolate Mousse Marshmallow Cat Peeps), lollipop sticks, some melting chocolate and some sprinkles or chocolate chips to use for decorating.
Put your Peeps onto a stick. For the pumpkins, I used three Peeps per stick.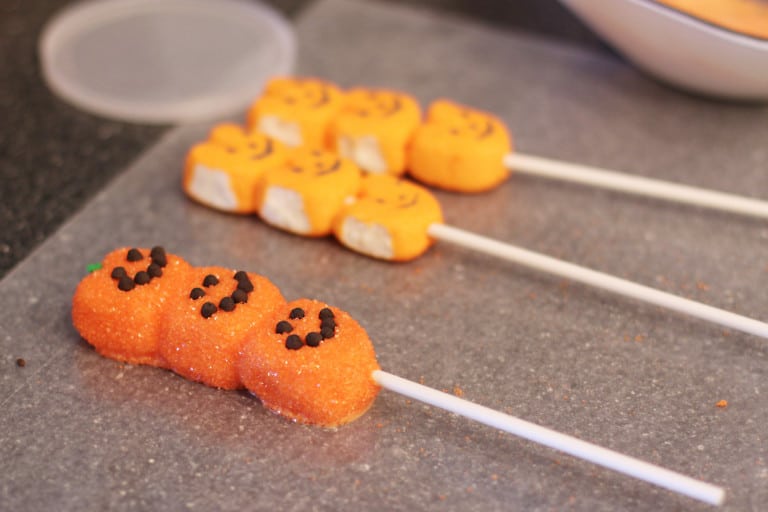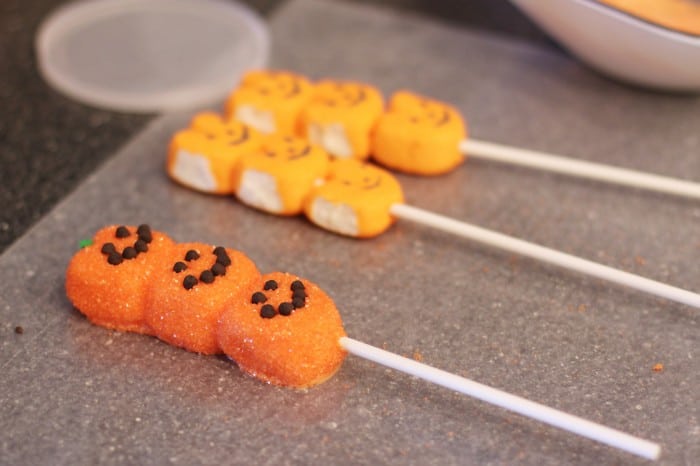 For the cats and ghosts, I went with one Peep per stick.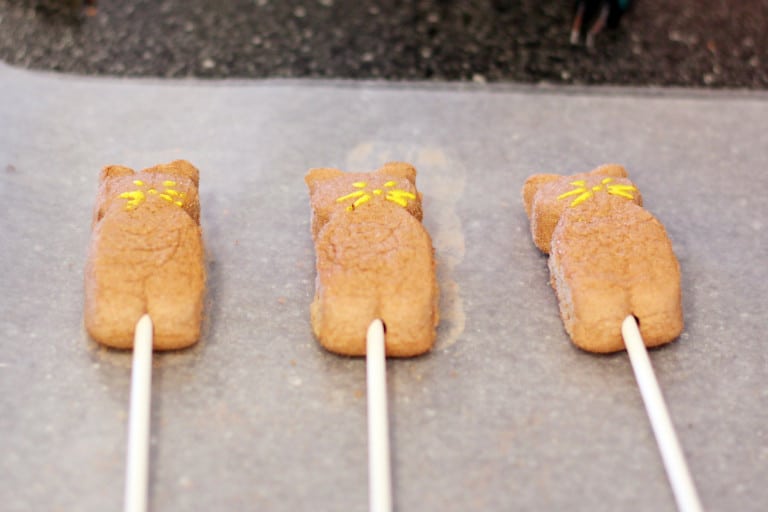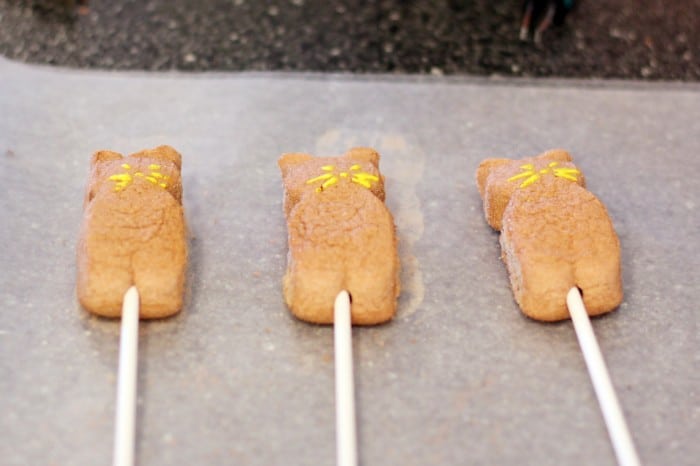 Dip into chocolate or spoon some on. I find that spooning the chocolate on works best for me.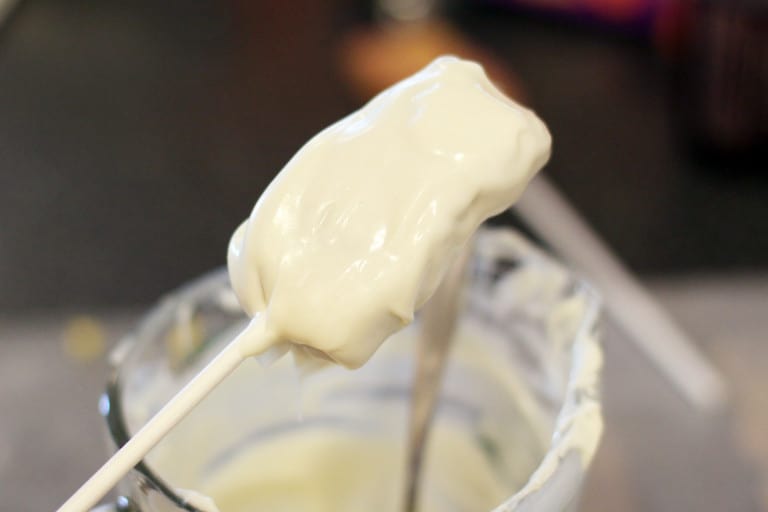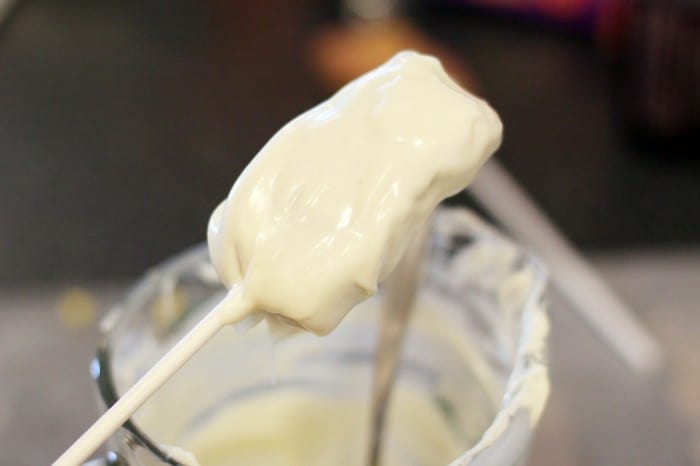 Tap off the excess chocolate.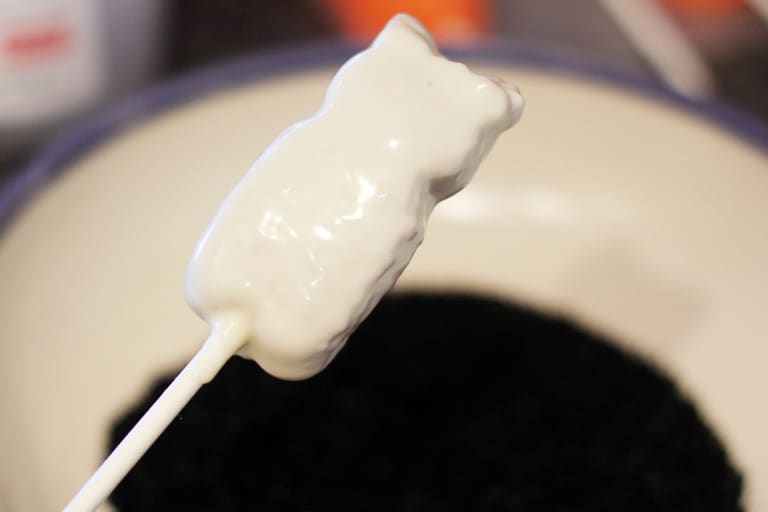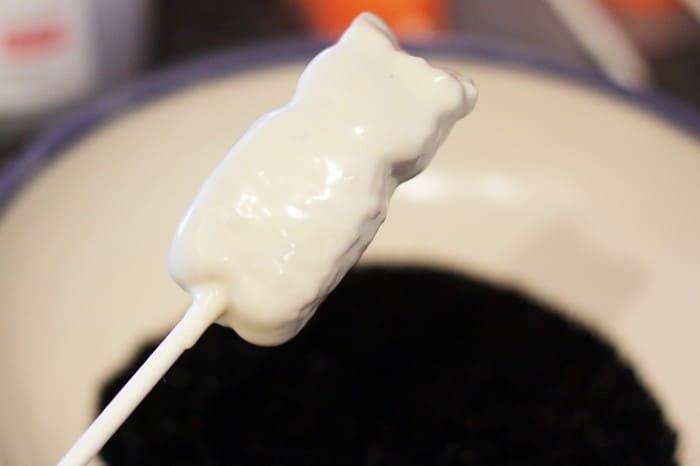 Cover with sprinkles.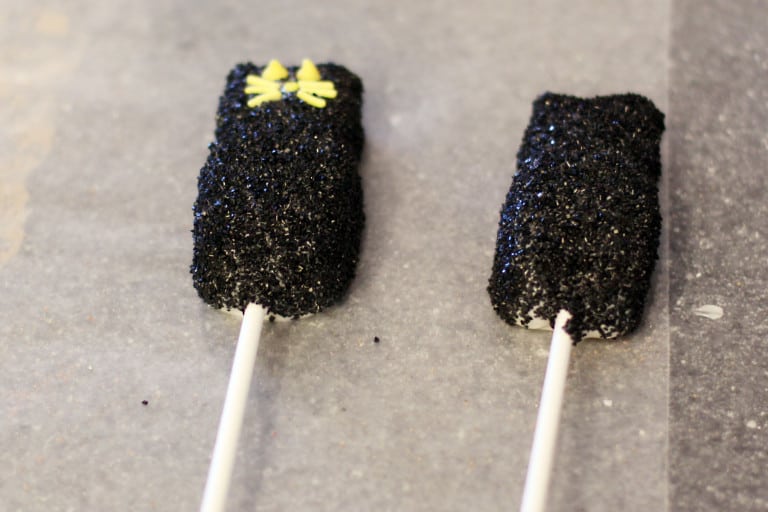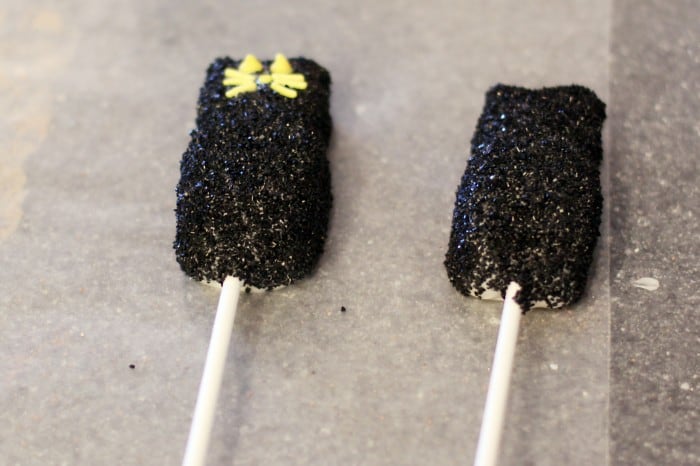 Add on your decorative sprinkles, chocolate chips or whatever you are using for eyes, noses, kitty cat whiskers. Look through your cupboards and be creative, I mainly used mini chocolate chips to decorate my Peeps Pops.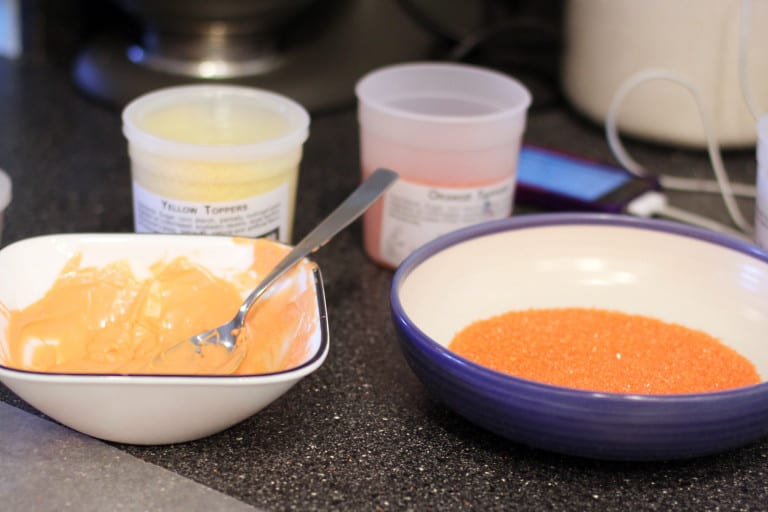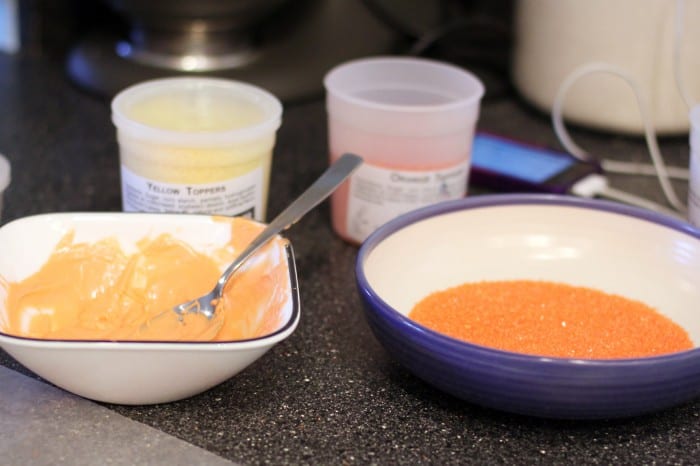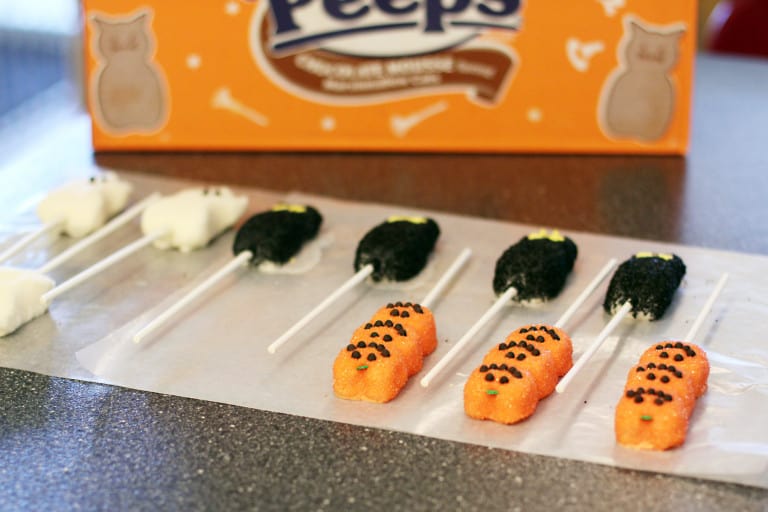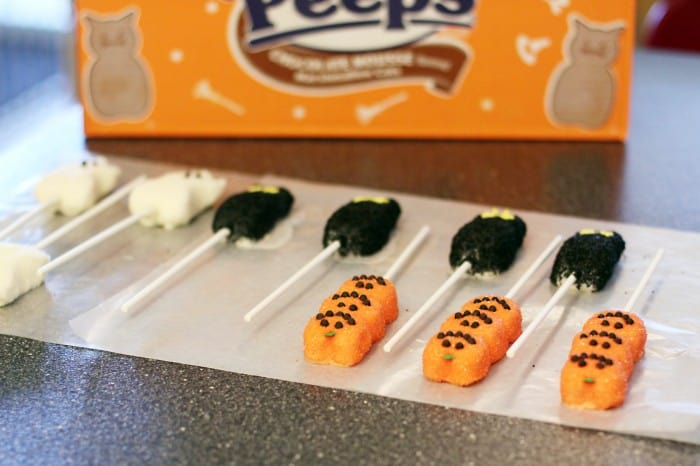 That's it. Let them set up until the chocolate dries. Super easy and you never even had to turn on the oven!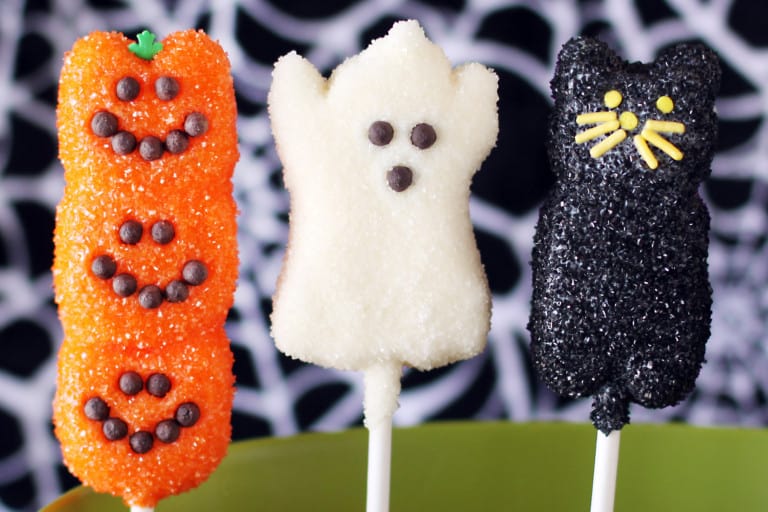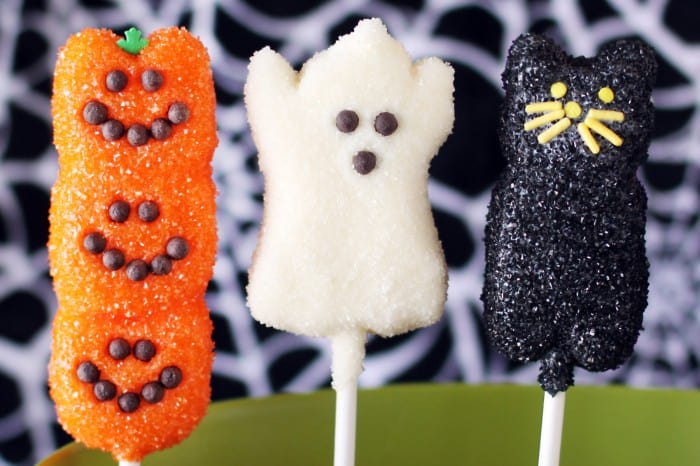 Chocolate Mousse Peeps Cats For Halloween… These are my fave of all the Peeps Pops – the chocolate mousse with vanilla chocolate coating – divine!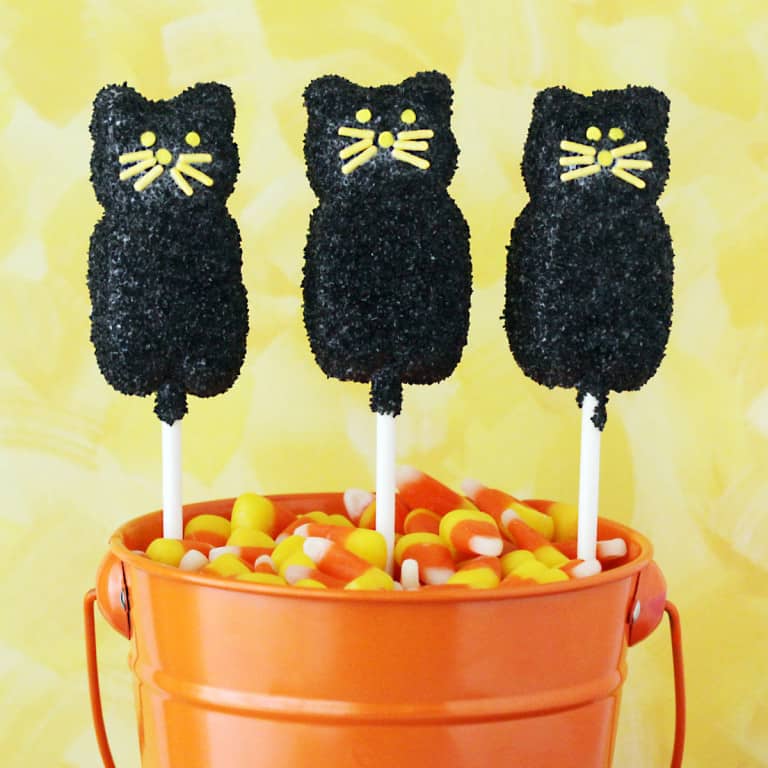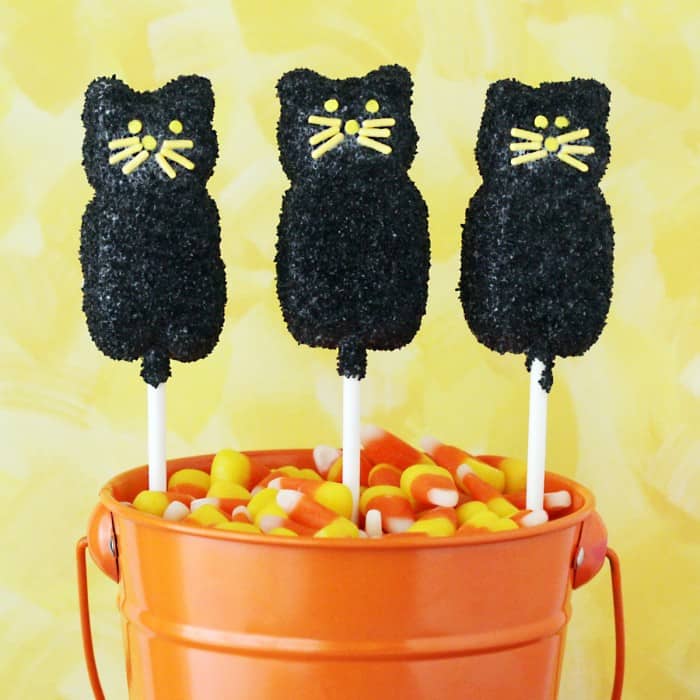 Peeps Ghosts…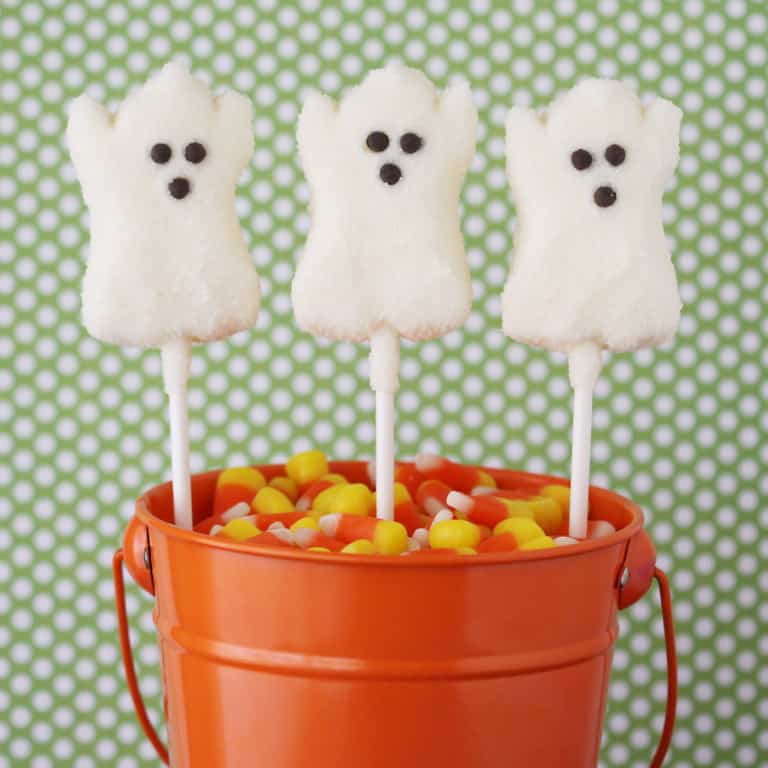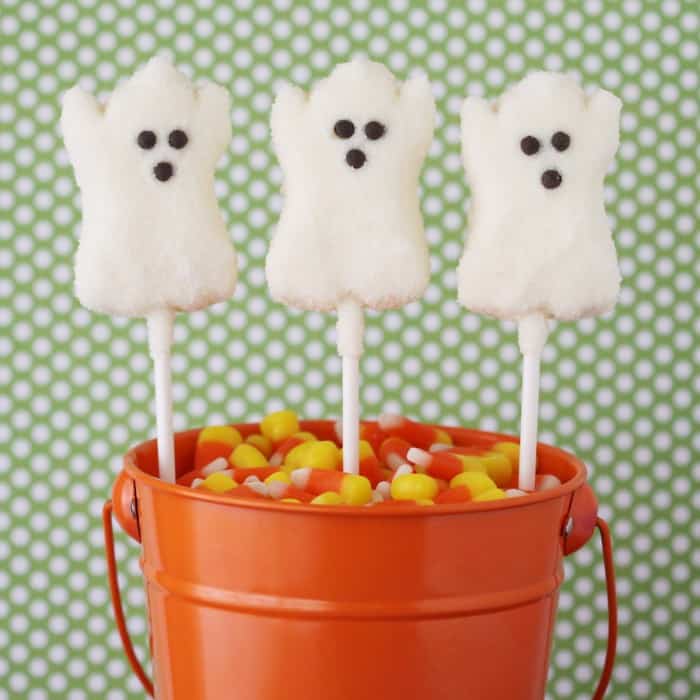 Peeps Pumpkins…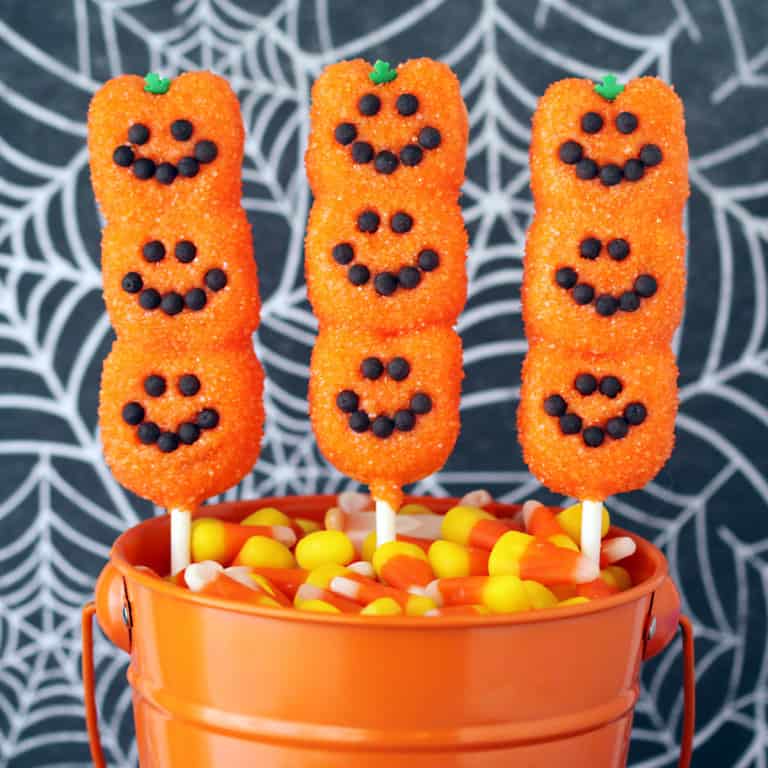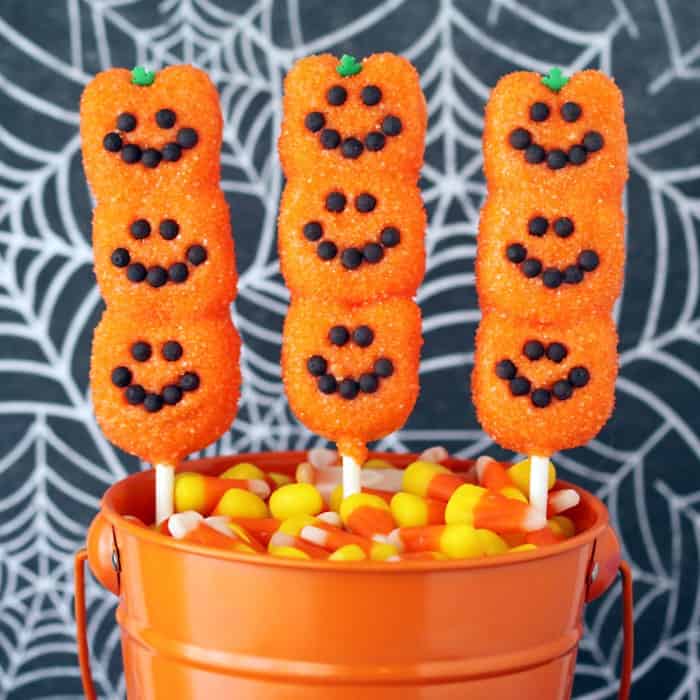 So would you like your own package of Halloween Peeps goodies? The great folks at Peeps & Company have provided me with some tasty Halloween Peeps to share with YOU! I've got ghosts, pumpkins, chocolate mousse cats, milk chocolate covered Peeps, dark chocolate covered Peeps, sugar free pumpkin Peeps, and a few more surprises to add in.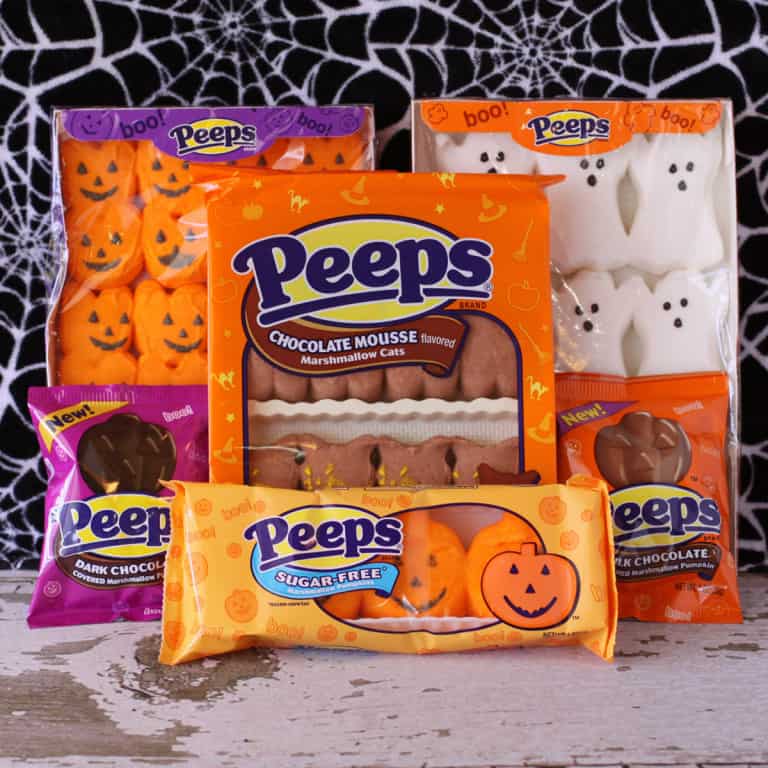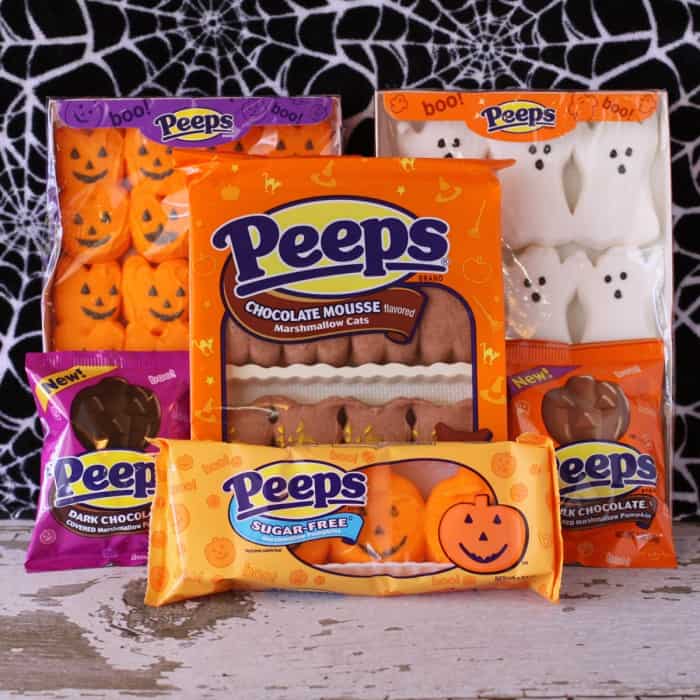 GIVEAWAY HAS CLOSED!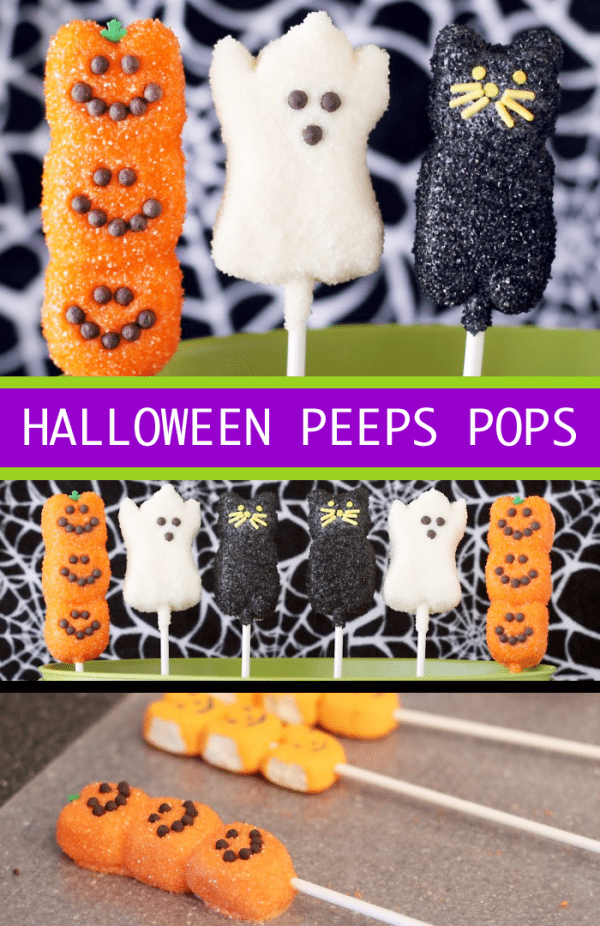 Thanks to the folks at Peeps, I am giving away FIVE Peeps Halloween Packs!  🙂   There will be one grand prize winner who will get everything shown above and more, and four runner up winners will get everything pictured above. How do you enter to win???
1. Leave a comment here, and you are entered to win. Easy peasy!
Want a few extra chances? Here's how…
2. Follow Love From The Oven on Facebook and leave a comment here that you do.
3. Follow Peeps And Company on Facebook and leave a comment here that you do.
4. Follow Love From The Oven on Twitter and leave a comment here that you do.
5.  Share this contest with your Peeps (sorry, I had to say it, couldn't help myself) on your Facebook, Twitter, blog or whatever social media site you hang out on, and come back here and comment that you did.
That's all you have to do! Open to residents of US and Canada. Winners will be drawn at random on Tuesday, October 18th. Good luck!