Chocolate Covered Ritz Crackers are here to save the day at your next Christmas party potluck! These adorable little ornament shaped treats are incredibly easy to make, can be assembled quickly, require no baking, and are as delicious as they are cute! Sweet, salty and festive, these Peanut Butter Ritz Crackers dipped in chocolate will soon become your favorite party treat.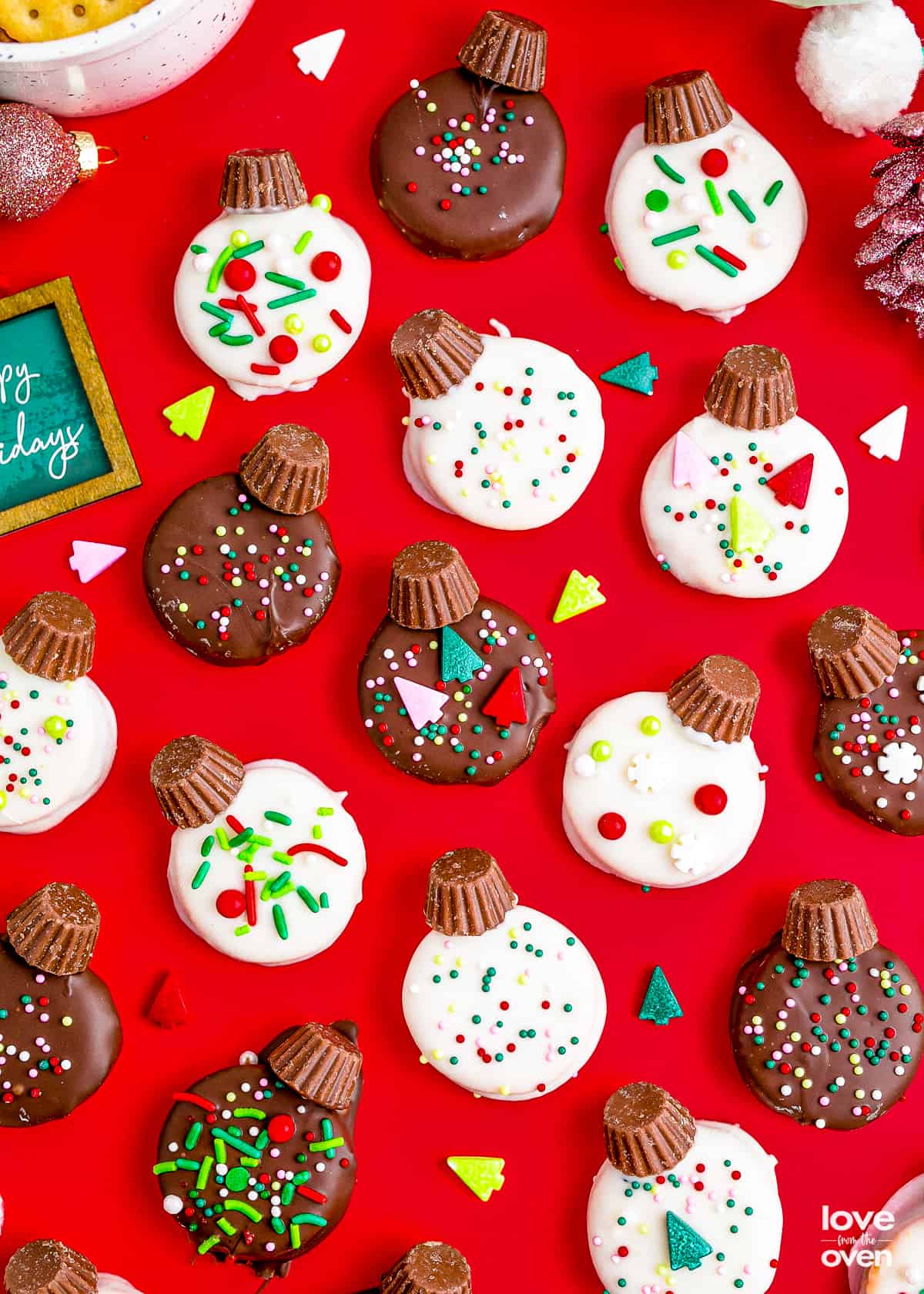 Reasons You'll Love This Recipe
Soooo Easy! – I cannot emphasize enough how easy these treats are to make, and how impressive they look when you're done. 
Sweet and Salty – Can't decide whether to bring something sweet or something salty to the holiday party? Why not both with this recipe!
Get Creative – These can either be decorated in a pinch, or you can really take your time to make these treats look fancy shmancy. 
Pantry Friendly – This is the recipe for those folks who have a box of crackers, and some melting chocolate just sitting in their pantry that they "promise" they'll use one day. 
Kiddo Approved – If you don't want your young ones to mess up the sugar cookie decorating this year, try giving them these easy chocolate covered crackers to start off with.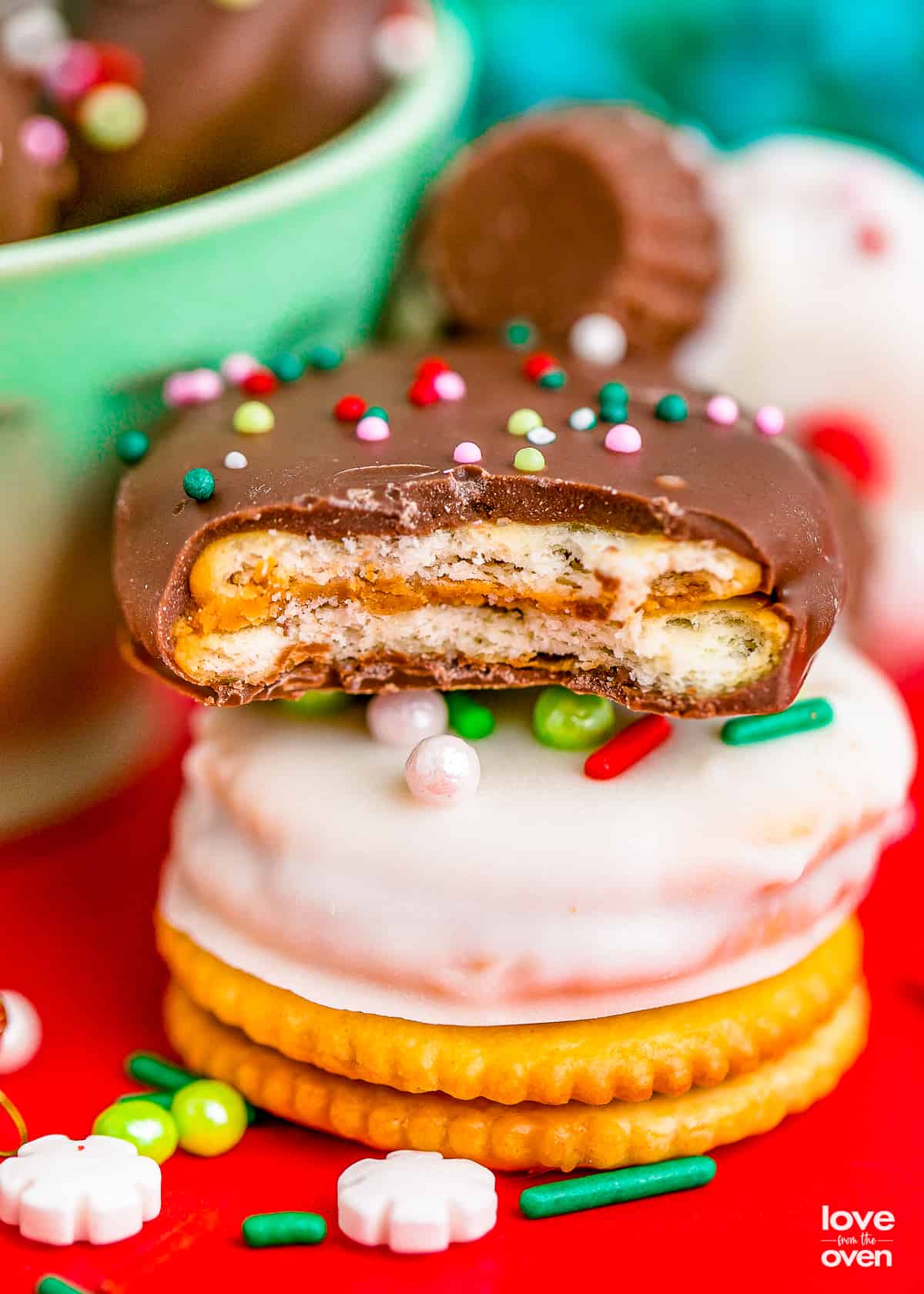 Your kid just told you the night before their school Christmas party that they needed to bring a treat to class and now you're panicking? Well worry not. With 4 easy ingredients, this recipe is simple, festive and will have you winning parent of the year when you send your kid off with a tray full of these sweets!
Ingredients and Substitutions
Recipe Discussion
Let's discuss how to make this recipe, as well as the ingredients that are needed. Please take note that below you will find discussion, expert tips, and answers to frequently asked questions about this recipe to help you recreate it in your kitchen. If you *just* want the recipe itself, scroll down. The full printable recipe itself, with exact measurements and instructions, is found at the bottom of this page.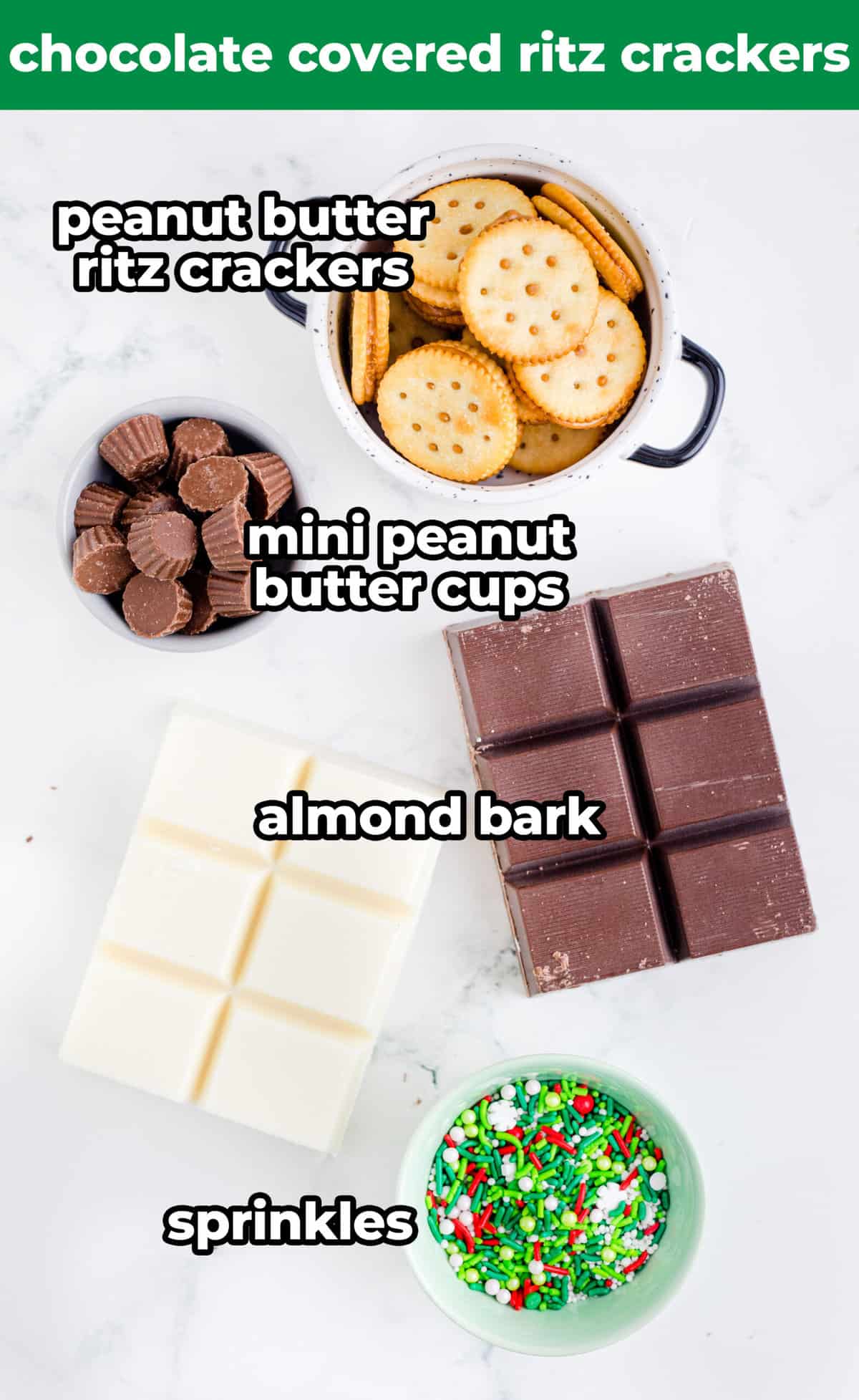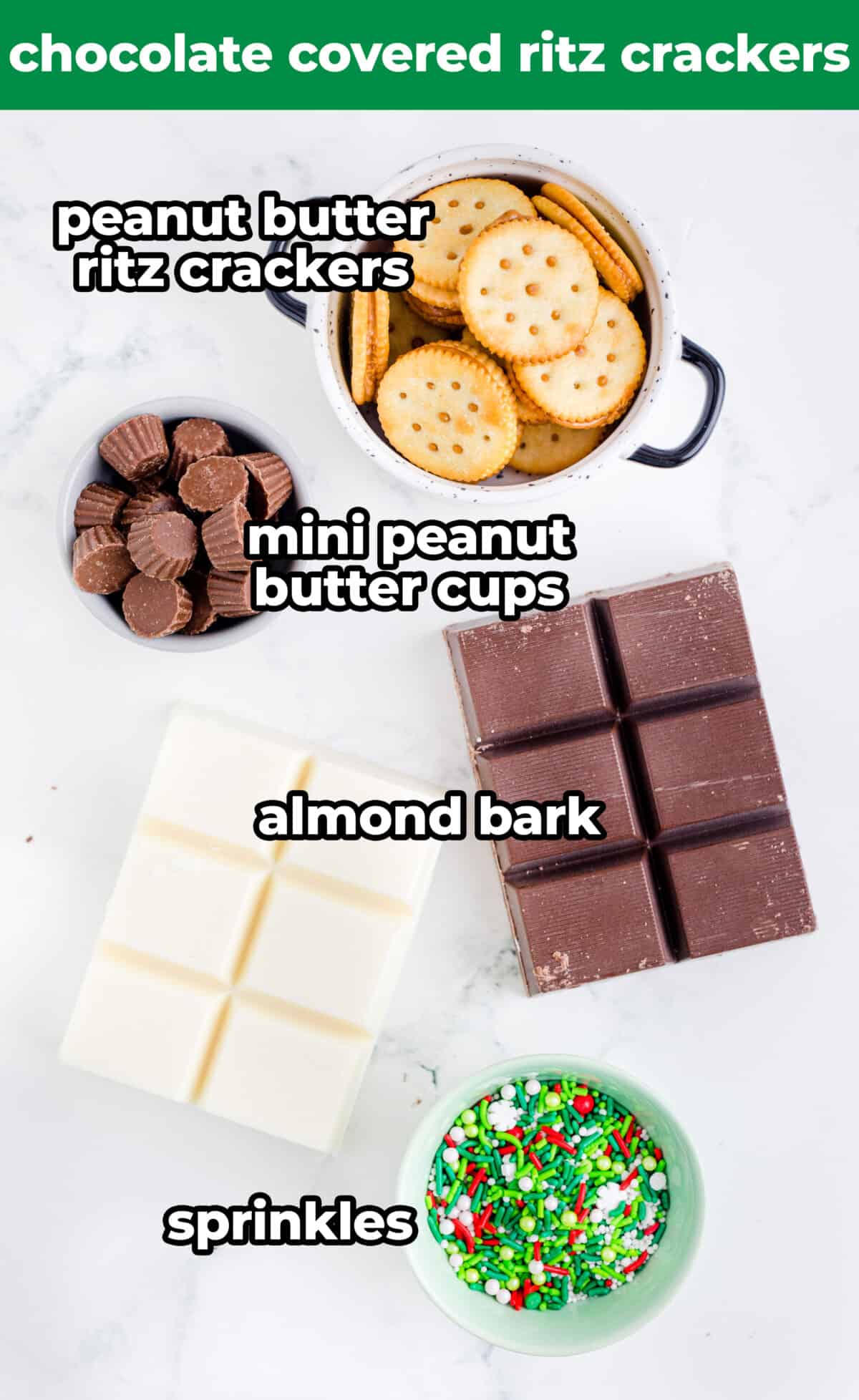 Peanut Butter Ritz Crackers – Peanut Butter Ritz Crackers are a bit thicker and heavier and won't break off in the melted chocolate as easily, but if you want you can just use plain Ritz Crackers instead. Be careful when dipping it into the chocolate though, they may break easily.
Almond Bark – Almond chocolate bark is a great option for coating things, but any baking chocolate or candy melts will work as well. I used white and milk chocolate but you can also use dark chocolate, peppermint, or any other flavors you can find. You can also use colored melts to make red and green ornaments!
Mini Peanut Butter Cups – These make the most adorable "ornament" toppers! You don't have to use these, you can use an M&M or any other candy you prefer, they just won't resemble an ornament.
Sprinkles – Whatever festive sprinkles you have on hand will work perfectly. You can also design these however you want whether you drizzle on more melted chocolate, make a reindeer or snowman face or just leave them plain!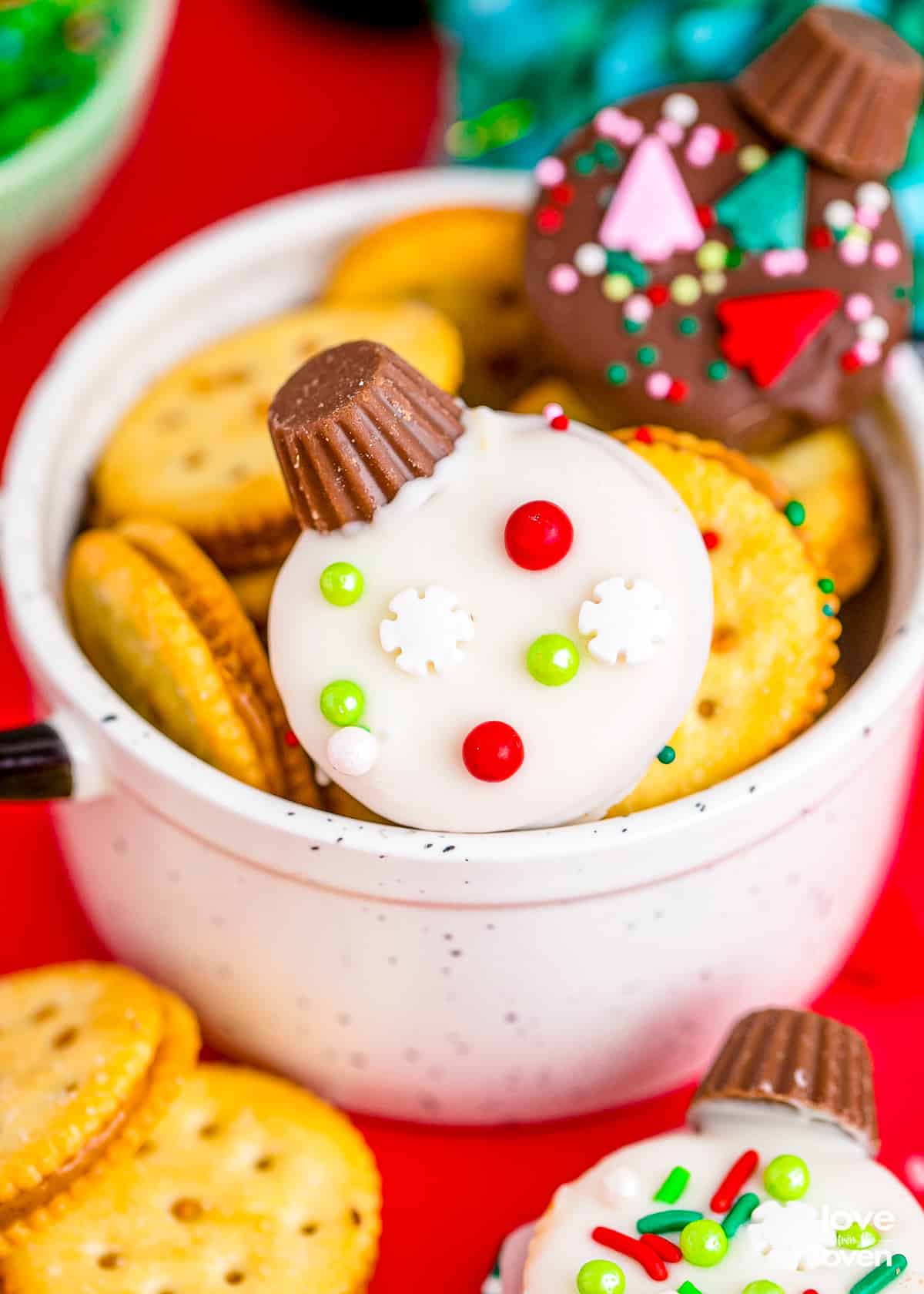 How to Make Chocolate Covered Ritz Crackers
In two separate microwave safe bowls, melt the almond bark according to the package. If there are no instructions on the package, start by microwaving it at 1 minute, stir, and then put it back in the microwave for 30 seconds. Keep microwaving the chocolate for 30 second intervals and stir after each time. Do this until you reach the consistency you like.
Line a baking tray with wax paper. Once the chocolate reaches a melted consistency, dip the Ritz crackers in the melted chocolate until they are completely coated. Pull the chocolate covered cracker out of the bowl with a fork and drain off the excess chocolate. Transfer it to the baking tray.
Make sure to do a few small batches at a time. Be sure not to move the Ritz crackers around too much so the chocolate doesn't spread. While the chocolate on the crackers are still melted, add the mini Reese's peanut butter cup to the top of the cracker.
Next, sprinkle on your favorite holiday sprinkles however you'd like.
Repeat steps 1-4 with your other almond bark.
Once all your Ritz Crackers are decorated, pop the baking tray in the fridge and allow them to cool for 15 minutes, or until they've hardened completely. Once they set, take them out of the fridge and serve!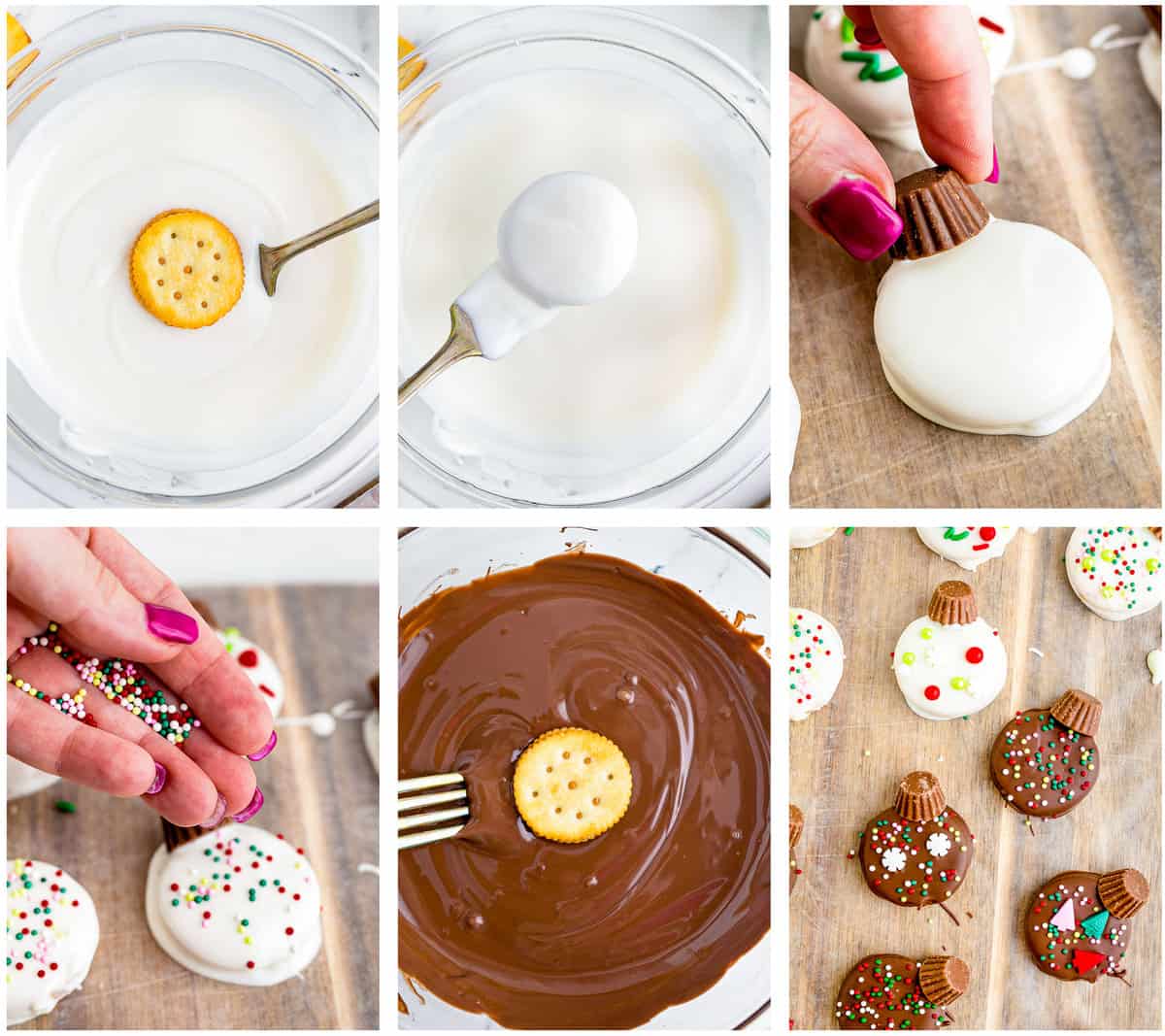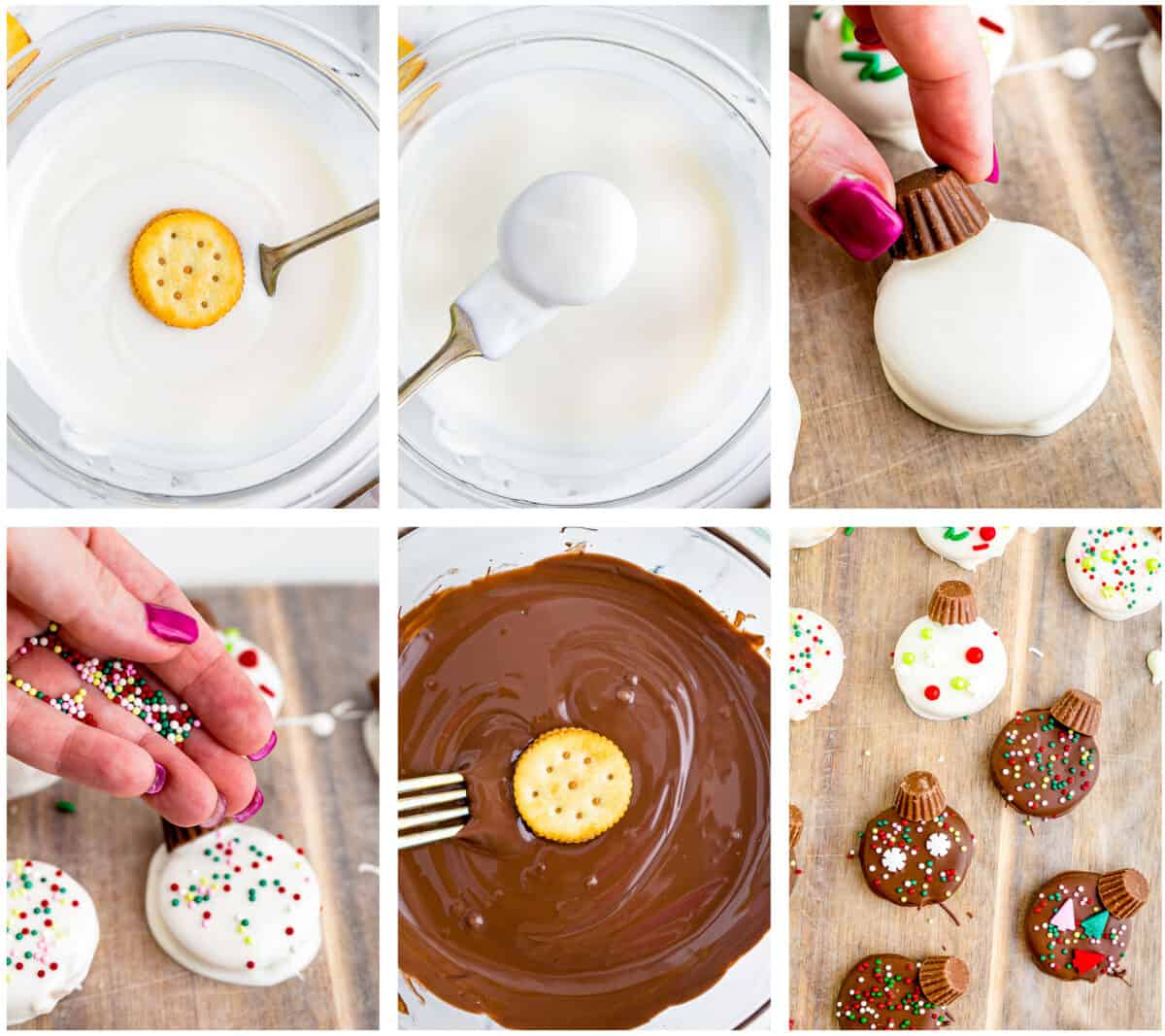 Recipe Tips and Advice
Storage – Store these in an airtight container at room temperature for up to 3 days. If you need to stack them on top of each other, I recommend putting a sheet of wax paper in between each layer so they don't stick together.
Equipment – For this recipe you'll need a few microwave safe bowls, a fork, a baking tray and some wax paper.
Serving – Make sure to lay these flat on a serving tray or in tin. If you need to stack them, I recommend using wax paper between the layers to ensure the chocolate doesn't scuff or chip.
Maximize dipping time
Unless Santa's elves are in the kitchen helping you make these, I would recommend melting the almond bark one color/flavor at a time so it doesn't harden on you as fast. You can always reheat the bark if it starts to harden on you, just be careful you don't overheat the bark.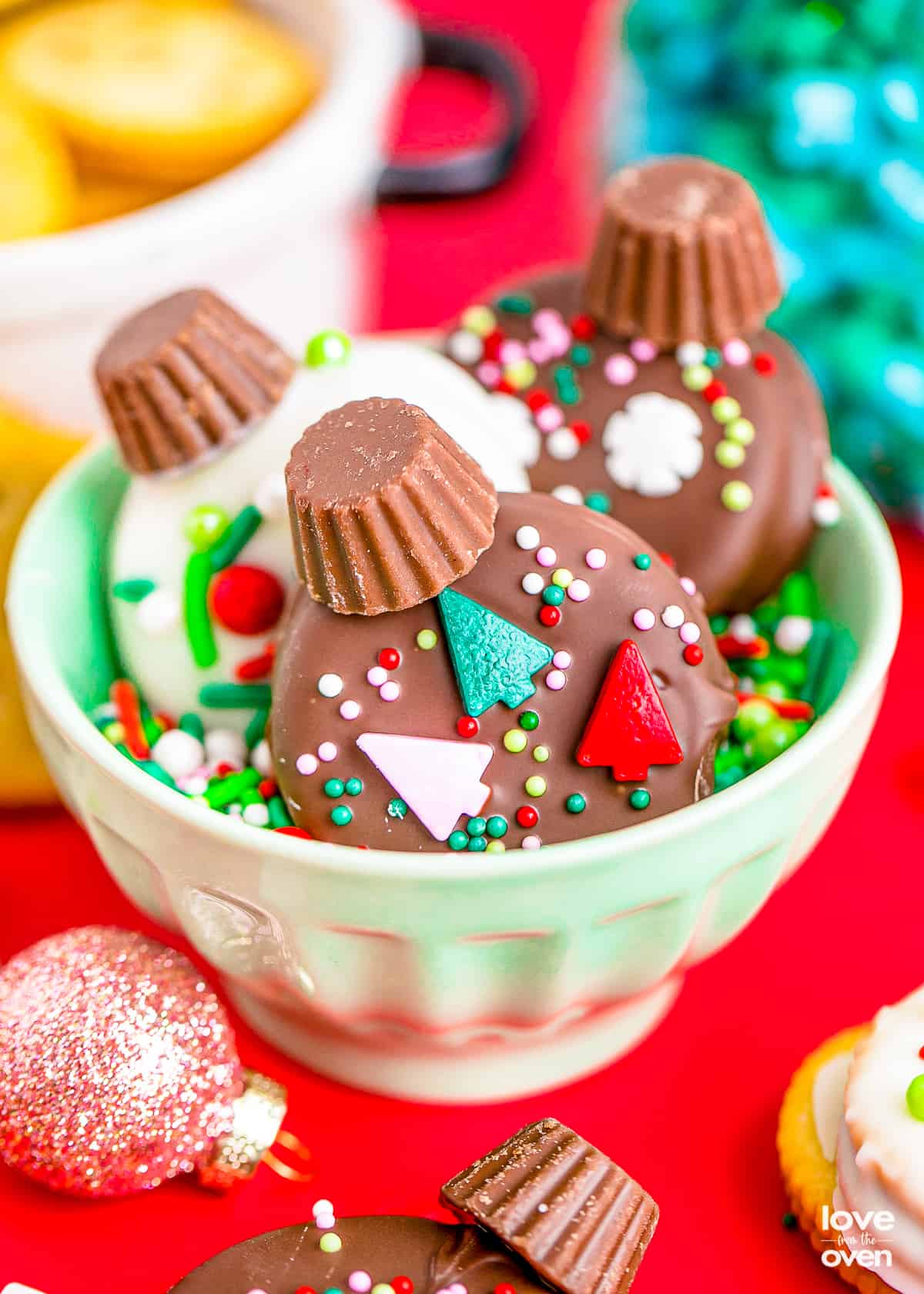 Recipe FAQs
Why is my melted chocolate hard?

This is probably because you left it in the microwave for too long. The longer you melt chocolate, the harder it becomes and then it is unsalvageable. Remember to microwave the chocolate for 30 second increments, or use a double boiler to melt down the chocolate instead.

Another thing that can harden chocolate is water! Any moisture in your bowl or on your spoon could cause the chocolate to seize. It's always important to make sure everything is completely dry when melting chocolate.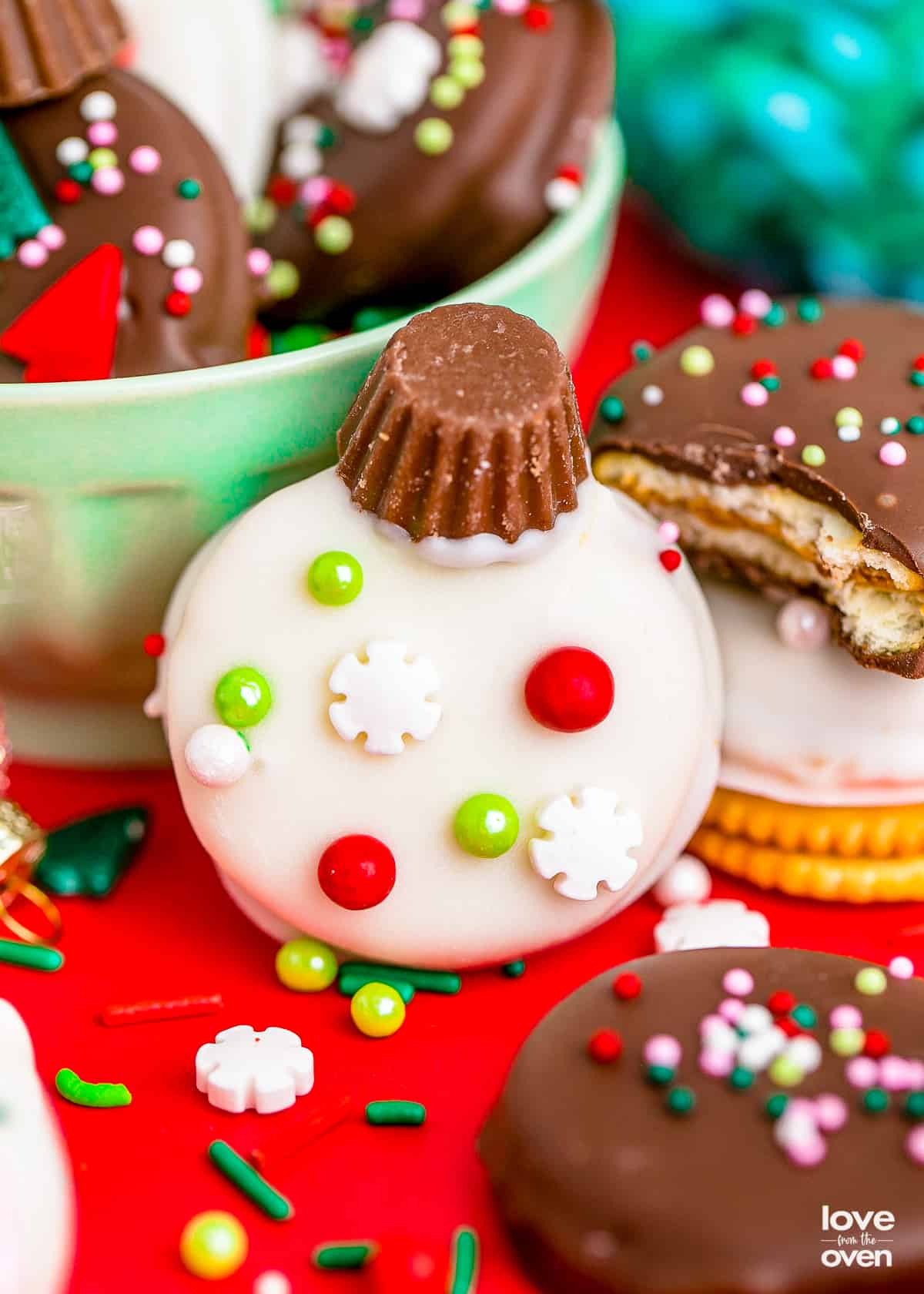 More Holiday Recipes to Try
Loved this recipe? Try out a few more holiday themed recipes that will be perfect for your next Christmas party.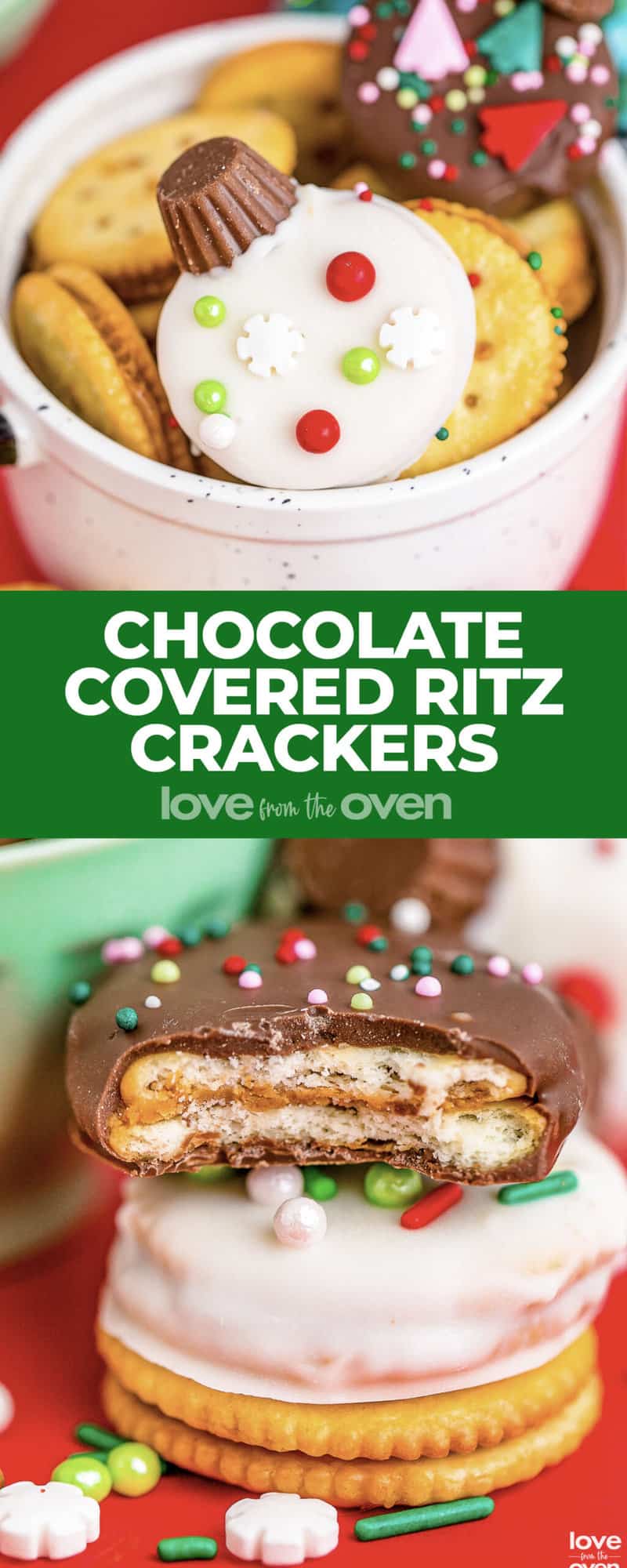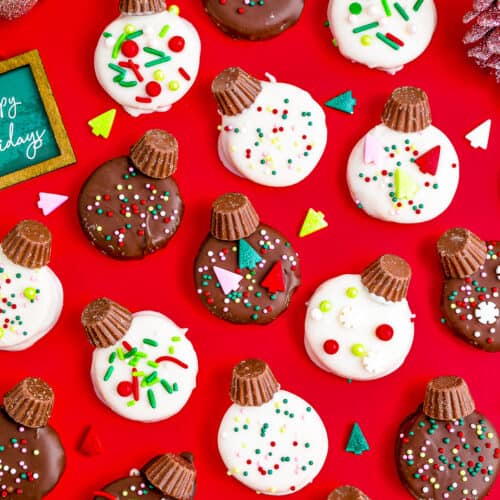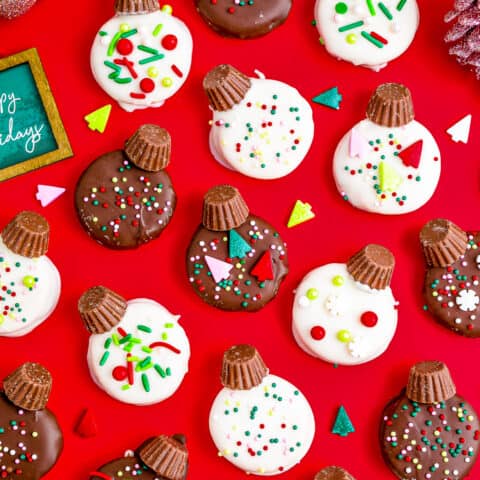 Chocolate Covered Ritz Crackers
These adorable Chocolate Covered Ritz Cracker ornament shaped treats are incredibly easy to make, can be assembled quickly, require no baking, and are as delicious as they are cute! 
Ingredients
11

ounce

package of Peanut Butter Ritz Crackers

approximately 48 sandwich crackers

12

ounces

white almond bark

12

ounces

chocolate almond bark

7.6

ounce

package or Reeses Mini Cups

unwrapped

Christmas sprinkles
Instructions
In separate microwave safe bowls, melt the white almond bark and chocolate almond bark according to the package melting directions: 1 minute at full power, stir and then 30 seconds more until you have reached the desired melt consistency. Make sure not to overcook the bark or it will harden and clump.

Working in small batches, coat a few ritz peanut butter crackers at a time (2-3) and lift them out of the chocolate using a fork. Drain the excess chocolate back into the bowl then carefully transfer them to a baking sheet lined with wax paper. Be sure not to move them around too much on the paper so the chocolate doesn't spread.

Add the sprinkles to the coated ritz crackers before they harden then dip the wide ends of the Reese's minis cups lightly into the melted chocolate bark and stick one on the top of each ritz cracker to create a Christmas ornament design.

Once you have coated and decorated each ritz cracker, place the baking sheet in the refrigerator for 10-15 minutes to fully harden.. Once they are set, you can remove them from the refrigerator and set them on a platter or in a container to serve from.
Notes
Storage – These can be stored at room temperature for up to 3 days in an airtight container. Any longer than that and the crackers under the chocolate start to get a bit soft. 
Nutrition
Calories:
180
kcal
|
Carbohydrates:
20
g
|
Protein:
2
g
|
Fat:
10
g
|
Saturated Fat:
6
g
|
Polyunsaturated Fat:
2
g
|
Monounsaturated Fat:
2
g
|
Trans Fat:
0.1
g
|
Cholesterol:
0.3
mg
|
Sodium:
106
mg
|
Potassium:
49
mg
|
Fiber:
1
g
|
Sugar:
15
g
|
Vitamin A:
3
IU
|
Vitamin C:
0.02
mg
|
Calcium:
17
mg
|
Iron:
0.5
mg
Disclaimer
Nutrition information is estimated as a courtesy. If using for medical purposes, please verify information using your own nutritional calculator. Percent Daily Values are based on a 2000 calorie diet.