Christmas Fruit Pizza is a refreshing and jubilant treat that you will have a blast making for the holiday season. This sweet treat is made in under 30 minutes and only requires a handful of simple ingredients. So, grab Santa's little helpers and create some joy in the kitchen this Christmas with this fun, fresh and delicious recipe!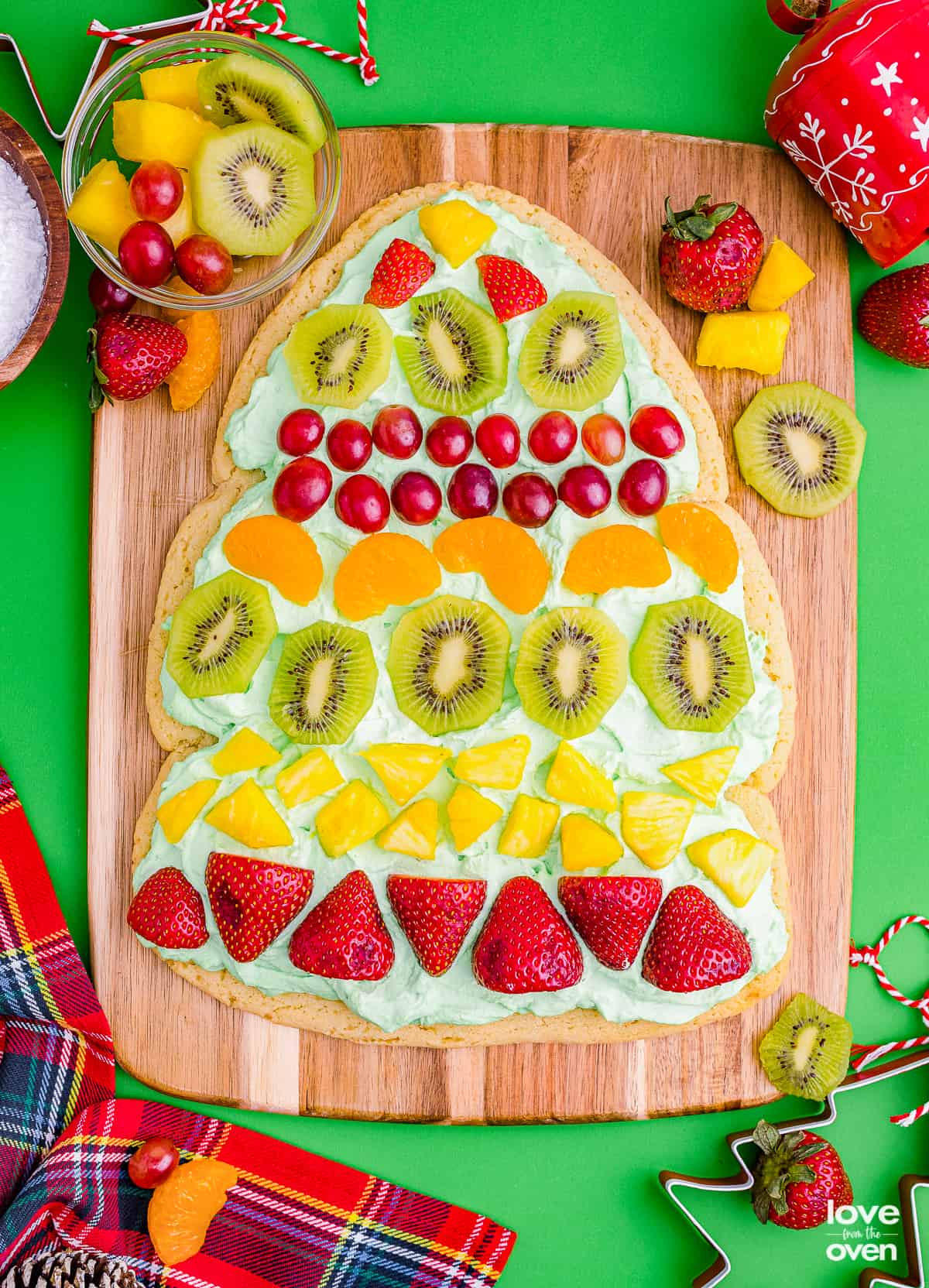 Reasons You'll Love This Recipe
Cute and Simple – Who knew it could be possible to make something so cute out of the simplest ingredients. 
Pre-Made Cookie Dough – There is no shame in the store bought game! 
Merry and Bright – The bursts of color on this Christmas tree fruit pizza are picture perfect.
Perfect for Kids – "No thanks, I don't want a giant sugar cookie," said no kid ever. 
Christmas Diet – Hey, there's fruit on this. That makes it healthy, right?
Cut down the time it takes you to decorate sugar cookies this year and just make one giant one. But seriously, if you're tired of all the rich, decadent, desserts that are served during this time of year, try something new that's sweet and refreshing, like this Christmas Fruit Pizza!
Ingredients and Substitutions
Recipe Discussion
Let's discuss how to make this recipe, as well as the ingredients that are needed. Please take note that below you will find discussion, expert tips, and answers to frequently asked questions about this recipe to help you recreate it in your kitchen. If you *just* want the recipe itself, scroll down. The full printable recipe itself, with exact measurements and instructions, is found at the bottom of this page.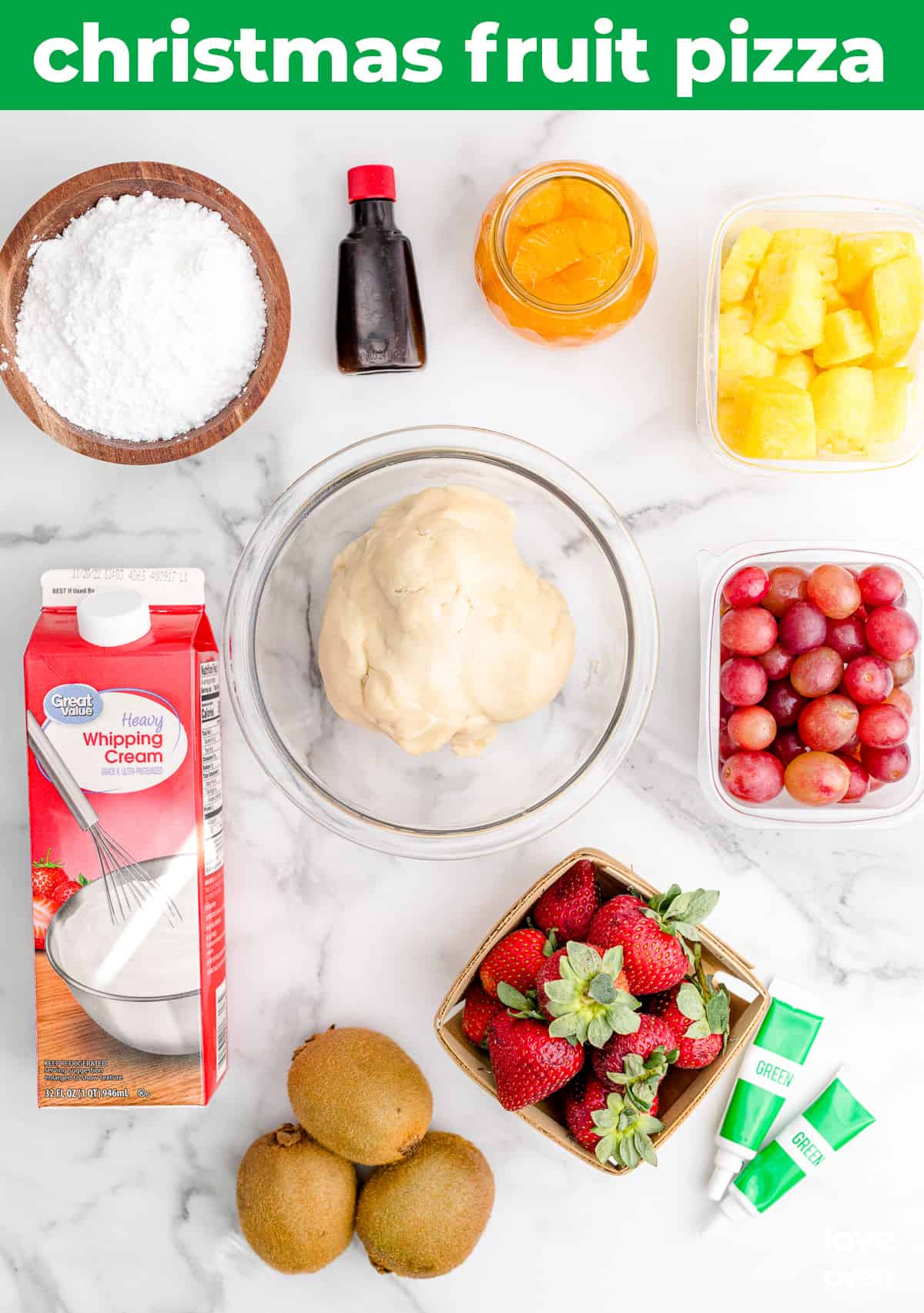 Sugar Cookie Dough – You can buy a store bought cookie dough, which will work perfectly fine. Or if you prefer to bake it from scratch, here's a great Sugar Cookie Dough recipe. For this recipe I used a 30 ounce package of sugar cookie dough, but honestly you could make this smaller if you'd like.
Heavy Whipping Cream – Or heavy cream, they are pretty much the same thing. As long as the cream has a fat content of 36% it will work. If you want to skip the steps of making your own whipped cream, you can substitute it for a tub of Cool Whip.
Powdered Sugar – This will be combined with the whipping cream to make it sweet. I don't recommend substituting this ingredient for a different type of sugar.
Food Coloring – This recipe uses green food coloring because it's supposed to resemble a Christmas tree, but use whatever color, or no color at all.
Fruit – The fruit you'll want for this recipe will be kiwi, strawberries, grapes, mandarin oranges, and pineapple. You don't have to use these fruits exactly, but you want to stick with fruits that have a low water content, and avoid fruits that brown quickly.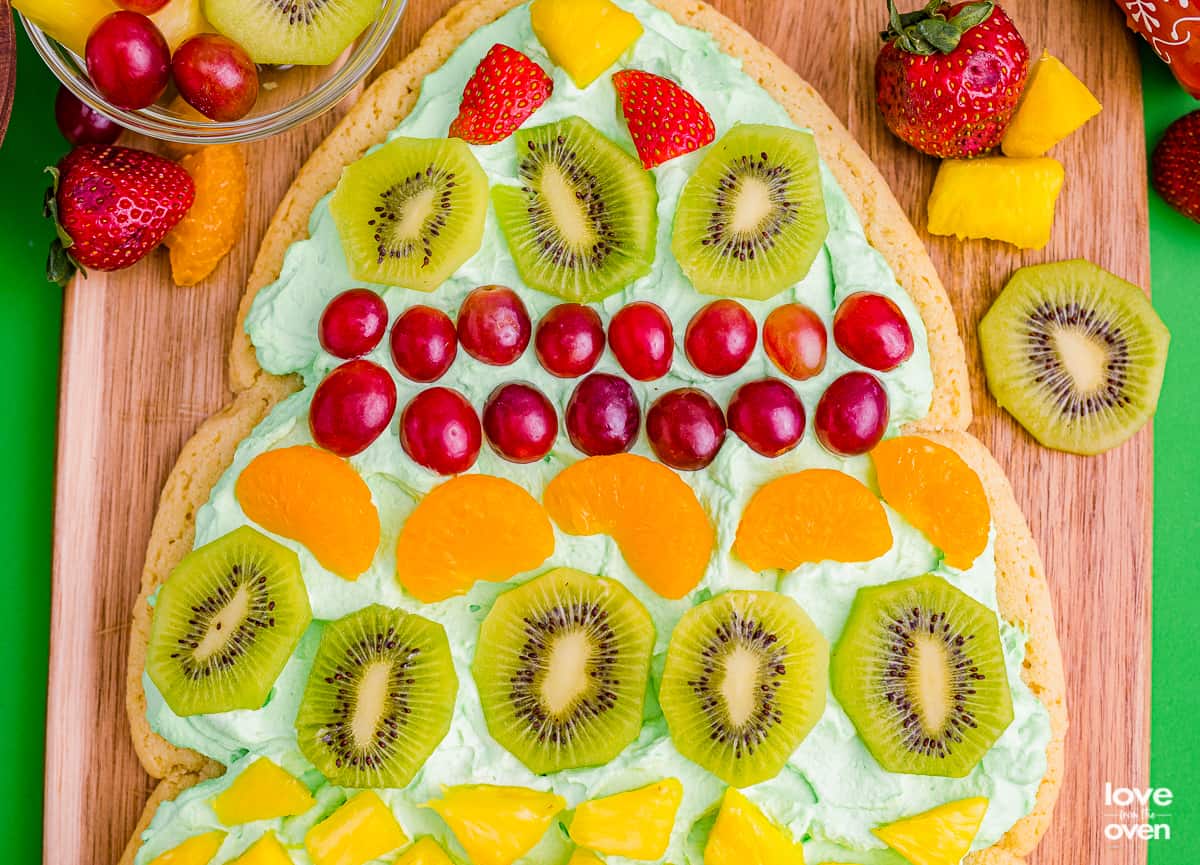 How To Make Christmas Fruit Pizza
Start by preheating your oven to 325°. Open your pre-made sugar cookie dough, crumble it up and let it warm up a bit so it's easier to work with.
Once it's ready to work with, roll the dough into a large, smooth, ball and sprinkle a parchment lined baking tray with flour. Place the sugar cookie ball onto the floured baking tray.
Using a rolling pin, roll the dough out until it's flat. Make sure there are no rips in the dough.
Now you'll begin to make the Christmas tree shape. Using the palm of your hands, start at the top of the shape and pat the sides of the dough inwards. You can just make one large triangle shape, or you can make a 3 layered tree by pinching each section off. This will take time, but as long as you work at it slowly, and use flour when it gets sticky, you'll get the shape you want.
Double check to make sure there are no rips in the dough, and that it's about a ½ and inch thick. Once it's ready, bake the cookie in the oven for 18-20 minutes. Once it's set, take the pan out of the oven and let the cookie cool on the pan for a few minutes. Once cooled, move the cookie to a cooling rack and let it cool completely.
While the cookie is cooling, make the whipped cream. Add the heavy cream to a large bowl, and using an electric hand or stand mixer, beat the cream until soft peaks form. Once you see the peaks, add the vanilla, powdered sugar, and green food coloring and continue to whip it together until stiff peaks form. Once the cookie has cooled completely, start frosting it with the whipped cream using a spatula. Next, slice your fruit in half and pat them dry to drain off excess liquid. Once dry, place the fruit onto the pizza in a fun, creative way. Slice up the fruit pizza and serve!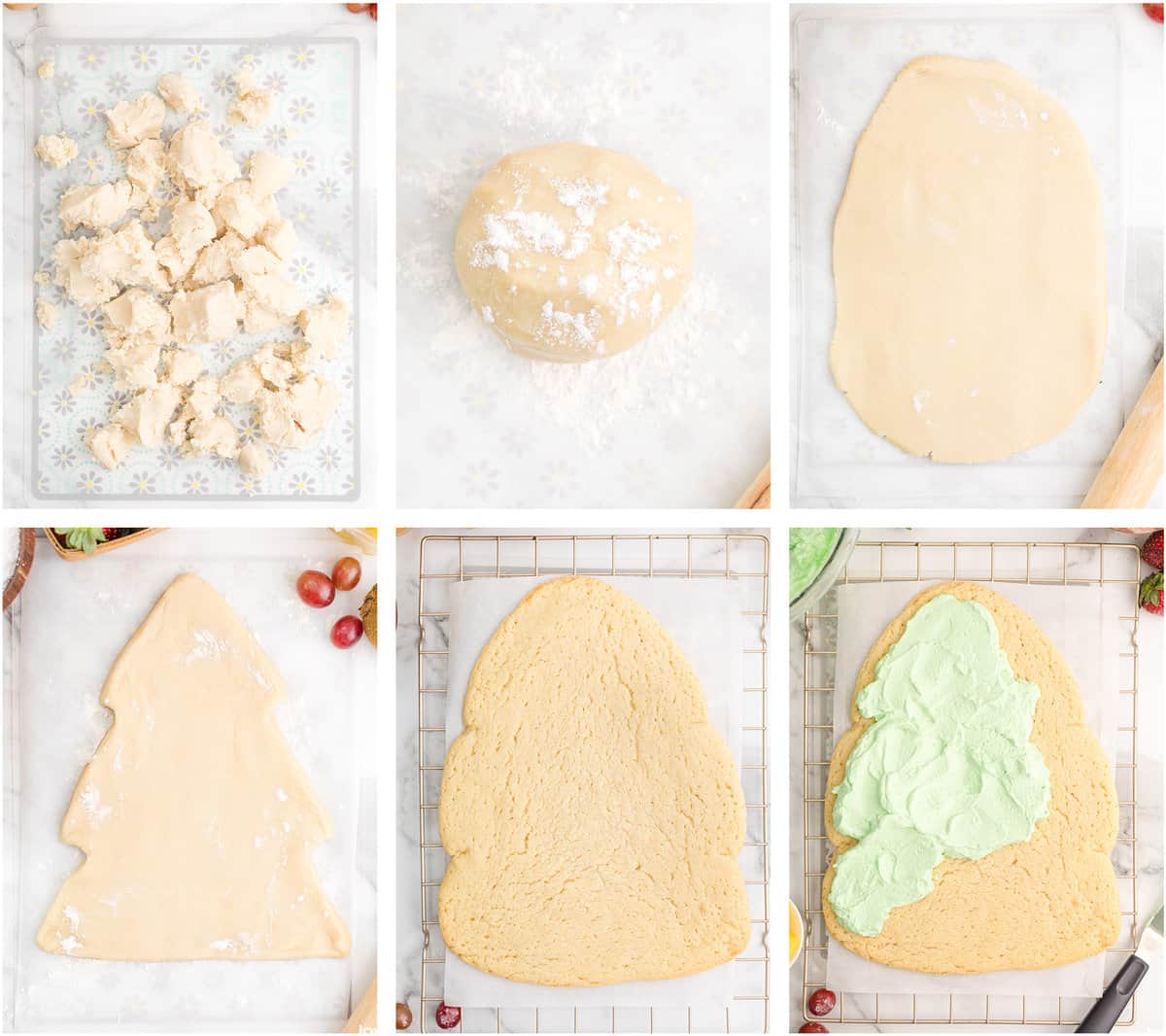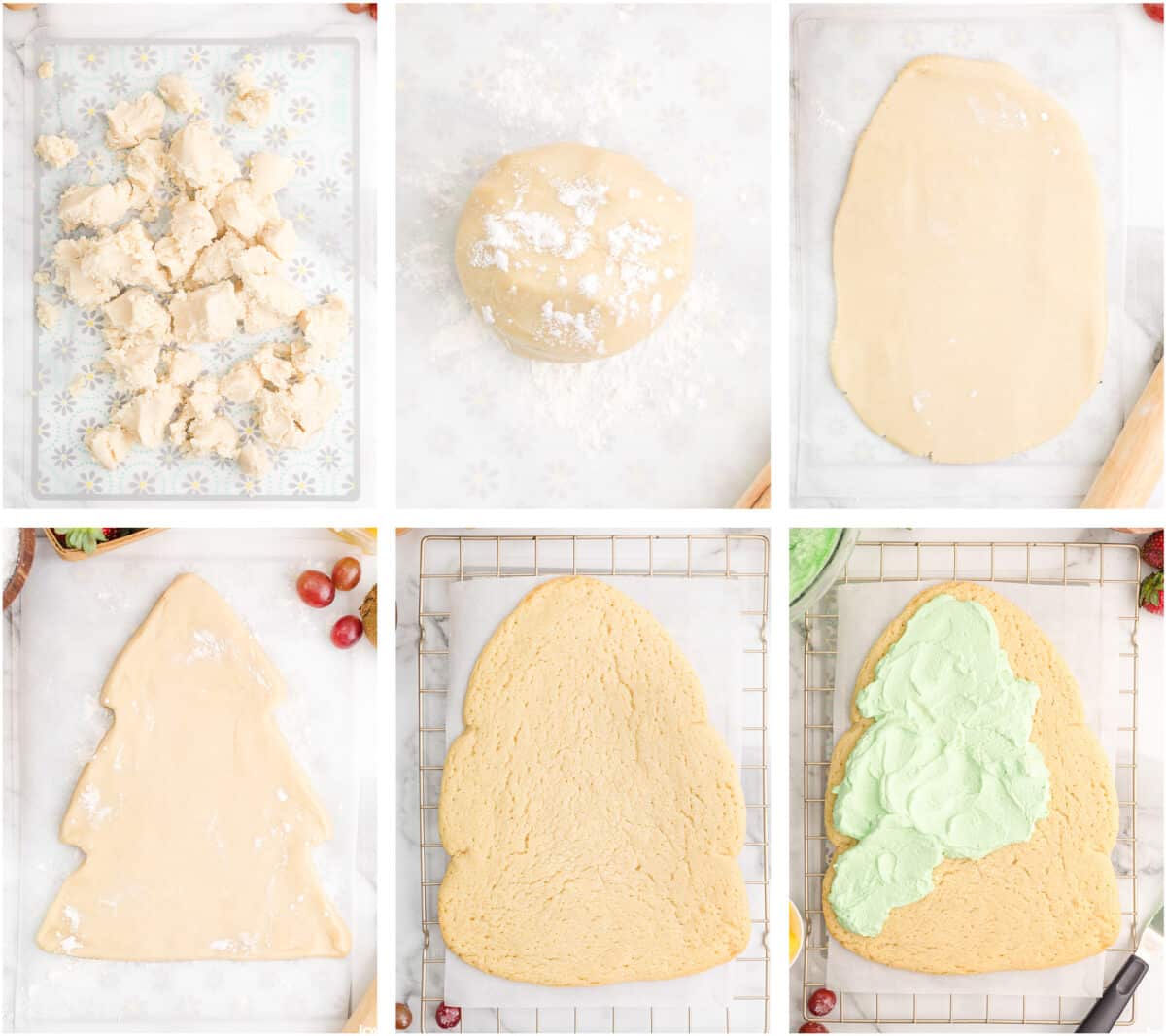 Recipe Tips and Advice
Storage – Cover, and store in the fridge for up to 2 days. This recipe is best when served fresh, and may become soggy after a day or two. If you want, you can bake the cookie ahead of time, just wrap it and leave it at room temperature. You can also make the frosting ahead of time, just cover it and let it set in the fridge and assemble the fruit pizza right before you're about to serve it for peak freshness.
Equipment – For this recipe you'll need a baking tray, parchment paper, a cooling rack, some mixing bowls and an electric hand or stand mixer. To cut the pizza you can use a round pizza cutter or knife to slice into this dessert.
Frosting Options – If the whipped cream frosting is too light for you, or you want to add an extra level of flavor to this dessert, you can add cream cheese to the frosting, as much as you see fit.
Recipe FAQs
How do you keep Christmas fruit pizza from getting soggy?
The trick is to assemble it right before you're about to serve it. After a few hours it is bound to get a little bit soggy. Make sure you dry your fruit really well before adding it to the pizza to prevent it from getting soggy fast.
Can Christmas fruit pizza be left out overnight?
Unfortunately, no. The dairy in the frosting, and the fruit of top need to be refrigerated if you're planning on keeping leftovers.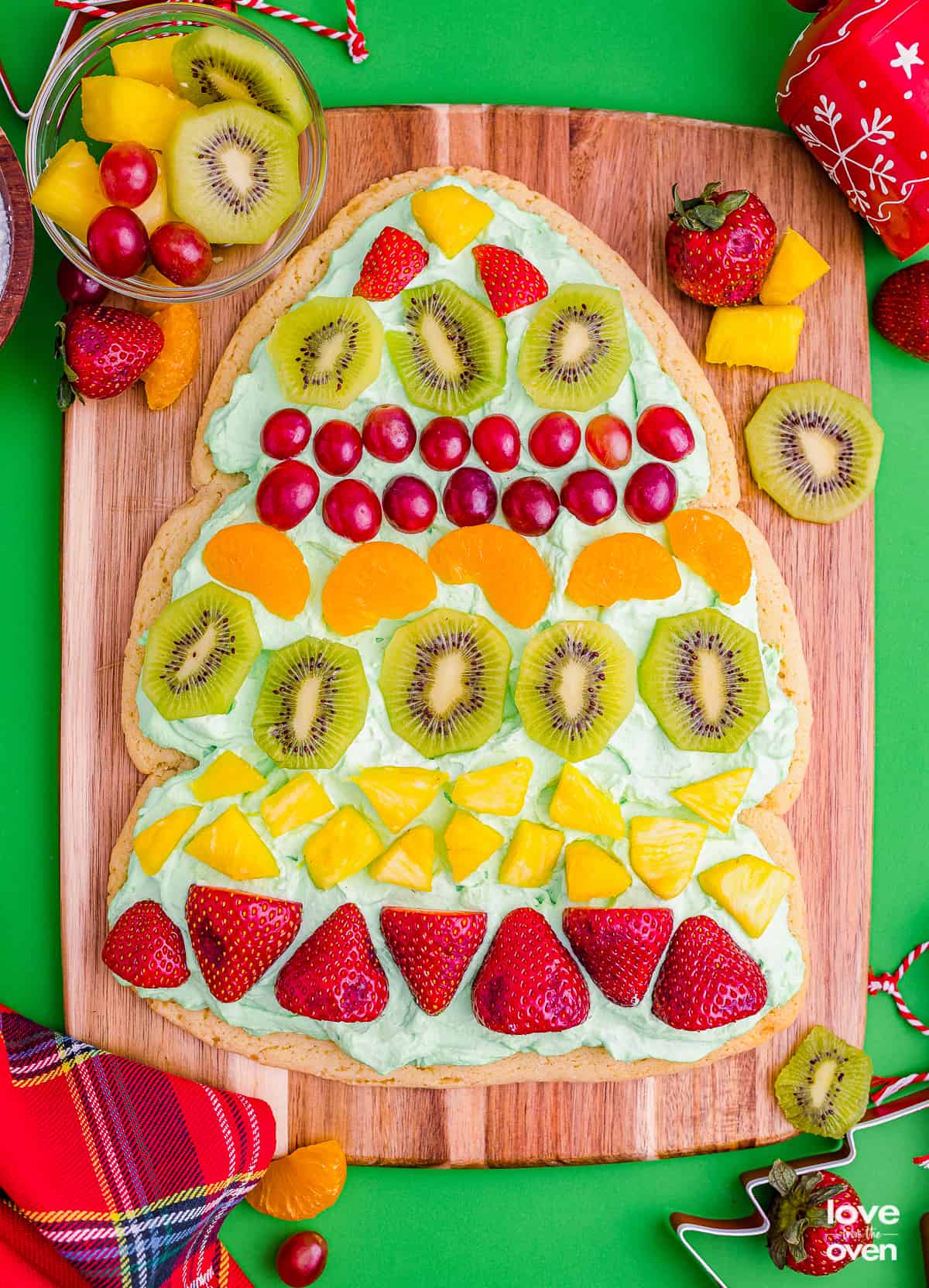 More Christmas Recipes to Try
Love Christmas tree shaped food? Well, good thing I know a gal. Try out a few more of these festive Christmas recipes!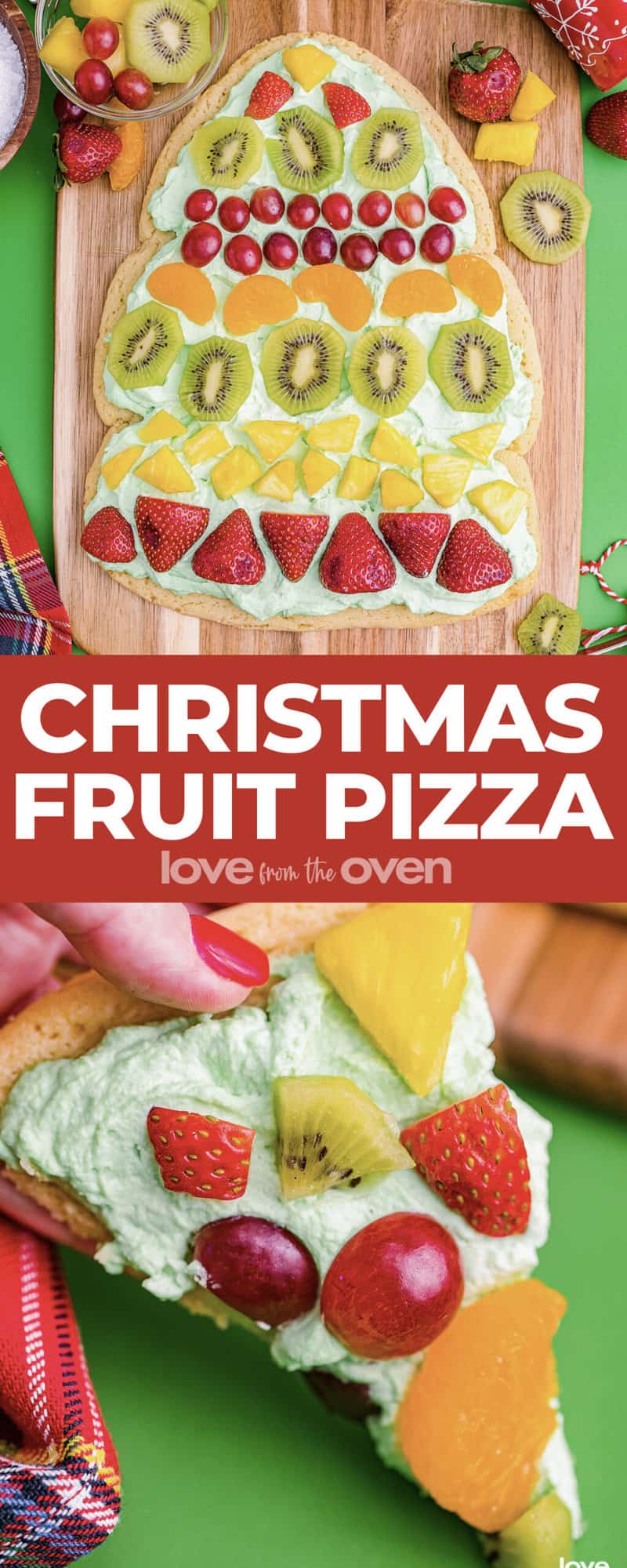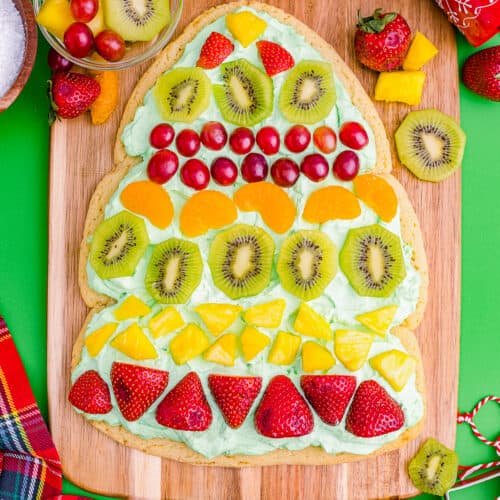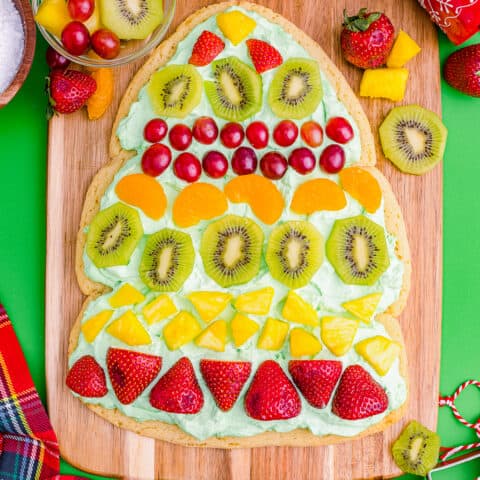 Christmas Fruit Pizza
Christmas Fruit Pizza is a refreshing and jubilant treat that you will have a blast making for the holiday season. This sweet treat is made in under 30 minutes and only requires a handful of simple ingredients.
Ingredients
1

30 ounce

package sugar cookie dough

or you can use homemade sugar cookie dough

1

cup

strawberries

washed, dried and sliced

1

cup

pineapple chunks

pat dry

1

cup

grapes

washed and dried

1

cup

kiwi

sliced

1

cup

mandarin oranges

pat dry

1 1/2

cups

heavy cream

1/3

cup

powdered sugar

1

tablespoon

vanilla extract

1

teaspoon

green food coloring

you can use more or less, or another color
Instructions
Preheat oven to 325 degrees Fahrenheit.

If using premade sugar cookie dough, open the package and break up the roll a bit and allow the dough to warm up to be more workable.

Roll the dough into a smooth ball then sprinkle flour onto a large baking sheet lined with parchment paper and use a rolling pin to flatten out the dough.

Begin creating a triangle shape by using the palm of your hands to pat the outsides of the dough inwards. You can stop here and just make a large triangle shape like a christmas tree or you can create 3 layers of branches by pinching in a section close to the top and the center of the dough. It takes some time to shape, so work slowly and use flour as you go so the dough doesn't become too sticky.

Make sure there are no tears or rips in the cookie dough and that the cookie is rolled out to about ½ inch all the way throughout the cookie.

Place the baking sheet in the oven and bake for 18-20 minutes or until set.

Remove the cookie from the oven and allow it to cool on the pan completely then carefully transfer it to a cookie rack.

While the Christmas tree cookie is cooling, make the whipped cream.

In a large bowl, beat the cold heavy cream until soft peaks form, then add the vanilla, powdered sugar and green food coloring and whip until stiff.

Use a spatula to frost the cooled cookie with the green whipped cream.

Place the fruit on the whipped topping in a fun pattern. Serve chilled.
Notes
Use a pizza cutter or large knife to cut pieces for individual servings.

Avoid using fruit with a very high water content or fruit that turns and browns quickly.

You can keep leftovers for up to two days but this is best served fresh because the cookie crust can become soggy over time.
Nutrition
Calories:
188
kcal
|
Carbohydrates:
17
g
|
Protein:
2
g
|
Fat:
13
g
|
Saturated Fat:
8
g
|
Polyunsaturated Fat:
1
g
|
Monounsaturated Fat:
3
g
|
Cholesterol:
40
mg
|
Sodium:
13
mg
|
Potassium:
177
mg
|
Fiber:
1
g
|
Sugar:
15
g
|
Vitamin A:
812
IU
|
Vitamin C:
31
mg
|
Calcium:
40
mg
|
Iron:
0.3
mg
Disclaimer
Nutrition information is estimated as a courtesy. If using for medical purposes, please verify information using your own nutritional calculator. Percent Daily Values are based on a 2000 calorie diet.