Easy and delicious homemade ice cream packed full of three kinds of cookies! This delicious cookie filled ice cream is perfect for celebrating summer!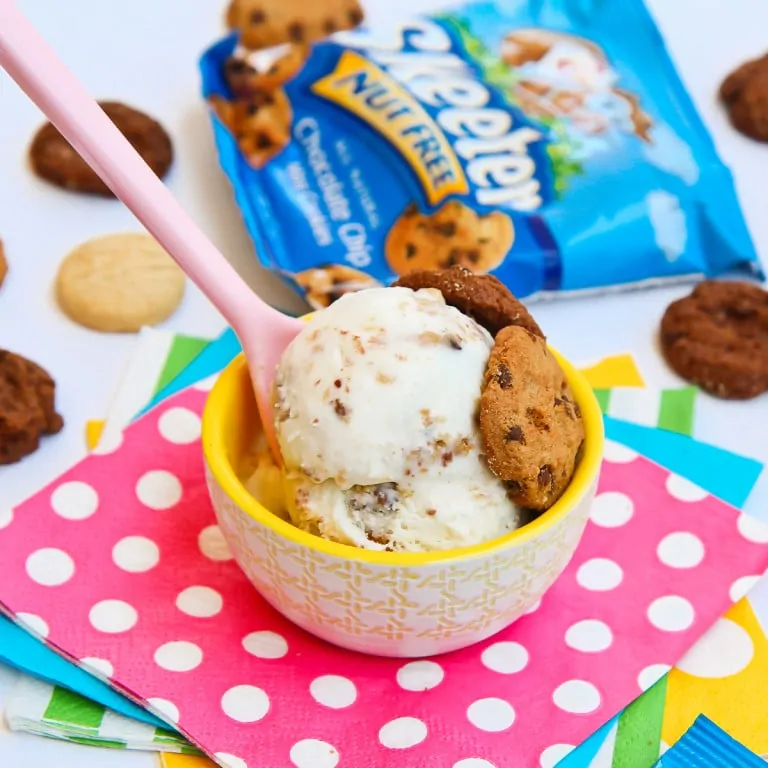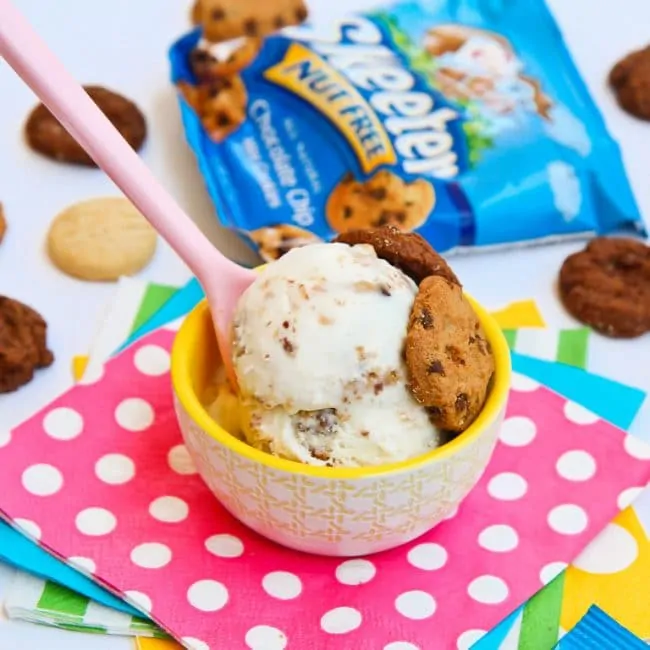 We are just days away from the end of the school year in our home, and we are all so ready to celebrate the arrival of summer vacation. I can't wait to trade homework, carpool lane and chaos for relaxed evenings outside enjoying good friends, food and family. One of my favorite summer treats to make for my family is homemade ice cream, so when my friends at Skeeter Nut Free™ Snacks asked what we would be doing to celebrate the end of the school year, ice cream immediately came to mind. Easy homemade ice cream on a hot summer day – that might just be my happy place!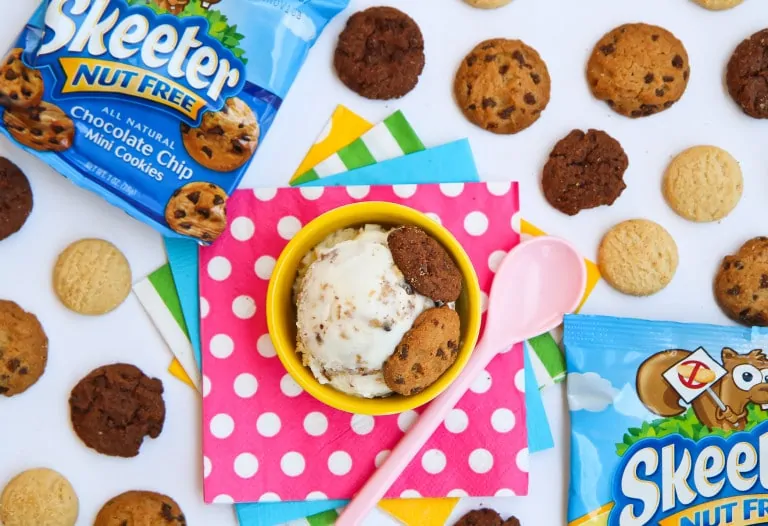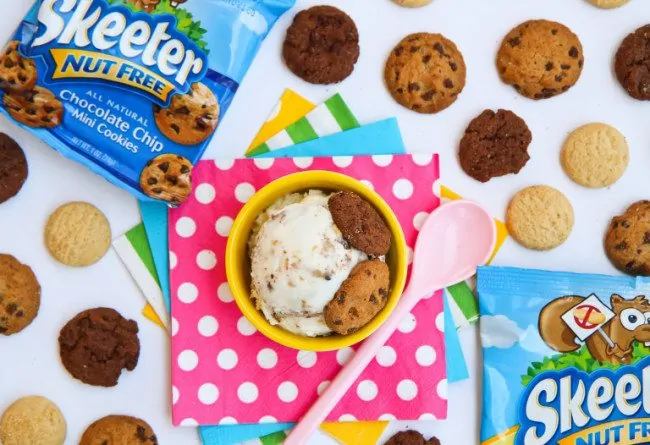 You scream, I scream, we all scream for ice cream! Because my oldest daughter is allergic to peanuts and tree nuts, she can't have most ice creams with "stuff" in them. What's a mom to do but make a safe and delicious ice cream at home, packed full of nut free goodies like Skeeter Nut Free™ Snacks Cookies. Even with a nut allergy, she can have her ice cream, and her cookies, and eat them, too!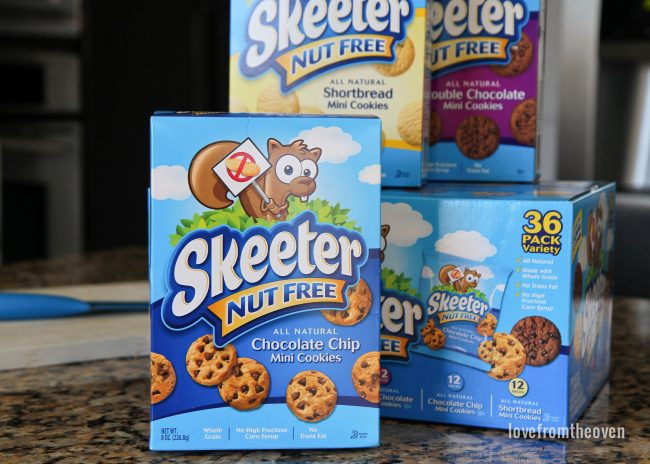 May is Food Allergy Awareness Month, so it really seems like the perfect time to share one of our favorite nut free snack options. We are big fans of Skeeter Nut Free Snacks in our house due to my daughter's nut allergies. While safe for those with allergies such as hers, they are loved by all of us for their fantastic flavor. I'm so excited that they are now available at Target (my home away from home!).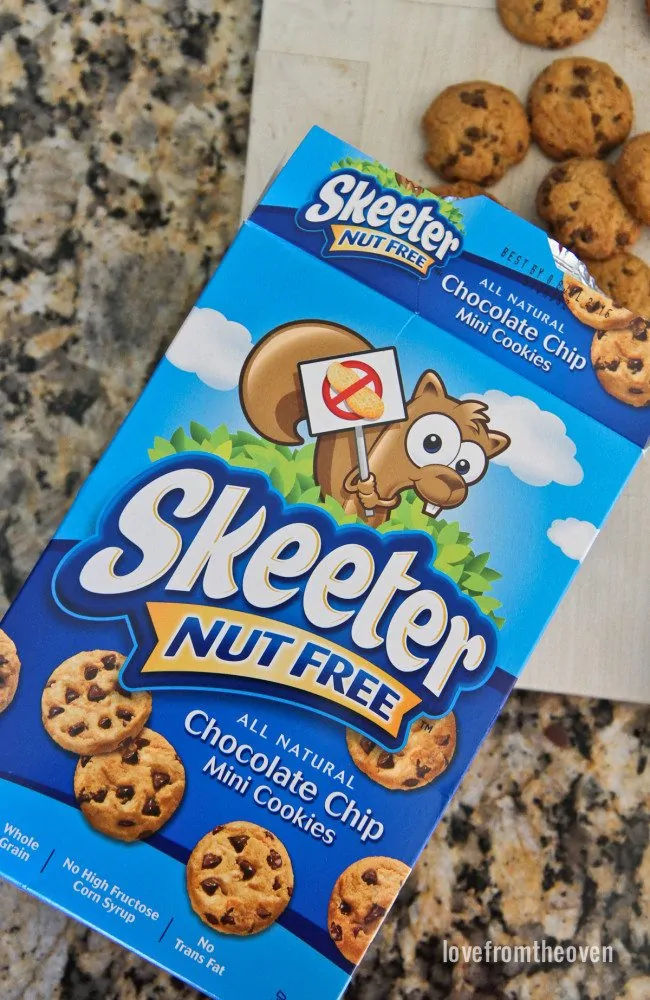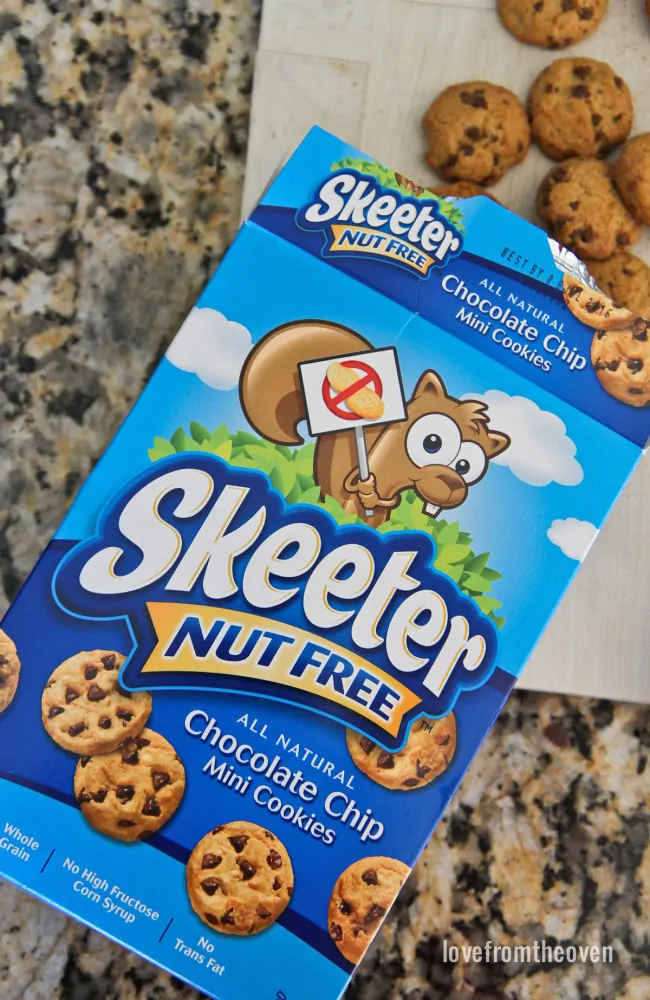 Skeeter Snacks was founded in 2012 by two dads who were frustrated with the lack of nut-free foods available for their kids who have nut allergies. They were frustrated that what was safe was expensive and didn't appeal to their non-allergic kids and they were tired of reading labels and ingredient lists and of reminding other parents to do so. They saw an opportunity for snacks that were safe, branded in such a fun way that anyone doing the shopping could make the right choice and that all kids, irrespective of allergy, would love and launched their Skeeter Nut Free brand with a line of cookies and grahams.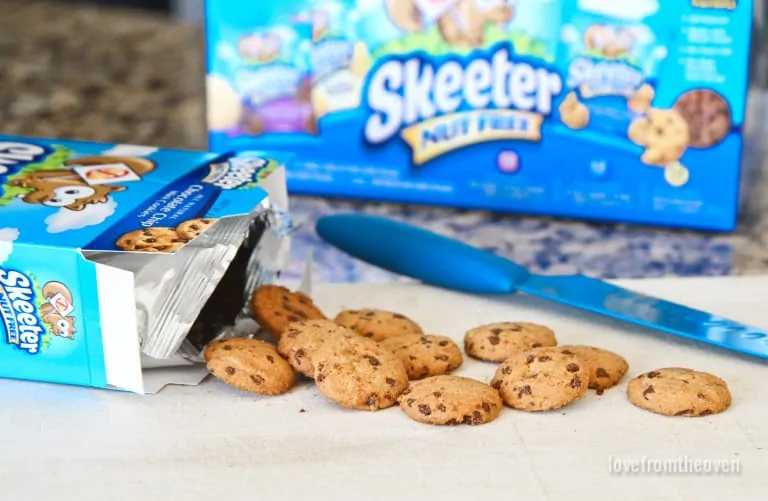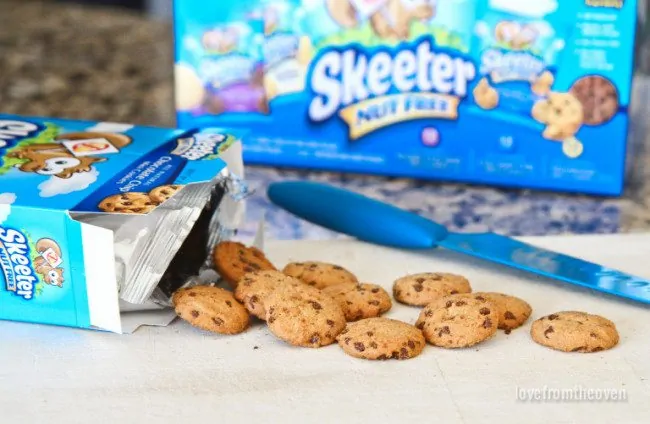 We love to enjoy Skeeter Nut Free cookies straight from the box, but chopped up they become a fabulous ice cream mix in! When you have a nut allergy, you often can't enjoy most of the ice cream with "stuff" in it, or many of the ice cream toppings, so this is a great way to get to do just that.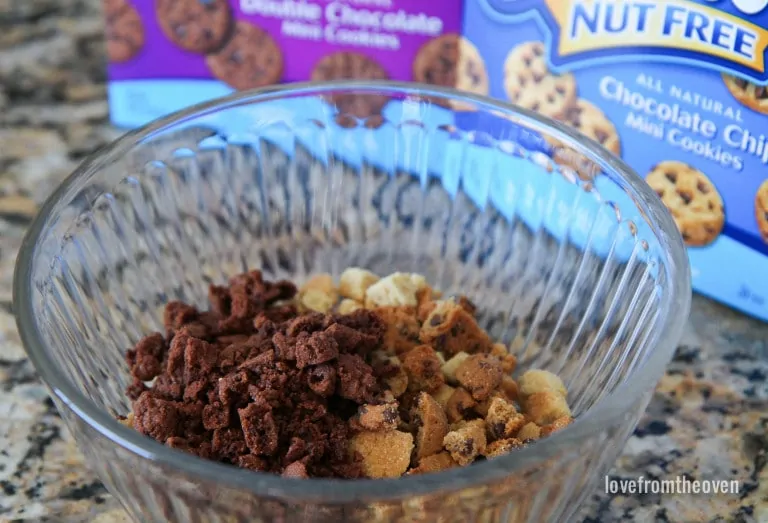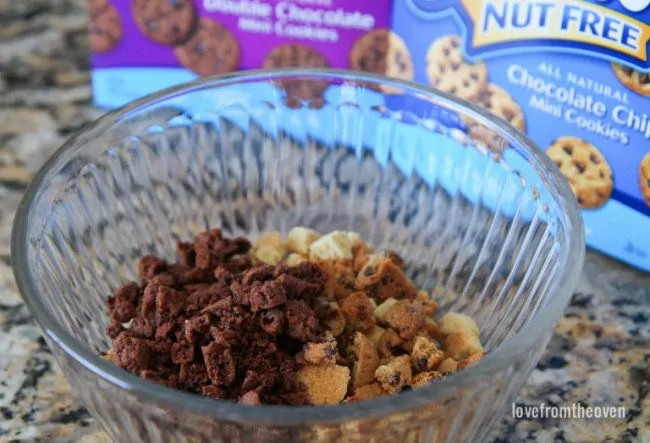 If vanilla ice cream is your jam (it is mine!) then you will love this simple ice cream recipe.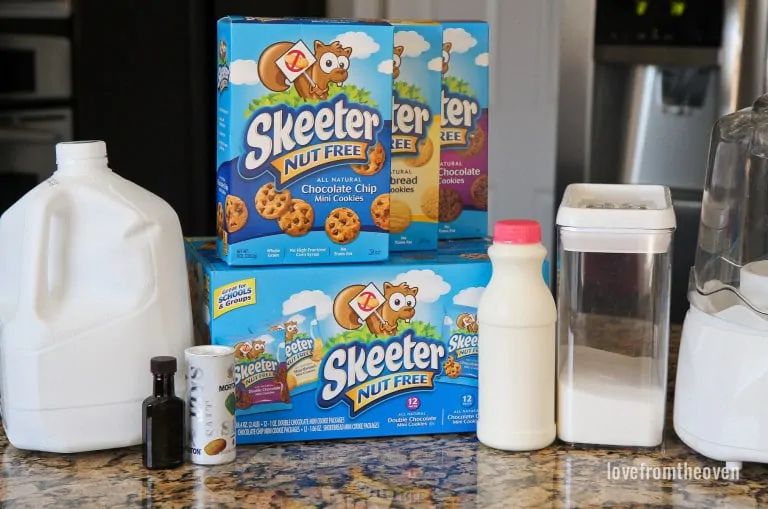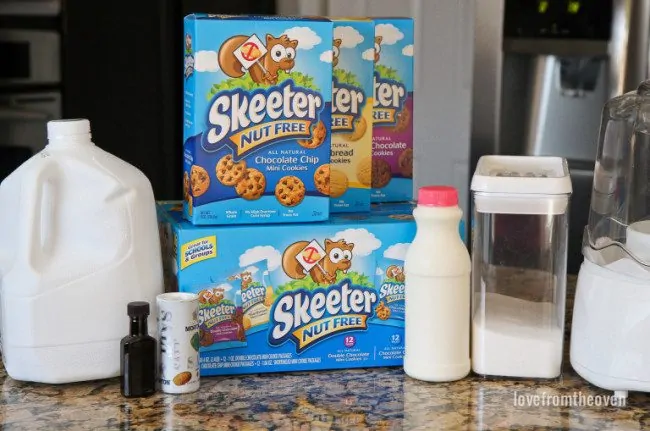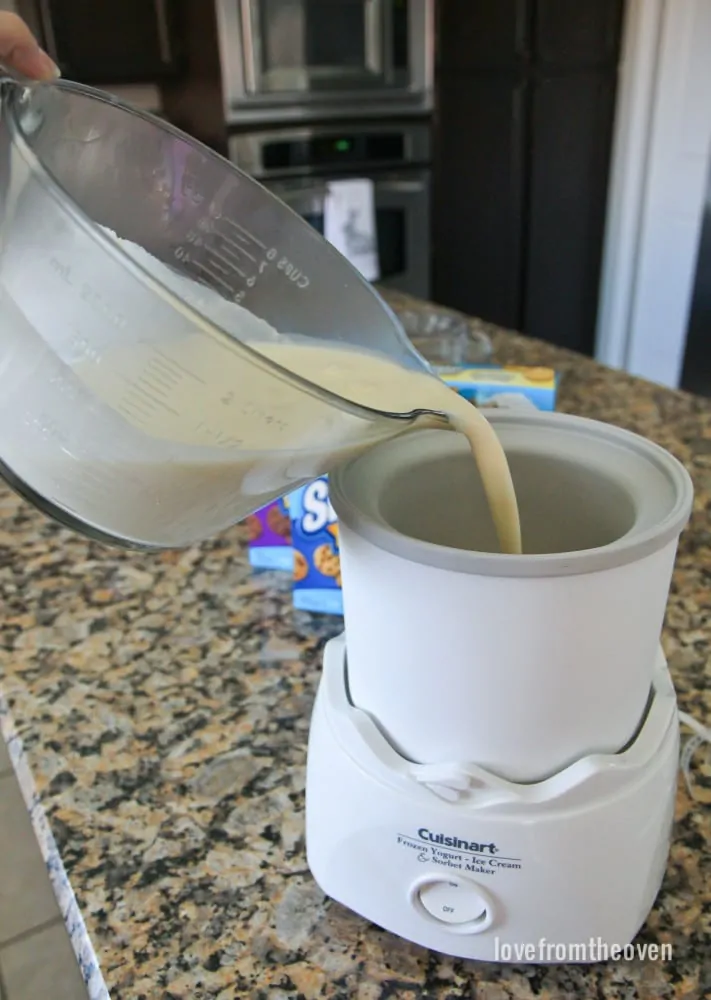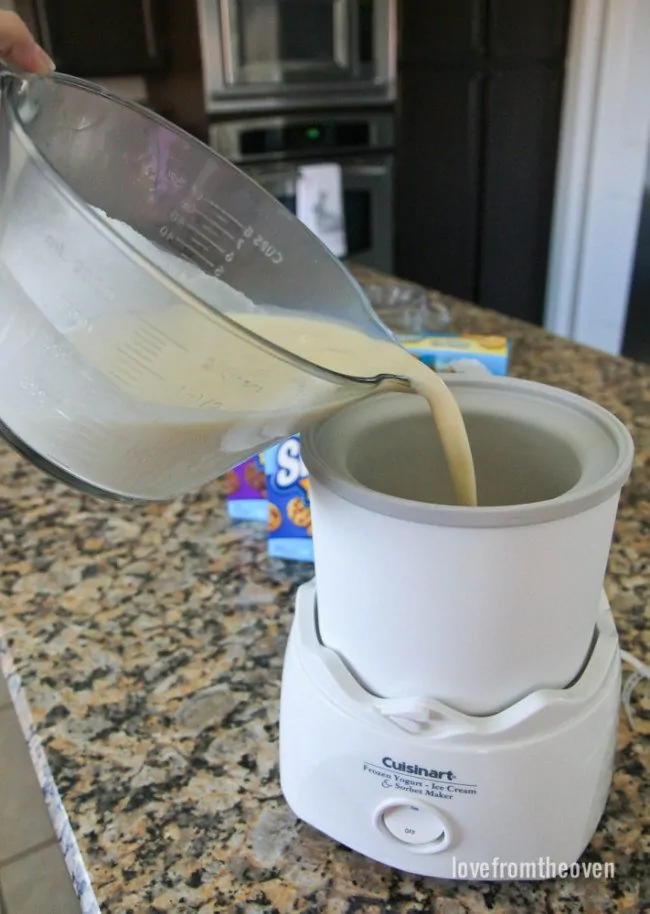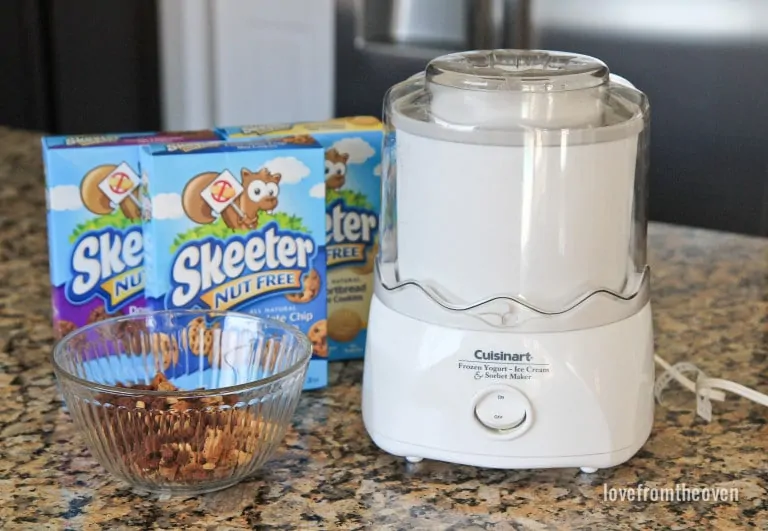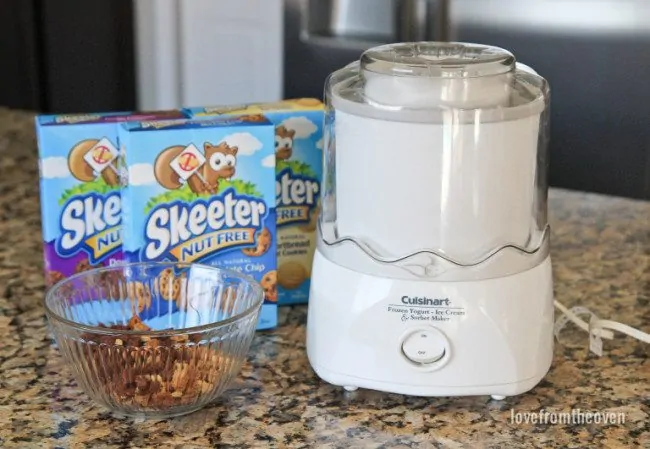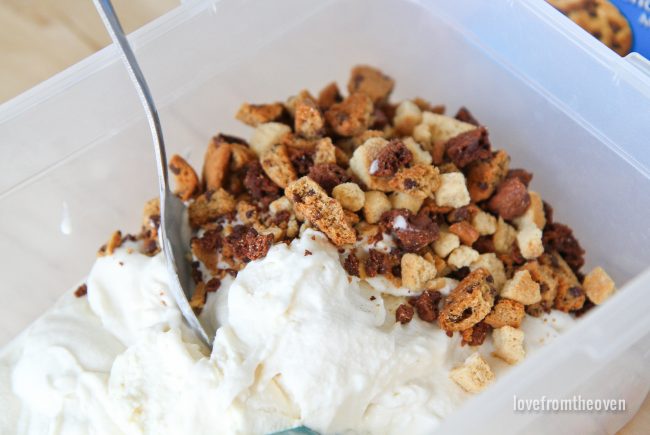 COOKIE CRUNCH ICE CREAM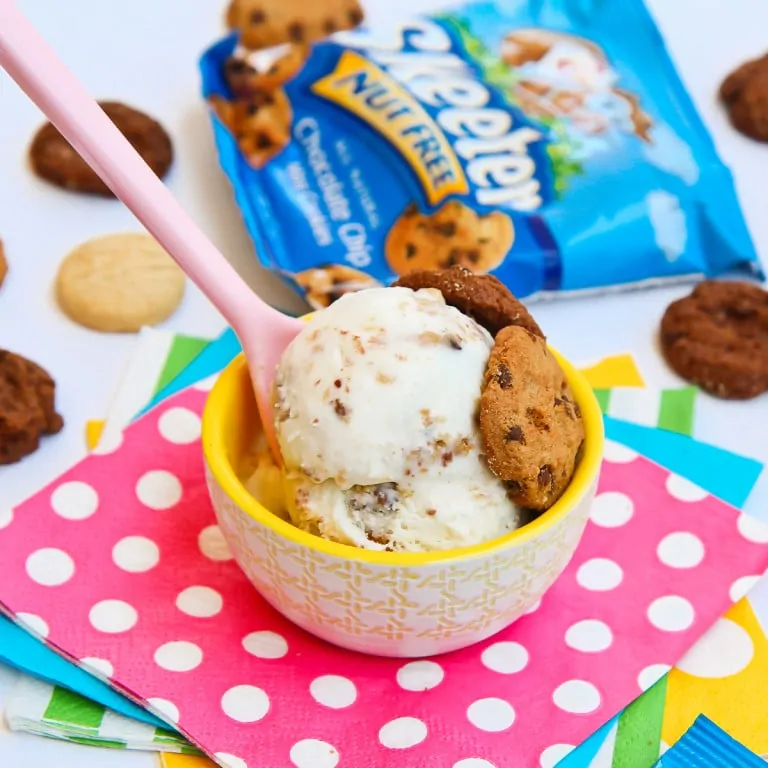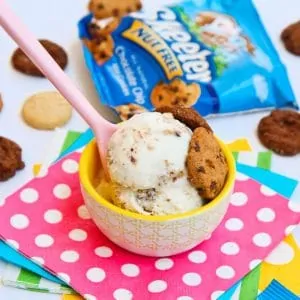 Cookie Crunch Ice Cream
Ingredients
2

cups

heavy cream

1

cup

milk

whole works best

3/4

cup

sugar

pinch of salt

1

teaspoon

vanilla extract

2

cups

chopped Skeeter Nut Free™ Snacks cookies
Instructions
Pour 1 cup of cream, your sugar and salt into a heavy sauce pan. Warm the mixture over medium heat, just until the sugar dissolves, do not allow it to reach a boil. Remove from the heat and add the remaining cream, milk and vanilla. Stir to combine and allow to chill in the refrigerator for at least two hours.

When ready to churn, stir the mixture and pour into ice cream maker. Follow instructions from ice cream maker manufacturer to churn ice cream. Once ice cream is complete, transfer to a freezer safe container and fold in cookies. Ice cream can be eaten soft serve style at this point, or frozen for 12+ hours for a firmer, traditional ice cream consistency.
Disclaimer
Nutrition information is estimated as a courtesy. If using for medical purposes, please verify information using your own nutritional calculator. Percent Daily Values are based on a 2000 calorie diet.
This delicious ice cream is so simple, I can't wait for you to try it at home. Make sure to also check out how I set up a DIY Ice Cream Sundae Bar for the kids to celebrate the end of the school year!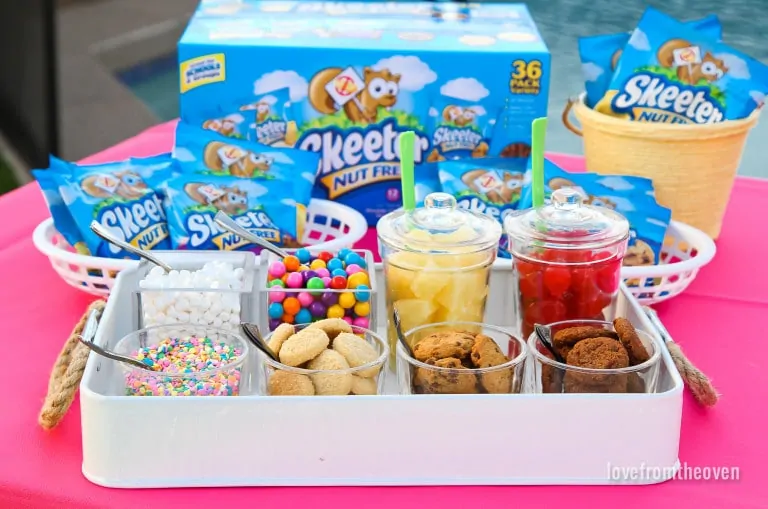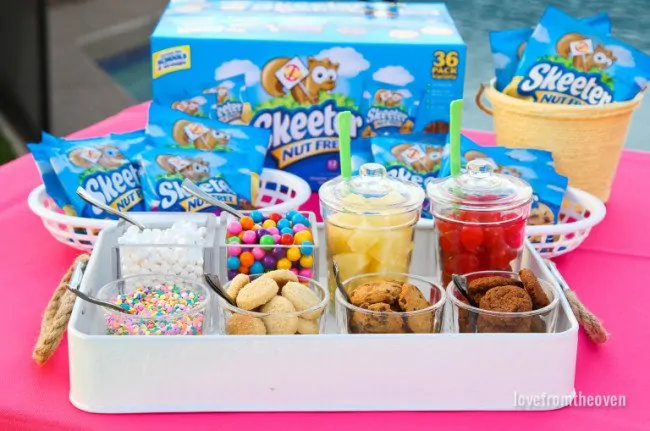 I hope you find a moment to celebrate with some ice cream and laughter with your family as school comes to a close. Don't forget you can now pick up some Skeeter Nut Free Snacks at Target! Have a sweet summer!
Disclosure: This post was sponsored by Skeeter Nut Free Snacks. All opinions however are mine and mine alone.