Curried Chicken Salad is packed to the brim with incredible flavor and makes the perfect easy lunch. In less than 30 minutes, juicy, tender chicken breasts transform into the most flavorful, creamy, spice-filled salad you'll ever have.
Regular old chicken salad, step aside. It's time for Curry Chicken Salad to shine!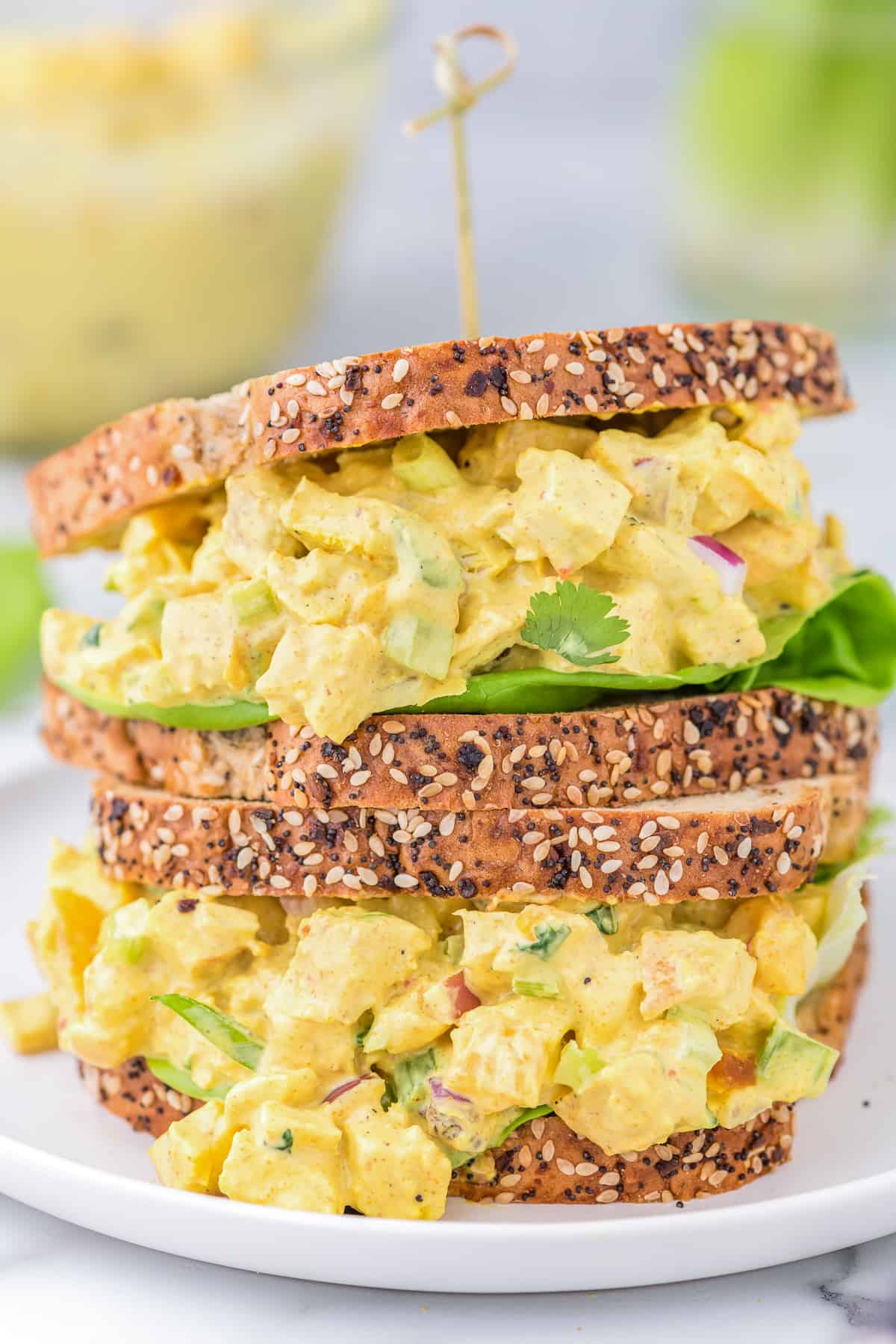 Reasons You'll Love This
Curry Flavors – If you love the spices and taste of curry, you're going to love this chicken curry salad. 
Chicken Salad Upgrade – Bored of your usual chicken salad? This upgraded recipe is just as good, versatile and super dang easy! 
Lunch For Days – This is a great meal to whip up in a big batch, and have for lunch for the rest of the week. 
Salad Fiend – If you're a salad lover, and always looking for different ways to switch it up, you are in luck! 
Satisfying – Sick of salads not making you feel full? I guarantee you this curried chicken salad will fill you right up, and keep you full for hours!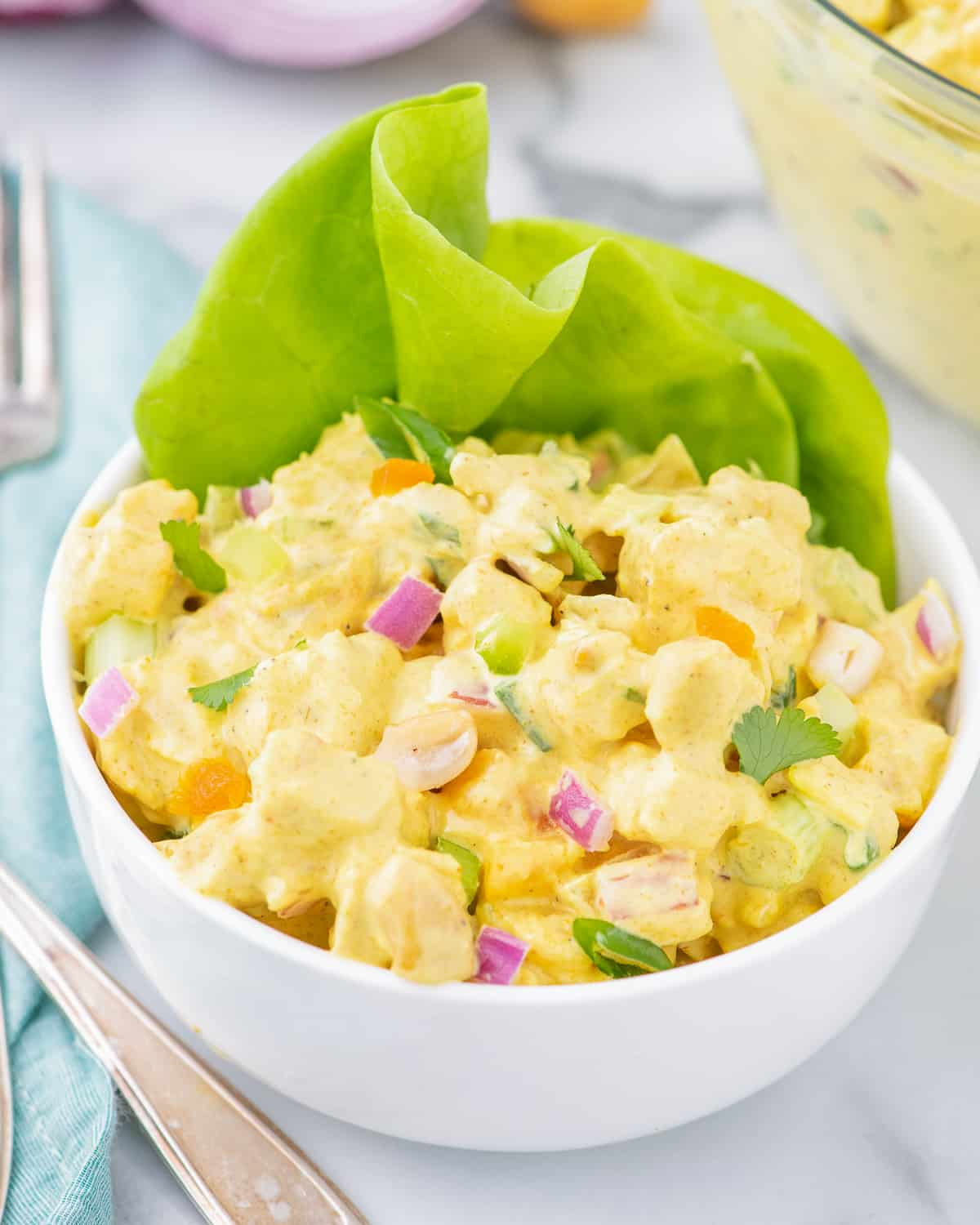 Calling all curry lovers! The creaminess, spice, color and taste of curry has been transformed into a delectable salad and is now your new favorite lunch-time dish. It's so versatile too! Make a chicken salad sandwich, serve it with chips, pita bread, veggies, or just lick it straight off the spoon!
Ingredient Info
Let's discuss how to make this recipe, as well as the ingredients that are needed. Please take note that below you will find discussion, expert tips, and answers to frequently asked questions about this recipe to help you recreate it in your kitchen. If you *just* want the recipe itself, scroll down. The full printable recipe itself, with exact measurements and instructions, is found at the bottom of this page.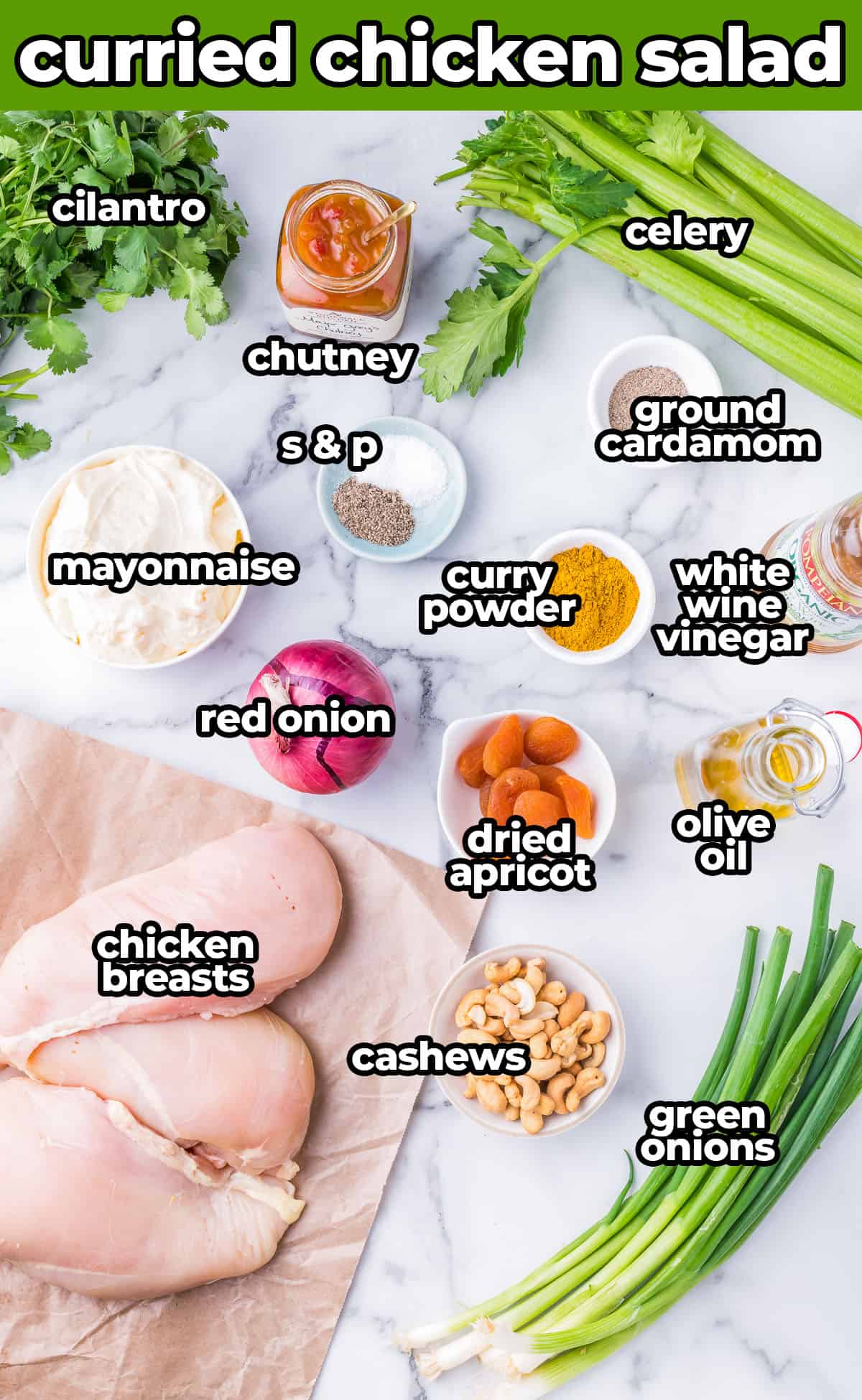 Chicken Breasts – Boneless skinless chicken breasts are a juicy, delicious option for this recipe. You can use chicken thighs, or tenders instead if you'd prefer.
Mayo – Highly recommend using a good quality brand of mayonnaise like Hellman's or Best Food's. The flavor will be just that much better.
Curry Powder – Curry Powder is an important ingredient in this recipe. You can get this at pretty much any grocery store in the spice aisle.
Cardamom – Make sure you get ground cardamom, and not the whole cloves.
White Wine Vinegar – The white wine vinegar gives it a little bit of a tang. Champagne vinegar will also work. If you're not crazy about vinegar you can substitute this ingredient for a white wine like Pinot Grigio or Sauvignon Blanc.
Chutney – Chutney is a sweet and savory paste that is often eaten with lots of Indian food. I don't recommend skipping out on this ingredient, it makes the whole dish! You can find it in the international foods section in your grocery store, or online. Highly recommend this Major Grey's chutney from Stonewall Kitchen. If you can't find any chutney, some apricot preserves will work! Just omit the apricots from the recipe if you do this.
Celery – The perfect way to add a lot of crunch to this salad! If you don't have or like celery, you can substitute for cucumbers.
Apricot – Dried apricot in this salad is what the kids say; "chef's kiss!" Such a fantastic addition. If you don't like apricot, you could try pieces of chopped dried mango, or even the usual dried cranberries.
Green Onions – Green onions pack so much flavor! Especially the white parts of the green onion. You'll want to make sure those parts are finely chopped.
Roasted Cashews – When roughly chopped, this adds a great nutty flavor and crunch. If you don't have cashews you can try using sliced almonds, peanuts or pistachios!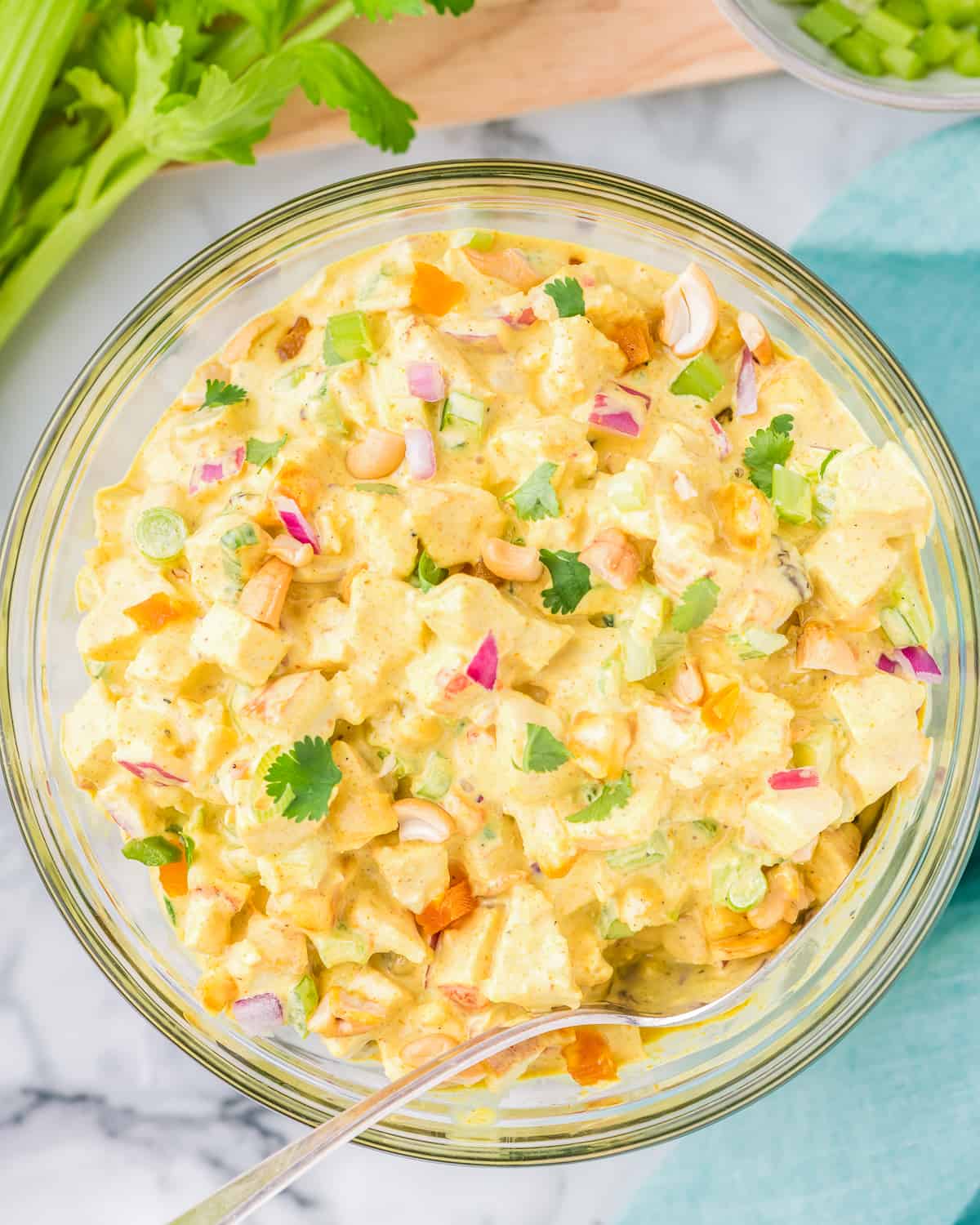 Step By Step Instructions
Start by adding salt and pepper to both sides of the chicken breasts. Heat up a large frying pan, Place the chicken in the frying pan, careful not to crowd the pan. Cook the chicken on high heat to sear both sides for about two minutes before reducing the heat to low. Place a lid on the pan and let the chicken cook for about 8-10 minutes.
While the chicken cooks, make the salad dressing. Grab a large bowl and add the mayo, curry powder, cardamom, white wine vinegar, and chutney. Whisk everything together until evenly combined.
Set that aside. Ensure that your chicken is fully cooked at 165°F using a meat thermometer. Remove your chicken from the heat and let it cool to room temperature. Once it has cooled, chop the chicken up into small cubes, about ¼ an inch thick.
To a large serving bowl, add the chopped chicken. Pour the homemade dressing over the chicken and stir until combined. Then, to the base of the salad, add your chopped red and green onion, apricot, and celery. Stir everything together until evenly coated with the dressing. Season the salad with salt and pepper to taste. Cover the bowl, and let it chill in the fridge for about an hour to let the flavors marinate. Serve on sandwich bread or with crackers and enjoy!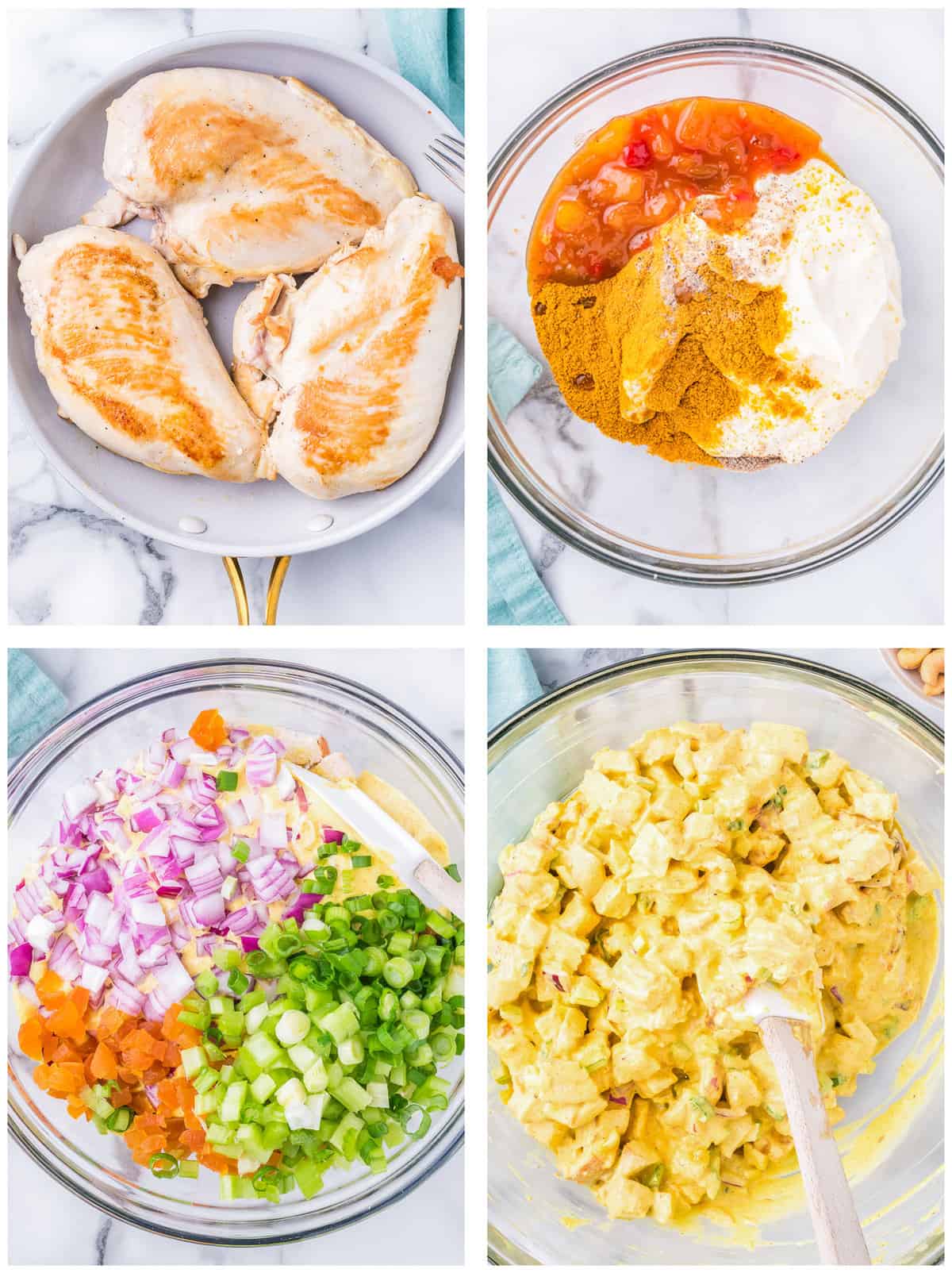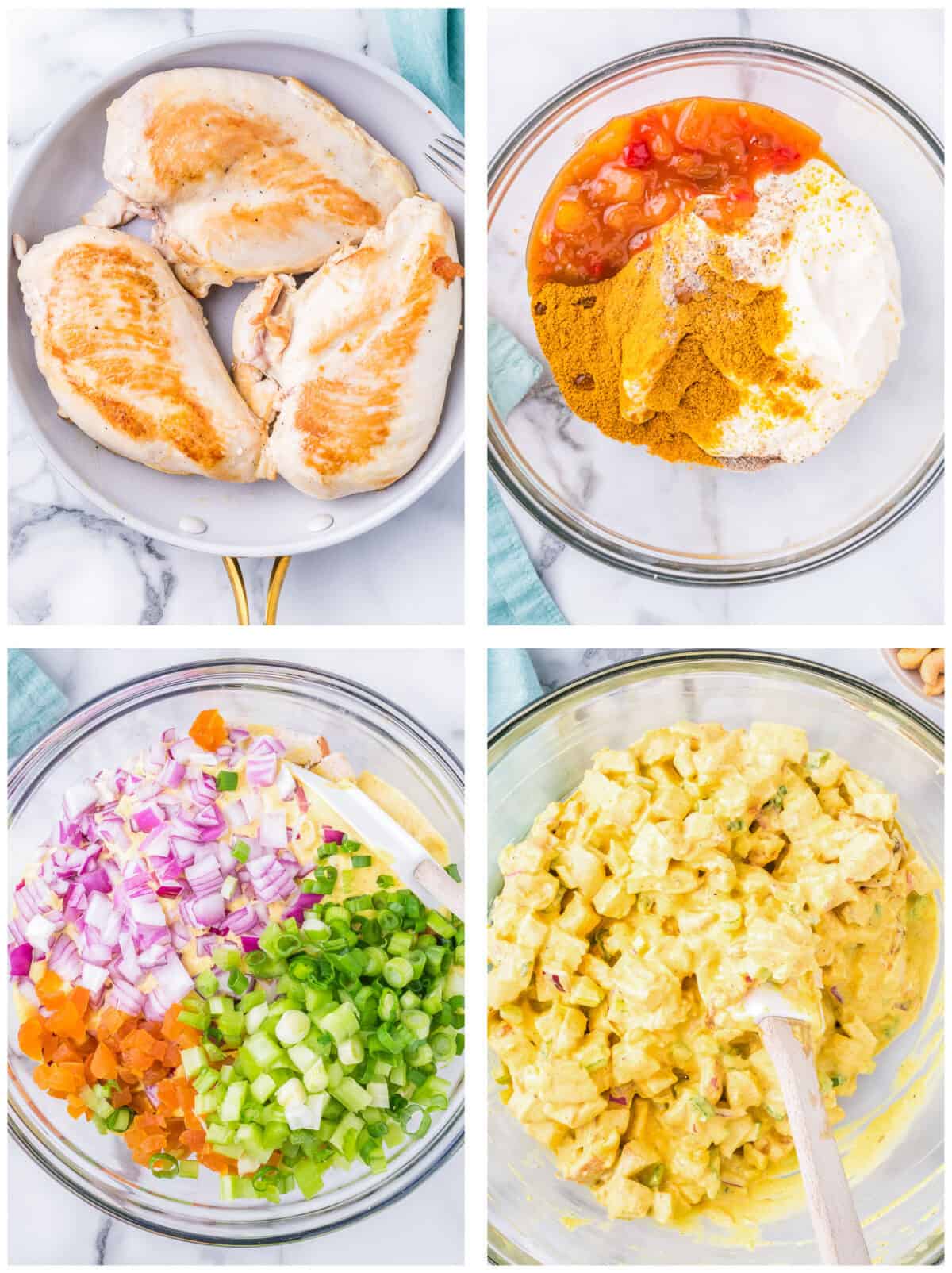 Tips & Advice
Storage – Store the leftover curry chicken salad in the fridge for about 4-5 days after making it. You may even find that the salad tastes even better the second or third day after!
Make Ahead – You can absolutely make curry chicken salad ahead of time, in fact I highly recommend it! It gives the flavors time to marinate and soak into the chicken, and the rest of the ingredients. If you're afraid of it become soggy, I guarantee you the cold from the refrigerator will prevent that from happening.
Perfectly cooked chicken
To get the perfect sear, and the juiciest chicken ever, use a cast iron pan! Cook it the same exact way as directed in the instructions. Because the cast iron pan does a great job at retaining heat, the pan will cook the insides beautifully!
I know that sometimes cooking chicken is not ideal, so if you don't have the time or energy, a rotisserie chicken also works for this recipe!
Gluten Free – This delicious recipe is gluten free as long as you don't serve it with crackers or bread. You can use gluten free bread, or lettuce to eat this for a gluten free alternative.
Equipment
For this recipe, you'll need a few of the following materials to make it!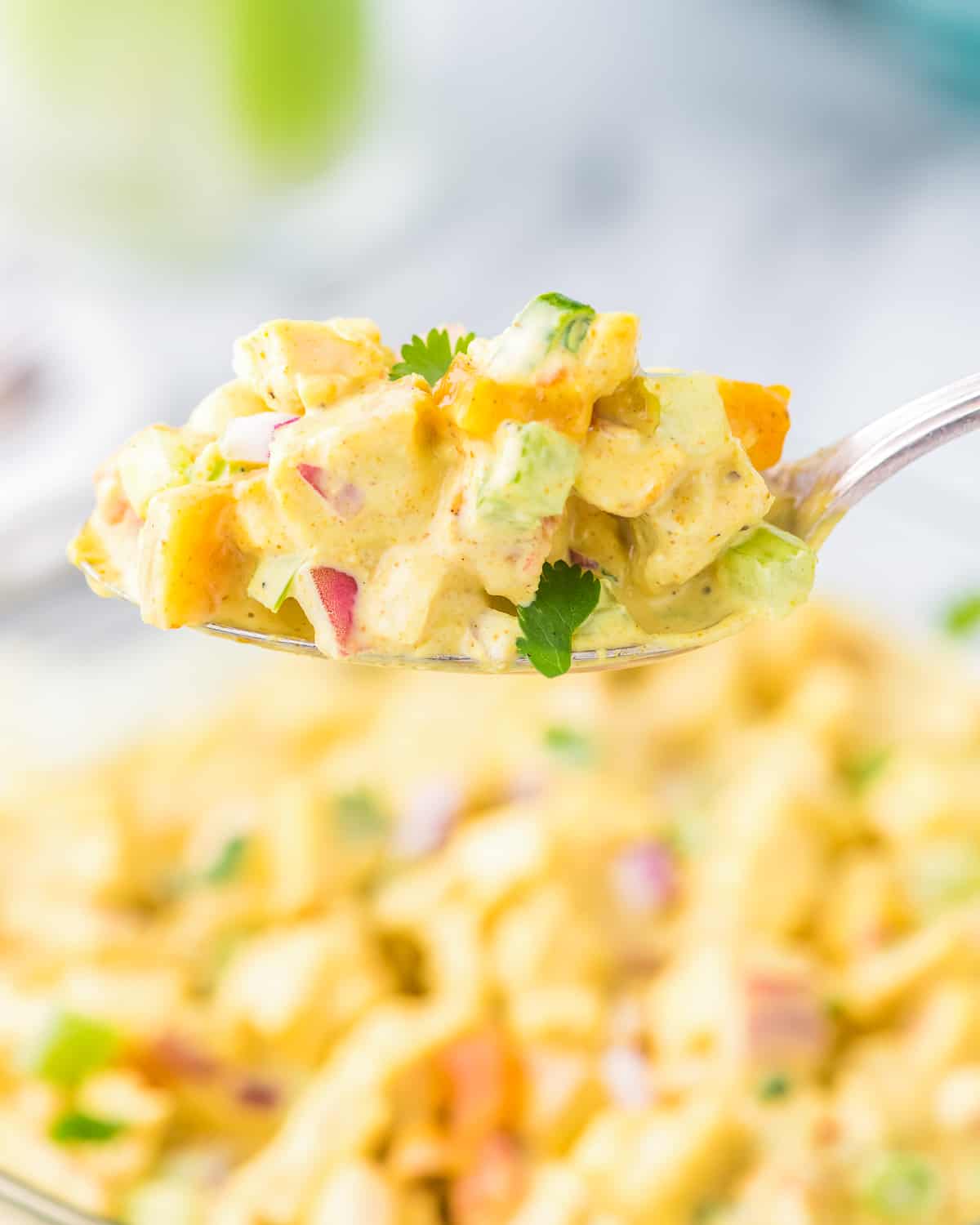 FAQs
What is a substitute for curry powder in chicken salad?
You can use cumin and all spice instead of curry powder. While it won't have such a depth of flavor like curry powder would, the similar flavors will still be there.
Is curry powder the same as curry mix?
No curry mix, is usually like a block or paste that won't work in this recipe. Curry powder is just a blend of spices that resemble curry flavors.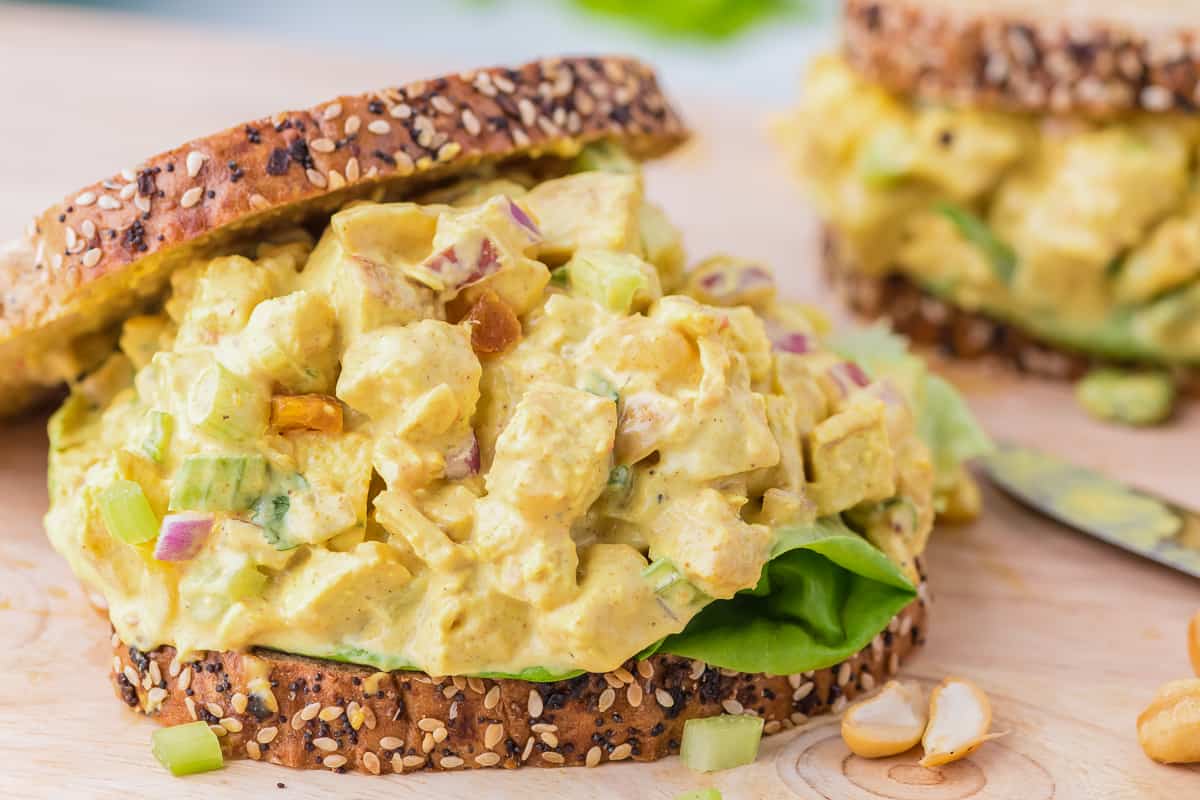 Serves Well With
This Curried Chicken Salad makes a great lunch when serves on some sandwich bread or with crackers. You can also make lettuce boats with this as the filling. You can even eat it right out of the bowl! I don't judge.
Check out a few more of these fantastic, similar recipes I just know you'll love.
More Recipes You'll Love!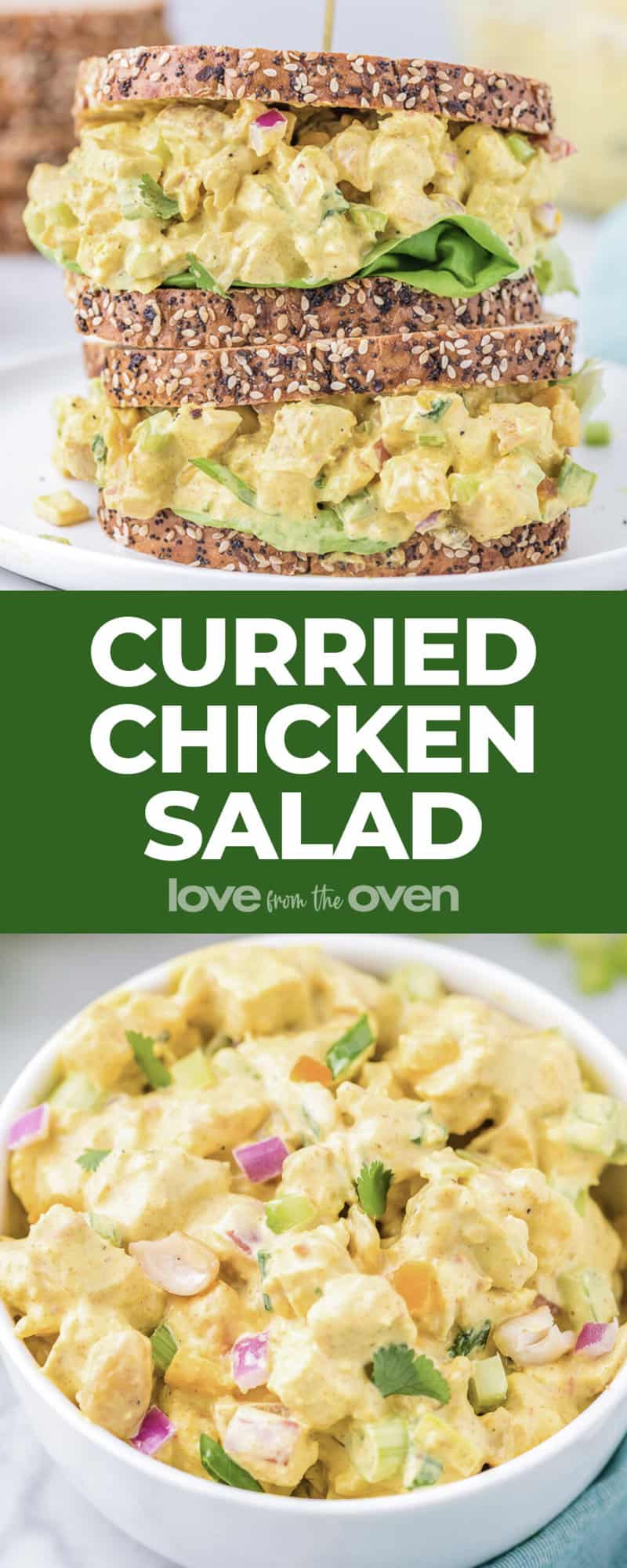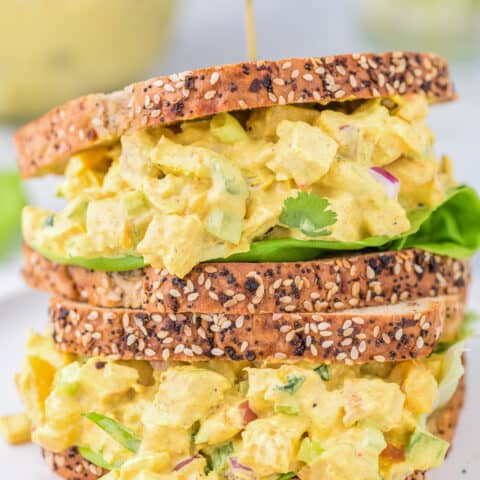 Curried Chicken Salad
Ingredients
3

pounds

boneless, skinless chicken breasts

approximately 4 medium size breasts

olive oil

salt and pepper

1

cup

mayonnaise

2

tablespoons

curry powder

1/2

teaspoon

ground cardamon

3

tablespoons

white wine vinegar

1/2

cup

chutney

Stonewall Kitchen Major Grey's is what I used

1/2

cup

diced celery

approximately 2 medium size stalks

1/4

cup

diced dried apricot

about 6

1/4

cup

diced red onion

1/4

cup

finely chopped green onions

white and green can be used

1/2

cup

fresh cilantro

roughly chopped or torn

3/4

cup

roasted cashews

coarsely chopped
Instructions
Season chicken breasts with salt and pepper and place into a large frying pan.

Sear chicken on high heat for about two minutes on each side or until nicely browned. Turn down the heat to a low and place a tight-fitting lid on the frying pan to further cook the chicken breasts for 8-10 minutes.

While the chicken is cooking make the dressing. In a medium bowl, combine mayonnaise, curry powder, cardamom, white wine vinegar, and chutney. Whisk until ingredients are combined.

Remove the lid from the frying pan and pierce the chicken with a fork, if the juices run clear, it is done. The internal temp should be 165 degrees. Allow to cool to room temperature. Once cool, cut chicken into 1/4" size pieces.

Transfer diced chicken to a large serving bowl and add in dressing. Stir to combine. Add red onion, green onion, diced apricot, and celery to the chicken and stir until well combined. Season with salt and pepper to taste.

Cover bowl and chill chicken salad in refrigerator for at least one hour.

When ready to serve, remove chicken salad from fridge and let stand for 15 minutes. Top with chopped cilantro and cashews.
Nutrition
Calories:
490
kcal
|
Carbohydrates:
9
g
|
Protein:
39
g
|
Fat:
32
g
|
Saturated Fat:
6
g
|
Polyunsaturated Fat:
14
g
|
Monounsaturated Fat:
10
g
|
Trans Fat:
0.1
g
|
Cholesterol:
121
mg
|
Sodium:
606
mg
|
Potassium:
803
mg
|
Fiber:
1
g
|
Sugar:
3
g
|
Vitamin A:
677
IU
|
Vitamin C:
6
mg
|
Calcium:
31
mg
|
Iron:
2
mg
Disclaimer
Nutrition information is estimated as a courtesy. If using for medical purposes, please verify information using your own nutritional calculator. Percent Daily Values are based on a 2000 calorie diet.