Strawberry Chicken Salad is packed with protein such as chicken, cheese and pumpkin seeds, and it's brimming with fresh fruit and veggies, giving you a little bit of everything. It's perfect for lunch, as well as for sharing at family gatherings. Topped with a balsamic vinaigrette dressing, this isn't just your ordinary salad.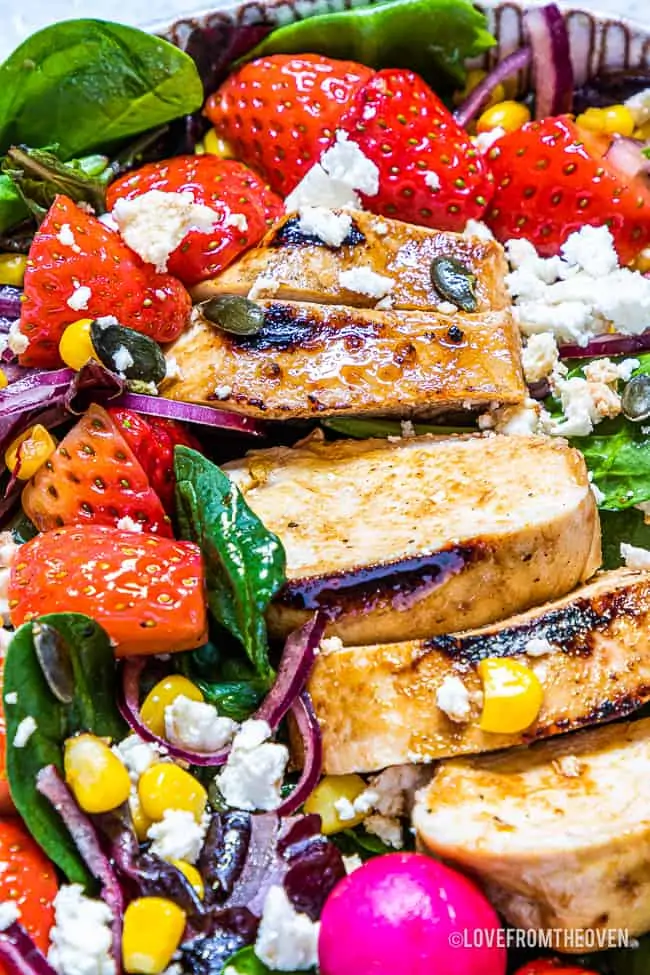 Reasons You'll Love This Recipe
This strawberry chicken salad is an easy weeknight lunch or dinner idea. When you need something quick, easy, and nutritious, it's the perfect go to recipe. 
If you are looking for something low carb or gluten free, this recipe is for you. There's absolutely no gluten in this recipe. 
You can add or take away any of the ingredients. It's a salad so add whatever you choose to complement the strawberries and vinaigrette dressing. 
This recipe is packed with nutrition! With fresh strawberries, leafy greens, veggies, and chicken, you get everything your body needs in a meal.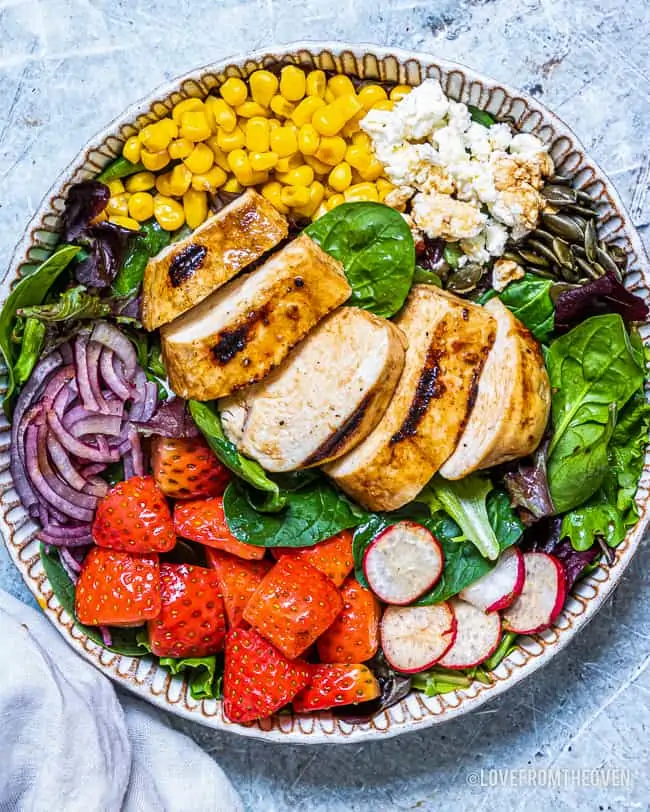 Strawberry Chicken Salad
Get a little from every food group with this strawberry chicken salad. Juicy grilled chicken, fresh strawberries, vegetables, and feta cheese tossed in a balsamic dressing, this salad is perfect for a main dish or as a side dish. When it comes to eating healthy, it doesn't have to be boring. Get ready to make the tastiest salad you've ever had.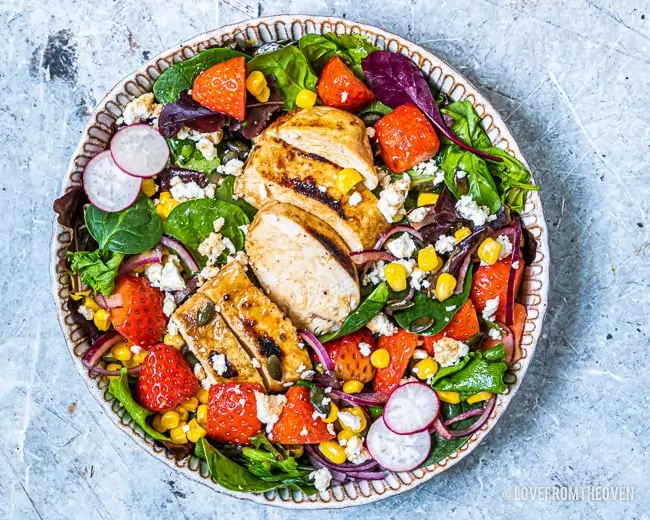 Ingredients
Before you get started, let's make sure you have all the ingredients you need to make this delicious strawberry salad. Here's what you'll need: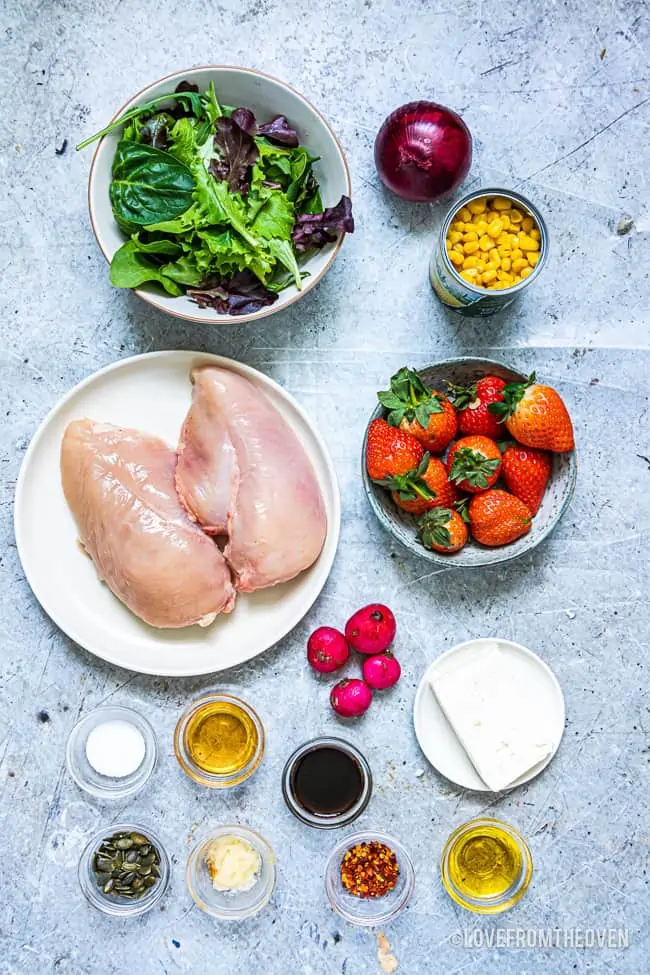 Olive oil: I use olive oil for my salad dressing. However, you could use vegetable oil as well. The flavor may vary slightly depending on the oil you use. 
Balsamic Vinegar: You can't have a balsamic dressing without balsamic vinegar. It's a slightly sweet vinegar. Don't try to use regular vinegar because you just won't get the same sweet taste. 
Honey: Is a vital part of the homemade vinaigrette dressing. It gives a bit more sweetness to your dressing. 
Garlic: You'll want minced garlic for your dressing. I like to buy it already minced to save on time. 
Pepper flakes: Although this dressing isn't spicy, the pepper flakes add a little pizzazz to your balsamic vinaigrette dressing. 
Salt: A little bit will do you! A little bit of salt gives the dressing a great flavor. 
Chicken: I recommend boneless, skinless chicken breasts. Chicken breasts will produce the best flavor and texture for this salad. 
Salad greens: You can choose whatever greens you prefer. I tend to use baby spinach, but you can use a combination of greens such as arugula, lettuce, or spinach. 
Sweet corn: You can use fresh sweet corn, or you can use corn from the can. Just be sure to drain it before adding it to your salad. 
Feta cheese: Feta is a soft cheese made from goat's milk. If you aren't fond of the flavor, go ahead and use mozzarella instead. 
Radishes: Radishes are the perfect compliment in this salad. It's almost like they were just made for the delicious balsamic vinaigrette dressing. 
Onion: This recipe is best with a thinly sliced red onion. Although you could use a yellow onion if you prefer the flavor. 
Pumpkin seeds: Pumpkin seeds add the perfect amount of crunch to this salad. But, you don't have to stop with just pumpkin seeds; add any seeds or even nuts that you like.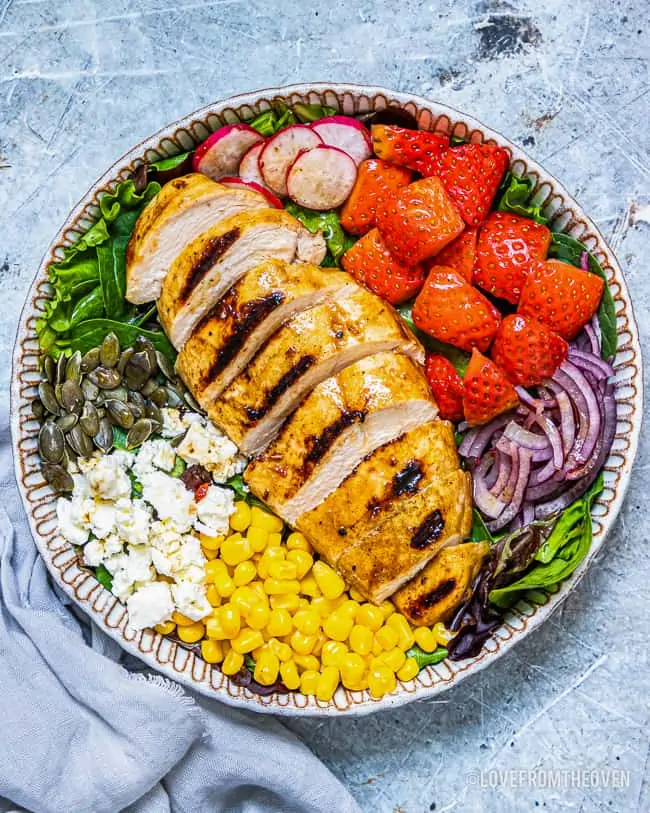 How To Make A Strawberry Salad
The best part of this recipe is that it is super easy to make! Just follow the simple directions below for a delicious, nutritious meal.
First, you will make the balsamic vinaigrette dressing. All you need to do is mix the olive oil, balsamic vinegar, honey, minced garlic, pepper flakes, and salt in a medium bowl.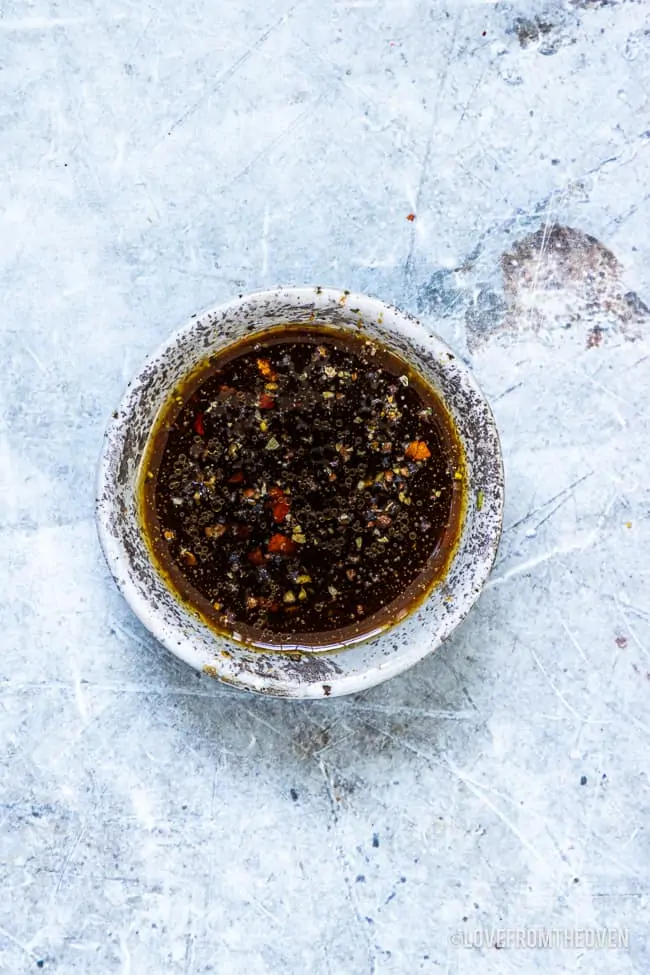 Then, in another bowl, add your  chicken breasts and ¼ cup of the balsamic vinaigrette. Let the chicken marinade in the vinaigrette for 30 minutes.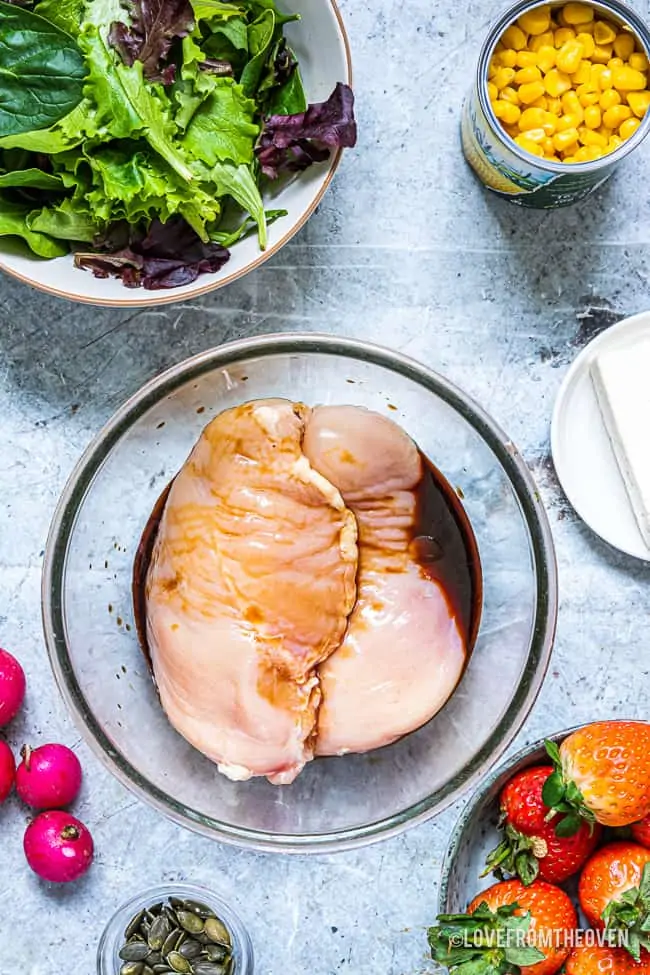 After the chicken has marinaded, you need to cook your chicken on a skillet on medium heat. Cook each side of the breasts about 6 minutes or until the thickest part of the chicken reads 165°F.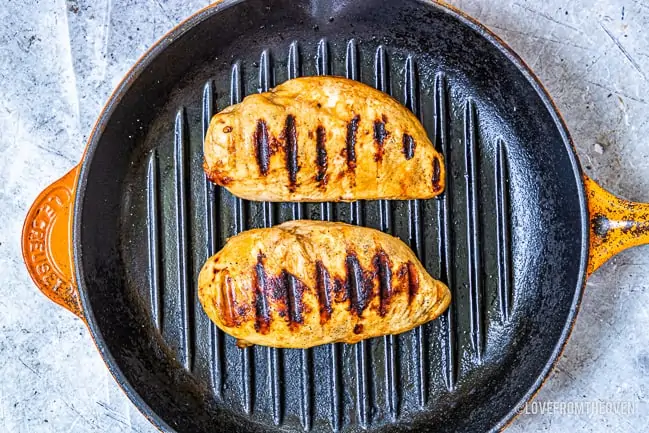 Allow the chicken to cool until you can touch it without getting burnt. While the chicken is cooling, combine all the rest of the salad ingredients into a large bowl. 
Drizzle the salad with your homemade balsamic vinaigrette and gently toss it. If you need more seasoning, add it in.
Finally, Slice up the grilled chicken breast and add it  to the salad mix. Then, drizzle it with more balsamic vinaigrette if you choose.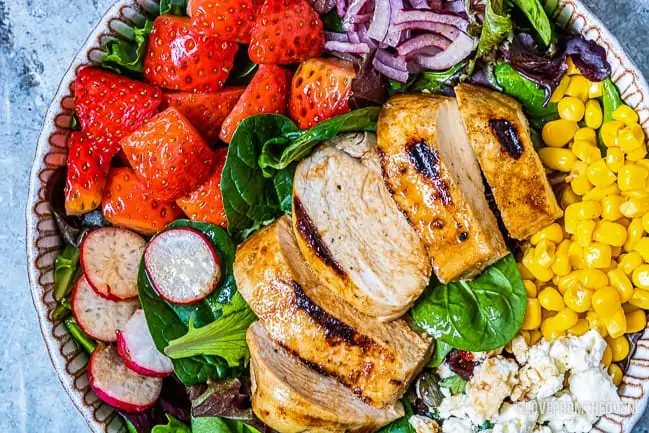 Expert Tips
Making ahead of time: If you want to make this recipe ahead of time, you can. I would suggest not tossing your salad with the balsamic vinaigrette dressing until you are ready to serve it. Otherwise, your salad may get soggy.
Cutting the chicken: You can cut your chicken in long thin slices, or you can cut it in cubes. I prefer to cut my cooked chicken into strips. 
Storing your salad: If you have leftover salad, you can store it in an airtight container in the refrigerator for up to 3 days.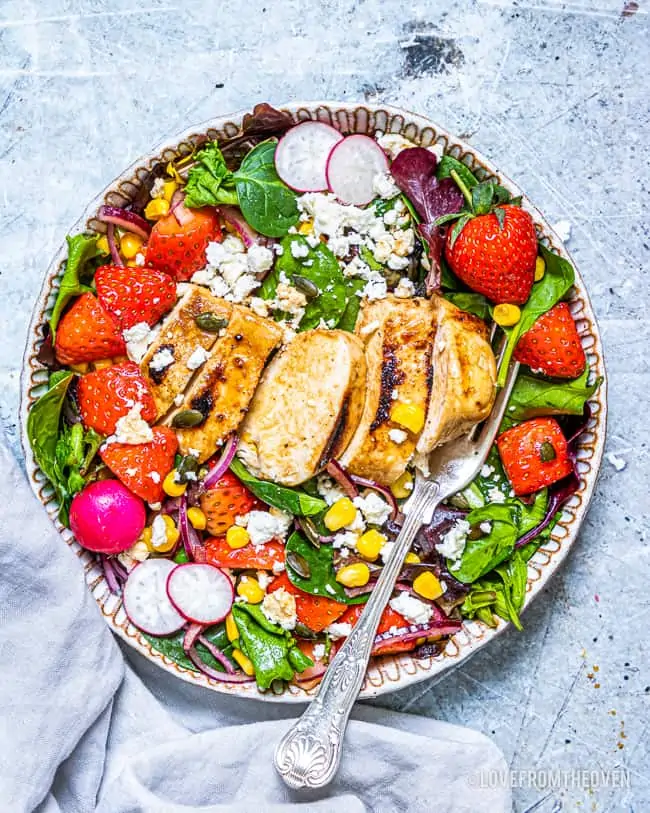 Frequently Asked Questions
Do I have to use pepper flakes? Nope! The pepper flakes do add a little spice, but if you don't like spicy at all, you can leave them out.
Can I add other ingredients? Absolutely! In fact, you can add nuts such as cashews, pine nuts, almonds, or you can add your favorite veggies such as peppers, carrots, baby tomatoes, etc.

Is this recipe gluten free? Yes! Because this strawberry salad doesn't have any flour-based ingredients in it, it is completely gluten free. 
Can I eat this on Keto? This recipe is very low carb. There are carbs in the fruits and veggies, but they are mostly cancelled out by the fiber. So, this recipe is a great keto-friendly meal. 
More Recipes You'll Love!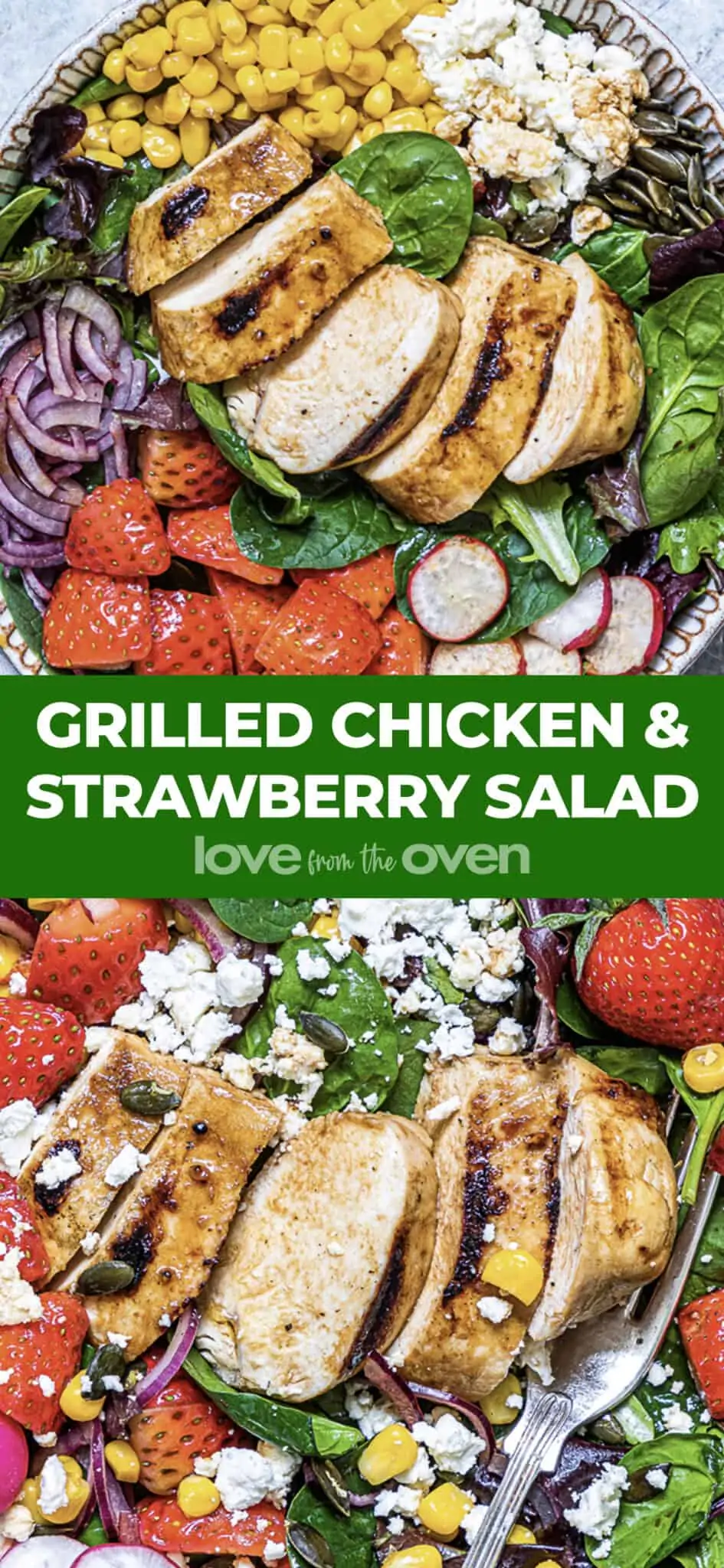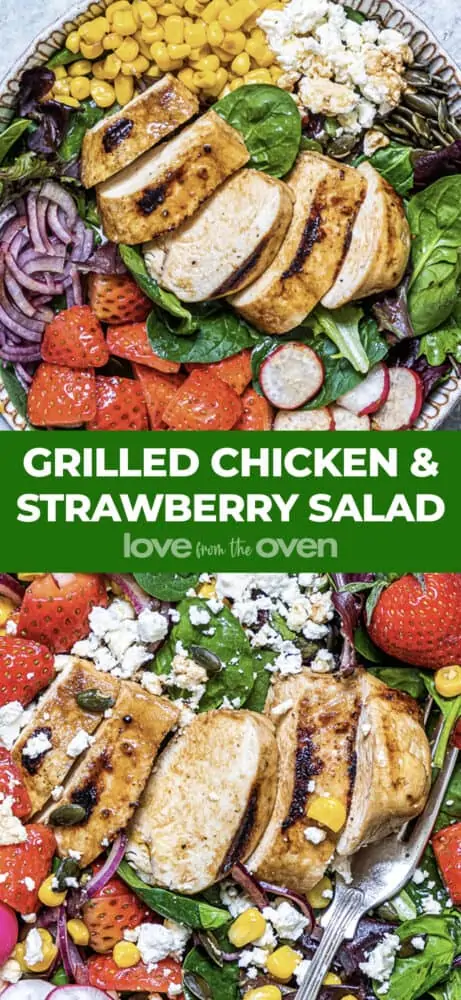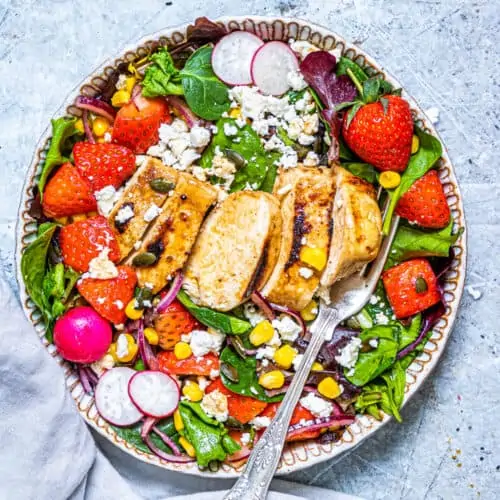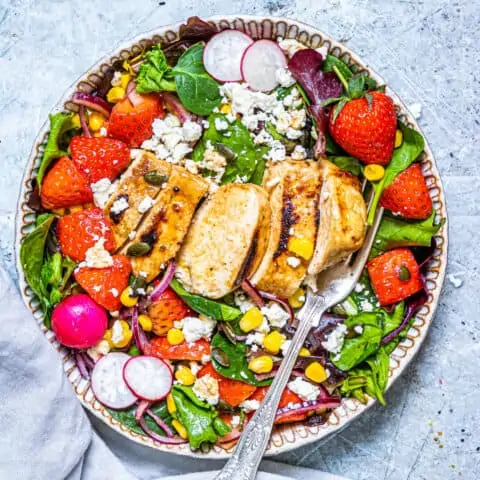 Strawberry Chicken Salad
Packed with protein such as chicken, cheese and pumpkin seeds, and brimming with fresh fruit and veggies, this Strawberry Chicken Salad giving you a little bit of everything.
Ingredients
Vinaigrette
1/4

cup

olive oil

1/4

cup

balsamic vinegar

1

tablespoon

honey

1

teaspoon

minced garlic

1

teaspoon

red pepper flakes

1/2

teaspoon

salt
Salad
1

pound

boneless skinless chicken breasts

approximately 2 medium breasts

4

cups

mixed salad greens

arugula, baby spinach, lettuce are all great choices

2

cups

fresh strawberries

sliced

1

cup

sweet corn

8

ounces

feta cheese

crumbled

4

radishes

sliced

1

small red onion

halved and thinly sliced

2

tablespoons

pumpkin seeds
Instructions
In a medium bowl, mix together all the ingredients to make balsamic vinaigrette. In another bowl, add the chicken breast and 1⁄4 cup of balsamic vinaigrette, reserving the rest to use as dressing. Leave to marinade for 30 mins

Heat a grill pan over medium heat until hot, then grill the chicken breasts, about 6 mins per side or until juices run clear and a thermometer inserted into the thickest part of the chicken reads 165°F. Leave to cool until warm enough to touch.

Meanwhile, in a large bowl, combine all the rest of the salad ingredients. Drizzle with balsamic vinaigrette and gently toss to combine. Adjust seasonings to taste.

Add the grilled chicken breast to the salad mix and drizzle with more balsamic vinaigrette if desired. To serve, slice up chicken breast and serve with rest of salad mix.
Notes
·  Keeps in an air-tight container in the fridge for 3 days.
Nutrition
Calories:
525
kcal
|
Carbohydrates:
25
g
|
Protein:
36
g
|
Fat:
32
g
|
Saturated Fat:
12
g
|
Polyunsaturated Fat:
4
g
|
Monounsaturated Fat:
14
g
|
Trans Fat:
1
g
|
Cholesterol:
123
mg
|
Sodium:
1081
mg
|
Potassium:
798
mg
|
Fiber:
3
g
|
Sugar:
14
g
|
Vitamin A:
987
IU
|
Vitamin C:
56
mg
|
Calcium:
313
mg
|
Iron:
2
mg
Disclaimer
Nutrition information is estimated as a courtesy. If using for medical purposes, please verify information using your own nutritional calculator. Percent Daily Values are based on a 2000 calorie diet.