As a blogger, I get quite a few fun, creative and interesting assignments for posts from the brands that I work with.  It's always fun to have a creative challenge, an idea to take and somehow make my own.  But when the folks at Mode Media and Sauza Tequila suggested I write a post and make some jean shorts, aka, "jorts", there was a long, silent pause…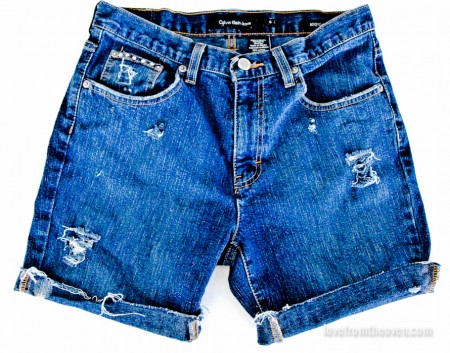 My first that was, um, WHAT???   Jorts?
But after my initial, possibly doubtful thoughts, I broke it down…
1.  There is Sauza Tequila involved.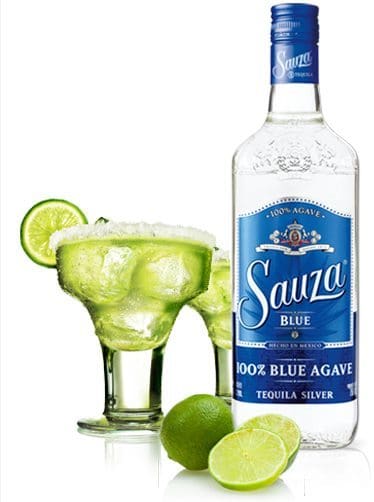 2.  I grew up in the 80's.
3.  I spent more than a few weekends in high school perfecting my DIY Def Leppard/Joe Elliott shredded jeans technique.  Bonus points & a margarita for anyone who just pictured the exact jeans I'm talking about.  Yep, these ones, right here.   Two margaritas if you now have, "Pour Some Sugar On Me" running through your head.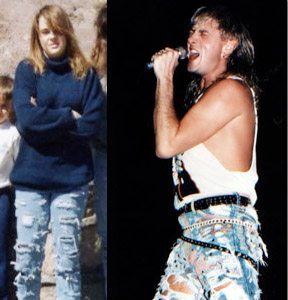 4.  There is Sauza Tequila involved.
5.  I'm a dance mom, which means that if needed, I can embellish a costume with crystals and E-6000 glue.  And I can do it backstage, while on a moving dancer, three minutes before she goes on stage, when necessary.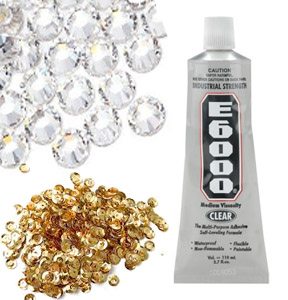 6.  There is Sauza Tequila involved.
7.  I have about 10,000 pairs of jeans in my closet.
8.  I could go shopping at the craft store.
9.  There is Sauza Tequila involved.
Okay then, I'm on board!  Shall we make some jean shorts, or, JORTS?    Grab a margarita and let's do this!   First, I'd like to share a short instructional video, where the Sauza Cowboy will show you how he makes jorts.  Now, let's make it with a cowboy.  Jorts that is people, jorts.
It's worth it to watch a few more of the cowboy's videos.  His glue skills are pretty awesome, especially in the "Sparkly Acorns" video.  Okay, now back to our project, where we will be cutting the jeans while NOT wearing them, just for fun.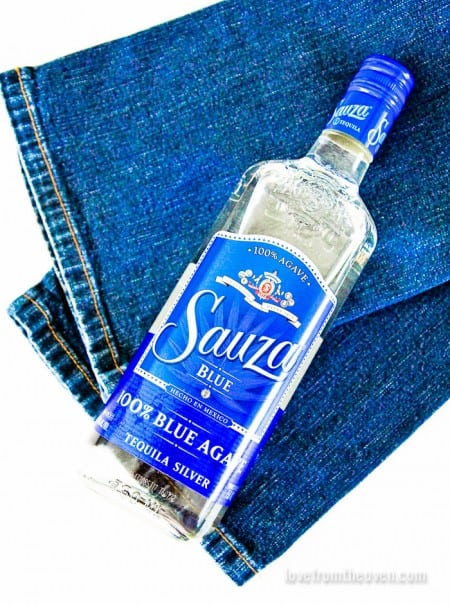 First, let's start with picking the right jeans.   Back in my original DIY jean modification days, most of the jeans were 100% cotton, or darn close.   We kept our spandex and denim separate.   Now we have a lot more blends and stretch in our jeans.  When you are cutting up and distressing jeans, the more cotton, the better.  The pair I'm working with are 98% cotton, as that was about the highest in my closet.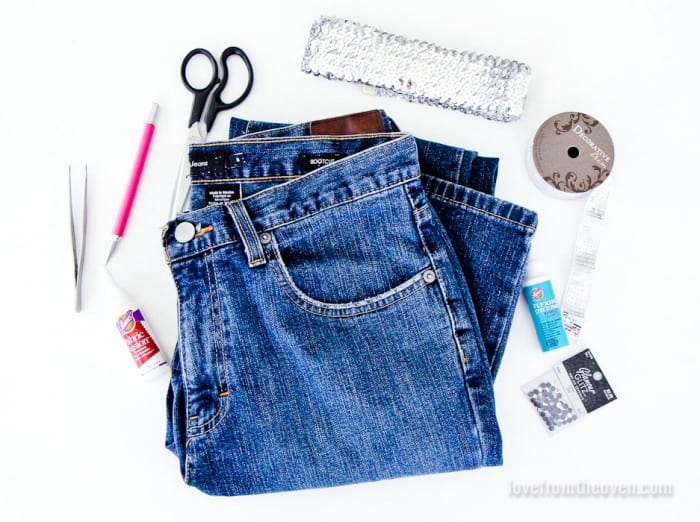 The must have tools for this project are scissors (have to cut the jeans, right?) and a razor blade or X-Acto knife to add some slices for distressing.  The rest of this is optional and up to you.  I decided to do a little embellishing with sequins and rhinestones.   I picked up some sequin ribbon and a strand of stretch sequin, as well as some fabric glue.   To get started, cut off the lower portion of the jeans.  Go as high or as low as you want.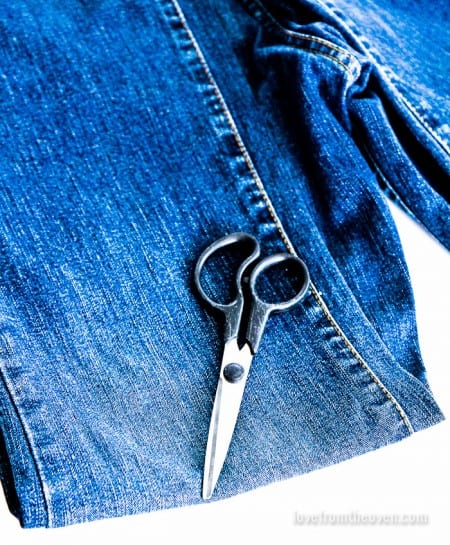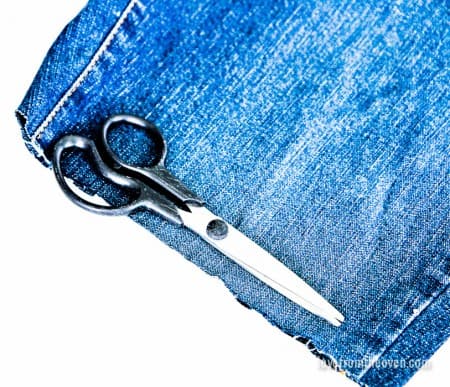 Next I take my X-Acto and make some slices in my jeans to create some distressing.   It helps to put a sheet of cardboard or heavy card stock inside the leg of your jeans before you make your cuts, to prevent you from cutting through both the front and back of your jeans.   I make about 4-5 slices into my jeans, about 1/3 of an inch apart, and ranging from 1-2″ wide. You can certainly go wider, but since I plan on backing this area with my stretch sequin fabric, I had to make sure it was about the same size.    This is one of those things that you can always go back and do more of if you want, so I start a bit small and if it's not enough, then I'll add more.  Easy peasy!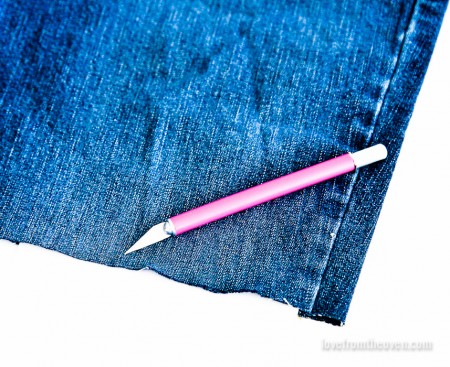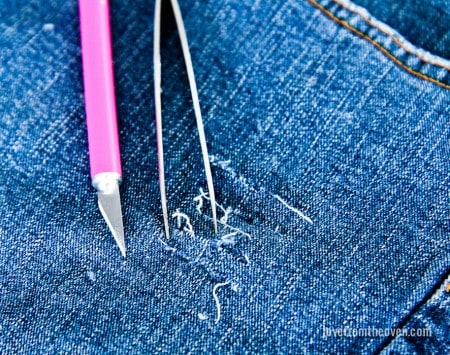 You can also use tweezers to help pull some of the blues threads out of your jeans to help free some of the white threads.  You don't have to do this, but it's an option.   When you throw them in the washer, the washing machine should help distress them for you.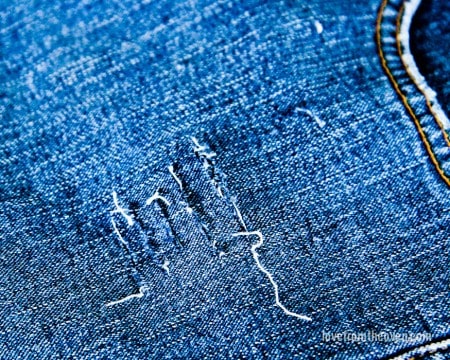 Once you've distressed them in a number of areas, it's time to throw them in the washing machine.   Consider this a great time to make yourself a Sauza-Rita!   It's really the perfect way to pass the time while waiting for that whole laundry thing.   If you really want to celebrate your DIY jeans, you can crank some Def Leppard as well (Pyromania or Hysteria work especially well, trust me).   Cheers!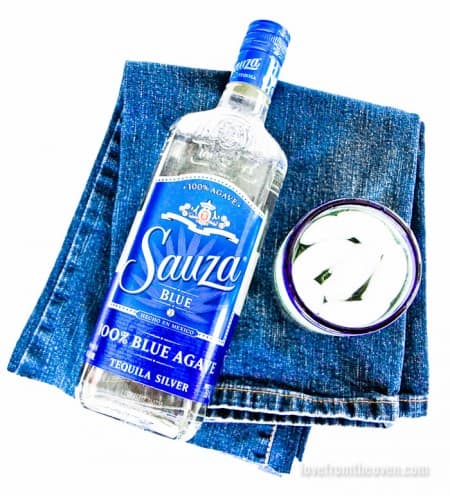 After your denim shorts (or jorts if you prefer) come out of the dryer, it's time to embellish, if that's your thing.   I'm a dance mom, so gluing sparky stuff on things is kind of like a bad habit.  If you have sewing skills, then you are way ahead of me. I used a combo of glue and very simple hand stitching to attach my sequin ribbon to the back pockets, and to put the sequins behind the distressed areas on the jeans.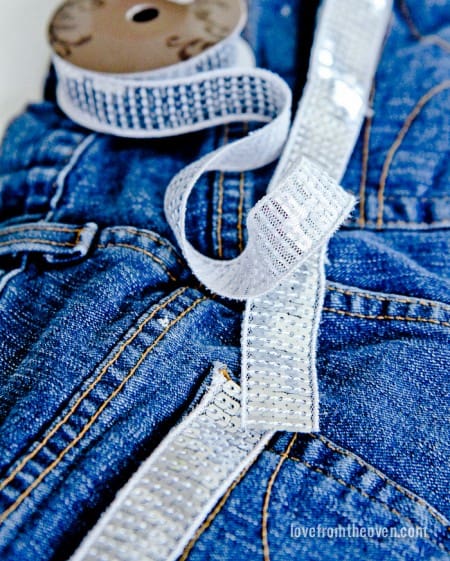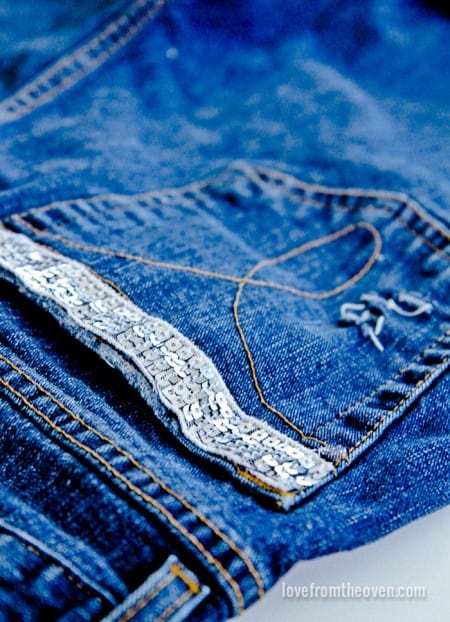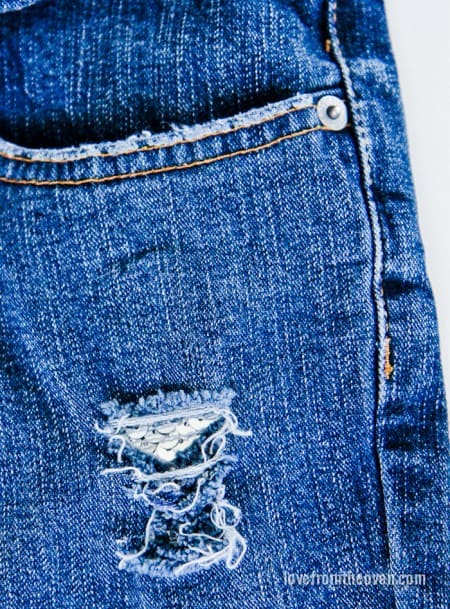 To apply flat-back crystals and rhinestones, I place a spot of glue where I want my rhinestone to go, and then pick up my rhinestone with the tip of a crayon.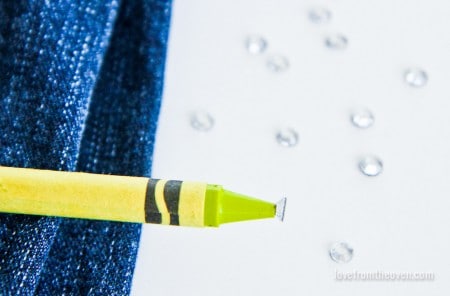 Dance mom trick, it works, very well.  Then place the rhinestone on the glue.  Voila!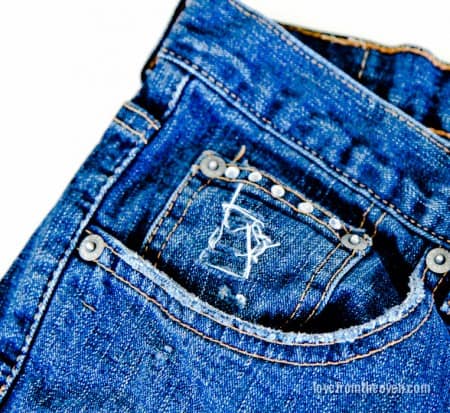 Not too shabby!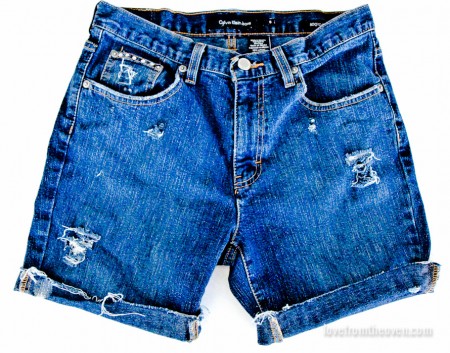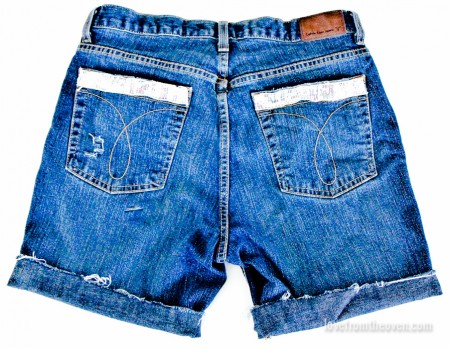 Love the peek-a-boo sequins.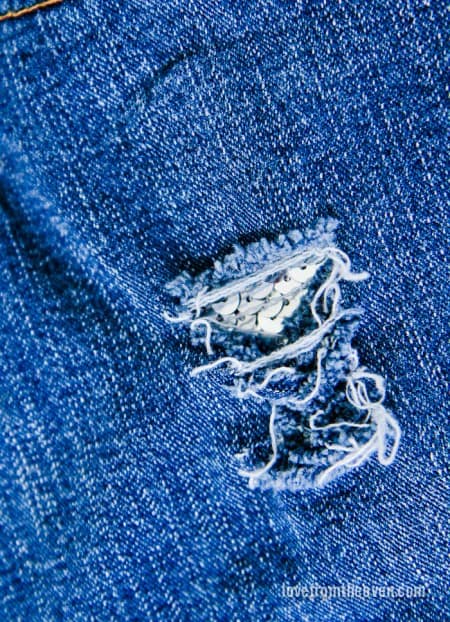 And there you have it, we've made jorts.  Now grab a Sauza-Rita, throw on your jorts, put your feet in the pool and enjoy!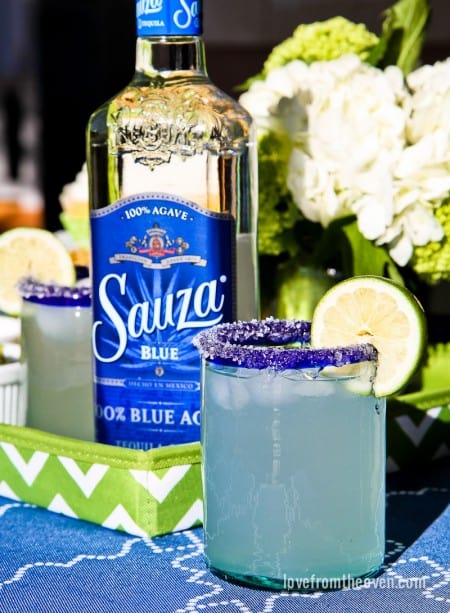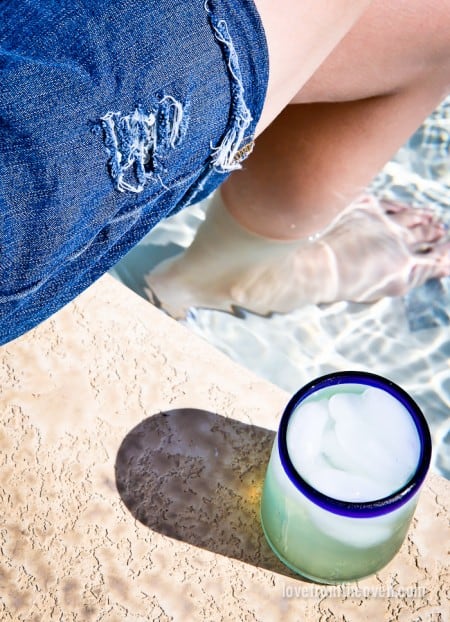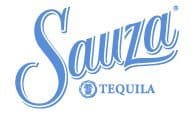 Ever think you could make jorts with a cowboy? Here's your chance to meet a man who crafts his heart out. Okay, so maybe he's not the best DIY-er. But what he lacks in cutting skills, he more than makes up for when he makes the perfect Sauza-rita. Watch him in action for ideas for your next ladies' night in: http://bit.ly/1juaLln.
Disclosure:
Sauza® is a registered trademark of Tequila Sauza S. de R.L. de C.V. ("Tequila Sauza") and is used with permission.  The information, comments and ideas expressed on this website do not necessarily reflect the views or opinions of Tequila Sauza, its affiliated companies or any of their directors or employees.  Tequila Sauza does not sponsor, authorize, or otherwise endorse this website.