Let's talk gingerbread, gingerbread bars to be specific. Gingerbread . If I'm at a holiday party and there are multiple desserts, gingerbread isn't exactly the one that ends up on my plate. Don't get me wrong, I'll eat it, I mean, it's dessert, but it's not like "oh boy, gingerbread, I've been craving it for weeks!". And then I made these gingerbread bars with cream cheese frosting. These are a gingerbread game changer people. Like whoa, now I get gingerbread.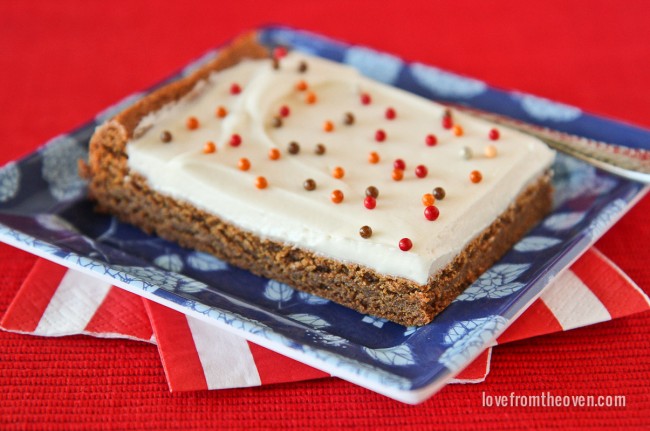 These are chewy, and dense, and delicious. Spicy, but not too spicy. And the cream cheese frosting, yeah, this majorly beats the whipped cream I've been topping gingerbread cake with for years. Gingerbread cake is lovely, but these bars are where the gingerbread is at for me.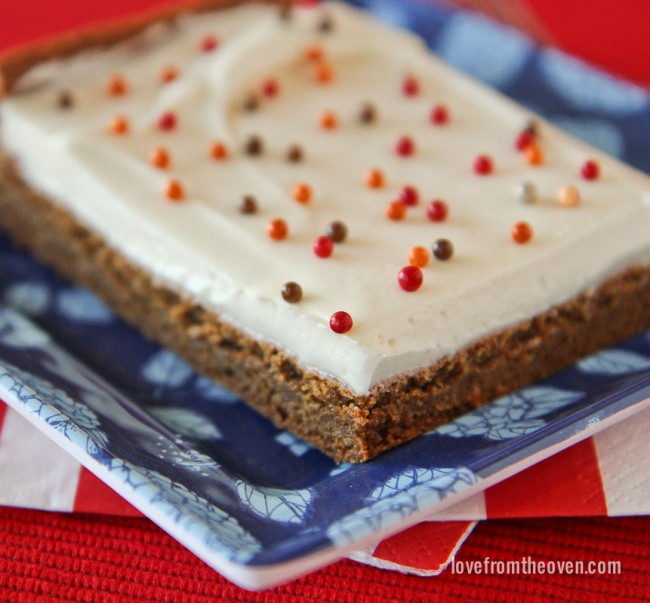 If I was my four year old, who is in the bossiest phase of phases that I've ever seen, I'd probably yell at you, "MAKE THESE GINGERBREAD BARS, NOW!". I on the other hand will just highly encourage you to add this recipe to your holiday baking. They take minutes to mix up (from scratch), bake in 20 minutes or less, and then you cool and add some frosting. The hardest part is going to the store for molasses, unless you are my dad and have it in your pantry because you put it on your pancakes (yep, straight from the bottle!).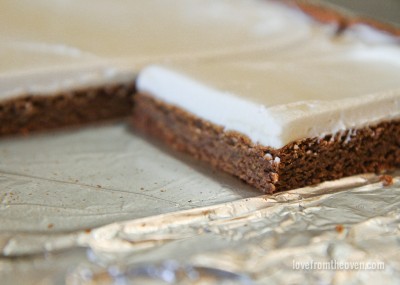 This recipe makes a 9×13 pan of bars. As I do with any bar recipe, I line my baking pan with foil, making it very easy to pull the bars out of the pan and slice them. I'm not one of those master slicers who cuts out beautiful slices of dessert. Other bloggers have these pies and cakes that are just gorgeous, while I typically look like I carved mine out with a spoon and my hands (which, might sometimes be the case). These bars cut beautifully. 🙂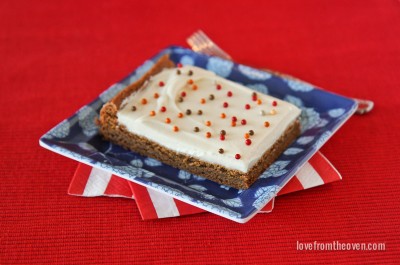 One note, these cook for about 15-20 minutes, and they don't really seem done, even at the 20 minutes. They firm up when cooling. Mine were amazing at 20, but when I make them next time I will likely back it down to about 17 minutes. I stored mine in the fridge due to the cream cheese frosting, I'm kind of completely paranoid when it comes to anything dairy at room temp, so fridge it is.
Also, the center of these bars sort of sink a bit, leaving a bit of a ridge of crust around the outside. You can see it in the pics, I like to think of it as a perfect gingerbread handle-bar. 🙂
Gingerbread Bars With
Cream Cheese Frosting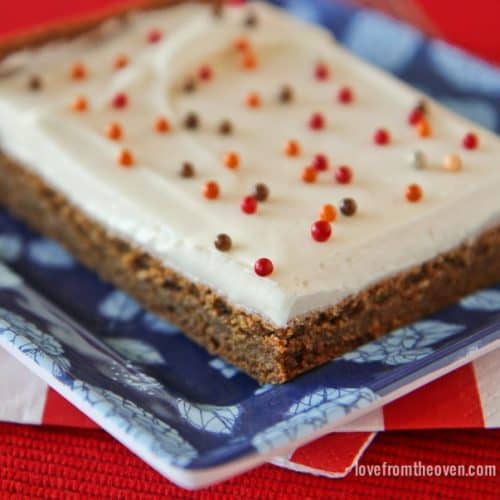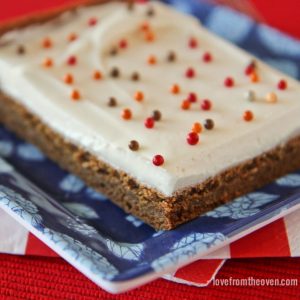 Gingerbread Bars
Ingredients
Gingerbread Bars
1/2

cup

butter

melted

2/3

cup

sugar

1/3

cup

brown sugar

1

tsp

vanilla

1/3

cup

molasses

1

egg

2

cups

flour

2

tsp

baking soda

3

tsp

cinnamon

1

tsp

ginger

1/2

tsp

nutmeg

1/2

tsp

salt
Cream Cheese Frosting
4

oz

butter

softened

4

oz

cream cheese

softened

2

cups

powdered sugar

1

tsp

vanilla extract

1/2

tsp

salt

you can omit this, but I find it helps cut the sweetness a bit
Instructions
Gingerbread Bars
Preheat oven to 350 degrees F.

Line a 9x13 baking pan with foil, letting enough foil hang over the edges so that you can grasp it to pull the bars out after baking. Spray lightly with cooking spray.

In a large bowl with an electric mixer, combine butter and sugars, beating until well mixed. Add in vanilla and molasses and beat until well combined. Mix in egg until combined. Combine flour, baking soda and spices. Mix dry ingredients with wet ingredients until well combined, but do not over mix. Batter will be thick. Press batter evenly into pan.

Bake for 15-20 minutes. They will seem undercooked, but firm up as they cool. Once cooled completely, frost with cream cheese frosting. Store covered in refrigerator.
Frosting
In a large bowl with an electric mixer, beat together butter and cream cheese until light and fluffy. Add in powdered sugar and beat until well combined. Add in vanilla, and continue to beat for 1-2 minutes, until light and fluffy.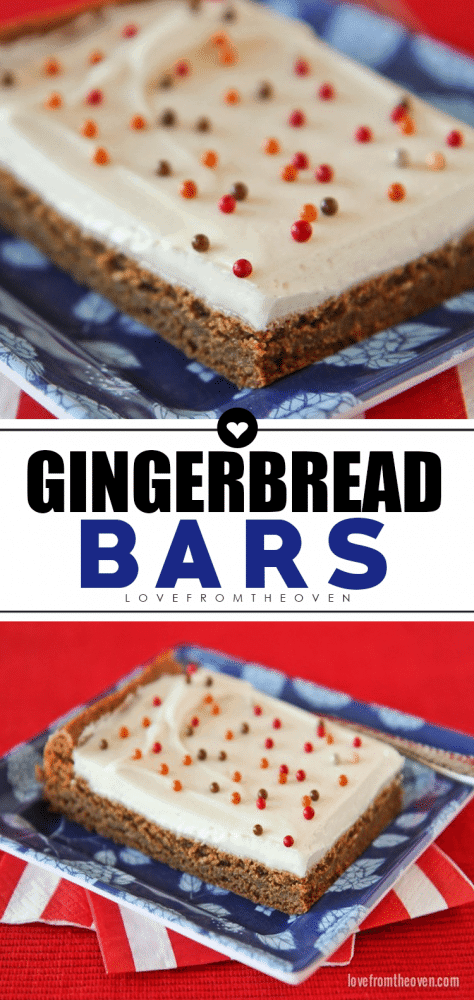 I can't wait for you to try these, they are SOOOO delicious! Now go buy some molasses!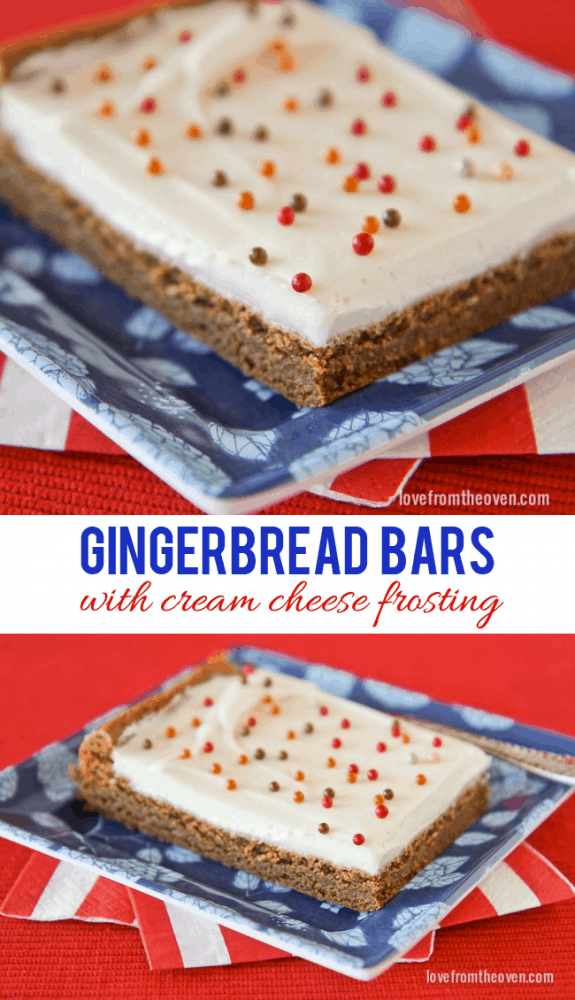 If you love gingerbread, here are a few other recipes for you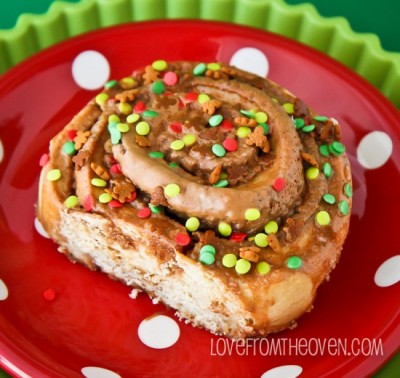 Gingerbread Oreo Pops my friend The Domestic Rebel shared here on Love From The Oven.