Gingerbread man cookies should not only be fun to decorate, they should taste great! These easy gingerbread men cookies aren't just cute and festive, they are downright delicious!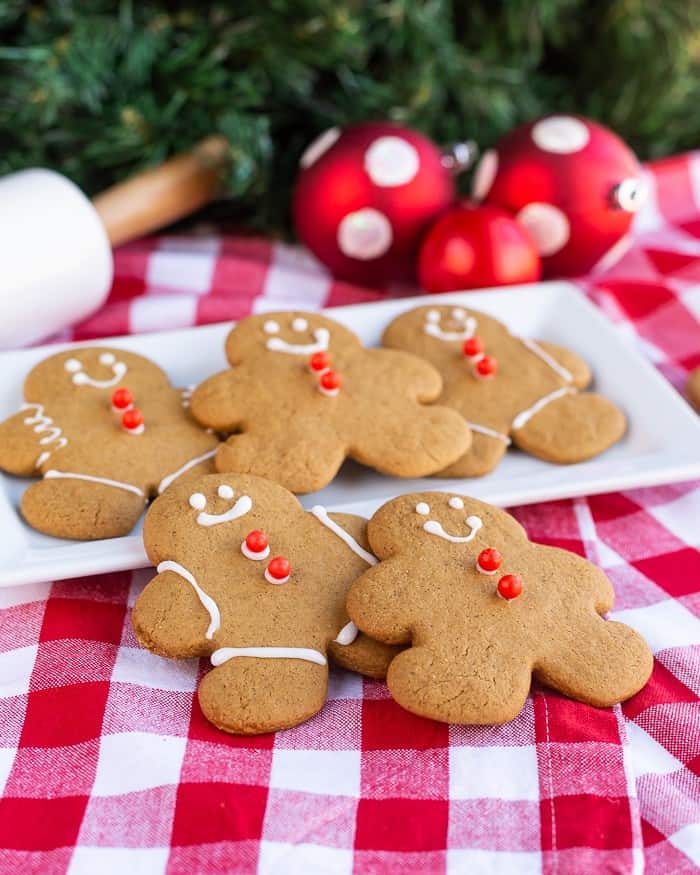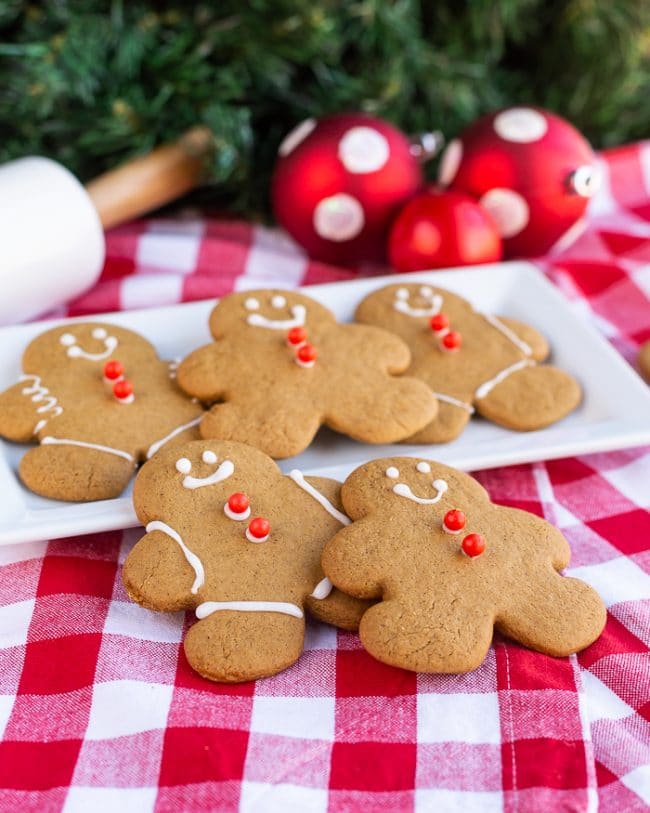 Truth be told, I've never been much of a gingerbread man fan. I mean don't get me wrong, they are cute enough.
But often they aren't the most delicious cookies on the treat tray. Maybe the focus is just really on the decorative aspect. But if I'm going to make cookies, I'm going to make delicious cookies.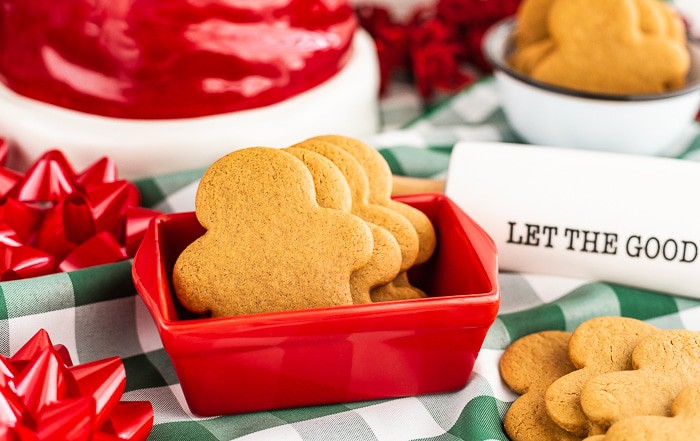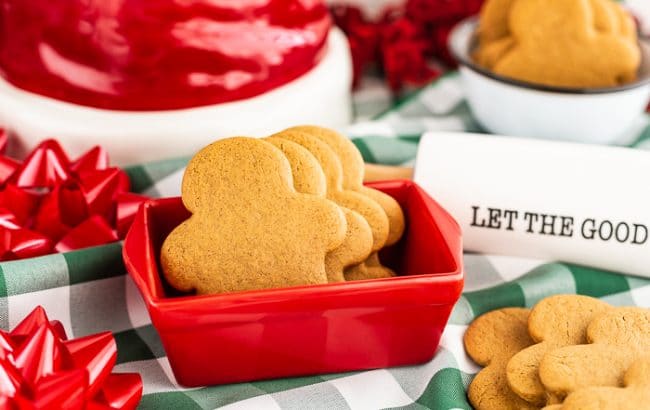 Gingerbread Man Recipe
After some experimenting and tweaking of recipes, I finally came up with a gingerbread man recipe that I love.
These cookies roll out nicely, cut easily, and bake up deliciously. They manage to balance being firm enough to handle and decorate, but soft enough to be a cravable cookie.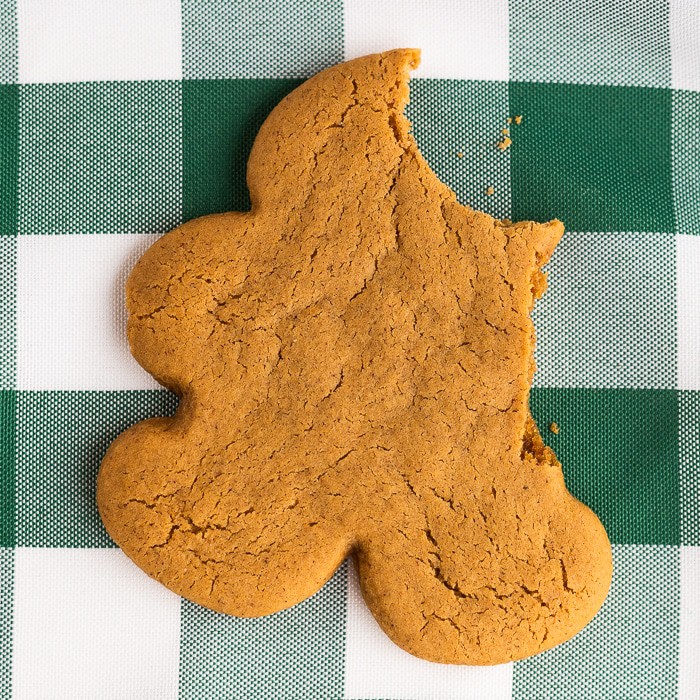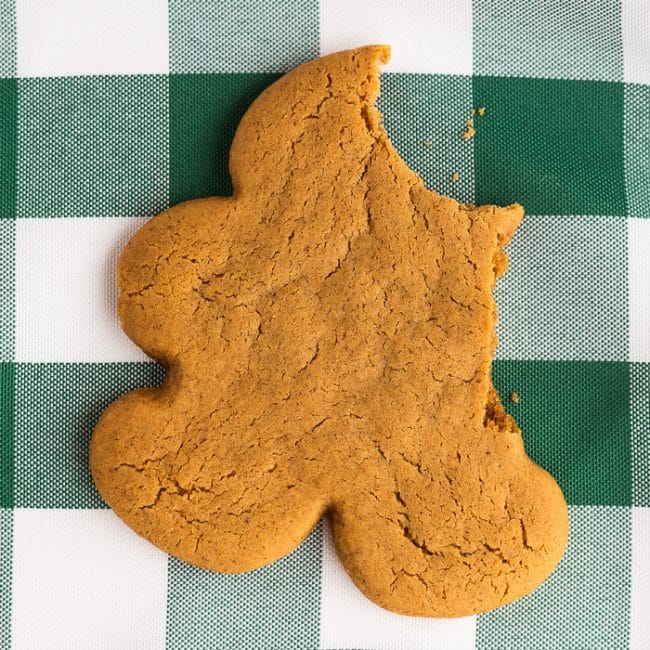 For all the baking I do, I really, truly, don't love decorating cookies. I try, I really do, but it's just very detail orientated, and I prefer to flow from idea to idea. I think when I wrote my first book, Smart Cookie, I used up my lifetime supply of cookie decorating mojo.
Given my lost love of cookie decorating, these guys are decorated very simply. And in my book that's just fine. That said, if you want more detailed decorating, go for it!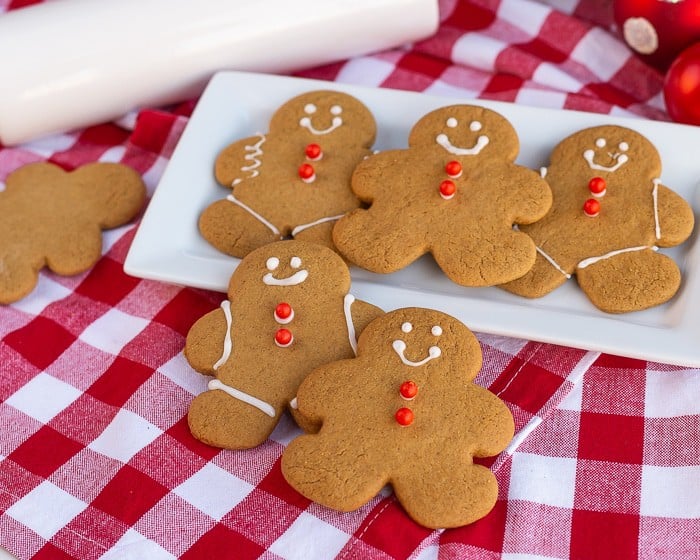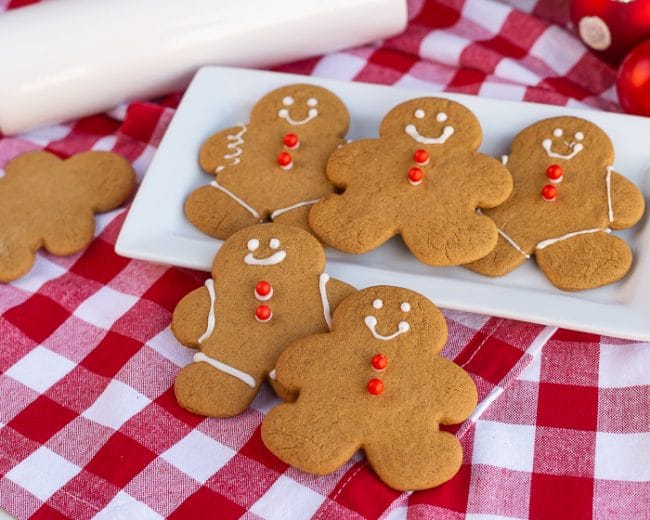 Hey, I said they were decorated simply, didn't I? Truth! So a few notes about making these cookies…
The dough does need to be chilled, for at least two hours. This not only helps with the flavor, but it helps make the dough much easier to roll out and cut.
You will need molasses, but make sure it's not blackstrap molasses.
I've gone light with the spices in these cookies. If you want stronger spices, go for it, you can probably double the spices I used if you want.
GINGERBREAD MAN COOKIES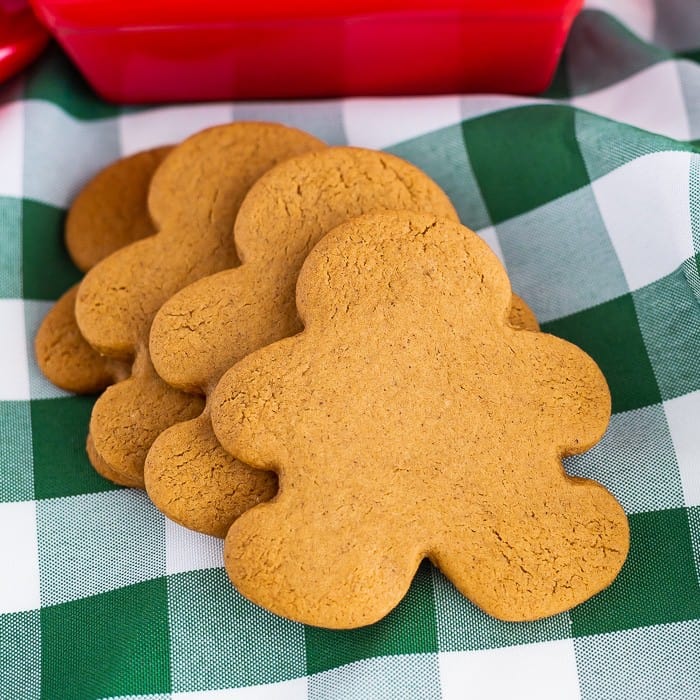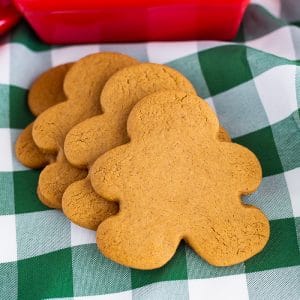 Gingerbread Man Cookies
Gingerbread man cookies that aren't just cute, these ones taste fantastic!
Ingredients
Cookies
3

cups

all-purpose flour

1 1/2

tsp

baking powder

3/4

tsp

baking soda

1/4

tsp

salt

1

tsp

ground ginger

1

tsp

ground cinnamon

1/2

cup

unsalted butter

softened

1

cup dark brown sugar

2

large egg

1/4

cup

molasses

2

teaspoons

vanilla

*additional flour for rolling out dough
Icing
1

cup

powdered sugar

2

tsp

milk

2

tsp

light corn syrup

1/2

tsp

extract of choice - lemon

almond or vanilla
Instructions
Cookies
In a small bowl mix together flour, baking powder, baking soda, salt, ginger and cinnamon until well blended. Set aside.

In a large mixing bowl, beat together butter, brown sugar, and eggs on medium speed until well blended.

Add molasses and vanilla and mix until well combined.

Gradually add in dry ingredients and mix until combined, but do not over-mix.

Wrap dough in plastic wrap and place into an airtight container or freezer style zipper bag, and place in refrigerator for at least two hours and up to 24 hours.

When ready to bake, preheat oven to 375 deg. Line baking sheets with silicone baking mats ore parchment paper.

Let dough sit at room temperature for 5-15 minutes or however long is needed to make it pliable enough to divide in half. The time it takes will depend on how long it's been chilling.

Place 1 portion of the dough on a lightly floured surface. Sprinkle additional flour over dough and gently roll dough out to approximately 1/4 - 1/3" thick. The thicker the dough the softer the cookie will be. If dough sticks to rolling pin, sprinkle additional flour onto dough.

Cut out cookies with cookie cutter. Whatever scraps are left over after cutting out cookies can be rolled out and rolled out to cut out more cookies.

Place cookies on baking sheet approximately 1 1/2-inches apart.

Bake each sheet of cookies for 7-10 minutes until tops and edges are starting to firm up.

Remove baking sheet from oven transfer to a wire cooling rack. Allow to cool on baking sheet for ten minutes, then use a spatula to transfer cookies to another wire cooling rack to cool completely.

If desired, once cookies are completely cooled decorate.
Icing
In a medium size bowl, combine all ingredients and mix well to combine. For thicker icing, add more powdered sugar, one tablespoon at a time. For thinner icing, add more corn syrup, one teaspoon at a time. Place into a piping bag and pipe onto gingerbread cookies as desired.
Nutrition
Calories:
128
kcal
|
Carbohydrates:
20
g
|
Protein:
2
g
|
Fat:
4
g
|
Saturated Fat:
2
g
|
Cholesterol:
23
mg
|
Sodium:
71
mg
|
Potassium:
104
mg
|
Fiber:
0
g
|
Sugar:
7
g
|
Vitamin A:
140
IU
|
Calcium:
29
mg
|
Iron:
1
mg
I hope you whip up a batch of these delicious gingerbread man cookies this holiday season to share with your family and friends. If you want the delicious ginger cookie flavor without the whole rolling and cutting thing,
I've got you covered. My soft gingerbread cookies are one of my all time favorite cookies. If you make them, be ready to share the recipe, they are always a big hit!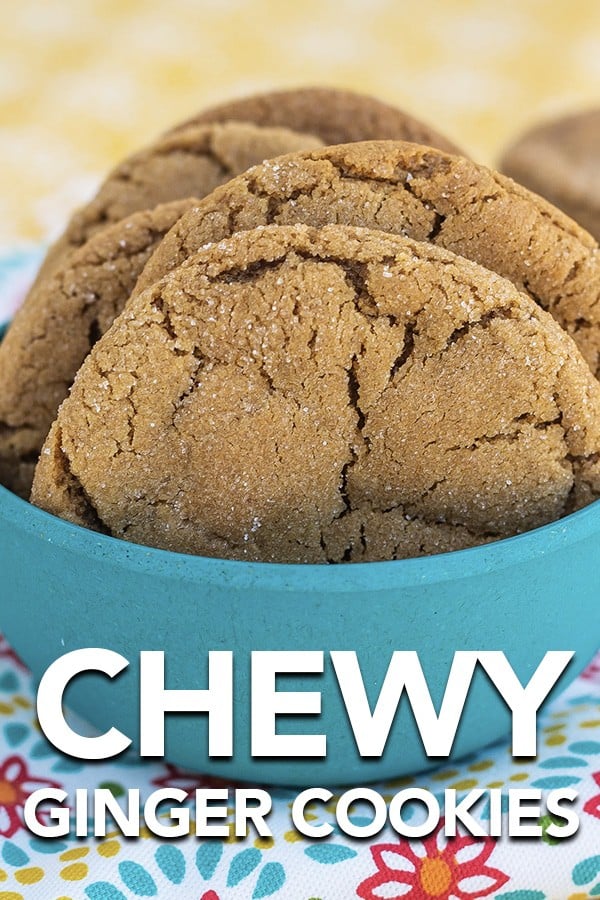 And these Frosted Gingerbread Bars are out of this world amazing.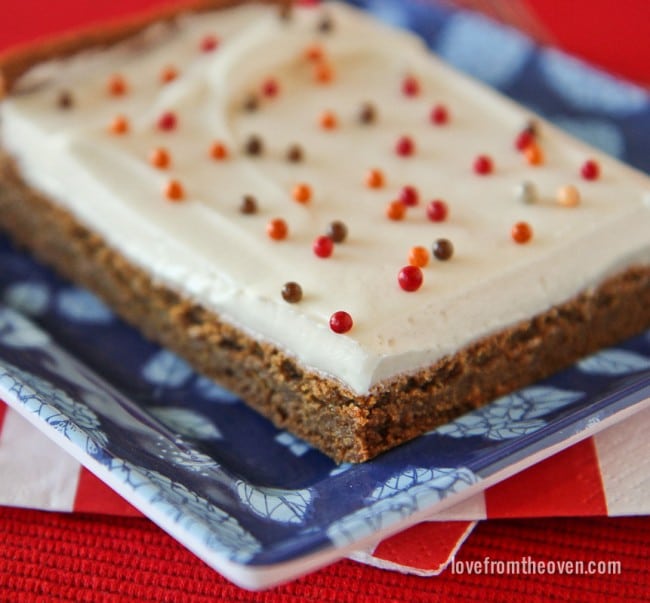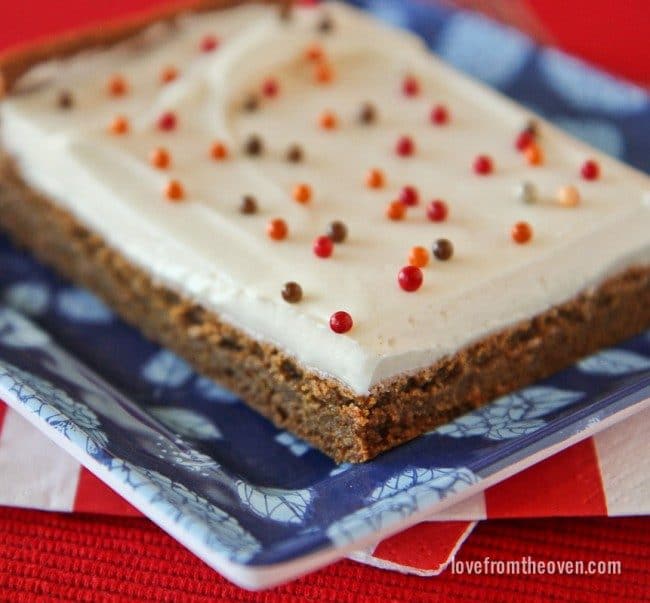 Make sure to check out all of my favorite Christmas Cookie Recipes as well!