I love Rice Krispies Treats. They are so simple to make, delicious and very versatile. I love to make a big baking sheet of them and then cut them into shapes with cookie cutters. Which is exactly how I made these super easy Halloween Crispy Treat Pops.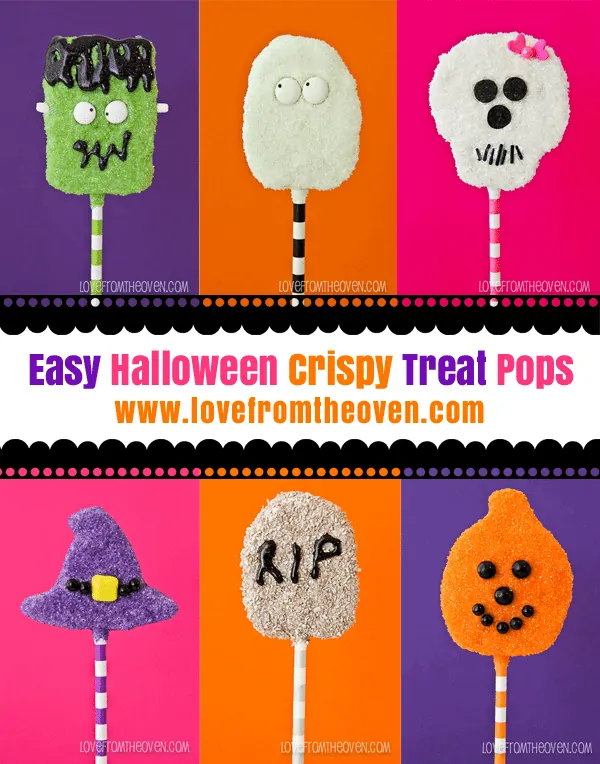 So simple and so fun! To make these just whip up a batch of crispy treats, or even pick up the premade ones at the store.
Once you have them made and cooled, get out your cookie cutters and start cutting away! Given that these have some give, you can even shape them by hand. My oval shape (used for both my ghosts and tombstones) was actually cut out using an Easter egg cookie cutter, and I just molded them a bit more to the shape I wanted. I had a pumpkin cutter, but a circle cutter would work just as well.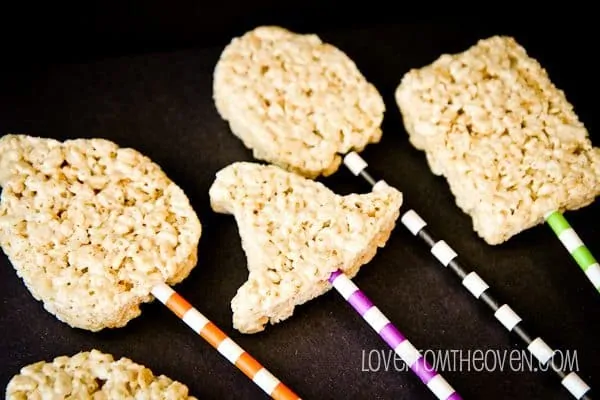 Before I place my crispy treats onto my sticks, I dip my sticks in chocolate coating first. This way as the chocolate coating dries, it helps the stick and crispy treat stay together, making them easier to dip.
After you have your sticks placed in each of your crispy treats, and you have given the candy coating time to dry, you just dip your treats into more candy coating and then decorate. I kept these SUPER simple. I love really detailed pops and treats, but the reality is that if I'm going to make something, I typically need to be able to make quite a few pretty quickly. This is perfect for that.
Each crispy treat got a generous sprinkle of sanding sugar, which provided the color, and then just a few embellishments with sprinkles and candies. After that you just place them on wax paper to set up, and that's it. Easy peasy. That cute little ghost just has white sanding sugar and two candy eyes. That's it!
If you like, you can even skip the stick, though everything seems to be a bit more fun when you make it in "pop" form. You could also use frosting in place of the candy coating. Do whatever works for YOU!!! Here are some of the items that I used to make these…
Rugby Stripe Paper Party Straws from Sweets & Treats Boutique


While not exactly the same, if you want to see how I coat dip my treats in candy coating and then cover them with sugar,
check out this post which features a video showing me making cookie pops
. Once your crispy treats are on the sticks, it's really the same process as shown in the video.
Happy Haunting!