These easy Homemade Brownies are everything you love about brownies. With a rich chocolate flavor, decadent fudgy texture and that crackly, shiny crust, this homemade brownie recipe is a must have in your recipe collection. If you've never made brownies from scratch, you'll be surprised just how easy it is to make homemade brownies!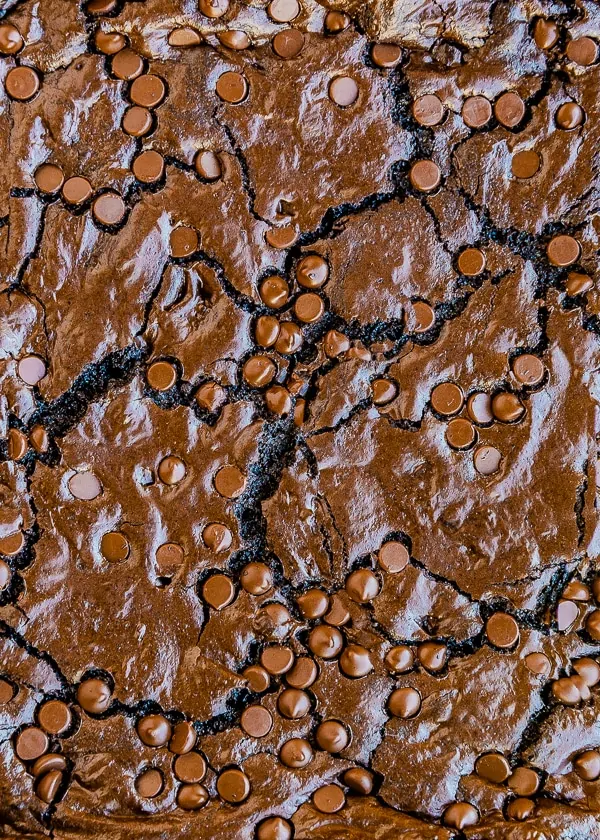 Homemade Brownie Recipe
Homemade brownies might be one of my all time favorite desserts. It doesn't matter if they are served cold or a la mode, either way, I love them!
This recipe for Homemade Brownies makes the best brownies I've ever had, and that's not something I say lightly. These brownies are not overly sweet, especially when made with a dark cocoa powder.
Rich, decadent, chewy and utterly delicious are the terms I would use for these brownies.
Easy Homemade Brownies
However these homemade brownies are also incredibly easy to make. Because these brownies are made with cocoa powder, there is no chopping or melting of chocolate required. Therefore there is a good chance you already have the ingredients you need in your pantry!
How Do You Make Homemade Brownies?
Once upon a time my brownies always came from a box brownie mix. One of the reasons I avoided homemade brownie recipes was because they always seemed to call for unsweetened chocolate.
While I have nothing against unsweetened chocolate it's just something I don't keep on hand. Therefore I often skipped making homemade brownies.
This homemade brownie recipe however doesn't require any baking chocolate and all you have to melt is some butter in the microwave.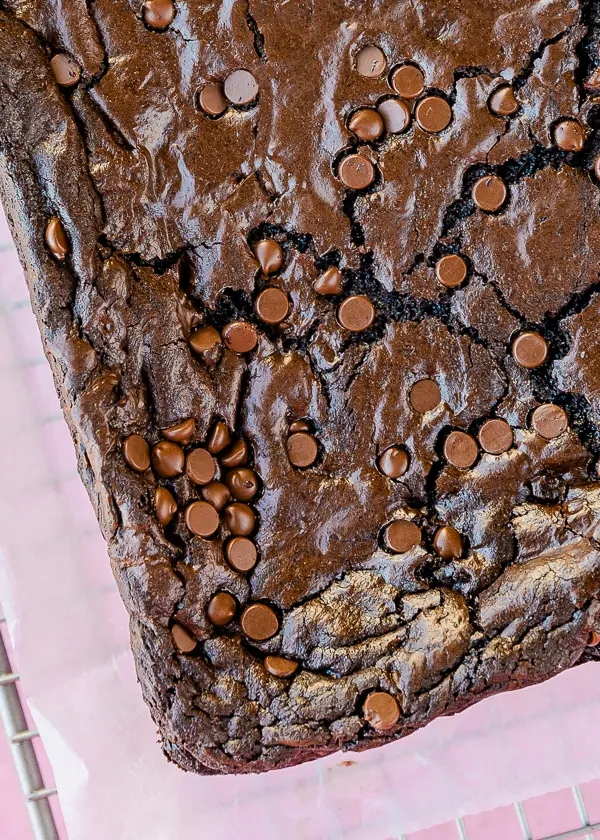 What Ingredients Do You Need For Homemade Brownies?
One of the things I love most about these homemade brownies, aside from their amazing flavor and texture, is how simple the ingredients are. To make these easy homemade brownies, you need:
Butter
Sugar
Cocoa Powder – Preferably Dutch Process
Salt
Eggs
Flour
Vanilla
Salt
Baking Powder
Chocolate Chips, Nuts or Mix-Ins (I like mini chocolate chips)
What Kind Of Chocolate Do You Use In Homemade Brownies?
These brownies use cocoa powder instead of baking chocolate or chocolate chips for their chocolate base. Chocolate chips are added these brownies as a mix in, however there is no melting of any chocolate to make these.
When it comes to cocoa powder, I have two particular cocoas that I prefer. My every day go to cocoa powder is Hershey's Special Dark Cocoa Powder. Most of the time I can find this at a local supermarket.
That said, I usually stock up on it at Amazon. Another cocoa powder that I've fallen in love with is Rodelle Gourmet Baking Cocoa.
Different Types of Cocoa Powder
There are two main types of cocoa powder. First there is Dutch process cocoa powder and then there is natural cocoa powder.
Both of the cocoa powders that I recommend are, at least partially, Dutch process cocoa powder. The Hershey's Special Dark Cocoa Powder is a blend of natural and Dutch-process.
Natural Cocoa Powder
Natural cocoa powder is what you most often find at the grocery store. The good old standby Hershey' Cocoa is a natural cocoa powder. If a cocoa powder doesn't say natural or Dutch, it's probably the natural variety.
It's made from the processed cocoa solids, which are ground into a fine powder. It tends to be light in color and have a slightly acidic taste.
Consequently, from a scientific standpoint it works well in recipes that use baking soda as their leavener. The acid in the natural cocoa powder reacts to the base in the baking soda to create carbon dioxide bubbles that help your recipe rise.
Natural cocoa powder is a bit more flexible than Dutch process, and can be also be used with baking powder. If a recipe just calls for cocoa powder, usually natural cocoa powder is what it's referring to.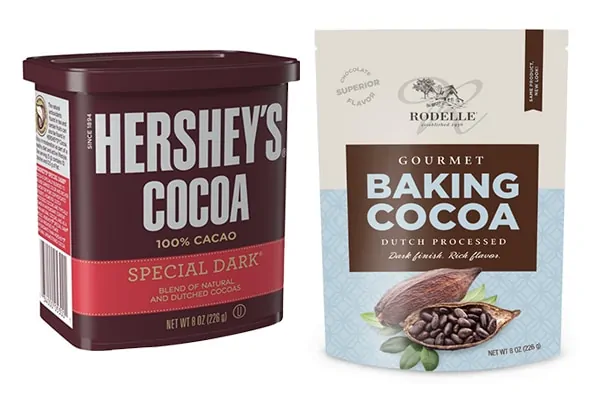 Dutch Process Cocoa
Dutch process cocoa has been processed to help neutralize the acid in natural cocoa powder. Because of this it has, according to some taste buds, a richer, smoother more pure chocolate flavor.
Dutch process cocoa often has a bit of a reddish coloring, which you can see reflected in my homemade brownies.
Due to the fact that Dutch process cocoa is not as acidic, it doesn't react with alkaline leaveners like baking soda to produce carbon dioxide. If you are making a recipe that only uses baking soda and you use Dutch process cocoa, you probably aren't going to get as much rise as you might be expecting.
Dutch process cocoa is usually found paired with baking powder, which has a neutral pH. For baking recipes you want to pay attention to the pairing of baking soda, baking powder and your cocoas. For recipes like chocolate sauces or puddings, you can really just go with what your taste buds prefer.
Where to Buy Dutch Process Cocoa Powder
Dutch process cocoas aren't as common in the grocery store, though my beloved Hershey's Special Dark Cocoa Powder is a combo of Dutch and natural cocoa powders. My local Safeway and Albertsons stores often carry it, so I use it often in my baking.
I'm currently in love with Rodelle's Gourmet Baking Cocoa, which is a Dutch process cocoa. I've never seen it in store, so it's an Amazon order item for me.
There are a really wide variety of Dutch process cocoas on the market. I haven't tried many of the ones available due to a nut allergy in the house.
If you have nut allergies in your family, make sure to always check your cocoa for may contain or made in a facility warnings. But the sky is the limit when it comes to variety with Dutch process cocoa.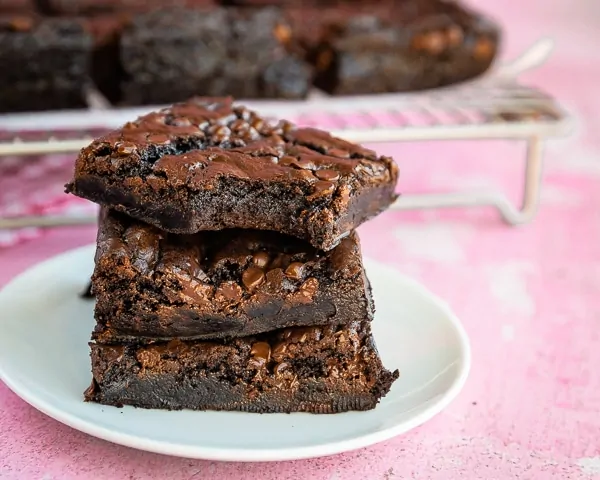 Recipe For Homemade Brownies
This recipe is almost the same as my recipe for Brownies Made With Cocoa Powder. The main difference is that I've found some ways to simplify the process.
For that recipe I use a double boiler method for combining my ingredients. Well it turns out we can skip that and short cut it with the microwave. I'm all about less work, and fewer dishes.
How Do You Make Brownies With A Shiny Crust?
Everyone loves a shiny top brownie, especially when it's also a brownie with a crackly top. Disclosure, I'm not sure if crackly top brownies is a term, maybe a cracked top? A wrinkled top? I have no idea what we are officially calling them!
That said, this recipe has been very dependable at producing a brownies with a shiny crust and that lovely crackly top.
If you read across the internet there are many theories as to how you get shiny top homemade brownies. Some people agree on what creates a shiny brownie crust, others contradict.
For me, I find the combination of melted butter, a lot of mixing, and adding chocolate chips, works like a charm.
Can You Over Mix Brownies?
For whatever reason I've always been afraid of over mixing brownies. Even box brownie mixes tell you not to over mix. It is true that when all ingredients are combined, you do not want to over mix.
Over mixing your brownies once the flour is introduced can make the gluten get a bit too worked up, and result in tough brownies.
But what you do want to do is mix your butter, sugar and eggs together very well. When I say very well, I mean probably for longer than you think. Mixing for 3-5 minutes with an electric mixer is ideal.
In my opinion, this really helps with that whole shiny crust on brownies thing. Look at those shiny brownies right there!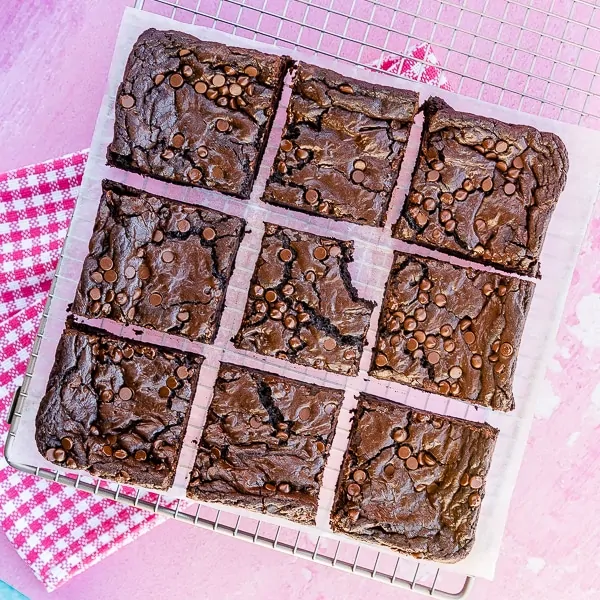 Making Brownies From Scratch
Let's recap some of the important details of making these homemade brownies…
For this recipe I highly suggest using a Dutch process cocoa, but you can use a natural cocoa powder as well.
Butter can be melted in the microwave for these homemade brownies, no double boiler needed. However do make sure your butter cools before you introduce the eggs! Nobody wants cooked eggs in their brownies.
Mixing the butter, sugar, cocoa powder and eggs together well is important. Three to five minutes with an electric mixer is a good rule of thumb. You do not need a stand mixer though, I almost never use mine for brownies.
Once the flour is added to the mix, don't over mix or you can end up with tough brownies.
CLICK HERE TO PIN AND SAVE THIS
HOMEMADE BROWNIES RECIPE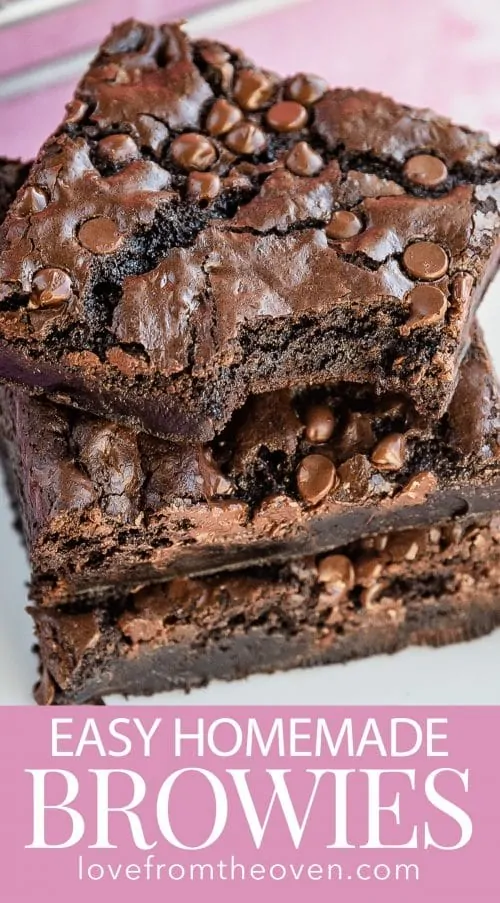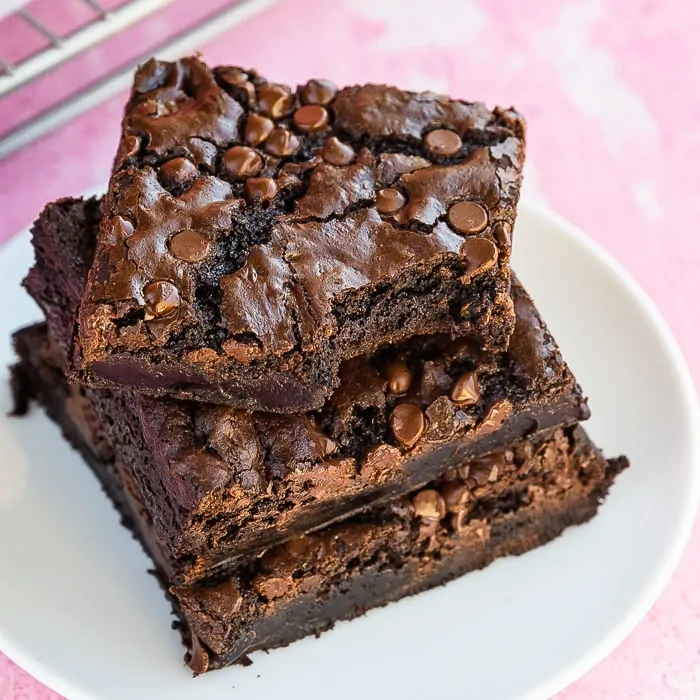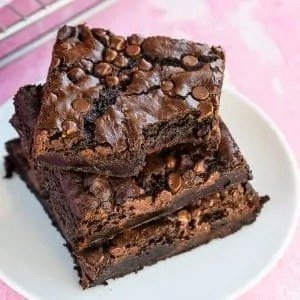 Homemade Brownies
These rich, delicious and chewy homemade brownies are surprisingly easy to make! If you are looking for a bakery style brownie with a shiny crust, this is it! Made with cocoa powder, there is no melting of chocolate is required.
Ingredients
10

tablespoons

unsalted butter

1 1/4

cups

granulated sugar

3/4

cup

plus 2 tablespoons unsweetened cocoa powder

Dutch Process recommended

1/2

teaspoon

salt

1

teaspoon

baking powder

1

teaspoon

pure vanilla extract

2

large eggs

room temperature

1/2

cup

all-purpose flour

1

cup

semi-sweet mini chocolate chips
Instructions
Position oven rack in center of oven.

Preheat oven to 325ºF

Line a 8-inch square pan with parchment or alumni paper. Spray with non-stick cooking spray, then set aside.

Place butter in a large, microwave-safe bowl and heat for one minute. If butter is not fully melted after one minute, return to microwave and heat in 15 second bursts until fully melted. Remove bowl from microwave.

Add sugar, cocoa powder and salt to the melted butter and mix well to combine. The mixture will likely be dry, that's to be expected.

Allow mixture to sit for five minutes to make sure it has cooled prior to adding additional ingredients.

After mixture has cooled slightly, add vanilla and mix well.

Add room-temperature eggs, one at a time, mixing well after each egg is added. Once both eggs have been added, mix with an electric mixer on medium for 3-5 minutes.

In a separate bowl combine flour and baking powder, and stir to combine.

Add flour mixture to batter and mix by hand to combine. While we want to avoid over mixing, this batter does need to be stirred well to incorporate all the ingredients. Stirring about 40 strokes with a spoon is a good guide.

Fold chocolate chips (or nuts) into the batter and gently stir until combined.

Bake for 30 to 35 minutes, or until a tester comes out with some moist crumbs attached. Once the center has started to set up and no longer jiggles when you shake the pan, it's time for these brownies to come out to avoid over baking.

Allow to cool on a wire rack.

Serve warm or at room temperature and enjoy. If not eating the same day, wrap tightly with plastic wrap. Brownies will stay fresh for 3-4 days if well wrapped.
Nutrition
Calories:
211
kcal
|
Carbohydrates:
28
g
|
Protein:
2
g
|
Fat:
10
g
|
Saturated Fat:
6
g
|
Cholesterol:
40
mg
|
Sodium:
90
mg
|
Potassium:
98
mg
|
Fiber:
1
g
|
Sugar:
22
g
|
Vitamin A:
275
IU
|
Vitamin C:
0.1
mg
|
Calcium:
34
mg
|
Iron:
1
mg
Disclaimer
Nutrition information is estimated as a courtesy. If using for medical purposes, please verify information using your own nutritional calculator. Percent Daily Values are based on a 2000 calorie diet.
Can't get enough brownies? I feel that. Here are some other great brownie recipe you will want to try!