Let's talk cake pops, and how to make cake pops with the Babycakes Cake Pop maker!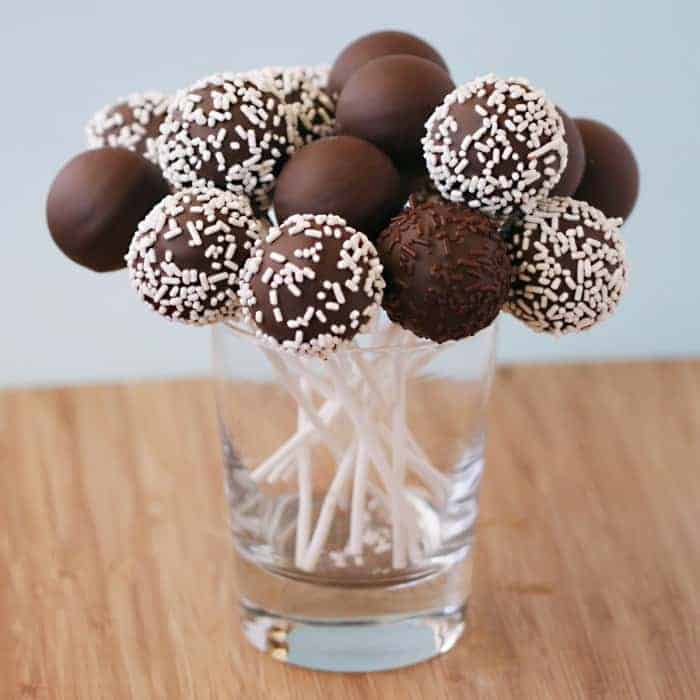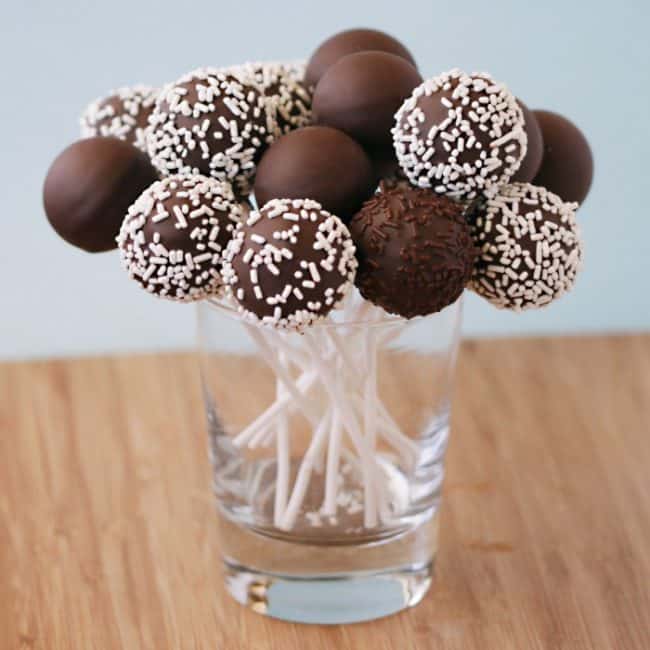 When I make cakepops, more often than not I make them using the Babycakes Cake Pop Maker. I received this as a gift, and honestly my first thought was "gimmick".   Well it turns out, it's a great little machine and extremely useful.   I LOVE the taste of cake pops made this way, compared to the cake and frosting method, and you can add a filling if you like.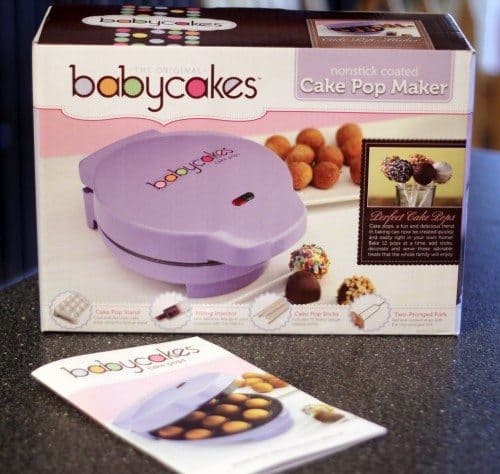 Kohls often has it on sale and if you can catch it with a sale and a coupon, you can usually get a great price.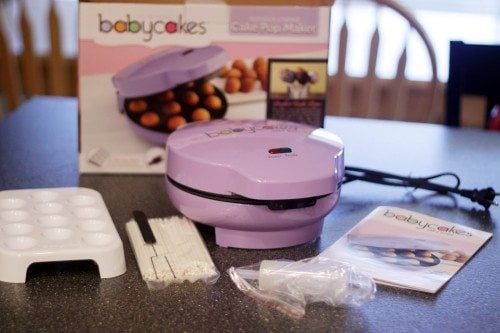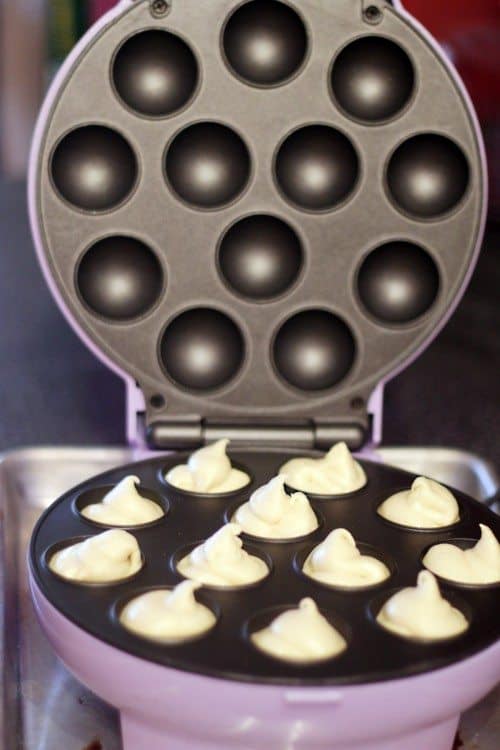 The question I get the most about the Babycakes Cake Pop Maker is how I get my cake pops round, with many people telling me that theirs come out flat or and odd shape.   My immediate question is if they used a regular cake mix or a recipe from Babycakes.   It's almost always the regular mix.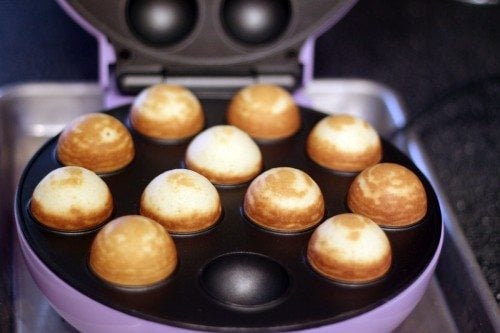 Given that a regular mix still requires adding ingredients, measuring and mixing, it only takes a few more quick steps to make them from scratch using one of the Babycakes recipes.  Making a recipe from scratch with the cake pop maker is still quicker than the original method of baking a cake, and then chopping it up and mixing it with frosting and shaping the balls by hand.
Babycakes has their instruction manual, with recipes, available on their website.  I absolutely LOVE the vanilla recipe that is in the manual, and it's my go to recipe for cake pops, it reminds me of pound cake.  I've found each one that I've tried to be delicious and they work great with the machine.   I am very excited that they have a brand new cookbook of cake pop recipes with 175 cake pop recipes.   I can not wait to try them.
EDITED TO ADD: As of 2017, it looks like the recipes are no longer available on the website unfortunately. Never fear, I have a chocolate cake pop recipe at the end of this post.
My take is that if you are going to use the machine, use one of their recipes.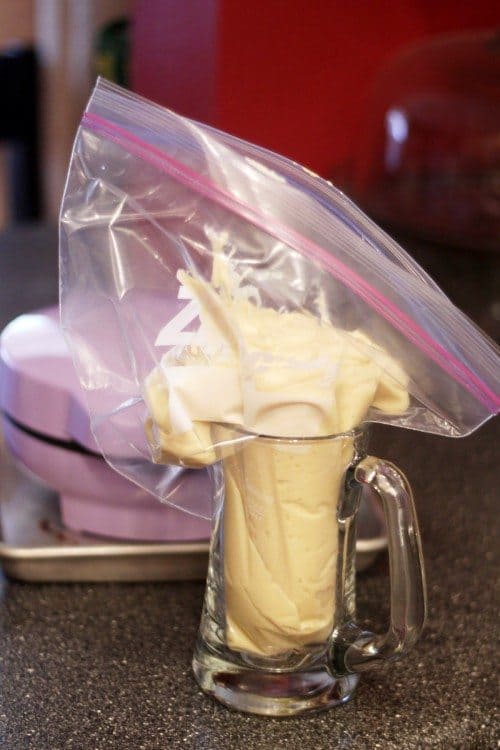 They've been developed for and tested in the Babycakes machine.  The included instruction manual includes some great recipes and they also offer recipes on their website.  I'm not saying cake mixes won't work, I just think that it makes sense that you will get the best results following a recipe that was made specifically for this purpose.    The Babycakes recipes seem to produce a much thicker batter, which certainly makes it easier to fill the wells of the machine.    I put my batter into a Ziploc freezer bag and "pipe" it into the wells.   I tried this with a cake mix and it was not fun, the cake mix was just too runny.   I also saw a suggestion in the Babycakes Tips section where a reader said she used a Pancake Pen for her batter – which sounds like an excellent idea that I might have to try.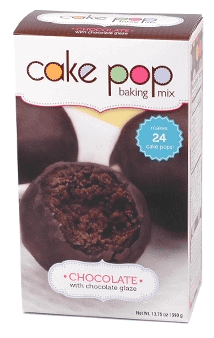 If you want to stick to a mix, Babycakes does sell mixes specifically made for the Cake Pop Maker.  I believe that these are available at Kohl's in addition to the Babycakes online shop.  If you want to use a store bought mix, I recommend cutting back on the amount of liquid in the recipe.  This is something that is likely going to be different with each brand and flavor, meaning there is no blanket "cut back x amount".    I would also recommend adding a bit more baking powder to the mix, even if just half a teaspoon.   The Babycakes Tips page really has some great advice from readers, and this thread has some great info on using a regular cake mix in your cake pop machine.
Another fun thing about making your cake pops with the Babycakes machine is that you can easily add/inject a filling into the cake pops!  We've only used frosting (because we love frosting) but I'm sure you could put lots of other yummy fillings in.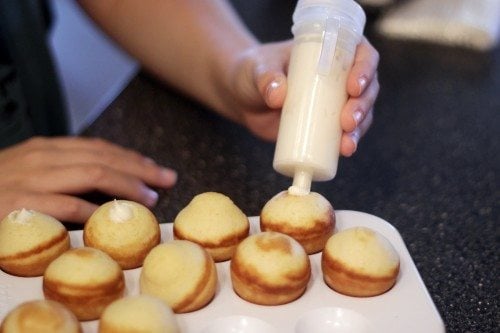 Also, check out this fantastic video from Ahh's Cakes where she uses the Babycakes Cake Pop Maker and goes through every step – it's about ten minutes long and very helpful.  She appears to be using one of the Pancake Pens to dispense her batter.   I also found a demo video on AllRecipes.   It's a bit fast (and dark) but might be helpful.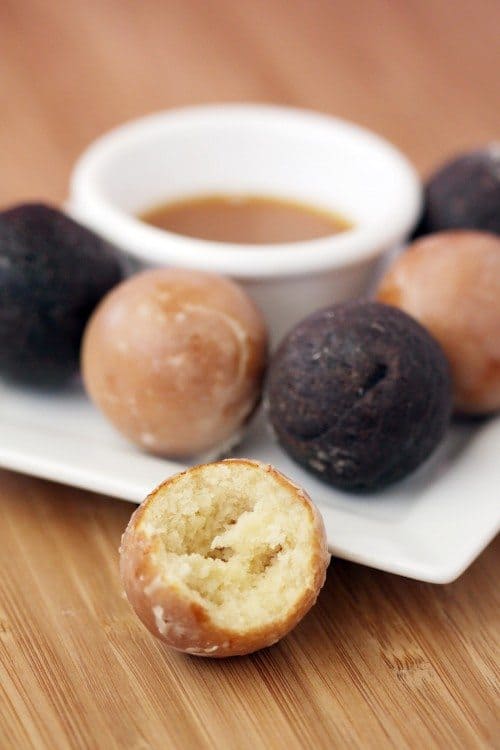 The Babycakes Cakepop Maker might take a bit of practice (though I have to say my very first batch turned out quite nicely), but I really think it's worth figuring it out, especially if you need to make large batches of cake pops.   It also makes some delicious donut holes.  There are other cake pop makers and pans, such as the Bake Pop Pan.   I haven't tried it, so can't speak for how it works.
Here are some links to other sites talking about the Babycakes Cake Pop Maker…
Babycakes Cake Pop Maker Review at The Party Animal
Babycakes Cake Pops on the Wilton Forums
 Sweet Potato Pancake Balls & Babycakes Cake Pop Maker at Savoring The Thyme
I Will Never Buy A Cake Again – Babycakes Cakepop Maker at Moscato Mom
Make sure to check out this post for tips, advice, idea and resources for dipping and decorating your cake pops and thoughts on some common cake pop challenges such as getting the chocolate smooth, preventing the chocolate from cracking and getting the cake pops to stay on their sticks.
BABYCAKES CAKE POP MAKER
CHOCOLATE CAKE POPS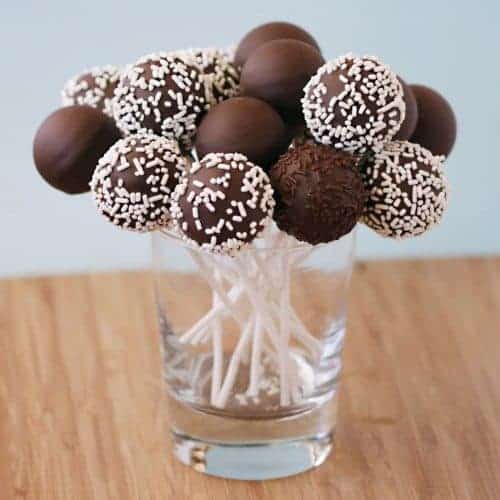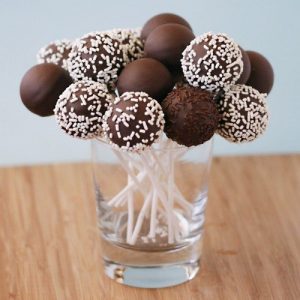 Babycakes Chocolate Cake Pops
Easy chocolate cake pop recipe for the Babycakes Cake Pop Maker.
Print
Pin
Rate
Ingredients
¾

cup

all-purpose flour

½

cup

sugar

3

tablespoons

cocoa

½

teaspoon

baking soda

¼

teaspoon

baking powder

¼

teaspoon

salt

¼

cup

buttermilk

3

tablespoons

vegetable oil

1

egg

½

teaspoon

vanilla

¼

cup

freshly brewed hot coffee

Glaze or coating of choice
Instructions
Combine flour, sugar, cocoa, baking soda, baking powder and salt in a mixing bowl.

Add buttermilk, vegetable oil, egg and vanilla. Using a mixer, blend until smooth.

Add coffee and continue mixing until coffee is evenly incorporated into mixture.

Fill each cooking reservoir with about 1 tablespoon of batter.

Bake 4 to 5 minutes or until a toothpick inserted into a cake pop comes out clean.

Allow to cool and glaze or coat, as desired.

Makes about 3½ dozen cake pops
Notes
Tip: If you don't have buttermilk on hand, pour ¾ teaspoons lemon juice or vinegar into a glass measuring cup. Add milk to equal ¼ cup. Allow to stand 5 to 10 minutes, then use in place of buttermilk in this recipe.
Want a vanilla cake pop recipe for the
Babycakes cake pop maker? I've got one here!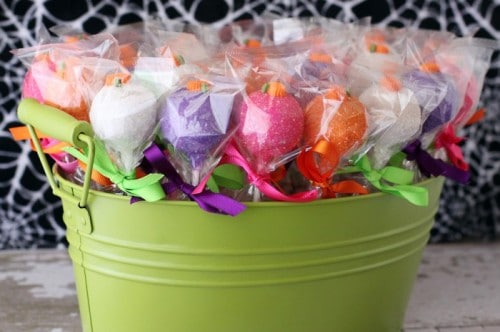 SaveSave