Everyone in my house loves pumpkin pie, and individual pumpkin pies are always a hit. I actually like to make pumpkin pie throughout the year, and not just for Thanksgiving. We all agree that pumpkin pie should have lots of spices, be nice and thick, and my kids are always fighting over who is going to get the bigger slice. Good times!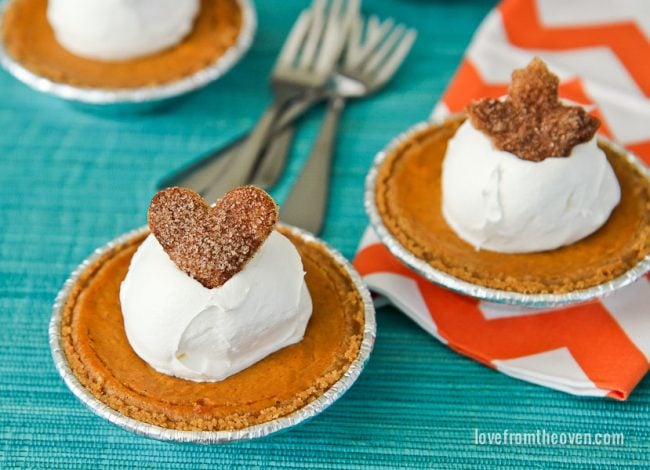 Every time my little one sees a can of pumpkin she looks at me and says, "mama make pie?". She's pretty hard to say no to. 🙂  She's also very independent right now, and everything is, "all by myself!". She's miss independent lately, wanting to do everything on her own, and sharing is, well, a challenge these days! So I thought this might be a great time to make individual pumpkin pies, that way my little lady could have a little pie she could eat all by herself, no fighting with her sister!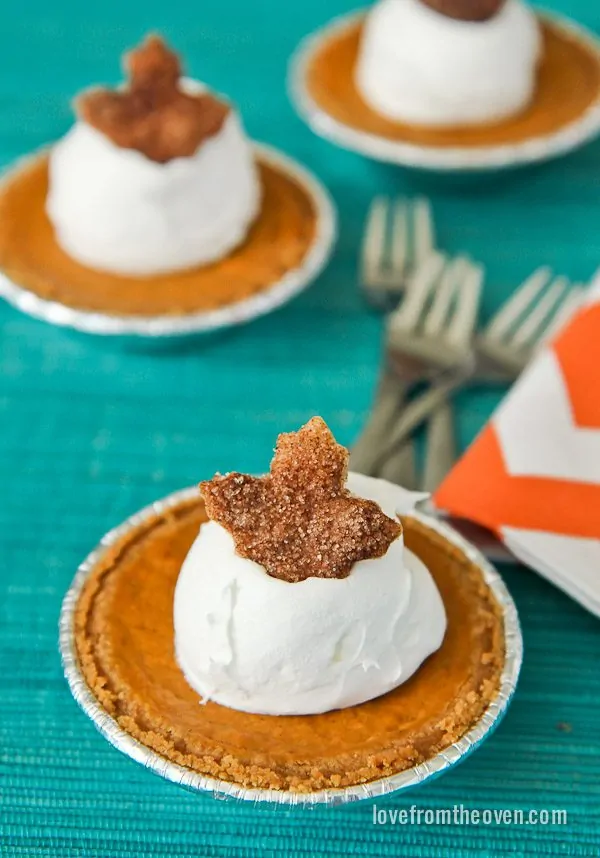 This pumpkin pie recipe is so easy that it's a great one to make with the kids. Who doesn't love making pie in their pajamas? 🙂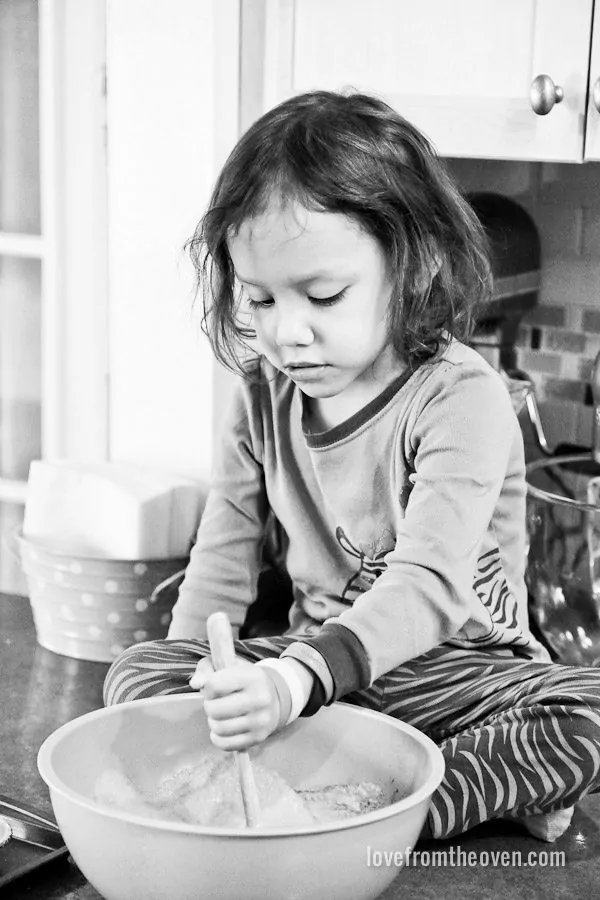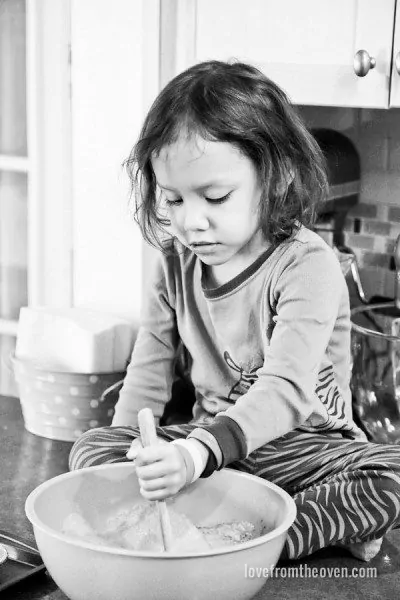 While nothing beats a homemade pie crust, I often find myself short on time, and love pre-made pie crusts! We used mini graham cracker crusts for our pies.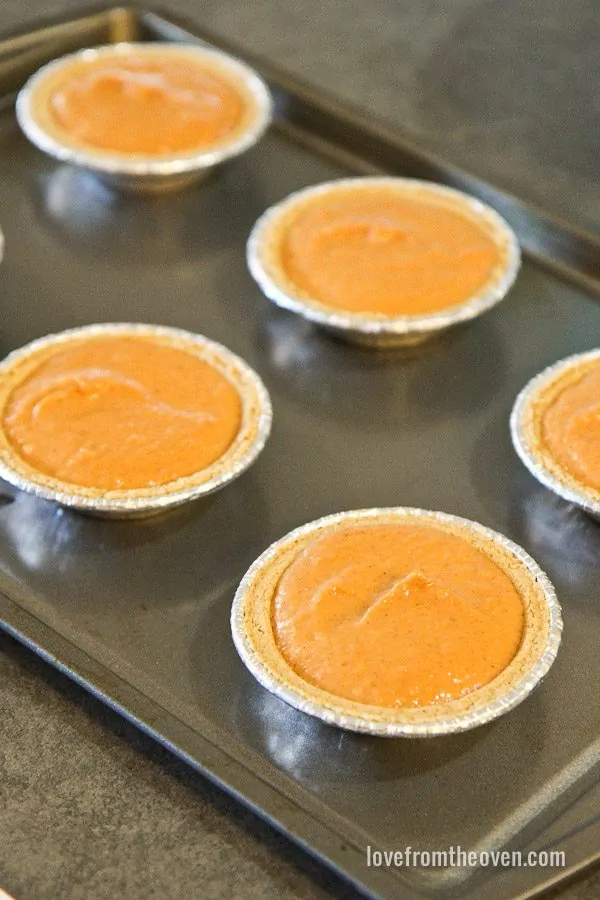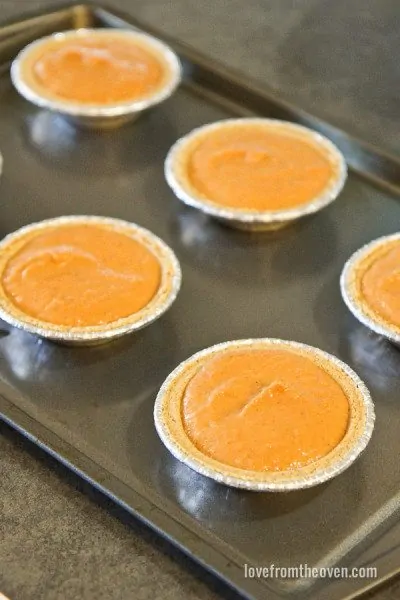 I love a graham cracker crust, but I find that I always want that little bite of traditional crust, which we added to these mini pumpkin pies by making pie crust cut outs shaped like hearts and leaves.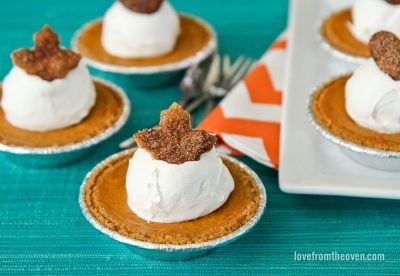 These could not be easier – all it takes is some cookie cutters, a rolled out pie crust (I picked mine up in the fridge section), some butter to brush on and a little cinnamon sugar mixture sprinkled on top. Not only is it a super cute decorative topper, but it tastes delicious.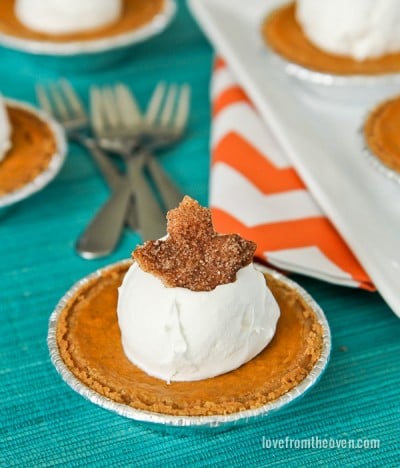 These are fun for anyone, but are extra fun for the kids. If you are looking for Thanksgiving desserts for the kids, these individual pies are a great way to go, I mean who doesn't love their own little mini pie!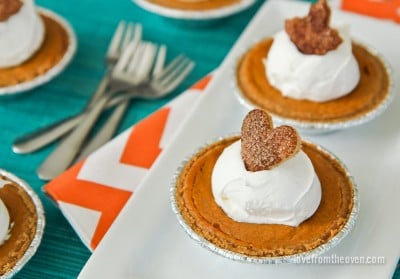 Individual Pumpkin Pies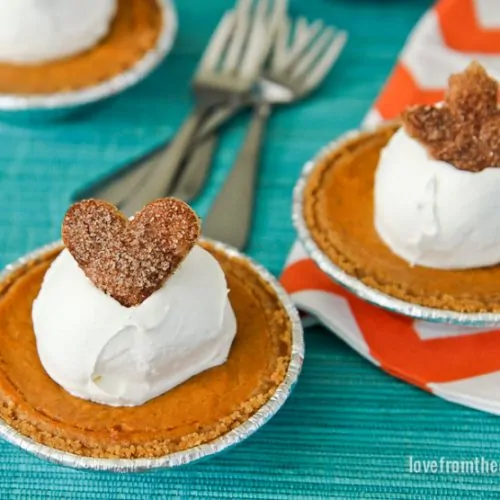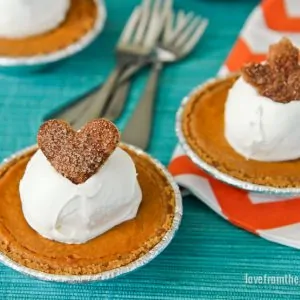 Individual Pumpkin Pies
Ingredients
10

ready-to-use graham cracker crumb crusts

1

egg

1-1/2

cups

canned pumpkin

1/2

cup

sweetened condensed milk

1/4

cup

half-and-half

1

tsp

. ground cinnamon

2

tsp

. pumpkin pie spice
Optional Garnish
1

ready-to-use refrigerated pie crust

2

Tbsp

. melted butter

2

Tbsp

. sugar

2

tsp

. ground cinnamon
Instructions
Preheat oven to 400 degrees F.

Mix egg, pumpkin, sweetened condensed milk, half and half and spices. Mix until well combined but do not over mix (no need for an electric mixer).

Pour or spoon into crusts. Place individual pies onto a baking sheet to make it easy to put them in and take them out of the oven.

Place into oven and immediately reduce temperature to 350 degrees F. Bake for approximately 30-35 minutes, or until centers are set and a knife inserted into the center of a pie comes out clean. Remove from oven and allow to cool completely. Store in fridge until ready to serve. Top each pie with a dollop whipped cream if desired.
Optional Garnish
Roll out pie crust onto a floured surface. Using small cookie cutters, cut out shapes approximately 1" in diameter. Transfer shapes onto a cookie sheet that has been lined with parchment paper. Brush shapes lightly with melted butter, then sprinkle with a mixture of cinnamon and sugar. Bake at 350 degrees for approximately 5 minutes or until starting to puff up and brown. Allow to cool, and serve on top of pies.
Disclaimer
Nutrition information is estimated as a courtesy. If using for medical purposes, please verify information using your own nutritional calculator. Percent Daily Values are based on a 2000 calorie diet.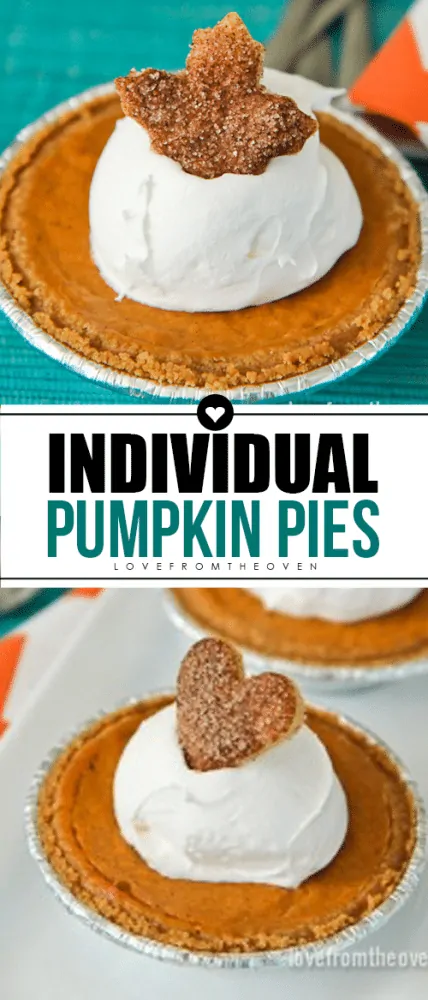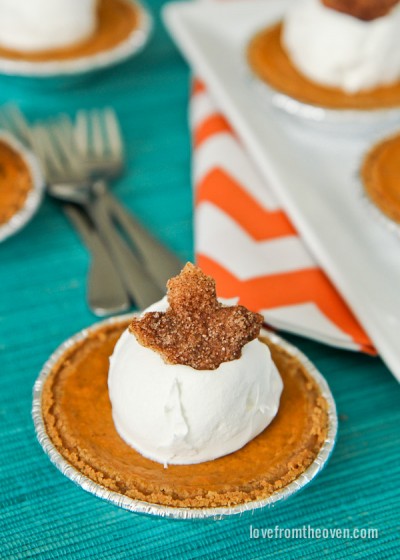 ORIGINALLY PUBLISHED NOVEMBER 2014
Disclosure: As a Kraft Tastemaker, I am compensated for my posts with Kraft Foods. That said, all opinions and recipe choices are mine and mine alone!