One of the best parts of my recent visit to Duncan Hines was getting to meet their Corporate Pastry Chef, Joe DiPaolo. Chef Joe was incredibly kind, warm and welcoming to the entire group. Chef Joe is full of energy, talent and creativity and was ready and willing to share those with everyone.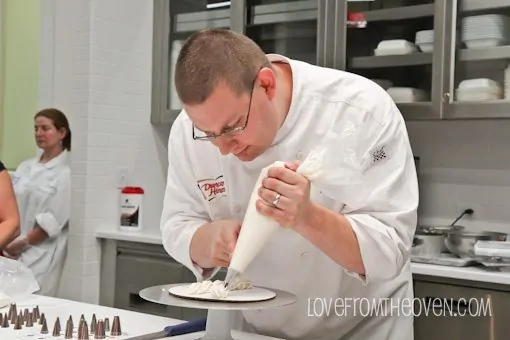 We were invited into the kitchen which is known as the "cutting room" and given a chance to watch Chef Joe bake, create and decorate. He showed us some of his favorite tools, many that can be found at your local home improvement store. Home Depot and cake decorating? Of course!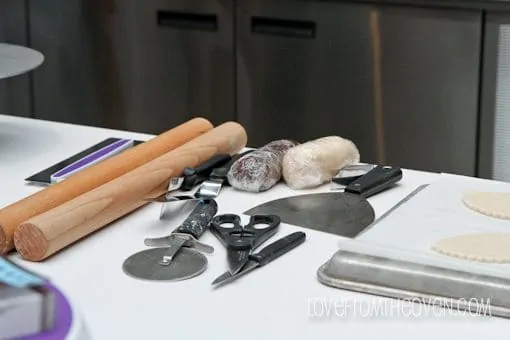 He demonstrated some of his piping techniques. He pipes with one hand and guides with with the other. Piping is all about applying just the right amount of pressure to your piping bag.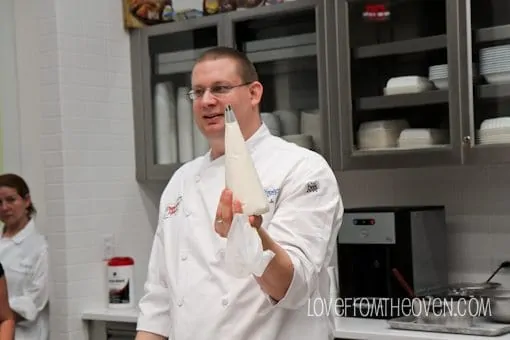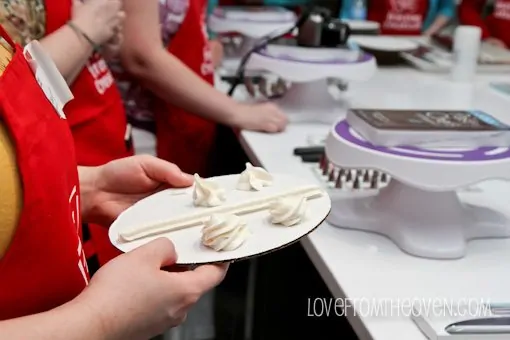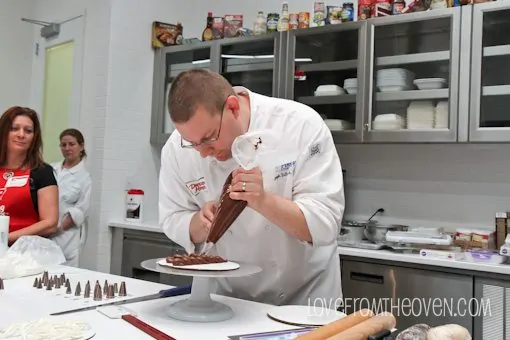 Chef Joe was kind enough to recreate the dessert we had enjoyed the night before (and were all still raving about). This may be one of the best desserts I have ever had – it was divine. It combines a Duncan Hines brownie base with an incredibly delicious peanut butter layer and is finished off with a decadent chocolate mousse. Good stuff.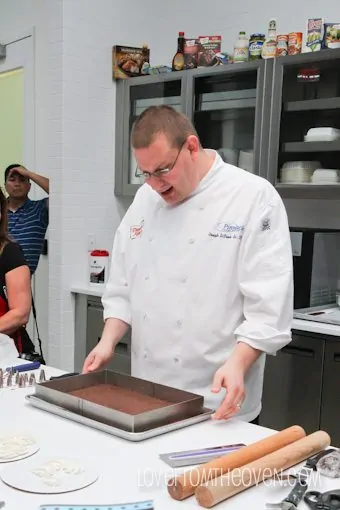 Chef Joe had prebaked and cooled the brownie layer and was ready to start on the peanut butter layer. This layer is the things dreams are made of, trust me.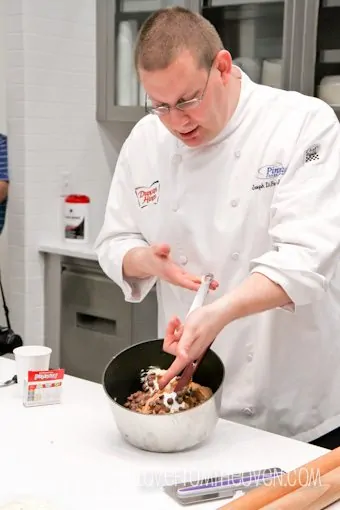 Peanut butter, chocolate chips, butter – what's not to love? My favorite part of this was the crunch, which many of us tried to figure out. Turns out it was an ingredient popular with pastry chefs that I had never heard of called Feuilletine.
You have to love anyone who makes a big bowl of this delicious goodness then hands out spoons and passes it around. That's my kind of people! Feuilletine is described as "thin, crisp, buttery flakes" and these flakes add an amazing texture to your creations. I'm almost convinced that ordering a 5 pound box of Feuilletine is totally a sensible thing to do. While they wouldn't have the same buttery goodness, crushed up corn flakes would likely provide a similar texture. Feuilletine is available from Pastrychef.com, which is a favorite resource of Chef Joe's.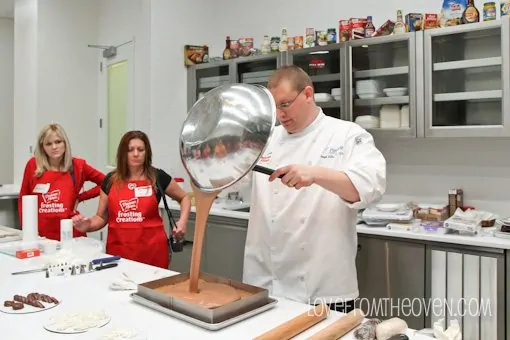 Following the dreamy peanut butter layer, a decadent chocolate mousse was added. Chef Joe's method to remove the bubbles from mousse? A torch of course, which he uses often and in creative ways in the kitchen.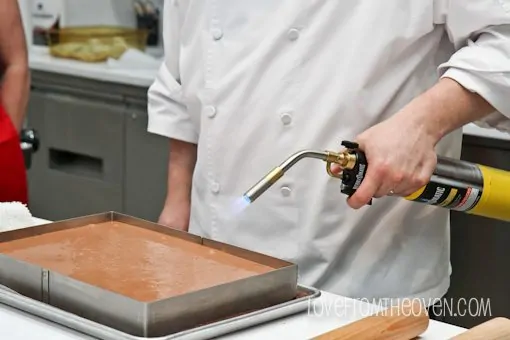 After some time to set up, Chef Joe plated and decorated dessert.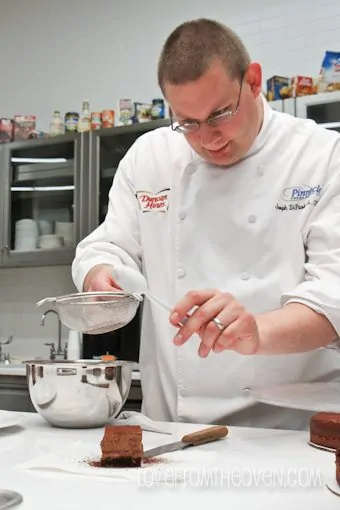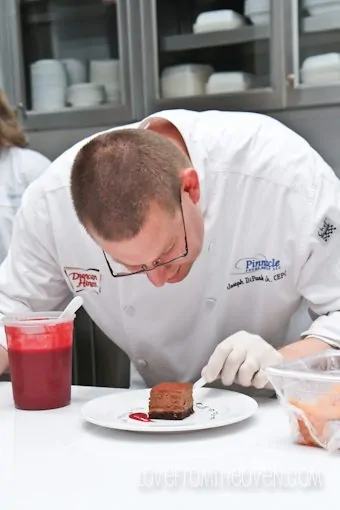 I'm hoping to have the recipe for this VERY soon!
Joe moved on to showing us how he works with marzipan. He created marzipan shapes which he used his torch to brown and then decorated by writing on them in chocolate. His writing in chocolate is better than mine is with a pencil. He's truly an artist.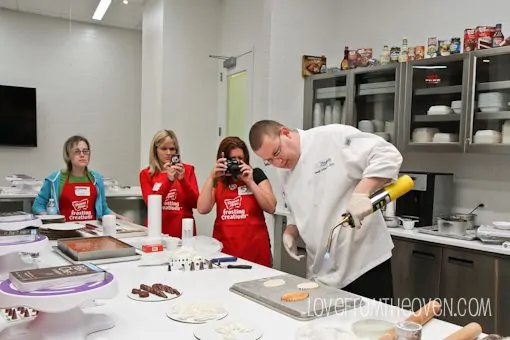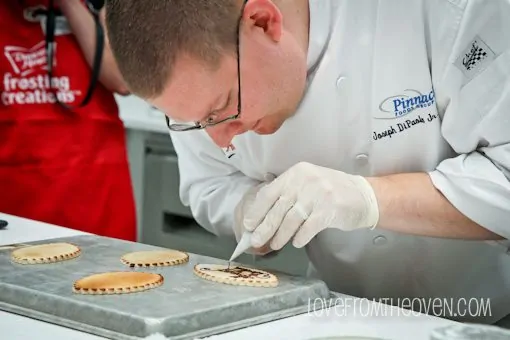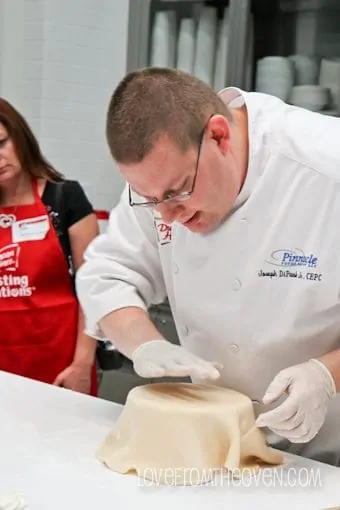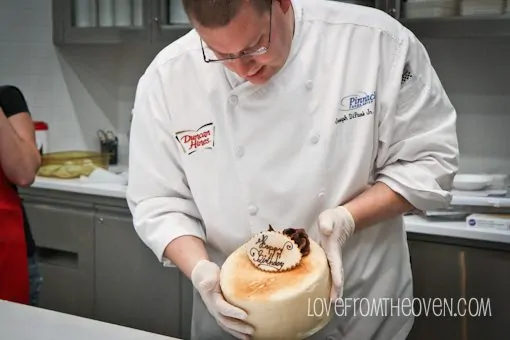 He demonstrated how he cuts a cake – the turn table moves and the knife stays stationary.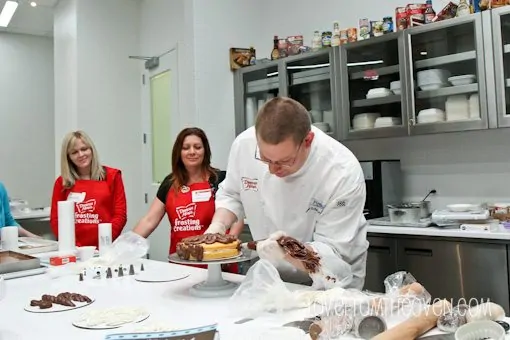 Next up, Joe demonstrated how he makes roses from modeling chocolate. He starts with a ball of chocolate, which he than squeeze between the palms of his hands.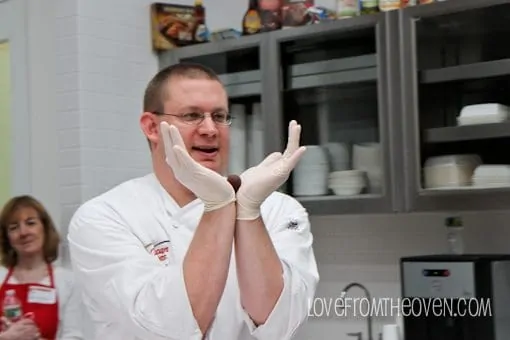 This becomes the base of the rose.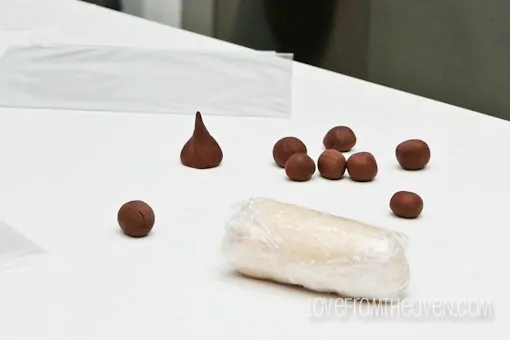 Additional balls of chocolate are put under a sheet of plastic and smushed down (for lack of a better technical term which I'm sure exists) to become the petals. The petals are placed on the base and shaped one at a time, making the rose come to life.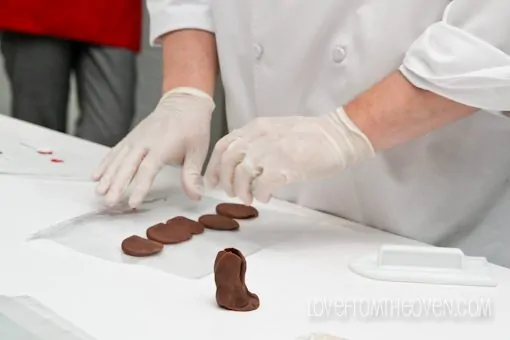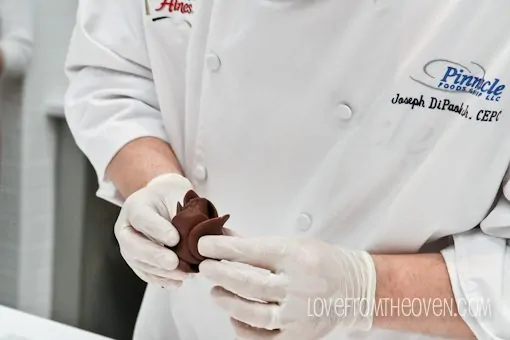 After watching Chef Joe, we were each given some modeling chocolate to make our own roses. While I'm a fairly confident baker, when it comes to decorating I usually just smother things in sprinkles and call it good. Much to my amazement, I was able to create something that remotely resembled a rose, which speaks very highly of Joe's instructional abilities! Everyone added their rose to a wedding style cake. Here's Doug from Hoosier Homemade adding his…
I think everyone did a great job.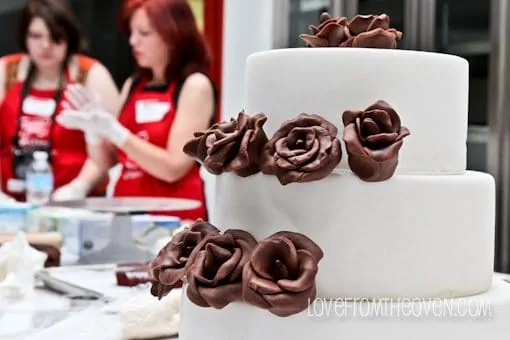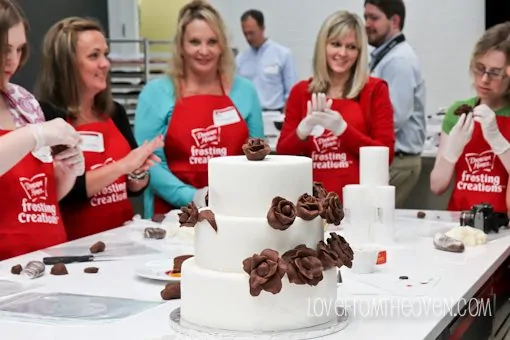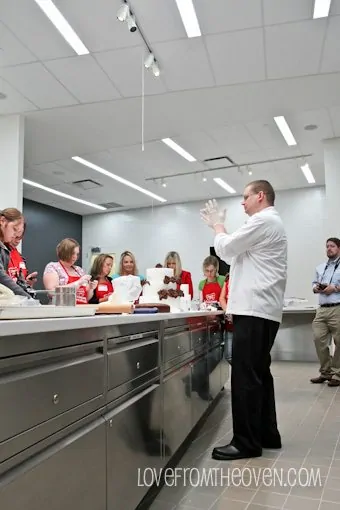 Joe also whipped up a quick bunny to go on top of the cake.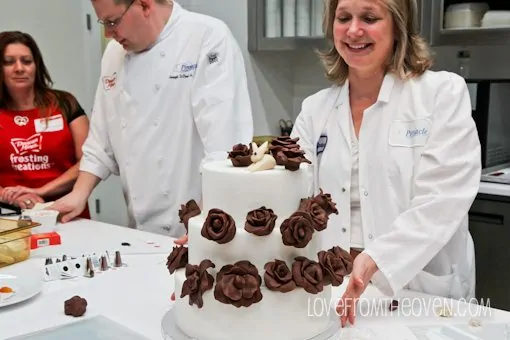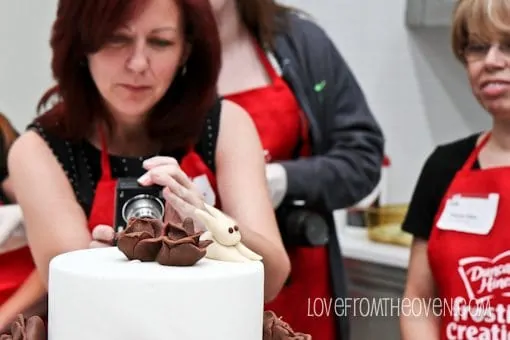 We learned so much in a few short hours, much more than I can even begin to share. It was truly a treat to be a part of this event.
While we were there, we were given a special sneak peek (and taste!) of a new Duncan Hines product that will be hitting store shelves soon. I can't share what it is, but if you head over to the Duncan Hines Facebook Page, you can watch for the big reveal! I can tell you from personal experience, it's delicious!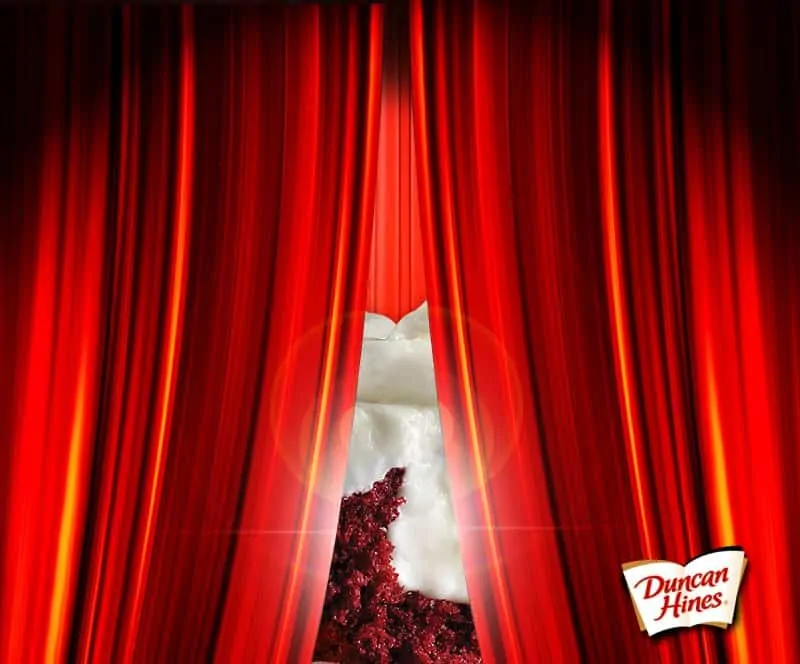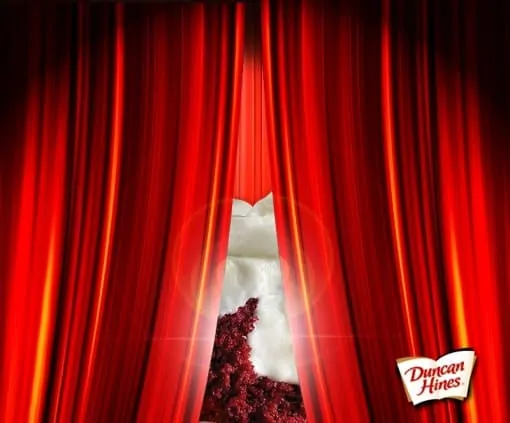 I have one more post coming up about this fabulous trip. I'm excited to tell you about the 12 winning recipes from the Frosting Creations Recipe Contest and the lovely ladies that created them. I was in awe of the creative and innovative ways they used Frosting Creations to whip up some truly unique treats. And because it's always fun to try recipes, there might be a Duncan Hines Frosting Creations Giveaway in that post as well. Stay tuned!