I had SO much fun trying to recreate a Katherine Sabbath inspired unicorn cake for my daughter's birthday last week.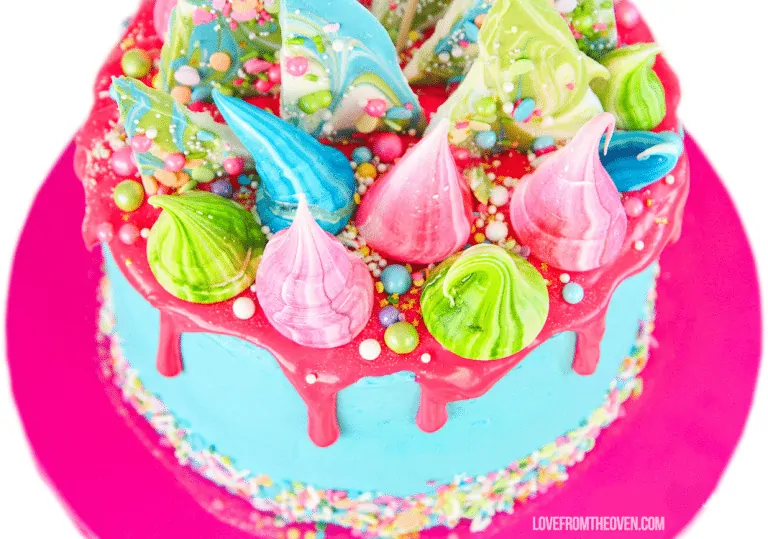 If you don't know who Katherine is, go check out her Instagram. It's kind of like Willy Wonka and Candy Land ran into a cool and ridiculously talented baker. After cake stalking her Instagram for months, I came up with my Katherine Sabbath inspired unicorn cake…
UNICORN CAKE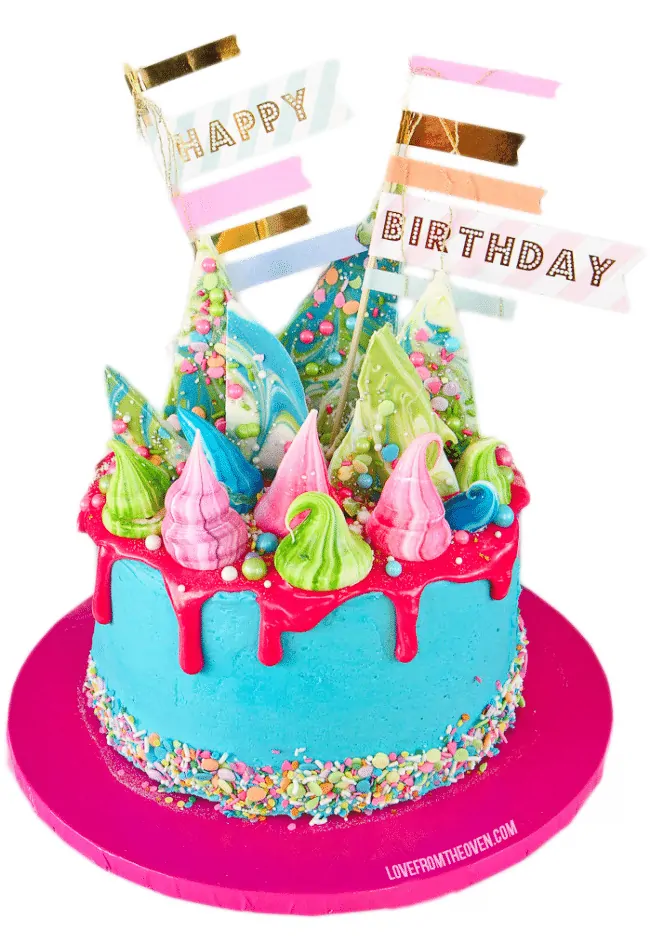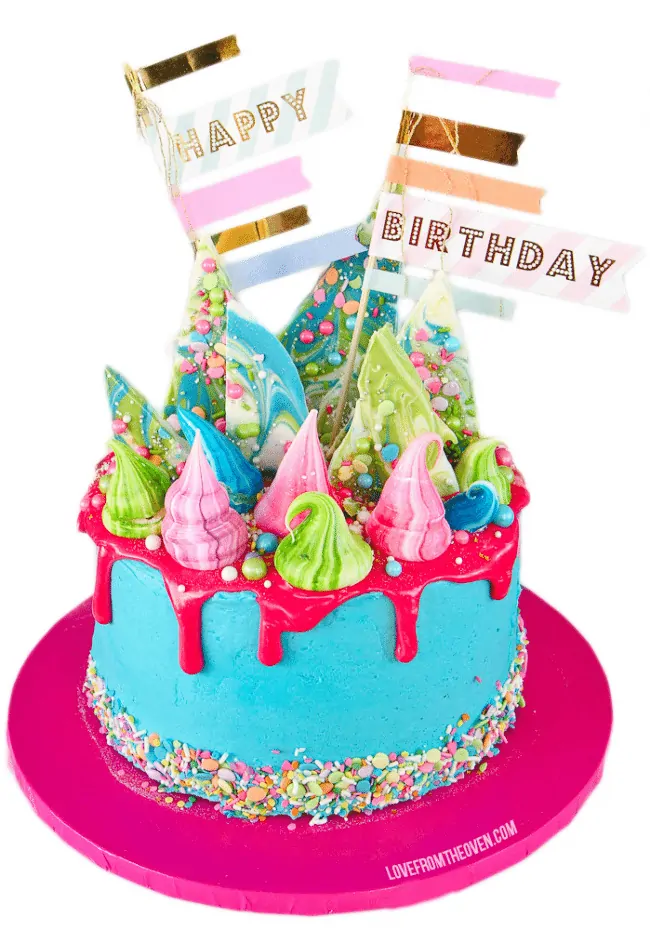 Fun, colorful and crazy! It's by no means perfect, or near the work Katherine does, but it was so much fun to put this together, with so many elements, so much color and all the sprinkles.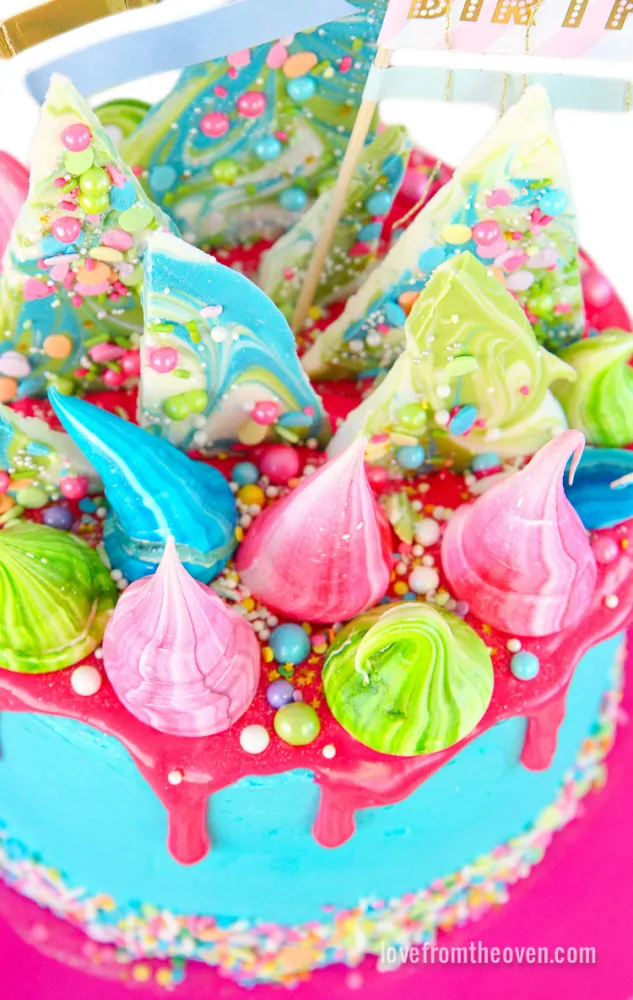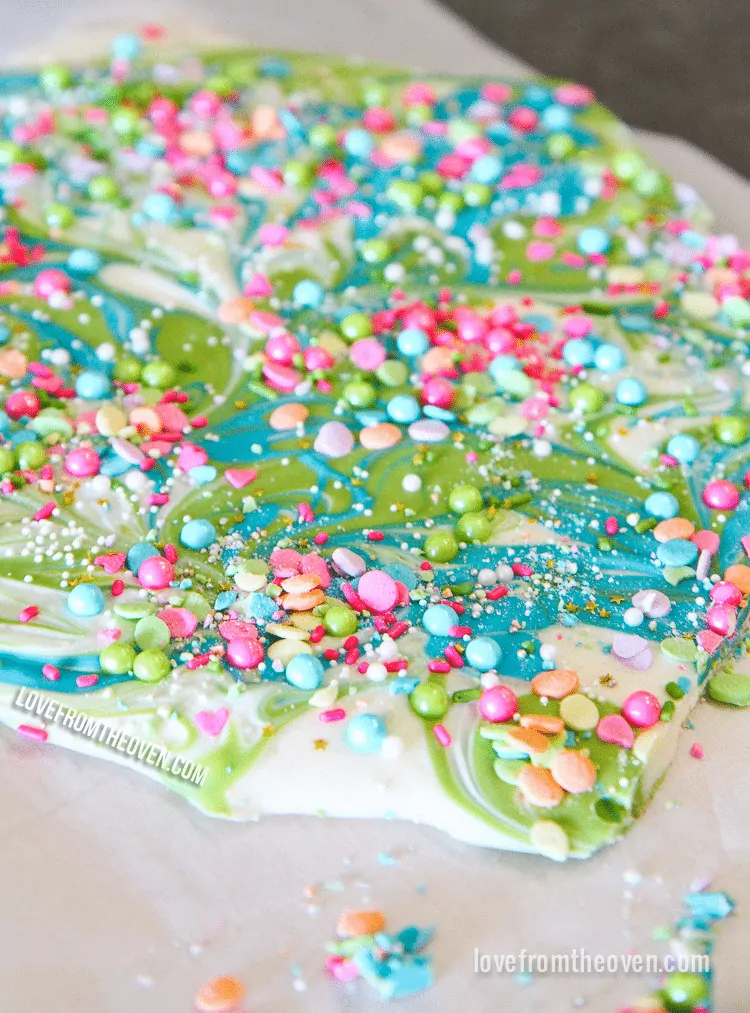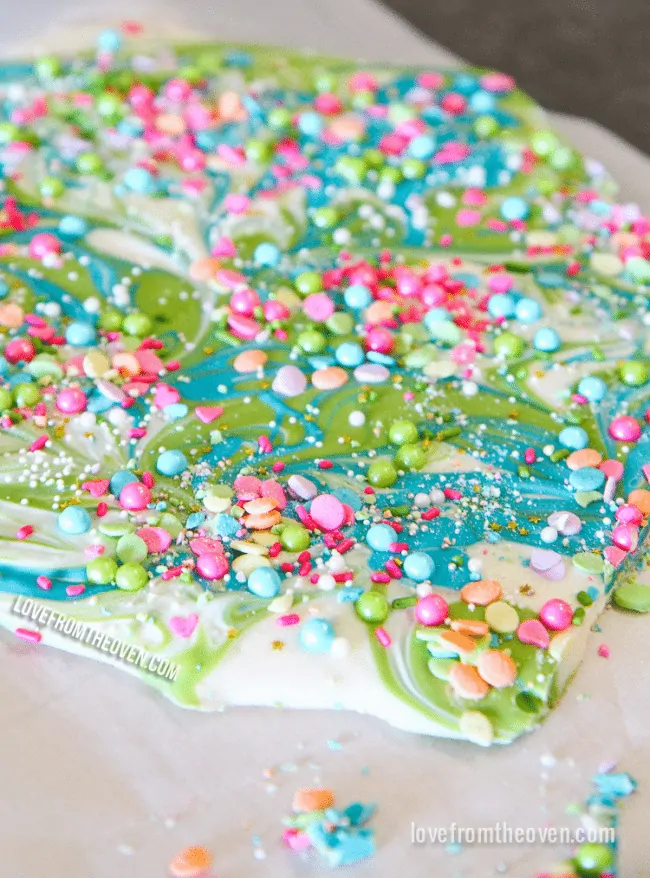 I am not a big cake maker. Or should I say that I'm not a big cake stacker and decorator. I can make a cake taste pretty dang delicious, but decorating cakes is not my thing. At all (notice a lack of them on this blog???). I've even talked about my cake anxiety. Layers and structure and all that, it all scares me! I stick to cupcakes, cookies, bars and the like. Give me a nice 9×13″ pan to bake in and I'm safe. Layer cakes? Not so much! But sometimes you have to get out of your comfort zone. I am a fairly impulsive baker, so planning a cake and working on it over days is not my norm.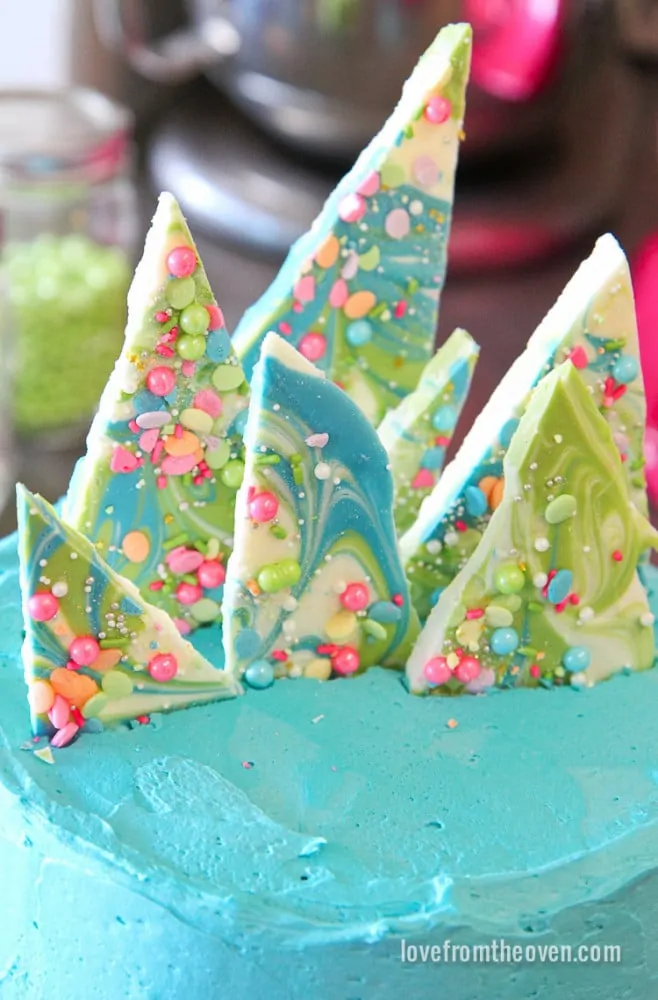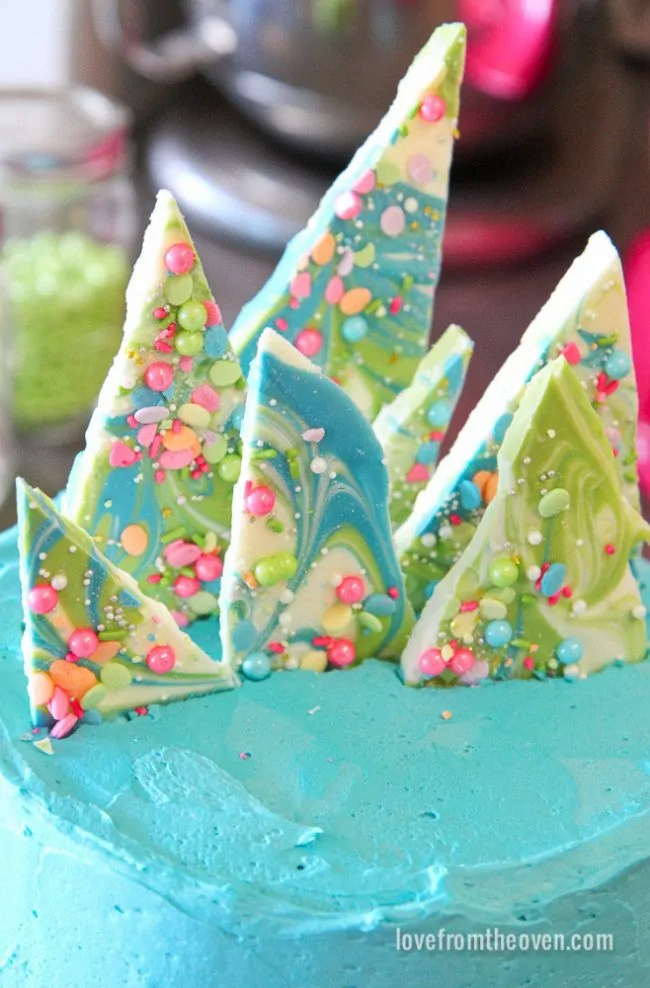 By working on this over a few days, I changed gears quite a few times. I originally wanted to make one of Katherine's Melting Ice Cream Cone Cakes, then thought I'd do bark topped cupcakes, then decided that trying to make meringues like Charlie Buckett would be fun. I was all over the place, but fortunately, that kind of works with this style. I have never made meringues before, but by some stroke of luck, mine worked out pretty well. They are SUCH a fun element on the cake.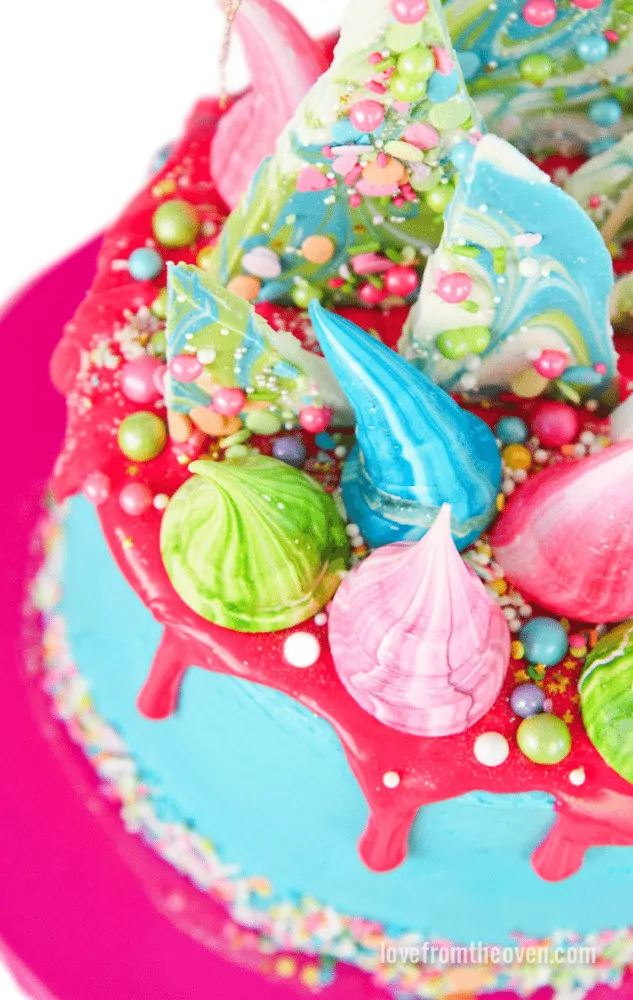 This was so fun. This style is so creative and inspiring, no rules, just color, and whimsy and FUN. Oh Katherine, you are a creative genius.
So, let me break down how I made this cake. I didn't get quite as many pics as I would have liked, but here we go. All the supplies I used are linked up at the bottom of the post.
UNICORN CAKE
THE CAKE
I started by making a three layer dark chocolate cake. I used this recipe from Created By Diane. I replaced one cup of the water with one cup of coffee to kick up the dark chocolate flavor. Once the cake was cooled and leveled, I crumb coated it with a basic buttercream frosting and stuck it in the fridge.
THE UNICORN BARK
Next I made my chocolate unicorn bark for the top. You can check out my post on how to make unicorn bark. This bark would be darling on it's own or on top of cupcakes!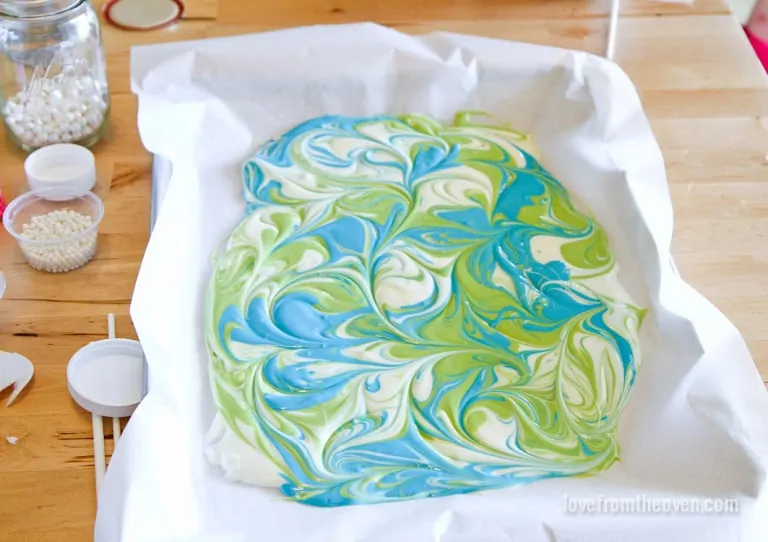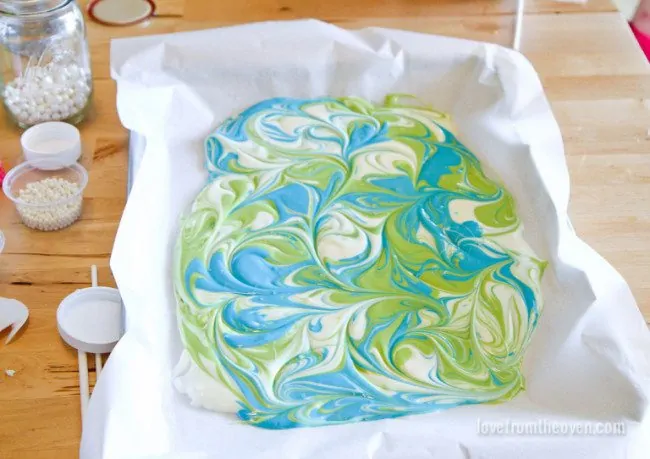 For the whimsical meringue kisses, I followed a great meringue tutorial on Bakerella's site. I've never made meringues before, so I was really worried if they would turn out.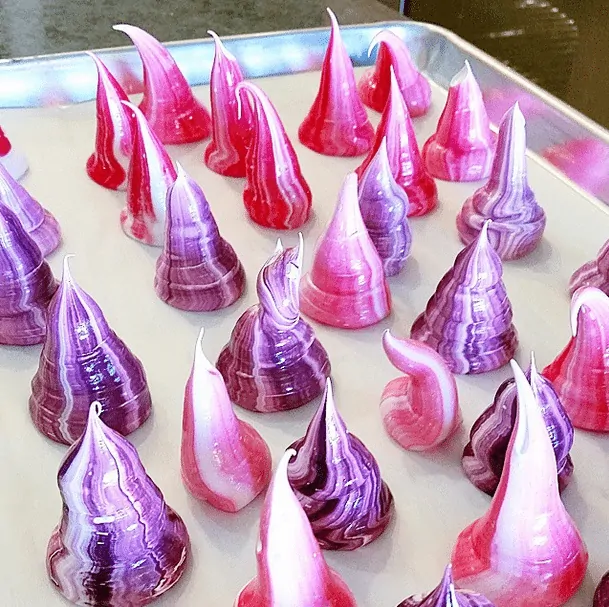 They actually did turn out! However I learned you do NOT open the oven for any real period of time when you are baking them. I made two pans worth, and one pan went in before the other. The first pan came out great, but the second pan was full of cracked meringues.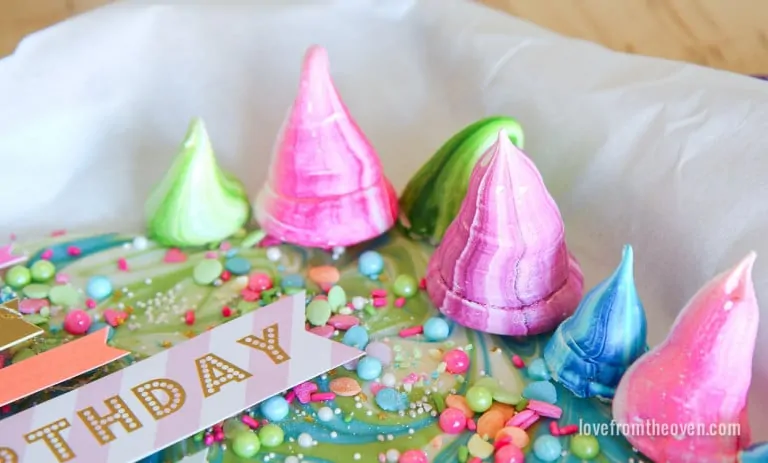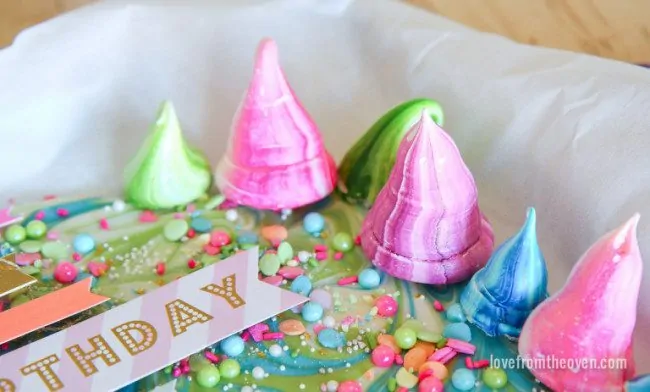 Many cracked in a way that I could break the "top" off and still use it on the cake, and some on the cake show the cracks, but really there is so much going on with this cake that you don't notice if you aren't looking for it. I adore their curly little tops! So much fun!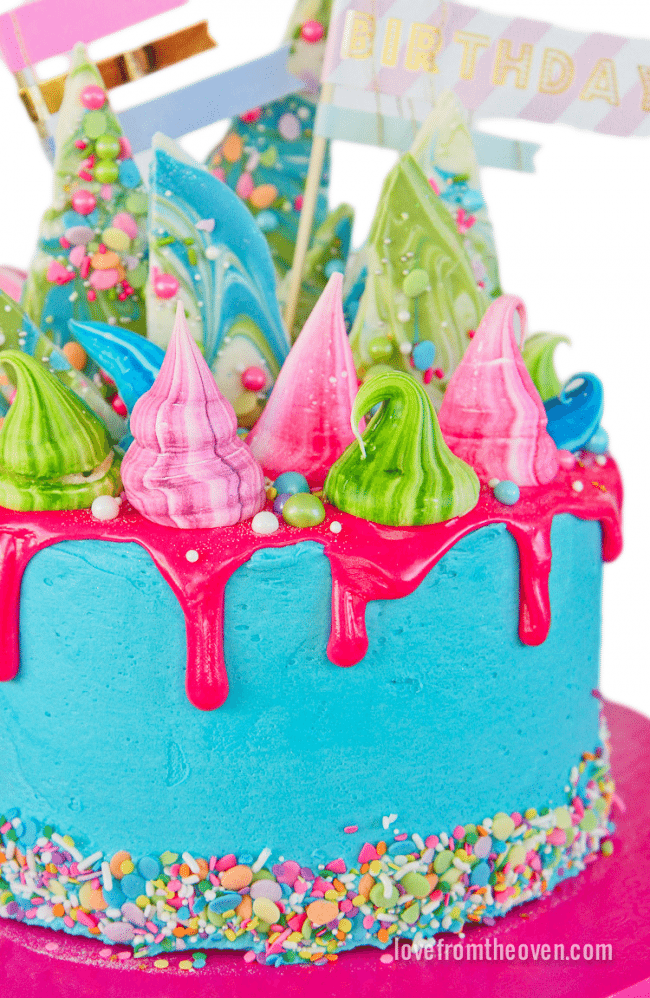 THE FROSTING
Next up I made another batch of basic buttercream frosting and frosted the entire cake, and pressed a crazy mix of rainbow sprinkles into the base of the cake. I pretty much just mixed up all of the bright, spring colored sprinkles I had. For the cake color, I used the blue from McCormick's Neon Food Color pack. It always gives a nice Tiffany type blue color.
I chilled the cake for a while, then removed it from the fridge to finish it off. I chopped my bark into pieces and gently placed them into the cake. Then it was time to flood the cake with a pop of hot pink.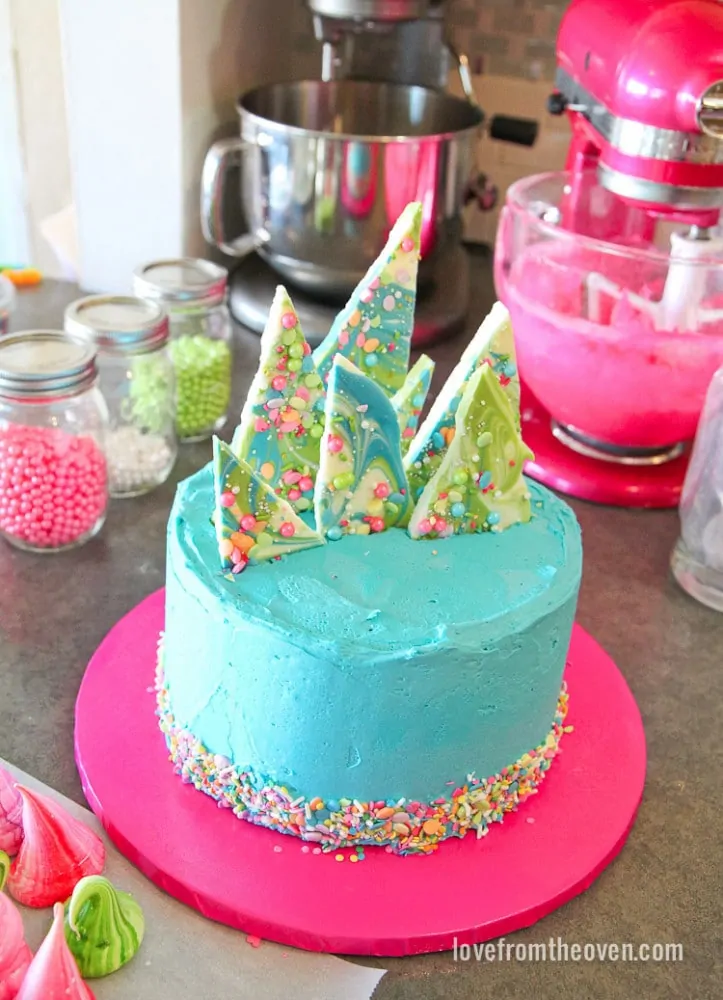 THE HOT PINK GANACHE (or not ganache)
The ganache. The gorgeous, hot pink, raspberry ganache that Katherine Sabbath uses is absolutely stunning and it had me completely stressed for days. I would lay in bed thinking about it at night (sad but true). White chocolate can be a bit more challenge when making ganache, and then you add in the food color, all that has to go onto the cake, not wanting to possibly melt the buttercream with warm ganache… So I chickened out. I need this cake to turn out, as it was for my daughter's birthday, so I decided to play it safe and made a hot pink glaze, similar to what you'd put on sugar cookies (powdered sugar, a touch of milk and a touch of corn syrup for the shine).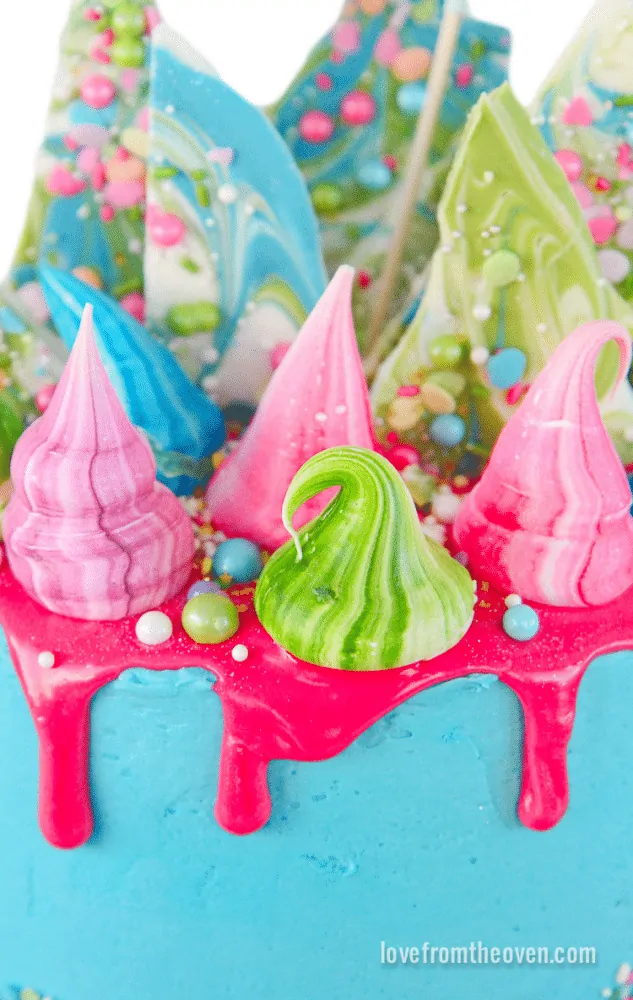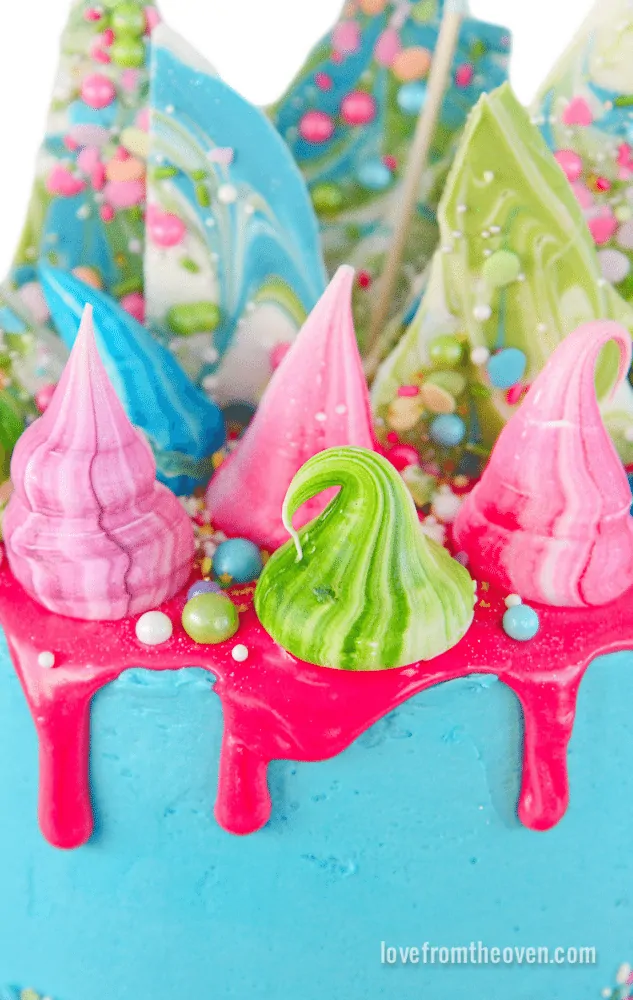 There is no question that ganache would have tasted much better, as glaze is super sweet, but at ages 11 and 12, sweet typically isn't seen as a negative, so glaze it was. I did talk to one other baker who made a glaze with frozen raspberries and powdered sugar for her cake, which could be absolutely fabulous, but the birthday girl doesn't like raspberries. I wanted something that would help hold the toppings in place, but would not be rock hard. The glaze worked wonderfully for this, even if it wasn't my top choice from a flavor perspective.
I put my chocolate bark on BEFORE the glaze, and I used a piping bag to help get the glaze in between the different pieces of bark. Once the top was covered with glaze, I quickly placed meringues on top, a fun Happy Birthday banner and more sprinkles, pearls, edible gold stars and a light sprinkling of rainbow disco dust (how can you not add some glitter???) to the top. And voila, after three (or four) days, it was done.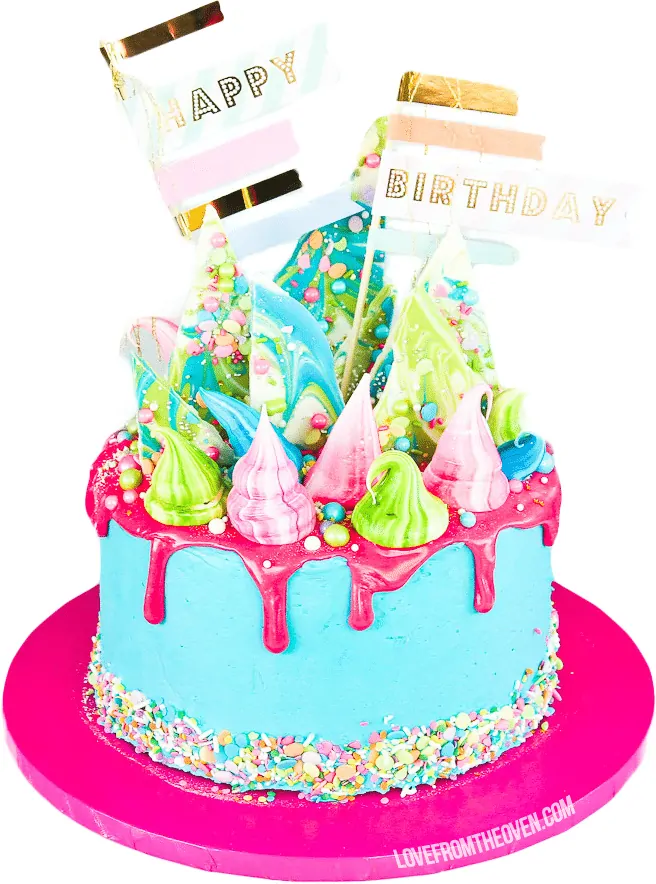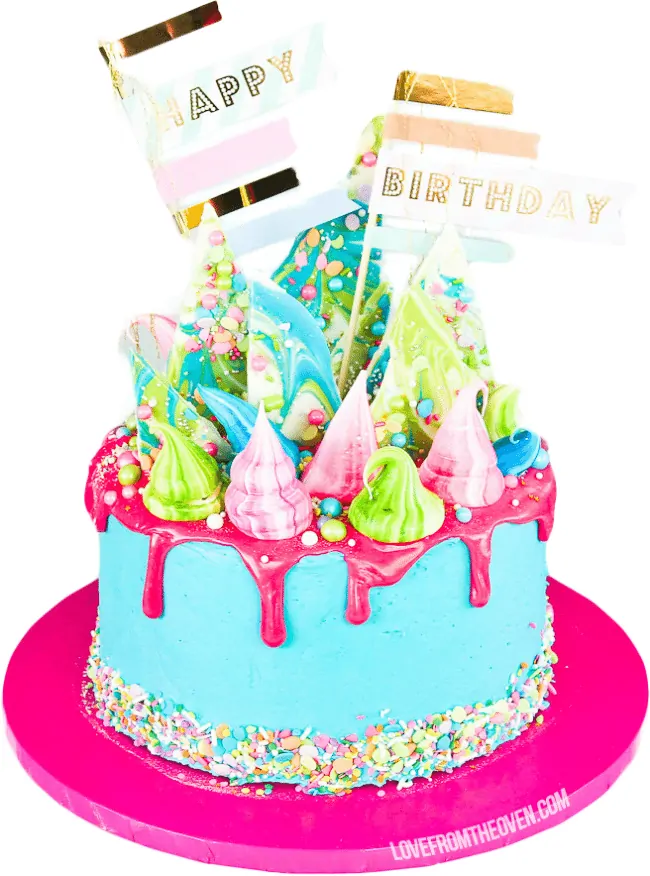 Then I had to transport it. 🙂 Luckily it made it to my daughter's party all in one piece. YAY!!! Talk about a huge sigh of relief. Part of why I opted out of making the melting ice cream cone cake was fear of it not reaching it's final destination in one piece.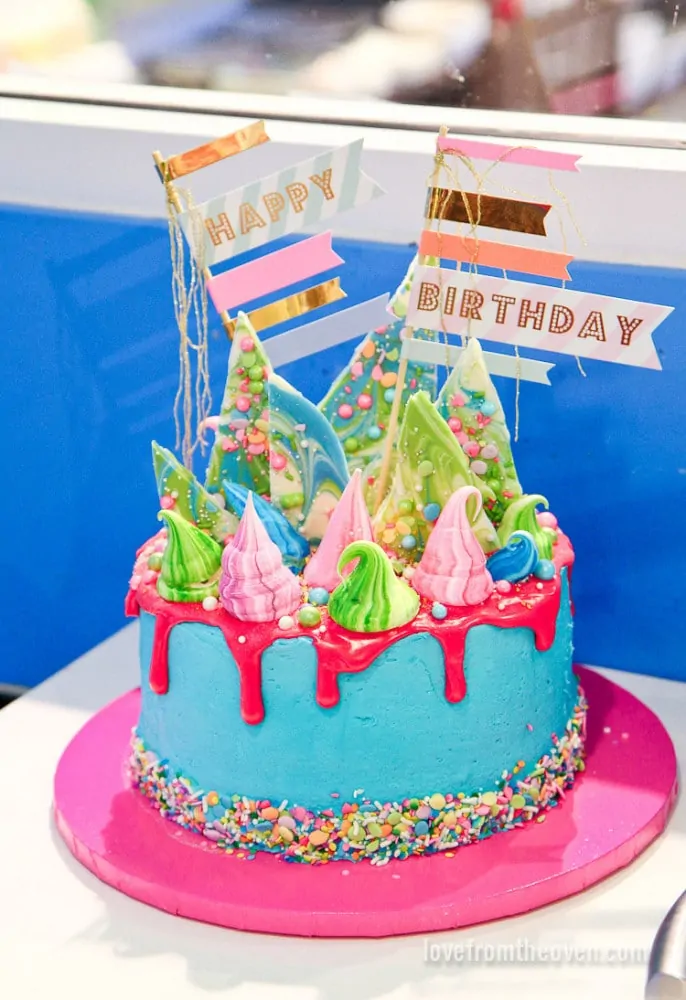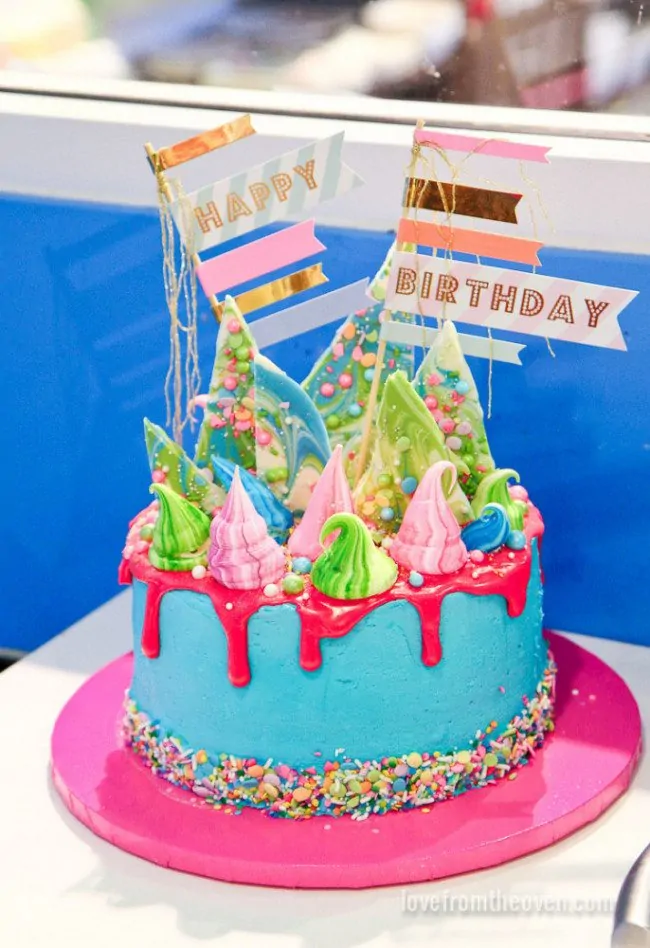 SUPPLIES
For my unicorn cake I found the disposable hot pink cake board at my local baking supply, ABC Cake Decorating. I think this is the exact same one. The pastel Easter sprinkles I used were similar to these. I also used pastel confetti quins, white jimmies, white mini pearls, edible gold stars, Sweetworks Shimmer Pearls, Sweetworks Shimmer Sixlets, mini silver dragees, pink heart quins, white nonpareils, and rainbow disco dust. This is the cake flag I used. There is a LOT going on with this cake! 🙂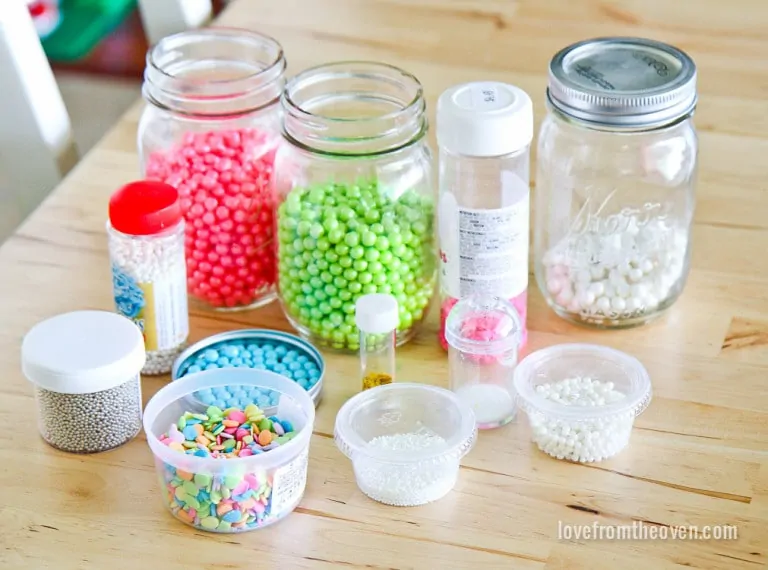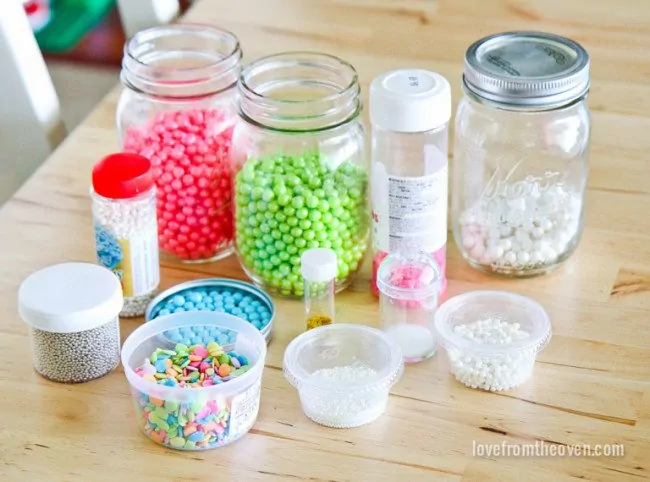 Katherine Sabbath Inspired Unicorn Cake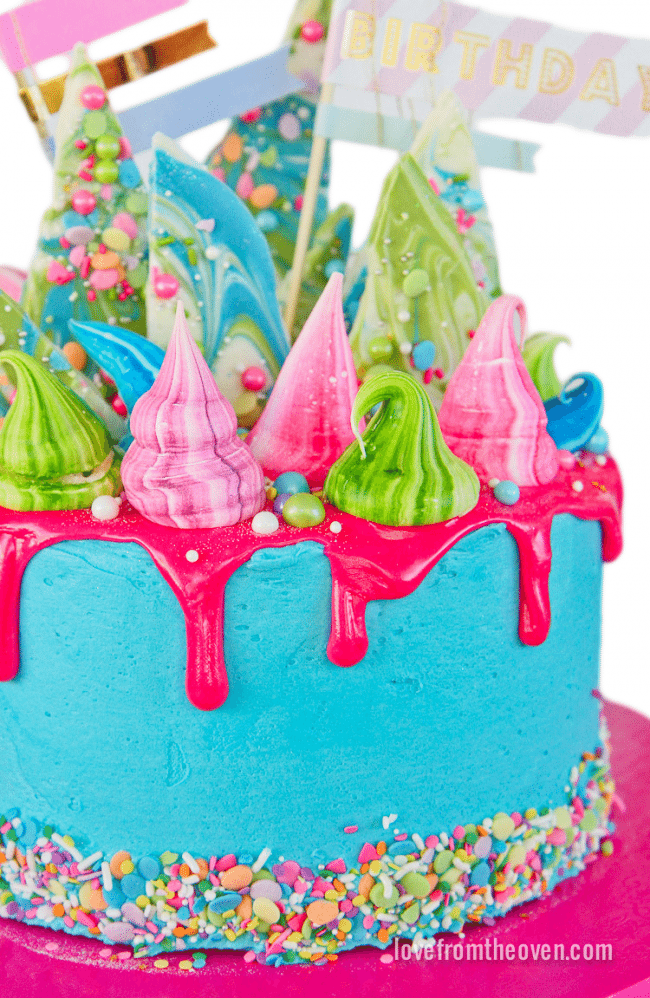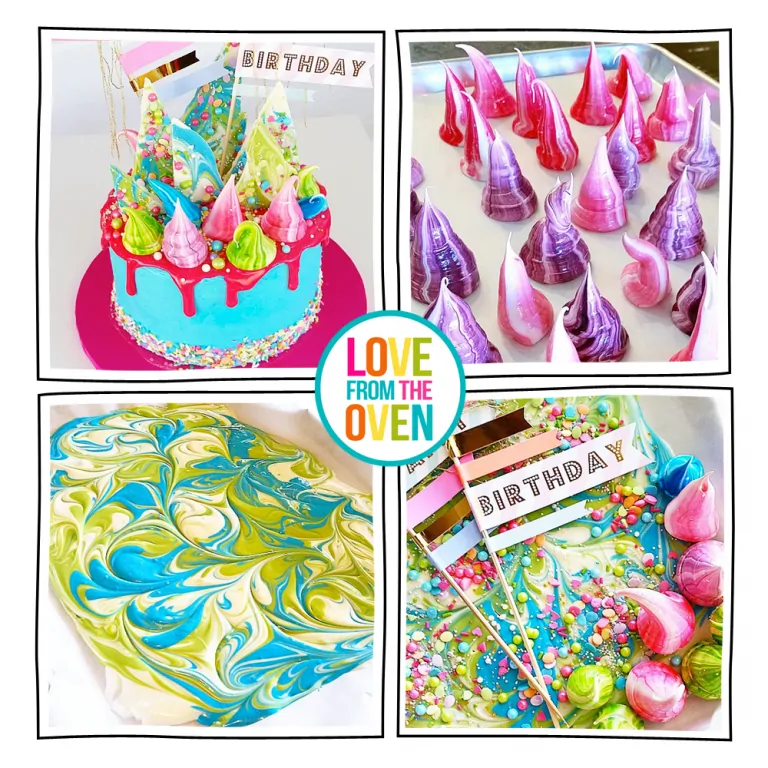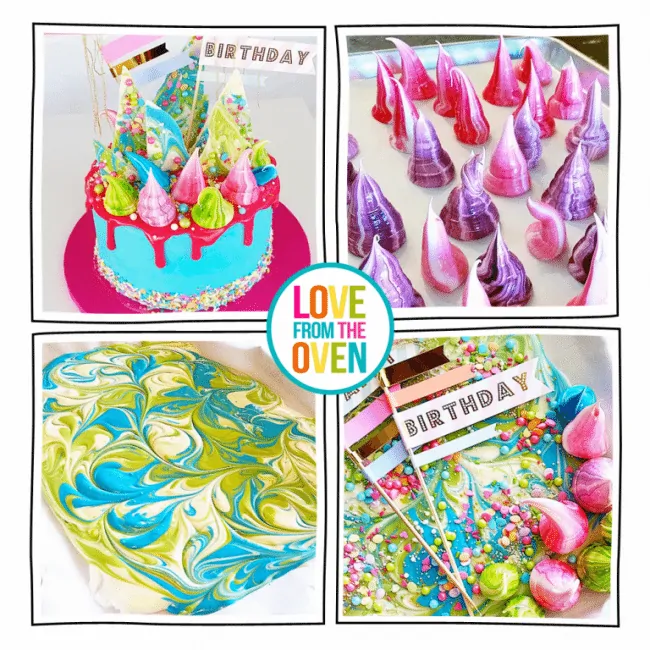 Unicorn Chex Mix is great paired with this fun cake.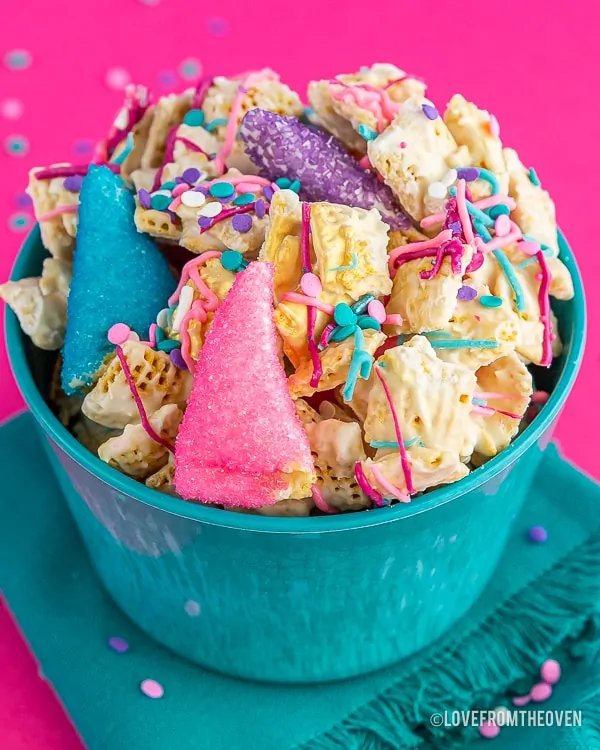 I think some Unicorn Ice Cream is pretty darn perfect to go with this cake. Check out this recipe from Bread, Booze, Bacon.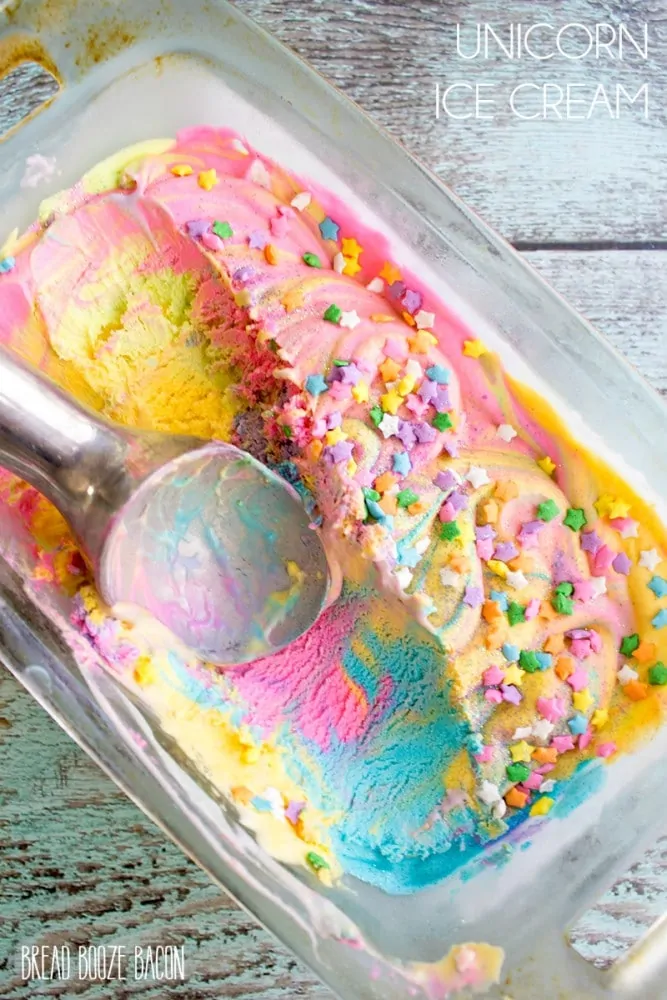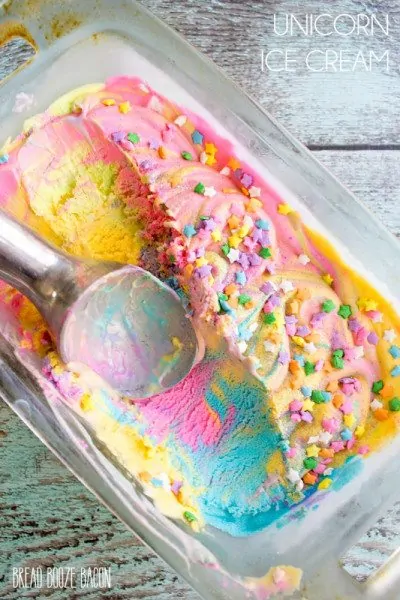 Maybe wash it down with some Unicorn Hot Chocolate from Love And Olive Oil.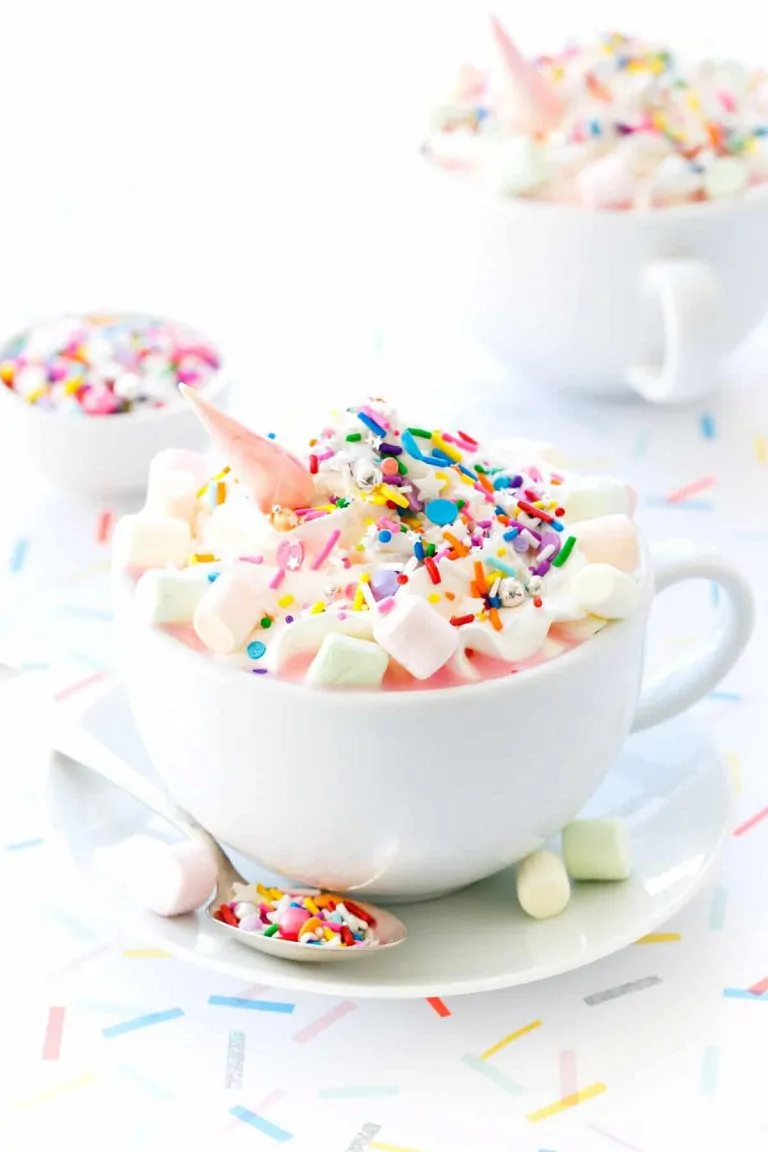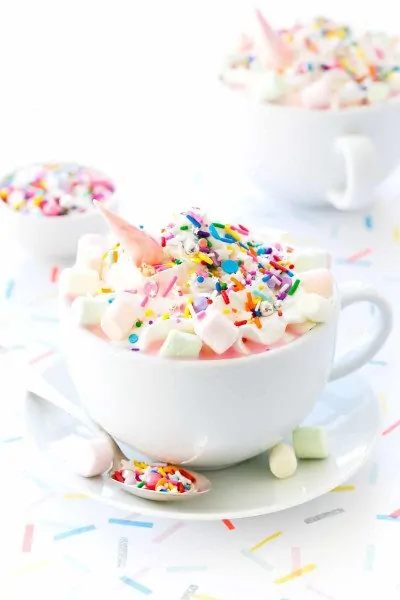 Or a Unicorn Milkshake from Bethcakes.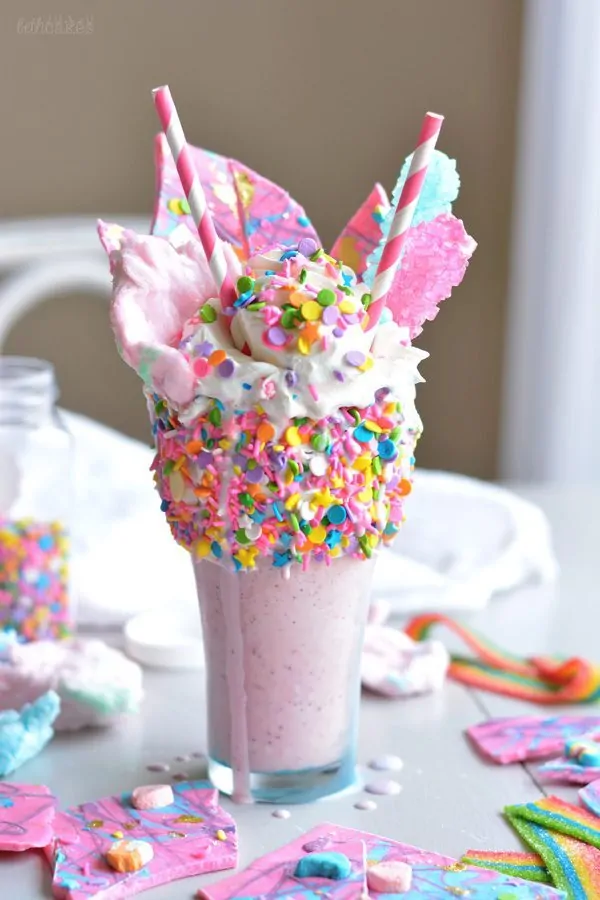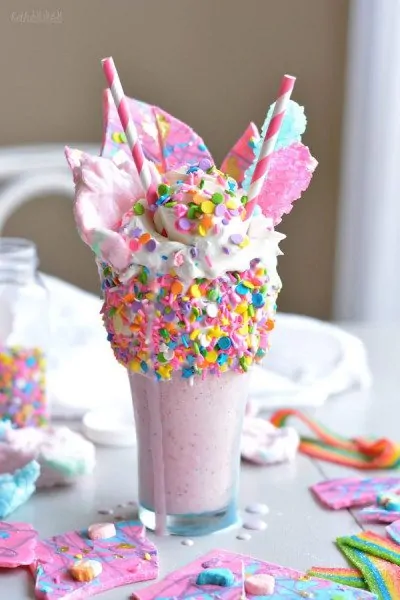 Okay, maybe don't have ALLLL the unicorn things at once. 😉
My daughter loved her unicorn cake, and I had a great time making it. Thanks to the amazing Katherine Sabbath for providing so much inspiration for myself and so many other bakers. I hope that girl has a book in the works, because I can't get enough of her amazing work!
Disclosure: This post contains affiliate links.