It's back to school time, which means it's time for KIDS SCHOOL LUNCH IDEAS. After packing approximately 3,500 kid lunches for school over the years (but who's counting?) I've come up with some school lunch ideas that I think are pretty helpful.
To top it off, school lunch ideas for picky eaters are my speciality!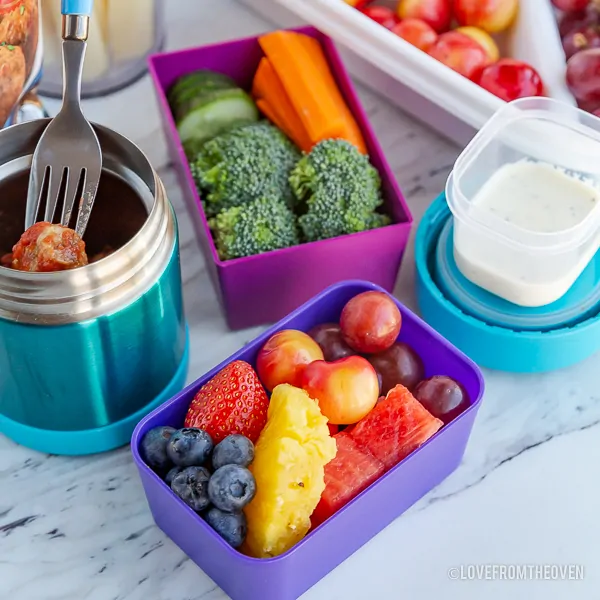 Today I'm sharing my TOP 5 TIPS AND TRICKS FOR SCHOOL LUNCH PACKING.
I believe these easy kids school lunch ideas are ones you can really use.
Let's make lunch!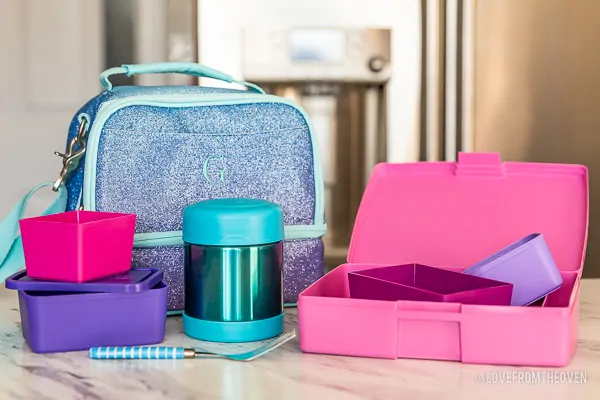 From kindergarten on, we've always packed lunch boxes instead of buying school lunch.
Having one child with food allergies, and one whose school does not have a cafeteria, it's been a necessary part of the routine.
With our oldest now a junior in high school, I've learned a thing or two about how to pack easy school lunches that are also kid friendly lunches.
Most importantly I've learned how to fill their lunch boxes with foods they will actually eat.
I hope my tips and kids school lunch ideas can help you in packing school lunches for your family.
CLICK TO PIN THIS
POST TO SAVE!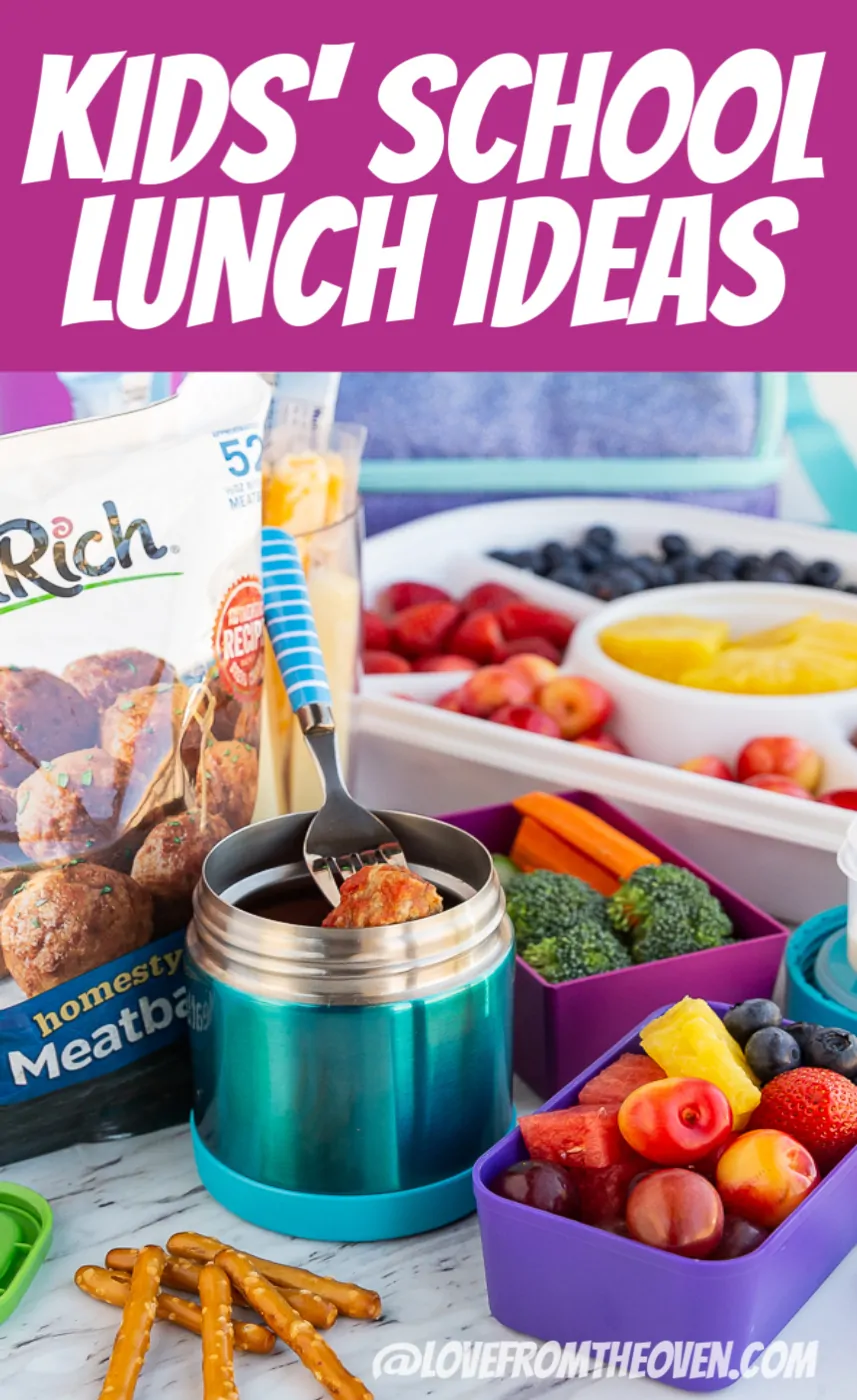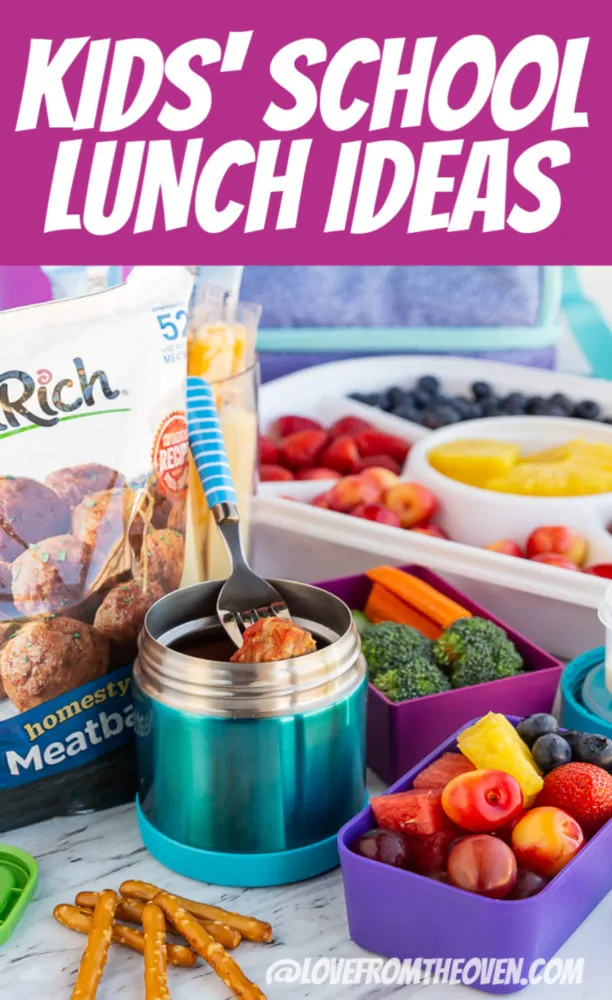 Thank you to Farm Rich for sponsoring this post.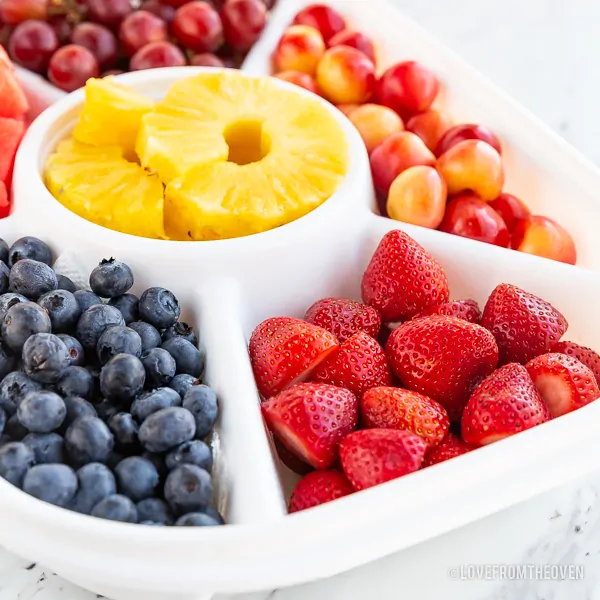 TOP 5 TIPS FOR PACKING SCHOOL LUNCH FOR KIDS
1. Pack Food That Your Kids Will Actually Eat
Someone once told me that when it comes to school lunches, pack the food you know your kids will eat, not the food you'd like them to eat.
All it takes is one visit to a school cafeteria and you realize how much perfectly good food gets thrown away. It's very eye opening to see.
This is advice I have followed through on all these years.
While I might want my oldest daughter to eat broccoli, the reality is she's probably not going to if I put it in her lunchbox.
With the goals of not wanting to waste food, and wanting my kids to get through the day the best they can, the lunchbox is not where I fight food battles.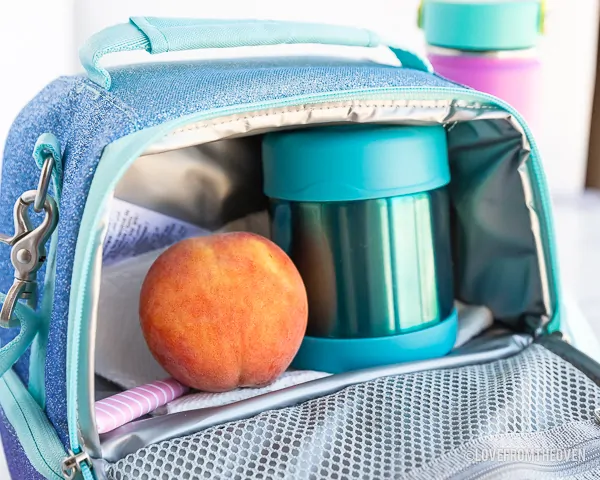 Packing foods I know my kids will eat, even if they aren't their favorites, is a kids school lunch idea that has served us well.
One of my girls will eat all the broccoli I can pack. The other one isn't likely to touch a vegetable in a lunchbox. I pack their lunches accordingly.
While we might want our kids to eat kale, maybe a peach and some pretzels are going to stand a better chance in the a kids lunch box.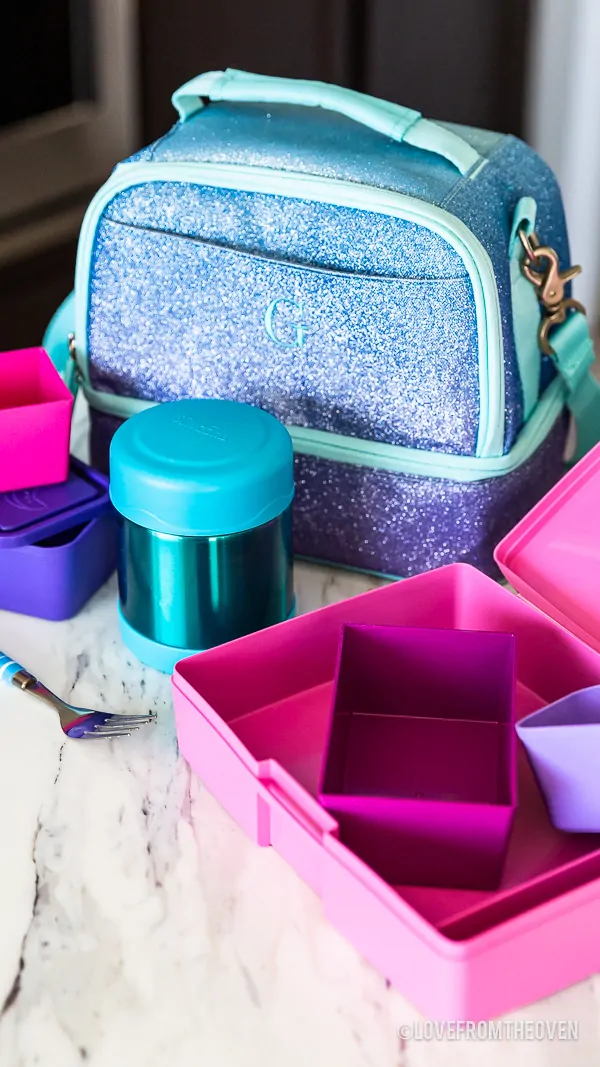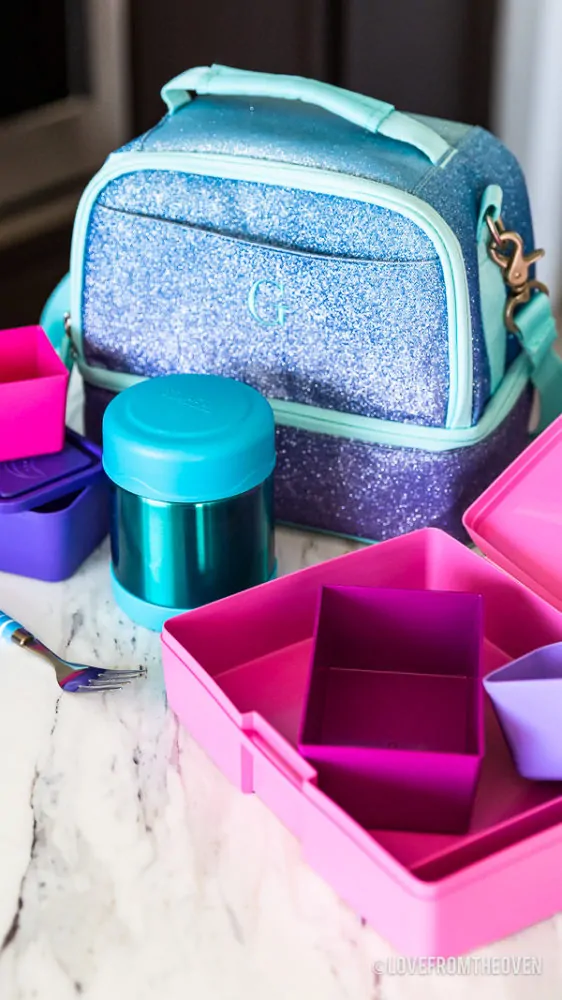 2. Reduce The Packaging
When my oldest was in kindergarten, I went to have lunch with her the week after school started.
In addition to noticing how much food was wasted, I was pretty shocked at how long kids were spending just trying to get their foods opened.
While the lunch aides did their best to get around and help the kids open their lunch boxes, without question there were many kids who did not eat some of their food because they couldn't get it open.
Because of that, I think this is one of the most important Kids' School Lunch Ideas, especially if you have younger children.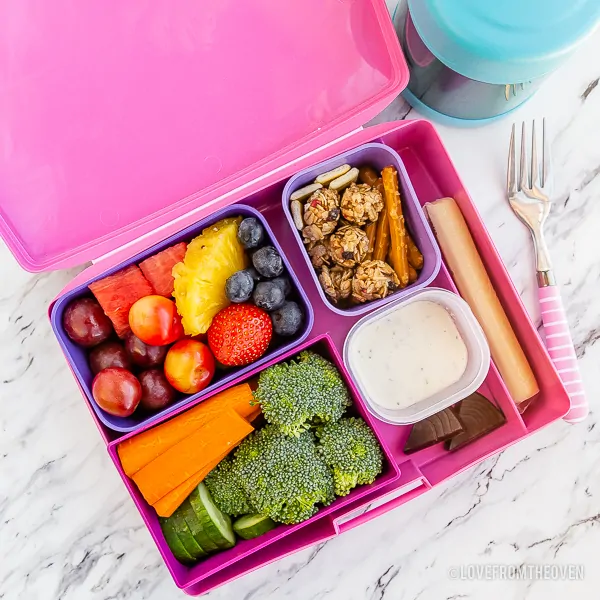 Make School Lunch Quick And Easy To Eat
It was a pretty sad thing to see, and I still remember it 12 years later. At most schools the lunch periods are very short, and to put it bluntly, the kids are rushed.
For some kids, it can take a few minutes just to get seated and open their lunch box. When you add in having to open each item in that lunch box, time quickly becomes scarce.
Or they just want to get out to recess with their friends, so they don't want to spend much time in the cafeteria.
Either way, it's less than ideal.
After that school lunch experience, it was important for me to pack school lunches that were as easy to eat as possible. I wanted my kids to be able to start eating as soon as they sat down.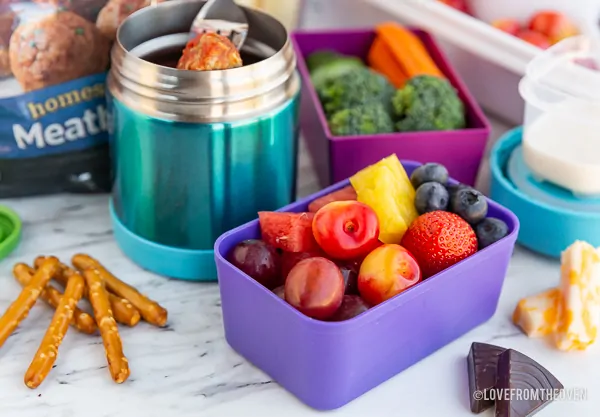 Use A Bento Lunch Box or Similar Type Of Container
Don't worry, I'm not going to suggest you carve an apple into a rose.
Though I might have done so many moons ago. When I had one kid. And more energy.
Making a bento school lunch for kids can be as simple as taking your typical lunch, and placing it all, unwrapped, in one container.
That container does NOT need to be fancy.
The idea is to make it so they only have to open an item or two. Once the lid is off of the box, they can start eating their lunch immediately.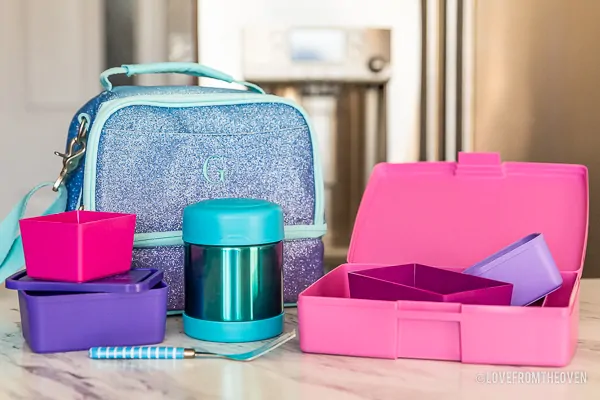 *Again, remember that you don't need a fancy bento lunch box to make a bento style school lunch for your kids!*
A bento lunch box for kids can be as simple as a plastic storage container already in your cupboard.
The clip lock style storage containers work well. The clip locks are easy to open and close, important for small hands.
I broke down and bought a Yumbox Bento Box for my little one when she started kindergarten. She has some disabilities, and it was by far the easiest box for her little hands to open. We get 2-3 years use out of them.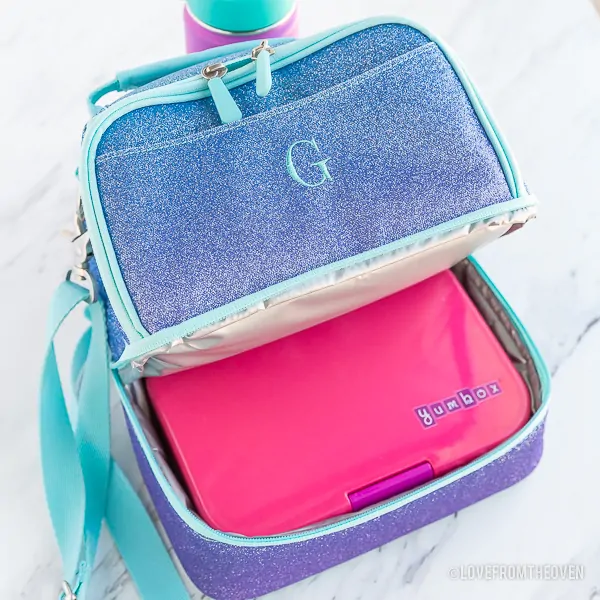 Not only does a kid's bento box make it easier for your kids to eat their lunch, it also saves on waste and packaging.
One added bonus, it makes it easy for uneaten food to return home. More about that later!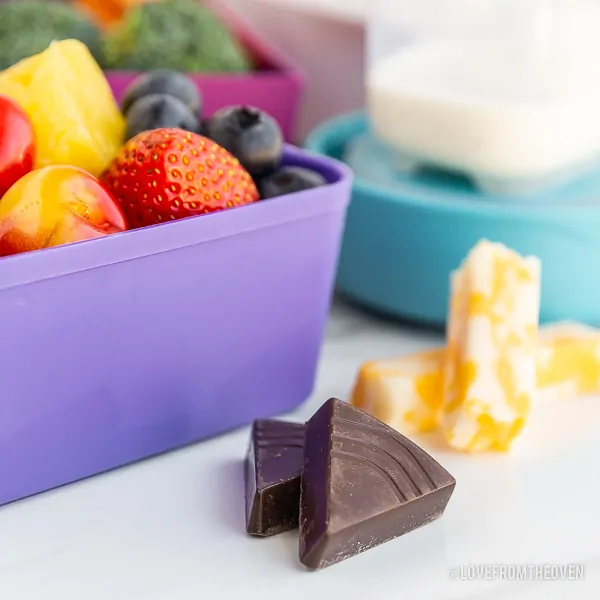 3. Think Outside the (Cold Lunch) Box
Let's face it, it's easy to run out of school lunch ideas.
For years I felt like I packed the same items over and over. And over.
My kids felt the same way unfortunately. So. Many. Turkey. Sandwiches.
Then one day a friend suggested I send hot food in a lunch box.
HOT FOOD, PEOPLE!
This is my favorite of the kids school lunch ideas!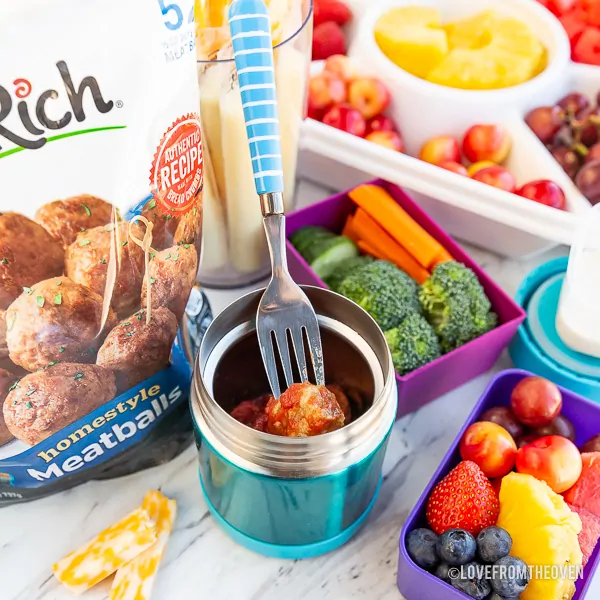 This changed everything.
Not only is it easy to do, it opens up almost unlimited easy lunch ideas!
With a simple compact Thermos container, our lunch game changed forever.
Meatballs and sauce for lunch? Yes, please!
Leftovers? Absolutely!
Grilled cheese? You got it!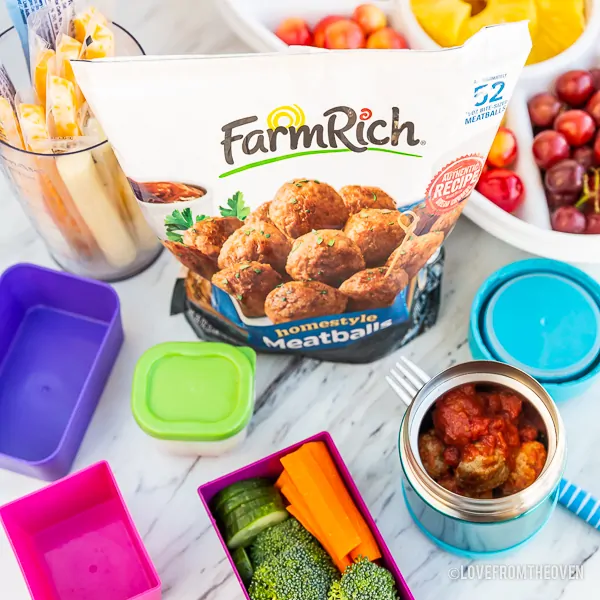 Sending a hot lunch is a GAME CHANGER.
It's especially fantastic for kids who have sports or activities after school.
A hot lunch makes it so easy to pack in the protein they need.
And, let's be honest, there is something comforting about a hot meal.
Use A Thermos To Pack Hot Food
The Thermos food jar gets filled with hot water for a few minutes, while you prep or do other things. The Thermos comes with instructions, which you want to make sure to read.
After sitting a few minutes, you add your hot food and close it up. It stays hot, so hot that my daughter reports that she often has to let her food cool off a bit before eating.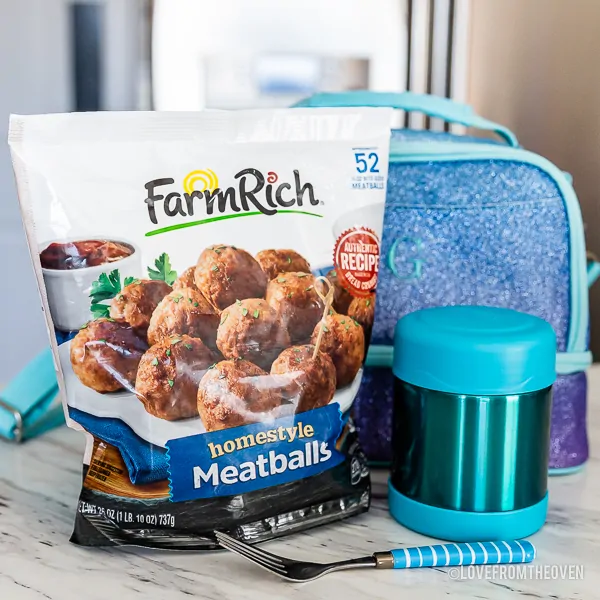 Hot Lunch Ideas
One of our favorite hot school lunch options is meatballs!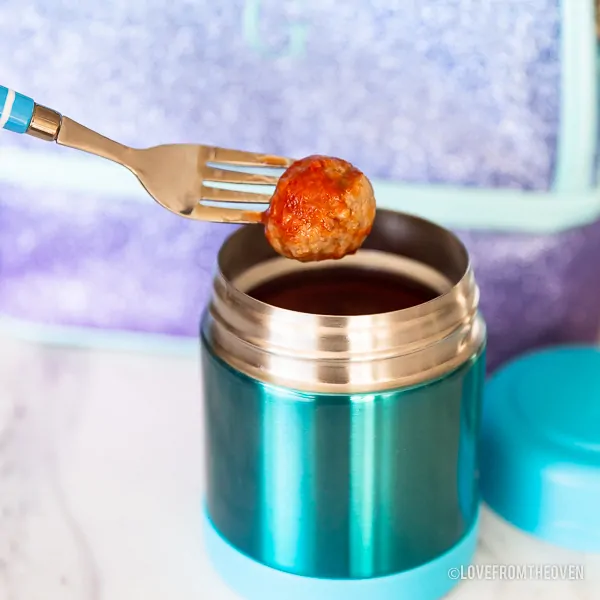 Keeping a few bags of Farm Rich Meatballs in my freezer makes packing a hot lunch so easy.
These meatballs are microwavable, have 11 grams of protein per serving, and are made with hearty ground beef and savory pork. Everyone should have a package or two of frozen Meatballs ready to go in their freezer for quick meals and lunch packing!
A quick pop in the microwave, and we have delicious, hot meatballs ready to pack up. I've never timed it, but I'm pretty sure I can make these meatballs quicker than I can make a sandwich.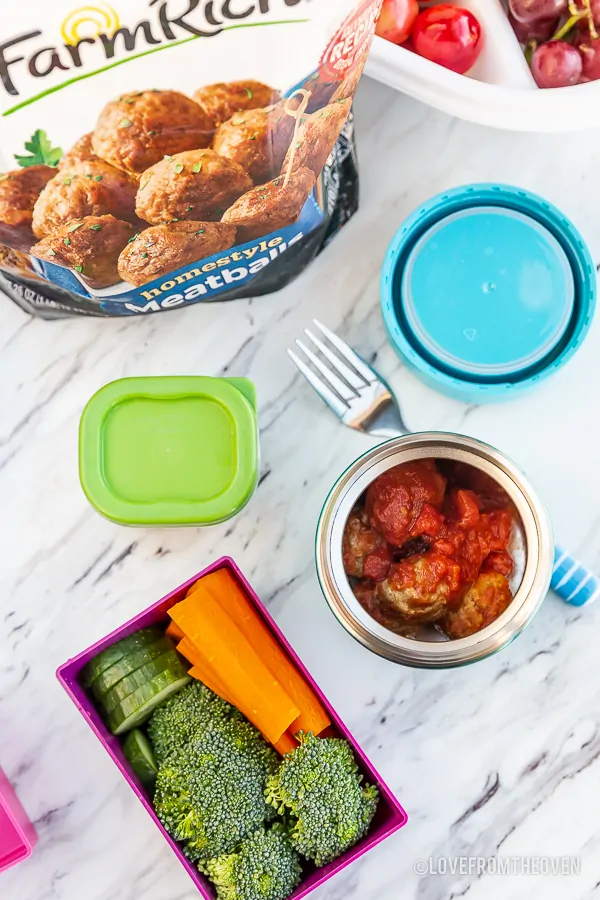 While my kids both love meatballs completely plain, for variety sometimes I'll add in some marinara sauce, enchilada sauce or even some cheese. I warm the sauces in the microwave before adding them to the Thermos.
It's important to only add hot items to the Thermos, to help it stay nice and hot until lunch.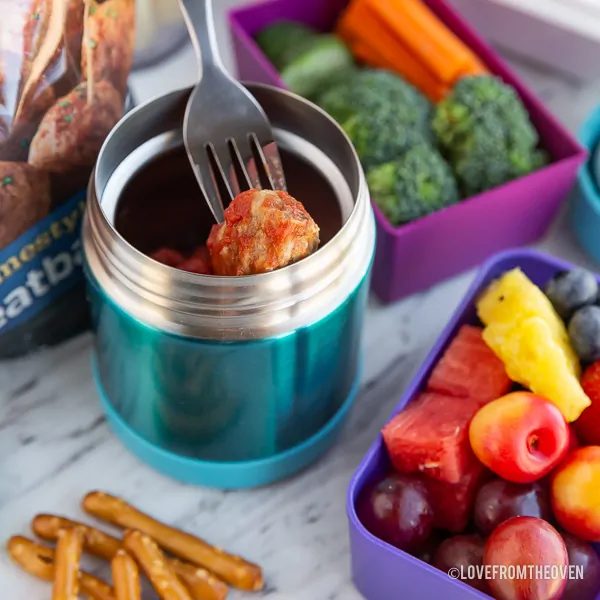 We recently discovered Farm Rich Grilled Cheese Sticks.
They make my grilled cheese loving daughter very happy.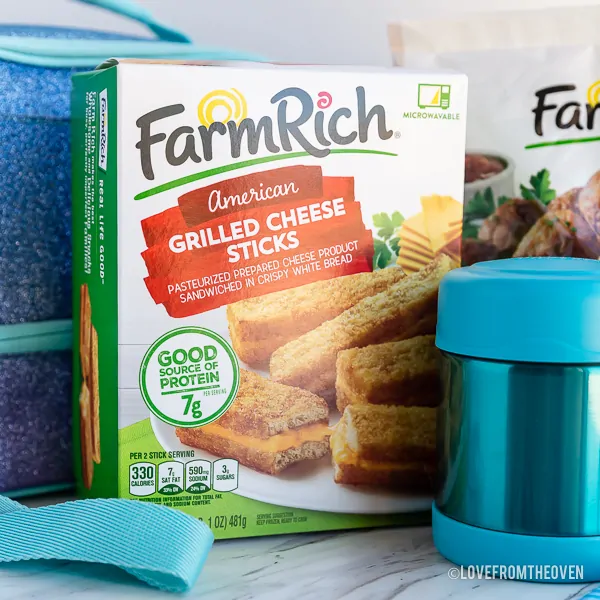 Farm Rich Grilled Cheese Sticks are made with melty American cheese sandwiched between toasty white bread, and are a good source of protein.
They can also be heated up quickly in the microwave. I've found that cutting them in half, and wrapping them in foil, works best for putting them into the Thermos.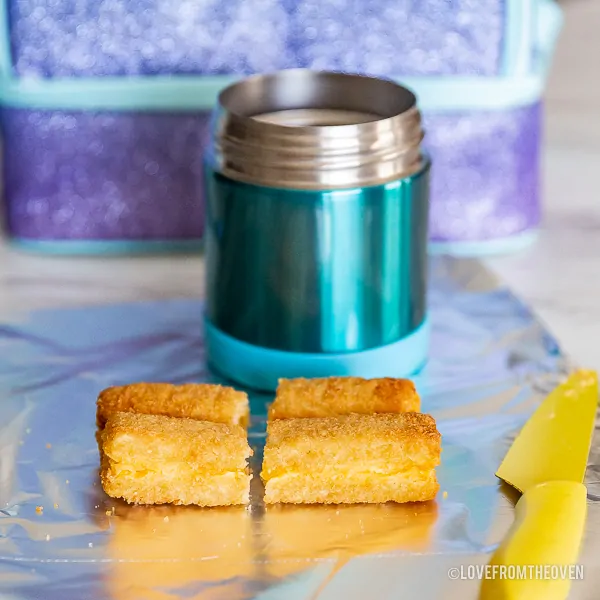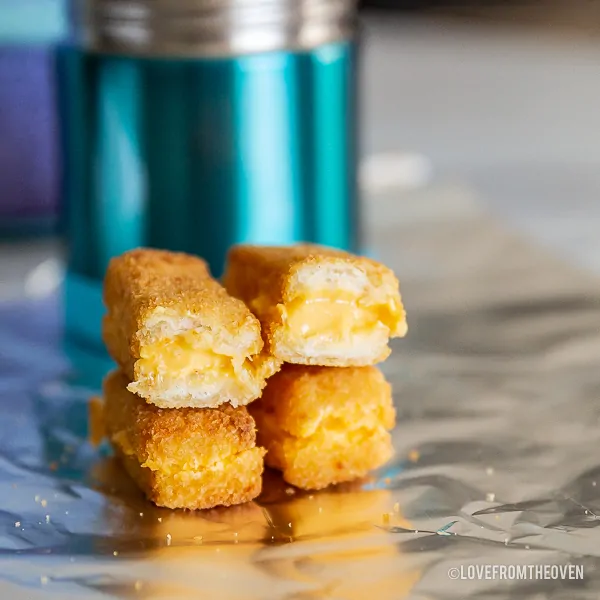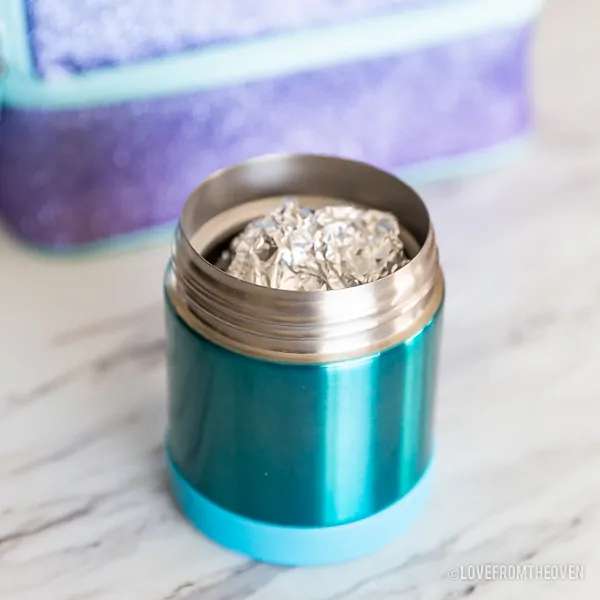 Farm Rich's Mozzarella Sticks are always a hot lunch hit as well!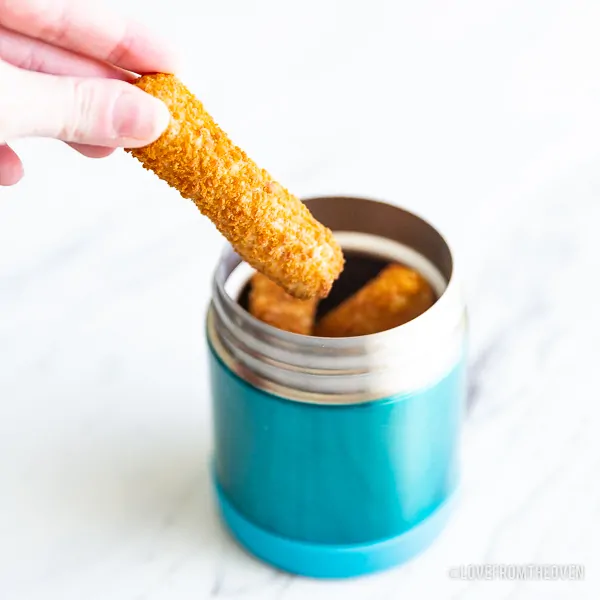 Farm Rich Products
I love that with these Farm Rich products, it doesn't take me any extra time to pack a hot lunch for my kids! We also love their French Toast Sticks, which are great in this Easy French Toast Casserole.
Farm Rich is one of America's favorite frozen snack brands and you can find them at all major grocery stores. There's a full lineup of fun snacks and appetizers, even BBQ.
All are quick to prepare and made with wholesome, quality ingredients that you can feel good about serving and eating.
I buy my Farm Rich products in the freezer section at my local Kroger (and you can also get them online). Farm Rich has a product finder that will tell you where you can buy their products in your area.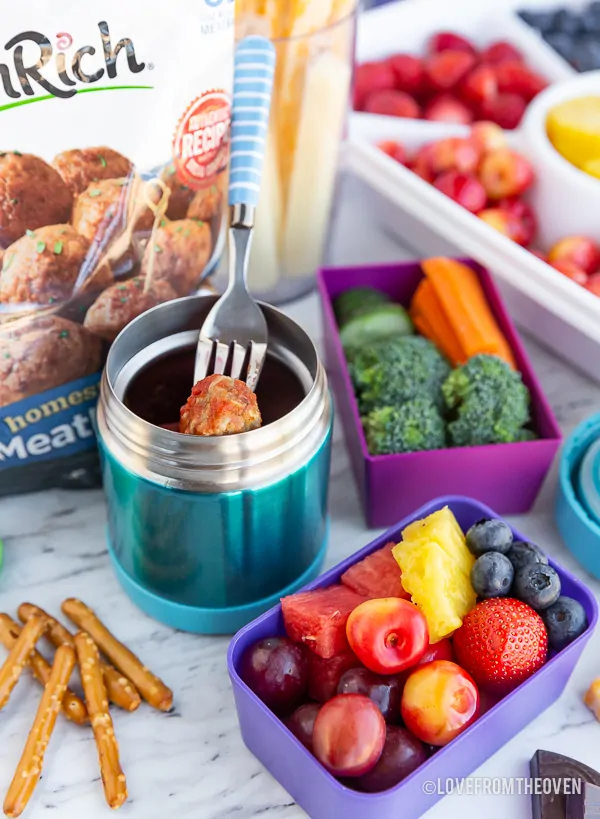 4. Prep Your Lunch Box Staples Ahead Of Time
While I can't meal prep to save my life, I have learned that prepping foods for lunch box packing is a huge help.
Sure, this takes some extra time on the weekend or after grocery shopping, but it's SO worth it.
If your kids eat fruits and/or vegetables in their school lunches, wash and prep those items in advance.
Sure it may not be super fun way to spend half an hour on a Sunday night. But just you wait until 5am on Monday morning, then you'll thank me.
Over the summer I picked up this awesome fruit and veggie tray. It comes with a lid, and is ideal for filling up with your lunchbox fruits and veggies.
It is such a great early morning time saver to just grab your fruits or veggies and pop them into the lunch boxes. This is one of my favorite easy lunch ideas for school.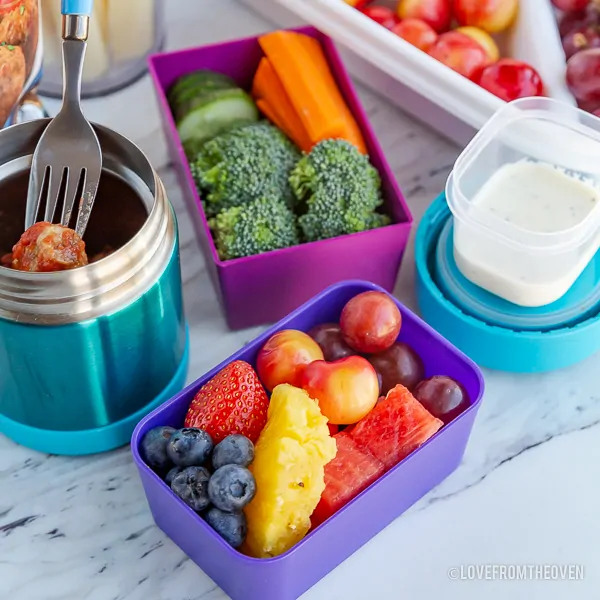 And it's not just the produce you can prepare ahead of time. I also get things like cheese sticks or yogurt tubes ready in advance as well. While it doesn't take much time to do these, the ease of having them already done is fantastic.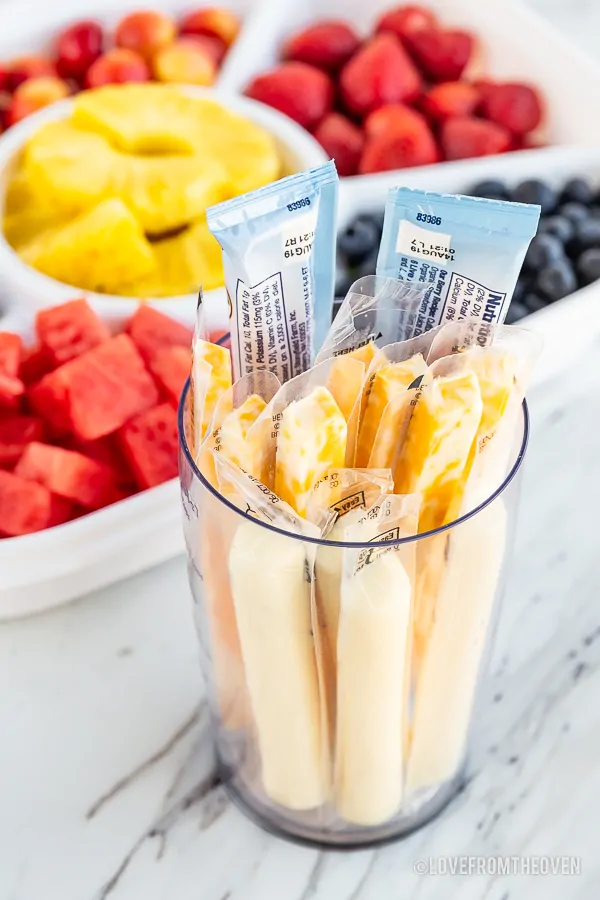 Extra Benefits Of Preparing Items Ahead Of Time
Preparing some of your items ahead of time actually has two extra benefits that I love!
Having items prepped and readily available makes it very easy for kids (or spouses, babysitters, whoever) to pack lunches themselves.
Having healthy items such as fruits, veggies, cheeses and yogurts prepped to eat also makes that after school snack time MUCH easier.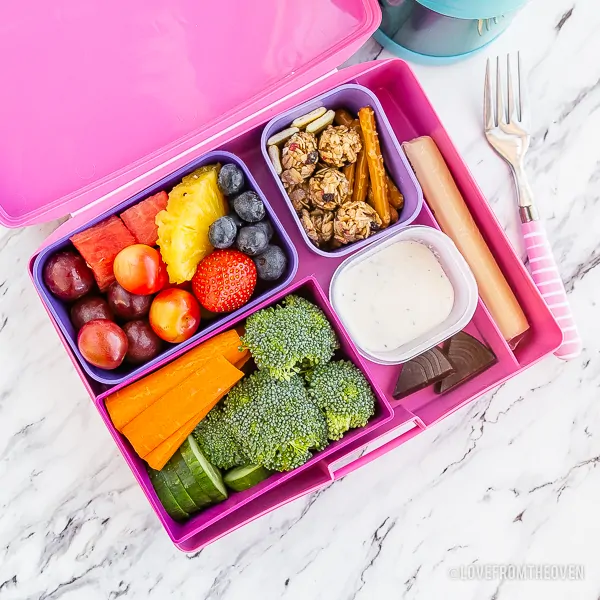 5. Have Your Kids Bring Home The Food They Don't Eat
Stay with me here, there's a reason to this.
By having my kids bring home their uneaten food, I can see exactly what they ate, and how much they ate.
This makes it possible to adjust what is being packed in their school lunch.
If a lot of food comes home, I'm probably packing too much. If not a crumb comes home, they might need a bit more. Or if a certain food always comes home, that might be worth rotating out.
When using a container or bento lunch box, this is so easy to do. Kids just close the container when they are done eating and put it back in their lunchbox.
If you have a child who stays after school for programs or activities, this also can give them food to snack on later in the day.
Bonus Tips!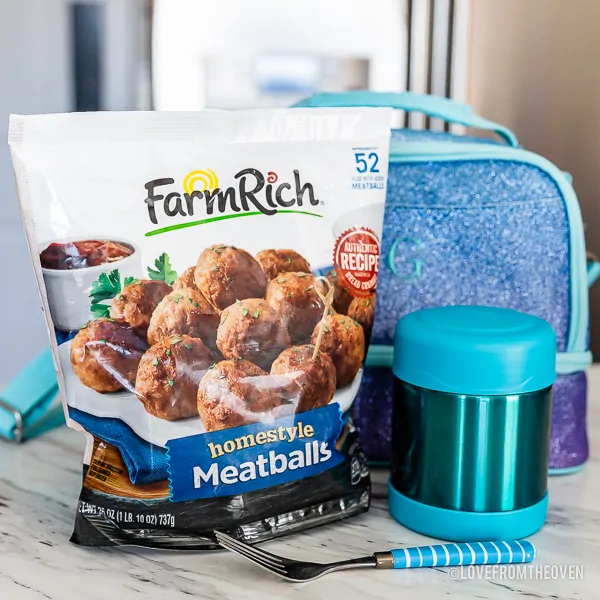 The Right Lunch Box
Make sure you buy a lunch box that can hold your bento or container, as well as your Thermos. Having a lunchbox that functions well is important. If you are trying to shove things into an ill fitting lunch box, it will be frustrating. Daily.
The lunchbox you see pictured in this post is a Pottery Barn Teen Dual Compartment Lunchbox.
It perfectly holds a Yumbox Original Style box in it's bottom compartment, along with a thin ice pack, and holds a Thermos container, with plenty of room to spare, in the top compartment.
Create Leftovers
Whenever I'm making one of my daughters' favorite foods, I'll double the recipe to create leftovers. One of my daughters loves to take Beef Stew in her lunch, while the other always enjoys Pasta Salad.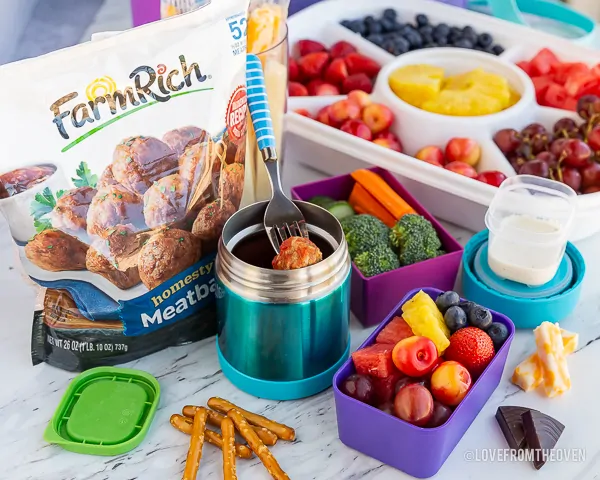 I hope you've found these KIDS SCHOOL LUNCH IDEAS helpful! Make sure to PIN this post to save and share. And don't forget you can find delicious, and lunch box friendly, Farm Rich products at your local grocery store!
If you want more easy lunch and after-school snack ideas, be sure to follow Farm Rich @FarmRichSnacks on Facebook, Instagram, Twitter and Pinterest .