Everyone loves a golden, delicious, fluffy pancake recipe. Once you try this easy delicious pancake recipe, you'll never go back to making pancakes from a box mix. You're just minutes and ingredients away from incredible homemade pancakes from scratch!
Even if you don't know how to make pancakes, you'll find these pancakes from scratch to be simple, successful and delicious.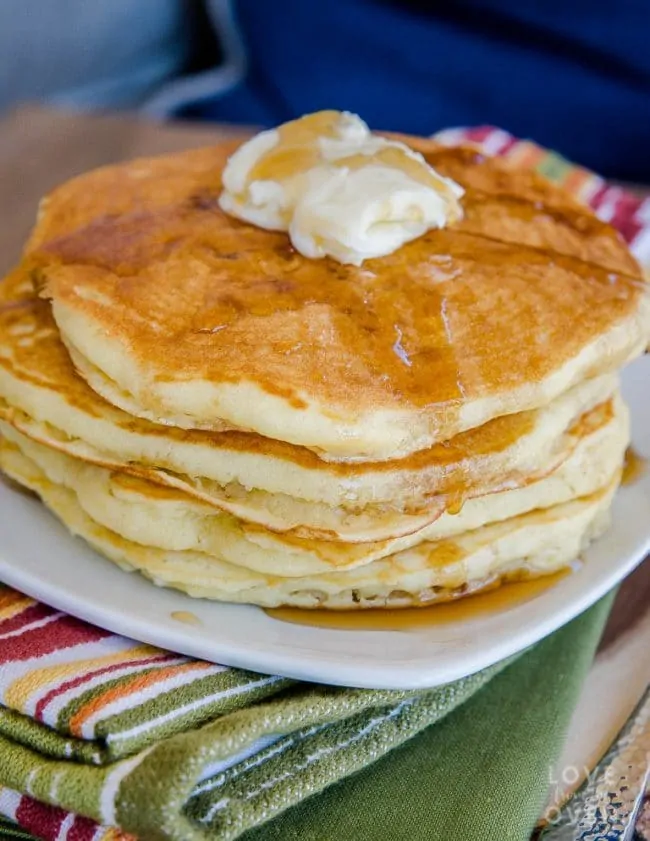 Fluffy Pancake Recipe
It's hard to resist fluffy pancakes, which is why this easy fluffy pancake recipe is one I make often.
I spent many years as a boxed pancake mix maker. However, once I realized how easy and incredibly delicious homemade pancakes were, there was no going back to the box.
Over the years I've tried and tweaked a lot of homemade pancakes to get what I think is the best pancake recipe ever! As an added bonus these pancakes from scratch freeze and reheat wonderfully.
If you've never made pancakes from scratch, or if you have but aren't totally sold on your pancake recipe, you MUST try these.
I am not exaggerating when I say I make this fluffy pancake recipe weekly! It's not uncommon for me to make a double or even triple batch, feed the kids and then freeze the rest.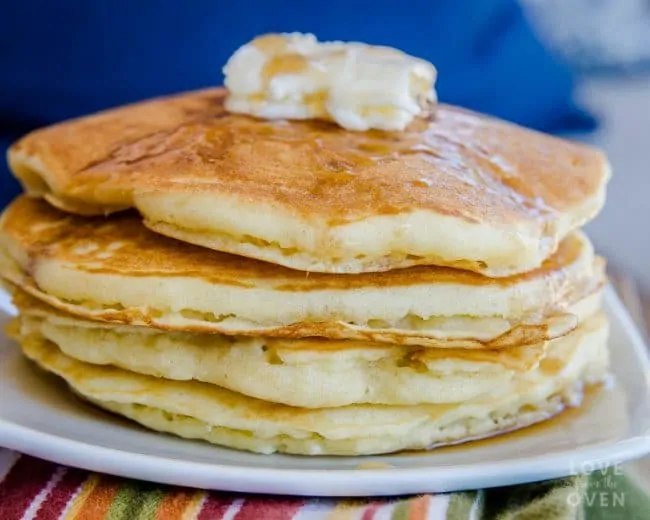 How To Make Fluffy Pancakes
I have some very important tips for you in this fluffy pancakes recipe. Making fluffy delicious pancakes is easy if you follow my advice.
For years I made pancakes that while good, were not what I would call fluffy. It turns out just a few simple tips and techniques will help you create delicious homemade pancakes.
1. Check Your Baking Powder and Soda. It's essential that your baking powder and soda are both fresh. If you haven't checked the expiration dates in a while, this is your reminder to do so!
2. Use Buttermilk. Using buttermilk in your pancakes not only helps create a great taste, it makes your pancakes rise! The acidity in buttermilk, when combined with baking soda, helps create an amazing rise in your pancakes.
3. Do not over mix. A little mixing is good. Over mixing on the other hand will deflate your pancake batter and create tough pancakes. Mix just enough. A lumpy pancake batter is OKAY!
4. Give it a rest. Give your pancake batter a rest after mixing, and watch what happens! Just five minutes allows the buttermilk, baking soda and baking powder to do their thing. After a few minutes rest time your batter will fill with tiny bubbles and expand. Just be careful not to pop all those precious air bubbles by stirring! Scoop out your batter and go straight to the pan with it.
5. Just flip once. Pancakes aren't meant to be flipped over and over. When you see bubbles and browning along the edges of a pancake in a pan, it's time to flip.
Read on for more helpful tips about the best ingredients to use, how to cook your pancakes, the best pancake pans to use and how to freeze and reheat pancakes. Or you can jump straight to the recipe.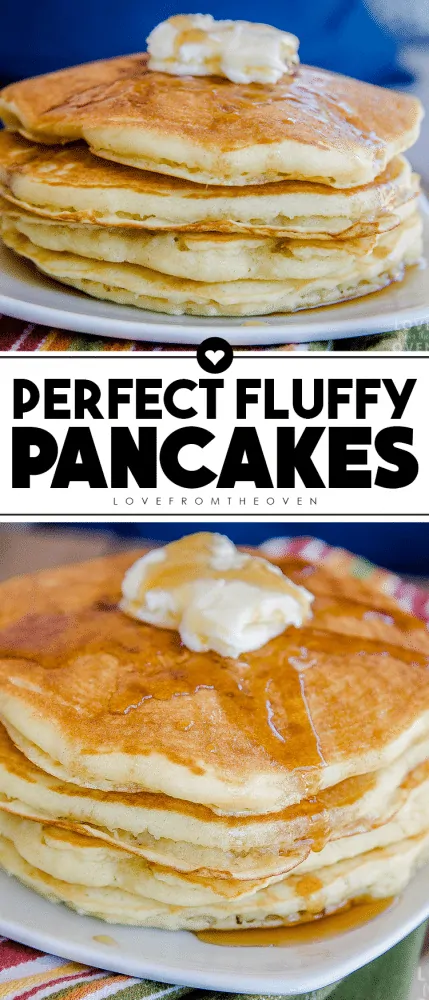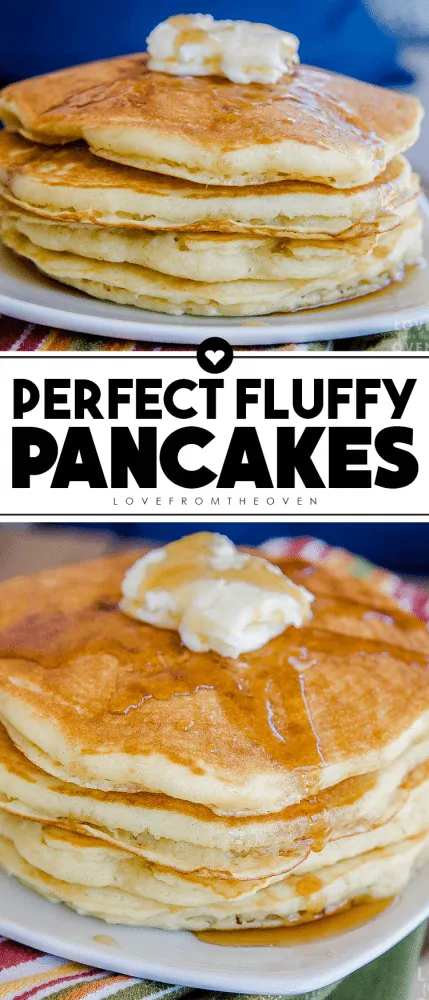 Buttermilk Pancakes
One thing that I do find essential for this recipe is buttermilk.
Don't have buttermilk on hand? Don't worry, you can make a homemade buttermilk if you have milk and either lemon juice or vinegar. I'll include directions in the recipe below.
Do You Have To Use Buttermilk In Pancakes?
No, you do not HAVE to use buttermilk.
Technically you can make a delicious pancake recipe without the buttermilk.
That said, I don't recommend it. In fact, I think it's so important that I keep buttermilk in my fridge at all times just for this recipe.
As mentioned above, it helps with the rise, the texture and the taste. You can skip it, but it won't be the same. Do yourself a favor, make them with buttermilk. Aside from that the ingredients are all super simple items you likely have on hand.
Whole Wheat Pancakes
While I typically make fluffy pancakes with all-purpose flour, this recipe does great with whole wheat pastry flour as well. However, I don't recommend straight whole wheat flour. It's a bit too heavy and dense.
Whole wheat pastry flour is becoming more common in grocery stores, and I also order on Amazon. This is my go to Whole Wheat Pastry Flour choice.
Low Sugar Pancakes
Another thing I love about this recipe is that it's surprisingly low in sugar compared to a lot of other carb filled breakfast options my kids like.
If you are looking to keep the sugar down, skip the syrup. Both butter and peanut butter are great lower sugar ways to top these fluffy pancakes.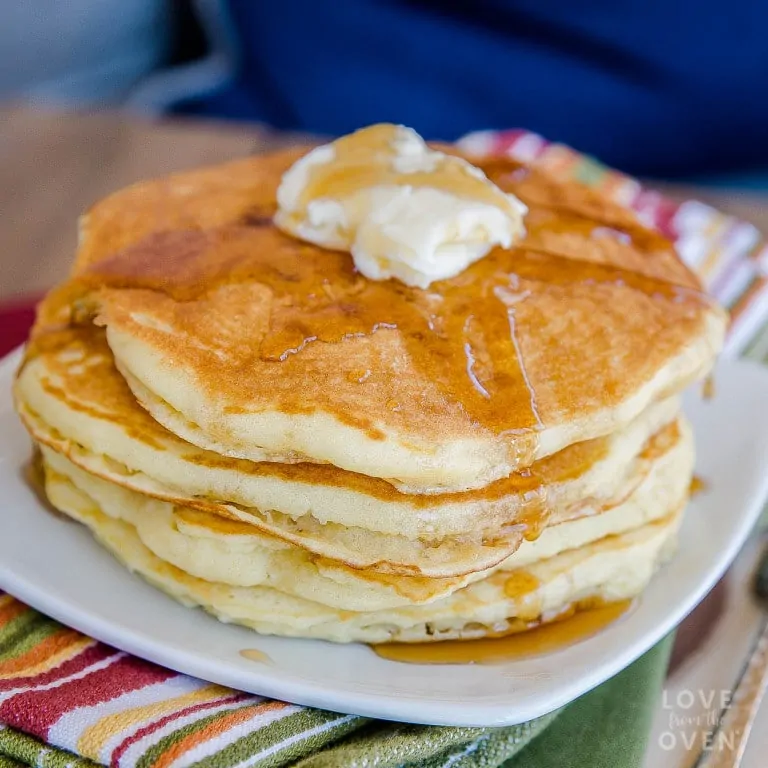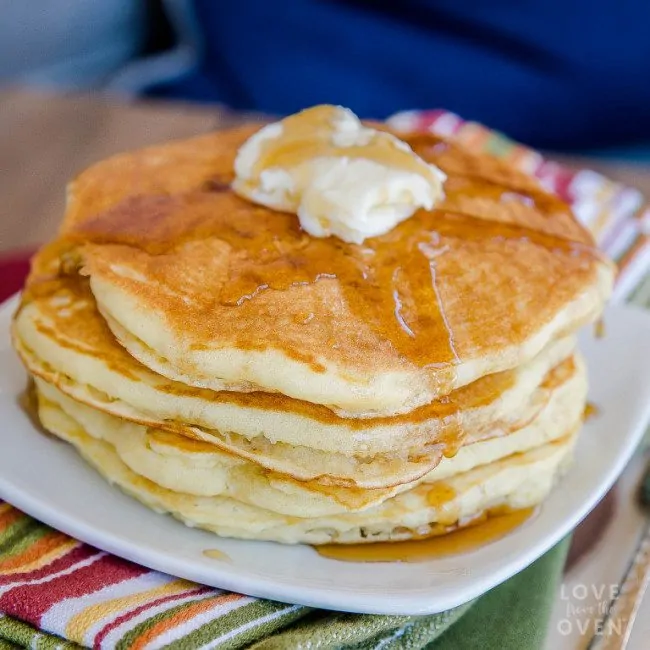 Best Way To Scoop Fluffy Pancake Batter
I always use an ice cream scoop for my batter, it's the perfect amount each time. And speaking of batter, this batter is pretty darn thick! That's how you get those fluffy pancakes.
After scooping the batter into the pan, you may have to work it around a little bit to help it spread. This batter won't just spread out on it's own, so give it some nudges with your ice cream scoop after the batter hits the pan, and shape it into a large circle.
How To Cook Pancakes
The thing with pancakes is I feel like they are one of those things you have to do a bit by feel, and not 100% as written in a recipe. You kind of have to find your pancake groove.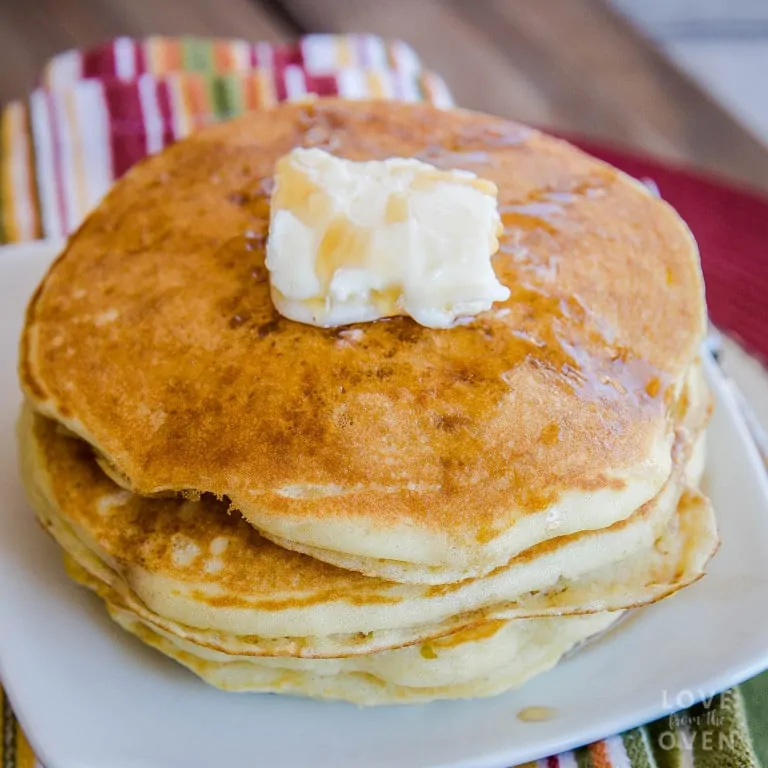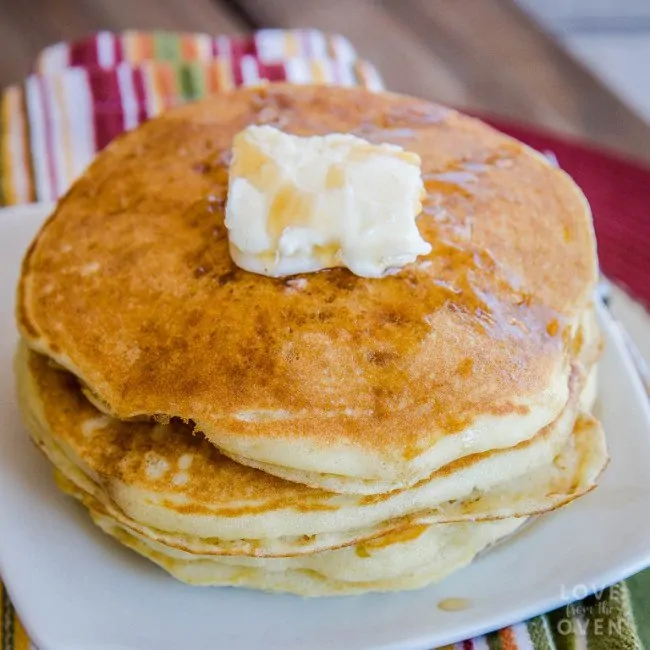 The Best Pan To Make This Fluffy Pancake Recipe
Here are my favorite pans and griddles to make pancakes with.
How Long Do You Cook Pancakes For?
That is almost a trick question.
Given that every stove is different, every pan is different and amount of time before you flip is different.
I recently picked up a new crepe pan, which is my preferred pancake making pan. I was shocked at the time difference between it and the crepe pan I already owned and used. When making pancakes side by side at the same temperature, one pan took almost a minute longer to make a pancake than the other did.
Therefore it's hard to give an exact time for how long to wait to flip your pancakes.
Use your senses, watch your pancakes, take in the smell as they cook, and get a feel for them by placing your spatula under the edge.
When you start to see the edges bubble and brown, and they give easily when you slip the spatula under them, it's time to flip.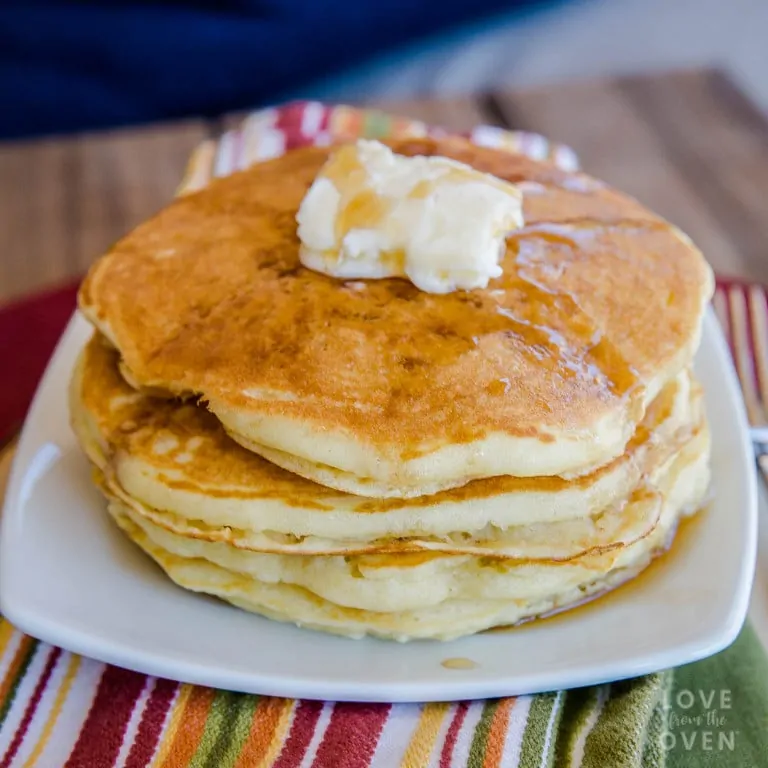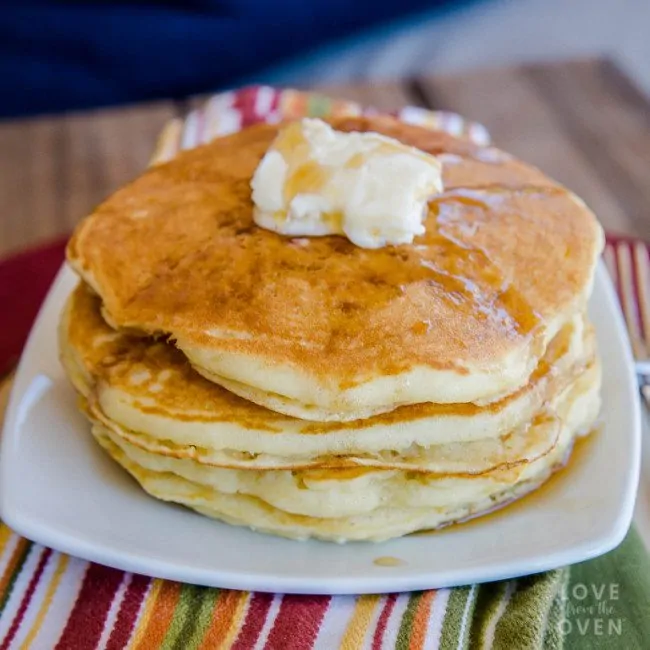 Freezing Pancakes
One of the things I love most about these pancakes from scratch is that they freeze well! I almost always make a double or triple batch of these easy pancakes, just so I can freeze leftovers. It's so easy to pull pancakes out of the freezer and make a quick breakfast.
How To Freeze Pancakes
Freezing pancakes is incredibly simple. I simply let mine cool completely, then place them in a freezer bag. Placing a piece of wax or parchment paper between each pancakes helps prevent them from sticking.
Another option is to place your pancakes side by side on a baking sheet, then place the entire baking sheet in the freezer. Once the pancakes are fully frozen, which usually takes about 30-60 minutes, remove them and place in a freezer bag. This method allows you to skip the wax paper in between your pancakes.
*You do not need to thaw frozen pancakes before reheating them.
Reheating Pancakes
After freezing pancakes, you'll need to reheat them. There are a few ways you can reheat pancakes.
1. Reheating Pancakes In The Microwave. This is a quick and easy way to reheat pancakes. Simply place them on a microwave safe plate and heat for approximately 20-30 seconds for one pancake, or a minute for two to three pancakes. Remember however that microwaves vary greatly, so your times may be slightly different.
2. Reheating Pancakes In The Oven. If you are reheating pancakes for the entire family, the oven is a great option. Preheat your oven to 350 degrees F, then place your frozen pancakes onto a baking sheet. Cover the baking sheet tightly with foil to help keep the pancakes from drying out. Bake for approximately ten minutes.
3. Reheating Pancakes In the Toaster. This is a your mileage may vary option. Some toasters are perfect for reheating pancakes, while others – not so much. You'll have to just try it with your toaster and see if it works well. If your toaster has a frozen option, make sure to use it.
More Delicious Pancake Recipes To Try:
Easy Fluffy Pancakes Recipe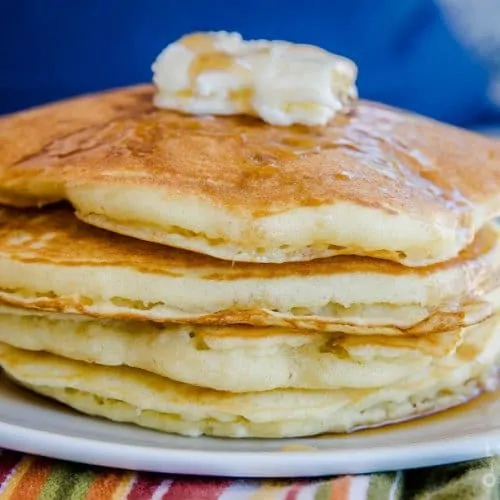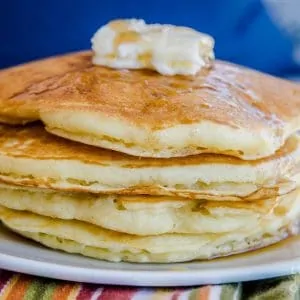 Fluffy Pancake Recipe
This easy and delicious fluffy pancake recipe makes perfect pancakes every time! These pancakes freeze wonderfully so make it a double, or triple, batch! 
Ingredients
2

cups

all-purpose flour

3

tsp

baking powder

1

tsp

baking soda

1

tsp

salt

4

tbsp

granulated sugar

1

cup

buttermilk*

see notes for substitution

2/3

cup

milk

2

eggs

1/4

cup

butter

melted

Additional butter

or oil, for pans
Instructions
Combine flour, baking powder, baking soda, salt and sugar in a bowl. Stir to combine. Add in buttermilk, milk and eggs, stirring just enough to start to combine. Add in melted butter and stir just until combined. Batter will be lumpy and thick. Let batter sit for 2-3 minutes, this will allow time for the baking powder and buttermilk to help puff up the batter.

Scoop approximately 1/4 cup of batter (an ice cream scoop is perfect) into a skillet that has been preheated to medium-low / medium heat (for reference I heat to 4 on a 1-10 scale) and lightly brushed with butter or oil. The batter will be thick and you will need to use your scoop or spoon to help spread the batter out a bit. When bubbles start to appear on surface and edges of pancake begin to appear to be browning, flip with a spatula and cook until golden. Pancakes should only be flipped once. Transfer to a plate and devour!
Notes
This is a large pancake recipe. If you don't need this many pancakes, feel free to either half the recipe, or freeze the leftovers. 
*BUTTERMILK SUBSTITUTE 
If you do not have buttermilk, you can combine 1 cup milk with a tablespoon of fresh lemon juice or vinegar. Mix them together and let them stand for ten minutes or until thickened. Use as you would buttermilk. 
Nutrition
Calories:
236
kcal
|
Carbohydrates:
33
g
|
Protein:
6
g
|
Fat:
9
g
|
Saturated Fat:
5
g
|
Cholesterol:
62
mg
|
Sodium:
557
mg
|
Potassium:
305
mg
|
Fiber:
1
g
|
Sugar:
9
g
|
Vitamin A:
320
IU
|
Calcium:
151
mg
|
Iron:
1.8
mg
Disclaimer
Nutrition information is estimated as a courtesy. If using for medical purposes, please verify information using your own nutritional calculator. Percent Daily Values are based on a 2000 calorie diet.
Enjoy!
Originally published October 2017