It's hard to resist fluffy pancakes, which is why this fluffy pancakes recipe is one of the recipes I make the most in my own home. I spent many years as a boxed baking mix pancake maker, but once I realized how easy and incredibly delicious homemade pancakes were, there was no going back to the box. I've tried and tweaked a lot of pancakes recipes to get to this one, which in my house is considered the best pancake recipe ever. And as an added bonus these pancakes freeze and reheat wonderfully!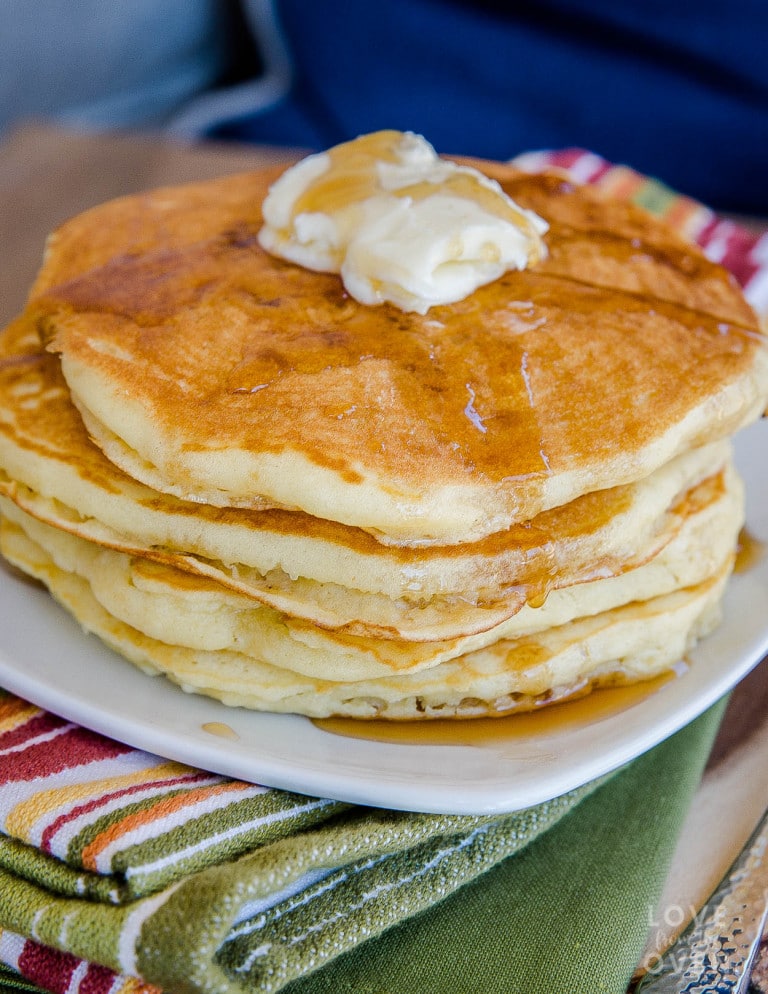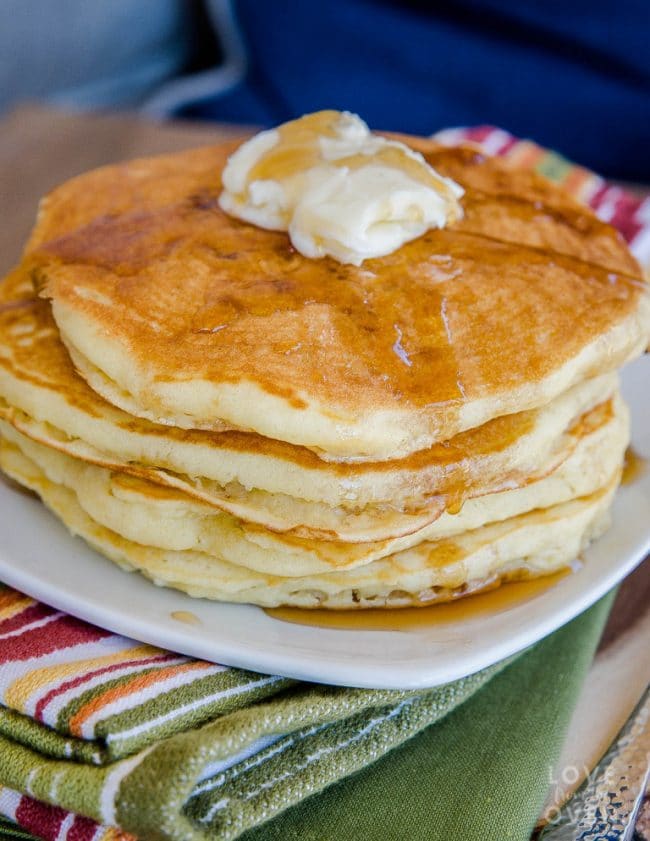 If you've never made pancakes from scratch, or if you have but aren't totally sold on your pancake recipe, you MUST try these. I am not exaggerating when I say I make these fluffy pancakes every week. It's not uncommon for me to make a double or even triple batch, feed the kids and then freeze the rest. Having a freezer stocked full of pancakes makes weekday mornings so much easier, not to mention more delicious.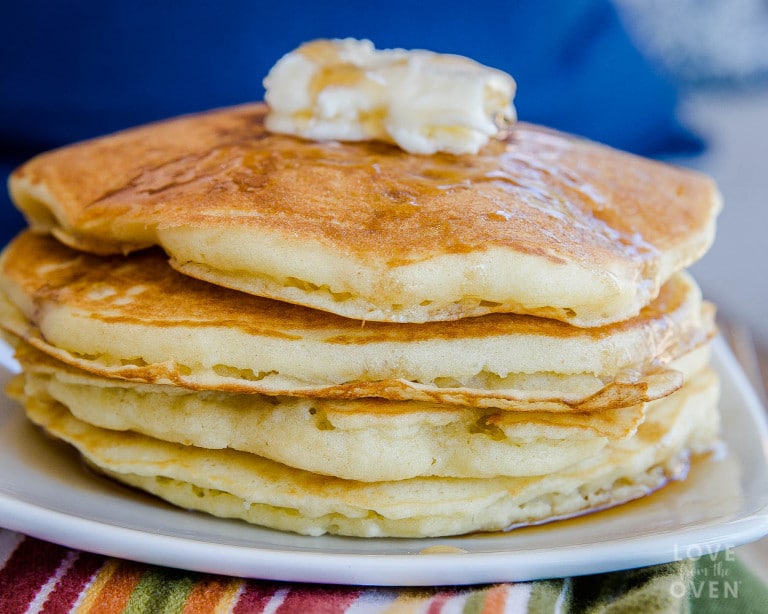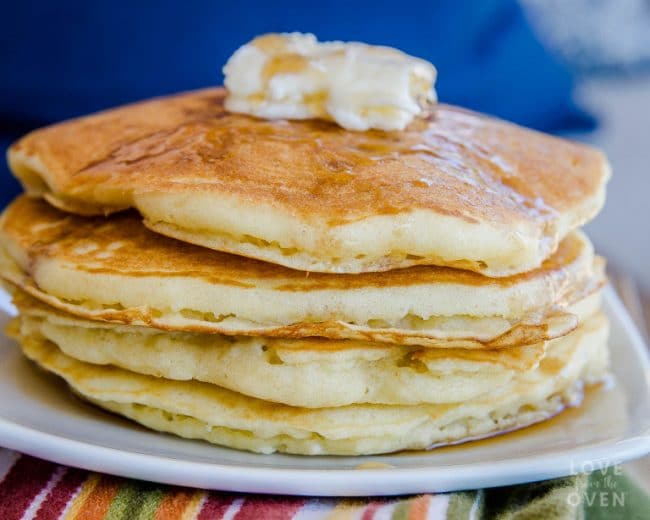 Easy Pancakes From Scratch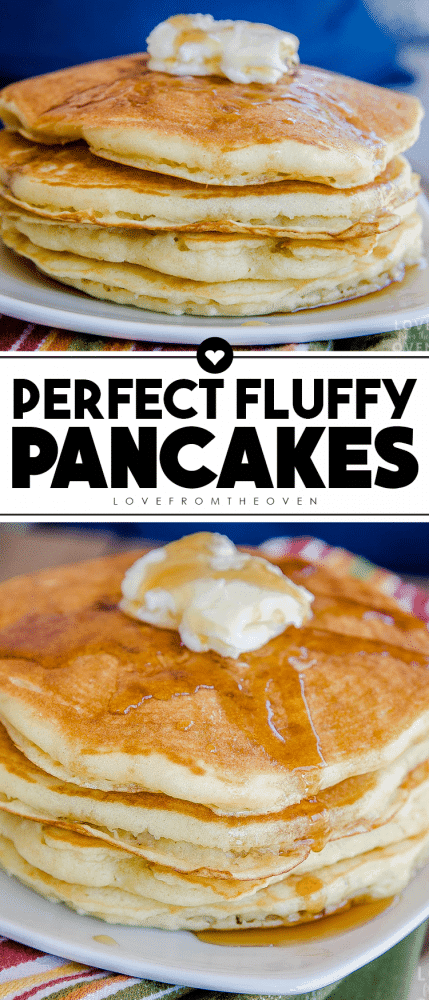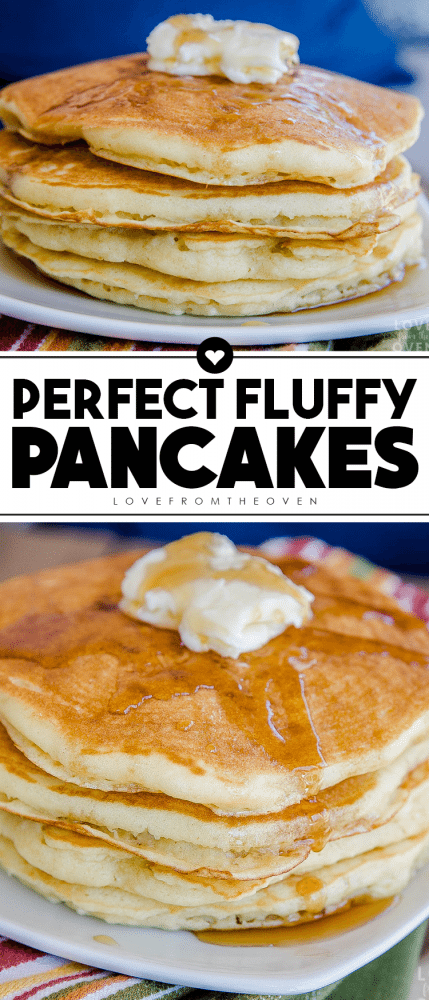 One thing I love about this recipe is that it's surprisingly low in sugar compared to a lot of other carb filled breakfast options my kids like. And while I made this batch with good old all-purpose flour (let's be honest, it looks the best in photos) more often than not I make these with whole wheat pastry flour. Whole grains and low sugar, paired with eggs or yogurt, makes a great start to the day for my kids. My husband is the only syrup user in the house, my girls just eat them straight, while I'm quite fond of some butter on top.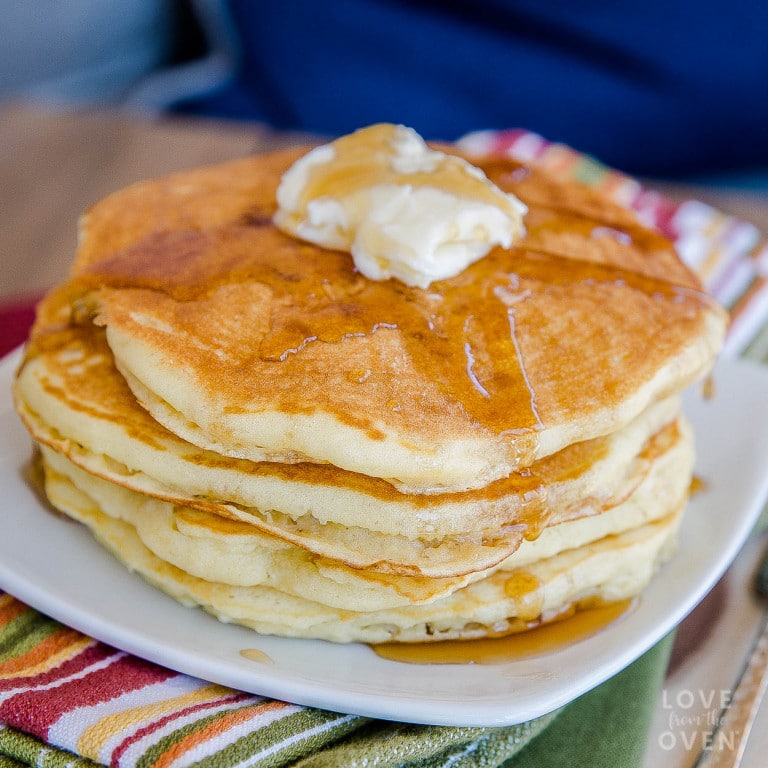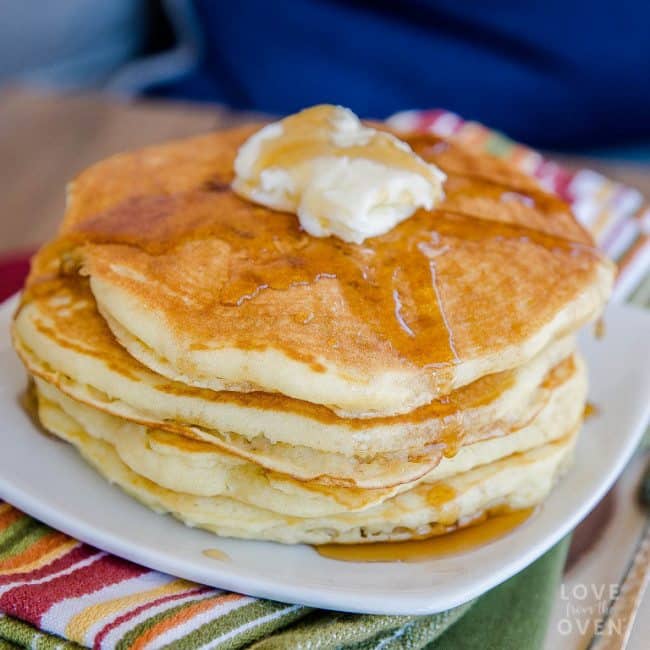 So one thing that I do find essential for this recipe is buttermilk. Yes, you can technically do without it, but I find it important enough that I have it in my fridge at all times just for this recipe. It helps with the rise, the texture and the taste. You can skip it, but it won't be the same. Do yourself a favor, make them with buttermilk. Aside from that the ingredients are all super simple items you likely have on hand.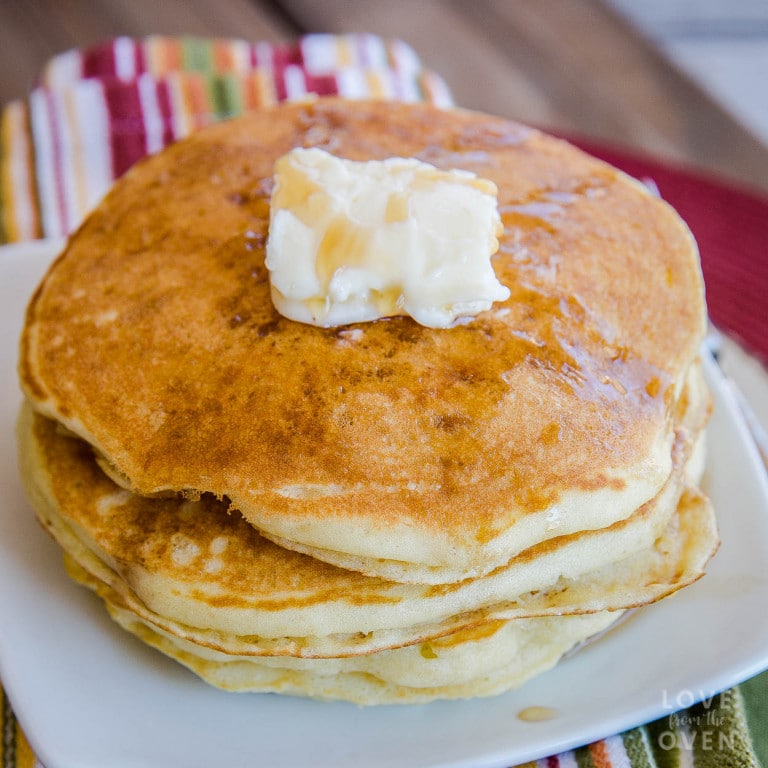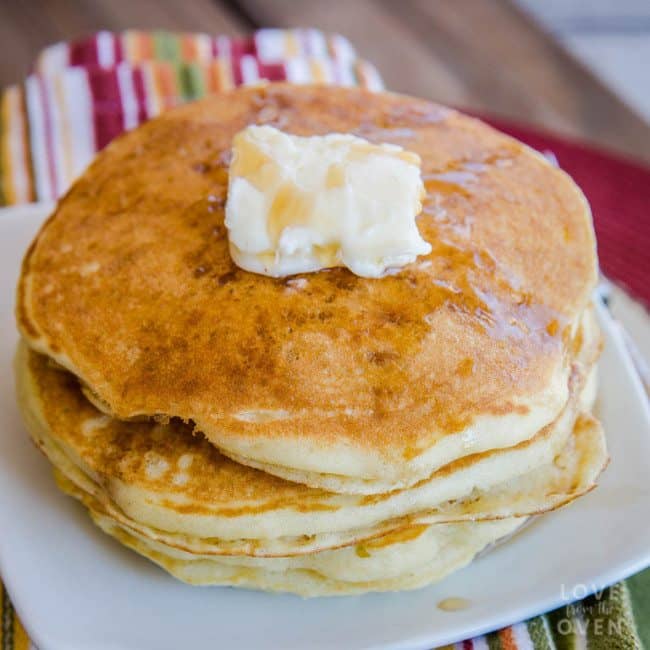 The thing with pancakes is I feel like they are one of those things you have to do a bit by feel, and not 100% as written in a recipe. Every stove is different, every pan is different and amount of time before you flip is different. You kind of have to find your pancake groove. For a while I used an electric griddle, but was never happy with the less than optimal heating. I currently make these using two pans on the stove at the same time, one pancake per pan at a time.
I always use an ice cream scoop for my batter, it's the perfect amount each time. And speaking of batter, this batter is pretty darn thick – that's how you get those fluffy pancakes. After scooping the batter into my pan, I kind of have to work it around a little bit with my ice cream scoop. This batter won't just spread out on it's own, you have to help it a bit. But it's worth it, I promise.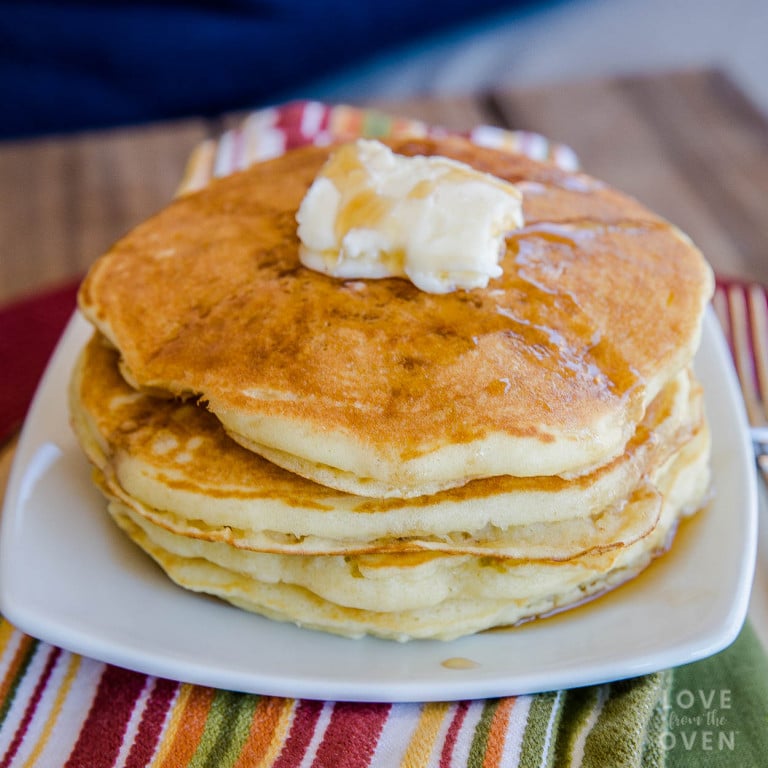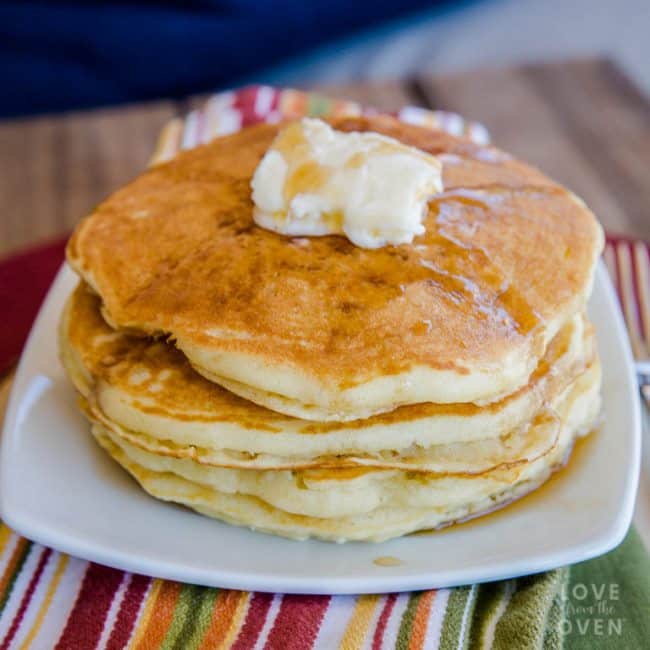 Fluffy Pancakes Recipe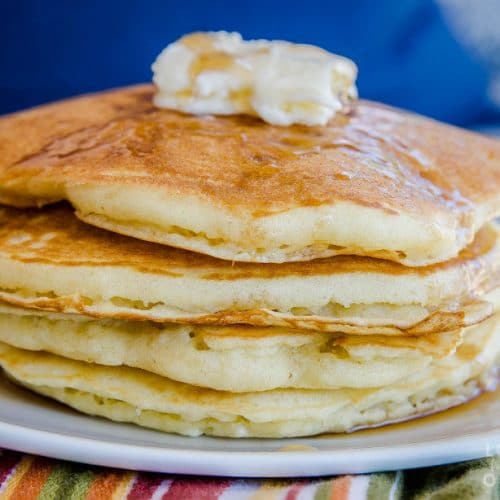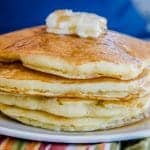 Fluffy Pancakes Recipe
This easy and delicious fluffy pancakes recipe makes perfect pancakes every time! These pancakes freeze wonderfully so make it a double, or triple, batch!
Ingredients
2

cups

all-purpose flour

3

tsp

baking powder

1

tsp

baking soda

1

tsp

salt

4

tbsp

granulated sugar

1

cup

buttermilk

2/3

cup

milk

2

eggs

1/4

cup

butter

melted

Additional butter

or oil, for pans
Instructions
Combine flour, baking powder, baking soda, salt and sugar in a bowl. Stir to combine. Add in buttermilk, milk and eggs, stirring just enough to start to combine. Add in melted butter and stir just until combined. Batter will be lumpy and thick. Let batter sit for 2-3 minutes, this will allow time for the baking powder and buttermilk to help puff up the batter.

Scoop approximately 1/4 cup of batter (an ice cream scoop is perfect) into a skillet that has been preheated to medium-low / medium heat (for reference I heat to 4 on a 1-10 scale) and lightly brushed with butter or oil. The batter will be thick and you will need to use your scoop or spoon to help spread the batter out a bit. When bubbles start to appear on surface and edges of pancake begin to appear to be browning, flip with a spatula and cook until golden. Pancakes should only be flipped once. Transfer to a plate and devour!
Recipe Notes
This recipe is flexible! It works great with whole wheat pastry flour, is deliciously hearty using white whole wheat flour, and per my kids is fantastic with mini chocolate chips. Blueberries are another great addition.
To freeze these fluffy pancakes I allow them to cool completely, then wrap up in groups of two, and transfer to a freezer container. They are so quick and easy to reheat in the morning before school.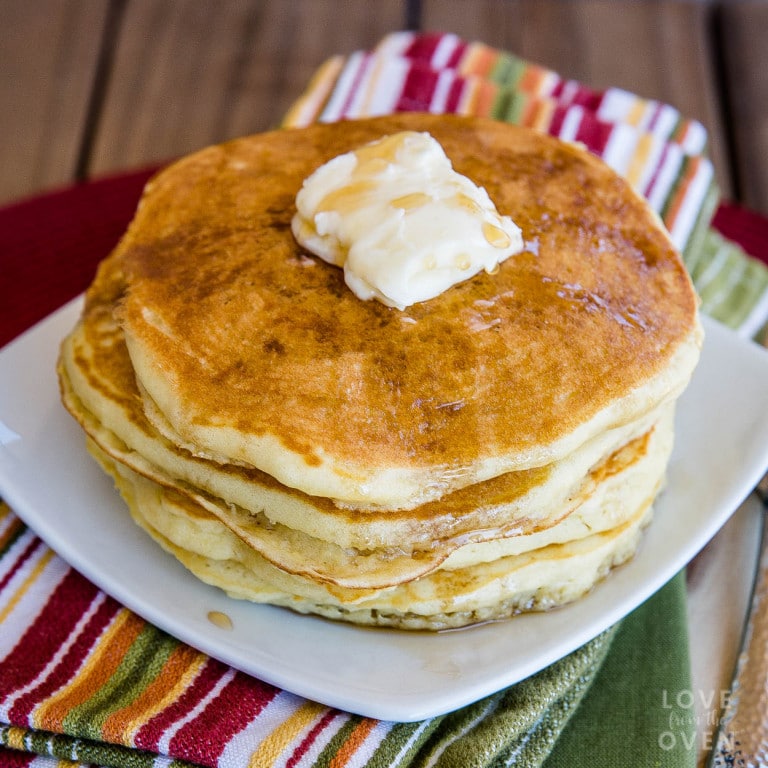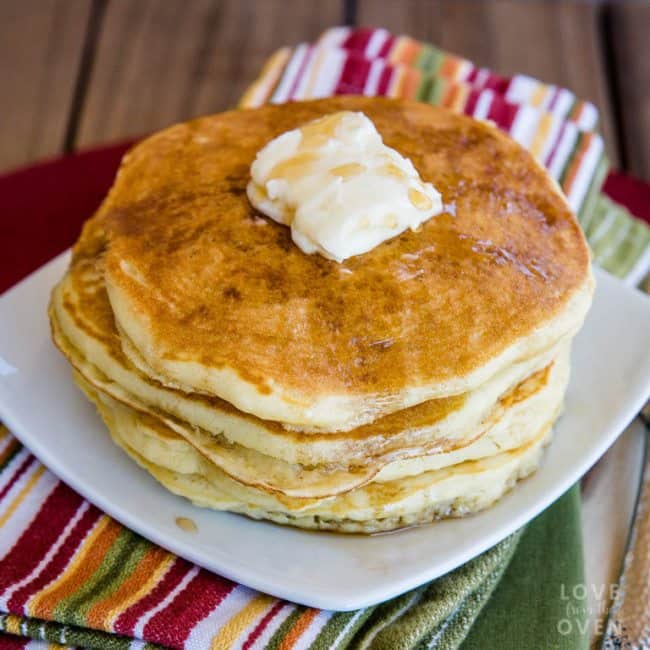 If you are a chocolate lover, you have to try these amazing chocolate pancakes. A bit more of a dessert than a breakfast, these always get rave reviews!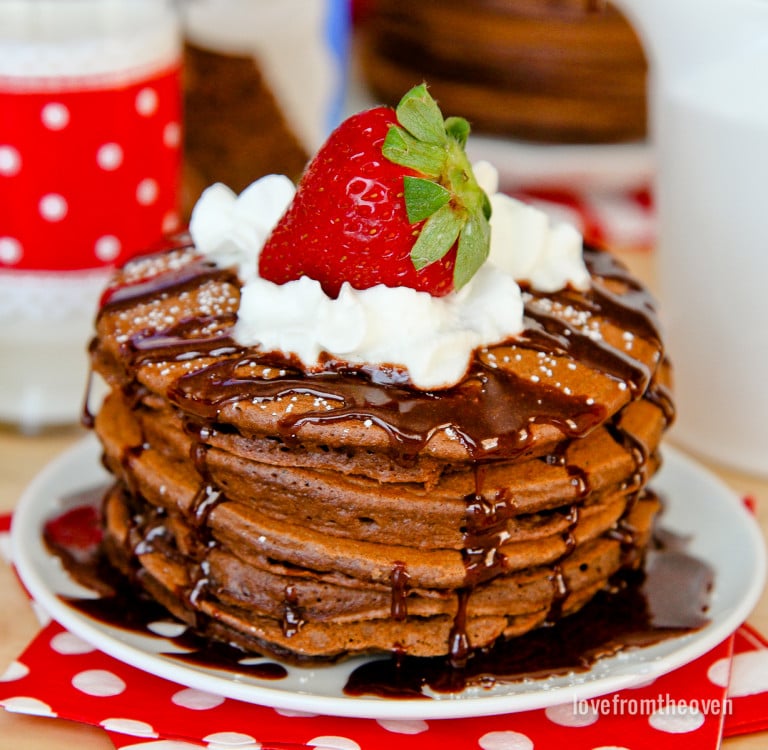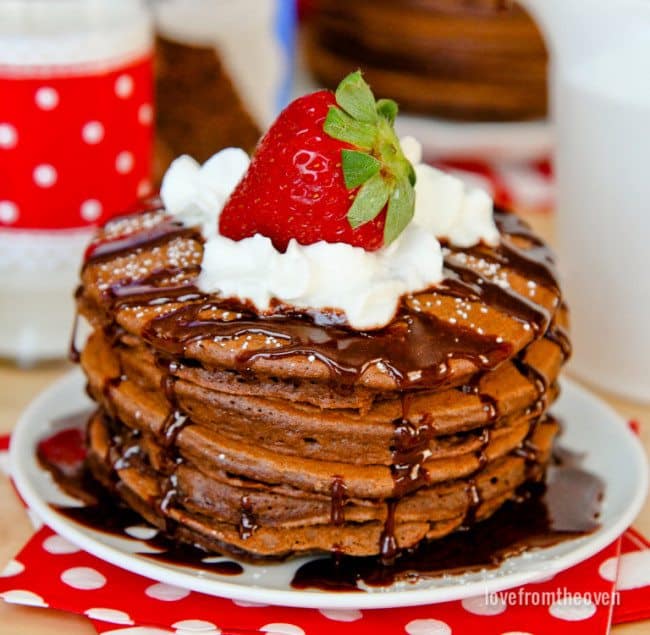 Another favorite pancake recipe of mine is Recipe Girls Cinnamon Roll Pancakes. They are irresistible!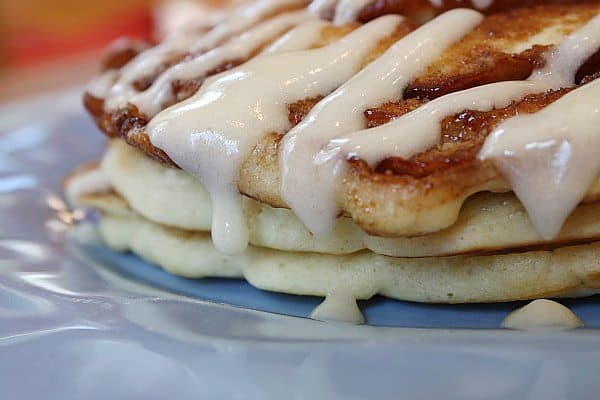 Check back later this week for my pumpkin pancake recipe, which is packed full of pumpkin and whole grains, but basically tastes like you are eating pumpkin pie for breakfast!