Happy Friday! The temps in Phoenix have been out of the triple digits, which basically means fall is here (yeah, it's still 98, but that's almost chilly!). So my love of all things pumpkin continues, and today I've got a good old fashioned pumpkin bread recipe for you. I'm excited to be share this recipe with you, as it comes from a great new cookbook, Cooking With Pumpkin – Recipes That Go Beyond The Pie, by my friend Averie Sunshine, the uber talented blogger behind the blog, Averie Cooks. Trust me, if you've ever looked at food on Pinterest, you've no doubt seen Averie's amazing recipes.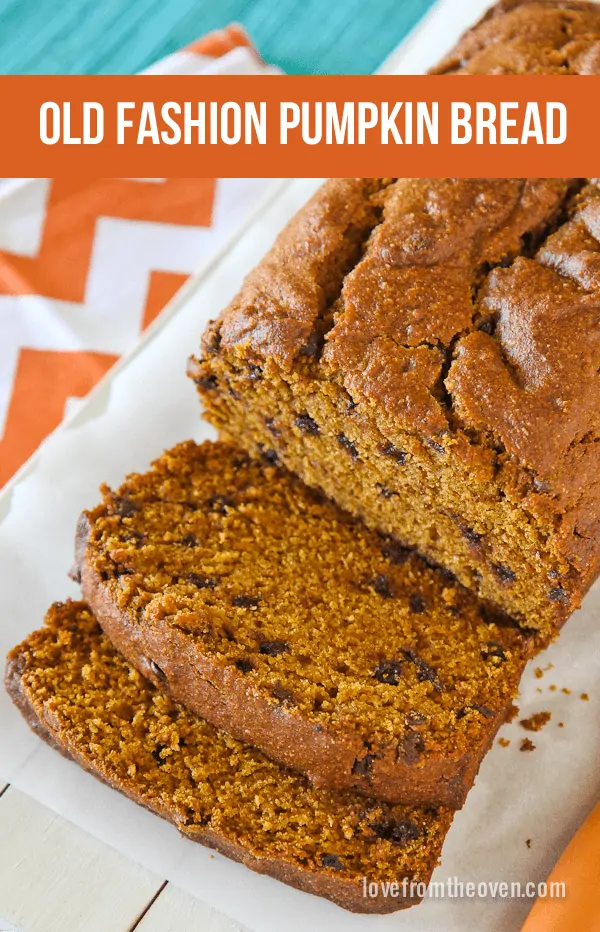 Averie is also the author of Peanut Butter Comfort, another incredible cookbook in my collection. The hardest part about Averie's recipes is deciding which one (or twenty) to make first. I basically want to make every recipes in Cooking With Pumpkin, and decided to start with her Good Old Fashioned Pumpkin Bread, because pumpkin bread is a hot commodity in our house right now, both my girls love it (and they may be the reason you see some chocolate chips in my bread, my two helpers were very persuasive).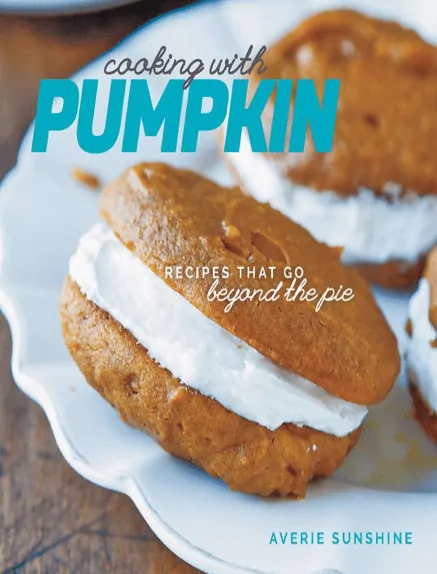 Cooking With Pumpkin: Recipes That Go Beyond The Pie, has 50 fantastic pumpkin recipes. Whether you're looking for decadent Sticky Pumpkin Monkey Bread or bakery-style Baked Pumpkin-Spice Mini Doughnuts, Cheesy Baked Pumpkin Mac 'n' Cheese for dinner, or how to make the perfect Pumpkin-Spice  latte at home, this book has you covered. While some cookbooks that focus on one ingredient can be a bit "out there" (hey, it's not easy to come up with that many recipes for one ingredient!), that's not the case with this book. Almost every recipe is one that my family (of picky eaters) would love.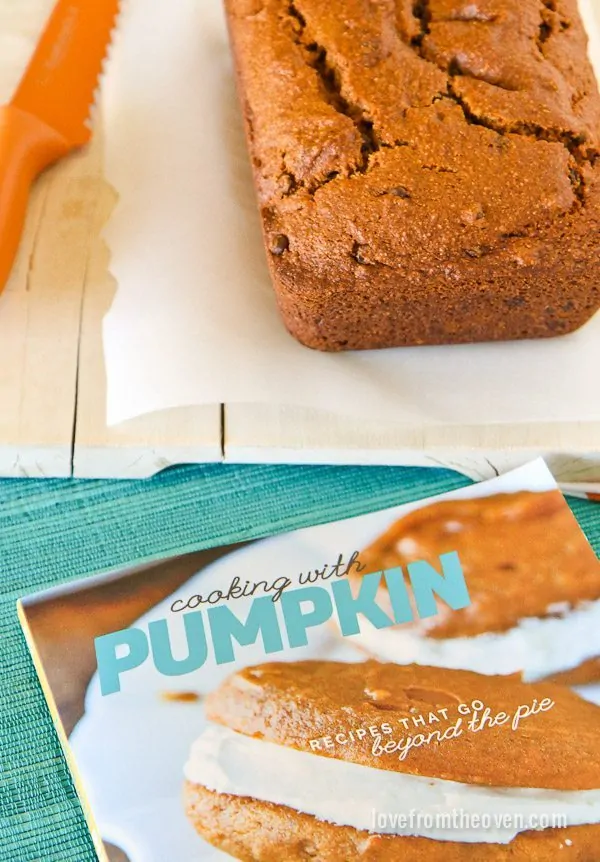 It's great to have some really solid staple recipes in your collection, and that is exactly what this pumpkin bread recipe is – a staple, a solid choice that you can always go with that isn't going to let you down. I've always loved that about Averie, she finds ways to make some really creative recipes, yet manages to keep them simple enough that they are not intimidating, and delicious and appealing to even picky eaters. Recipes that quickly become your "go to" choices. That really is a talent!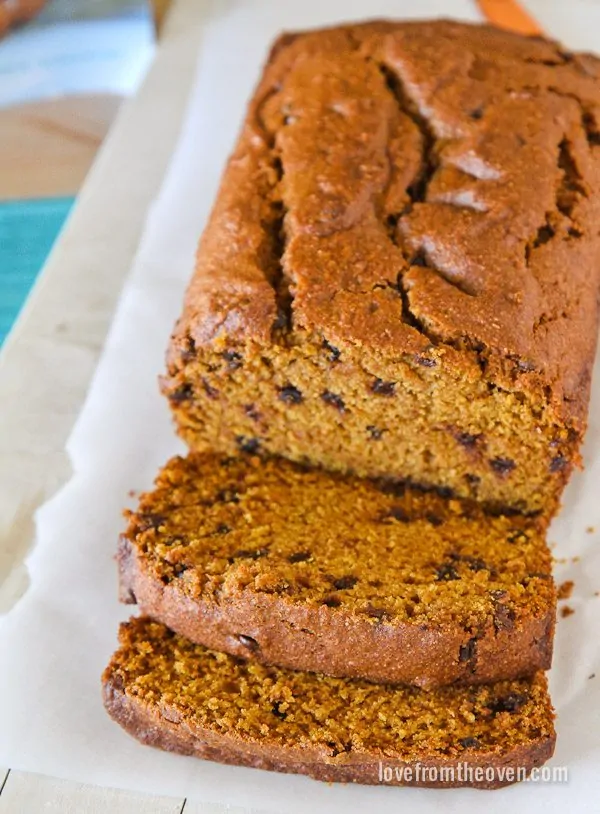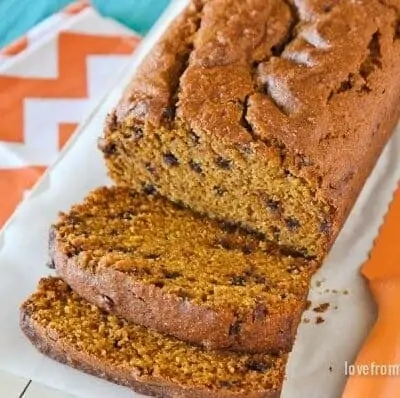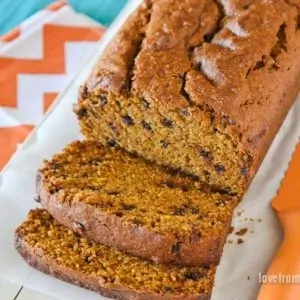 Good Old Fashioned Pumpkin Bread
A delicious good old fashioned pumpkin bread recipe from the new book, Cooking With Pumpkin, by Averie Sunshine.
Ingredients
2

eggs

1

cup

pumpkin puree

canned pumpkin

1/2

cup

canola or vegetable oil

1 1/4

cups

granulated sugar

1/4

cup

light brown sugar

packed

1

tablespoon

vanilla extract

1

teaspoon

cinnamon

1

teaspoon

ground nutmeg

1

teaspoon

pumpkin pie spice

1/2

teaspoon

ground cloves

1/4

teaspoon

ground ginger

1 3/4

cups

all-purpose flour

1 1/2

tsp

baking soda

Optional: pinch of salt
Instructions
Preheat oven to 350 degrees F. Coat a 9 by 5-inch loaf pan with floured cooking spray, or grease and flour the pan; set aside.

In a large mixing bowl, combine eggs, pumpkin, oil, sugars, vanilla, cinnamon, nutmeg, pumpkin pie spice, cloves, and ginger, and whisk to combine.

Add the flour, baking soda, and salt, if using, to taste, ans stir until just combined; don't overmix.

Turn batter out into prepared pan, smoothing the top lightly with a spatula.

Bake for about 55 minutes, or until top is set, domed, springy to touch, and a toothpick inserted in the center comes out clean, or with a few moist crumbs dangling, but no batter. If the loaf is browning before the center has cooked through, tent with foil for the last 15 minutes of baking.

Allow bread to cool in pan for 10 to 15 minutes before turning out onto a wire rack to cool completely. Bread will keep airtight at room temperature for up to 5 days, or in the freezer up to 3 months.
Notes
Reprinted with permission from author.
I added approximately one cup of mini chocolate chips to my loaf of bread.
Disclaimer
Nutrition information is estimated as a courtesy. If using for medical purposes, please verify information using your own nutritional calculator. Percent Daily Values are based on a 2000 calorie diet.
Fellow pumpkin lovers, add this to your collection, you won't be sorry, especially if you are like me and like to cook with pumpkin year round. Check out Cooking With Pumpkin on Amazon, and don't miss all of Averie's amazing recipes over on her site, Averie Cooks. 🙂  Enjoy!